What does it take to be successful in your online dating endeavors? Statistically speaking, there are several factors that you have no control over that can increase or decrease your odds, including your gender and age. But many aspects are within your control, as shown by our online dating research, that you can leverage to your advantage.
At BestDatingApps.com, we believe in "controlling the controllables" and forgetting the rest. If you want to increase your likelihood of success in the online dating world, check out this guide for great strategies and best practices to help you work smarter in your search.
Today is the day to develop a solid blueprint for presenting your dating profile and interacting intentionally with your matches. We guarantee you'll begin seeing better results!
The Uncontrollable
The things you can't change but manage by choosing the right dating app that's suitable for you:
While it is helpful to know where your gender or age group falls statistically on the dating app success scale, these are factors you don't have much control over. We'll present some numbers we found that correlate gender and age with online dating success so you can see how they fit into the overall picture. But these aren't factors you should dedicate too much of your energy or focus to as you develop an online dating strategy.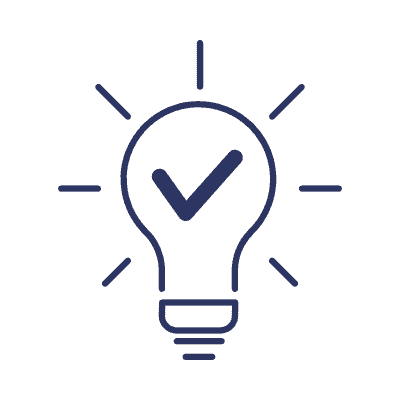 The Controllable
The things that are totally within your control:
Using the right dating app
Posting an eye-catching profile photo
Being authentic and direct with your goals/intentions
So, as we look "behind the screens" to discover how you can up your success with online dating, keep these three controllable factors in the forefront of your mind. This is the earth that you can work with and cultivate so that your success with online relationships can establish from firm roots and grow!
---
Success Based on Age (The First Non-controllable)
Younger people tend to have more success using online dating apps than older singles. This means that the sooner you join an online dating app, the better! The older you get, the lower your chances are of finding the relationship you're looking for or discovering singles in your age group.
---
Statista Study (2022-23)
We consulted a Statista study from earlier this year which found that 20% of dating app members (ages 18-29) found their spouse using the services of an online dating app or matchmaking service. And as you can see, the percentages drop from there as your work your way up through the age groups.
The moral of the story: don't put off using an online dating app or website and try again in a few more years. The older you get, the smaller your dating pool will ultimately become.
Fewer older people use these platforms and services, so the choice dwindles over time. This might be fine if you're looking to date younger, but it's been proven that your chances of success dip with age.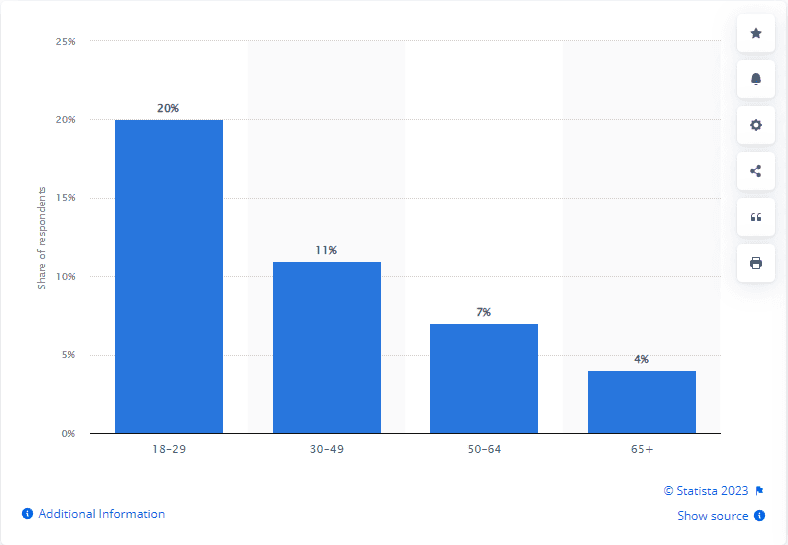 ---
SurveyMonkey Study (2016)
We found a SurveyMonkey study from 2016 that showed the dating apps that got the most usage. Each platform comes with a breakdown of members' ages. So, while this isn't a graph pointing toward success per se, it's showing which age groups have advantages regarding overall options.
The numbers show us that singles under 50 are the dominant force on the most popular dating apps. There are a few where singles over 50 do relatively well, but they are down toward the bottom of the list in size and popularity. Simply put, younger folks are much more involved in the online dating market, especially when it comes to big-name sites.
---
Success Based on Gender (The Second Non-Controllable)
The other significant factor that you can't control is your gender. We found that women usually get more messages and go out on more dates than men, but they typically feel more stressed and overwhelmed by the experience. On the other hand, men get less attention but also report feeling more satisfied in general within the hunt for dates, love, or hookups.
Let's dive into some of these studies and see how gender can play a significant role in your success in the online dating world.
---
Statista Study (2022-23)
This study focused on the volume of messages received by both men and women and the feelings they had toward how many messages they received on their dating app of choice.
Women tend to get more messages and replies to their messages, leading 54% to feel overwhelmed by the attention. But women also felt more insecure than men over a perceived lack of messages from their matches. 64% felt insecure about the lack of attention from other members.
On the other hand, only 25% of men felt overwhelmed by the messages they received, but many more (40%) felt insecure about their lack of messages. We can see that men feel more insecure than overwhelmed by their online dating interactions. And the same applies to women, but they have overwhelming and insecure feelings in much greater numbers (at least, according to this study).
---
Pew Research Study (2022)
How did men and women feel about satisfaction with their online dating experience? We consulted a few Pew Research studies to find the answer. We examined a few metrics, including the overall experience, the feelings men and women had toward the number of messages they received, and each gender's motivation to use the dating app in the first place.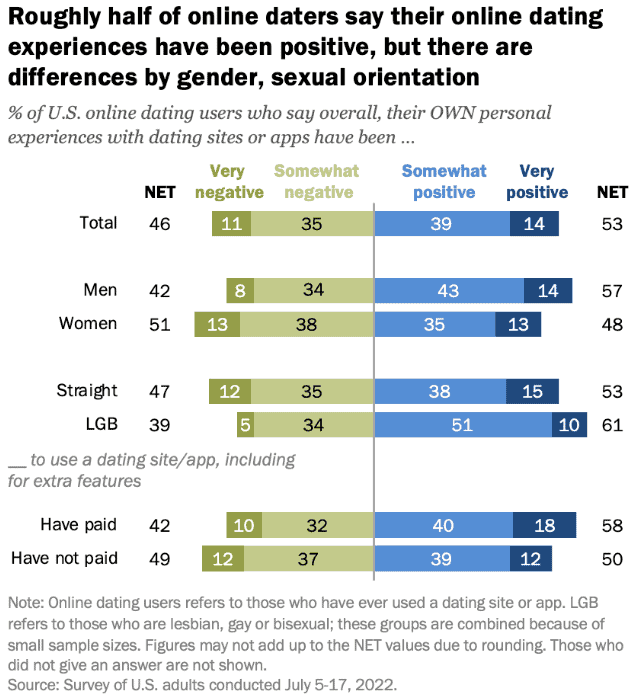 Positive or Negative Experience
Takeaways
Overall satisfaction for both genders combined was 53% (this supports one of our main theories on dating apps: they produce various positive or negative experiences for their members).
Men were more satisfied overall (57%).
Women were generally more dissatisfied (51%), but those who were satisfied with the experience were 48% of respondents. Women are split nearly 50/50, showing that online dating experiences can be a true toss-up.
Number of Messages
Takeaways
Women are more overwhelmed by the number of messages they get (54%), and men feel more insecure when they feel they've gotten a lack of messages (64%).
These findings generally align with the Statista study, but this one found that men feel more insecure than women about getting fewer messages.
Men are more excited with their match suggestions than women (81% to 75%). Women seem more disappointed by their matches than men (90% to 87%).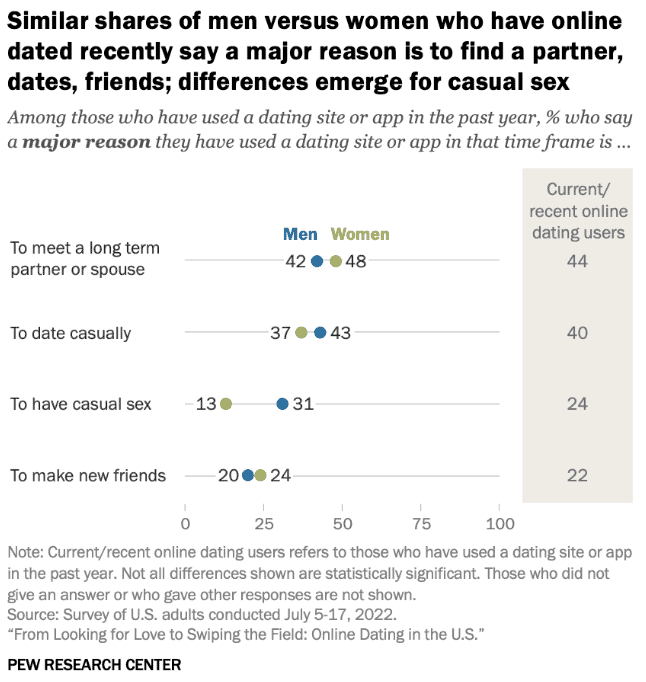 Motivation to Date
Takeaways
According to Pew's data, most people are interested in long-term relationships or finding a marriage partner (44%), followed by casual dating (40%), casual sex (24%), and making friends (22%).
Women seek meaningful relationships more so than men (48% to 43%).
Men are more interested in casual dating (43%) but also looking for a spouse or a serious relationship (42%).
The lowest number we could find here was 13%, and this was for women who were looking for hookups. In the second place, 20% of men are interested in forging friendships. These are the least popular relationships for both sexes.
---
Controllable #1: Use the Correct Platform
Enough of the uncontrollable factors. Now let's talk about what you can do in your power to up your rate of success.
It's essential to choose your dating app wisely. Not only do you want to find a dating app with a proven track record, but you also need to use one that's correct for your online dating goals and age range. So, what does it take to choose the right dating platform? That's what we'll show you below, going by your desired type of relationship, your age, and how big of a dating pool you require.
Best Dating Apps for Relationship Goals
Many of these dating apps don't fit into one specific mold. Some apply to multiple categories so that they will appear on several lists. Believe it or not, platforms like Tinder are proving over time that they are adept at producing serious relationships in addition to their usual casual dating fare.
Relationship Goals
Best Dating Apps to Use

Serious or Meaningful Relationships

eHarmony
Hinge
Zoosk
Christian Mingle
Jdate

Elite Singles
OkCupid
Bumble
SilverSingles
Coffee Meets Bagels

Finding a Spouse or Marriage Partner

eHarmony
Christian Mingle
OkCupid
Badoo
Bumble
Tinder

Jdate
SilverSingles
Plenty of Fish
March
Coffee Meets Bagel
Zoosk

Casual Relationships (Flings or Hookups)

Tinder
Hinge
Plenty of Fish

Friendship
Best Dating Apps for Your Age
Now remember, you cannot control your age. That was one of the uncontrollable we mentioned before, but what you can control is choosing the best dating app that will connect you with singles in your age group (or the age group that you're interested in dating).
SurveyMonkey Study (2016)
Best Dating Apps for 18-29 Group
Bumble
Tinder
Hinge
Happn
eHarmony
Best Dating Apps for 50+ Group
Christian Mingle
FirstMet
Best Dating Apps for 30-49 Group
Coffee Meets Bagel
OkCupid
Grindr
Clover
Plenty of Fish
Match
Zoosk
Black People Meet
Best Dating Apps by Volume
Choosing a dating app with a large enough dating pool is imperative to present you with enough options. Volume matters a great deal when it comes to finding love and dates online! The more match suggestions you have available, the greater your chances of finding your ideal match, be it for a date, a friend, a spouse, or a short-term romance.
SurveyMonkey Study (2016)
SurveyMonkey found these were the most popular dating apps among their respondents in 2016. And when you look over the dating pools these platforms boast, you can see these are your best options for meeting the most people in your local area, across the country, or abroad!
Membership Pools
Statista Study (2022)
Fast forward to 2022, and we found that many dating apps and matchmaking services highly used in 2016 are still going strong today!
Check out the comparison of the most popular dating apps in 2016 (shown above) versus 2022.
The highlighted sites indicate the apps and platforms that consistently stayed within the top ten in terms of volume of use!
| Rank | 2016 | 2022 |
| --- | --- | --- |
| #1 | Tinder | Tinder |
| #2 | Plenty of Fish | Match |
| #3 | OkCupid | eHarmony |
| #4 | eHarmony | Plenty of Fish |
| #5 | Match | Christian Mingle |
| #6 | Grindr | Bumble |
| #7 | Zoosk | Grinder |
| #8 | Bumble | OkCupid |
| #9 | Happn | Zoosk |
| #10 | Coffee Meets Bagel | Ashley Madison |
| #11 | Clover | Hinge |
| #12 | FirstMet | OurTime |
| #13 | Black People Meet | Badoo |
| #14 | Hinge | Coffee Meets Bagel |
| #15 | Christian Mingle | HER |
Over the Years, the Best Dating App Options Include
Controllable #2: Post an Excellent Profile Photo
Plenty of research indicates that a good, quality profile photo that showcases you in an authentic, sincere way is the best way to draw the right kind of attention from other online singles. Sure, you could go the whole hot, sexy photo route, but this is only good if you're looking to play the field, have fun hooking up, or add to your body count.
If you're looking for a meaningful relationship or commitment, however, authenticity can carry you a long way and helps you to avoid having other singles convinced that you're playing games with them. Online daters appreciate honesty and straightforwardness more than you would think!
---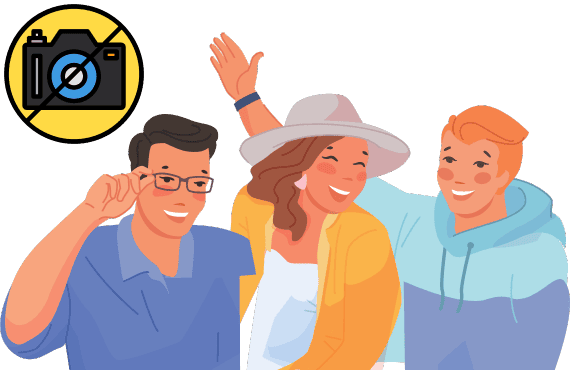 Avoid These Profile Photo Gaffes!
From what we've gathered, these are the things to avoid when posting a photo to your online dating profile.
Posting group photos where it's anyone's guess as to which person is you.
Posting photos that have been noticeably photoshopped. This can convey that you're attempting to hide something or are insecure about your looks.
Posting photos of where your ex has been cropped out of the image.
Posting photos with a friend of the opposite sex. You don't want to give your potential matches any idea that there's competition for them.
Posting a stock photo where you don't appear. Or posting pictures where your face is obscured or certain parts of your body are purposely hidden.
---
Your Tango Study (2022)
A 2022 Your Tango study found some interesting facts about how posting the right selfie to your profile can be make-or-break when it comes to your success in online dating. Here's what their research found:
Of all those using online dating apps, 91% use a selfie as their main profile photo.
86% of online daters are more interested in reaching out to singles who post selfies as their profile photo.
Over half (51%) of online daters avoid using filters on their selfie profile photos.
60% of online daters surveyed by Your Tango believe that those who post selfies as their profile photos come across as more confident.
73% of online daters surveyed by Your Tango believe selfie profile photos are a great way to start a conversation.
This study confirms a few things we've theorized about online daters: around half or more (roughly the majority) are interested in authentic behavior from their matches, and selfies can be highly effective for meeting new people. However, the selfie needs to be presented in a smart way to send the right message (more on this in a bit).
---
Hinge Study (2017)
Some terrific resources we consult from time to time are studies and surveys done by our favorite online dating apps. They typically draw information for their studies based on the experiences of their customers and trends they've noticed on their sites. In a Hinge study from 2017, they analyzed their members' photos to discover which were getting the most likes.
Key Findings
75% of members liked profile photos that involved participation in sports
74% of members like photos showcasing someone's night out
25% of members like profile photos where someone is smiling (showing their teeth)
Snapchat filters, sunglasses, and pictures with a possible love interest were not well-received by Hinge members and users.
Best Practices for Women
Wearing hair up (27%+)
Smiling with teeth (76%+)
Looking away from the camera (74%)
Standing alone (69%+)
Best Practices for Men
Smiling without teeth (43%+)
Looking at the camera (102%+)
Standing alone (11%+)
The study also found that beach photos for both sexes were not as likely to get likes from other members. On the other hand, sports photos were extremely popular for attaining more likes, as were candid images, which received a lot of positive attention from other members.
---
Coffee Meets Bagel Study (2016)
Another one of our favorite dating apps did a study in 2016 that focused on the profile photos posted to their platform and which were best received by other members. It's interesting comparing this one to the Hinge study (performed the following year) and seeing some of the areas where their findings converged.
Here's what they found:
79% of men prefer photos of women smiling.
58% of women like pictures of the man smiling and showing his teeth.
71% of men like photos where women have their heads tilted to the side.
24% of women's liked photos had them smirking instead of smiling.
Only 5% of men liked photos that had them smirking.
Laughing in your photo was unpopular (2% of women's photos got liked, while 0% of men's photos were liked).
---
Controllable #3: Be Honest and Get to the Point
One of the biggest problems we've been seeing is online dating app users complaining that most of their matches seem to be putting on a show and not acting genuinely. They come across like they're putting on airs or trying to project what they want to be onto their online dating profile, but they don't come anywhere close to this image in real life.
Simply put, online daters are sick of the games, the narcissism, and the self-importance. They want to meet singles who will act like their true selves, behave authentically, and are straightforward in their online dating goals. The problem is that these kinds of singles can be hard to find in today's market.
And it's not just the ladies.
But you can use this to your advantage and be the change you want to see. In a world where most people are acting inauthentic and ingenuine, you can stand out from the crowd by being yourself and being super direct in the kind of relationship you're intent on pursuing. It will not go unnoticed and will get you some positive attention, especially if you come off as likable and you're relatively good-looking,
---
Plenty of Fish Study (2019)
A POF study from 2019 revealed some fascinating truths from its respondents, many of whom valued authenticity in their match suggestions. Many of the points this study was trying to make perfectly align with our idea of using honesty, authenticity, and sincerity to your advantage when meeting singles online.
Right here is prime proof that most people nowadays are less interested in someone putting on a show; they want to see their matches showcase their true selves, avoiding things like exaggerated profile information or photo filters.
People are becoming disillusioned with the current state of online dating and want something deeper and more meaningful. The vibe we've been getting from dating app users over the past few years is that more and more want to pursue profound relationships and authentic connections. This begins with online daters who are honest and straightforward in their intentions and goals.
Our Best Tips for Developing an Honest, Straightforward Dating Profile
Use these best practices when you craft your dating app profile. They can help you be honest and genuine while showing that you don't take yourself too seriously! Using a light touch with your profile will attract more people than you could with a profile that's abrasive, demanding, and has an entitled voice.
Post a great profile photo following the steps we talked about earlier.
Fill out as many bio information fields as possible to make your profile informative and well-rounded. And be truthful with the information you share!
Fill out the self-authored sections to plug the gaps your bio information might have missed. Don't get into too much detail but convey all the critical points you want to make concisely.
State your relational or dating goals in one of the self-authored sections so other members know what the expectation is right up front.
Don't embellish your personality traits, abilities, or appearance. Present yourself in a realistic way on your profile so that your matches will not be thrown off in any way when they meet you in person.
You don't have to write out your entire life story. Make the profile simple, to the point, and easy to read. Let your matches learn over time who you truly are!
If you post a ton of deal breakers on your profile, it can come across as negative or that you're hard to please. Focus on what you're looking for in a partner rather than what you don't want.
Check out some helpful tips from eHarmony that will help you design a quality dating profile that successfully communicates your goals and will produce excellent results!