Our team of experts diligently research and review all of the products and services we recommend. If you buy through our links, we may receive a commission. Learn more here.
Are you looking for Christian singles dating in 2023 via an awesome online dating app? You need to check out our list of the best Christian dating apps to help you find someone to wed in holy matrimony, who shares your beliefs and values, or who wants to put God at the center of the relationship. There are even opportunities to find casual dating experiences with other Christians who want to avoid entering into something serious right away.
We feel that the dating apps for Christians we recommend in this review are a terrific mix of a high volume of active members with excellent, modern features that are on par with mainstream dating apps like Tinder or Bumble. We even chose a careful blend of dating apps catering to casual and serious Christian singles dating.  
---
---
Check out our top picks today and sign up for a free trial account! You can enjoy some limited features, see what kind of singles are using each platform, and how the matchmaking magic is done to ensure the best daily matches!
Dating App
Key Facts
Free Trial
Christian Mingle

• Number of Users: 16+ million
• Gender Ratio: 44% men and 56% women
• Best For: Finding serious relationships with Christian singles
• Pricing: Begins at $14.99 per month

Start Your Free Trial!
eharmony

• Number of Users: 10+ million
• Gender Ratio: 48% men and 52% women
• Best For: Finding love and compatible Christian connections
• Pricing: Begins at $35.90 per month

Start Your Free Trial!
Christian Cafe

• Number of Users: 44,000
• Gender Ratio: 46% men and 54% women
• Best For: Finding serious relationships with Christian singles in a more intimate setting
• Pricing: Begins at $12.50 per month

Start Your Free Trial!
Catholic Match

• Number of Users: 1.5 million
• Gender Ratio: 50% men and 50% women
• Best For: Finding serious relationships with Christian singles with Catholic beliefs
• Pricing: Begins at $9.99 per month

Start Your Free Trial!
Jdate

• Number of Users: 240,000+
• Gender Ratio: 47% men and 53% women
• Best For: Jewish singles
• Pricing: Begins at $29.99 per month

Start Your Free Trial!
Why These Are the Best Dating Apps for Christians
Why are these five dating apps our top choices for Christian singles dating? There are three main reasons why these apps are best suited for Christian users. Because Christian believers are a nuanced group, we did our best to develop a list that catered to believers but also blended user volume, common goals, and the latest bells and whistles!
A Focus on Serious Relationships
Christian singles who use online dating apps are typically in the market to develop profound relationships with other believers. Although this is not the case for every Christian believer, it's a prevalent enough theme within this demographic that we stayed away from dating apps with a more casual focus. Instead, we chose dating apps that focus primarily on creating lasting relationships that result in marriage, long-term commitments, and serious romance.
Large Member Base
We chose dating apps for Christian singles that featured a large base of users. We ended up recommending a few mainstream dating apps that cater to many members who happen to be Christians. We were also sure to suggest only the niche Christian dating apps with the most significant number of active members and the broadest reach to ensure that our readers can access the choice they deserve.
Awesome, Modern Features
Who wants to use a dating app with no flair, personality, or appeal? Something we made sure of when preparing these recommendations was that these Christian dating apps would have attractive, modern features to make the online dating experience fun and engaging! Each app features some form of swipe-style dating like you'd find at Tinder, as well as other cool features like profile highlights, anonymous browsing, and more!
The Best Christian Dating Apps of 2023
Well, here they are. These are the best dating apps for finding Christian singles that the market has to offer. The combination of active members and large dating pools, robust profiles, top-notch search paraments, and the best modern features make these our top picks for Christian singles looking for love and romance with others who share their faith.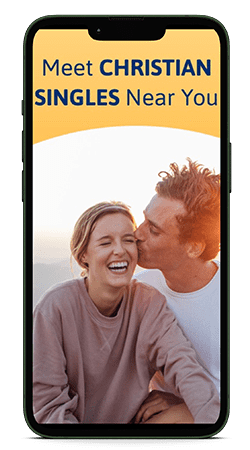 #1 Christian Mingle: Best Christian Dating App Overall
| | |
| --- | --- |
| Best For: | Serious, God-centered relationships with other Christians |
| Active Members: | 15 million |
| Best Features: | LookBook (swipe-style dating) andSpotlight (profile highlights) |
Christian Mingle is our top recommendation for the best Christian dating apps for 2023. The two main factors that work in this platform's favor are its large user base and its catering solely to a Christian clientele. This makes it one of, if not the biggest, niche Christian dating apps on the market. This means that Christian believers can work from a large dating pool of singles who share their faith. In fact, 29% of all Christian relationships that begin online got their start right here!
Christian Mingle has the size and the right user demographics, but it also has modern features that make the dating experience that much more fun and engaging for its users. The Christian Mingle LookBook, for example, is a feature that allows Christian users to enjoy the swipe-style dating that is predominantly found on online dating platforms like Tinder and Bumble! There are also advanced search filters so members can browse singles according to denomination and faith, as well as factors like appearance, age, and distance.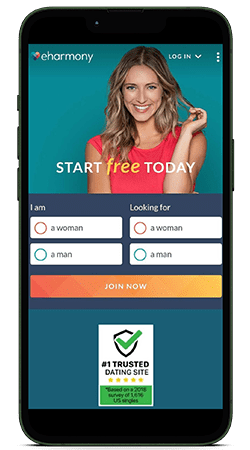 #2 eharmony: Find Compatible Relationships with Christians
| | |
| --- | --- |
| Best For: | Compatible relationships that result in marriage and commitment |
| Active Members: | 16 million |
| Best Features: | What If (swipe-style dating) and 32 Dimensions of Compatibility |
Although eharmony is not a Christian dating app, it's prevalent in Christian circles and is an accessible go-to outside of Christian Mingle for believers to flock to! One of the biggest reasons for this is that most relationships formed at eharmony are serious in nature and based on mutual interests and beliefs, including religious faith. Most relationships formed at eharmony are heading toward marriage or long-term commitment, something that most Christians have in mind when it comes to online dating.
eharmony is best known for its 32 Dimensions of Compatibility testing that goes so in-depth on getting to know you and pairing you up with the right partner that the sign-up process takes around 45 minutes to complete. They'll consider all sorts of factors to come up with suitable compatible matches for you, including focusing on matters of religion, faith, and personal values. eHarmony also has a large dating pool, so Christians have a wide variety of good, eligible singles from which to make their selections. They cater to a market of over 16 million active members.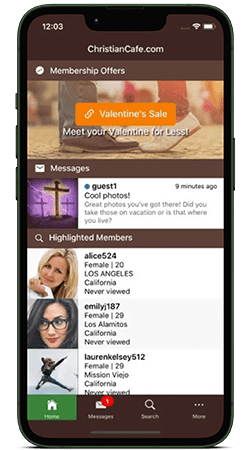 #3: ChristianCafe: A Great Niche Dating App
| | |
| --- | --- |
| Best For: | Finding serious relationships with Christian singles in a more intimate setting |
| Active Members: | 44,000 |
| Best Features: | Community Forum, the Prayer Board, and advanced search filters |
You may want to use a niche Christian dating app, but you want something a little more intimate (at least compared to Christian Mingle). But you also want a dating app that still has the volume of users to give you a shot at finding the right person. This is where ChristianCafe comes in, a niche dating app with about 44,000 active members that offers its community a small-town feel. Behind Christian Mingle, ChristianCafe is the next best niche dating app that caters solely to Christian users.
A few things make ChristianCafe the intimate place it is to meet other Christian believers. This dating app has a highly active community forum where members can chat back and forth all day long with each other. Many of these forums discuss matters of faith, the nuances of religious denominations, and personal beliefs. Sometimes members just chat to chat! There's also the renowned prayer board where members can offer each other support and love through the ups and downs of life.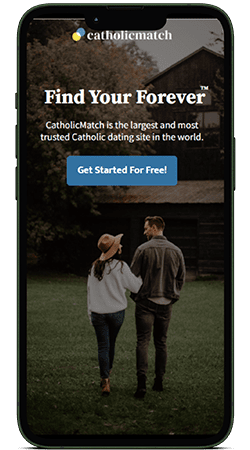 #4: CatholicMatch: Best for Catholic Believers
| | |
| --- | --- |
| Best For: | Finding serious relationships with Christian singles with Catholic beliefs |
| Active Members: | 1.5 million |
| Best Features: | Photo Walland Marriage and Wedding Planning Advice |
We were not about to forget all of our Catholic readers out there. This is a great Christian dating app just for you! CatholicMatch blends the tight-knit community feel of ChristianCafe with some of the modern features you'd find with a dating app like eHarmony or Match.com. The Photo Wall, in particular, is a fantastic modern feature that allows you to find singles based on factors like recent birthdays, newest photos, last login, and so on and so forth. There are only about 1.5 million active users, and we have found that Christians using this app who live in urban areas have better luck than those living out in more rural areas. Although there is that downside to the app, CatholicMatch more than makes up for it with tons of resources on the Catholic dating scene. They feature articles and blogs on the app for matters such as single living, dating and relationships, prayer and spirituality, dating tips for the online user, and marriage and wedding planning!
#5: Jdate: Find a Good Jewish Match
| | |
| --- | --- |
| Best For: | Jewish singles who are looking for a relationship |
| Active Members: | 240,000+ |
| Best Features: | Anonymous Browsing, Messaging+, and a Spotlight Feature |
Jdate is another of Sparks Network's best dating apps, in this case, catering to those seeking Jewish singles! These are Jewish singles in the market for deep relationships with others who share a similar faith, so it functions in the same way that Christian Mingle does!
Jdate uses a pretty simplified matchmaking process, but once you're a member of the app, you open yourself up to many great features! There is Messaging+ that allows for unlimited messaging, Spotlights that act as profile highlights for better traffic, anonymous browsing, and notifications when messages have been read by other members!
Dating Apps for Christians FAQ
We might miss some things in our review of the best Christian dating apps, and we hope to cover anything we have yet to address in our FAQ section. We've included popular questions we have gotten from our readers in the past.
Are There Dating Apps Specifically For Christians?
Yes, these are called niche Christian dating apps, and they are designed to be used only by singles who have Christian beliefs. While you are guaranteed to find someone who shares your beliefs and values, niche dating apps will not expose you to as many singles as mainstream dating apps. Niche dating apps also tend to be more expensive, but exceptions exist.
Are Christian Dating Apps Worth It? 
If you're a Christian and want to find singles who share your faith, Christian dating apps are definitely worth it! Take a dating app like Christian Mingle. They are responsible for nearly 30% of all Christian marriages starting online. Those are some great results! Christian dating apps are definitely worth checking out if you're looking for God-centered relationships with other Christians.
Can I Use Christian Dating Apps for Free?
Free trial offers are available at each of the dating apps we feature in this review, but we like to refer to these as "free trials." They are essentially a limited-feature free trial that allows you to use the site in a limited capacity. You can create a free profile, see what kind of singles use the platform, see how the app works, and where everything is located. There are no ways you can use these apps to their fullest potential completely free of charge. 
Which is the Best Christian Dating App for Me?
This will depend on what you need. If you're Catholic, for instance, your best choice would be CatholicMatch. You want a compatible match. You should check out eHarmony . For those wanting a platform comprised only of Christians, you should use ChristianCafe or Christian Mingle. At the end of the day, it's up to you which dating app is the best for you and your needs.
How Much Do Christian Dating Apps Cost?
Each dating app will come at a different cost, so you'll need to choose one that is not only right for your needs but also for your personal budget. eHarmony will definitely be one of the more expensive options of the five we recommend, but that does come with some of the market's best compatibility tests. Create a free trial on any of the apps and access a complete list of the premium membership costs.
What is the Best Dating App Overall for Christians? 
Our top recommendation is Christian Mingle. Not only does the app cater specifically to solid Christian relationships, but they also have a ton of users worldwide: 66 million! There are 16 million active members on the app. All in all, it has the reach and the right demographic of users to make it to our #1 spot!
Are All Christian Singles Looking For Serious Relationships?
We would say that, by and large, most Christians are looking for serious relationships, but that's not always the case. There are a lot of Christians who also want to go on casual dates. And it's no secret that many people who join CatholicMatch do not identify with the Church's stance on premarital sex. Christians are just as nuanced as anyone, so they all join dating apps for different reasons.