Our team of experts diligently research and review all of the products and services we recommend. If you buy through our links, we may receive a commission. Learn more here.
Since 2000, eharmony has been helping online singles fall in love and develop serious, committed relationships where compatibility plays a key role.
But is eharmony the bastion of hope for those looking for a good marriage partner or their soulmate online? Or is it a lot of hype?
Our eharmony review will answer this as best it can, but it really is up to you if eharmony is worth the time and the money. Check out our 2023 eharmony review, and you might just find the answer you're looking for.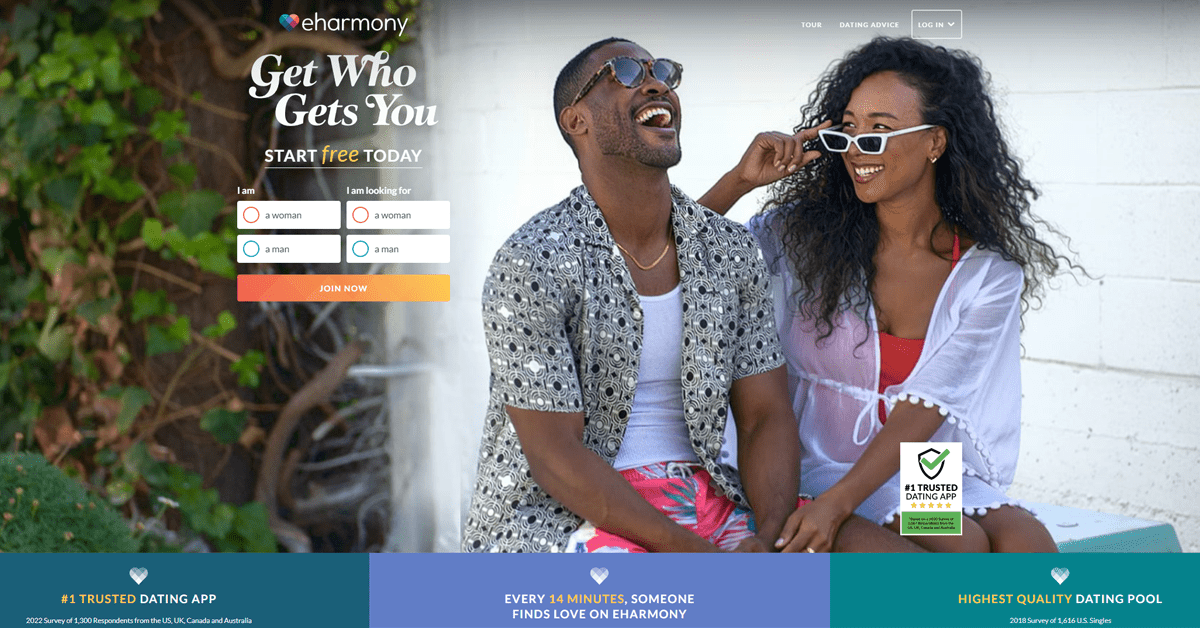 | | |
| --- | --- |
| Sign-Up Time: | 30-45 Minutes |
| Cost: | $35.90 – $65.90 per month |
| Membership Pool: | 16+ Million |
---
---
Our eharmony App Rating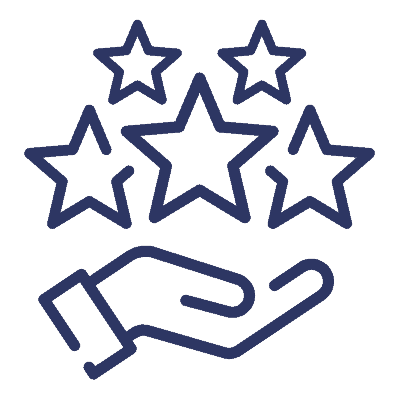 Overall Rating

eharmony is coming in with an overall score of 4.5 out of 5!
How did we rate eharmony as a dating app overall? There are 6 key components that we examined. We assigned an individual score to each primary category and took the average to reach our overall eharmony rating.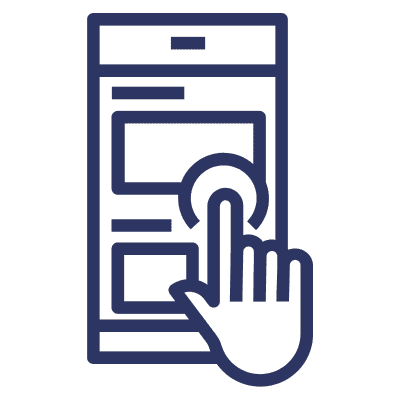 Ease of Use
eharmony is a dating app that's really easy to use, with all the tabs and menus being highly organized and self-explanatory. It's really easy to set up your search filters, access your daily matches, and send messages to potential partners. eharmony also makes accessing your compatibility and personality test results really simple. They provide detailed breakdowns of your test results in great detail. This makes it easy to understand where you stand with other singles on the app.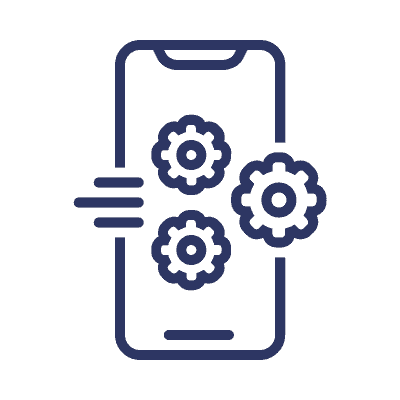 Features

eharmony has some awesome features for customers who purchase a premium membership. Besides daily match recommendations, eharmony provides 30 wildcard matches to its members daily. It's called the What If feature and allows users to meet singles that fall outside their preferences or search settings. And, of course, eharmony members can take the 32 Dimensions test and get detailed analyses of why they matched with their daily matches.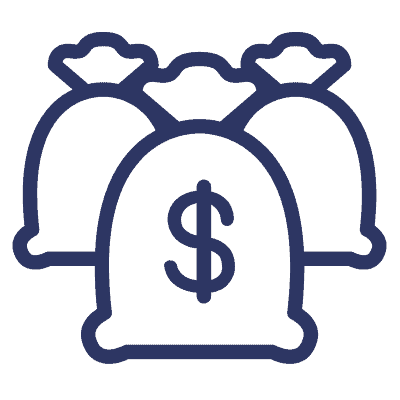 Cost


eharmony is a more expensive option when it comes to online dating apps. The membership cost ranges from $35.90-65.90 per month. But the way we see things, eharmony is a dating app where you are paying for the value of being able to take the 32 Dimensions testing and the fact that any daily match that comes your way also comes with a complete breakdown and analysis of why you're a good match. You're essentially paying to find your soulmate, true love, or a marriage partner, so we see the value in the price they ask for.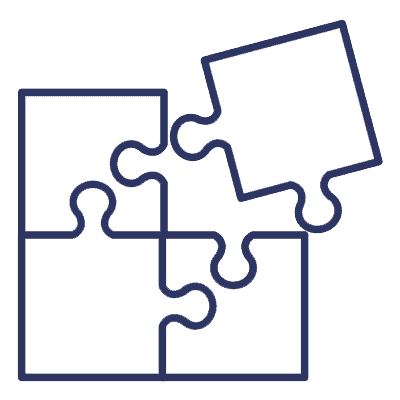 Match Quality

Regarding serious online relationships, eharmony is the best you'll find anywhere in the market. So it's no surprise that match quality is one of the more robust criteria when it comes to rating eharmony. The 32 Dimensions testing has the entire matchmaking process down to a science. The results are a lot of suitable, promising matches, and they are recommended based on scientific principles that lead to happiness and compatibility in relationships.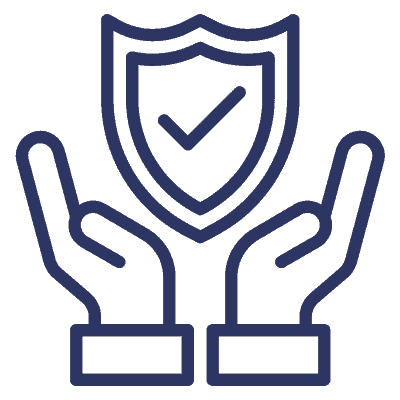 Safety and Security

eharmony is one of the most well-known names in the online dating industry and has a 20-year track record of taking care of its customers and providing them with results when it comes to finding true love and romance. eharmony is responsible for joining together over 600,000 married couples in the last two decades and is the go-to dating app for those who want serious relationships centered on a compatible connection.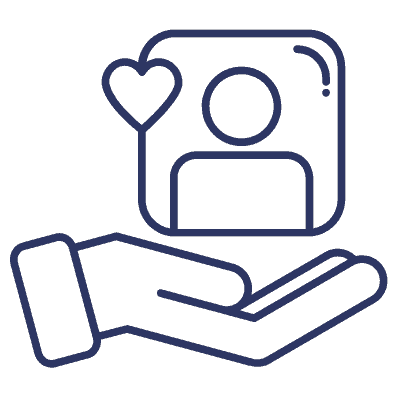 Customer Service


Despite all the great aspects of the eharmony dating app, some downsides also come along the way. Customer service is easily the worst part of using eharmony. Ideally, you don't want to contact customer support at all, but when you need it, you should be able to get in touch with someone right away. eharmony consists of an FAQ section on the app's help center. And that's it! Customers can troubleshoot problems but can never reach an actual person who can assist them with issues or concerns, be it by phone, messaging, or live chat.
Overview of eharmony
eharmony has been in the online dating market for over 20 years and has grown to over 16 million dedicated members, many of whom have found true love and romance because of its services. As we jump into eharmony cost and eharmony free trial information (among other facts and tidbits), you can see precisely what this matchmaking service has grown into and what it offers to its committed customer base.
eharmony Fast Facts
Year Founded: 2000
Total Members: 16+ million
Interesting Fact: 600,000 married couples have met on eharmony over the years
Average User Age: 25-34 years
Gender Ratio: 48% men to 52% women
Why is eharmony so expensive?
Because eharmony has so many years of experience and, through its complicated algorithm, has produced significant results for its members and users, it's definitely a dating app where you're paying for value. And what you pay in membership costs is worth what you get in return!
Cost of eharmony and Premium Membership Features
There are three main membership plans available at eharmony. They all contain the same premium features, and the primary way they differ is in how long they last. There's a 6-month, 12-month, and 24-month plan. The longer the subscription, the more it's going to cost you.
Premium Light
6 Months
$65.90
---
Membership: 6 Months
Price Per Month: $65.90
Total Membership Cost: $392.40
---
All Standard Features
Every Plan Has the Same Premium Features
Premium Plus
12 Months
$45.90
---
Membership: 12 Months
Price Per Month: $45.90
Total Membership Cost: $550.80
---
All Standard Features
Every Plan Has the Same Premium Features
Premium Extra
24 Months
$35.90
---
Membership: 24 Months
Price Per Month: $35.90
Total Membership Cost: $861.60
---
All Standard Features
Every Plan Has the Same Premium Features
Note: Even though you end up paying more for a more extended membership plan, you get a break on the price-per-month rate. eharmony frequently offers discounts on prices like this. If your search for true love takes you longer than expected, you could save some extra cash by choosing a lengthier plan.
Payment Plans
eharmony is one of the few best dating apps that offer payment plans to help its customers with the cost of membership. They offer a package that allows customers to pay off the total in 4 monthly installments. Most dating apps require the entire payment upfront, but eharmony offers its customers this convenient flexibility.
eharmony Free Trial and Premium Features
Traditionally, the free trial experience with online dating apps consists of the new user being able to access all of the premium features of membership for a short window of time, and all that's required of them is to provide their payment information. If the new user didn't cancel the free trial before it expired, the account would become a premium membership plan, and the customer would be charged the cost.
Nowadays, eharmony and many other online dating apps allow new users to create a profile for free and use just a limited number of premium membership features. The two most prominent features omitted from the eharmony free trial experience are that new users cannot message their matches or see their pictures.
Standard (Free) Features
These are some of the features that new users can enjoy without paying any money for a membership.
Register an account and create a free profile
Take the 32 Dimensions of Compatibility testing
View the results of your test
Get daily matches
Get detailed breakdowns of why you're compatible with those matches
View members' profiles
Add members to your Favorites List
Send "smiles," "compliments," and "ice breakers" to other members
Adjust your dating preferences and search parameters
Browse matches outside of your preferences
Enjoy Free Communication Weekends
Premium Membership Features
To enjoy these features, you must be a paying member of the eharmony app. You'll be able to enjoy these features in addition to everything else you can do as a free user of the standard membership plan.
View Photos
By upgrading to a premium membership, you can unlock photos of members who pop up in your daily match suggestions. Now you can actually see what you're matches look like.
Unlimited Communications
As a paying member, you can now send messages or chat with members from your daily match recommendations. No longer are you relegated to simply sending "smiles" or "compliments." You can actually talk with those you that eharmony is recommending.
See Who Viewed Your Profile
Now that you're paying for a premium membership, you can see who has viewed your profile. Your ability to see what's happening in the app dramatically increases once you're a member.
See Who Added You to Favorites
Likewise, you can see who has added you to their Favorites List.
Video Date
This is one of the benefits of being a premium member. You can chat with or get to know your matches by talking face-to-face using Video Date.
What If
This feature is designed to meet other singles outside your daily matches. eharmony provides 30 wildcard matches each day. They are singles who might be slightly different from your preferences but could be promising.
eharmony Auto Renewal
Each eharmony premium membership plan, regardless of length or payment plan, is set to automatically renew itself once it ends. Auto-renewal allows customers to experience uninterrupted benefits and service without reordering another membership plan.
The auto-renewal feature can be turned off by entering your account settings and adjusting your billing preferences accordingly. You'll still be able to enjoy your membership, but your coverage will end, and you won't be billed again for another membership plan.
Should You Join eharmony?
A great way to figure out if eharmony is a good dating app for your needs is to know what the site does well or not. Basically, these are reasons to join or reasons not to join. We'll weigh both sides to give you a good idea of how compatible eharmony is with you and your online dating needs.
Reasons to Join eharmony
These are our top reasons for joining eHarmony. This is not a list of each and every benefit or perk of using the app, but these are simply the best reasons overall.
Top-Notch Matchmaking
Those who value compatible connections will find this one of the top reasons for joining the eharmony dating app. eharmony uses its patented 32 Dimensions testing along with the user's preferences to create scientifically rooted matches in what makes for healthy and fulfilling relationships and connections. eharmony is also focused on quality over quantity, providing only 30 matches a day that fall outside the user's criteria.
Focus on Serious Relationships
If you're on the hunt for your soulmate or the person you want to do the rest of your life with, eharmony is the way to go. They claim to have joined together 600,000 happy couples in marriage. Overall, eharmony credits itself for joining together over 2 million people, the central hub for finding true love, romance, and serious relationships in the online dating landscape.
An Explanation of Daily Matches
We cannot say enough good about the fact that eharmony actually provides its members and users with detailed reports on why they are a good fit with the singles that appear on the daily match list. There are no other dating apps that we can think of that do anything like this. Not only do these breakdowns include all the characteristics mentioned in the 32 Dimensions testing, but eharmony will provide you with an overall percentage score with each potential partner they send your way.
Reasons Not to Join eharmony
If you are looking for reasons to not join eHarmony, you'll find them right here. Perhaps some of these points resonate with you. That's a good sign to check out another dating app.
No Search Option
eharmony is so committed to quality and compatible relationships that they take on nearly all the control with whom you can see on the app. You get really good daily matches as well as 30 wildcard matches per day straight from eHarmony, but there's no way for members to proactively search for themselves. If you trust eharmony and believe they know best who will be a good match and who won't, it's a great dating app. But if you want a lot of control in your search, you might want to try another platform.
Paying Members Can Get Matched With Free Trial Users
As a paying member, there's a chance that you'll get some free trial users in your daily matches. This means that you could potentially be matching with someone who is not as committed to using eharmony as you and thus might not take finding a serious relationship, well, all that serious.
Long Sign-Up Process
The sign-up process (even for just a free trial account) takes anywhere from 30 to 45 minutes, depending on how detailed you want to get with developing your personal profile. If you want to get signed up in a short amount of time, eharmony is probably not going to do it for you.
Not Good For Casual Relationships
This one is a little obvious. eharmony is known for creating and fostering serious relationships. In fact, they reject applications from members who might not be capable of being in something serious. If you're looking for casual dating or romance, eharmony won't be the dating app for you.
How to Sign-up for eharmony
If you're ready to begin using eharmony (regardless of starting as a free member or a paying member), register your account and create a free eharmony profile today as the first step of your action plan! We've actually included a complete rundown of the entire sign-up process below to help you out.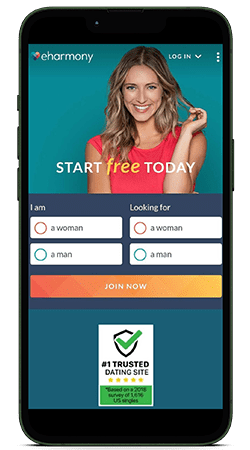 Step 1: Visit eharmony
This is the easiest part of the entire process. Simply visit eharmony or click on the picture above to get started. Enter your gender along with the gender of the singles you are hoping to find on the app. Then click on Join Now.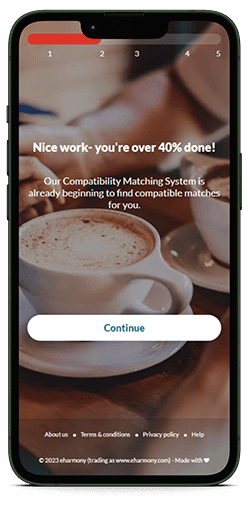 Step 2: Take the 32 Dimensions Testing
This will be the most time-consuming portion of the 30- to 45-minute process. This part of the process could take you upwards of 20 to 25 minutes.
Go through the entire eharmony compatibility questionnaire and answer everything as honestly and as completely as you can
We aren't going to cover each and every question you'll encounter (that would take all day), but we will give you a few examples. They aren't all just multiple-choice or agree/disagree-type questions. Some of them are visual in nature.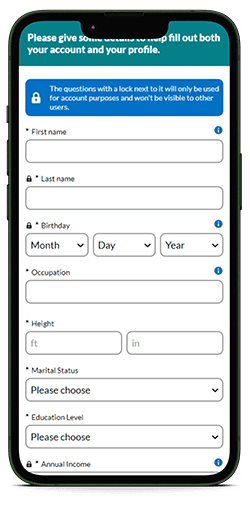 Step 3: Enter Your Personal Information
This next step involves you putting in your personal information to establish the basis of your profile. You'll need to include the following:
Name
DOB
Occupation
Height
Marital Status
Education Level
Income
Location
Religion
Ethnicity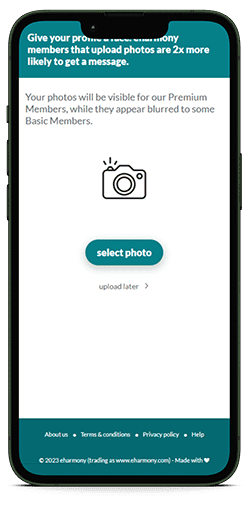 Step 4: Add a Photo of Yourself
Include a photo of yourself for your eharmony profile. You can upload straight from your mobile device or from social media. Keep in mind that your picture will only be seen by paying members of the app and will be blurred for free trial users.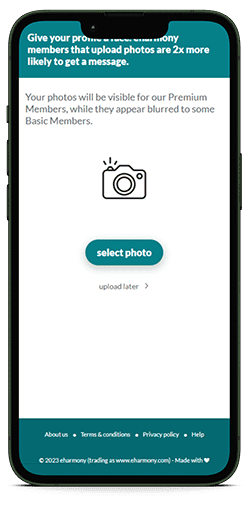 Step 4: Add a Photo of Yourself
Include a photo of yourself for your eharmony profile. You can upload straight from your mobile device or from social media. Keep in mind that your picture will only be seen by paying members of the app and will be blurred for free trial users.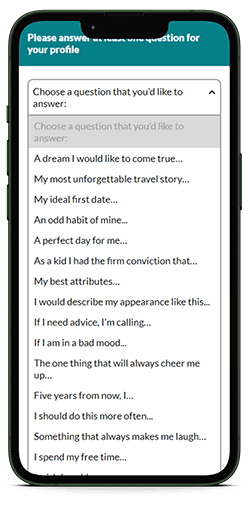 Step 5: Profile Questions
You'll have to do at least one of these to move on to the next step. Select a question from the list and provide an answer. Any questions(s) that you answer in this step will be added to your profile for other users or members to see. They can provide some additional depth to your character or personality that might not come through with the basic bio information.
Step 6: Written Word Questions
Here are a few more questions that you can answer with a written response. Choose at least one and provide an answer to move to the next step of the sign-up process. Here's your chance to reveal a little more about yourself and further develop the depth of your personal profile.
Note: The more detailed you can get with your eharmony profile, the better the match results you will get.If you end up with a really basic profile, other members will not have as much to go off and might hesitate more to reach out to you.
Step 7: The Homepage
Once you've gone through the personality and compatibility quiz and provided some written-word responses for your profile questions, you'll be taken to the eharmony homepage. If you want to make changes to your profile, you can do so by clicking on the icon in the upper right-hand corner where your profile picture appears.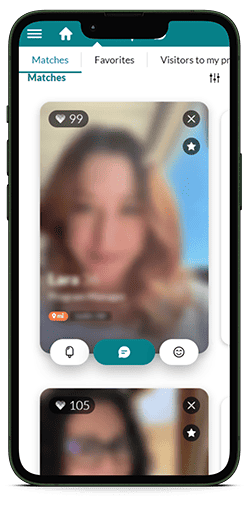 Step 8: Matches
To review your daily matches, click on the Matches tab and the top of the menu and begin seeing whom eharmony has recommended for you!
If you're ready to meet your soulmate or your future marriage partner, begin a standard plan at eharmony today. Sign up for free to start and upgrade later when you're ready to become a full-fledged premium member. That way, you can experience all the awesome benefits.
What Is the eharmony Compatibility Score?
eharmony's Compatibility Score is a stellar and standout feature of the dating app. It is designed to gauge and show how well two users may click romantically based on their similarities and contrasts.
Upon signing up, users complete the detailed "eharmony's Compatibility Quiz," which consists of around 70 questions and takes about 30 to 45 minutes. It is designed to dig into one's personality, values, and relationship preferences, ranging from simple likes and dislikes to more complex questions about relationship roles and goals.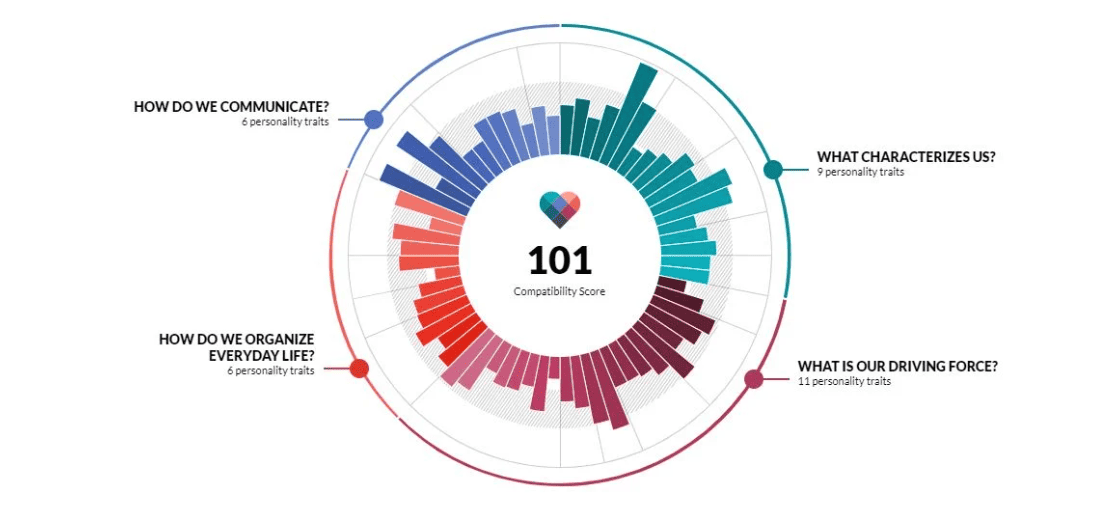 The answers from this quiz are used to create a distinctive "Personality Profile" for each member, creating "Compatibility Scores." These scores range from 60 to 140, where a higher score suggests a greater level of compatibility between users. The Compatibility Score you see on a match's profile is not a fixed number; it will change depending on mutual compatibility with each match.
The scoring system is designed to guide users in gauging potential matches:
Scores of 110 and above are considered exceptional and suggest that you and the match could get along exceptionally well.
Scores between 100-109 are encouraging, and eharmony recommends reaching out or initiating contact.
Scores from 60-99 represent a base level of compatibility, where exploration of possible commonalities could be worthwhile.
This system was created and put in place so users can better understand potential relationship dynamics at a quick glance and encourage interaction based on these scores.
Alternatives to eharmony
We completely understand if you've read through our eharmony review and you feel that you need to keep looking for a different dating app. eharmony is not for everyone. We understand that.
Check out some of our best eharmony alternatives in the meantime:
Dating App
Key Facts
Free Trial
Elite Singles

• Number of Users: 2+ million
• Gender Ratio: 44% men and 56% women
• Best For: Singles looking for serious relationships with highly educated people
• Pricing: Begins at $31.95 per month

Start Your Free Trial!
Jdate

• Number of Users: 240,000+
• Gender Ratio: 47% men and 53% women
• Best For: Jewish singles
• Pricing: Begins at $29.99 per month

Start Your Free Trial!
Christian Mingle

• Number of Users: 16+ million
• Gender Ratio: 44% men and 56% women
• Best For: Christian singles who want serious, God-centered relationships
• Pricing: Begins at $14.99 per month

Start Your Free Trial!
Zoosk

• Number of Users: 40+ million
• Gender Ratio: 47% men and 53% women
• Best For: Singles who want to find casual dates and romance
• Pricing: Begins at $10.00 per month

Start your Free Trial!
OurTime

• Number of Users: 1.5 million
• Gender Ratio: 58% men and 42% women
• Best For: men who want serious relationships with women over 50
• Pricing: Begins at $15.96 per month

Start your Free Trial!
eharmony Review FAQ
If there's anything else that you want to know about the eharmony dating app, there's a chance you'll learn some new in our FAQ section below. We feature a lot of the common questions we get from our customers and users.
Is eharmony a Good Dating App For Finding Serious Relationships?
Yes, this is probably the best place online to go if you're looking for a marriage partner, your soulmate, or just someone with whom you can share a strong, compatible connection. In fact, eharmony is so committed to strong relationships that they are extremely wary of letting users on the platform who don't have an interest in pursuing serious relationships.
Is eharmony safe?
Absolutely. eharmony is a dating app that takes the safety and security of its members seriously, so they employ safety measures like high-quality SSL encryption and a diligent verification process for onboarding members and users. There are also ways to report any sort of weird behavior or abuse from other members to eHarmony.
How Much does eharmony Cost?
There are three main membership plans available to eharmony customers. There's a 6-month plan, a 12-month plan, and a 24-month plan. Price-per-month these are $65.90, $45.90, and $35.90, respectively.
Is This eharmony Review Honest and Unbiased?
Yes. We focused on the good and the bad that eharmony has to offer. For instance, we cannot say enough good about the compatibility testing that eharmony is so well-known for, but we are also not shy to say that the customer service experience is wanting big time.
Can I Use Every App Feature With the eharmony Free Trial?
Unfortunately, no. Free trial members can create a profile, get daily matches, and set up their online dating preferences, among other things. But new users who are using the free trial cannot see photos of their daily matches and cannot send them messages.
Can I Search for Other Members Outside of Daily Matches?
The way eharmony is structured is that members really only have access to the match recommendations that the app provides. There is technically no search function where members can proactively search on their own, but there is the What If feature where eharmony suggests 30 additional matches per day that might not be a completely perfect fit on the compatibility front but does offer something a bit different.
What is the Average User Age For Those Using the eharmony Dating App?
People who are using eharmony are generally between the ages of 25-34, which suggests an older, more mature clientele. And that's really not any sort of surprise, as eharmony is geared toward serious, long-term relationships.
How Does an eharmony Profile Appear to Other Members?
If it's a premium member, they can see your profile picture and your personal bio information, including facts about your appearance, your interests, your beliefs, your lifestyle choices, and many other things. Any of the "About Me" questions you answered will be featured on your profile, as well as any of the written-response prompts.
Does eharmony Really Work?
Altogether, over 2 million people who have used eharmony have claimed to find true love, a great marriage partner, or their soulmate. Since its start in 2000, eharmony has been responsible for the formation of over 600,000 marriages.
What Are the Free Communication Weekends?
These are a promotion that is offered from time to time for free users of eHarmony. They are not offered each and every weekend. Basically, free trial users can message other members or free trial users on the app free of charge, but obviously for a limited time.