Our team of experts diligently research and review all of the products and services we recommend. If you buy through our links, we may receive a commission. Learn more here.
Suppose you're a Catholic single and looking for a serious relationship that will eventually lead to marriage or a long-term commitment with your soulmate. In that case, you should look at the CatholicMatch dating app. It's the best dating app for Catholic singles in the online dating market!
Our CatholicMatch review will cover our process for rating the app. We'll delve into membership features, plans, and the app's cost of becoming a paid subscriber. Our CatholicMatch review includes a guide for creating a new account and either becoming a free trial member or upgrading to a premium membership plan!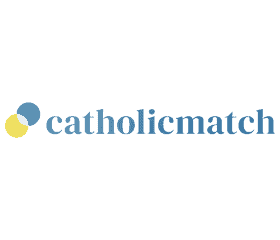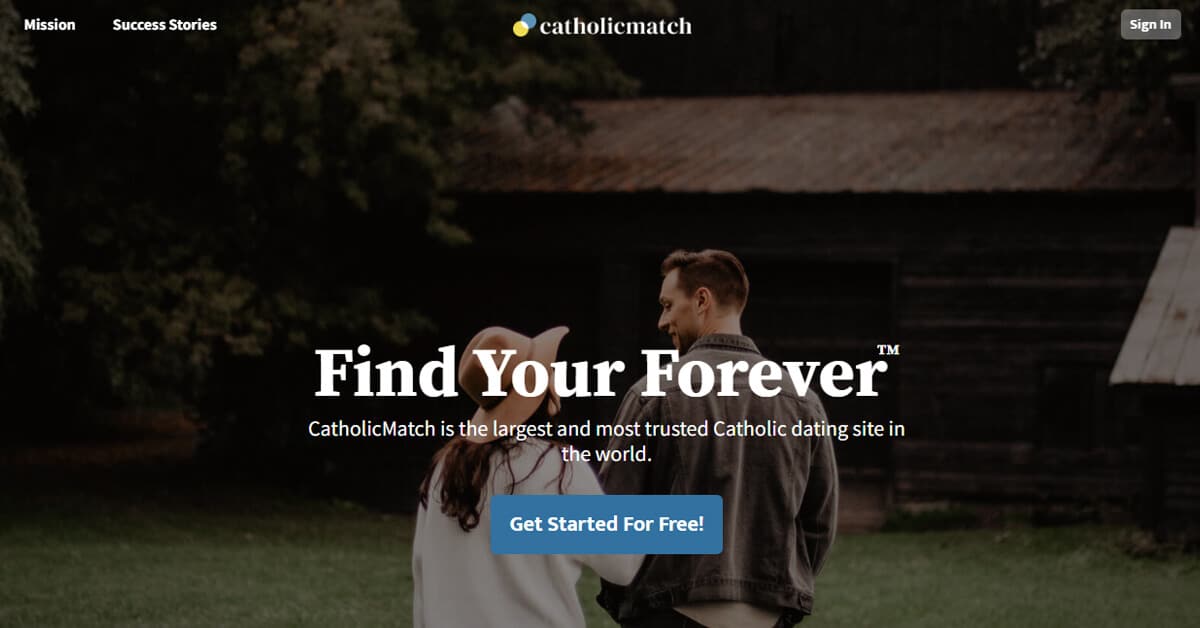 | | |
| --- | --- |
| Sign-Up Time: | 15-20 Minutes |
| Cost: | $9.99 – $29.99 per month |
| Membership Pool: | 1.5 million |
---
---
Our CatholicMatch Review App Rating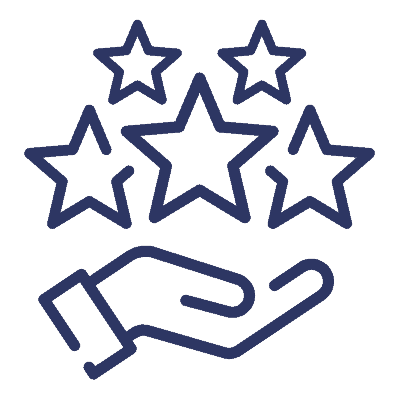 Overall Rating

CatholicMatch is coming in with an overall score of 4.0 out of 5!
Our CatholicMatch review is aimed at bringing you the most honest and accurate picture of the dating app that's possible.
Once again, we're using our 6-point rating process for scoring the CatholicMatch dating app. Each category gets its score, and we've taken an average to get to the overall CatholicMatch rating.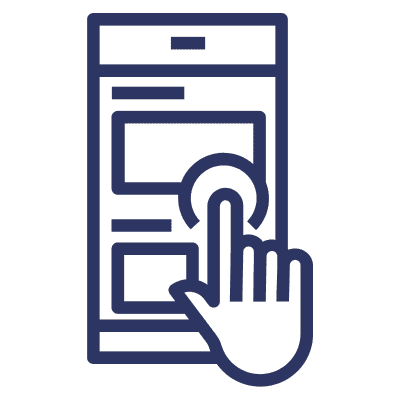 Ease of Use

Although the sign-up process can be a bit time-consuming, the overall usability of the CatholicMatch dating app makes it one of the more intuitive platforms we've encountered. Searching for the right singles is made easy using the Photo Wall and breaking down searches by criteria like upcoming birthdays, who's currently online, and who's uploaded the most recent photos. It's also effortless to cycle through many singles using swipe-style dating features, easy-to-access search filters, and preference settings.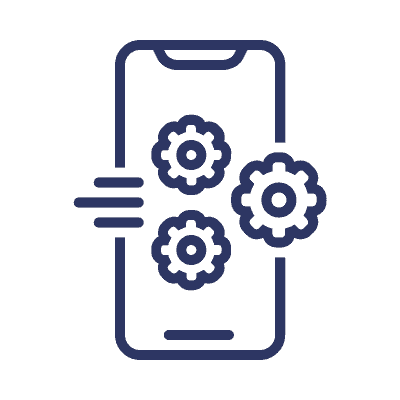 Features

Our CatholicMatch review revealed that the dating app offers basic features like unlimited messaging and the ability to see who has viewed or liked your profile. The CatholicMatch Photo Wall allows members to see the latest photos posted to the site. Premium members can use the Photo Wall as a search tool, finding singles based on criteria like the most recently uploaded photos, upcoming birthdays, or those currently online using the app.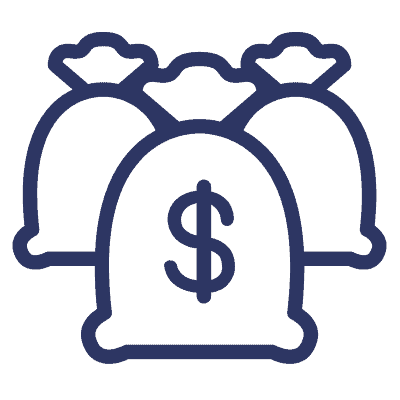 Cost


CatholicMatch is a more affordable dating app and a reasonable price for a niche dating platform! It will cost anywhere from $9.99 to $29.99 per month to purchase a CatholicMatch membership. Three plans (1 month, six months, and 12 months) are perfect for customers looking for flexibility regarding their budget. And although there are no payment plans for membership, the more extended plans feature a reduced monthly cost rate which helps the customer save some money over time!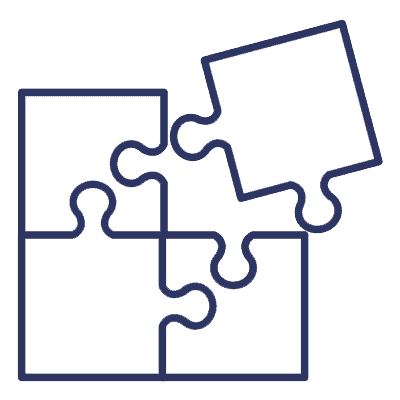 Match Quality


During our CatholicMatch review, we found the matchmaking system at CatholicMatch is decent. Members can set up their dating preferences based on age, appearance, location, interests, religious beliefs, or political affiliation. And the results of users' swipe-style dating activity are used to enhance your daily matches. CatholicMatch, however, is a dating app that only works well for users in urban areas, which results in many matches being too far away in urban settings. This results in less-than-ideal matches for rural customers.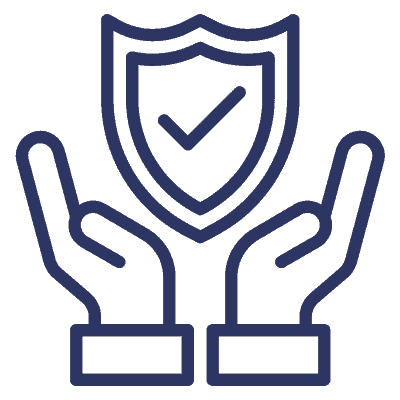 Safety and Security


CatholicMatch keeps its members' private information completely confidential using SSL-encrypted connections. They also use a security system that scans the app for suspicious activity or behavior, identifying and removing fake accounts or catfishers when found. CatholicMatch also gives users the ability to block or report any members they deem to be a threat or illegitimate.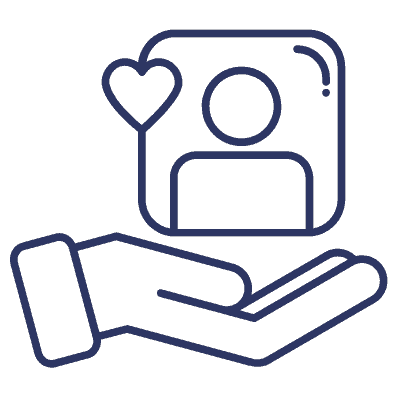 Customer Service


Of all the dating apps we've reviewed in the past, our CatholicMatch review showed us that it is one of the better platforms in the customer support realm. Most dating apps will offer customers a help ticket, a generic contact form, and an FAQ page for troubleshooting problems. In addition, CatholicMatch provides a toll-free phone number and an actual email address for a more attentive service and support experience.
Overview of CatholicMatch
We learned a lot about the dating app during our CatholicMatch review process. It's the best option for Catholic singles seeking serious relationships with people who share the same faith.
CatholicMatch Fast Facts
Year Founded: 1999
Total Members: 500,000
Average Age: 37-43 years of age
Gender Ratio: 50% men to 50% women
We discovered during our CatholicMatch review that CatholicMatch has been in business for 24 years and has grown to 1.5 million active members. There are about 500,000 who visit the app every week, which indicates that this niche dating platform has some heavy user engagement. People using CatholicMatch are typically older, with the average age of its members being 37-43 years. One of the greatest strengths of the CatholicMatch app is an even split of men to women using the platform!
Premium Membership Subscriptions and Prices
Each premium membership offered by CatholicMatch comes with the same premium membership features but differs in plan length. You're paying for the time you'd like to enjoy the services, benefits, and parts of the CatholicMatch dating app.
Premium Light
1 Month
$29.99
---
Membership: 1 Month
Price Per Month: $29.99
Total Membership Cost: $29.99
---
All Standard Features
Every Plan Has the Same Premium Features
Premium Plus
6 Months
$14.99
---
Membership: 6 Months
Price Per Month: $14.99
Total Membership Cost: $89.94
---
All Standard Features
Every Plan Has the Same Premium Features
Premium Extra
12 Months
$9.99
---
Membership: 12 Months
Price Per Month: $9.99
Total Membership Cost: $119.88
---
All Standard Features
Every Plan Has the Same Premium Features

CatholicMatch doesn't offer any payment plans for the cost of their membership plans. Before accessing the membership, the total amount must be paid in one lump sum. But CatholicMatch offers a reduced monthly cost rate on its extended memberships. This deal provides significant savings for those who envision using the CatholicMatch dating app long-term.
CatholicMatch Free Trial and Premium Features
In our CatholicMatch review, we found that the app does offer its users a "free trial," but it's not a typical free trial where you can use the platform with no restrictions for a limited time. Free trials usually require that the customer provide payment information in exchange for test-driving the app. If they don't cancel the free trial before the time is up, they'll be charged the cost of a membership plan, and the free trial will become a premium membership.
Instead, CatholicMatch allows its new users to experience a limited number of membership features free of charge but will only allow them to use others if they upgrade to a premium membership plan. This is the norm with most dating apps anymore. But the great news is that new users can enjoy these standard features for as long as they want. There's no time limit to enjoying the free features offered at CatholicMatch.
Standard (Free) Features
What features come with a CatholicMatch free trial anyways?
Register a CatholicMatch account.
Personality and compatibility testing during sign-up
Create a personal profile page
Set and adjust dating preferences and search filters.
Access the CatholicMatch Photo Wall
View other members' or free trial users' profiles.
Send generic icebreaker questions (emotigrams)
Upload as many as 50 photos.
Respond to messages sent by paying members.
Premium Membership Features
These are the features that customers can enjoy when they upgrade to a premium subscription at CatholicMatch. Of course, the standard elements come with a paid membership plan, but we've omitted them below so you can see which features must be paid for.
Unlimited Communications
Premium members can talk with paying members or free trial users on the app. There aren't any restrictions in place. This is one of the better reasons to get a premium membership. What's the point of using a dating app if you can't send messages?
Access Community Chatrooms or Forums
CatholicMatch has a fairly active user community, seen in the CatholicMatch chatrooms and forums. Members can talk about faith or religion, which makes for great bonding moments between people on the app.
See Who Viewed or Liked Your Profile
Paying for a subscription allows members to see which others have liked or viewed their profile. This valuable feature can help the user narrow down the right singles.
Send Personalized Icebreaker Questions
Paying members to have the ability to personalize the icebreaker questions they send out to other members on the app. Personalized icebreakers are perfect for making introductions and doing so in a way that generates some interest.
Top-Shelf Customer Support
CatholicMatch is better than the average dating app in terms of the customer support it offers its members. Not only is there email support, but there's also a toll-free phone number available to members who want a real person to guide them through any problems or issues that arise. There's even an option to send mail to CatholicMatch's home office!
Do CatholicMatch Memberships Renew Automatically?
Yes, any membership purchased at CatholicMatch will automatically renew itself once it ends. Members don't have to experience any lapse in membership benefits or perks. And they don't have to waste their valuable time by repurchasing the same membership.
Only some people will want their membership plan to renew automatically. The auto-renew feature can be disabled by turning it off in the account settings under billing preferences. Once your membership plan has ended, your access to CatholicMatch perks and benefits will cease, but you won't be charged for another membership.
Should You Join CatholicMatch?
After reading our CatholicMatch review, you might be on the fence about joining the CatholicMatch dating app. One of the best ways to decide if CatholicMatch is worth the time and money are by checking out our reasons to join and our senses to not join, listed below.
Reasons to Join CatholicMatch
If you're looking for reasons to join the action at CatholicMatch, you're in luck. These are the top reasons we found during our CatholicMatch review to try the app. Here's why this dating platform might be a good fit for you.
You're Catholic
This one is a little bit obvious, but there's no denying that you will like this dating app if you are of the Catholic faith. It's the best niche Catholic dating app that we know about. They have great resources for Catholic singles, like the forums and chatrooms where members can talk about their faith or personal experiences with other members. Most people using the app are interested in serious relationships or romance with those who share the Catholic faith.
You're Looking For Serious Relationships
CatholicMatch will be ideal if you're Catholic and desire solid and meaningful relationships with other singles that develop into long-term commitments or marriage. There are better dating apps for casual dating or casual romance. People using CatholicMatch are interested in commitment and traditional values that elevate family and marriage.
You Live in the City
CatholicMatch is a niche dating app with a smaller user base than most mainstream dating apps. And its user base is located primarily in bigger towns, cities, and urban centers. Most people on the app will not live far out in the country. CatholicMatch will be well worth the time and money if you're Catholic, desire a serious relationship, and, in the case of our current point, live in a city or larger town.
Ease of Use and Good Daily Matches
CatholicMatch is worth considering how easy the platform is to use and how well they conduct the matchmaking process. It's effortless to set up your dating preferences and search filters. It's also simple to look for singles by swiping through profiles or searching using the Photo Wall's search terms.
If you're ready to use CatholicMatch, sign up for a free trial or a premium membership and begin meeting singles who share your faith!
Reasons Not to Join CatholicMatch
The truth is that CatholicMatch is not for everybody out there. For some, it's simply not a good fit. Look at our top four reasons below, which indicate that you should keep looking at other dating apps.
You're Not Catholic
CatholicMatch will not be worth your time if you're not Catholic or don't practice religion. There's a good chance that the name of the dating app is a dead giveaway, and you have already ruled out CatholicMatch from your list, but in case you still need to, we want to make it completely apparent.
You're Looking For Casual Dating
CatholicMatch is not the dating app to use if you're searching for casual dating or non-committed romantic encounters. People using CatholicMatch are typically in the market for serious relationships and commitments. Much of the time, these connections result in singles finding their soulmate or a marriage partner.
You Live in the Country
For those residing in rural areas, CatholicMatch will offer daily matches that will be less than ideal, at least when it comes to proximity. Because most singles using the app live in cities and larger urban areas, CatholicMatch will offer rural users suggestions, but many will live far away. Unless you're willing to do a long-distance relationship or you're okay with a super thin dating pool, CatholicMatch will not be your best option if you live in the country.
You Want a Short Sign-up Process
There are a lot of dating apps where the sign-up process takes less than five minutes, the app allowing you to access your new account first and work on your profile after the fact. Some platforms like eHarmony have a process that takes anywhere from 30 to 45 minutes! And while CatholicMatch's 15-20 minute sign-up is far from being the worst in terms of time consumption, it's still one of the longer ones compared to all the platforms where you can access your new account in five minutes or less.
The Sign-up Process
You may be interested in becoming a premium member of the CatholicMatch dating app. After all, one of the best ways to test out CatholicMatch is to become a free trial member. You may want to give the free trial a whirl. Either path you choose, you'll need to go through the same sign-up process. We when through the sign-up process step-by-step during our CatholicMatch review.
Follow our guide below to get a new account registered on CatholicMatch in around 15 to 20 minutes!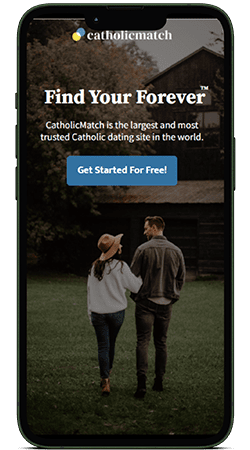 Step 1: Visit CatholicMatch's Homepage
If you're accessing CatholicMatch using your web browser on desktop or mobile, visit the CatholicMatch website and click on "get started for free."
Suppose you want to use the app. Head over to the App Store or Google Play and download the app to your mobile device. Once it's downloaded, continue to follow from Step 2 and on, just like users who register a new account by accessing the website directly.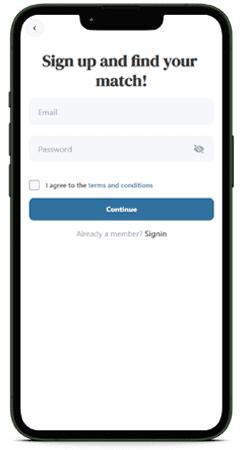 Step 2: Create a Password
The first official step is creating a unique password to access your CatholicMatch account. Provide your email address as well. Both of these items will be used for login purposes. Once you've read and agreed to CatholicMatch's terms and conditions, hit "continue" to move on to the next sign-up phase.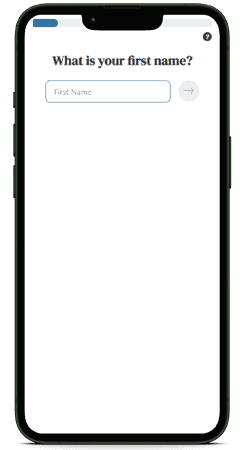 Step 3: Basic Questions
The first phase of the CatholicMatch questionnaire will involve more fundamental questions. You'll be asked about things like:
Your name
Your location
Your date of birth
Your height
Your gender
Your marital status
Your ethnic background
Your Diocese
There will also be some lifestyle and background questions that pop up as you continue to move deeper into the questionnaire:
Your smoking or drinking habits (if any)
Your desire for children
Your political affiliation
Your career
Your educational background
Step 4: Questions on Faith
The next step of the sign-up process involves questions that are directed toward aspects of your faith:
What liturgical style do you prefer?
Do you accept the Church's teachings on the Eucharist?
How often do you attend mass?
How much do you practice your faith?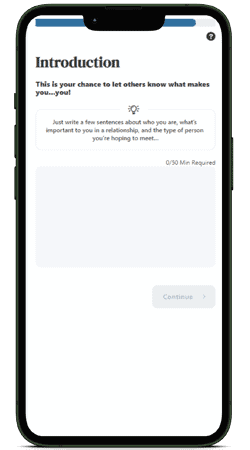 Step 5: Introduce Yourself
The next portion of the sign-up process is called "introduce yourself." You can write more about who you are to give other singles on the app a better idea of the real you beyond the basic bio information. A minimum of 50 characters is required, but you max out at 500.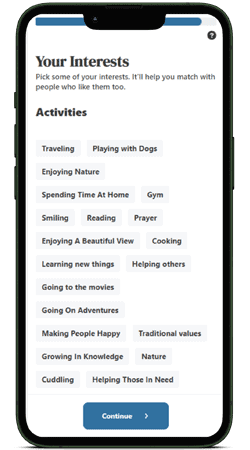 Step 6: Your Interests
Let other singles on the CatholicMatch app know of your interests by selecting all that apply from the categories and lists provided. The preferences you provide will be used in the matchmaking process to ensure you're paired with compatible matches.
Step 7: Upload a Profile Photo
Upload a profile photo from your mobile device or your desktop PC. You only need one image to get to the next step, but you can upload up to 50 if you want! There's even an option to upload pictures from your Facebook account.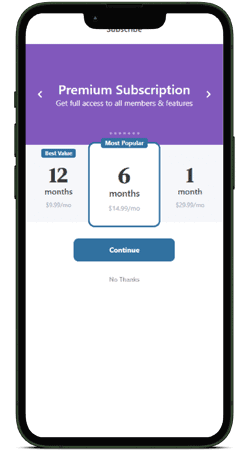 Step 8: Upgrade to Membership or Become a Free User
Become a paying member of the CatholicMatch app or continue for free. Even if you pass on the premium membership plan, you can always upgrade later on at any time! The choice is yours!
Once you've decided, you can continue your new CatholicMatch profile and meet Catholic singles!
Alternatives to CatholicMatch
CatholicMatch might not be the best dating app for everyone. If you've read our CatholicMatch review to this point and decided to find a different dating app, we've included some great dating apps in the table below that serve as decent alternatives. Check out these platforms using the free trial links and find out one of these dating apps will better serve your needs!
Dating App
Key Facts
Free Trial
eharmony

• Number of Users: 16+ million
• Gender Ratio: 48% men and 52% women
• Best For: Compatible relationships that lead to marriage or a soulmate
• Pricing: Begins at $35.90 per month

Start Your Free Trial!
Christian Mingle

• Number of Users: 16 million
• Gender Ratio: 44% men and 56% women
• Best For: Serious relationships with Christian single
• Pricing: Begins at $24.99 per month

Start Your Free Trial!
JDate

• Number of Users: 240,000+
• Gender Ratio: 47% men and 53% women
• Best For: Serious relationships with Jewish singles
• Pricing: Begins at $29.99 per month

Start Your Free Trial!
ChristianCafe

• Number of Users: 44,000
• Gender Ratio: 46% men and 54% women
• Best For: Finding Christian single who are looking for true love
• Pricing: Begins at $12.50 per month

Start Your Free Trial!
CatholicMatch Review FAQ
Do you want to learn more about CatholicMatch? Is there something we missed in the CatholicMatch review that you wish we'd discussed? We hope our FAQ section can plug some of those gaps and offer additional information to help you learn more about the CatholicMatch dating app.
Can I Use CatholicMatch for Free?
You can use CatholicMatch for free, but it will be limiting. Free users can create a profile, set and adjust their search settings, check out the Photo Wall, view profiles, upload photos, and send out generic icebreaker questions to other members or users. There are a few more things that new users can do for free, but one of the main features that free users are barred from is communicating with other members.
What's the CatholicMatch Cost of Membership?
There are three membership plans at CatholicMatch. 1-month membership costs $29.99. 6-month membership costs $14.99/month (a grand total of $89.94). 12-month membership costs $9.99/month (a grand total of $119.88).
How Safe Is CatholicMatch?
CatholicMatch is equipped with modern safety features that allow customers to use the app with few worries. SSL-encrypted connections safeguard all private information that any free trial user or member shares with the platform. CatholicMatch regularly scans the app for any catfishers or fraudulent accounts. They even allow members to report or block others who might be illegitimate or act harmfully toward other members.
Can I Access CatholicMatch Using My Web Browser?
Yes, CatholicMatch has a regular website that can be accessed using the web browser on your desktop PC or mobile device. And, of course, they offer the downloadable app available at both the App Store and Google Play. The app and the website are both similar in the way their function. There's not much of a learning curve going back and forth between one and the other.
How Long Does the Sign-up Process Take?
It will take around 15 to 20 minutes to complete the sign-up tasks that CatholicMatch requires of its new users. You'll create your new profile and undergo CatholicMatch's personality and compatibility quizzing during this time. The app will use the testing results to get the ball rolling with your daily match suggestions.
What's the Average CatholicMatch Member Like?
CatholicMatch has an older customer base compared to most dating apps. The average user is between 37 and 43 years of age. The site is evenly divided between men and women. And most people using this platform have Catholic faith. They are typically looking for serious relationships with singles who see eye-to-eye when it comes to values and beliefs.
Can Free Users Send Messages?
Free users cannot message other members or free trial users on the CatholicMatch app. But there's one notable exception to this rule: free users can respond to any messages sent to them by paying members.
Is There Any Way to Cancel My Membership?
You can cancel your current membership by turning off the auto-renewal feature. Your current membership is already paid for, so turning off the auto-renewal feature doesn't mean you're refunded. Your subscription will continue until its end, but you won't be automatically enrolled and charged for a new plan when it comes.
How Can I Contact Customer Support?
There are several ways that you can reach the customer support center. A toll-free phone number and an email address allow members to contact CatholicMatch in the most direct manner possible. There's also a help support ticket feature and an FAQ page that can be used for members who'd prefer to troubleshoot problems independently.
Is It Possible to Hide My CatholicMatch Profile?
You can hide your profile by clicking "edit your profile" and "change profile status." You can then choose to hide your profile. You'll still be able to chat with the member currently talking with you, but you'll be hidden from anyone new. It's a good feature if you want to break from new leads and focus on those you've already met.
Why Is CatholicMatch Ill-Suited for Rural Customers?
Most CatholicMatch members live in cities and urban areas. Those who live out in the country will get daily matches, but many of them could be located far away from where they live.