Our team of experts diligently research and review all of the products and services we recommend. If you buy through our links, we may receive a commission. Learn more here.
Some people use online dating apps to find meaningful and committed relationships or a soulmate or marriage partners. But there's also a massive slew of those who prefer the casual side of online dating: flirting, fun dates, and low-commitment relationships. And believe us, plenty of online dating apps can make your informal dating expectations a reality! Check out our five best casual dating apps of 2023!
These casual dating apps have many active members, creating a large pool of possibilities! And something that potential users will love to hear is that these platforms come with flexible, affordable membership plans, so you never have to pay too much to enjoy the services. A great way to see if these casual dating apps are right for you is to begin a free trial membership. You can test out the app to see how it operates, create a free profile, and see what kind of people you can find on the platform!
---
---
5 Best Casual Dating Apps in 2023
Check out our top selections for the best in casual dating online. While many apps cater to casual relationships and romance, we've seen reports of many users and members finding a soulmate or true love using these apps too! They can be used for a wide variety of relationship goals! Each comes with a large dating pool, a generally even breakdown of male-to-female members, and membership pricing that won't hit your wallet too hard.
Dating App
Key Facts
Free Trial
Zoosk

Active Members: 40 million
Gender Ratio: 47% men to 53% women
Best For: All singles- flirting, finding love, and getting dates
Membership Price: Begins at $12.50/month

Start Your Free Trial!
Tinder

Active Members: 8+ million
Gender Ratio: 61% men to 39% women
Best For: All singles seeking relationships and casual dating
Membership Price: Begins at $4.50/month

Start Your Free Trial!
Bumble

Number of Users: 11+ million
Gender Ratio: 57% men and 43% women
Best For: All singles seeking relationships, casual dating, or friendships
Pricing: Begins at $16.99 per month

Start Your Free Trial!
Hinge

Active Members: 500,000
Gender Ratio: 55% men to 45% women
Best For: All singles seeking relationships and casual dating
Membership Price: Begins at $4.99/month

Start Your Free Trial!
CoffeeMeetsBagel

Active Members: 10+ million
Gender Ratio: 55% men to 45% women
Best For: All singles who want a modern approach to dating
Membership Price: Begins at $15.00/month

Start Your Free Trial!
You can enjoy a portion of the dating app's features, and there's no cost to you! Find out what kind of singles want these apps and create a free profile to get your face and information out there! It's like a free advertisement! Create a free trial using any of the links in the table above.
You Can Trust Our Recommendations
Who are we to say which casual dating apps are the best for daters and relationship-seekers? How do you know that our recommendations are sound? Why should you trust the dating apps we've just recommended anyways?
These are all great questions and ones that we get a lot from those who read our content but might need to familiarize themselves with our business and domains. There are five primary reasons that you can trust our best casual dating app suggestions or any of the content we produce, for that matter.
We Promote Dating Apps That Deliver Results
From time to time, we review niche dating products, but much of the time, we're plugging the mainstream dating apps due to their track records, versatility, and more affordable membership plans. We stray from reviewing obscure dating apps not known for delivering solid results for their customers. Instead, we focus our time and attention on providing great reviews of popular dating apps with many active members.
We Look At All Pros and Cons
Our goal is to remain unbiased in any reviews that we conduct. We look at all the pros and cons we found with the dating apps we review and come to an overall rating that's fair and rooted in what we see as the platform's main strengths and weaknesses. We're always going to be honest about what we see and experience with these dating apps, whether it's something good or bad.
Our Writers Use Free Trials
Not only do our reviews need to be completely honest, but they need to be written from personal experience. We have our writers test the dating apps we recommend by creating free trial accounts. They get a chance to use the apps firsthand and produce content and reviews that are entirely accurate in what they're saying about the sign-up process, navigation of the app, and unique features.
Updated Content
The online dating market is known to change. Membership costs rise, and dating apps will discontinue promotions or add new features to their repertoire. Our content will reflect any of those changes that may have occurred. Because our team regularly updates all our reviews and other content, you'll know that you're getting the most accurate and honest information on these dating apps. You're consistently updated on anything that's going on out there.
We Offer You a Way to Test Out the Product
Our reviews and content will always provide links to free trials where you can test the dating app. This is an excellent way to build trust and transparency to ensure we're telling the truth about the products we review. Customers can use the free trials at any moment to experience the dating apps for themselves and see what they offer.
Review of the Best Apps for Casual Dating
What makes these the best casual dating apps for finding romance and relationships?
Our review below will give you more information about what these platforms offer, what kind of people are enjoying premium membership plans, and which special features allow you to meet the most singles in the shortest window.
---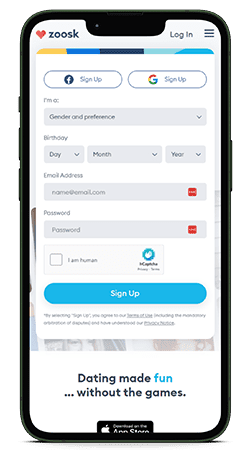 1: Zoosk – Best for Finding Love, Flirting, and Getting Dates
| | |
| --- | --- |
| Active Members: | 40 million |
| Gender Ratio: | 47% men 53% women |
| Sign-up Time: | 5 minutes or less |
| Pricing: | Starting at $12.50 per month |
Zoosk is our favorite casual dating app, primarily due to its size and unique features. There are over 40 million people worldwide that actively use Zoosk. The app is available in over 80 countries. Therefore, Zoosk has one of the largest dating pools of any dating app we've recommended, making it the perfect option for casual daters and romancers who might go on several dates in just one month.
Not only does it have a terrific dating pool, but the Zoosk dating app also has some cool features that let members meet many singles quickly. The Carousel feature lets members cycle through multiple profiles using swipe-style dating options like "pass" or "like." Members get Carousel suggestions based on their search filters and dating styles, but their Carousel preferences allow Zoosk to develop "SmartPicks," which are daily matches. These are terrific candidates for casual dates and relationships!
---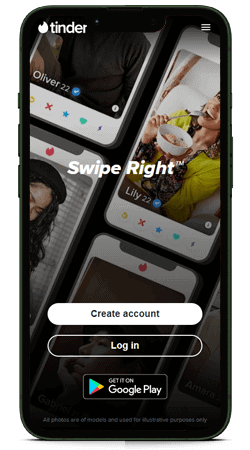 2: Tinder – Best for Seeking Relationships and Casual Dating
| | |
| --- | --- |
| Active Members: | 8+ million |
| Gender Ratio: | 61% men 39% women |
| Sign-up Time: | 5 minutes or less |
| Pricing: | Starting at $4.50 per month |
Tinder is our next best pick for casual dating, and this is because they only have around 8 million committed users with a premium membership. While Tinder is generally considered the ultimate casual dating app across the world, its footprint in the US market is a lot smaller than one would think, a lot smaller than Zoosk's. And Tinder is a dating app that's a bit lopsided in its gender breakdown (61% of men use the app versus 39% of women).
Tinder is the app that invented the swipe-style dating method, the "right swipe" being the golden ticket to meeting and connecting with someone. And what Tinder does better than other swipe-style dating apps is that both parties must "swipe right" for there to be a match and for the private messaging feature to be enabled. This results in no unsolicited messages on the app! Tinder has many advanced features but a simple design and matchmaking process, making it a super popular dating app for finding casual romance and love.
---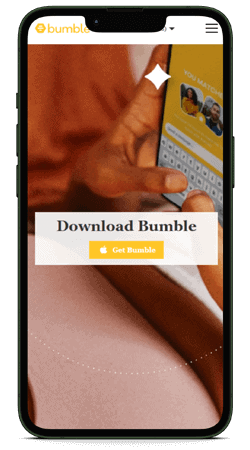 3: Bumble – Best for Seeking Relationships, Casual Dating, or Friendship
| | |
| --- | --- |
| Active Members: | 11+ million |
| Gender Ratio: | 57% men to 43% women |
| Sign-up Time: | 5 minutes or less |
| Pricing: | Starting at $16.99 per month |
Bumble is notable for being a better option for older singles. While those on Tinder are typically in their 20s, Bumble members and free users are in their 30s for the most part, and many are just as open to long-term dating and meaningful relationships as they are to finding dates and casual romance. 60% of matches on the Bumble dating app result in an actual conversation, making Bumble another one of our best picks for singles who like the more casual approach to online relationships.
Bumble has a lot of robust profiles and is the best-looking of all the casual dating apps we've reviewed for relationships. The matchmaking system is comprised of pure attraction based on the profile photos, location, and personal dating preferences that members state during sign-up and in their search filter settings. Bumble also offers compelling upgrade features (they cost more to operate), like profile highlights and favorites lists that keep your profile competitive and open the door to extra dating opportunities!
---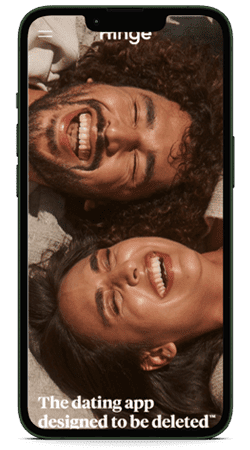 4: Hinge – Best for Seeking Relationships and Casual Dating
| | |
| --- | --- |
| Active Members: | 500,000 |
| Gender Ratio: | 55% men 45% women |
| Sign-up Time: | 5-10 minutes |
| Pricing: | Starting at $16.66 per month |
Hinge is used primarily by singles in their 20s (like Zoosk or Tinder), but their relationship goals are more in line with Bumble members. They are open to the possibility of casual dating as well as committed, meaningful relationships. The gender ratio is stacked more evenly here (55% men to 45% women), but the dating pools are much smaller than the other casual dating apps we've mentioned. But this can be a great advantage for some users who might be more overwhelmed by the options found at Zoosk, Tinder, or Bumble.
Hinge has swipe-style dating and a user-friendly interface that is easy to learn and use. The app is sleek and modern, allowing the user to navigate the app quickly and intuitively. It's a perfect dating app for developing casual relationships and connections while you're on the go. It's also a visual dating platform, letting members post many photos to their profiles and upload video prompts that give other singles a better idea of personality, mannerisms, and flair.
---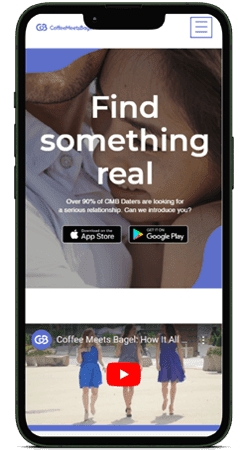 5: CoffeeMeetsBagel – Best for Singles Who Want a Modern Approach to Dating
| | |
| --- | --- |
| Active Members: | 10 million |
| Gender Ratio: | 40% men 60% women |
| Sign-up Time: | 5-10 minutes |
| Pricing: | Starting at $15.00 per month |
CMB has been in business for over ten years, putting together 50 million matches, and making 25 million introductions during that time! 400,00 new members are added each month, which signifies that CMB is a growing, vibrant online dating option. This dating app currently sits at 10 million active members, many of whom could go either way on the prospect of a serious, committed relationship or the possibility of finding casual dates. It's more popular with singles in their 30s, specifically those between 30 and 37. It's a lot like Bumble in many regards.
CMB allows its member to go through catalogs of profiles using swipe-style dating, and the app also provides a bevy of daily match suggestions to its members. CMB members can get activity reports on their matches and view daily matches' mutual friends as a way of expanding their network of contacts on the app. CMB also give its member 6,000 Beans per month. Beans are an in-app currency that members use to purchase additional membership features which add to the casual dating experience.
---
What Makes These the Best Casual Dating Apps?
Four significant criteria make these casual dating apps the best for finding singles open to romance and dating. Find out what makes these platforms ideal for finding low-commitment relationships and casual romantic scenarios.
Many Active Users
Casual dates are low-commitment dates, so you'll likely be moving from person to person fairly quickly. In casual dating scenarios, you will interact with many singles over a month or a year. It's not like serious dating and romance, where you're with one person for an extended period. We chose casual dating apps with large dating pools to keep the options and possibilities rolling in strong.
How Many Use the App?
Zoosk: 40 million
Tinder: 8+ million
Bumble: 11+million
Hinge: 500,000
CoffeeMeetsBagel: 10 million
Top-Notch Daily Matching
These casual dating apps use various techniques for pinpointing the kind of singles you'd be interested in dating. Each has advanced search filters that allow members to break down searches by particular criteria. There are also the user's dating preferences and the results of who they "liked" swiping through profile catalogs that help to influence the matchmaking process. To an extent, attraction and enticing profile pictures also play a significant role in the development of dating matches.
How Is Matchmaking Done?
Zoosk: Dating preferences, location, and "SmartPicks"
Tinder: Discover settings, location, and dating preferences
Bumble: Location, personal preferences, and attraction
Hinge: Location, personal preferences, and attraction
CoffeeMeetsBagel: Dating preferences and personal criteria
Even Gender Ratios
The ratios are out of whack, but it doesn't matter due to the size of each platform. Some of the gender ratios for these popular dating apps aren't balanced as well as they could be, but considering how vast some of these dating pools are, you still have a good chance of meeting someone of the gender you're interested in dating! Specifically, Tinder is better suited for finding men overall, while CMB is better suited for finding women.
How Many Men and Women?
Zoosk: 47% men to 53% women
Tinder: 61% men to 39% women
Bumble: 57% men to 43% women
Hinge: 55% men to 45% women
CoffeeMeetsBagel: 40% men to 60% women
Low Membership Costs
Casual dating apps generally come at a lower price than eHarmony or Elite Singles, which cost more due to personality and compatibility testing. With each of the casual dating apps we offer, you're looking at starting prices that all come under $20 per month. Each app offers multiple membership plans, which allow customers to have flexibility within their budgets.
How Much Do They Cost?
Zoosk: begins at $12.50/month
Tinder: begins at $4.50/month
Bumble: begins at $16.99/month
Hinge: begins at $16.66/month
CoffeeMeetsBagel: begins at $15.00/month
Best Niche Dating Apps for Casual Dating
This is not a one-size-fits-all scenario where our favorite casual dating apps will be the best options for every person looking for dates or hookups. There might be a chance that the dating apps we recommended are the right platforms for you. And that's OK.
Check out our best casual dating app alternatives. These platforms are specifically designed for casual dating, with fewer members interested in pursuing something profound or meaningful.
#1 Flirt.com
#2 Dating.com
#3 Cupid Dates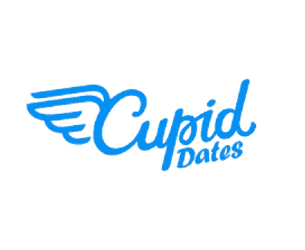 Create a free trial at one of these niche platforms today. You'll soon discover if it's a viable option for meeting singles who are down for casual dates. Remember that the dating pools will likely be more limited, and the membership cost might be steeper.
Frequently Asked Questions About Casual Dating Apps
If you have general questions about casual dating apps, check out our FAQ section. We might cover something here that needs to be addressed in the review. We have some commonly asked questions from our customers and readers.
Are Casual Dating Apps Free?
These dating apps can be used "for free," but free users will only be able to use certain features without paying for a membership plan. In many cases, these apps will only let free users message other singles and miss out on other essential features like daily matching, read receipts, or profile highlights.
Do I Have to Be Interested in Casual Dating to Use These Dating Apps?
The dating apps featured in this review can also be used to find serious relationships, though singles will need help. By and large, these casual dating apps are aimed at singles who want low-commitment relationships or casual dating.
What's the Best Casual Dating App?
In our book, Zoosk and Tinder are both excellent, viable options, but we'll give Zoosk a slight edge. Their international dating pools are comparable, but Zoosk has a better presence in the US. Zoosk has more exciting features and more robust profiles. They also have a better distribution of men to women using the app than Tinder.
Would You Recommend Using Niche Casual Dating Apps?
Although many of our recommended dating apps have successfully created some long-lasting, committed relationships in the past, they are the best around for casual dating. Many niche casual dating apps have more expensive membership pricing, and they don't have dating pools that are as deep and wide as the mainstream names in online dating. We suggest using a more prominent site for a wider variety of results because they are more reasonably priced.
Are Casual Dating Apps Safe?
These casual dating apps do everything they can to protect customers' personal and financial information. It's kept private and secure using encrypted connections. They also provide their customers with resources to defend themselves: members can report or block members that may prove harmful, whether they be catfishers or scammers.