Our team of experts diligently research and review all of the products and services we recommend. If you buy through our links, we may receive a commission. Learn more here.
As the popularity of internet romance continues its rapid ascent, more and more people are signing up for online dating apps daily. In recent years, there has been a significant increase in the market for mature single people, aka seniors, looking for a romantic partner. This has resulted in an increase in dating platforms that specifically cater to single seniors or have a sizable community of people in this age bracket.
The good news for seniors who want to meet new people and widen their social circles is that there is no lack of reputable mature dating apps that may help them accomplish just that. Based on our research, we have developed a list of the best dating apps for mature singles that are currently available.
---
---
4 Best Mature Dating Apps in 2023
Dating App
Key Facts
Free Trial
SilverSingles

Active Members: 800,000
Gender Ratio: 53% men to 47% women
Best For: Finding singles over the age of 50
Membership Price: Begins at $24.95/month

Start Your Free Trial!
eharmony

Active Members: 16+ million
Gender Ratio: 48% men to 52% women
Best For: Finding mature singles who want a serious relationship
Membership Price: Begins at $35.90/month

Start Your Free Trial!
Elite Singles

Number of Users: 2+ million
Gender Ratio: 51% men and 49% women
Best For: Finding mature and professional singles
Pricing: Begins at $31.95 per month

Start Your Free Trial!
SeniorFriendFinder

Active Members: 2+ million
Gender Ratio: 60% men to 40% women
Best For: Specializes in forming long-term and casual relationships and seniors looking for friendships
Membership Price: Begins at $11.99/month

Start Your Free Trial!
If you are new to online dating, it may be challenging to identify which mature dating app would be the most useful for you. This is especially true if you are looking for a serious relationship. We have compiled the following list to assist you in making your decision, and our recommendation is that you stick to the more mature dating apps we have mentioned below.
This advice for seniors looking to date is jam-packed with valuable insights. To get things started, we'll recommend several great apps for senior singles to meet one another, and from there, we'll provide you with all the guidance, resources, and information we know will help you find love. By the time you finish it, you'll be prepared to go out and find a partner.
You can see why we think these seemingly popular applications are great for finding other mature singles who match your interests in the "Best For" column of the above chart.
Senior singles have just as much chance of finding love on these popular dating apps as conservative singles, Jewish singles, Christian singles, and left-leaning singles. We're going to tell you why below!
Why You Can Trust Us
We reviewed several senior dating apps and ranked the ones we thought were the best. We think you'll have a lot of fun finding love as a mature single on any of the apps we've listed above. When deciding which apps for seniors to feature, we looked at several important things.
When evaluating a social networking site, it is critical to consider both the total number of users and their level of participation. A dating site for seniors with a more extensive user base increases your chances of finding a compatible partner. Also, we think a website's features should be simple and easy to use. All of the apps we suggested have these features and more.
We Use an Objective Reviewing Process
The increasing popularity of dating apps has been seen by many as a solution to the problem of finding compatible partners in today's hectic society. They provide fresh insights into an old issue. However, this raises the question of whether dating apps are worthwhile. It is difficult to tell whether you are wasting your time or falling for a scam if you don't know what to look for.
It's hard enough to go back into the dating scene without dealing with shady dating apps, false profiles, and an excess of unattractive potential partners. If you read our reviews, you will know which mature dating apps are worth downloading. The usability, security, reliability, and affordability of an app are just a few of the many factors that our experts consider when making their recommendations.
We Have Firsthand Experience with the Apps
To ensure that the reviews we provide you are thorough and impartial, we give our expert writers free access to various dating apps so that they may evaluate them firsthand. That helps ensure the consistency and thoroughness of our evaluations.
We Avoid Wasting Your Time with Vague Products
We concentrate on the biggest dating apps and sites to provide you with the best results and value. We'll tell you about any niche dating apps that could work for you, but we usually concentrate on the latest and greatest products worth your time and money.
We'll Let You Try Out the Product
We always include download links for the free versions of the recommended mature dating apps. It's OK if you disagree with our suggestion right away; we can totally understand that. You can test out the dating app without financial commitment to see whether it works for you. Unless it does, there's nothing to lose. Taking advantage of the free trial won't cost you a dime.
Our Content is Updated Daily
In the event of a major industry shift, such as removing or adding features to popular dating apps, our team will revisit previously written evaluations and other material to bring them up to date. Our reviews can be trusted because we only use the most recent data (in terms of pricing and other regular updates).
Best Apps for Senior Singles
---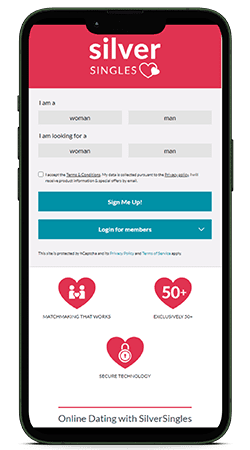 1. SilverSingles – Find Singles Who Are over 50
| | |
| --- | --- |
| Active Members: | 800,000 |
| Gender Ratio: | 41% men 59% women |
| Sign-up Time: | 15-20 minutes |
| Pricing: | Starting at $19.95 per month |
When it comes to online dating services catering to those over the age of 50, SilverSingles is a frontrunner. The site has an incredibly diverse user base, including those looking for friendship, casual dating, serious relationships, or even soulmates in their golden years.
SilverSingles is the pioneering online dating service for the 50+ community in the United States, Canada, the United Kingdom, Australia, France, and Germany and has been around for more than 17 years.
SilverSingles may be one of the best mature dating apps full of quality singles for those who are now single, have been single for a long time, are divorced, separated, or are widowed.
---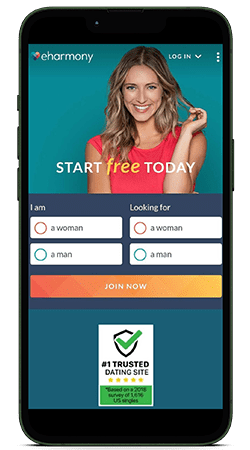 2. eharmony – Best for Serious, Compatible Relationships
| | |
| --- | --- |
| Active Members: | 16+ million |
| Gender Ratio: | 48% men 52% women |
| Sign-up Time: | 30-45 minutes |
| Pricing: | Starting at $35.90 per month |
For those seeking a lifelong spouse, eharmony is a popular option and one of the best dating services available. As its innovative matching technology helps pair up suitable people, it's so much more than a dating site. Years of study on what creates healthy relationships have led to the development of this framework.
Our research reveals that eharmony is one of the most expensive dating services, yet, they also have the largest membership base. This is one of the best-known dating apps worldwide, with users from a wide variety of nations. It's also among the simplest to operate in a lot of ways. As a result of the sophisticated matching technology, you won't have to waste time sifting through endless profiles; instead, you'll get suggestions from people with whom you may be matched.
---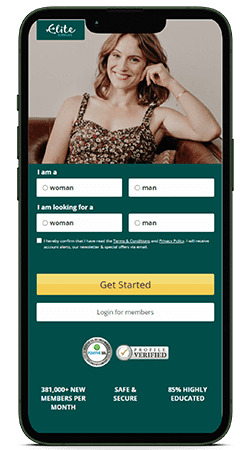 3. EliteSingles.com – Best for Professional Singles
| | |
| --- | --- |
| Active Members: | 2+ million |
| Gender Ratio: | 51% men to 49% women |
| Sign-up Time: | 15-25 minutes |
| Pricing: | Starting at $31.95 per month |
EliteSingles.com is an excellent option for online dating if you're searching for a long-term commitment with someone who has a professional career. This is because Elite Singles is branded around having a highly educated user base, 85% of which have completed some form of higher education. These mature singles are a part of high-paying career fields like medicine, business, education, and law. This makes Elite Singles a fantastic venue for meeting singles who value education and personal or professional success. It's also one of the best mature dating apps for professionals over 50!
Members can use the "Have You Met" feature to go through an extensive catalog of singles with potential and also take advantage of the Favorites List. This tool allows members to sort their favorite singles for future reference. As for its success rate, Elite Singles is responsible for bringing 2,000 couples together each and every month. Most members at Elite Singles are looking for serious relationships or commitments. This app uses compatibility testing based on personality-based algorithms and a curated matching system, ensuring daily matches are made to last the test of time.
---
4. SeniorFriendFinder – Best for Dating and Friendships
| | |
| --- | --- |
| Active Members: | 400,000 |
| Gender Ratio: | 60% men 40% women |
| Sign-up Time: | 15-25 minutes |
| Pricing: | Starting at $22.94 per month |
The goal of SeniorFriendFinder is to facilitate online dating for those over the age of 50. It's not only for individuals searching for Mr. or Ms. Right but for everyone eager to expand their social circle or find companionship. Affiliated with the FriendFinder Network, which manages many other dating sites, this one focuses on helping people find friends.
SeniorFriendFinder has been around since 1999, and they boast an extensive membership base, having recently announced that it had over 400,000 users. They have a proven track record of assisting members, as seen by the many positive reviews available on the site. The site is designed with simplicity in mind, so that even those who are not tech-savvy may join. You may call their toll-free customer service hotline whenever you have a question.
---
What Makes These the Best Mature Dating Apps for Seniors?
The use of dating websites and dating apps is widespread in today's society, which is true across all age groups. However, similar to any other part of dating, some individuals aren't interested in utilizing them.
To help you choose the best dating app for your specific requirements, we compare and contrast their features, advantages, and user experiences. Algorithms are used by the best mature dating apps to match members based on factors such as shared interests and compatibility. Some apps have a religious focus and might connect you with others who have similar views. To clarify, we mean that there is a lot to choose from. Learn how these dating apps function from the ground up to spark your interest in the next phase of your life.
Large Member of Dating Pools
Although it may be appealing to join niche dating apps that promise a more manageable number of potential matches, the broader the user base, the better. The more people there are on the site, the more likely you will meet someone right for you.
Reviews of the best mature dating apps take many factors into account, one of the most important being the size of the user pool. We don't want users to join up for a dating service just to be let down by a lack of real individuals, spam or fraudulent accounts, or a lack of compatible matches.
This is why we're quite selective about the dating services we review: we only recommend those with plenty of active users actively looking for love!
Great Matchmaking
All of the Mature dating apps we tested employed sophisticated matching algorithms and in-depth personality surveys to assist their users in finding love.
There are dating apps out there that offer more than simply introducing you to potential suitors.
Some of the perks of joining a dating app include access to a professional matchmaker who can help you locate compatible partners, a dating concierge who can assist you in arranging dates, and invites to members-only events.
However, there is a possibility that these optional items will raise the total cost.
The Latest Features
There are dating apps out there that offer more than simply introducing you to potential suitors.
These mature dating apps are ideal for bringing together people of similar ages who would never have had the chance to cross paths otherwise.
They've got all the resources they need to locate matches that aren't only good for them but also make logical sense in their circumstances.
System checks have proven that members of this dating service are who they say they are.
Easy-To-Use Design
Some individuals over 50 are still uncomfortable using the internet, but most of those in this age range are at least somewhat tech-savvy.
The dating apps we assess must be user-friendly for those with varying levels of experience with computers and mobile devices.
However, although the majority of programs and apps are easy to use, others are far more intuitive and simple to join.
Some services require extensive sign-up processes if you're looking for a compatible partner, but plenty of apps and websites get directly to the point if that's all you're after
Affordable Prices to Join
While there are a myriad of free online and mobile dating choices, the bare-bones versions sometimes lack the more complex capabilities that would make meeting someone a snap.
Think about how much you can spend monthly before you sign up for any site.
Best Niche Dating Apps for Seniors
People over the age of 50 should give online dating a go if they're up to it! If you consider the growth of mature dating services in the past few years, you'll see that you don't have to limit yourself to only those in your social circle to find love.
We ranked some niche dating apps to find the best ones for mature singles, taking into account factors such as membership cost, whether or not users were required to fill out a lengthy questionnaire about themselves, the quality of suggested matches, the ease with which one could start a conversation, and more.
Find out which dating apps made the cut by reading the selections below.
Senior FriendFinder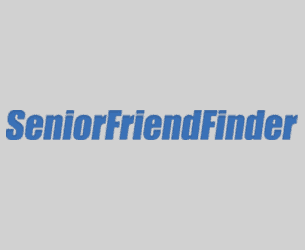 SilverSingles
OurTime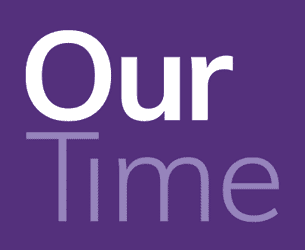 Sign up for a free trial at one of these niche apps to see whether it's a good fit for you to meet compatible individuals. You should know that the membership pool will likely be smaller, and the price may be higher.
Frequently Asked Questions
While we've made every effort to ensure that our review is comprehensive, it's always possible that we've forgotten to include an important element of the items we've evaluated. If you have more questions about the best mature dating apps, please read the FAQ section below!
Do Senior Dating Apps Really Work?
Absolutely! The popularity of senior dating apps is rising, and with good reason. Your social life may have dwindled as you've entered adulthood, and although you may treasure time spent with loved ones, you may be feeling the itch to get back into the dating scene but don't know where to begin. Finding other single seniors who share your interests is not always easy.
How Do I Choose the Best Mature Dating App?
As you can see, the typical online dater has many options to choose from when it comes to dating sites and mature dating apps. Checking reviews and talking with other single friends should help. But before you spend a lot of money on something online, you should take advantage of the free trial or free membership to get a feel for the scene.

Some dating apps even let you chat for free, so people who use them often might not even need to pay for a subscription. However, we always recommend upgrading to a premium membership so you can take advantage of the premium features!
Are Dating Apps Safe?
Yes, online dating is a safe way to meet people and start real relationships. A person who dates online should be cautious when disclosing personal information and setting up meetups. They should also beware of fake profiles and romance scams.

The majority of the warning signs of a dishonest match are pretty clear, like no picture, a fake name, or requests for favors or money. However, it is always a smart option to conduct background research to ensure a catfisher or con artist doesn't slip through your radar.
If a dating profile or online chat gives you a negative impression, you can always hit the block button or report the user to get quick results.
What Do Dating App Male-To-Female Ratios Mean? Are They Truly Accurate?
The ratio of men to women on dating apps is not a precise science. They give online daters a general idea of what to do, but they shouldn't be treated as gospel. New people join online dating apps every day, so the real number will always change. Most dating apps don't put these numbers online because they vary significantly from season to season.
How Successful Are Mature Dating Apps?
You'll probably find your ideal partner on an online dating app that caters to those over the age of 50, but you should be prepared to put in some work to build your profile and go the extra mile to make connections with other users.
What Are the Safest Senior Dating Apps?
If you're searching for a mature dating app that places a premium on user protection, SilverSingles is a great choice to consider. Because they have a security staff who manually review and verify profiles before they are posted on the site, you can be certain that the profiles belong to actual people. Most of the apps we review also have solid security practices in place, so there are minimal fake profiles, scams, and encrypted data protocols.
Is Online Dating Free?
Yes, many online dating apps provide all of their services, including searching for a potential partner, receiving match suggestions, and corresponding with other members for free.

There are several paid dating apps and sites out there. Some offer premium features that users may pay to unlock, such as seeing who has liked and seen their profiles. Before signing up for a dating site, it's a good idea to learn what services are included in the free membership and which require a paid "premium" membership.
How Do You Start a Conversation with Someone Online?
Okay, so you've completed your profile, searched the database, and discovered someone who looks to be a great match in every aspect, but now what? If you want to start a romantic relationship with this new individual, contact them. In fact, it's no more difficult than saying "hello" to a stranger in a bar.

It's as easy as coming up with a conversation opener and mustering up the guts to compliment your online crush. Ensure the recipient of your message understands that you aren't just sending out a generic message to everyone on the internet. The odds of your initial communication being read and responded to favorably are boosted if you take the time to personalize it.
How Much Do Senior Dating Apps Cost?
A subscription to a mature dating app may cost as little as $12.49 per month, but if you don't want to invest any money, you can utilize the free membership that some of the apps provide. You can test out the site without spending any money, thanks to the free trial period offered by some of them.
How Do I Learn about Online Dating and New Technology?
Invest some effort into educating yourself on the dynamics of modern online courtship. You've probably learned a few things at work and around the house throughout the years. Learning to navigate online dating is just another new skill.

You'll quickly learn that dating apps are created with simplicity and convenience in mind. Online dating services and mobile dating applications are always looking for new users. That's why they're so effective.

If you go into dating with a strategy, you'll have a much simpler time with it, just as with any other practical skill.