Our team of experts diligently research and review all of the products and services we recommend. If you buy through our links, we may receive a commission. Learn more here.
Bumble is one of the most popular dating apps on the market for people to find and stay in love. Although the app is similar to other great dating apps like Tinder and Hinge, Bumble is one of the most reliable apps people download when they're ready to settle down and find their happily-ever-after match.
The app itself is easy to use, popular, and a quick favorite by nearly everyone who tries it out. With many users on the app daily, an excellent success record, and a host of outstanding in-app features, it's no wonder why Bumble ranks so high on our list of the best dating apps of 2023!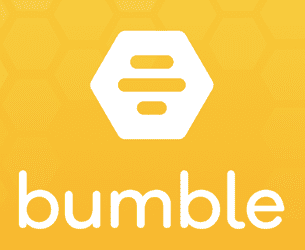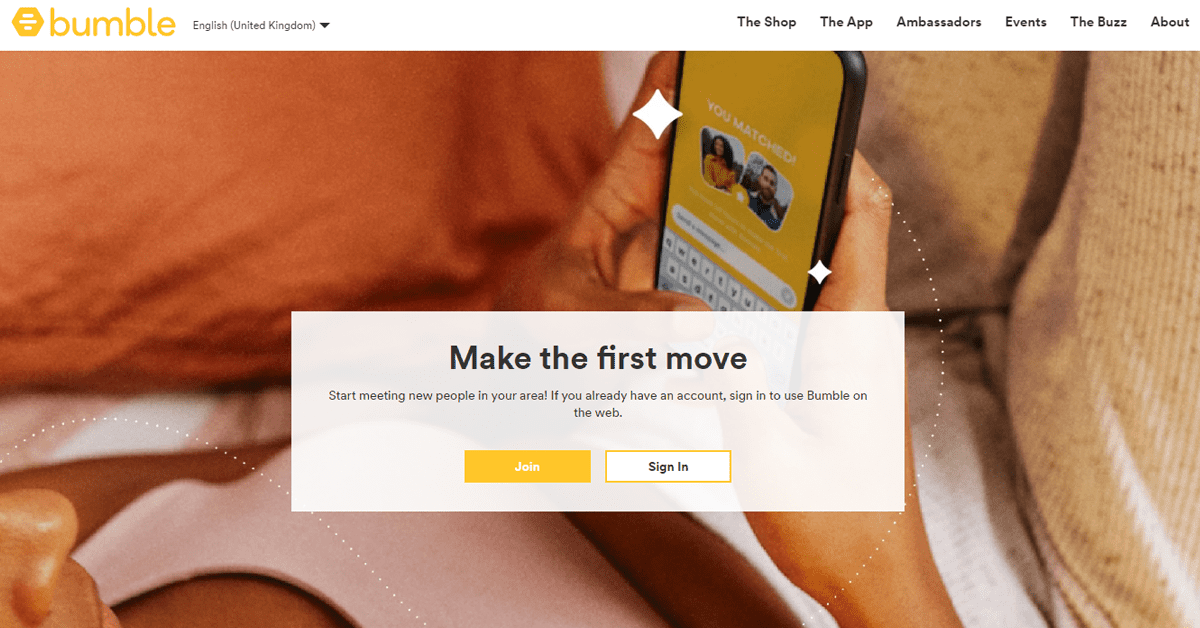 | | |
| --- | --- |
| Sign-Up Time: | 5 minutes or less |
| Cost: | $16.99 – $29.99 per month |
| Membership Pool: | 11 million active users |
---
---
Our Bumble App Rating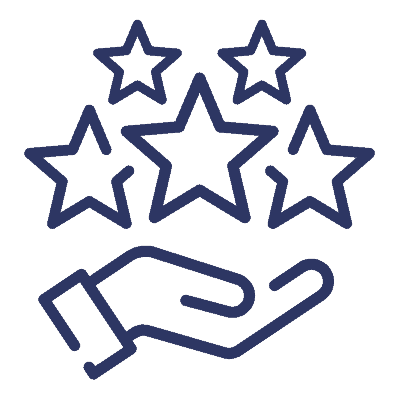 Overall Rating

Bumble is coming in with an overall score of 4.0 out of 5!
We went over six key categories to arrive at an overall rating for Bumble: features, usability, daily matches, cost of membership, and active members. Each of these categories got its own rating, and then we took an average to get to our overall rating for the Bumble dating app.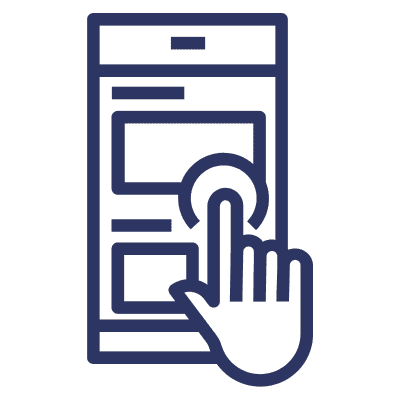 Ease of Use

One of the reasons why Bumble is one of the most popular dating apps on the market right now is due to how easy it is to use. Although online dating is simple, if the setup process is a little lengthier and more complex than expected, most people write the app off immediately. Bumble is different, however. The app's setup process is easy to navigate and simple to fill out.
Many people's profiles center around filling out specific prompts or questions that Bumble provides them. Once someone's profile is set up and ready to go, the app's algorithm and match-making system supply its users with multiple profiles that match their age range, location, and other algorithm-driven categories!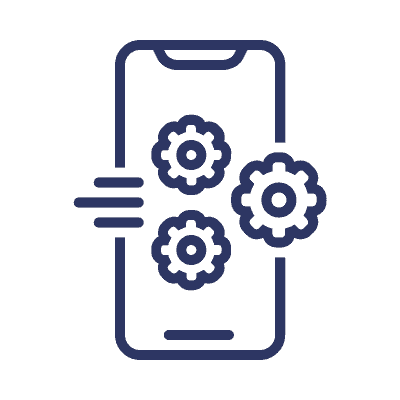 Features

The features Bumble provides its users are fantastic, whether you opt for a free trial or a premium membership. The free trial features consist of creating an account, setting your distance and age preferences, viewing and swiping on singles' profiles, swiping left or right on them, and messaging them.
When and if you opt for a premium membership with Bumble, you can get more features, like Bumble Boosts and Bumble Spotlight. The boosts will allow you to rematch with any profile or user you might have accidentally swiped on. Another feature is that you can extend your connection with a specific person past 24 hours, and you don't have to message them, just in case they're a little slow to reach out. The final feature is one of the best: you can see a list of people who have already swiped right on you.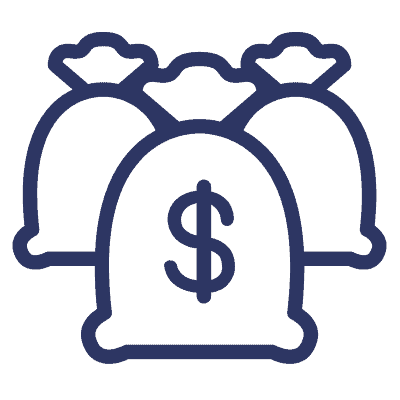 Cost


Although many people choose to use Bumble's free trial version when using the app, there are also many benefits to choosing a premium subscription. The cost is relatively affordable, especially considering how many users Bumble has and all the premium features that membership can grant you.
If you choose a 1-month membership, it's $29.99 per month. A 3-month membership is $19.99 per month, equating to a one-time payment of $59.99, and a 6-month membership is $16.99 per month, equating to a one-time fee of $99.99. You can also further customize your membership choices by choosing a 1-day membership, a 1-week membership, and a lifetime membership.
If you think you'll be on Bumble for longer than a year, we advise you to choose the lifetime membership!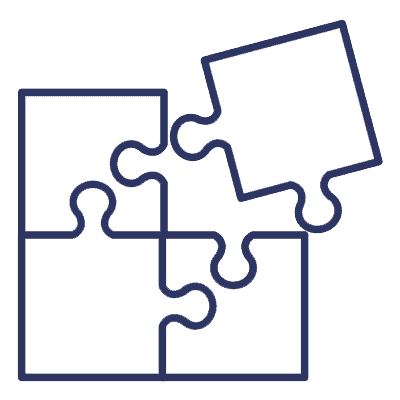 Match Quality


Because Bumble is such an algorithm-driven app, it relies on the people around you and in your pre-determined distance and who fit into your pre-determined age range. Bumble is one of the best apps at learning as you swipe. Its algorithm will continually provide you with people you seem to be gravitating towards, but mainly through the lens of age appropriateness and proximity to you.
But because Bumble is such a vast online dating platform and it hosts so many users every day (and 700,000 weekly), you are sure to find not just one but many people who will exceed your expectations on the app.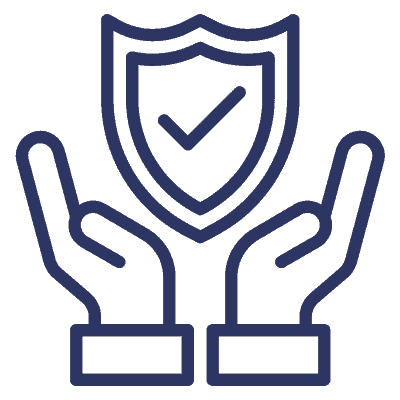 Safety and Security


Bumble prides itself on offering several ways to reach its team if you ever have a problem on the app or are uncomfortable about a profile or an interaction. You can explore the website's FAQ section to find out how to deal with a particular situation online, block and report the user immediately, or fill out the help form online.
Of course, no app is perfectly safe, but Bumble's team does try to go the extra mile to ensure all its users feel safe online and enjoy themselves without worrying about their safety and security.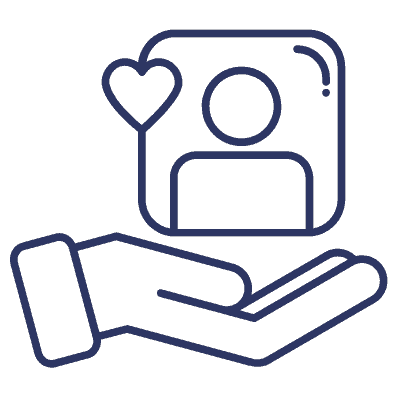 Customer Service


Like Bumble's safety and security team, the app's customer service team works tirelessly to be one of the best in online dating. You rarely hear about a dating app's customer service. Still, we know from first-hand experience what a delight they are at Bumble and how diligently they work to make the dating app a wonderful experience.
You can contact Bumble's customer service team about any inquiries that pop up when you're on the app and anything that might not be covered on the website's lengthy FAQ page.
Overview of Bumble
Bumble has been one of the most reliable dating apps since it began in 2014. Given its active customer support, incredible algorithm, and the high number of users that sign onto the app every single day, it's no wonder that so many people will recommend Bumble as the best dating app you can download.
Although Bumble is relatively new to the dating app game, it is constantly growing and improving itself to fit in and match what the other dating apps provide its users, creating a unique experience tailored to each individual.
Bumble Fast Facts
Year Founded: 2014
Total Members: 11 million active users
Average User Age: 18-29 years
Gender Ratio: 57% men to 43% women
Fun Fact: If you get married to someone you met on Bumble, you can message the customer service team or send them an invitation to your wedding, and they will try (supply and demand willing) to either buy you a gift off of your registry or send you something from their office!
The team at Bumble knows that it can be hard to try online dating, and finding someone with whom you want to spend the rest of your life is enough pressure without also having to maneuver and figure out a new dating app system or algorithm. Because of that, Bumble keeps things simple, easy to use, and great to experience.
Premium Membership Subscriptions and Prices
It's important to note that Bumble does not have any payment plans on its website. No matter which package you choose, you will have to pay the entire price upfront. This also means you cannot cancel a subscription halfway through because you've already paid for it.
Bumble's membership packages are some of the most affordable premium memberships and some of the most flexible. Not only does Bumble off the standard 1, 3, and 6-month membership plans, but they also break tradition a bit.
⠀1-Month Membership
1 Month
$29.99
---
Price Per Month: $29.99
Total Membership Cost: $29.99
---
All Standard Features
Every Plan Has the Same Premium Features
3-Month Membership
3 Months
$19.99
---
Price Per Month: $19.99
Total Membership Cost: $59.99
---
All Standard Features
Every Plan Has the Same Premium Features
6-Month Membership
6 Months
$16.99
---
Price Per Month: $16.99
Total Membership Cost: $99.99
---
All Standard Features
Every Plan Has the Same Premium Features
Other Membership Options
Bumble understands that online dating is not a one-size-fits-all kind of world, and they have altered their plans to ensure that anyone trying to find love on their platforms can do so in the time that they're the most comfortable with. Because of this, Bumble created an option for its members to ditch the typical monthly subscription rule and instead opt for daily memberships, weekly memberships, and even a lifetime membership.
The prices are as follows:
1-Week Membership: $13.99
Lifetime Memberships: $149.99
Because the 6-month membership equates to a one-time payment of $99.99 if you think you'll be on Bumble for over a year, it's financially wise to go ahead and invest in the lifetime membership. Like the other membership deals, you pay that fee once and never have to worry about it again!
Bumble Free Trial and Premium Features
Bumble offers a free dating app service that many users choose to use while navigating the app. Although the free version allows its users to swipe on and explore different people in their area, message them, and even find love if they're lucky, it lacks many of the perks that premium users are given and detracts from the overall app experience.
If you're curious about all the features that come with the premium membership, you can test them out in a free trial before actually starting your paid period. Still, Bumble does require you to provide them with your billing information before starting a free trial. If a free trial isn't canceled before its expiration date, the account will automatically become a paid premium membership, and the customer will be charged the entire sum of the membership they selected.
Standard (Free) Features
Create a Bumble dating app account.
Fill out your profile and bio.
Add your age restrictions and your distance requirements.
See and swipe on singles in your area.
Message the singles that you've matched with within a 24-hour time span.
Bumble Boosts
Another membership option that Bumble offers its users is Bumble Boost. Bumble Boost is less expensive than Bumble's all-inclusive premium membership, and it allows the app's users to use some, but not all, of the premium membership perks. These perks include:
Backtrack: Allowing the user to go back on someone they swiped left on but meant to swipe right on and give them another chance.
Extend: Allowing the user to extend the time between matching with someone and messaging them.
Unlimited swipes
Spotlight: Once a week, Bumble Boost members can move their profile to the top of the 'stack' and be one of the first profiles everyone in their area sees.
SuperSwipes: Bumble Boost users can access this five times a week. This feature is used when you want to show a person that you're really interested in them, and they will get a notification that you've SuperSwiped on them.
Even though Bumble Boost doesn't come with all of the features that premium membership will let you use, it allows you to test out some of the best features the app provides at a lower cost.
Premium Membership Features
Extend
Bumble only allows its free users 24 hours between the time they match with someone to message someone. The Extend feature allows you to Extend that time for an unlimited amount of people. Women are allowed to employ the Extend feature before they send the first message, as they're the only ones who can message first.
Backtrack
We've all accidentally swiped left on a profile that we actually meant to swipe right on; it happens. Thankfully, Bumble's premium feature Rematch allows you to have another chance at getting that profile back and swiping right.
Spotlight
Instead of having your profile buried in spot 107 on the matching pile, Spotlight moves your profile to the top of the stack to allow it to be seen first. This means that you'll not only be most people's top pick, but also their first — literally! You can experience the Spotlight feature once a week.
Unlimited Advanced Filters
With this feature, premium members get to curate further the users they'll see on their Swipe Deck. You don't have to settle for only limiting your matches to age range and distance but also other personal stances you might have, like religion, non-smokers, or no kids. Using advanced features will only make your time on Bumble easier!
Beeline
No more online dating games! Premium members can access Beeline and see the profiles who have already liked them, so they don't have to waste their time on people who might not be a match.
Travel Mode
Who says you can't find love while traveling? Travel mode lets your profile appear in the city in which you're vacationing for seven days. It's important to note that your location will appear at the center of the town you're going to, and travel mode won't use your exact location.
Unlimited Swipes
Unlike the free version of Bumble, which limits your swipes, you don't have to cap how many people you can look at or swipe on with your premium membership.
SuperSwipes
Everyone wants to know they're a priority when trying out online dating, and Bumble knows that. Premium members can SuperSwipe on five users a week, letting them know their profile is at the top of the list. By activating the SuperSwipe, you're more likely to get connections.
Incognito Mode
If you're trying to avoid running into someone on the app or you see a profile you don't want to mess with, premium members can activate the incognito mode and hide their profile from certain users. You cannot use incognito mode if you are accessing Bumble on a web browser.
Do Bumble Memberships Renew Automatically?
Bumble memberships renew automatically at the end of each paid period, so keep track of when your subscription ends and decide whether you'll keep it. Of course, a lifetime membership will never automatically renew, and you never have to cancel it, as you only paid once for it.
Should You Join Bumble?
When deciding whether to get on a dating app, all that matters is your opinion. We're just here to help guide you while you're trying to make that decision! We understand that picking which dating app to use can be very difficult, and it always seems endless options and choices exist. That's why we want to lay out all the facts for you and make your choice of whether or not Bumble is the app for you as easy as possible.
Here are all the best and the worst features of Bumble.
Reasons to Join Bumble
If you're looking for some of the best features and reasons why people love Bumble as their dating app, this is the place! Of course, we couldn't put all the amazing reasons why Bumble is such a reliable and successful app on this list, but here are our favorite highlights.
Bumble Makes Women Comfortable
If you've been on Bumble before, you'll know it's up to the women to message the men first. This prevents women from getting unwanted or unwarranted messages from someone trying to make a splash. Of course, it's not fool-proof, and people can always be idiots online, but Bumble does put much of the power of dating in the women's hands.
Just because you match with someone doesn't necessarily mean that you want to message them first thing, and Bumble knows that. While 24 hours might be a short time to decide whether or not the person you've matched with, premium members will enjoy using the Extention feature.
The Pressure Is off of the Men
If you're a guy and you've been on your fair share of dating apps, you'll know that the pressure is often placed on you to make a great first impression and sweep the woman off her feet.
While we love a challenge, and it can be fun to think of impressive things to say to stand out, Bumble's "women message first" rule helps ease the pressure on you and allows you to sit back and see who is really interested in you. Also, you can always try to sweep a woman off her feet with the second message, so don't think Bumble's taking that opportunity away from you.
Bumble Is One of the Most Popular Apps
We've said it before, and we'll say it again — dating is a numbers game. To find the most success, you'll want to match with and message as many people as possible. And one of the best ways to do that is to go on a dating app with a high number of users and a high number of people who are active on the app, so you'll know that things will be able to move along once you get started.
Bumble is one of the most well-known dating apps on the market right now, and with over 45 million active users logging onto the app, you'll be able to find your match easily.
Bumble's Premium Features Are Some of the Best for Dating Apps
It's rare that dating apps put so much thought and care into their premium subscription options, but Bumble has gone above and beyond. Not only does the app have customizable durations for your possible subscription, but it also allows people to choose a membership that isn't as expensive or extensive as a premium membership but one that will still allow people to have an elevated and easier experience on the app.
Also, the features and the opportunities that all of these memberships provide for their users show that the app's creators know what people want when they're on their online journey to look for love.
Reasons Not to Join Bumble
If you're still on the fence about whether or not you want to join Bumble, here are some reasons why people didn't love the app as much as they had hoped. Of course, just like with the positives, we didn't list every reason, just the top few.
It Puts the Pressure on Women
Although we love seeing a dating app allow women to decide whether or not to message someone, Bumble's "women message first" rule puts a lot of pressure on women to not only make the first move but also handle and initiate a lot of conversations.
Again, Bumble has this feature set in place for internet safety and ease of mind, and we commend that, but it can be a lot to handle when you're a woman, and you have to message all of your matches in a clever and witty way.
You Need to Sift Through Illegitimate Profiles
With over 40 million users worldwide and only 500,000 of those being paid members, you'll need to work your way through international singles, free trial users, inactive profiles, and catfishers and scammers, unfortunately. There's a lot of fat that you must trim before getting to the good stuff.
Even the Premium Membership Is Limiting
Although the app limits certain features like the SuperSwipe and the Spotlight feature to ensure that the algorithm isn't messed up, paying for a premium membership and not getting unlimited features for everything is frustrating. These limits are put in place so that every paying member has an equal opportunity to be seen and liked, but we understand that it can be frustrating to still have limits on your dating app experience.
Even the premium memberships limit your SuperSwipes to five a week, and you can only use the Spotlight feature once a week, so use them wisely.
Women Only Get a Limited Time to Message Their Matches
This is one of the biggest reasons why the Extend feature on the premium membership is the best. 24 hours is not a long time to decide whether or not you want to message someone. And even if you know that you want to message someone, it's not a long time to craft a great first message to all the profiles you've matched with.
Even though we also understand why this 24-hour limit has been put into place, it can be stressful and sometimes impossible to message everyone that you want to within a 24-hour limit.
Bumble Isn't as Elite as Other Dating Apps
Bumble is one of the three leading dating apps people use daily. Those apps are Tinder, Bumble, and Hinge. Because of Bumble's popularity and high usage, you can match with almost anyone in your area.
While the high user numbers are great for playing the numbers game and finding a lot of profiles and people that you want to match with, it can be overwhelming to sift through all of those options and make a decision of who you want to pick when you're presented with over a thousand possibilities.
The Bumble Dating App's Sign-up Process
Because the team at Bumble knows what their users want from a dating app, the signup process for the app or online is very easy and not extensive whatsoever. The entire process should take less than five minutes to go through.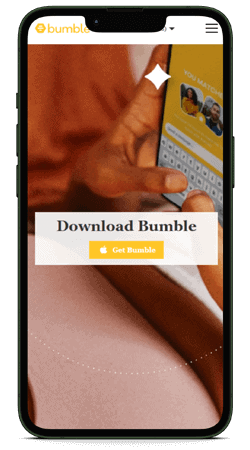 Step 1 – Visit Bumble's Homepage
You can visit Bumble's homepage online if you want to create an account using your web browser. If you would rather use the app, you can download it from Google Play or the App Store.
Step 2 – Connect Online
To make the signup process easier for its users, Bumble allows them to sign up through Facebook or their Apple account to save time filling in everything. If you aren't comfortable with that, you can sign up using your phone number.
Step 3 – Create Your Username
If you've already logged on using Facebook, your name will already be filled out for this step, but you can alter it if you want. We suggest using your real first name but don't add your last name for safety reasons. You can add your last initial if you have a more common name that you think many other users will have.
Step 4 – Add Your Birthday
Now it's time to add your birthday. Again, if you use your Facebook profile to sign on, you won't have to do this step. Bumble is only available to users over the age of 18.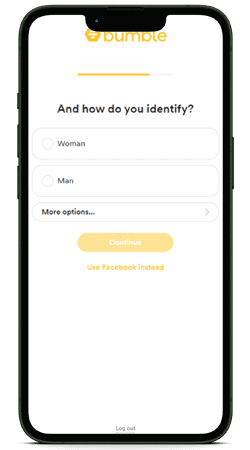 Step 5 – Confirm your Gender
Choose which gender you identify as and hit the 'continue' button. If you click on "More options…" you can find up to 70 different gender identities.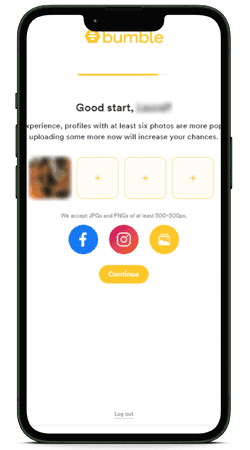 Step 6- Add Your Profile Photo (Add More Photos)
This is when it gets fun! Add photos of yourself that make you feel great. You can add pictures from Facebook, Instagram, or your personal library. Just makes sure the first one is your favorite because it will be your profile photo. You can also change your pictures anytime, so don't put too much pressure on yourself to find the perfect image!
Add at least six photos that will show people who you are and get them invested and interested in getting to know you!
Step 7 – Let Bumble Access Your Location
Because Bumble brings you matches based on proximity, the app needs to be able to have access to your location. Once you've provided that information, you can select and set your distance settings.
Step 8 – Agree to the Terms and Policies
Because Bumble wants all its users to feel and be safe when they're online, you must agree to and understand the app's guidelines. While you don't necessarily have to read them, you must agree to them before you can continue.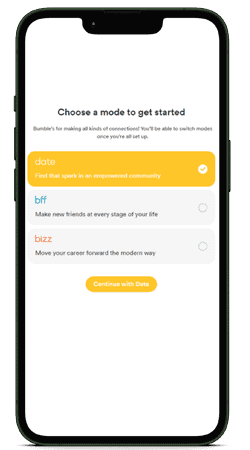 Step 9 – Choose How You Want to Use Bumble
One of the biggest perks that Bumble offers its users is the multiple ways people can use Bumble for their benefit. Bumble offers the regular version, where you can swipe on people you might want to date. You can also choose Bumble BFF, where you can swipe on potential friends while on the app. And Bumble Bizz lets you use Bumble as a business networking app.
If you initially download Bumble and use it for one of these things, you can always change your preferences any time you want.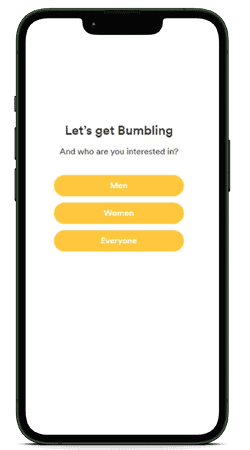 Step 10 – Choose Who You're Interested in and Start Swiping
We're almost done! Now it's time to tell Bumble who you want to date and take one step closer to finding your person.
You can choose your own adventure from here on out. You can go to your profile and fill out your bio or start swiping on singles in your area! We do suggest that you prioritize customizing your own profile so that you can get the best matches available in your area.
Alternatives to the Bumble Dating App
If you're still not sold on Bumble after reading this far, don't worry; it's not the only dating app on the market by far. Here are some of our other favorite dating apps that might help you find success in the crazy world that is online dating.
Dating App
Key Facts
Free Trial
Zoosk

• Number of Users: 40 million
• Gender Ratio: 47% men and 53% women
• Pricing: Begins at $12.50 per month

Start Your Free Trial!
Tinder

• Number of Users: 8+ million
• Gender Ratio: 61% men and 39% women
• Pricing: Begins at $4.50 per month

Start Your Free Trial!
Hinge

• Number of Users: 500,000
• Gender Ratio: 55% men and 45% women
• Pricing: Begins at $4.99 per month

Start Your Free Trial!
CoffeeMeetsBagel

• Number of Users: 10+ million
• Gender Ratio: 40% men and 60% women
• Pricing: Begins at $15.00 per month

Start Your Free Trial!
Frequently Asked Questions About Bumble
We understand that online dating can be challenging. Because of that, we want to ensure you feel equipped and ready to take on the online dating world with as much information and knowledge as we can supply for you! If you still have any questions about Bumble and how the online dating app works, we're here for you.
Do I Need to Pay For Bumble in Order to Find a Match?
While we will tell you that the premium features that Bumble provides its users will make your online dating experience better and smoother, many people still find love and success on the free version of the app. The app's premium features like SuperSwipe, Spotlight, Beeline, Extend, and especially the advanced search options that it provides its users allow you to find love easier than ever before.

That being said, if you put in the proper time and effort into looking for a match, you're active on the app, and you have an engaging and attractive profile, you will be able to find love and success on Bumble's free version of the app without any problem. Millions of people stick with the free version of Bumble because they know that they will easily be able to find success online.
How Can I Block and Report Users Online?
The team at Bumble is dedicated to ensuring you feel safe and that their platform is clear of any bots, scammers, or other concerning profiles. Because it's hard, if not impossible, to go through every user on their app, they ask their users to report any instances or interactions that might have made them feel uncomfortable. People can report others based on their profiles or a conversation they had.

If you want to report someone, scroll to the top of their bio and choose the 'Hide & Report' button. You can then select why you're reporting them and write down any additional comments you might have. Finally, submit your response.

If you're conversing with someone and they say something inappropriate or anything that makes you uncomfortable, you can tap the three dots at the top right side and hit 'Block & Report.' You will then tell the team at Bumble what made you uncomfortable and submit your report.
How Much Time Do I Have to Respond to Someone on Bumble?
Bumble wants to hurry along the dating process and get its users matched with great people as quickly as possible. One way they do that is to set a 24-hour expiration date on all your matches.

A woman has 24 hours to message any of her matches before they expire, and a man has 24 hours to respond to her first message before it expires as well.
Does Bumble Have a Photo Verification Process?
Many dating apps have a photo verification process for the accounts and users on those accounts. If an account has a blue checkmark, it has been checked by Bumble's team, and the photos the person has used are real and not taken off the internet.

Just because someone's account has been verified doesn't necessarily mean they're not a scammer or a bad person. Still, the photo verification process does help Bumble remain one of the safest online dating apps.
What Does It Mean if I See a Star on a Bumble Account?
A star indicates that someone SuperSwiped on you.
Is There a Daily Limit to How Many Likes You Can Give on Bumble?
If you're using the free version of Bumble, you can like up to 25 profiles a day. You can swipe on as many accounts as you'd like to, but you can only swipe right on 25 profiles until you reach your daily limit.
Will the Bumble Algorithm Only Show Me Profiles That I Will Like?
While Bumble's algorithm does seek to ensure that you will like everyone they provide for you, they also will show their premium member's profiles first when you're on the swiping deck. But once you get past the first few profiles, Bumble's algorithm will try to only provide you with the profiles it thinks you will like.
What Do Bumble's Membership Numbers Look Like?
Because of Bumble's popularity online, the app hosts over 11 million active members in the United States alone and about 700,000 active users weekly. The gender ratio on Bumble is 57% men to 43%, and women and the average user's age is between 31-38, though people as young as 18 find love on the app.
How Many Relationships Have Resulted from Bumble?
People log onto Bumble daily to search for their new match, and many find it. According to Bumble's statistics, over 20,000 marriages began on Bumble. 50% of Bumble's users are optimistic about finding love, and 85% come onto the app looking for marriage.

While it's not an exact science, and you can't predict everything, Bumble is often the app people turn to to find a long-lasting and serious relationship.
Is Bumble Better than Tinder?
Although the apps are often compared to each other, the answer to that depends on what the user is looking for. Try Tinder if you're looking for a quick connection and maybe a date. If you're looking for a long-lasting relationship or a serious commitment, try Bumble.