Our team of experts diligently research and review all of the products and services we recommend. If you buy through our links, we may receive a commission. Learn more here.
If you are looking for your catch of the day, you have arrived at the right watering hole. Plenty of Fish (POF) is one of the first and most widely used dating apps, having first appeared on the scene in 2003. The site boasts more than 90 million registered members worldwide.
If you are thirsting for a romantic connection, the Plenty of Fish dating app's sea of daters is vast and deep! In our complete Plenty of Fish dating app review for 2023, we will tell you everything you need to know about the popular platform, so grab your fishing pole, hook your bait, and get ready to tackle the dating world with us!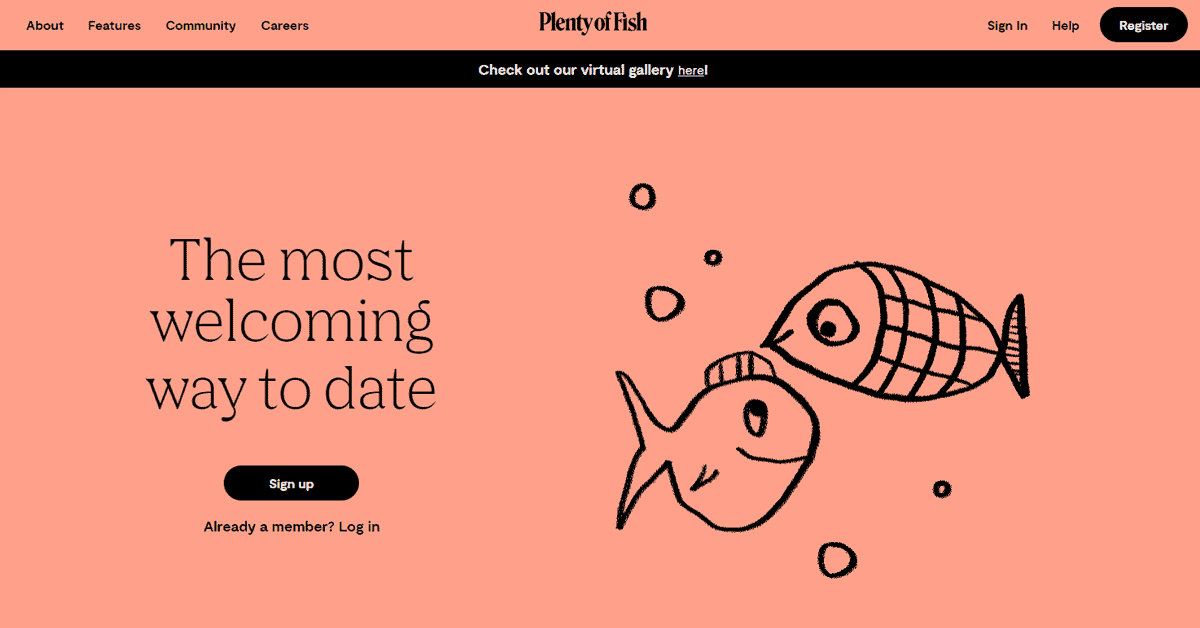 | | |
| --- | --- |
| Sign-Up Time: | 5 minutes or less |
| Cost: | $10.00 – $20.00 per month |
| Membership Pool: | 78 million |
---
---
Our Plenty of Fish App Rating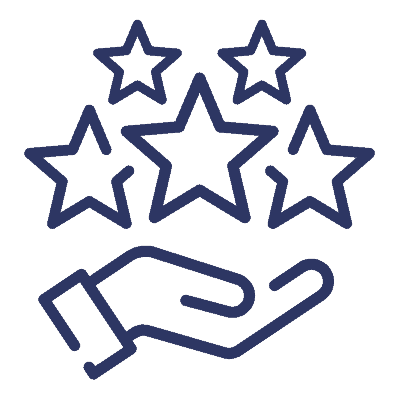 Overall Rating

Plenty of Fish is coming in with an overall score of 3.0 out of 5!
We're using our 6-point rating process for scoring the Plenty of Fish dating app. Our experts aim to bring you the most honest and accurate Plenty of Fish review that's possible. Each of these categories gets its score, and we've taken an average to get to the overall Plenty of Fish rating.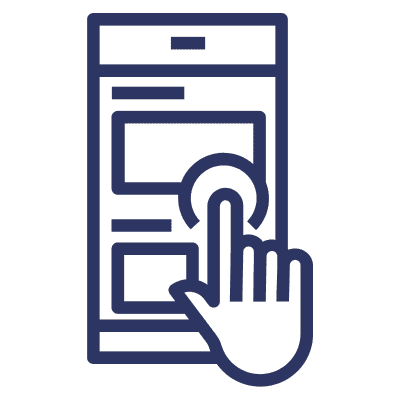 Ease of Use

The Plenty of Fish dating app is super easy to navigate, whether it's on the desktop site or using the app. You don't have to be overly tech-savvy to use the platform, and its upgraded interface is quite pleasing to the eye!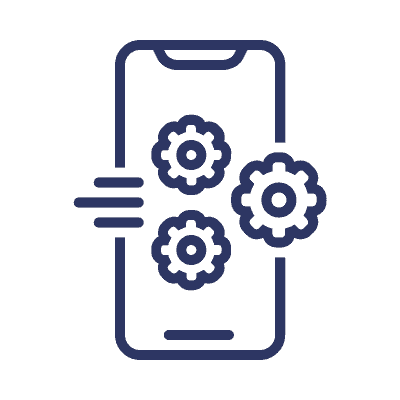 Features

The popularity of the Plenty of Fish dating app continues to rise over time. It's updated, and new features make it more engaging and appealing. Some of these features are unique to POF, while others clearly draw inspiration from other dating platforms. But we aren't complaining–the upgraded interface and features are a big draw, in our opinion!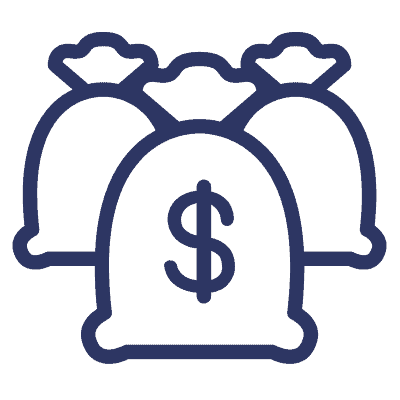 Cost


The basic Plenty of Fish membership is free, while more sophisticated premium features are available for a fee. Upgrading your profile means it will be seen by three times as many people, thus increasing your chances of finding love.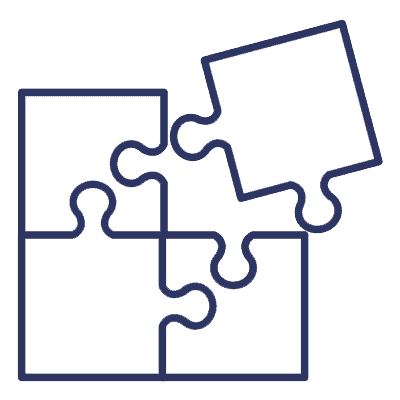 Match Quality


Both the website and Plenty of Fish dating app have a comprehensive search option. If you're in search of an app to meet eligible singles based on compatibility, this platform offers an excellent automatic matching system.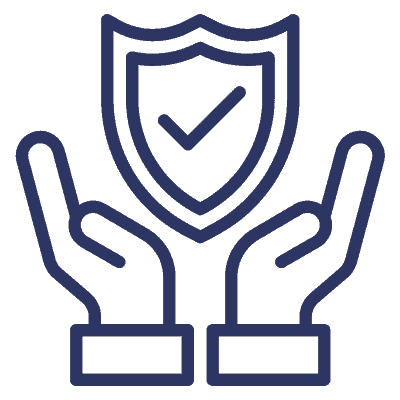 Safety and Security


Safety and security are decent on the Plenty of Fish dating app due to its two-factor authentication. Upon signing up for an account, users must provide their mobile phone number to gain access to their profile, which weeds out a lot of fake profiles.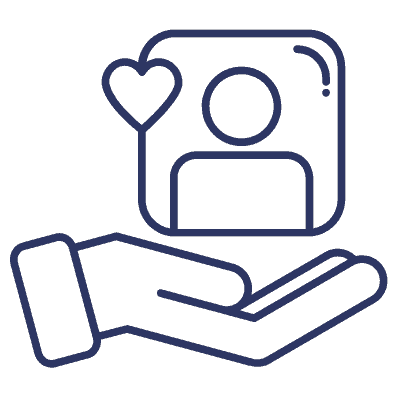 Customer Service


The Plenty of Fish dating app and website both provide an excellent help section. You can easily search for issues and get answers to your questions, and they include video guides and internal links to ensure you can find what you need quickly and without difficulty!
Overview of Plenty of Fish
Plenty of Fish is a popular online dating app that has been around since 2003 and has both a mobile app and a traditional website. It's generally cost-free, with a variety of features, including messaging and uploading photos. Because of this, Plenty of Fish has become the go-to site for people in need of a low-cost dating option.
Plenty of Fish Fast Facts
Year Founded: 2003
Plenty of Fish is one of the OG dating platforms
Average User Age: 30-45 years
Gender Ratio: 60% men and 40% women
The average age of daters using the app is between 25-45, and the males outnumber the women with a gender ratio of 60-40 percent.
Plenty of Fish Cost
Plenty of Fish's price structure has changed significantly over the last several years. You can have a fine experience on Plenty of Fish for free, but if you upgrade to a premium membership, you'll have access to even more features that will help you in your search for a romantic connection. Memberships are available in 3, 6, and 12-month packages, ranging from $10 to $119.99.
Premium Light
3 Months
$20.00
---
Membership: 3 Months
Price Per Month: $20.00
Total Membership Cost: $59.99
---
All Standard Features
Every Plan Has the Same Premium Features
Premium Plus
6 Months
$15.00
---
Membership: 6 Months
Price Per Month: $15.00
Total Membership Cost: $89.99
---
All Standard Features
Every Plan Has the Same Premium Features
Premium Extra
12 Months
$10.00
---
Membership: 12 Months
Price Per Month: $10.00
Total Membership Cost: $119.99
---
All Standard Features
Every Plan Has the Same Premium Features
Plenty of Fish is one of the only dating sites that will allow you to pay off the total price of the membership in up to four monthly installments. Most require the entire payment upfront.
Plenty of Fish Free Trial and Premium Features
Signing up with Plenty of Fish and creating a profile is completely free of charge. The site also has some standard features, such as communicating with potential matches through messaging, and seeing who has visited your profile and the messages you've sent, which is rare for a free membership.
Since so many of its features are available without upgrading, Plenty of Fish does not offer a traditional "free trial" period to users–the only options are using the basic free version or upgrading to a premium paid membership. But beware, the free version, while robust, comes with a lot of annoying ads.
Standard (Free) Features
Create an account
Send Messages
Get Matches
Add member to favorite list
See a list of online members
Take the Compatibility Predictor test
View a profile
Send voice messages
Participate in forums
See nearby members
Cue'd Up
Premium Membership Features
Chemistry Predictor
With the chemistry predictor, users can more easily find compatible partners and improve their dating filtering. Tests of various types, such as those for personality and sexuality, are included in this feature.
UltraMatch
Connects users with others who have similar interests using a matching system.
Top Prospects
This shows everyone you've communicated with in the last 30 days, rated according to how many times you've messaged, and puts them in your Top Prospects list.
Nearby
This feature prioritizes users depending on the distance away they are, making it similar to other apps that prioritize meeting people in close proximity to your current location. Members' location data from their mobile phones are used for his particular feature.
Meet Me
Browse the local Plenty of Fish members that are interested in meeting up! This feature closely resembles Tinder's well-known swiping feature. You'll be shown photos of other people and given the option to check a box if you'd like to meet someone or an X to dismiss them. If you and the other person both respond "Yes," you're matched and can start talking.
Super Yes
Using this feature, a member can express how interested they are in the other member. Statistically, using "Super Yes" may raise your likelihood of meeting a compatible partner to over 50%. This feature is accessible on the "Meet Me" page.
Send Priority Messages
A checkbox will be available while composing a message that allows you to choose whether or not to send the communication as a priority. If activated, the recipient's inbox will immediately prioritize your message.
Today's Catch
This function is also available in the "Meet Me" section. Using this feature, a user's profile is promoted to the spotlight so that it can be seen by a larger audience.
Self-Care Resources
In response to the widespread worries prompted by COVID-19, Plenty of Fish and Shine launched a free resource library with more than 800 resources, including meditation guides, soothing and calming noises, journaling prompts, a mood tracker, and a spot to reflect.
Cue'd Up
Cue'd Up is a fun way for singles to mingle and get to know one other before a potential match is made. Every week at specified times, you can play the game. All of the players will be asked to reply to the same question, and the top replies will be chosen by popular vote. When the game is over, users can like other players and vote for who they think has the "best vibes."
Do Plenty of Fish Memberships Renew Automatically?
When you make a purchase on PlentyOfFish—whether it's an upgraded account or tokens—your payment information is stored and used to renew your membership when it comes to an end automatically.
Sign in to your Plenty of Fish account to disable auto-renewal. Next, click the "Settings" button at the top of the page. Next, choose "Auto-Renewal" from the left-hand option and click "Cancel Auto-Renewal." Be sure to cancel your membership at least 24 hours before it's set to expire.
Should You Join Plenty of Fish?
There is a good reason why Plenty of Fish has grown to be so well-liked. It does what it says, doesn't cost anything, and is simple to use, so we absolutely feel joining POF is worth it—but with a few caveats.
Finding interesting profiles might be time-consuming, but the match function can help narrow the search, but if you're willing to put in the time and effort, you'll likely find people you click with.
Reasons to Join
This review of Plenty of Fish will include all the information we gleaned regarding the dating app. So that you can make a well-informed choice, we'll discuss both the positives and negatives of becoming a member of the site. We hope that the following list of benefits and drawbacks of the Plenty of Fish dating app will help you determine whether or not it is the best option for you!
Huge Dating Pool
With over 150,000,000 members since its inception, Plenty of Fish ranks as one of the biggest dating platforms on the planet. Every month, there are roughly 2.4 billion page hits on the app, and on average, 4 million users check in daily, leading to about 10 million interactions. When it comes to dating apps, our motto is "the more the merrier." With so many members logging on, users are bound to find connections!
Decent Free Version
Creating a profile, doing searches, and interacting with other users are all free services–users can both read and send messages, which is almost unheard of with a dating app's free version.
Live and NextDate
Live is a unique feature of the Plenty of Fish dating app where members can live broadcast and interact with one another! Live streams can be found by popularity, location, and other filters. But that's not all–NextDate is a matching game that is included in the Live feature. You have 90 seconds to pose pre-selected questions to your date in this kind of virtual speed dating. If you and the other person are into each other, you'll be matched and given the option to continue your convo in a private video chat.
Detailed Profiles
When creating our Plenty of Fish profile, one thing that stuck out was the amount of information we could add to our account! It was A LOT, and we are not mad about it–in fact, quite the opposite. We appreciate that members are able to pick from a plethora of options, whether it's gender, dating preferences, or interests. It makes online dating so much easier when you can see a lot of important details about a potential match!
Reasons Not to Join
Throughout the course of our Plenty of Fish review, we came across some convincing reasons in favor of joining the dating app; however, there are also some persuasive arguments in favor of choosing other dating apps.
No Live Customer Service
While there is a comprehensive Frequently Asked Questions section, customer support email responses might be slow. We would appreciate it if they included live chat and phone assistance for members.
Ads, Ads, and More Ads
While we applaud so many features being available to members who use the free version, they come with a different cost–tons of ads. Users will be bombarded with advertisements, and this is a big downside, in our opinion!
Fake Profiles
Despite Plenty of Fish's rigorous safety measures, too many fake accounts are still taking up space on the app. This is not unique to Plenty of Fish–if you are on any dating site, you are bound to come across fake profiles.
Older Demographic
The typical user in the US is above the age of 30, which means that younger individuals may not discover what they are searching for on Plenty of Fish.
The Plenty of Fish Dating App's Sign-up Process
The signup process for Plenty of Fish is quick and easy and took us less than five minutes from start to finish. We are going to walk you through the registration process step-by-step. Be aware that we are signing up on the desktop site–creating an account by downloading the app may look a little different!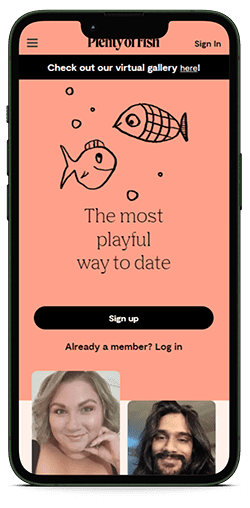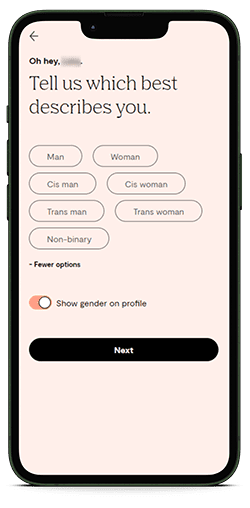 Steps 2 – 4: Enter Your Name, Pick Your Gender, and Choose Your Ethnicity
Next up is entering your name or what you'd like to be called on the dating app.
At this stage, you'll select your gender from a list that appears, and you can choose whether you want it hidden or displayed on your profile. Then click the "Next" button to move on.
Now, Plenty of Fish will ask you to pick your ethnicity from a list of options, and you can choose or select "Other/prefer not to say."
Steps 5 and 6: Enter Basic Info and Create a Unique Username and Password
Here's where you will enter some basic info, such as your date of birth, your location, and your email address.
You're almost done! Just choose a username that will be displayed to other Plenty of Fish members, create a strong password, and read up on the app's terms of use and privacy policy. Click on that next button to move on!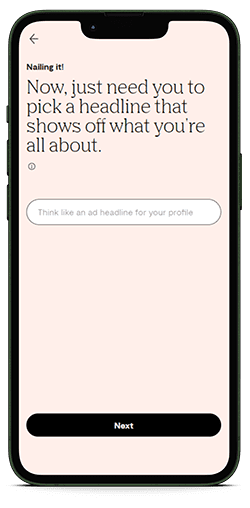 Steps 7 and 8: Build your Profile and Write a Headline and Blurb
Your account is set up, but we aren't quite finished. Now you have to tell Plenty of Fish who you are into, what kind of relationship or situation you're interested in, and a bunch of other preferences so they can gauge your interests and start matching you with eligible singles!
Plenty of Fish advises users to approach crafting a headline as though they are advertising themselves (which, to be fair, you are), so think of something catchy, type it in the box, and click "Next" to move on to writing a blurb. This is where you can really show off your personality and attract other users!
Add a few things you are obsessed with and some of your hobbies and interests.
Step 9: Verify your Profile
Type in your phone number, and Plenty of Fish will send you a verification code to authenticate your new dating app account.
Step 10: Upload Photos
Now it's time to upload a profile picture and any other photos you want to appear on your profile!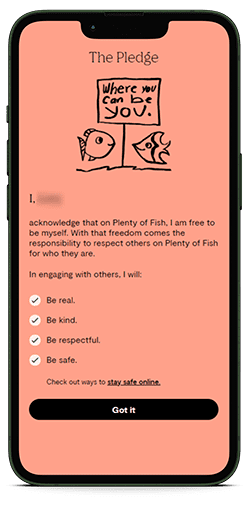 Steps 11 and 12: Read and Agree to POF's 'The Pledge' and Upgrade to Premium or Continue with Free Account
Read "The Pledge" carefully and then click "Got it."
Here's where you have the chance to upgrade to a premium membership or stick with the free version. Click on upgrade or decline the offer to move on.
Step 13: Go Fish!
You are now the proud owner of a brand new Plenty of Fish dating app account! Dip your toes into the dating pool and see who you catch!
Alternatives to the Plenty of Fish Dating App
There are a number of additional high-quality dating apps to try if Plenty of Fish doesn't quite float your boat. Below, you'll find a list of several apps that are great alternatives to Plenty of Fish.
Dating App
Key Facts
Review
Eharmony

Active Members: 16+ million
Gender Ratio: 48% men and 52% women
Best For: All singles who want a serious relationship
Pricing: Begins at $35.90/month

eharmony Review
JDate

Active Members: 240,000+
Gender Ratio: 47% men to 53% women
Best For: Jewish singles looking for dates and serious committed relationships
Pricing: Begins at $29.99/month

JDate Review
Zoosk

Active Members: 40 million
Gender Ratio: 47% men and 53% women
Best For: All singles – Flirting, finding love, and getting dates
Pricing: Begins at $10.00/month

Zoosk Review
Bumble

Active Members: 11+ million
Gender Ratio: 57% men to 43% women
Best For: All singles seeking relationships, casual dating, or friendships
Membership Price: Begins at $16.99/month

Bumble Review
Frequently Asked Questions About Plenty of Fish
After reading our review of the Plenty of Fish dating app, you might still have a few unanswered concerns. For your convenience, we have gathered some of the most frequently asked questions we have received from readers about the Plenty of Fish Dating App.
Is Plenty of Fish a Legit Dating App?
Yes! Plenty of Fish, also known as POF, is an all-inclusive dating app that integrates features from other popular platforms. It offers a variety of ways to discover a compatible partner, including browsing, searching, matching, and messaging.
Is Plenty of Fish's Premium Membership Worth It?
If you're serious about online dating, upgrading to a premium account may be worth it in order to increase your profile's visibility to other users, but, you can utilize many of POF's services without paying a dime. This way, you can test the platform for some time prior to committing to a subscription.
Is Plenty of Fish a Safe Dating App?
Regarding safety and privacy, it has a stellar reputation. Since its launch in 2003, the site's administrators have added features to prevent profile data breaches and allow users to report violating members.
How Do I Cancel My Plenty of Fish Membership?
If you want to cancel your membership, you'll need to do so manually since it will be automatically renewed at the end of the current term. Go to your settings, click "My Account," and deselect the auto-renewal checkbox.
How Long Does It Take to Sign Up for Plenty of Fish?
The average time to join up is somewhere between five and ten minutes. In order to purchase a membership or use the app for free, you will need to fill out some sections with information like your name, address, birth date, and email.
Does Plenty of Fish Need Your Phone Number to Sign Up?
A valid mobile phone number is needed to join Plenty of Fish. New members will receive a text with a verification code to enter on the app to finish creating their profile.
Is Plenty of Fish a Casual Dating App?
It all depends on what you are looking for! The Plenty of Fish dating app is unique because it requires users to choose the sort of connection they want. Users' connections range in complexity from casual encounters to serious commitments. Some members aren't interested in anything serious and can make it clear in their profile.