Jdate is the premier dating app for Jewish singles in 2023. They claim to be responsible for 52% of Jewish marriages that got their start online. But how effective is their service in developing long-term relationships and marriages within the online Jewish dating community? We dug into some independent research and studies to find the answer to this question. Here's what we discovered!
Jdate Basics
Before we get into the weeds on Jdate and its history, let's show you where the dating apps stand today:
| Fast Facts | Details |
| --- | --- |
| Year Founded | 1997 |
| User Base | All singles (18 or older) |
| Best For | Finding marriages and long-term relationships with Jewish singles |
| Total Members | 240,000+ |
| Active Members | 50,000 |
| Visitors Per Month | 180,000 |
| Gender Ratio | 53% men to 47% women |
| Average Age | 30-50 years |
Key Takeaways
The ratio of men to women is relatively evenly split.
There are over 240,000 total members, with 50,000 actively using the app each week.
Jdate primarily caters to those in search of meaningful, long-term relationships. It could be a better dating app for finding something casual or short-term.
People using Jdate ate are usually in their 30s or 40s.
Anyone can join if you're 18 years or older, but it's best to be Jewish or convert to Judaism to use the service as intended.
We recommend our readers use Jdate if they're interested in developing serious relationships with Jewish singles or in marrying someone with a Jewish heritage or background. If you want to learn more about the site, check out Jdate Review: Is It Worth Signing Up?
But aside from our opinion of Jdate, what are other industry experts and real-life customers saying about the effectiveness of its services? That's what we'll investigate in this review, so keep reading to learn more about Jdate and what makes it the best choice for Jewish marriages and committed relationships!
The 2011 Jdate Study and Its Findings
If you look on the Jdate website, you'll find a Jdate Study done in 2011 that details their success in the online Jewish dating community. We know this information may be dated in 2023, but we promise we'll fill in the gaps as best we can!
So, what did this 2011 self-analysis of Jdate teach us?
Key Findings
This study was based on feedback from 1,000 married Jewish internet users.
Jdate was responsible for 52% of marriages that began online.
17% of those surveyed found love or a marriage partner using some other Jewish dating site.
63% of online dates between Jewish singles started at Jdate.
76% of Jewish online daters have used or are currently using Jdate.
On the specific point of Jdate being responsible for 52% of Jewish marriages that began online, here is how the rest of the numbers shook out. eHarmony and Match.com also saw some heavy action when it came to Jewish singles but didn't even come close to Jdate .
But all this information was gathered in 2011. What does Jdate look like now in 2023? Is it still as effective in Jewish marriage and matching as 12 years ago? We found this to be a tricky question to answer!
The Abridged History of Jdate (Since 2008)
With this useful but dated information in mind, we decided to look at the time between 2011 and 2023 to see how Jdate performed. And to give you an idea of how Jdate built up to its position in 2011, we've included some numbers beginning in 2008.
Year
Facts By Year

2008

1st Quarter: 92,719 paying subscribers
2nd Quarter: 91,598 paying subscribers
3rd Quarter: 91,703 paying subscribers
4th Quarter: 87,205 paying subscribers

2009

1st Quarter: 84,644 paying subscribers
2nd Quarter: 82,769 paying subscribers
3rd Quarter: 86,051 paying subscribers
4th Quarter: 90,657 paying subscribers
2% of Jdate members aren't Jewish.
¼ of Jdate members are baby boomers.

2010

1st Quarter: 93,235 paying subscribers
2nd Quarter: 89,055 paying subscribers
3rd Quarter: 89,792 paying subscribers
There are 750,000 active Jdate members.
50+ singles comprise 40% of the membership base at Jdate.

2011

Jdate conducts their study finding that 52% of Jewish marriages online involved using Jdate.
There were 89,723 paying subscribers at the end of the 4th Quarter.

2012

1st Quarter: 86,433 paying subscribers
4th Quarter: 87,101 paying subscribers

2013

Mobile logins increased by 114%.

2014

Jdate has more than 750,000 members total.
The Jdate website is up for an overhaul.
Sparks Network is up for sale.

2015

Jdate's membership numbers begin to slump.
Paid subscribers drop off to around 65,000 and total members fell to 204,000.
Spark Network's revenue falls off 22%.

2016

An estimated 70% of US Jewish singles have used Jdate at some point

2017

The newly redesigned Jdate website and mobile app are launched in August.
Spark Network acquired Elite Singles.

2023

Jdate has 240,000+ total members and 50,000 paying subscribers.
There are 180,000 visitors to the platform each month.
Key Takeaways
Jdate became popular over time with older singles. People over 50 comprised 25% of the user base in 2009; the following year, it grew to 40%!
Jdate hit its peak in terms of membership volume between 2010 and 2013.
Jdate still needs the membership numbers that it had 15 years ago. Compare 750,000 total members and 93,000+ paid subscribers in 2010 to 240,000+ total members and 50,000 paying subscribers in 2023.
Jdate underwent a redesign in 2017 to boost its membership base and regain some of its losses.
We found that the Jdate is not quite what it used to be in its heyday (2006-2013). While it's still an excellent platform for meeting Jewish singles interested in getting married, the dating pool and the number of active members has fallen off since 2014-2015 and have yet to recover to their former glory.
But some studies suggest that this is not all Jdate's fault. There's speculation as to the decline in membership numbers.
Comments From Management in 2016
In a New York Times piece from 2016 (For Online Dating Sites, a Bumpy Road to Love), Brad Goldberg, the president of Peak6 and Spark's then-new board director, goes over many of the reasons why he believed that Jdate began struggling to maintain its position in the market. The chief reason, he claimed, was the increased competition from niche dating apps that fractured the membership base.

Still, he estimated that 70% of Jewish singles in the US had had some contact with Jdate, which holds in 2023, as it's still one of the top overall dating apps for Jewish singles.

Spark chief revenue and marketing officer Lisa McLafferty claimed in 2016 that one of the primary reasons for Jdate's decline in the mid-2010s was the brand getting lost and becoming too broad-based, straying away from its religious roots. She implied that the brand could begin gaining back lost ground through a fresh redesign and branding.
We could only find a little information between 2018 and 2023, but we know that Jdate currently has over 240,000 total members (50,000 active) and 180,000 visitors per week in 2023. Jdate overhauled the website and mobile app in 2017 to include more modern features like the Jdate LookBook for swipe-style dating action and Discovery Preferences that allow members to modify their search to capture their specific preferences and parameters.
Jdate still allows anyone to join the platform so long as they are at least 18. You don't have to be Jewish to enter, but the site highly recommends converting if you want to successfully meet a Jewish man or woman. So, we're still determining how much Jdate has taken the recommendation to reembrace its religious roots to heart. At its lowest, Jdate had around 204,000 members, but this has gone back up to 240,000+, so they must be doing something right!
User and Customer Feedback
According to a Survey Monkey study, 56% of adults see dating apps in a negative light (55% of men and 59% of women), while 58% of adults see dating apps in a positive light, but this is mainly coming from people who have met their partner online (78% of the 58%).
What do the customers and firsthand users of Jdate have to say about the site and its overall performance? Well, much like other dating apps we've reviewed in the past, Jdate has mixed reception from its users. And this falls right in line with what the Survey Monkey study claims about adults' feelings toward dating apps nowadays.
Negative Feedback
And this holds as we looked over customer feedback from sites like SiteJabber and Trustpilot, as well as reviews left on the App Store and Google Play. There are a lot of success stories and happy experiences that fall right alongside frustrated feedback and complaints from upset customers.
Trustpilot Reviews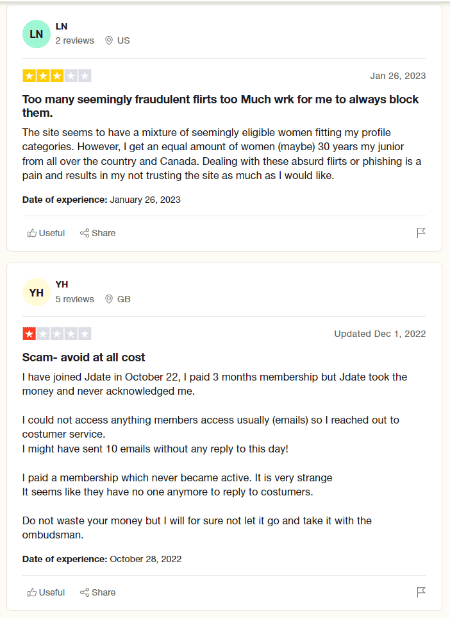 SiteJabber Reviews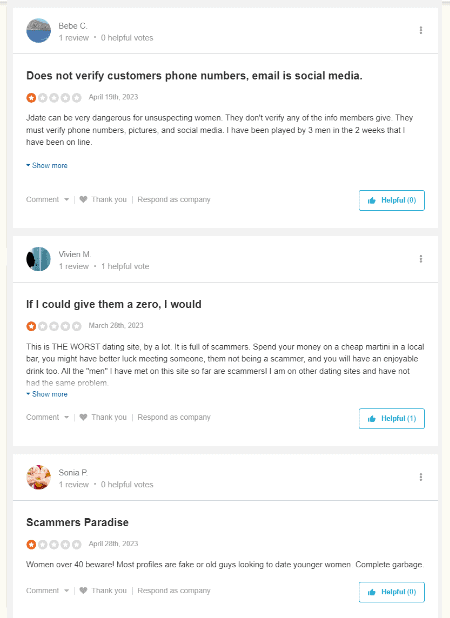 App Store Reviews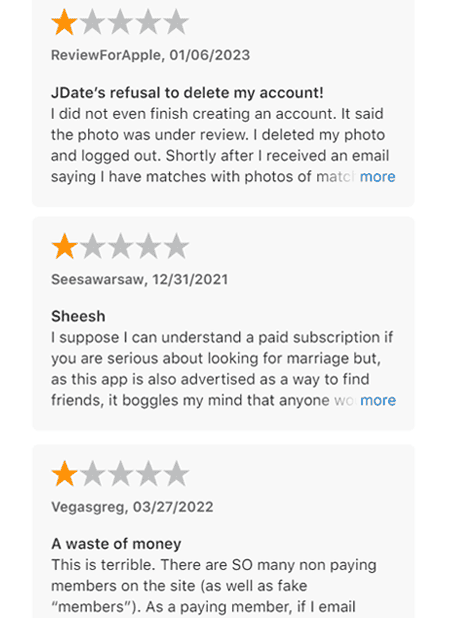 Google Play Reviews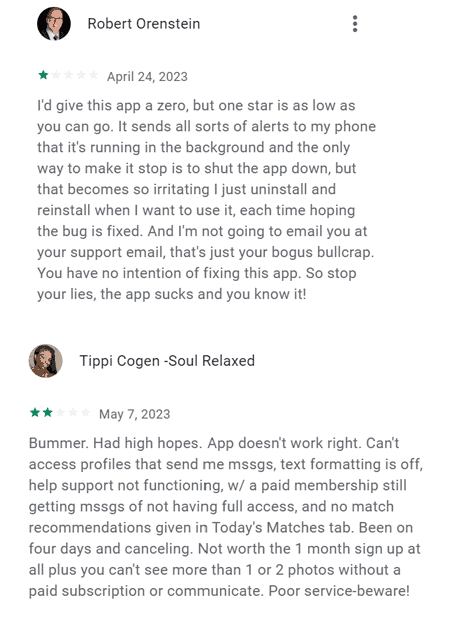 Now, we keep in mind that consumers are much more likely to leave nasty comments or feedback following a bad experience. Many with good experiences are likely to leave no feedback and ride off into the sunset. And we also know that many of the common complaints given for any online dating app have to do with fake profiles or scam accounts, something that is commonplace and should be a firm expectation for anyone who has spent any amount of time around dating apps and sites.
Something interesting we discovered was that the Cloudwards Study found that romantic scams at online dating apps increased four times from 2016 to 2020:
"If you've never been a victim of a romance scam, consider yourself lucky. People use dating apps to make victims think they want a relationship, only to ask their love struck marks for money — usually under the pretense that they can't continue the relationship without financial assistance. These scams cost users a total of $75 million in 2016, a figure that grew to a whopping $304 million in 2020."
We feel that Jdate probably didn't have this much lousy feedback pre-2016, and it's interesting to see that the amount of good feedback increases the further back you go in the comments. There are far more success stories and satisfied customers if you look several years back, which leads us to believe that Jdate has fallen victim (along with many other dating apps) to an increase in scammers, catfishers, and fraudulent accounts.
Positive Feedback
While positive user comments are rare at sites like SiteJabber, Trustpilot, Google Play, and the App Store, you can find various success stories and positive experiences with Jdate by visiting their Success Stories page.
It's easy to look at the review sites and conclude that Jdate is a scam or a garbage dating app. But then you see the success stories posted to the site by verified former members; you can't help but see Jdate as a platform, like any other dating app, that helps singles find that special someone, even amid fishy, illegitimate profiles or less than ideal matching from time to time.
There are 103 pages of success stories (with around eight stories per page) that range from 2009 to 2020, so we know that you can experience great success in finding a marriage partner at Jdate regardless of all the negative feedback you see elsewhere online. If you want a picture of the kind of relationships that Jdate can help you foster, read their Success Stories!!
We wish there were more of these posted to the review sites, so people can see the potential this site has.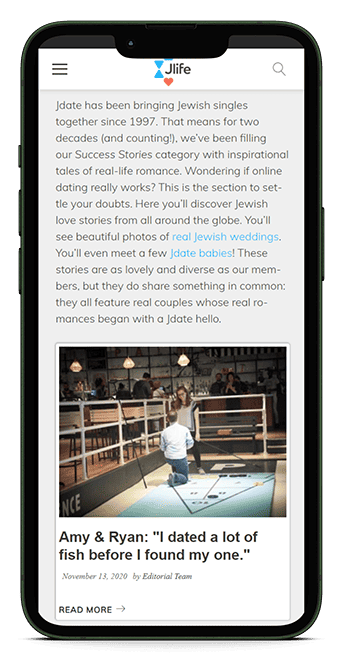 What Professional Studies Are Showing Us About Online Dating in 2023
Now let's focus on some of the current studies that focus on US adults using online dating apps. Once you've got an idea of the climate and direction of the online dating scene in 2023, we'll show you why Jdate is still a good option for Jewish marriages and long-term relationships despite the site's decline since 2014-2015.
Cloudwards Study (2023)
A study performed by Cloudwards has made it clear that online dating apps are still going strong and will be in the picture for years to come as a way of finding love, romance, or dates. Most people using these platforms and services say that it's "somewhat easy" to find a compatible partner!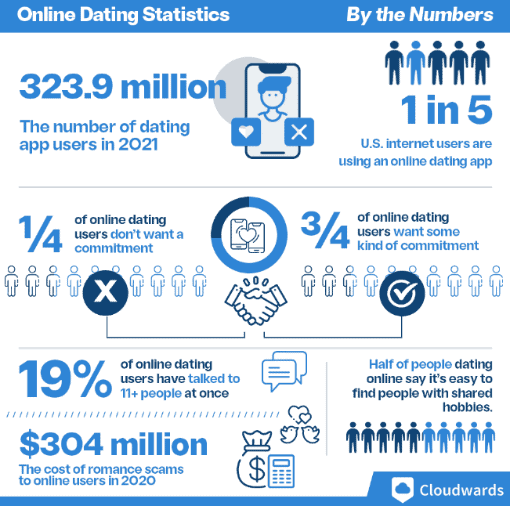 What did this study end up showing us about online dating and relationships in 2023?
Key Findings
There were 323.9 million dating app users worldwide in 2021, which jumped to 366 million in 2022.
20% of US internet users are registered with a dating app.
25% are looking for casual romance or relationships, while 75% want something serious, meaningful, or long-term.
50% of people using dating apps say it's easier to find someone with similar hobbies (this could easily apply to similar religious beliefs as well).
14% of online daters end up married to someone they met on an online dating app.
This study shows us that there are more people using dating apps that want to find long-lasting, meaningful relationships. But only 14% end up married to someone they met online.
---
Pew Research Study (2023)
Pew Research Center performed a recent survey focused on single US adults using online dating apps. They found that most US adults begin using dating apps to find a serious or meaningful relationship. Still, many see the platform as a necessary evil (think about fake profiles or scam accounts) to achieve their goals. Dating app users are divided on whether they had a positive or negative experience using their dating app.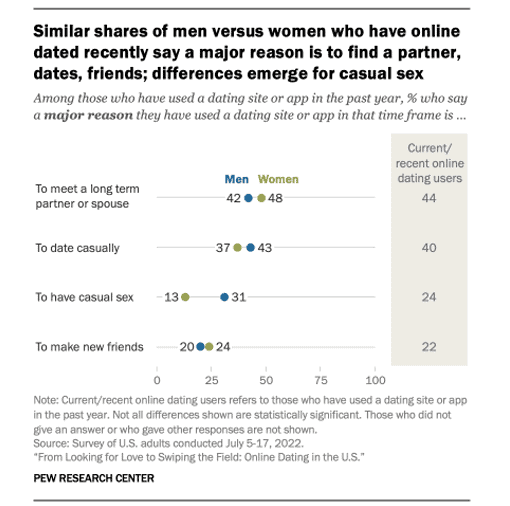 What did this study end up showing us about online dating and relationships in 2023?
Key Findings
42% of US adults say dating apps have made finding a serious relationship a lot easier.
35% of US adults are unsure if dating apps can predict love.
1/10 partnered adults met their spouse or significant other through a dating app.
44% of users want to meet a long-term partner, while 40% say they want to date casually.
Most respondents felt split on the safety of their dating app, and 52% felt like they met someone on the platform who was trying to scam them.
While singles in the US are increasingly searching for true love and relationships marked by commitment (and experience success using dating apps), many know these platforms aren't perfect and that they need to be vigilant using them due to the risk of running across scams or illegitimate profiles.
---
DreamWalk Study (2020)
DreamWalk conducted a study in 2020 that surveyed 805 people from Australia and the US between the ages of 18 and 60, which found that 44% of respondents rated their overall experience with online dating at 8/10 or higher. Surprisingly, 15.5% gave their experience with dating apps a perfect score of 10.
The most significant issues that respondents had with their online dating app of choice were:
Fake profiles or misleading profile pics (51% of those surveyed and primarily for users between 41 and 50)
"Ghosting" and "boring chat conversations" were more of an issue for younger users between 18 and 24
This 2020 survey confirms that fake profiles have been on the rise in recent years and are the source of most of the frustrations experienced by those who use online dating apps.
Another fun fact from this study: 77% of women want to meet their partner in real life, while 18.85% prefer to meet someone online. Men were more apt to meet someone using a dating app (43.28%), while 53.73% preferred to meet a future partner in their day-to-day life.
---
Bustle Study (2017)
Bustle did a study in 2017 and identified a trend that's still prevalent in today's online dating landscape: most people are using dating apps to find long-term relationships. They found that 38% of men and 44% of women are seeking something long-term and committed versus short-term or casual.
Key Findings
+13% of respondents married or engaged to someone using an online dating app.
7% of respondents met someone online between 6 months and a year. For 15%, it took exactly a year.
Again, we're seeing that most people using online dating apps are in the market for a serious, committed relationship, be it a marriage partner, a soulmate, or a long-term commitment to someone special. And this study was done in 2017, which suggests that this trend has been underway for some years now in the online dating community!
---
Is Jdate Worth It?
If you've gotten this far into our research on Jdate, its history, and where it currently stands after 26 years, you might be wondering if it's a dating app worth your time and money. After all, the platform was different from what it once was, and the dating pool is now much smaller, which means fewer options.
But we're here to argue that this is still your best option for finding Jewish singles, even over sites like Tinder, Bumble, eHarmony, Zoosk, or Hinge. Sure, these platforms are much bigger and feature better dating pools, but Jdate has some clear advantages that are worth noting that make it the best choice still in 2023 for finding Jewish marriage partners.
Jdate's Top Advantages
Most members are Jewish, in the process of converting to Judaism, or like the idea of becoming married to someone who might hold Jewish beliefs.
You could use a mainstream dating site to find Jewish marriage partners, but you must use the sites' search filters to weed out singles who don't practice Judaism or come from a non-Jewish background. Jdate, however, specializes in Jewish marriages and matchmaking, so anyone you meet there will be looking for the same relationships as you!
You can search for members based on denominational beliefs and values.
Even if you find Jewish singles using a mainstream dating app, that platform won't let you do additional filtering to capture the finer details of various Jewish denominational beliefs. Jdate comes with several of these, so you can find Jewish singles who fall within your sect of beliefs:
Conservadox Conservative
Culturally Jewish Hasidic
Modern Orthodox Orthodox (Baal Teshuva)
Orthodox (Frum) Reconstructionist
Reform Traditional
Willing to Convert Other
Nearly everyone is looking for a marriage partner.
Even if you meet Jewish singles using a mainstream dating app, there's no guarantee that they're interested in marrying you. Jdate specializes in Jewish marriages, so you can use the platform knowing you can find your forever partner.
Jdate's Success Stories prove that you can find a Jewish marriage partner on the app.
Jdate comes with many success stories spanning over ten years (2009-2020) as proof of their track record and success in fostering Jewish marriages and other long-term relationships. Check them out here.
So, while Jdate might have been responsible for 52% of all Jewish marriages that began online back in 2011 (and there's no current information in 2023 with updated numbers for this claim), we feel this is still your best option for finding Jewish love, long-term committed relationships, and marriages for the simple fact of their mission, the goals of their current members, and the collection of success stories from verified former members that cover over a decades-worth of time. Why not give Jdate a try?