Our team of experts diligently research and review all of the products and services we recommend. If you buy through our links, we may receive a commission. Learn more here.
Almost everyone wants to try out dating apps that have a proven record of success, and we understand that. Not many people want to invest their time, energy, and money into dating apps that won't provide serious relationships for them. Who would want to waste their time on an app that won't lead them to find success and maybe even the love of their life?
Most people who want to start dating apps want to leave with a serious relationship or a marriage. But the key here is to find the best apps that promote the longest-lasting relationship. With so many different options and perks, it's hard to narrow that down. Thankfully, we're here for you. We've already done the research, run the numbers, and found the best apps for you to find a serious relationship.
4 Best Dating Apps for Serious Relationships
Thankfully, there are many dating apps that already have a wonderful proven track record and that will help you find love. Even though the one you choose is up to your interpretation, you really can't go wrong when you pick one of the main online apps. The reason why we love to suggest the most popular apps first, especially if you're in the market for a serious relationship, is because the majority of people know about and go on these apps before any other apps.
These are the apps that have the most users, the most advanced technology, and the most credentials and proven track records for getting their users into serious relationships. A big part of online dating is that it is a huge numbers game, so in order to find the most amount of success, you're going to want to go where the most people are, and that's on these apps.
Dating App
Key Facts
Free Trial
eharmony 

Active Members: 16+ million
Gender Ratio: 48% men to 52% women
Best For: Finding singles who want a serious relationship
Membership Price: Begins at $35.90/month

Start Your Free Trial!
Elite Singles

Active Members: 2+ million
Gender Ratio: 44% men to 56% women
Best For: Finding highly educated and successful singles
Membership Price: Begins at $19.95/month

Start Your Free Trial!
SilverSingles

Active Members:  800,000
Gender Ratio: 53% men to 47% women
Best For: Finding singles over the age of 50
Membership Price: Begins at $24.95/month

Start Your Free Trial!
Christian Mingle

Active Members: 16 million
Gender Ratio: 44% men to 56% women
Best For: Finding singles who hold Christian beliefs
Membership Price: Begins at $14.99/month

Start Your Free Trial!
Because these apps are some of the most popular apps in the entire dating world, you'll be more likely to find success on these high-ranking apps due to the fact that so many users are already online and finding love. Most of these apps rank high in reviews and success and many of their users find their lifelong partners on these apps.
You Can Trust Our Recommendations
If you're wondering why you should keep reading this article, know that you can trust our recommendations and research. Not only have we looked at all of the numbers for the apps, but we've also looked into research and reviews about all of these apps' successes and failures. Not to mention, we've also been on a number of these dating apps personally so that we can also provide you accurate first-hand reviews that most of the other review websites won't be able to.
We know that you can quickly and easily get overwhelmed by all of the choices you're faced with when you start online dating, but we hope that our reviews will help you only make one big decision — who you're going to swipe right on. The rest of the not-so-fun stuff like choosing which app is the best and which one you should invest your time, energy, and money into in order to get the most success you can leave up to us. We will provide you with clear and honest reviews that will make your decision about finding the perfect online dating website easier than it's ever been.
We're Always Updating Our Information
We get that it can be extremely frustrating to do a quick search online looking to answer a simple question and then constantly be bombarded with outdated data. That's not us. When we learn about something new, we want our readers to be the first people we tell. The online dating world is always going to change, and there will be constant updates, tweaks, and changes that we want to alert you to so that you can keep up with the newest dating trends as well.
Also, if you're basing your decision on finding the best online dating website on our review, we have to keep you up to date with the newest improvements so you can make the most accurate and informed decision.
This website and its writers are devoted to constantly keeping its content as new as the subjects we're writing about. We also constantly have our fingers on the pulse of the online dating world, and our ears are turned up to any new dating news that might break. Because we're so up-to-date, we can also provide you with the most accurate reviews about what's going on in the dating world, so you can be the first to know when something changes.
We Don't Do Paid Reviews
We let the facts speak for themselves, and we will never be sell-outs when it comes to facts. It's hard enough to find a good online dating website by doing a quick online search, but if the reviews you read are fake, that makes your decision-making process so much harder. We will provide you with honest and results-driven reviews that aren't clouded by our personal opinions whatsoever. Certain apps don't pay us to promote them on our website. Instead, we take a look at the facts, the numbers, and the results, and we give our review based on those.
We Don't Review Apps That Aren't Successful
Even though there are multiple dating apps out there and many apps that are extremely successful in their own way, we only review the best of the best apps on this website. We know that there are millions of apps where you could potentially find love, but we want to narrow that list down for you as best we can and help you find the best of the best. This includes our multitudes of reviews of all the niche dating apps, different types of people who might want to be on the apps, and all of the demographics that might be looking for love. Online dating is our favorite way to meet new people and explore more options than you might have ever thought were possible so we want to make it easier than ever for you to find love.
Because of how many online dating apps are online and available (and seemingly there is a new one every day) it's very fair that there are some duds online, just like how there are also some duds on the apps themselves. But we won't review the apps that we don't think are worth your time because we also don't want to waste our time. Instead, we review the best of the best.
We Have First-Hand Experience
This is something that you won't see too many other places. Dating apps are very personal to most of us because the majority of this writing staff has been on dating apps. Because of this personalized firsthand experience, we also know what matters in our reviews and what we need to discuss in order to give you not only the most truthful reviews but also the most relevant ones.
We also know about all of the ups and downs that you might experience on the apps, and we can provide you with actual helpful information and advice when you're facing any issue with online dating.
Reviews of The Best Dating Apps for Serious Relationships
Even though the numbers and statistics can talk for themselves, we love to provide more in-depth reviews for these dating apps. Also, while the numbers are great for most of these apps, you still might not know whether or not the app itself would be a great tool for finding serious relationships, so we want to provide you with that personalized information.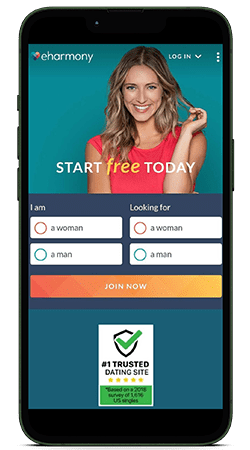 #1: eharmony
| | |
| --- | --- |
| Active Members: | 16+ million |
| Gender Ratio: | 48% men to 52% women |
| Sign-up Time: | 30-45 minutes |
| Pricing: | Starting at $35.90 per month |
| More Info: | eharmony Review |
If you want to find a serious, long-term relationship, eHarmony might be your best bet. This is one of the most popular online dating apps, so it has more users than many other apps, and the team is constantly updating its algorithm in order to provide the best experience for its customers. Almost everyone has heard of eHarmony, and with over 16 million users on its website, many people find serious relationships using the tool as well.
EHarmony is not only one of the oldest dating apps on the market, but it's also one of the most trusted ones. Most people who are first beginning online dating and figuring it out often try out eHarmony, so you'll most likely get a healthy amount of all kinds of people from all walks of life. The team at eHarmony is dedicated to connecting their singles with new and interesting people every single day. People have been using eHamorny as their online matchmakers for years and that has resulted in over 600,000 married couples since 2000. That means that eHarmony is responsible for roughly 4% of all marriages in the United States! We would say that that makes this website an excellent starting point for some amazing serious relationships.
If you're worried about how to start on the website or if you're new to online dating, eHarmony makes everything easy! The website is easily navigable, and the setup process allows you to connect with people who are like-minded, making it a great foundation for serious relationships to begin blooming. The first step that eHarmony asks you to take when you set up your profile is filling out eHarmony's patented 32 Dimensions of Compatibility test. This compatibility test allows the algorithm and the experts to properly find a match for you and will get the process of finding you a serious relationship started.

One of the reasons why we're suggesting eHarmony as one of the best dating sites that promote serious relationships is because of this test. The test makes sure that it knows who you are and what you're looking for so you don't have to do the heavy lifting of searching for your person anymore, the algorithm will find your perfect match for you and hand deliver them to your feed! The compatibility test will ask you to fill out all of the questions that will matter when you're looking for a partner that could be your lifelong soulmate. It will also take compatibility to the next level and set you up with someone amazing.
The app is known for creating long-lasting and serious relationships that are rooted in compatibility, and if that's what you want, eHarmony is the app to try out!
---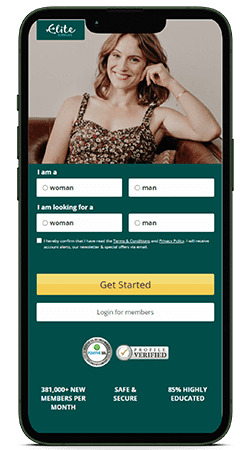 #2: Elite Singles
| | |
| --- | --- |
| Active Members: | 2+ million |
| Gender Ratio: | 44% men to 56% women |
| Sign-up Time: | 15-25 Minutes |
| Pricing: | Starting at $19.95 per month |
| More Info: | Elite Singles Review |
If you want a serious relationship with a serious partner, try EliteSingles. While not as many people talk about this website in their quest to find love, we need to highlight it in our review because it's perfect for helping successful business people find and connect with others who are on their level. Elite Singles takes the idea of matching its users with like-minded people to a whole new level. This is one of the more focused apps that is specifically geared toward professionals finding love with other professionals. If you want a serious relationship but haven't found someone who shares your passion or your level of dedication to work, you might want to try out Elite Singles.
Elite Singles boasts of being the best dating app that helps professionals find other well-educated or established people in the dating world. Elite Singles caters to singles who work in high-paying fields. If you're a professional who loves your career, you'll know firsthand how hard it can be to find someone whose lifestyle and goals are similar to yours. You'll also know that while it's not the most important thing to form a serious relationship, it is pretty important that you and your partner are on the same page when you're looking to your future. The majority of users on Elite Singles are career and success-oriented, have multiple certificates and degrees, and are usually brilliant people to talk to and share a conversation with.
Elite Singles is also great at matching people with like-minded singles. The algorithm it uses, along with the help of the team matches up roughly 2,000 couples each month and hosts 380,000 new members monthly as well, so you'll always have a plethora of options to swipe through to your heart's content.
The matchmaking process is a science-backed personality test that will take the results and help match you with your perfect person. This is where you can specify that you're looking for a serious relationship, as well as any other preferences that you might have about your future partner in life.
---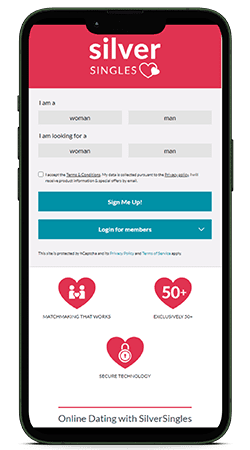 #3: SilverSingles
| | |
| --- | --- |
| Active Members: | 800,000 |
| Gender Ratio: | 53% men to 47% women |
| Sign-up Time: | 15-20 Minutes |
| Pricing: | Starting at $24.95 per month |
| More Info: | SilverSingles Review |
If you're single and a little bit later in your years but still looking for a serious relationship, you might want to try out SilverSingles. This is the ideal dating app for anyone who might not be too comfortable with all the new-fangled online databases but still knows that you're never too old to fall in love.
SilverSingles has over 100,000 active members, and over 800,000 visitors come online each month. The website is geared toward helping singles who are over 50 years old find serious relationships, romance, and even marriage. Even though the website says it's only for users over the age of 50, the average age fluctuates between 48-52 years old. Obviously, there are also outliers in these categories as well.
The website is perfect for the older generation because it is easy to use and set up. If you are on the older side, you should be able to specify your preferences and start on your journey to find love as quickly as possible.
The personality quiz that SilverSingles asks you to take is simple but effective. It takes no longer than 15 minutes, and the algorithm will take into account all of your preferences and hand-deliver the best options straight to your home page! You don't even need to search for love or a serious relationship; it's already going to be there!
If you or the person you're trying to set up a dating profile for is on the older side but still wants to find a serious relationship with someone they could see having a future with, SilverSingles is the place to do that.
---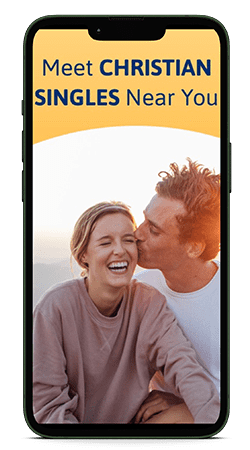 #4: Christian Mingle
| | |
| --- | --- |
| Active Members: | 16 million |
| Gender Ratio: | 44% men to 56% women |
| Sign-up Time: | 5-10 minutes |
| Pricing: | Starting at $14.99 per month |
| More Info: | Christian Mingle Review |
Christian Mingle is one of the most well-known dating apps for Christians who are searching for serious relationships. While many of the more niche apps can help you narrow down who you're looking for and make the process of finding true love for its users so much easier, Christians Mingle has an excellent track record for success. If you're looking specifically for a serious relationship with a Christian partner, this website is more than likely going to be your best bet for finding true love.
There are over 16 million active users on Christian Mingle who all want to find a serious relationship. The website has been one of the most relevant and used Christian dating sites for over 22 years now, and it continues to live up to its name and the hype. The average age of its users falls between 35-50 years old, and it's a very simple setup process, so even your mother or grandmother can get on the app and start looking for love.
The website's Christian audience almost guarantees that you'll match with someone who shares the same core beliefs as you do, especially if that's necessary to you for finding love. 71% of Christian Mingle's users attend church on Sunday, and 90% only want to marry a Christian. So if you want to start a serious and stable Christian relationship, you should check out all that Christian Mingle has to offer.
---
What Makes These Our Recommended Dating Apps for Serious Relationships?
We understand how difficult of a decision it can be to choose from all of these amazing options when you're looking for a great dating app. If you still aren't sure about which app or website you want to invest your time and energy into, we understand! Here are some more factors and thoughts you might want to keep in mind when you're deciding on the best app to find a serious relationship on!
The Largest Amount of Singles Online
It's no secret that a huge part of finding success online dating is playing the numbers game and swiping on as many people as possible, and one of the best ways to do that is to find an online dating website that has a number of users that are important to find a serious relationship with you. While you might be playing the long game, these apps make it easy to find, connect with, and message people who are as serious about finding a relationship as you are.
One of the best ways to find the most amount of success when you're online dating is to talk to as many people as you can that interest you. The best way to do that is to invest your time and energy into apps like eHarmony, which have a large number of active users who are mostly all looking for the same serious relationship that you are.
A big selection of like-minded singles and people looking for a serious relationship is one of the reasons why we chose the dating apps we did to review. While they're not all niche, you can create those filters and specify your preference once you've made your profile, but you'll also have access to the biggest number of singles on these apps.
Easy-to-Use Programs
Everyone has their own preference for what they want their dating app to look like, but as a general rule of thumb, no one wants to be confused while they're looking for online dating sites. Because many online dating apps are also catering to an older generation, it's important for these dating apps to be easy to use and understand for all of their users.
It's not the goal for these apps to confuse their users, so they will often stripe down any access bits and bobs for their apps and just provide their users with the bare minimum when they log on. This result allows people who might not be tech-savvy to explore the world of online dating with relative ease and comprehension.
If you're creating a dating profile for your parent or grandparent, it's good to know that the choices we've provided you will help them find love and explore the website without needing you to walk them through every step of the process.
You Get the Biggest Bang for Your Buck
Even though not all dating apps are going to be free to join or experience all of the perks, most provide a free trial and affordable pricing. If you're thinking about dating in the real world, you'll know how expensive that can get. More than likely, if you're dating without an app, you'll take multiple people out on a first date to even see if you're compatible.
Dating apps allow you to assess multiple people at once while skipping that first date step almost altogether.
Usually, a first-date meal will cost anywhere between $35-$45 or more. An entire month on a dating app usually costs less than $35 in total. So, by this logic, you're saving the money you would spend on multiple first dates.
Not to mention, you're paying for a great and customized app that is almost priceless. Because of your payment, you're getting a better and more personalized experience for you to find a serious relationship in no time. Dating apps give a personal assistant and a full-time matchmaker who has unlimited resources, technology, and access to singles close to you, all for the price of one dinner!
The Features Are Constantly Getting Updated
The dating world will always change, evolve, and grow, and these apps know that. One of the reasons why these online dating apps are so successful is because they are constantly improving their website and making sure that they are providing the best online dating experience for their users.
Most of these apps have been around for a while, and they're now seasoned pros at changing and altering their apps, algorithms, and technology with the times.
No one wants to try a dating website that makes them feel as though they've stepped into a time machine taking them back twenty years, and the most successful dating apps know that. Because of this, dating apps are constantly getting updates on their looks, aesthetics, usership, memberships, algorithms, audiences, and more.
Proven Record in Matchmaking
Another thing all of these dating apps have in common is their wonderful success record. While not everyone will find love on every app, these are the most popular dating apps because they've proven themselves to have some of the best algorithms out there. This also means that your chances of finding a sturdy, serious relationship are more likely to happen on these apps than anywhere else.
The apps' proven technology and matchmaking skills make them some of the best apps in the business, and we can trust the sheer amount of users that find love, as proven by their ratings. Dating apps are so wonderful because they open up a whole new world of opportunities and ways to meet more people who are like you in ways that you could have never done without the help of these apps and their technology.
Plus, no one really wants to do all of the work that is so often associated with successful matchmaking, and these apps will do it all for you in a short amount of time.
Best Niche Dating Apps For Serious Relationships
Now that we've covered all of the best big dating apps for people looking for serious relationships, you might not be sold on being a smaller fish in a big pond and we get that. While all of the dating apps that we discussed above will be great helpers in your journey to finding a serious relationship, you might want to narrow down your options a bit more and choose a dating app that is more specially geared toward helping you find a serious relationship.

We would like to caution you to not narrow down your choices too much, you still want to have the decision to make when you're swiping for love on these apps, we want you to find success and find your person online, even if that means you try out a more niche dating app. You're also allowed to want what you want and you can narrow your options down as much as you'd like, especially if that would make finding a serious relationship easier. Sometimes, if you know what you want, investing your time and energy into a niche dating app is the best way to go, and it makes it easier to weed out anyone who you know you won't get along with or find an interest in online.
Choosing a more niche dating website or app can help save a lot of time and energy in the long run because you won't have to ask everyone that you match with if they agree with your basic beliefs, you'll know they do because they're already on the app!
If you would like to start a free trial for one of these niche platforms today, you can easily find out if it's a viable option for meeting singles who are looking for a serious relationship.
Frequently Asked Questions
If you are still curious about any of these apps and their track record for helping their users find serious relationships, we're going to break down all of the most frequently asked questions about them. We know how daunting and overwhelming the task of finding the perfect app that will fit your wants and needs can be, so we want to make that decision as easy as possible for you.
Are These Dating Apps Free to Join?
Most of these dating apps offer some sort of a free trial before they ask you to commit to paying for a membership for months on end. But many of these apps also allow you to try a free base membership that might not come with all of the perks, but you can still test it out. And if you like it enough, you can consider paying for a premium membership!

In our opinion, it is sometimes better to pay for an app, especially if you want a serious and long-lasting relationship, because the people who pay for these apps usually want to invest their time and money into something serious. But that's only our opinion.
What's the Best App for Finding Serious Relationships?
If you're trying to find the best overall app for serious relationships, we would suggest OkCupid. This is one of the more popular dating apps in the game currently, and its numbers are up there with eHarmony.

That being said, if you would like to focus on a more niche audience, Hinge is also a great dating app to try out. Hinge not only had a great marketing strategy, but it also has a solid platform that helps its users constantly find love and create serious relationships.
What Is a Niche Dating App?
A niche dating app is exactly what it sounds like. It's for people who already know that they want a serious relationship with someone, and they don't want to waste their time. While some of the big players in dating apps might work well for their needs, it's good to look into smaller apps that have a more focused audience, specifically if you know what you want in a partner and what you're looking for.
Why Should I Try Mainstream Dating Apps to Find a Serious Relationship?
Even though you may find more individuals who are focused solely on finding serious relationships on these niche apps, many mainstream dating apps will provide you with more selection, a better matching system, and better results overall.

There is also no guarantee that everyone on the apps that you encounter will for sure be ready for a serious relationship, even if they say they are. That's one of the reasons why we would still suggest going to a bigger online database with multiple options and choices for singles.
Are These Dating Apps Safe?
In general, the safety of online dating is what you make of it. It's always wise to proceed with caution and safety when you're online at any time. We never suggest that you should share your personal information online or put yourself in a position that might make you vulnerable to a scam.

It's wide to keep an eye out for scams no matter how reputable the online dating website might be. Some of the most niche and well-meaning apps have the worst amount of crime and scams associated with them. That's why staying safe online should always be your top priority when you're approaching online dating or anything online in general.