Our team of experts diligently research and review all of the products and services we recommend. If you buy through our links, we may receive a commission. Learn more here.
It's safe to assume that everyone who uses a dating app is doing so in the hopes of finding love or at least finding high-quality singles to date with the possibility of developing a long-term, serious relationship. No one wants to fall victim to a catfish or a con artist looking to bilk you out of your hard-earned money!
Dating is already stressful enough without having to wonder whether your dating app is safe and secure. And while no dating app, like any other website, is 100 percent safe, some apps take your safety and security more seriously than others! They cannot control the occasional fake profiles or scammers getting through the vetting process, but they do a remarkable job of booting them off the apps pretty quickly.
We have compiled a list of the best, most trustworthy, and safest dating apps so you can confidently pursue online romance.
---
---
4 Safest Dating Apps in 2023
Dating App
Key Facts
Free Trial
Eharmony

Number of Users: 16+ million
Gender Ratio: 48% men and 52% women
Best For: Singles who want serious relationships that lead to long-term commitments or marriage
Pricing: Begins at $35.90 per month

Start Your Free Trial!
Elite Singles

Active Members: 2+ million
Gender Ratio: 44% men to 56% women
Best For: Singles who are looking for serious relationships or singles who want casual dating experiences
Membership Price: Begins at $31.95 per month

Start Your Free Trial!
Christian Mingle

Active Members: 16+ million
Gender Ratio: 44% men to 56% women
Best For: Singles who are looking for serious, God-centered relationships with other Christians
Membership Price: Begins at $14.99/month

Start Your Free Trial!
Zoosk

Active Members: 40 million
Gender Ratio: 47% men to 53% women
Best For: Singles who are looking for serious and casual relationships
Membership Price: Begins at $10.00/month

Start Your Free Trial!
Reviews of the Safest Dating Apps
Despite the fact that there are specialist dating apps where you may be sure to meet compatible people, we recommend beginning with one of the popular mainstream dating apps. We've picked the top five safest dating apps to get you started on the safest dating journey possible!
---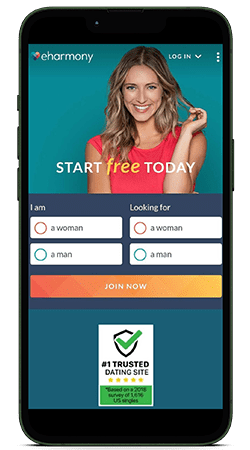 1: eharmony
| | |
| --- | --- |
| Active Members: | 16+ million |
| Gender Ratio: | 48% men to 52% women |
| Sign-up Time: | 30-45 minutes |
| Pricing: | Starting at $35.90 per month |
Eharmony is the most trusted and safest dating app we've encountered in our expert reviews. For more than two decades, they've been perfecting the science of Internet romance. They want you to feel comfortable browsing for a life partner without worrying about the security of your personal data or financial transactions. The site is well-loved and secure enough to attract 16 million regular users and 4 million monthly visitors.
In terms of security, eharmony is among the best out there. In an effort to further strengthen the safety of their online accounts, they provide users with the option of using two-factor authentication. Additionally, users have the opportunity to report or block accounts they consider to be dangerous utilizing the messaging system. A group of professionals also carefully review all requests for new profile accounts. By taking these measures, they hope to reduce the number of fake accounts and scammers on the platform.
---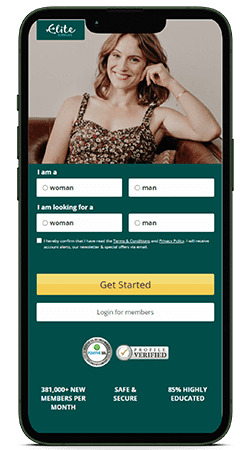 2: Elite Singles
| | |
| --- | --- |
| Active Members: | 2+ million |
| Gender Ratio: | 44% men 56% women |
| Sign-up Time: | 25-30 minutes |
| Pricing: | Starting at $31.95 per month |
Elite Singles is a secure dating platform for college-educated and career-minded individuals, accepting approximately 300,000 new members each month and one of the safest dating apps around. However, they don't see as much new monthly traffic as eHarmony and Match.
This is due, in large part, to the extensive screening procedure used by Elite Singles to ensure that all new members are well-suited to the site's niche audience of college-educated and career-minded singles. To cap it all off, this is a tremendous boost to personal safety and security. The Elite Singles free trial does not enable you to submit photos, see profiles, or communicate with other members in any way, unlike the free trials offered by competitors like eharmony and Match. Since only paid members have access to these features, phishing and other types of scams are significantly reduced. If you are a paying member, your photo or profile update must be reviewed and approved by a team of administrators before being made public.
---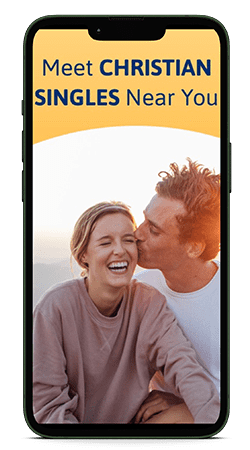 3: Christian Mingle
| | |
| --- | --- |
| Active Members: | 16+ million |
| Gender Ratio: | 44% men 56% women |
| Sign-up Time: | 5 minutes |
| Pricing: | Starting at $24.99 per month |
Christian Mingle is yet another of the safest dating apps that allows you to make meaningful connections with like-minded singles without having to worry about the safety of your personal details or financial transactions. This secure dating app, like Elite Singles, has an entire staff devoted to monitoring profile changes and user photos. Christian Mingle's security staff is committed to identifying fake accounts and abusive users, another feature that gives users peace of mind.
Although it is ultimately up to the individual to exercise caution when interacting with strangers on a dating app, Christian Mingle does an excellent job of picking up the slack when necessary. A competent and friendly team is on call seven days a week to help customers. The support staff will quickly respond to any suspicious activity and remove any fake accounts that appear.
---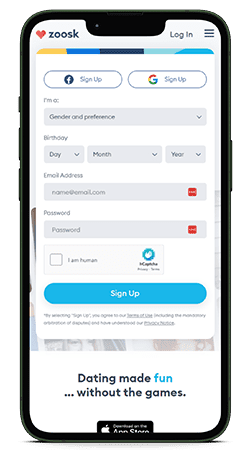 4: Zoosk
| | |
| --- | --- |
| Active Members: | 240,000+ |
| Gender Ratio: | 47% men 53% women |
| Sign-up Time: | 5 minutes |
| Pricing: | Starting at $29.99 per month |
If you're looking for one of the safest dating apps with plenty of users and a diverse demographic, you should definitely check out Zoosk. The site receives over 12 million unique visitors monthly and has over 40 million active users.
Their low prices, user-friendly interface, emphasis on compatibility based on personality and shared interests, stringent screening procedures, and many security measures all add to Zoosk's widespread popularity.
Zoosk Great Dates, a virtual version of traditional speed dating, has become very trendy. Using this fantastic new function, singles can finally put a face to their profile photo and learn more about their potential dates during a video chat. Zoosk also offers a live streaming video service called Zoosk Live, where users can watch other singles on their computers or mobile devices. Not to mention the four ways users can verify their identities on Zoosk: via their phones, Twitter, Facebook, or by having their photos manually approved by Zoosk staff.
---
Best Niche Dating Apps That Are Safe to Use
Many of the specialty and safest dating apps are available and are ideal for meeting other singles, but we've found that the five we've highlighted above provide you with the highest chance of meeting someone special.
However, if you're interested in trying out some off-the-beaten-path safest dating apps, a few niche options are well worth your time.
#1: BlackPeopleMeet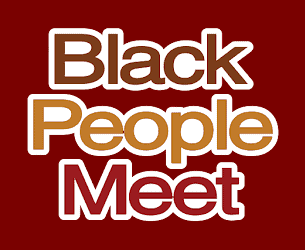 #2: CoffeeMeetsBagel
Tips for Using the Safest Dating Apps
Keep these safety precautions and recommended practices in mind the next time you find potential love via an online dating app. You'll learn what works best in both virtual and physical settings, such as how to present oneself in chat rooms and on dates. Ultimately, only you can ensure your safety while meeting new singles; therefore, we advise you to be watchful, exercise common sense, and implement our top five recommended safety measures listed below!
Avoid Communication Outside of the Dating App
There is a caveat to this first safety recommendation: at least initially, stick to using the dating app for all of your communication. You should take this preventative measure while learning about your potential partner.
After establishing trust with someone, you might start talking to them by text, phone, or other apps like WhatsApp and Snapchat. With the encrypted chat systems used by the safest dating apps we recommend, site administrators can see any suspicious activity, such as abusive interactions, scams, fraud, or phony accounts. In the first stages of a potential relationship, keeping your interactions inside the dating app could act as an extra buffer against any dangerous situations that could arise.
Exercise Patience
Developing and building good-quality connections requires time. You should consider reporting or blocking a dating app user if that person is forcing you to do anything you are not okay with or if they are trying to violate boundaries with you in ways that undermine your trust.
It's essential to go at your own speed in a relationship. You are under no time constraints to schedule a date with your potential partner, and you should never, under any circumstances, participate in any kind of intimate activity with a dating app match because of the pressure they place on you.
Meet in a Public Area
We recommend always having your first date in a public setting. Arranging a meeting at your house or any other isolated location is never a bright idea, as it's impossible to tell who you'll end up meeting. They may have pretended to be who they claimed to be online to gain your confidence. Avoid potential danger by holding your first meeting in a public place.
Having others nearby will make you feel safer, as being isolated increases your risk of coming to potential harm. Taking your own car is an excellent idea for getting to and from your first date of meet and letting your friends or family members know where you are and who you are with!
Keep Private Information Private
It's important to exercise caution when sharing personal information with people you meet, even on the safest dating apps, unless you've established a high level of trust with them. At the beginning of a relationship, giving up personal information such as your phone number is never a good idea.
Remember that it's best if your interactions take place inside the dating app itself during the initial chatting phase!
It's also good to wait a while before revealing your full name. This would make it much simpler for your potential partner to learn about you—such as who your acquaintances are and where you live—through social media accounts. And you should never, ever, give out your home address or workplace to anyone on a dating app until you've established trust.
Never Share Financial Info
This last piece of advice may sound like a no-brainer, but it is surprising how many people fall victim to situations in which they trusted a stranger with their bank details and ended up being scammed out of their money. Do not give up your financial information or transfer money to anybody who contacts you claiming to be experiencing a personal emergency. When communicating with someone you just met online and they ask for money, that should serve as a glaring red flag.
You should immediately block their profile and report it to the dating app.
Frequently Asked Questions
While we've made every effort to ensure that our review is comprehensive, it's always possible that we've forgotten to include an important element of the items we've evaluated. If you have any more questions about the safest dating apps, please read the FAQ section below!
What Makes These the Safest Dating Apps?
Each dating app includes a section devoted to teaching its users how to interact with other people on the site safely and effectively. All sensitive information, including payment details, is protected by SSL encryption while using these safe dating apps.

Each app has a dedicated staff that checks out new users and keeps a close eye on the app to weed out any fake profiles that may have slipped past the verification process; user accounts need a second verification step before being accessible, and all communication on these sites is encrypted, and the software can identify suspicious accounts, fraudulent activity, or abusive behavior.
Which of the Safest Dating Apps Should I Choose?
We can't tell you which of our safest dating apps you should join, but we can assure you that no matter which one you choose, you will have the most secure online dating experience possible. You can't go wrong with any of our recommendations; they are all great sites for fostering connections!
What Is a Catfish?
A catfish is a person who adopts an entirely new persona when using the internet–mostly on dating apps. When someone makes excuses in order to avoid seeing you in real life or do a video chat session after prolonged online communication, it's typically a red flag that something isn't quite right.
Do any of the Safest Dating Apps That Have a Swipe Feature?
Dating apps like Zoosk provide their own unique takes on the
Tinder
-swipe interface. While you can find casual hookups on Tinder, and Zoosk, they could be better options if you want something more serious.
Are Dating Sites Safe?
Yes, online dating is a safe way to meet people and start real relationships. A person who dates online should be cautious when disclosing personal information and setting up meetups. They should also beware of fake profiles and romance scams.

Most warning signs of a dishonest match are pretty clear, like no picture, a fake name, or requests for favors or money. However, it is always an intelligent option to conduct background research to ensure a catfisher or con artist doesn't slip through your radar.

If a dating profile or online chat gives you a negative impression, you can always hit the block button or report the user to get quick results.
How Do I Block Suspicious Users?
Blocking and reporting suspicious or abusive users varies from app to app, but it is a feature that all dating platforms offer to keep their members safe. If you're unsure how to use the block or report feature, check out the specific app's FAQ page or contact customer service on the help page.
How Can I Spot a Fake Profile?
If the person you've matched with has only uploaded one photo (or no photo), has no bio in their profile, and has no associated social media accounts, it may be a fake profile. A word of caution: if you decide to engage with someone about who you know very little, do it with great caution.