eharmony is one of the most popular online dating platforms in the industry – and there's a reason why! This platform focuses on matching people with a scientifically based compatibility algorithm that helps them find the romantic success they're seeking. If you're looking for your perfect match, eharmony is the platform for you!
But don't take it from us! Thousands of happy couples are in long-term, committed, and satisfying relationships with matches they found on eharmony. Let's look at these eharmony success stories to inspire you on your online dating journey!
---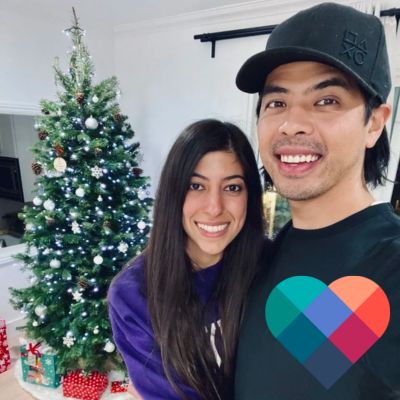 Richard and Sara
It all started with a Game of Thrones pickup line! Sara was smitten by this cheesy attempt and appreciated this cute guy reaching out to her based on a shared interest. They both quickly realized their scores on the eharmony compatibility quiz were similar. Their connection grew more profound during the pandemic. They fostered their romantic connection over a few months. And then set up their first date. When they met face to face, they already knew so much about each other that being together was easy! Now, Sara says it feels like she's known him forever.
---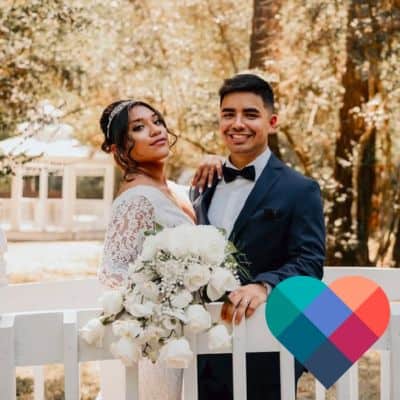 Kiara and Michael
Kiara and Michael started connecting with messaging on eharmony. They bonded over a similar sense of humor, laughing while appreciating each other's intellectual capacities. Both wit and intelligence were highlighted in their eharmony profiles, so they knew what to expect when connecting with each other! Messaging turned to marriage in 2020, and they've been happy together ever since.
---
Kirsten and Dominick
Kirsten joined eharmony due to the persistent nudging of her family members, and the pandemic was the final push that led her to sign up. While Dominick had signed up on a whim, that decision led him to meet the love of his life.  They hit it off right away! They discussed culture, family, food, and more over 9 hours that went by in the blink of an eye. They knew they'd meet again soon and continued dating each other in person. Dominick proposed, and they've been happy together ever since!
---
Denise and Dirk
In 2007, Denise and Dirk met on eharmony. They were married two years later, in 2009! These two attest to the compatibility matching algorithm of eharmony. They're a highly compatible match, and each person appreciates this online dating platform's role in putting them together. They wouldn't have met each other without eharmony's help! They've been married for over 12 years now and are looking forward to spending the rest of their lives together in wedded bliss. 
---
Anne and Brian
Anne moved to a small town in Texas after graduating college. She immediately noticed that her dating options were slim in her area and decided to turn to an online dating platform for help. eharmony was her choice, and that led to the romantic success she was able to find! Within a few weeks of using the app, she was matched with Brian. They connected over the app and scheduled their first date together, where they decided to wear exceptionally silly outfits! That date was in 2010, and they've been inseparable ever since. Now they've been married for over a decade thanks to eharmony and its compatibility matching system.
---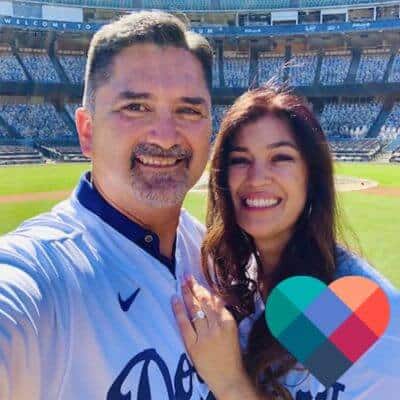 John and Angela
John and Angela are frontline workers who met on eharmony based on shared interests. They formed their connection on this online dating platform in October 2019. They both felt they had an instant connection with each other! They didn't realize it at the time, but their first date was their last first date. They supported each other emotionally through the pandemic, keeping each other in a mentally healthy state. They knew that if they could make it through that difficult time, nothing could stop them as a couple! They made it through the pandemic and are thriving together as a couple. They said they couldn't thank eharmony enough for matching them!
---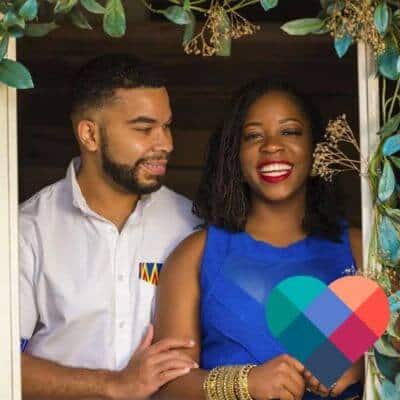 Brandon and Tobi
Brandon and Tobi met each other and now live in Charlotte, North Carolina. They share a cat companion, a career making videos on YouTube, and a passionate romantic connection with each other! They were married in 2017. In addition to working together, they love traveling together and exploring places they've never been before. They credit eharmony for bringing them together and are so happy their lives ended up the way they did. 
---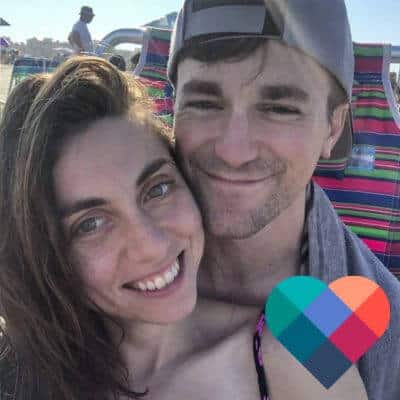 Cara and Kyle
Cara and Kyle both took to the in-depth match preferences from the start. They noticed they had similar values and could form a long-lasting connection based on them. Cara felt loved and respected by Kyle from their initial communication, which made it feel easy and comfortable communicating with him from then on. Discussing common interests and hobbies felt like second nature to both of them. Meeting in person was the last step they had to take to embark on an adventure that they both knew would last! Now, they're taking on life together as a team thanks to the help of eharmony. 
---
Claire and Jonathan
These two were matched on eharmony in 2014, but it took some time for them to make the connection. Jonathan had lost his first wife to cancer, and he wasn't fated to meet another soulmate yet. They were matched again later on, and the romantic flames were initially fueled with a wink!  That wink led to a message, which led to a long talk on the phone, and eventually resulted in their first date. They couldn't stop talking when they met in person and realized how incredibly compatible they were with each other! Their birthdays are even one day apart. This is another couple that attests to how successful and effective eharmony's compatibility matchmaking algorithm truly is. 
---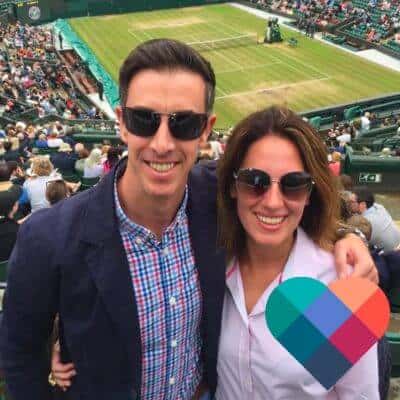 Anna and Luke
Anna and Luke say they would never have met each other if it wasn't for eharmony! They met when they both were in their mid-thirties, with established careers and social circles. They connected on eharmony and scheduled their first date, which occurred on April 17th, 2015. Anna almost missed the last train on her way there, then got off at the wrong stop! Many of their first dates were actually "misadventures," according to the couple. Still, they fell in love and smiled through the entire initial in-person dating journey. They got engaged and were married on August 27th, 2020, in what they describe as their dream wedding!
---
Carla and Simon
Carla and Simon were matched on eharmony in 2015. They met in person but took a break after their first date. A few months later, Simon texted Carla and asked her out for a second date. They met two weeks later and shared some red wine. That's when they decided to commit to their relationship for a few weeks to see how it would go. Eighteen months later, they were married on a beach in Barbados! Their four children witnessed the meaningful event. Two days after their wedding, they decided to sell their house, buy a boat, and go sailing. And the rest is history. 
---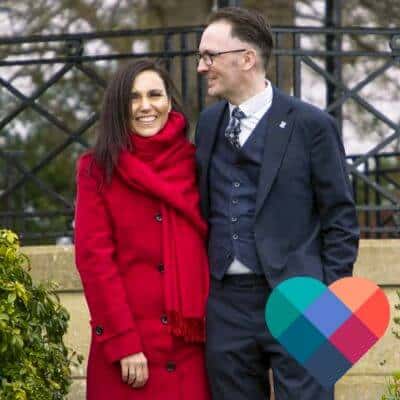 Jenny and Chris
Jenny and Chris met on eharmony in 2013. Jenny was a single mother looking to meet someone after having been with her ex for twelve years. She felt like a fish out of water but didn't give up on her dream of finding her perfect special someone. She sent Chris an icebreaker and waited for his reply – and a response came in! Chris was also a single parent with a young daughter. They had plenty in common and were highly compatible! They got married after dating and had a daughter of their own in 2015. They know they can rely on each other and encourage singles looking for love to keep on looking and never give up on their dreams!
---
Lindsay and Andy
Andy popped up on Lindsay's list of suggestions on eharmony and wooed her with a series of cute and quirky photos. They made their initial connection and chatted for a couple of weeks, intending to get to know each other well. They lived about an hour and a half away from each other on different sides of London. They met at Kensington Gardens, went for a walk, and decided to have lunch because they were having such a lovely time together. These two immediately realized they shared similar values and outlooks on life. On the 2nd anniversary of their first date, Andy proposed while on a trip to St. Lucia. She said yes right away! They were married in February 2015 at Bisham Abbey after buying a house together. In 2016 they were blessed with their son Xander. In 2019, their beautiful daughter Sylvia was born. They say they can't thank eharmony enough for matching them in the first place!
---
eharmony Could Be the Perfect Online Dating Platform for You!
To learn more about eharmony, check out our comprehensive review! Sign up for a free trial so you can meet the love of your life before you know it. We wish you the best of luck on your online dating journey!