Our team of experts diligently research and review all of the products and services we recommend. If you buy through our links, we may receive a commission. Learn more here.
The rise of virtual reality dating is ushering in an exciting new phase of online dating apps. But what exactly is VR dating, and should you be doing it? Is it the future of online dating, is it just for introverts and gamers, and are you missing out if you don't rush out to buy a headset and get plugged into The Matrix? Don't max out your credit card on a fancy VR setup just yet–let's find out what VR dating apps are and if they can help you find your better half!
What Is VR Dating?
When it comes to online dating apps, virtual reality, or the hip-sounding "metaverse," provides a far more realistic, three-dimensional environment. Like the real world, the metaverse is full of random encounters, mutual acquaintances, and online dating apps where people can meet potential partners.
While virtual reality (VR) dating apps can appear fascinating at first glance, they don't provide a significantly different user experience than mainstream dating apps like Zoosk or Hinge. Popular VR dating apps like Flirtual and Nevermet (more on these apps later) allow users to register and sign up using a website or mobile app, after which they can build a dating profile by adding images, an "about me" and bio–the usual stuff that goes on a dating account.
But instead of using actual photos of yourself as your profile picture, members of VR dating apps submit images of their virtual avatars, which represent their VR identities or personas.
Given that virtual reality (VR) takes place only on participants' screens, this involves a kind of dating that doesn't have roots in the real world. So, it usually comes down to actual people talking to each other through their VR avatars, which might or might not look like them in real life; but, to be fair, the same could be said for people on mainstream dating apps who use a ton of filters on their profile pics or use really old photos of themselves!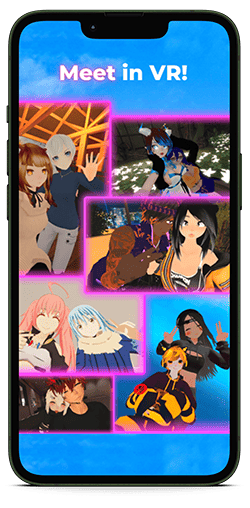 How Did VR Dating Become a Thing?
In his dystopian novel "Snow Crash," published in 1992, Neal Stephenson introduced the concept of the Metaverse. Similar to its modern usage, "Metaverse" describes a virtual world in which users from different devices may interact in real-time.
According to a McKinsey report, the Metaverse refers to a developing digital space incorporating 3-D technology, augmented reality, virtual reality, and other sophisticated internet and semiconductor technologies. It is shooting to provide individuals with immersive and realistic online experiences, both in personal and business scenarios. According to this report, it is suggested that the Metaverse has the potential to reach a value of $5 trillion by the year 2030. The astounding monetary figures involved are too large for one to think otherwise.
Covid also played a significant role in the development of VR dating apps–the epidemic upended our social lives and made us rethink our approach to dating. It was difficult to meet individuals face to face, yet communication was more important than ever–social media platforms weren't cutting it.
The solution? Virtual reality. The majority of people tended to gravitate to long-distance relationships, and mainstream dating apps integrated chat rooms, video calls, and virtual events quickly became the norm.
The Internet ultimately changed how we connect and meet people. Suddenly, it was possible to talk to someone on the other side of the planet and establish connections with people we'd never encounter if not for the world wide web! It evolved into online friends congregating in role-playing games for hours at a time to participate in epic battles, and gamers could network and socialize in a way that wasn't possible before. Sure, they could meet up and play D&D if they lived in the same area, but now they could hop online and play Guild Wars with friends from all over the world.
So it seems like a natural evolution to move from mere gaming online to looking for a romantic partner on a VR platform–and dating app designers are running with the concept of connecting fellow gamers in a virtual world and integrating it into virtual reality dating apps.
How Do VR Dating Apps Work?
VR dating apps like Nevermet and Meta Horizon Worlds make it possible to connect with potential matches in the metaverse, and the platforms harness AI to help you find a compatible partner.
Users typically start by making a dating profile, during which they choose their preferred gender and who and what they are looking for in a partner. Avatars, rather than photos, serve as a means of one's identity, emphasizing the value of one's personality over physical appearance.
The dating apps compete with one another regarding the originality of their virtual date spots, and most use virtual reality headsets for a greater sense of immersion. Virtual reality allows for interactions between avatars that are more personal, such as holding hands, kissing, or sleeping together. Some virtual reality (VR) users report experiencing "phantom touch," or the impression of being touched physically even when no one is really touching them.
Breakdown of the Best VR Dating Apps
Suppose you're interested in dipping your toes into the cool waters of virtual reality dating apps. In that case, we've compiled a list of the best VR dating apps that allow you to enter an alternate dimension filled with avatars and whimsical experiences.
Check out the brief reviews below for a quick snapshot of the best VR dating apps on the market!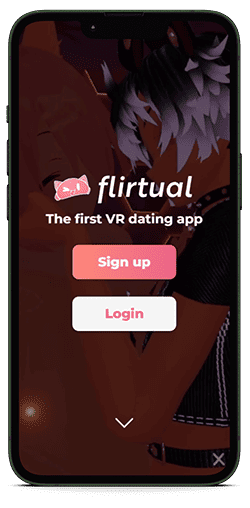 #1: Flirtual
| | |
| --- | --- |
| Year Founded: | 2020 |
| Active Members: | 40,000 (9,000 active users) |
| Gender Ratio: | 71% men to 29% women |
| Average Age: | 30-37 years |
| Website: | Flirtu.al |
| Pricing: | Starting at $9.99 per month |
Imagine a virtual matchmaker where singles can connect and find compatible partners. The Flirtual dating app endeavors to help those looking for love find compatible partners who share the same values and passions, ultimately fostering meaningful connections with the support of the app's features. After creating a profile with your details, this virtual reality dating app will pair you up with people who like what you like!
Then, you'll be provided with an array of choices for virtual encounters, such as parties, speed dating, and one-on-one dates with other compatible singles. Think of Flirtual as an emotional energy saver and consider it your virtual vibe tester!
---
#2: Nevermet
| | |
| --- | --- |
| Year Founded: | 2022 |
| Active Members: | 20,000 |
| Gender Ratio: | 60% men to 40% women |
| Average Age: | 30-37 years |
| Website: | Nevermet.io |
| Pricing: | Starting at $9.99 per month |
You'll need both a VR set and a solid dating profile to meet your match on the Nevermet dating app. Once you've created a great profile, the app functions similarly to Tinder–users can swipe left or right to indicate whether they like or are gonna take a hard pass on another person's profile.
One requirement of Nevermet is that when you create an account, you cannot use actual photos of yourself for your dating profile–this gets you booted by the app. Instead, you'll use an avatar of yourself and use that –users can be as creative as they want with the appearance, voice, and other elements. The goal of developing the Nevermet dating app was to revolutionize traditional dating methods–appearance and physical presence are no longer the sole factors determining a level of romantic interest. Nevermet is one of several dating apps with the ambitious goal of enabling users to connect on a deeper, more significant level than just physical attraction.
---
#3: VRChat
| | |
| --- | --- |
| Year Founded: | 2014 |
| Active Members: | 760,000 |
| Gender Ratio: | 80% men and 20% women |
| Website: | hello.VRChat.com |
| Pricing: | Starting at $9.99 per month |
VRChat, the ever-growing virtual reality social hub where people can connect and develop communities, is in it the long haul. The dating app streamlines the process of connecting with compatible people and getting involved in different kinds of online engagement–your virtual world network is legit thanks to the app's ability to classify members into various "trust levels."
If you're looking for romance in the Metaverse, VRChat is a great platform to use, and it's one of the top choices for finding a gaming partner.
The app has an array of activities, including role-playing athletic games, so there's something for everyone. You can also chat with other players as you play your favorite games!
---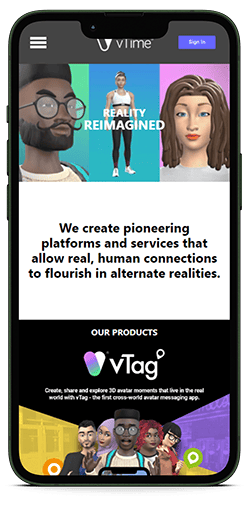 #4: vTime XR
| | |
| --- | --- |
| Year Founded: | 2015 |
| Active Members: | 1+ million |
| Gender Ratio: | 62% men and 38% women |
| Website: | vTime.net |
| Pricing: | Free (Users need to purchase an Oculus Quest or Oculus Quest 2 VR headset) |
vTime XR is a social network for an "extended" virtual reality that allows users to get to know new friends and possibly establish romantic connections in different virtual environments. The dating app is continuously upgrading its destination library, so there is always a new virtual place for members to escape to!
It works on all platforms, including Windows Mixed Reality, Oculus VR, and 2D experiences on smartphones running Android or iOS. vTime XR is equipped with a one-of-a-kind 360 gallery that can replay your virtual reality experiences in 3D–how freakin cool is that?!
---
#5: Planet Theta
| | |
| --- | --- |
| Year Founded: | 2023 |
| Active Members: | No data yet |
| Gender Ratio: | 80% men to 20% women |
| Website: | Planet-Theta.com |
| Pricing: | Starts at $25.00/month |
Planet Theta has not yet left the beta testing phase, but the plus side is that you don't need a VR headset or even a PC to utilize it; all you need is a Steam account. Planet Theta's final version is slated to be released sometime this summer. By then, you'll need a virtual reality (VR) setup (for now, you just need a Quest 2 headset), but the creators of Planet Theta have promised there will be a PC version, too.
Planet Theta claims the world is yours for the taking–it promises to transport you to the immersive realm of social virtual reality and dating, where members can find a potential partner, make new friends, see the world, arrange VR dates in far-flung locations, and much more. Planet Theta's ultimate goal is to provide a dating app and experience where players are able to unwind, have fun, and feel safe while immersed in lots of interesting VR locales and environments.
---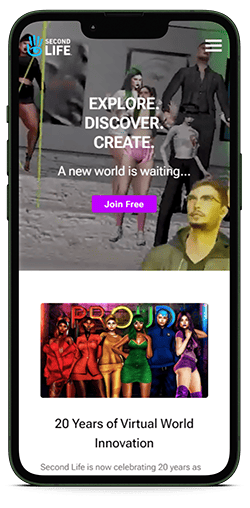 #6: Second Life
| | |
| --- | --- |
| Year Founded: | 2003 |
| Active Members: | 73 million |
| Gender Ratio: | 50% men to 50% women |
| Website: | SecondLife.com |
| Pricing: | Starts at $5.50/month |
If the name Second Life is ringing a bell in your brain, but you can't quite place where you've heard it, you might be a fan of The Office. Dwight Schrute retreated to the virtual world of Second Life in Season 4's "Local Ad," as Angela and Andy looked like they were becoming a thing. Then, worried about Dwight, Jim Halpert created a Second Life account for himself so he could keep tabs on his coworker.
In Second Life, Dwight was an expert cornhusk dollmaker, beet sculptor, and knot-tying champion. When asked to pick a goal for his virtual existence, he answered, "To calculate the exchange between Schrute Bucks and Linden dollars," the virtual counterpart of the real thing. And even if he wasn't successful in finding love through this virtual dating app, that doesn't mean you can't!
The game's 2003 inception caused a media frenzy, and soon the whole Internet was curious about it. It was a metaphor for man's quest to build a digital universe, and its genius has been discussed endlessly in the "past tense." However, Second Life is thriving, and people continue building their second lives there.
Dating apps like the Lonely Hearts Dating Agency, Actually Love Dating Agency, and Thundr are just a few of the many spinoffs in this virtual world. Users can create their own avatars while participating in chats with other members and can go on virtual dates where they can do things like take a hike through the woods, go dancing, and play board games–there are so many things to do in Second Life!
---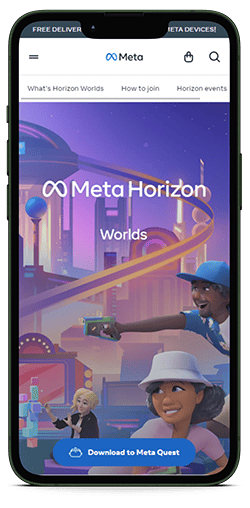 #7: Meta Horizon Worlds
| | |
| --- | --- |
| Year Founded: | 2021 |
| Active Members: | 300,000 |
| Gender Ratio: | 70% men to 30% women |
| Website: | Meta.com |
| Pricing: | Platform fees of up to 47.5% (Oculus Rift S or a Meta Quest 2 VR headset required) |
The dating app Meta Horizon Worlds can be downloaded for free with the purchase of a Meta Quest headset–it's a virtual world where users can meet other VR lovers, make friends, look for potential partners, engage in gaming and other activities, go to virtual parties, and hit up VR events.
According to Meta, players can create their own avatars to represent themselves online by giving them the power to customize their physical appearance and apparel. To gain access to all of the user-made worlds, players must first stop at the hub (or "plaza") and choose one of the portals to get to their desired virtual destination. With the use of an in-built game creation system, players are able to create their own worlds, and they can even make it personal just for them! Other options, such as in-game screenshot capture, partying with friends, and blocking or reporting other Meta users, are detailed on the game's website.
---
#8: Rec Room
| | |
| --- | --- |
| Year Founded: | 2016 |
| Active Members: | 220,000 |
| Gender Ratio: | 73% men to 27% women |
| Website: | RecRoom.com |
| Pricing: | Starts at $9.99/month |
Whether you're in the virtual world or on the go with your smartphone, you can game with your friends in Rec Room, a social gaming app that works across several platforms and devices. Rec Room provides each user with a personalized profile avatar upon registration. You can join VR clubs, play games, make your own content, acquire new skills, and more, so even while it's not a designated dating app per se, you'll be engaging with a lot of people, and who knows, maybe romance will strike!
In addition, Rec Room has its very own economy, so you can sell what you create to other users who are also using the VR platform.
---
What Makes These the Best VR Dating Apps?
VR dating apps are where people interested in virtual reality can meet each other and set up dates in the metaverse, with the use of invented avatars rather than filtered to the hilt selfies.
It's important to remember that the virtual world as a whole is still quite new and unregulated, making it just as susceptible to harassment, microaggressions, and bullying as any other social networking platform.
Virtual reality dating is one sector's reaction to recurring boredom–years of trolling through matches and swiping have disillusioned many people with dating apps. In an endless ocean of ever-changing profiles, where any communication can be terminated at any time (hello, ghosters), it's easy to feel unmoored.
Pros:
Virtual reality dating apps help people overcome the jitters they might feel while arranging a date through a more conventional or mainstream dating platform. The stress of picking the perfect profile picture and coming up with clever prompts could sap the fun of dating, but with the VR dating app's social discovery features, people can feel less anxiety when making the first move.
People are able to form connections without outside or material judgments when they date in the metaverse.
The VR realm offers a safe haven for a lot of people–especially those with social anxiety, those who reside in small communities with small or even non-existent dating pools, and those who are still developing their sense of identity.
In the realm of virtual reality, users have a chance to engage in a broad range of experiences and activities that far exceed the boundaries of real life–these include exploring exotic virtual destinations, participating in virtual events, and immersing themselves in various virtual experiences.
Cons:
People still prefer face-to-face interactions and all the benefits that come with it, illustrating that VR dating has limitations. While for some people dating in virtual reality is an amazing alternative, for others, it will simply lead to feelings of isolation and loneliness.
The anonymity of virtual reality dating apps has the potential to accentuate many of the issues plaguing online dating apps in general, including catfishing and online abuse and harassment.
Spending excessive amounts of time online is a legit concern of virtual dating; VR addictions are currently a problem, and people's social and professional life could suffer because of it. So explore VR dating apps as much as you want but keep in mind that real risks are involved too!
VR dating is time-consuming and demanding and requires the use of a top-notch computer, a VR headset, and a speedy, reliable internet connection. When going on a VR date, technical difficulties can really throw a wrench into your love life–glitches or lags mean you could have delays in controlling your avatar's motions or hearing others, hindering any attempts at spontaneity and connecting with your date.
The Takeaway
As with any innovative endeavor, there are risks associated with dating in the virtual reality realm. Experts have sounded the alarm about potential privacy leaks, mental health issues, and even addictions to virtual worlds.
There is a growing sense of uncertainty in the financial industry as investors wonder how long the metaverse will last and what role the government will play in regulating it. The US Federal Trade Commission is looking into Facebook's VR acquisitions and seems to be thoroughly looking into the extent of Big Tech's influence on the economy.
Despite its shortcomings, this cutting-edge virtual technology still has a lot going for it. We hope that the VR industry as a whole will evolve and ultimately make VR dating apps an enjoyable and successful place to find love!
FAQ
Continue reading for answers to the most frequently asked questions from our readers about the metaverse and the best virtual reality dating apps!
How Do VR Dating Apps Work?
Depending on the software, a virtual dating app enables communication between members. There are dating apps where you can just "go out" with anybody you like, and there are others that provide compatible matches for you to interact with. The biggest difference between VR dating apps and traditional dating platforms is that instead of actual profile photos of people, users upload online avatars.
Is VR Dating Safe?
Engaging in VR dating using an avatar brings up some valid concerns, so it's important to prioritize both your personal safety and the safety of those around you before going on a VR date. While amazing advancements in tech have enabled dating apps to prioritize the creation of secure and beneficial dating environments for users, you still need to proceed with caution.
Do I Need a Headset to Use a VR Dating App?
Yup! Accessing virtual reality requires the use of specialized equipment, such as an HMD (head-mounted display) or a headset. Its primary function is to shield its users' senses from outside factors, and the headset connects with personal PCs or mobile devices running dedicated software.
Are the Headsets Expensive?
The Oculus Quest 2 is a mid-priced headset that offers the best value.–it retails for $299.99 and is by far the most popular option and the one we suggest to first-time VR users.

A mid-range virtual reality (VR) headset typically ranges in price up to roughly $600.

The very best will set you back at least $800, if not more–the $799 HTC Vive Pro 2 offers better VR performance than lower-priced choices due to its higher resolution (2448×2448 per eye) and enhanced motion tracking. Now, if you want the highest-range VR headset on the market, the complete Valve Index package will set you back $999–the headset alone costs $499.99 but requires other hardware to function, such as tracking stations and controllers. This is the pinnacle of gaming equipment, sporting cutting-edge tracking and display and capable of running VR software out there.

• Least Expensive: $15-$50; Smaller brands, usually running off smartphones
• Mid-range: $300 – $600; Oculus Quest 2, HP Reverb G2
• Top of the line: $800 – $1,000; HTC Vive Pro 2, Valve Index
Are VR Dating Apps Just for Long Distance Relationships?
Nope! People from all over the world are using VR dating apps to find compatible singles for romantic relationships, casual connections, and friends, so they aren't only for those looking for long-distance relationships with fellow virtual reality enthusiasts.
How Do I Make an Avatar for a VR Dating Profile?
If you look for an "avatar generator" on Google or your phone's app store, you'll get plenty of results! Most of them look and feel the same, and their illustrations are all quite similar, so you'll probably wind up appearing like a huge-eyed cartoon character if you use them.

But don't worry, we looked into it for you and found some of the best virtual reality avatar-creation apps for iOS and Android:

• Facetune
• Dawn AI
• YouCam Perfect
• Photoleap
• Lensa
• Prequel
• PicsArt
• Bazaart
Can I Use VR Dating Apps for Free?
Most of the VR dating apps we've covered offer basic free users with a subset of features that allow them to create a dating profile, browse other profiles, and limited communication with their matches, but remember; you'll need to purchase a VR headset if you don't already have one!

Premium membership unlocks additional features and benefits that enhance the functionality of the platform and increase your chances of meeting someone special!
How Much are Premium Memberships?
Premium memberships to the VR dating apps we recommend vary from platform to platform–some start at $6 per month, and others can go as high as $25 per month. It all depends on the duration of the plan you sign up for and the particular platform.