Our team of experts diligently research and review all of the products and services we recommend. If you buy through our links, we may receive a commission. Learn more here.
If you've been looking for someone who shares your love for video games, this is your chance to meet them finally. Because gamers often spend so much time online, a perfect solution to this issue is to use our best gamer dating apps.

We highly suggest one of our favorite gamer dating apps, whether you are a gamer searching for love, a long-term relationship, or just a date with another gaming enthusiast!
You can find other gamers online who are also single and looking for a committed relationship from the comfort of your own home, on your phone, iPad, or computer. Best of all, you can look for love while indulging in your favorite activity. What could possibly be more enjoyable than that?

So we will provide you with a list of the top four dating apps for gamers, all of which are worthy of your attention before you jump back online to game with your online buddies.
Dating App
Key Facts
Free Trial
Zoosk

• Number of Users: 40 million
• Gender Ratio: 47% men and 53% women
• Best For: Finding gamer singles who could go serious OR casual
• Pricing: Begins at $10.00 per month

Start Your Free Trial!
eharmony

• Number of Users: 16+ million
• Gender Ratio: 48% men and 52% women
• Best For: Finding gamer singles who want a serious relationship
• Pricing: Begins at $35.90 per month

Start Your Free Trial!
GamerDating.com

• Number of Users: 5,000
• Gender Ratio: 74% men to 26% women
• Best For: Finding singles who are gamers
• Pricing: Begins at $17.50 per month

Start Your Free Trial!
LFGDating

• Number of Users: 5,000
• Gender Ratio: 70% men and 30% women
• Best For: Finding gamer singles
• Pricing: Begins at $5.00 per month

Start Your Free Trial
---
---
You Can Trust Our Recommendations
We've put in the time and effort to learn everything we can about the best online dating sites and then rated them accordingly. Any websites we've recommended above will provide an excellent experience for gamer singles looking for love. When deciding which online dating service to include here, we consider several crucial criteria for gamers.
For example, the number and activity level of a site's members are two of the most important factors. More people using a dating service means you have a better chance of connecting with someone you click with. Furthermore, a website's features and layout should be effortless to navigate. All of the sites we've recommended have these features and more.
We Have an Objective Method of Reviewing
To many, the rise of dating apps is a welcome answer to the growing difficulty of meeting new people and establishing meaningful relationships in today's fast-paced world. They provide a fresh perspective on an old issue. However, the issue this presents is whether dating apps are really worth downloading and using. But if you don't know what to look for, it's impossible to determine if you're wasting your time or falling for a scam.
Re-entering the dating market is challenging enough without having to contend with sketchy dating apps, fake profiles, and an abundance of undesirable prospective mates. Our experts evaluate apps based on a variety of benchmarks, including usability, security, dependability, and cost. By reading our reviews, you'll know which dating apps are worth your time.
We Actually Use the Sites
We reviewed the sites as though we were brand-new subscribers to the services. We signed up, took the long compatibility tests, uploaded photos, filled out different "About Me" sections, and paid for premium memberships. A few of our matches were even contacted through the app's numerous interaction channels.
Daily Content Updates Are a Staple of Our Service
When something changes on a dating site, you will be notified as soon as we are! We are constantly updating our content, so you can be confident that you are receiving the most up-to-date information!
We Avoid Obscure Products
We prefer to focus on the major dating sites and apps that will get you outstanding results and give you the most for your money. We'll let you know about any specialty dating sites that might work for you, but we usually focus on the most current and innovative products that are worth your effort and money.
We Allow Product Testing
Many of our dating experts are active on the dating sites we review—how else could we provide you with the most accurate reviews? Some of us have even connected with people who could become our future spouses!
Top 4 Gamer Dating Apps
The following are hands-down the best gamer dating apps. Users can browse for other singles in their area, chat with other gamers they meet, find advice on starting conversations, and get help and support with any other issues they might encounter concerning online dating. It's a great way to meet compatible people beyond the standard methods of matching based on shared interests and general chemistry.
If you want to check it out before committing, you can create an account or sign up for a free trial!
---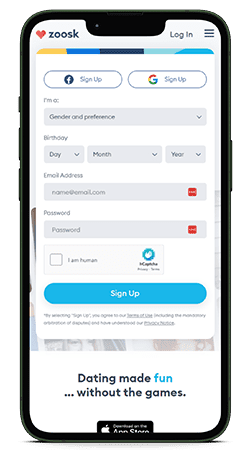 #1 Zoosk
| | |
| --- | --- |
| Active Members: | 40 million |
| Gender Ratio: | 47% men 53% women |
| Monthly Users: | 12 million |
| Pricing: | Starting at $10.00 per month |
Although Zoosk serves a wide variety of people, we still rank it as one of the top gaming dating apps. The Zoosk dating app is one of the most popular dating services for younger people because it uses scientific methods to pair people who are likely to get along well. The Behavioral Matchmaking System is the foundation for their matching and searching features. Simply put, this ensures that Zoosk can help you find other individuals who share your passions. And it goes double for lonely gamers out there!
Zoosk Pros
A large and diverse user base that is generally younger than most other dating apps
Sign up process takes only 10 or 15 minutes to complete
24/7 customer service and support, user-friendly interface, and mobile apps
The customer questionnaire and compatibility testing are not super extensive.
40 million active members and 3 million messages sent daily
Zoosk Cons
The free trial only comes with limited features and capabilities
Users cannot search using keywords for specific profiles.
Users can only send messages if they have a paid subscription.
Like many online dating apps, there are fake accounts and scammers.
Free trial accounts have a fair amount of ads.
---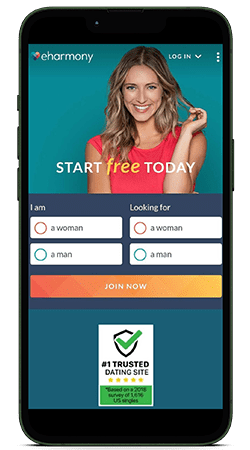 #2 Eharmony
| | |
| --- | --- |
| Active Members: | 16+ million |
| Gender Ratio: | 48% men to 52% women |
| Monthly Users: | 10 million |
| Pricing: | Starting at $35.90 per month |
Since its launch more than 20 years ago, eharmony has helped enable many happy marriages and committed long-term partnerships. Although it does not focus only on single gamers, eharmony more than makes up for it by conducting in-depth personality and compatibility tests to pair users up based on their shared interests. If you're a gamer looking for love on eharmony, you need to list gaming as an interest or hobby, and the app will find compatible matches for you based on this information.
Eharmony Pros
In the online dating business since 2000
Long-standing track record for creating long-term relationships and marriages
Free communications on the weekends for those with paid membership
Safe and secure video dating options are available for paying members.
Balanced membership of men and women
Eharmony Cons
The sign-up process is lengthy and can take some time to complete
Browsing outside of your daily matches is limited to 30 a day
The price for membership is a bit more than you would find on other online dating apps.
Shorter subscription plans are more expensive
The search tools available to users to browse outside of their matches are undeveloped.
---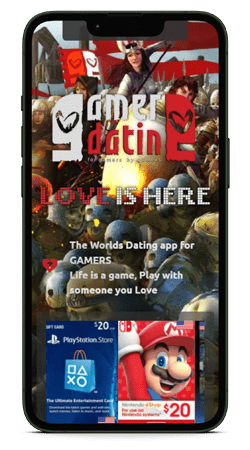 #3 GamerDating.com
| | |
| --- | --- |
| Active Members: | 5,000 |
| Gender Ratio: | 74% men 26% women |
| Daily Logins: | 1,800 |
| Pricing: | Starting at $17.50 per month |
If you're a gamer, this is the dating site for you! GamerDating.com is a dating website (there is technically no app) with over 5,000 users worldwide who are also a close-knit gaming community, making it unique from dating apps like eHarmony and Zoosk. You may be looking for a more intimate, low-traffic gaming dating app where you can get to know people on a more personal level. If this describes you, then you should join GamerDating.com now!
GamerDating.com Pros
Caters to singles who are gamers exclusively
Doubles as a gaming community on top of being a gamer dating site
This dating site provides updates and news on trends or changes in the gaming market.
This dating site is relatively inclusive when it comes to matters of sexuality and gender.
The shorter free trials are cheaper than the long-term free trials
GamerDating.com Cons
Users are limited to six matches per day
The lax vetting process has caused a number of fake accounts and scammers
Messages cannot be read for free on this dating site
The user base worldwide is relatively small: 5,000 members
There is technically no dating app; GamerDating.com is a dating site
---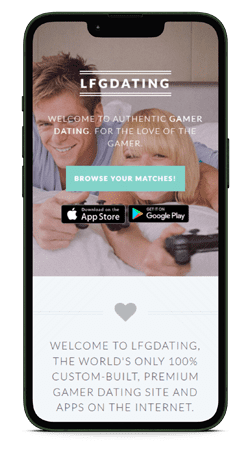 #4 LFGDating
| | |
| --- | --- |
| Active Members: | 5,000 |
| Gender Ratio: | 70% men 30% women |
| Pricing: | Starting at $5.00 per month |
Like GamerDating.com, LFGDating caters only to gamers looking for love online. They boast that they are the only premium, user-created gaming dating service in the world! Compared to GamerDating.com, this one is much larger and, as a result, has a wider pool of available people. Users here have reported a strong sense of community thanks to the dating app's efforts to bring like-minded individuals together and its valuable features for those looking for lasting romance.
LFGDating Pros
Dating app that is focused solely on singles who are gamers
The search tools are advanced and intuitively designed
The paid membership is affordable and features a ton of benefits
This dating site acts as a gamer community on top of being an app
All profiles are kept safe, secure, and completely private
LFGDating Cons
Fake accounts and profiles are kept to a minimum due to excellent vetting.
Free trials members do not have the ability to communicate
Unless you are a paying member, you will get a lot of ads as you use the site
The mobile version is only available on iOS products
No proof of ID for the vetting process, and there is no way to report spam accounts
---
Best Niche Gamer Dating Apps Available
There are a number of additional gaming-centric sites and apps to check out besides the ones we've officially recommended. If you're looking for other single gamers, try out some of these exciting dating apps.
#1 Hily
#2 SoulGeek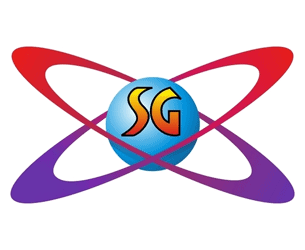 #3 JoyStick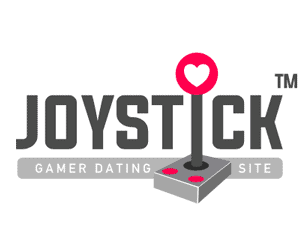 #4 Geek2Geek
What Makes These The Best Gamer Dating Apps?
As a result of careful analysis of a wide range of factors, we provide below our pick of top dating apps for gamers. A large part of this basically comes down to satisfying the needs of single gamers. After all, that's why we're here: to help you meet other individuals with similar gaming interests.
Great Matchmaking
One of the most important features of a decent gaming dating app is the ability to quickly determine whether you and your potential partner are compatible. We ensure that every dating app we recommend has a tried-and-true method that has consistently demonstrated positive outcomes and that this system is reflected in the dating app's in-depth surveys, which help individuals connect with one another.
A Decent-sized Member Pool
Some situations benefit from a larger scale. This is undoubtedly true for a wide range of life situations. More users on a dating app mean more potential matches for single gamers. In the case of online dating services, this is particularly true. Selecting a site with an extensive yet overwhelming amount of options may be challenging for some gamers. That's why we included both large sites like Match.com and niche ones like GamerDating.com. in our results.
Dating Apps That Let You Connect with All Sorts of People
Again, we found it necessary to include two distinct categories of dating apps: those that focus only on gamers and those that welcome gamers while also welcoming a diverse range of other singles. We've added dating apps like Zoosk, and eharmony to provide more options for gamers who wish to date beyond their interest group.
Affordable Membership Prices
For gamers looking to meet other singles, finding a dating app with a subscription price within their budget is just as important as finding one that suits their specific interests. After all, a paid membership grants access to every perk and feature provided. We choose dating apps with reasonable monthly costs; in many instances, the more months you commit to, the more benefit you get. Our ultimate goal is to have the single gamers we help enjoy all the rewards of online dating.
Frequently Asked Questions
While we've made every effort to ensure that our review is comprehensive, it's always possible that we've forgotten to include an important element of the items we've evaluated. If you have any more questions about the best gamer dating apps, please read the FAQ section below!
Are These Dating Sites Good for Girl Gamers?
Yes! A lot of us gal gamers know how difficult it can be to find a good guy. Both the search tools and the moderators on these dating apps are top-notch. The moderators will come to your aid the first time a match uses the "you aren't a true gamer" or similar line of bias against you.
Is Dating a Gamer Hard?
In all honesty, yes. The stress on a relationship can be considerable if one partner constantly ghosts for weeks whenever a new game is released. What matters most is that you and your significant other can maintain a happy balance between your respective gaming and relationship passions.
What Is the Best Gamer Dating App?
The answer, in all sincerity, is that it depends on your needs. GamerDating.com and LFGDating are two options if you're looking for a dating app that caters exclusively to gamers. Both dating services are geared toward the gaming community and can also be used as meeting places for gamers. Alternatives like Zoosk and eharmony are also possible options for gamers looking for love.
Are There Any Swipe Style Gamer Dating Apps?
Of course, there are! Tinder and other swipe-based dating apps are becoming more popular. Easy access and a laid-back atmosphere are big draws. In response, specialized dating apps for gamers like Hily have emerged.
Are These Gamers Dating Apps Legit?
Zoosk and eHarmony have been leaders in the online dating industry for years, and both have countless success stories and accolades to their names. Despite their smaller size and user base, niche dating apps like GamerDating.com and LFGDating have found widespread success thanks to their dedicated user bases and friendly, supportive communities. Overall, you can put your trust in these dating apps. Users, however, must proceed with caution when using such sites, since spam accounts and scams sometimes spring up. Users must take responsibility for their own safety in this regard.
What Is the Future of Online Dating for Gamers?
The number of people using online dating apps has skyrocketed since the start of the Covid pandemic. Online dating has become more popular, and several services have strived to cater to gamers by offering a more distinctive and engaging experience for meeting other singles. Advances in video dating have been achieved by apps like eHarmony.

Of course, this is just the beginning. Since virtual reality is becoming more widely available, we predict that gamers using VR to find love will soon become the next big thing in online dating.