Our team of experts diligently research and review all of the products and services we recommend. If you buy through our links, we may receive a commission. Learn more here.
Online dating in 2023? There's an app for that—actually, there are a LOT of apps for that! In a world where almost everything has gone digital, finding a date can be as simple as a swipe on your phone. Swipe left, swipe right, and boom, it's a match! While that sounds easy and fun, which it is, it gets a little complicated when you're bombarded with an overabundance of ones to choose from, each promising to help you find "the one" or maybe 'the one for right now." So, how on earth do you pick the best one?
We are here to swipe through the noise and clutter to help you navigate through the world of swipe dating apps, each offering something a bit different than the other. We'll look at what makes each app tick, who's on it, and, most importantly, how they help you connect with others safely and securely. Online dating should be a fun thing, not a daunting chore.
Come along as we explore the best swipe dating apps of 2023 and find out which ones are worth taking up extra storage on your smartphone or device. Who knows? Your next right swipe on a dating app could just lead to something special. And with our complete guide, you'll be sure to have all the info you need to swipe left and right confidently—and wisely.
5 Best Swipe Dating Apps
Looking for love or just a casual connection? Whatever you are seeking, the best swipe dating apps can deliver! With so many to choose from, it can feel a bit like trying to find a needle in a haystack. But don't worry; we've narrowed down the choices into a handy list that gives you the stats you need to know about them—who's using them, how many people actively use them, free trials, premium membership prices—all the important stuff!
Check out our picks for the best of the best swipe dating apps in the table below.
Dating App
Key Facts
Free Trial
Zoosk

Active Members: 40+ million
Gender Ratio: 47% men to 53% women
Best For: Finding diverse singles
Membership Price: Begins at $10.00/month

Start Your Free Trial!
eharmony 

Active Members: 16+ million
Gender Ratio: 48% men to 52% women
Best For: Finding singles who want a serious relationship
Membership Price: Begins at $35.90/month

Start Your Free Trial!
Bumble

Active Members: 11+ million
Gender Ratio: 57% men to 43% women
Best For: Finding singles for casual or serious dating
Membership Price: Begins at $16.99/month

Start Your Free Trial!
Tinder

Active Members: 8+ million
Gender Ratio: 61% men to 3.9% women
Best For: Finding singles for casual dating
Membership Price: Begins at $4.50/month

Start Your Free Trial!
Christian Mingle

Active Members: 16 million
Gender Ratio: 44% men to 56% women
Best For: Finding singles who hold Christian beliefs
Membership Price: Begins at $14.99/month

Start Your Free Trial!
The fact is, these dating apps are just as powerful for swipe dating as they are for elite, senior, Christian dating, or connecting with singles who lean left or right politically. And we're going to tell you why!
You Can Trust Our Recommendations
You can trust the dating apps we've recommended because our selections are always rooted in extensive research along with user experiences. We've done exhaustive reviews of every platform, examining key aspects like user-friendliness, safety, and security protocols, and actually use the apps we recommend to our readers so they can get the best dating experience possible!
These apps have shown success in connecting like-minded daters, creating both casual and serious relationships.
We Use an Unbiased Reviewing Process
We review dating apps transparently by trying them out and reading what users say about them. We look at things like how easy they are to use, how safe they are, and if people actually find dates and relationships. We don't let the app makers influence our reviews, so we can give you unbiased advice about which ones are really the best to use.
We Have Firsthand Experience with the Apps
We test out the dating apps ourselves to really understand how they work. Our team of dating experts makes profiles, chats with other members, and explores all the features just like you would! We find what's good and what's not so good, so our recs and reviews come from real experience. That way, we give you the best tips and heads up before you even start swiping. So, you can trust our reviews because we've been there, done that—literally!
Our Content Is Updated Daily
We keep our content fresh and up-to-date every single day. Our team is always on the lookout for any new info, changes, or updates in the dating app world. Whether it's a new feature, a big update, or a brand new app hitting the market, we make sure our content is always current. This way, you get the latest and most accurate advice, ensuring your dating app experience is better and less frustrating. So, you can trust that our dating app reviews and recommendations are always based on the very latest info available!
We Don't Waste Your Time with Obscure Products
We get right to the good stuff—we only focus on dating apps that are legit and people actually use. Why would we bother with obscure or super-niche apps that hardly anyone uses or that don't have solid reputations? We wouldn't! Our goal is to help you find the most popular and user-friendly options out there, ensuring your time is well spent searching for potential matches on quality platforms. We don't want our readers to waste time on irrelevant apps—just straight-to-the-point, useful details on the best dating apps that work.
We Offer You a Way to Test Out the Product
We give you a chance to test out every dating app by offering free trial links for apps we recommend. This means you can check out what an app is like without spending a cent. Just click on our links to try the platforms, see how you like them, and maybe even snag a date or two, all for free. It's always better to try before you buy!
Reviews of The Best Swipe Dating App
Are you ready to start swiping? We went ahead and tried out all of the apps that use the swipe function, and we discovered which ones would be the most beneficial to our readers. Although these aren't our usual full reviews, the condensed ones below will tell you everything you need to know to pick which one appeals to you and your dating goals!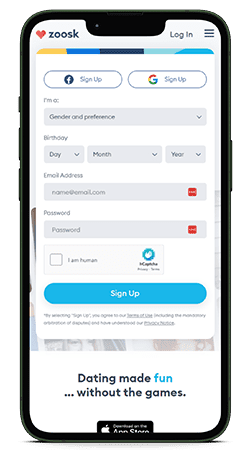 #1: Zoosk – Best for Casual Dates (Or Something Serious)
| | |
| --- | --- |
| Active Members: | 40+ million |
| Gender Ratio: | 47% men to 53% women |
| Sign-up Time: | 5 minutes |
| Pricing: | Starting at $10.00 per month |
| More Info: | Zoosk Review |
Zoosk is a cut above the rest with its behavior-driven matchmaking, offering a user-friendly dating community where members can easily find and connect with others. The platform uses a simple swiping feature, making browsing through potential matches straightforward and engaging.
Zoosk learns from your actions, taking note of who you like or pass on, and utilizes this data to recommend compatible matches, enhancing the likelihood of better connections. With a diverse, global user base and an intuitive design that strikes a balance of simplicity and sophistication, Zoosk provides an accessible and playful space for singles to mingle, flirt, and potentially find their ideal partner in the big world of online dating.
---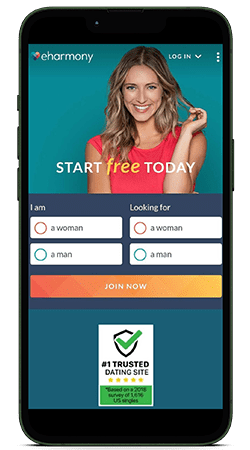 #2: eharmony – Best for Serious, Compatible Relationships
| | |
| --- | --- |
| Active Members: | 16+ million |
| Gender Ratio: | 48% men to 52% women |
| Sign-up Time: | 30-45 Minutes |
| Pricing: | Starting at $35.90 per month |
| More Info: | eharmony Review |
eharmony, often recognized as a spot for finding serious relationships, has a sneaky side feature to make meeting new people fun and simple called "What If?" Just like other dating apps with a swipe mechanism, you get to swipe through dating profiles and choose who you're interested in. So, while eharmony is great for singles looking for something a bit more serious in the romance department, it also gives users the casual experience of swiping through potential partners.
With eharmony, you're getting the best of both worlds—a place to find love and also a space to have casual chats with new people.
---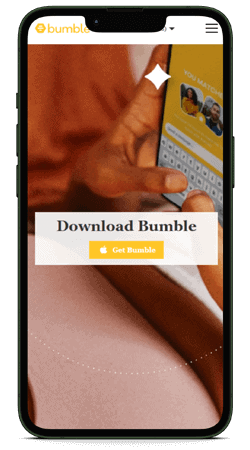 #3: Bumble – Best for Finding Singles Who Are Looking for Serious or Casual Relationships
| | |
| --- | --- |
| Active Members: | 11+ million |
| Gender Ratio: | 57% men to 43% women |
| Sign-up Time: | 5 Minutes |
| Pricing: | Starting at $16.99 per month |
| More Info: | Bumble Review |
Bumble, known for empowering women to make the first move, also embraces the effortless swiping mechanism that's become a hallmark in the dating app world. Users swipe right to show interest and left to pass, which is simple yet effective. After a match is made (when both individuals swipe right), women have 24 hours to initiate a conversation, making it a safe and confident space for them.
And in addition to dating, Bumble also branches out into networking territory with Bumble Bizz and friend-finding with Bumble BFF, offering a multifaceted platform for different kinds of connections. With an intuitive swipe feature, it not only simplifies your search for love but also for locating potential friendships and professional contacts—all in one yellow-themed buzzy platform!
---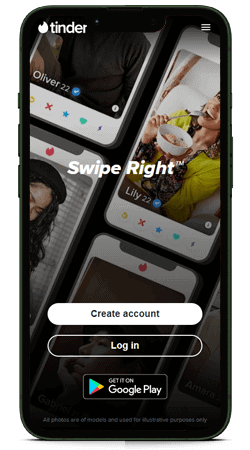 #4: Tinder – Finding Singles Who Are Seeking Casual Dating and Short-Term Relationships
| | |
| --- | --- |
| Active Members: | 8+ million |
| Gender Ratio: | 61% men to 39% women |
| Sign-up Time: | 5 minutes |
| Pricing: | Starting at $4.50 per month |
| More Info: | Tinder Review |
Tinder, a giant in the swipe-dating app universe, keeps things straightforward and entertaining. With its iconic swipe-left, swipe-right system, users can quickly browse through dating profiles, making connections based on first impressions—when we say quick, we mean QUICK. It's the go-to swipe app, and deservedly so, as it was the first one to use the function.
Tinder is a watering hole for those seeking casual connections and is known as the "hookup app," although it's not unheard of to find serious relationships there. Tinder's huge user base offers a large pool of people to connect with, while its user-friendly UI makes navigation a snap. For a more laid-back vibe, Tinder remains one the best choices in a swipe dating app.
---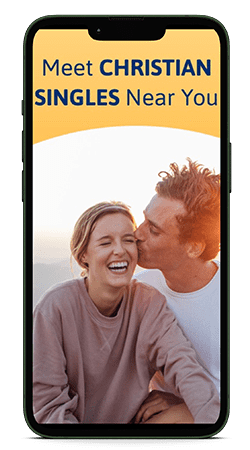 #5: Christian Mingle – Find True Love with Christian Singles
| | |
| --- | --- |
| Active Members: | 16 million |
| Gender Ratio: | 44% men to 56% women |
| Sign-up Time: | 5 minutes |
| Pricing: | Starting at $14.99 per month |
| More Info: | Christian Mingle Review |
Christian Mingle offers a faith-driven dating experience, focusing on connecting those who share Christian beliefs and values. The platform facilitates an environment where faith is a cornerstone, allowing users to search for partners who prioritize spiritual life. With its swipe-based functionality, users can easily browse through potential matches, streamlining the pursuit of a like-minded romantic partner.
The platform places a strong emphasis on creating genuine, meaningful connections, aligning spiritual values with romantic relationships. Christian Mingle shines by bridging faith and technology in the world of online dating, providing a specialized space where belief-centered relationships can not only come to fruition but blossom.
---
What Makes These the Best Swipe Dating Apps?
If you are wondering why some dating apps get more traction than others, we're here to break it down for you in simple, tasty bites! In the next sections, we'll tell you why these five dating apps made the cut and how they help people click. We'll get into the features, user-friendliness, pricing, and the dating pools that populate them.
Big Dating Pools
In our recommended list of the best swipe dating apps, each platform boasts a big user base, which means more dating opportunities for you!
Each app, while offering unique dating experiences, makes sure you're not short on choices. A bigger user base increases the likelihood of finding a potential match that's compatible.
Great Matchmaking
Solid matchmaking in a dating app is a must—it helps you find people who like what you like. It suggests matches who have similar interests and tastes, making it so much easier to find a keeper. It's like having a personal matchmaker who knows just who to introduce you to.
Easy-to-Use Design
An easy-to-use design in a dating app means it's simple to navigate—everything is clear and straightforward, so you can swipe, chat, and connect without any complications. It's all about making your time spent on a platform searching for matches smooth and fun. A user-friendly app makes everything from signing up and creating a dating profile to interacting with matches as easy as possible.
The Latest Features
Having the latest features in a dating app means it's chock full of the newest and innovative tools to help you connect with others. This could be interesting ways to interact, matching games and events, video call options, or virtual date capabilities. The latest features make your online dating experience more exciting, less dull, and more interactive, helping you connect with others in modern ways.
Affordable Pricing to Join
Affordable membership prices in a dating app means finding love and making connections don't have to be super expensive. With budget-friendly options, you can take advantage of extra features like seeing who's liked you, unlimited messaging, and more match suggestions without paying an arm and a leg. Reasonably priced premium memberships on dating apps make it easy for everyone to have a better experience while looking for love, making it accessible to pretty much everyone no matter your budget constraints!
Best Niche Swipe Dating Apps
Not seeing anything to your liking in our mainstream recs for the best dating apps? No worries! There are also some amazing niche swipe dating apps, where finding a potential partner that shares your specific interests, beliefs, or lifestyle can be found.
If you have more particular tastes or preferences, then these niche dating apps offer a platform where your specific interests are shared, understood, and celebrated. Look below for our fav niche swipe dating apps!
You can take a spin by creating a free trial at one of these niche swipe dating apps and find out if it's an ideal option for meeting your kind of singles. Just keep in mind that the dating pools will be smaller, and the price of membership might be a bit higher.
Frequently Asked Questions
If there are any other questions you have about conservative dating apps in general, check out our FAQ section…. Yadda yadda yadda
Are the Best Swipe Dating Apps Legit?
Of course! Millions of people throughout the world use these dating apps–success stories are numerous, with users reporting meeting their soulmates to casual relationships with lifelong friends through these platforms.
Are the Best Swipe Dating Apps Safe to Use?
Yes! Each platform uses an encrypted connection to protect the privacy of its users' data. Even though most of the apps take great care to avoid it, it is inevitable that you will encounter some fake profiles, a catfish, or a scammer while using them–it's the nature of the beast. Users can keep themselves safer by blocking or reporting suspicious profiles on these apps as well.

As for off-app safety, that's entirely up to you, so always take the proper precautions when meeting someone from a dating app!
Why Should I Use a Swipe Dating App?
If you feel the need for speed! Online daters with an affinity for quick work can browse hundreds of potential partners in no time at all, thanks to the widespread adoption of swipe dating apps.
Are the Best Swipe Dating Apps Free?
Some are! Tinder and Zoosk have pretty solid basic, or "freemium" memberships, and users can message and interact with mutual matches. As for the others, they offer free trial periods, which allow users to get a feel for the platform.
How Much are Premium Memberships on the Best Swipe Dating Apps?
While there are a few that are on the pricier side, there are also plenty that are within members' price range and work with a variety of budgets. eharmony is the priciest of the options because of the time and effort put into its compatibility tests and other intricate dating algorithms, but Tinder has 12 distinct membership tiers, with prices ranging from $4.50/month to $20.00/year.
What's a Niche Swipe Dating App?
A niche swipe dating app is pretty much the same as a mainstream platform–the biggest difference is the number of users is much smaller compared to popular apps since they are targeted to a specific demographic.
Which Is the Best Swipe Dating App?
Look, you always ask us to pick a favorite, and we are not gonna do it! But in this instance, we would have to give the lead to Tinder, simply because it was the first out of the gate with the swipe-right dating app function–the dating app is an icon.
Can I Use a Computer to Access the Best Swipe Dating Apps?
Yup! Each of these dating apps also has a web-based interface, so users can access it from any computer with an internet connection–but it won't be as fun to swipe.