Our team of experts diligently research and review all of the products and services we recommend. If you buy through our links, we may receive a commission. Learn more here.
Say hello to the Bumble BFF app, a go-to digital hive where meaningful friendships can blossom. It's not for dating—this is a companion app to the OG Bumble, and it's for making friends! The Bumble BFF app makes it easy and fun to connect with like-minded people who enjoy the same kind of things you do.
Swipe right to say "hello" and swipe left to say "maybe next time." Either way, no hard feelings—we know friendship chemistry is a blend of common interests, shared values, and that 'thing' that just clicks. When both of you swipe right, it's a match! Then, the conversation ball is in your court to break the ice and kickstart what could be your next lifelong friendship.
You can buzz into a friendly swarm of diverse, unique people, all seeking that sometimes hard-to-find genuine connection. Whether you're looking to expand your social circle, find a workout buddy, or simply want someone to chat with, the Bumble BFF app is a place where friendships can take off. Keep reading for all the honeyed tea in our complete review of the Bumble BFF app for 2023!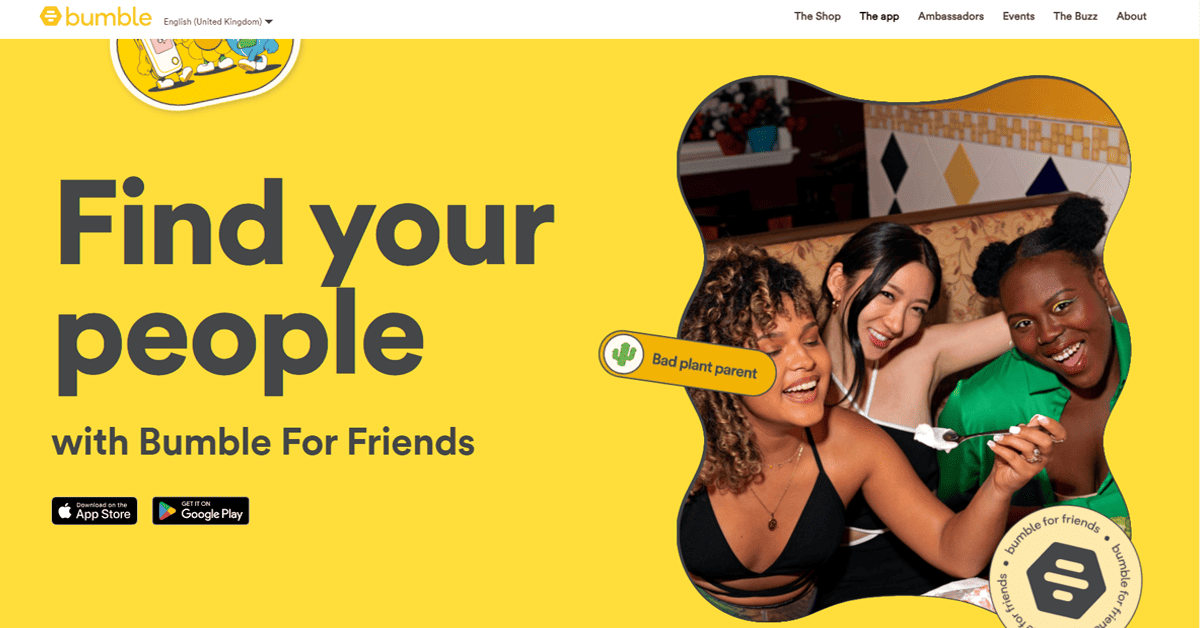 | | |
| --- | --- |
| Sign-Up Time: | 5 minutes |
| Cost: | $16.99 – $29.99 per month |
| Membership Pool: | 100+ million |
---
---
Our Bumble BFF App Rating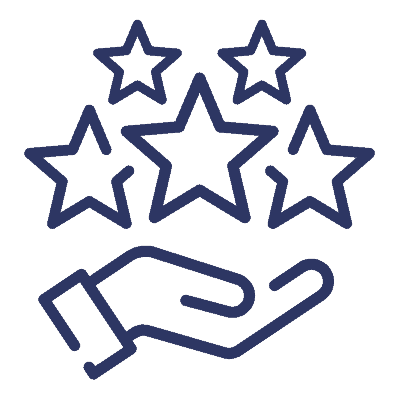 Overall Rating

Bumble BFF is coming in with an overall score of 3.8 out of 5!
Our rating section scrutinizes six critical categories: Ease of Use, Features, Cost, Match Quality, Safety and Security, and Customer Service. To simplify the assessment, we employ a 1 to 5 rating scale—1 being the worst and 5 being the best. Each category receives a score, showing how the Bumble BFF app fares in areas that matter most to our readers.
It scored really well; our only beef with the Bumble BFF app is that the premium membership plans are pretty pricey.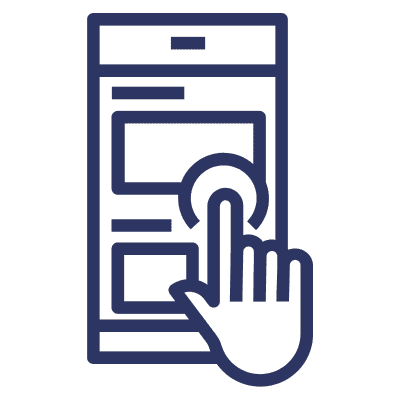 Ease of Use

Navigating Bumble BFF is as easy as a bee effortlessly zigzagging through a garden of flowers—the user-friendly interface is designed with you in mind, offering a seamless experience that's as intuitive as it is engaging. Swipe to connect, tap to chat—it's that simple. Plus, with customizable filters and preferences, you're in full control of shaping the friend hive you're looking to join. No complicated algorithms, no endless forms to fill out.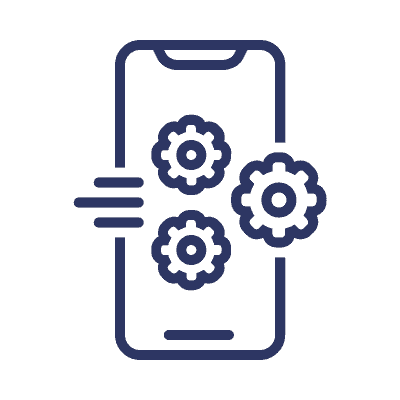 Features

The Bumble BFF app comes packed with features designed to make finding friendships as smooth as possible. From location-based matching to interest tags, the app gives you the tools to find people who not only live nearby but also share your hobbies and passions. The 24-hour initial response time encourages active, genuine interactions, making sure conversations don't go stale.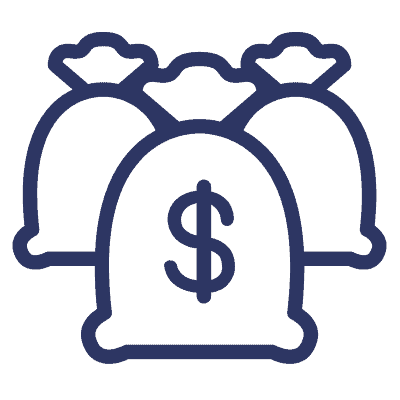 Cost


Bumble BFF offers a basic version that's free to use, which includes swiping, matching, and messaging with new friends. This allows you to get a good feel for the app and start making connections without any upfront cost. However, if you're looking to maximize your experience, they offer a premium subscription called Bumble Boost. With Boost, you get perks like seeing who's already swiped right on you, extending the 24-hour time limit to reply, and re-matching with expired connections. Prices for Bumble Boost vary but typically range from around $7.99 for one week to $24.99 for one month, with discounts for longer subscription periods.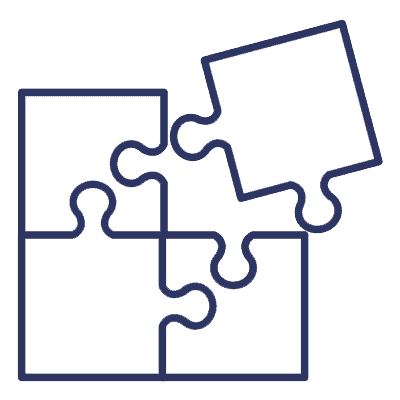 Match Quality


The quality of friendship matches on Bumble BFF largely depends on how well you utilize the app's features and how much effort you put into your interactions. The app's algorithm considers location, mutual interests, and other factors to present you with potential friends, aiming for a higher match quality. Many users have found lasting friendships through the platform, citing the focus on shared interests and values as a strong point. However, as with any social platform, there's always an element of personal chemistry that can't be predicted. Generally speaking, if you're proactive, engage in meaningful conversations, and use the app's features to your advantage, you're likely to find that Bumble BFF offers a high-quality avenue for forming new friendships.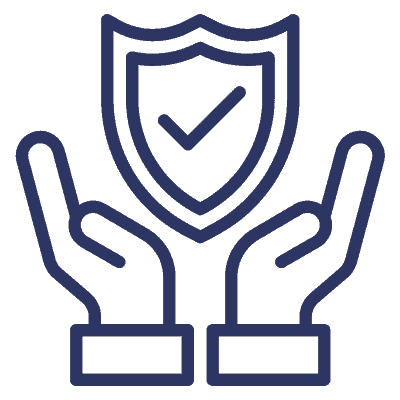 Safety and Security


Bumble BFF takes user safety and security very seriously. The app has several built-in features aimed at ensuring a respectful and safe environment.
The women-first messaging rule in dating also extends to Bumble BFF, allowing either party in a same-sex friendship match to initiate conversation but giving women the first move in opposite-sex matches.
Overall, Bumble BFF strongly emphasizes creating a safe and empowering environment for users. While it's always good to take personal precautions when meeting someone new, the app provides a foundation of security features designed to keep its community as safe as possible.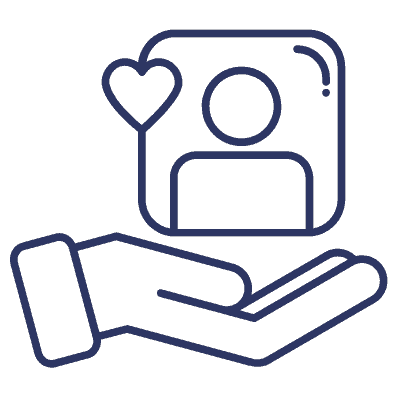 Customer Service


Bumble BFF prides itself on offering robust customer service to address any issues or concerns you might have. They provide a detailed FAQ section within the app and on their website, covering everything from technical difficulties to safety tips. If you encounter a problem that isn't resolved by their FAQs, you can reach out to their customer service team via email or through the app's built-in support feature. While they don't offer 24/7 live chat or phone support, the response times are generally swift, often within 24 to 48 hours.
Users have generally reported satisfactory experiences with Bumble's customer service, noting that the team is helpful and attentive to their needs.
Overview of Bumble BFF
The Bumble BFF app mode came onto the scene in 2016 as an addition to Whitney Wolfe Herd's 2014 Bumble dating app and has revolutionized online dating with its "women make the first move" approach. This unique feature has contributed to its immense popularity, boasting over 100 million users worldwide. With an average user age of 26-32, the platform attracts a relatively young, tech-savvy crowd.
Bumble BFF Fast Facts
Year Founded: 2016
Fifteen percent of the main app's monthly active users use the Bumble BFF mode.
Average User Age: 26-32 years
Gender Ratio: 50% men to 50% women
The gender ratio is fairly balanced, with reports suggesting a near 50-50 split between male and female users. This combination of innovative features and diverse demographics makes Bumble a dynamic platform for those looking to find friendships.
It's just pure, uncomplicated social interaction that lets you focus on what you're there for, building great friendships.
Bumble BFF Prices and Premium Membership Subscriptions
The Bumble BFF app premium subscription prices are the same as the Bumble dating app plans and come in five tiers of subscriptions listed in the table below.
| Length | Price Per Month | Total Cost |
| --- | --- | --- |
| 1 week | $79.96 | $19.99 |
| 1 month | $29.99 | $29.99 |
| 3 months | $19.99 | $59.99 |
| 6 months | $16.99 | $99.99 |
One-time, in-app Purchases:
1 BFF Spotlight: $11.99
5 BFF Spotlights: $24.99
2 BFF SuperSwipes: $9.99
5 BFF SuperSwipes: $19.99
Does the Bumble BFF App Offer Free Trials?
With the BumbleBFF app, you can make great connections without having to pay, although there is no traditional "free trial" period offered to users–they operate under a freemium model. With a basic membership, you have the ability to search through members' profiles, create connections, and engage through messages.
Standard (Free) Features
Create a Bumble BFF app account.
Upload Photos (Up to 6)
Search for Friendship Matches
Swipe on Friendship Matches (25 likes per day)
Message with Mutual Matches
Premium Membership Features
Spotlight
Spotlight pushes your profile to the top of the stack so that more people can see it!
SuperSwipe
With the premium SuperSwipe function, you can show a potential friend that you're genuinely interested in pursuing a friendship with them.
See Who's Like You
This feature lets you see the people who are interested in becoming friends.
Extend 24-hour initial response time
This gives you more time to send that first message if you're busy or need more time to think of the perfect opener.
Unlimited Swipes
The free version limits the number of profiles you can swipe on daily, but the premium version removes this limit.
Rematch
If you missed a potential friendship because the 24-hour window closed, this feature allows you to reopen the conversation.
Backtrack
The feature allows you to basically rewind on an accidental left swipe.
Incognito Mode
Put your profile in "Incognito" mode, and only those you've matched with will be able to see it!
Do Bumble BFF Memberships Renew Automatically?
Yes–a Bumble Boost or Bumble BFF App Premium membership, once purchased, will continue to automatically renew until you cancel the subscription. You have to cancel your membership prior to the end of the current billing cycle to prevent being charged for the next one.
NOTE: Simply uninstalling the app or deleting your account will not terminate your subscription.
Should You Join the Bumble BFF App?
We wholeheartedly recommend joining the Bumble BFF app, but deciding whether or not to join is entirely up to you! Below, we'll explore both the pros and cons to help you make the best choice for your social needs. Whether you're new to a city, looking to expand your social circle, or just curious about online friendship platforms, read on to find out if the Bumble BFF app is the right fit for you.
Reasons to Join
These are just a handful of reasons why joining Bumble BFF could be a good idea for you. However, many other factors could make the app a great fit, depending on your individual needs and circumstances.
Easy Way to Expand Social Circle
If you've recently moved to a new area or find it difficult to meet new people due to a busy schedule, Bumble BFF offers a convenient way to connect. The app allows you to meet individuals you might not encounter in your daily life, widening your social circle with just a few swipes.
Shared Interests
The app lets you filter potential friends based on shared hobbies, interests, or life stages. This increases the chances of forming a meaningful connection as opposed to a hit-or-miss encounter in a more random social setting.
Superb Safety Features
Bumble BFF comes with built-in safety measures like photo verification to help ensure you're talking to real, genuine people. Additionally, in heterosexual matches, women have to message first, giving them more control over the interaction.
Zero Romantic Pressure
Unlike dating apps, where the end goal is often a romantic relationship, the Bumble BFF app is focused solely on friendship. This takes the pressure off and allows you to be yourself, making it easier to form authentic connections.
Reasons Not to Join
While we've outlined some compelling reasons to join, it's also important to acknowledge that various considerations may make Bumble BFF a little less appealing for some individuals.
Superficial Connections
The swipe-based model of the app can sometimes encourage surface-level interactions, making it challenging to form deep, meaningful friendships. The focus on profile photos and brief bios may not capture the full essence of a person.
Privacy Concerns
As with any social media or networking app, there's always a risk to your personal privacy. Even with safety features in place, you're still sharing personal information that could potentially be misused.
Not for Everyone
If you're someone who prefers organic, face-to-face connections, then the idea of "shopping" for friends online may feel unnatural or forced. The digital format isn't everyone's preferred method for forming meaningful relationships.
Cost
While the basic version of Bumble BFF is free, premium features like the ability to see who has already swiped right on you are behind a paywall. If you're looking for a completely free experience, you may find the app's limitations frustrating.
The Sign-up Process
We registered and created a profile on Bumble BFF for our Bumble BFF review, and it took just under 5 minutes. We signed up using an iOS device, but the app is available in the Google Play Store for Android users, and the process is almost exactly the same.
Look below for a step-by-step guide on signing up for your Bumble BFF app profile!
Step 1: Download and Install the Bumble BFF App
On your smartphone or mobile device, go to the App Store and search for the Bumble BFF app. When it comes up, click the "GET" button to start the download.
Step 2: Select Your Sign In Method
Once you've opened the app, choose the way you want to register an account! You can sign in with your Apple or Google info, Facebook, or your mobile number.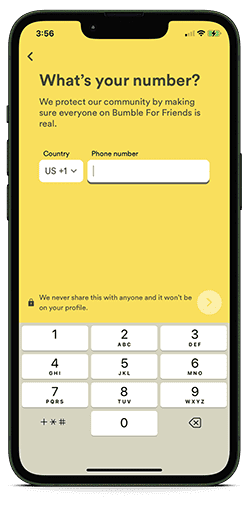 Step 3: Verify Your Mobile Phone Number
Enter your mobile phone number and then plug in the six-digit code sent via text in order to verify your Bumble BFF account.
Step 4: Enable Location Services & Notifications
In order to find you the best BFF's in your area, enable your location services and allow notifications. That way, when you get a match or a message, you'll know immediately.
Step 5: Enter Your First Name
Type in your first name and make sure it's right, as you cannot edit it later!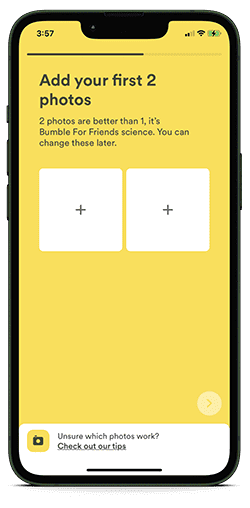 Step 6: Upload Profile Photos
Now it's time to pick your fav photos to add to your Bumble BFF app profile! You are required to upload at least two, but can add as many as six.
Step 7: Enter Basic Info
Add your date of birth, and gender, and specify if you want your gender to be displayed on your Bumble BFF app profile.
Choose up to three shared experiences, five interests, and your current relationship status. You can also connect your Instagram account at this stage if you want to!
Step 8: Find BFFs With Bumble for Friends
You're in! Now you can start searching for BFF's who share common interests and live near you.
Alternatives to Bumble BFF
If the Bumble BFF app doesn't quite align with what you're seeking, don't worry—there are plenty of other options out there. Below is a curated list of some of the best dating apps and friendship platforms that may better suit your needs and preferences.
Dating App
Key Facts
Review
Meetup

Active Members: 450,000
Gender Ratio: 60% men to 40% women
Best For: Social networking, dating, joining groups with singles who share hobbies and interests
Pricing: Begins at $16.49/month

Meetup Review
Zoosk

Active Members: 40+ million
Gender Ratio: 47% men to 53% women
Best For: All singles – Flirting, finding love, and getting dates
Pricing: Begins at $10.00/month

Zoosk Review
eharmony

Active Members: 16+ million
Gender Ratio: 48% men to 52% women
Best For: All singles who want a serious relationship
Pricing: Begins at $35.90/month

eharmony Review
CoffeeMeetsBagel

Active Members: 10 million
Gender Ratio: 40% men to 60% women
Best For: All singles who want a modern approach to dating
Pricing: Begins at $15.00/month

CoffeeMeetsBagel Review
Hinge

Active Members: 500,000
Gender Ratio: 55% men to 45% women
Best For: All singles seeking relationships and casual dating
Pricing: Begins at $34.99/month

Hinge Review
Frequently Asked Questions
If you still have questions or are curious about specific details, our Frequently Asked Questions section is here to save the day! We've gathered the most common ones we've received from our readers for your convenience.
Is the Bumble BFF App Legit?
Yes! The Bumble BFF app is a legitimate platform under the Bumble umbrella, designed to help people make platonic connections.
How Does Bumble BFF Work?
Similar to the original Bumble app, you swipe right on profiles you're interested in and left on those you're not. If both parties swipe right, it's a mutual match, and you can start chatting!
Is the Bumble BFF App Free?
The basic features of the Bumble BFF app are free, but there are premium membership options available so you can access beneficial features like seeing who has already swiped right on you, unlimited swipes, travel mode, rewinds, and unlimited messaging, just to name a few!
Can Men Use Bumble BFF?
Yes! The Bumble BFF app is welcoming to all genders–the primary goal is to foster and facilitate the creation of platonic relationships.
How Do I Switch Between the Bumble Dating App and the Bumble BFF App?
You can easily toggle between the two modes within the app. All you have to do is go to your dating profile and select the mode you want to use.
Is My Information Safe on the Bumble BFF App?
Yes! The Bumble BFF app takes user privacy seriously, but just like any online platform, there is always some level of risk involved when sharing personal information.
Can I Use the Bumble BFF App If I'm In a Romantic Relationship?
Absolutely! The Bumble BFF app's sole purpose is to make friends and is not limited to single people.
How Do I Report Inappropriate Behavior?
Within the chat, there's an option to report users who engage in inappropriate or offensive behavior.
How Do I Delete My Bumble BFF App Account?
You can delete your account through the app's settings. But remember that just deleting or uninstalling the app from a device will not delete your account or cancel a premium membership; you need to perform those actions as well!
Can I Use the Bumble BFF App Internationally?
Yes, Bumble BFF is available in multiple countries, which can be super useful if you're traveling or moving and want to meet new people!