Our team of experts diligently research and review all of the products and services we recommend. If you buy through our links, we may receive a commission. Learn more here.
Perhaps you're reading this because you've finally accepted the fact that finding a good match on a mainstream dating app is like looking for a silver lining in a storm cloud. But The League dating app is here to rescue you from the deep, dark abyss of mediocre dating prospects.
We cover all you need to know to determine if The League dating app is the right choice if you're on the lookout for a serious relationship–is it worth spending time in the queue for The League Dating App, or is it better to skip the hassle altogether? In our complete review of The League dating app, we are going to figure that out together!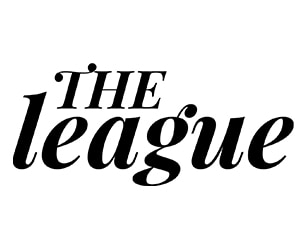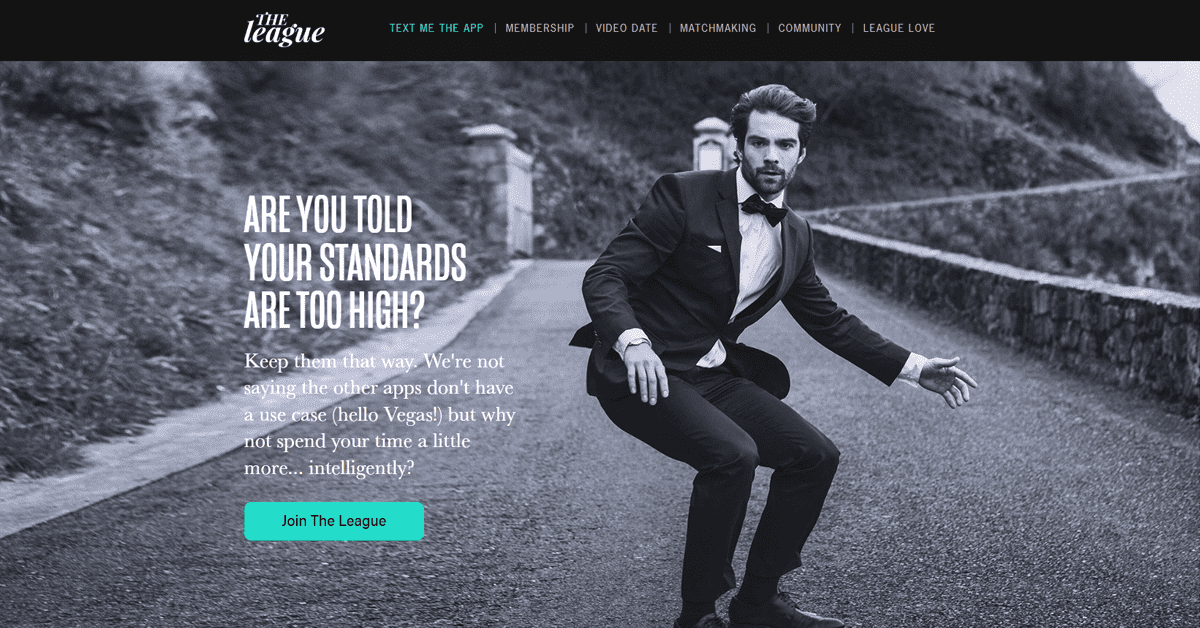 | | |
| --- | --- |
| Sign-Up Time: | 10 minutes |
| Cost: | $66.67 – $399.99 per month |
| Membership Pool: | 32,000 |
---
---
Our The League App Rating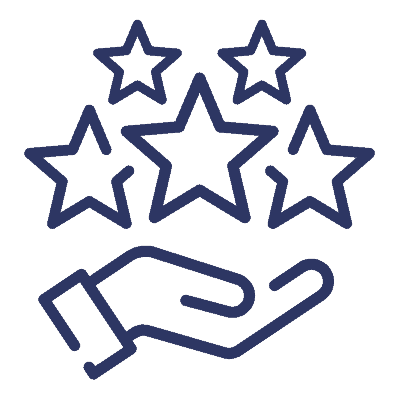 Overall Rating

The League is coming in with an overall score of 3.7 out of 5!
In order to evaluate how effectively the League dating app functions as a dating platform, we conducted six typical rating tests.
We consider a variety of variables when choosing which dating apps to suggest, including the number of users (both overall and active), the cost of membership, the effectiveness of the matching algorithm, and the features offered to members.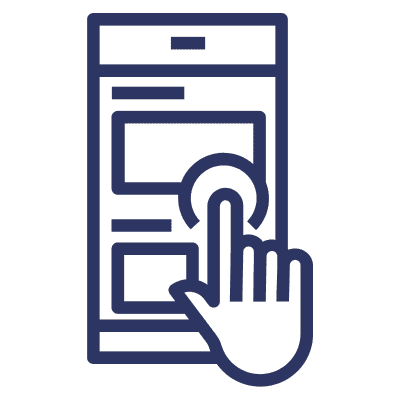 Ease of Use

You can only join The League through its custom-built mobile app, which works on iOS and Android smartphones and is incredibly easy to use; you don't even need to have any prior experience with dating apps!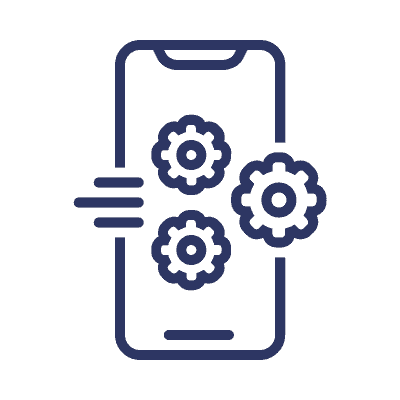 Features

Obviously, The League is not like every other dating app in terms of its features. The League offers four different levels of membership. The "free" Guest version of the app is initially available to you as a new user. This will allow you to interact with certain users and access a subset of the available features. To truly get the greatest value from the dating app, though, you'll need to pay for a premium subscription.
Members, Owners, and Investors are the three categories of paying consumers, and as you move through the price levels, you'll have access to more and more premium features.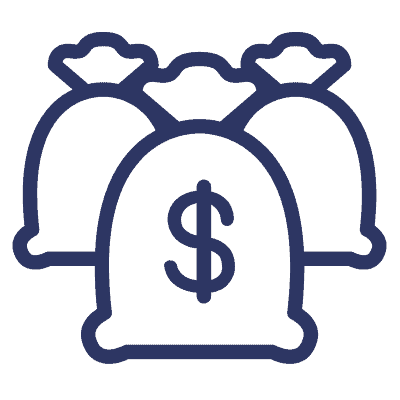 Cost


We assigned this dating app a one in the "cost" department since we think the price is completely unreasonable. We're not sure we've ever awarded such a low score in this category, but with the exclusive memberships and the "You can't sit with us" attitude, The League comes off as quite posh. Is it really worth it to pay so much money to meet singles on this app? We can't say for sure–but if you are looking for something new and can pay the steep membership prices, why not check it out to see what's what?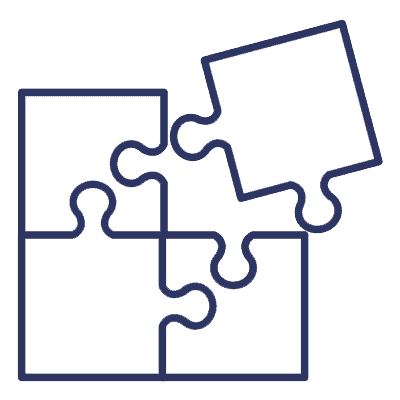 Match Quality


We got the opportunity to see a single match, like a sneak peek of The League's singles, but he was quite the looker! If all the matches of the same caliber as the one that we had the pleasure of witnessing, we are optimistic about the match quality in The League, but we can't be 100% sure, so we gave them a rating of 3.5 for this field in good faith and based on reading their success stories page.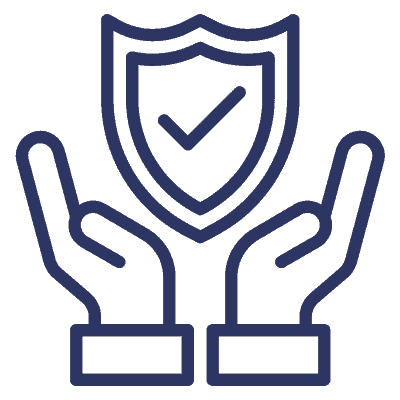 Safety and Security


The software uses robust safety features to guard its users against scams and fraud. When you connect your Facebook and LinkedIn accounts, your credentials will be checked using the details that you supply–this has the added benefit of discouraging the use of fake IDs.
The League is highly selective and declines some applicants. It uses state-of-the-art technology to archive, preserve, and encrypt all information, and verification badges appear on all profiles when users confirm their credentials. The League collects personal data upon registration, including but not limited to name, as well as email address, Internet Protocol (IP) address, kind of device used to use the app, and credentials for third-party social media accounts.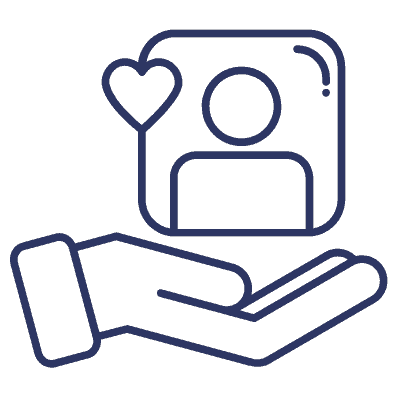 Customer Service


The League does not provide phone assistance; however, they are available via in-app chat with a live person instead of an automated system and by email. The business's support department is open from 9 a.m. to 5 p.m., Monday through Friday, PST, and a member of the customer service team will get back to you within a couple of hours.
In addition to detailed solutions to frequently asked questions, the app also features a variety of blog posts and safety tips to keep you safe as you search for your perfect match.
Overview of The League
The League is an exclusive dating app for successful professionals looking for ways to strengthen their personal and professional connections. Founded in 2014, it stands out from the rest of the field by meticulously choosing its members and putting emphasis on quality over quantity. Founder Amanda Bradford created the dating app because she was dissatisfied with her online dating experiences, so she set out to make something for people who shared her frustration with other mainstream dating app platforms.
The League Fast Facts
Year Founded: 2014
Amanda Bradford, frustrated with her personal experiences with online dating, created The League.
Average User Age: 30-38 years
Gender Ratio: 52% men to 48% women
The average age of singles on The League dating app is between 30-38, there are around 32,000 members, and the gender ratio is 52% men to 48% women.
It's worth mentioning that The League has been criticized–concerns regarding the lack of racial, occupational, and socioeconomic diversity on the dating app have been expressed by a number of users, while others have complained that the lengthy waiting list and screening procedure is too time-consuming, preventing them from interacting with potential matches right away.
Premium Membership Subscriptions and Prices
The League membership fee varies based on the type of membership you select. Both the Member and Owner memberships include a monthly fee, with the Member's costing $299.99 and the Owner's costing $399.99. Investor, the top tier, costs $999.99 per month. When paying for a three-month period in advance, members can take advantage of a 66% discount.
| Package | Length | Price Per Month | Total Cost |
| --- | --- | --- | --- |
| Premium Flexible | 1 month | $199.99 | $199.99 |
| Premium Convenient | 3 months | $100.00 | $299.99 |
| Premium Popular | 6 months | $66.67 | $399.99 |
| Premium VIP | 1 week | $1,599.96 | $399.99 |
| Premium VIP | 1 month | $399.99 | $399.99 |
| Premium | 1 month | $399.99 | $399.99 |
| Premium | 3 months | $300.00 | $899.99 |
Note: Even though you end up paying more for a more extended membership plan, you get a break on the price-per-month rate. eharmony frequently offers discounts on prices like this. If your search for true love takes you longer than expected, you could save some extra cash by choosing a lengthier plan.
Does The League Offer Free Trials?
Yes, but compared to some of the other best dating apps, The League's free trial membership works a little differently.
Free memberships allow users to create and edit dating profiles, view other users, issue friend requests, and communicate with those who accept them via instant message (IM) and video chat. In addition to connecting your various social media profiles using Instagram's search feature, you can also join online groups and meetings to develop professional connections.
You cannot see who has read your messages, get daily "prospects" (matches), or boost your dating profile without paying for a premium membership. The unique features and benefits of The League's dating app are only available to paying members.
Standard (Free) Features
Search and browse dating profiles
Upload a profile image
Send other members friend requests
Message other members
Create a photo gallery
Premium Membership Features
League Tickets
Because it's a niche dating app with fewer members, potential matches are narrowed down quite a bit. By purchasing League Tickets, users may increase their access to this app's elite matching services and increase the number of potential partners they can pick from–the tickets are expensive. Still, they are well worth it if you want to meet quality potential partners.
League Groups
The League's goal in establishing these groups is to promote a sense of belonging among its members by allowing them to organize into "clubs" and have conversations about their hobbies, investments, and other enjoyable activities.
League Owners
If you have money to spare and want to make an investment in the exclusive app, you can upgrade to League Ownership. By paying an additional fee, you can enjoy all the benefits of membership, including expedited entry, daily statistics, read receipts, access to special groups, and VIP passes to events.
Read Receipts
When you upgrade to a paid membership, you'll get notifications letting you know when recipients of your messages have read them.
Profile Customization
In order to present themselves in the best light possible, premium members can edit their profiles to incorporate more details and express their own interests.
There are three tier increases available within the League dating app:
Member
You have the following advantages as a Member:
You can skip the League queue by having your profile reviewed immediately
Five "prospects" (possible matches) daily
Read receipts
Five or more video dates per week
Look at past "likes"
You can keep information about your job and schooling concealed or modify it
Receive your profile stats
Hide your age
Look for matches in various locations
Select matches based on their plans for a family
Automatically send a greeting message to every match
If you buy a membership, you'll get five bonus matches
Owner
The following perks are available to League Owners:
Six daily prospects
Limitless Power Moves (which puts your account at the top of a Prospect's daily batch of profiles they see)
At least six weekly video dates
Rematches
View the "X-Ray Vision" function to check if a Prospect "liked" your profile.
Undo a pass
Investor
These extra features are part of your Investor membership:
Seven daily prospects
View the whole list of people who've "liked" you and get in connect with them all immediately
You'll get an extra connection (10x Your Matches) when someone likes you.
At least seven weekly video dates
Check out your video dates beforehand, and if you want, pre-reject them
Free notes for "Power Move"
Your profile won't be visible to anybody besides prospects you "like"
According to the app, premium customers are spotted by 40% more people and have a successful match rate that is two to five times greater than free users in their same demographic.
League Tickets
With League Tickets, you can access premium features like getting more prospects, messaging a user prior to matching, and rematching old matches without paying a monthly fee. League Tickets are offered in bundles starting at five for $24.99 each. 15 tickets are $69.99 each, and 100 tickets are $399.99 (prices may vary by location).
The most frequently encountered League Groups include "Yacht Week," "Nantucketers," "Brunch Lovers," "Golf Buddies," "Hamptons Crew," and "World Travelers & Road Warriors." The nicknames provide a general idea of the user demographics on this dating app, which seems to be quite upscale.
League Ticket Bundles
| Number of Tickets | Cost Per Ticket | Total Cost |
| --- | --- | --- |
| 5 Credits | $5.00 | $25.00 |
| 15 Credits | $4.00 | $60.00 |
| 50 Credits | $3.98 | $199.00 |
| 300 Credits | $3.33 | $999.00 |
Do The League Memberships Renew Automatically?
Yes! Unless you change your premium membership plan or cancel it, your League membership will automatically renew at the membership level you initially chose. If you sign up for a weekly Investor subscription but then decide you'd prefer a monthly plan, you'll need to cancel your current membership and sign up for the new one before you're charged again the following week.
The purchase of League tickets, however, is a one-time cost.
Should You Join The League?
The League is a great option if you're seeking a high-quality partner. If you live near a big city and are ready to go through the process of signing up and waiting to be approved, it's likely worth it!
Reasons to Join
We have listed a few of the most persuasive arguments in favor of joining The League dating app, but this is not an exhaustive list. During our review of the service, we discovered these to be its most compelling features.
High-Quality Matches
Every member, including those who pay the costly $399 weekly subscription cost, is subject to an extensive screening process. In other words, it's a safe bet that almost everyone you encounter on The League will be highly educated, accomplished, and interesting.
Sophisticated Matching Algorithm
The League's sophisticated matching algorithms give daily app users a leg up on those who don't check it as often. The dating platform streamlines the process by sending out matches at the same time every day at 5 p.m.
League Groups
The League Groups feature of the dating app is a fun and engaging social component that allows singles to chat about subjects and interests they have in common
Social Network Filters
This function will automatically exclude your Facebook and LinkedIn connections, protecting you from any professional or personal discomfort if you want to keep your dating on the down low.
Reasons Not to Join
The League for sure has its benefits, but some drawbacks might stop you from signing up and then include the following:
Limited Accessibility and Exclusivity
The League is notorious for its exclusive membership requirements and closed-door policies, so it may not be the best option for you if you want a more accessible dating scene or are uncomfortable with the thought of joining a community that places such an emphasis on exclusivity.
Long Waitlist
There might be a delay before you can use the app since The League has a waiting list for new users. If you're in a hurry to start dating or would rather have instant access to possible matches, the waiting list could prove frustrating.
Smaller Dating Pool
Dating apps that cater to very specific interests or demographics usually have a smaller number of users compared to more widely used platforms such as Elite Singles or eharmony.
High Premium Membership Prices
Look, if you can afford to pay the exorbitant premium memberships for The League, then who are we to judge? All we are saying is that "expensive" doesn't always equal top quality when it comes to dating apps.
The Sign-up Process
The registration process for the League takes just under 10 minutes to complete. See how to sign up for this exclusive dating app by following the step-by-step process below!
FYI: There is no desktop version; only an app is available for download in the iOS or Android app stores. We registered on an iPhone, but the registration process is the same on an Android device.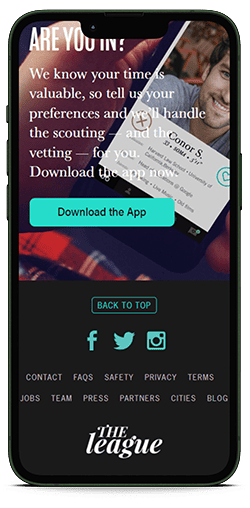 Step 1: Download and Install The League App
First, download The League on your smartphone or tablet with iOS or Android. You need both Facebook and LinkedIn in order to access this dating app, so log in with one or the other before using it. To continue, click the "New User" option.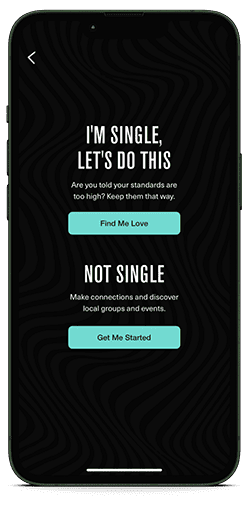 Step 2: Choose Your Reason for Joining
Choose one of the two options provided on the next screen: if you're here to find love, click "Find Me Love," or if you're only registering for connections with other professionals, choose the "Get Me Started" button.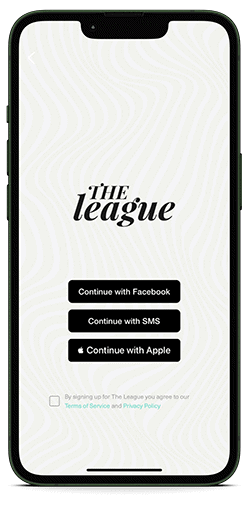 Step 3: Select Your Sign-Up Method
Here, you'll select the method through which you'd want to join The League. Options include using your Facebook account, your cell phone number, or an Apple ID or Google account.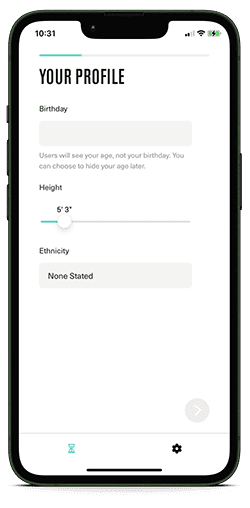 Step 4: Enter Personal Details
In order to get matched with people from your area, complete your profile with the following information: name, gender, date of birth, ethnicity, height, email address, dating preferences, and enable your location.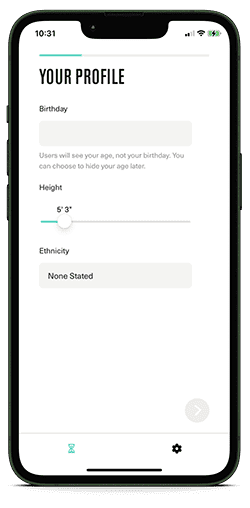 Step 5: Upload Profile Images
You can either directly upload your photos from your smartphone or tablet or have the League grab them from Facebook or Instagram–then organize them in any order you want!
You need a primary image where, in addition to picking an attractive, high-definition picture with good contrast, you also:
Need to be the only person in the photo
It's a close shot that shows the upper half of your body.
Need to be looking directly at the camera.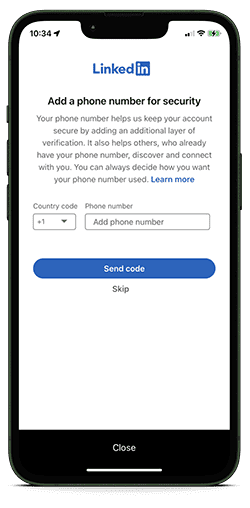 Step 6: Enter Your Education and Profession
Now you can tell The League about your background in education and work, as well as connect and verify your LinkedIn account. This will automatically import all of your LinkedIn information and fill in the blanks on your profile. After that, you can decide whether or not you want to confirm your phone number for extra security.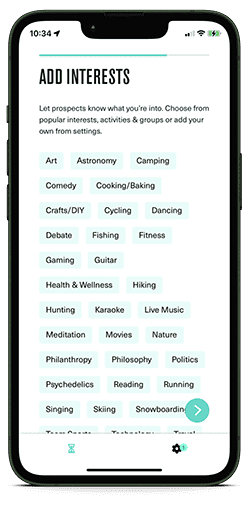 Step 7: Include Interests
This can be an opportunity for you to share your hobbies and interests with other members. The more you include, the better your chances will be of matching with someone who is compatible and shares your passions!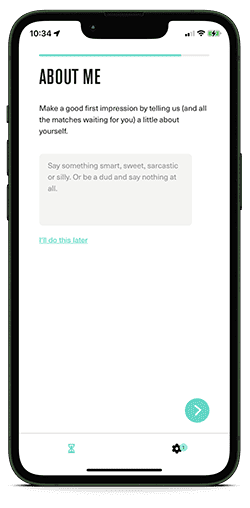 Step 8: Pen The "About Me" Section
You don't have to fill out the "About Me" box, but doing so will let other members get to know you better (don't skip this step).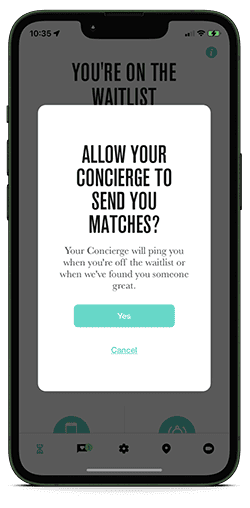 Step 9: Turn On Notifications
Unless you paid for a premium membership or took all the necessary measures to skip the queue (more details on that below), we regret to inform you that you are now on the waitlist with us, and we send you the best of luck if you make it past The League's velvet rope! Unfortunately, we have no idea how long it takes to gain entry to this dating app, but until then, you can have The League notify you when you have matches.
Follow These Steps to Bypass the Line or Move Up on The League's Waiting List
We've included some of the actions that you can do within The League to climb up the queue if you're on the waitlist and don't want to subscribe to an upgraded account at the moment.
Tips for Getting Off The League's Waitlist
Investing in a Premium Membership ensures that your application is reviewed promptly (usually within 48 hours on weekdays). You can additionally ensure your entry by referring two of your friends–while making edits to your profile or referring a friend may reduce the time it takes for your review; neither action will eliminate the regular 48-hour waiting period.
Suppose you're a free user, and you've done everything on the following list. In that case, reviewers will prioritize you:
Verify your phone number
Uploaded a minimum of 3 photos
Linked your Instagram and LinkedIn accounts
Completely fill out your dating profile
A rejection message will be sent to your League account email if your profile is not approved.
Alternatives to The League
The League isn't going to be everyone's Dom Perignon of dating apps! If you sign up for any one of the dating apps we've listed below, you're certain to meet compatible people who share your interests. Look at the dating platforms and see if any particular one grabs your attention!
Dating App
Key Facts
Review
Elite Singles

Active Members: 2+ million
Gender Ratio: 44% men to 56% women
Best For: Finding highly educated and successful singles
Pricing: Begins at $31.95/month

Elite Singles Review
eHarmony

Active Members: 16+ million
Gender Ratio: 48% men to 52% women
Best For: Find singles who desire serious relationships and profound connections
Pricing: Begins at $35.90/month

eharmony Review
Christian Mingle

Active Members: 16+ million
Gender Ratio: 44% men to 56% women
Best For: Finding singles who hold Christian values and want God-centered relationships
Pricing: Begins at $14.99/month

Christian Mingle Review
Zoosk

Active Members: 40+ million
Gender Ratio: 47% men to 53% women
Best For: Flirting, finding love, and getting dates with singles
Pricing: Begins at $10.00/month

Zoosk Review
SilverSingles

Active Members: 800,000
Gender Ratio: 53% men to 47% women
Best For: Finding singles who are over 50 and looking for meaningful relationships
Pricing: Begins at $24.95/month

SilverSingles Review
Frequently Asked Questions
Although our reviews are comprehensive, sometimes we could miss one little detail you want to know. Look below for answers to some of the most frequently asked questions our readers have sent us regarding The League dating app!
Can I Use The League Dating App for Free?
Yes, however, The League's free membership operates somewhat differently than other dating apps. Users with free accounts can create and update their profiles, browse the profiles of other members, send friend requests, and chat with those who approve them using IM or video chat. 

Joining online organizations and events is another great way to expand your business network and supplement Instagram's search function for linking your numerous social media profiles. 

If you don't pay for a premium membership, you won't be able to see who has read your messages, receive daily "prospects" (matches), or optimize your dating profile. Only paid members of The League have access to the full range of features and perks offered by the dating app.
Does The League Dating App Reject Applicants?
Yes–The League does turn down certain candidates if they aren't compatible with its ideal profile member.
How Old Is the Typical Member of The League?
The average age range of members of The League ranges from 30 and 38 years old.
Is The League Compatible with Desktop Computers?
There is no desktop version–you must download The League dating app on your mobile device from either Google Play or the App Store in order to use it.
Where in the United States Is the League Dating App Available?
The League is accessible in the following US cities: Atlanta, New York City, Philadelphia, Los Angeles, San Francisco, Chicago, Washington, DC, Boston, Dallas, Seattle, Denver, Miami, Houston, Austin, San Diego, Detroit, Phoenix, Minneapolis, Charlotte, Nashville, Raleigh, Orlando, Portland, Tampa, Pittsburgh, Sacramento, Hartford, St. Louis, Cleveland, Kansas City, Columbus, San Antonio, Salt Lake City, Indianapolis, Las Vegas, Tulsa, Cincinnati, New Orleans, Milwaukee, Richmond, Charleston, Birmingham, Syracuse, Norfolk, Oklahoma City, Louisville, Buffalo, Norfolk, Albany, Madison, Santa Barbara, Providence, Jacksonville, Memphis, Honolulu, Omaha, Baton Rouge, Knoxville, Columbia, Fargo, Mobile-Pensacola (Ft. Walton Beach), Fresno, Little Rock, El Paso, Lexington, Des Moines-Ames, Green Bay-Appleton, Boise, Tallahassee, Wichita, Albuquerque/Santa Fe, Cedar Rapids, Providence, Spokane, Savannah, Fayetteville, Roanoke, Springfield, Charlottesville, Huntsville, Burlington, Jacksonville, Anchorage, Fargo, and Kennewick.
What's the Waitlist Duration for The League?
The average wait period to get into The League is between three to thirty-two weeks; however, this can vary from person to person. The length of time you spend on the waiting list depends on factors including where you live, age, gender, and the demographics of the other people who have signed up in your region.
Why Do I Need to Connect My LinkedIn Account to Join the League?
The League will use LinkedIn to prevent you from connecting with people who share your current or previous employer–they use this information to create profiles, verify identities, and highlight common connections among members. Still, they will never share that you've signed up for The League and have no access to your contact list or inbox.
What Does The League Premium Membership Cost?
Membership specials rotate, which means they can change at any time. There are various membership durations available, from one week to six months.

Three tiers of paid membership (Member, Owner, and VIP) are available. Your membership fee will change from promotion to promotion, and prices range from $199 for a one-month subscription to $399 for a six-month membership, with a three-month membership costing roughly $299.

There is a one-month membership fee of $399 to join as an Owner. Access at the premium "Investor" level costs $999 per month or $399 per week. As your membership advances, you will have access to more matches.
Do Premium Memberships Automatically Renew?
Yes! Your League premium membership will be automatically renewed after each billing cycle at the membership level you originally selected unless you change or cancel your membership. To switch from a weekly to a monthly Investor subscription without being billed again the following week, you must cancel your existing subscription and sign up for a different one before your payment information is processed again.
Does The League Offer Refunds?
You have three days from the time of purchase to request a refund through the relevant app store; if you are still waiting for your refund after seven business days, contact The League at contact@theleague.com.
Who Founded The League Dating App?
The League was created by its current CEO, Amanda Bradford. Launched in 2014, the dating app was inspired by Bradford's own unsatisfying endeavors with online dating.
Why Do I Need to Enable Permissions for My Facebook Account?
The League cannot create a profile for you without photos; the matching algorithm places a higher value on information such as your current location, birthplace, likes, interests, and education, but it can only get this information from Facebook if you permit it to do so.