Our team of experts diligently research and review all of the products and services we recommend. If you buy through our links, we may receive a commission. Learn more here.
Please Note:
Are you sick of going around in circles trying to find love or even a compatible match on a dating app? If so, you are likely in the same sinking boat as the creators of Teaser AI, a new dating app with the tagline "Use Al to stop ghosting and get you to the part that matters: meeting up in person and seeing whether that spark is for real."
Unlike conventional dating apps, Teaser AI allows you to have a conversation with an AI representation of a potential partner before deciding whether or not to like them. "Decide whether you want to meet up," the app's description on the App Store urges potential users to do instead of wasting time with small talk.
To see if the Teaser AI dating app lives up to its claims of preventing ghosting and getting daters better matches, we downloaded it, created a profile, and did our usual in-depth investigation of the dating platform. Keep reading for our complete review of the Teaser AI dating app for 2023!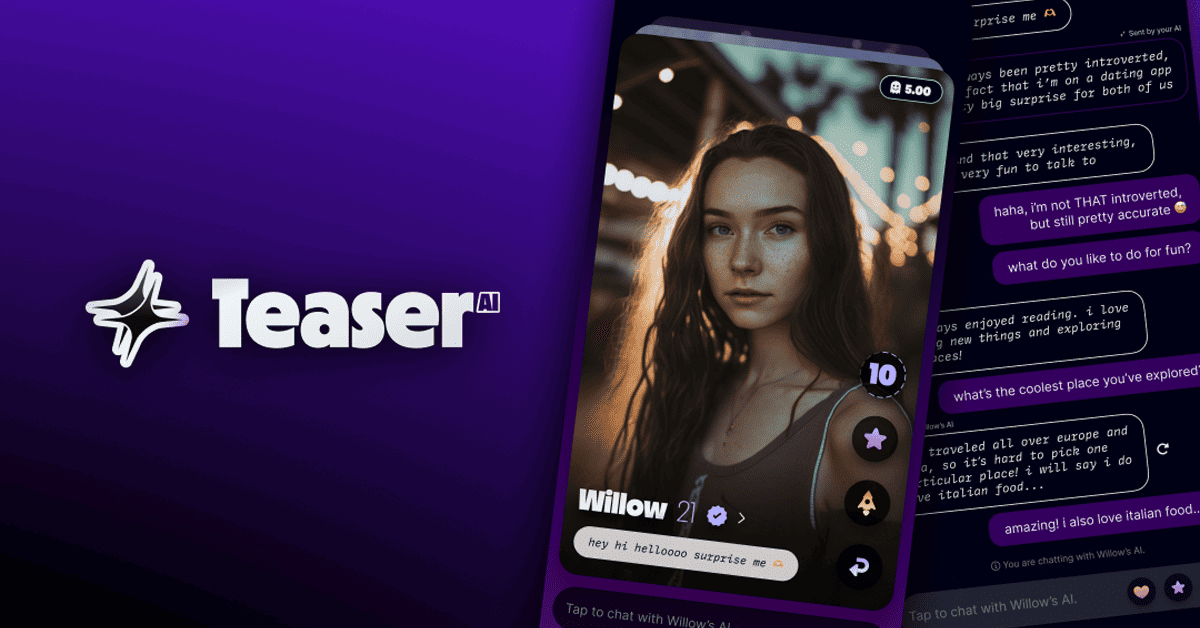 | | |
| --- | --- |
| Sign-Up Time: | Less than 10 minutes |
| Cost: | $39.99 – $89.99 per month |
| Membership Pool: | N/A |
---
---
Our Teaser AI Dating App Rating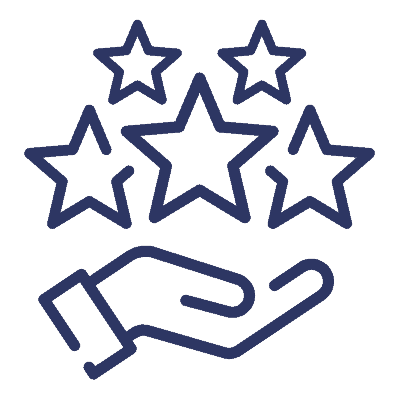 Overall Rating

Teaser AI is coming in with an overall score of 4.0 out of 5!
Teaser AI gets a solid 4 out of 5 stars from us–if you're looking for a modern dating app capable of helping you find "the one" or something more casual, this is one to watch!
Since the app was just released, we have no way of knowing how many people have downloaded it or how often they use it–but as soon as we have the data, we will update this review.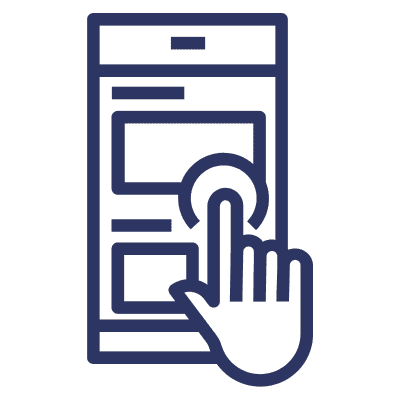 Ease of Use

There are no problems with the usability or navigation of Teaser AI–in a matter of minutes, we had a dating profile up and running, connected with our chatbot, and were on the lookout for potential matches. And bonus; the app's layout is vibrant, and the interface is straightforward and simple to use.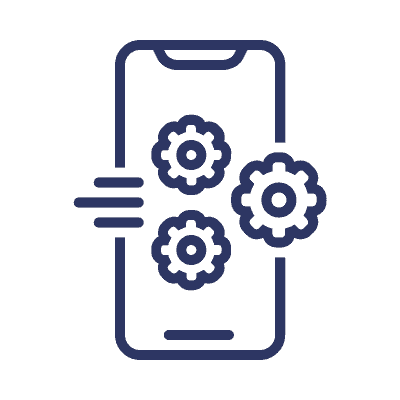 Features

Aside from its AI chatbot, Teaser AI's features are fairly standard fare; however, this is to the app's advantage, as it relies on the same tried-and-true methods of connecting users that have made other dating apps successful.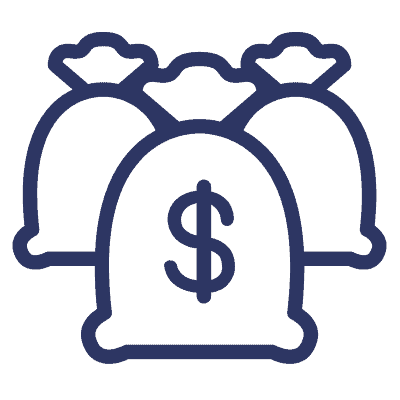 Cost


Premium memberships on Teaser AI aren't ridiculously expensive, but they're also not dirt cheap–upgraded subscriptions for one week cost $19.99, one month cost $39.99, and three months cost $89.99 per month. A one-time payment of $229.99 will get you a lifetime membership.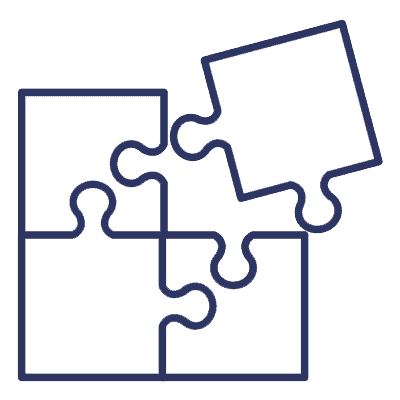 Match Quality


We looked at all 16 of our "picks," and they seemed pretty good! Here is the rub; no one will match with you until your AI versions have had an opportunity to get familiar with one another. This can be beneficial when you're trying to decide whether or not to go on a date with someone you've matched with–if their chatbot is wack or boring, it could be a reflection of the real person behind the AI. Or maybe not. We really don't know!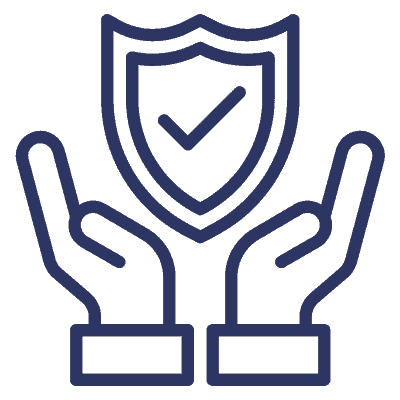 Safety and Security


When it comes to preventing creepers and catfishing, Teaser AI says, "We also verify every profile." However, the terms of privacy for these apps are vague, and we only had to verify our cell phone numbers in order to set up an account.
Like virtually every other online dating platform, Teaser AI prioritizes user protection and safety. Teaser AI's main goal is to eliminate "ghosting" by facilitating initial talks between potential matches using artificial intelligence. Still, it is essential that the app also has security features to protect its users. When you join, you will see information on the verification of accounts, reporting and banning processes, and community standards meant to promote respect. But we still don't know how strictly these policies are enforced, if at all since the app is new.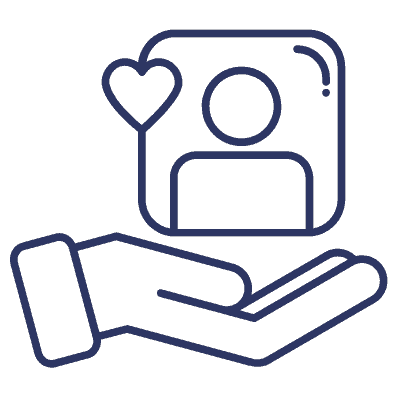 Customer Service


We appreciate that Teaser AI provides multiple channels for contacting support, including a phone number where users can speak with a real, live person! All the ways to get in touch with customer service include:
Teaser AI App Support
Support: support@teaserai.com
Phone: (310) 651-6750
Address: All Summer Long, Inc., 2810 N Church St., #99841, Wilmington, DE 19802
Overview of Teaser AI Dating App
By streamlining the icebreaker process with AI chatbots, the Teaser AI dating app hopes to lower the prevalence of "ghosting" on dating apps. To do this, it uses artificial intelligence to generate chatbots that mimic users' interests and personalities.
As an alternative to chatting with a possible match, members of Teaser AI can interact with that user's chatbot, which "gives you a feel" for the person before actually talking to them. That sounds interesting but a little frightening. But don't be scared; we are going to walk you through everything about this innovative technology that says it will combat ghosting!
Teaser AI Fast Facts
Year Founded: 2023
Interesting Fact: On the Teaser AI dating app, the robot version of yourself is talking to the robot version of a potential match–we think that is interesting but also a lil' bit scary!
Average User Age: 18-30 years
Gender Ratio: N/A
Since it was founded in 2023 and just released, as of this review, it's unknown how many individuals use the app, what the gender ratio is, or how effectively it helps them find compatible matches. But it looks promising; according to Business Wire, "Adoption has skyrocketed since Teaser AI launched in open beta two weeks ago, with tens of thousands of downloads and thousands of matches made to date."
Premium Membership Subscriptions and Prices
| Package | Length | Price Per Month | Total Cost |
| --- | --- | --- | --- |
| Teaser Pro | 1 week | $79.96 | $19.99 |
| Teaser Pro | 1 month | $39.99 | $39.99 |
| Teaser Pro | 3 months | $89.99 | $269.97 |
| Teaser Pro Lifetime | Lifetime | $229.99 | $229.99 |
And for a one-time charge, users can buy these features in-app:
BOOST: $7.99
BOOST: $34.99
BOOST: $59.99
Super Like: $9.99
Super Like: $29.99
Super Like: $74.99
Does Teaser AI Dating App Offer Free Trials?
The Teaser AI dating app does not offer a traditional free trial, where users can sign up and get access to premium features for a certain amount of time before they have to decide whether to upgrade to a paid plan.
Teaser AI does offer free dating app memberships, but members of the freemium tier can only save 16 "picks" or matches.
Premium members, meanwhile, get access to twice as many "picks," as well as infinite likes, Super Likes, Boosts, a traveling mode for when you want to date on the move, and an Artificial Intelligence–powered auto-match feature.
Standard (Free) Features
Create an account
Build a dating profile
Personalize a profile
Upload up to 6 profile photos
Access to 16 "picks"
Premium Membership Features
Unlimited Likes
With a Teaser AI dating app premium membership, you'll get unlimited likes, so you can up your chances of matching with a compatible partner!
Profile Boosts
Want to feel like the dating star you are? You can do this with the profile boost feature, which catapults your Teaser AI profile to the top of search results at optimal times on the platform.
Unlimited Matches
You get 16 matches at a time, but with a premium subscription, you can unmatch with any or all and regenerate so you get all new matches–and you can do this as many times as you want with the unlimited matches feature.
Match Rewinds
Did you accidentally swipe the wrong way or unmatch someone and regret the decision? With match rewinds, you can undo and take another look.
Super Likes
Want to show someone that you are really interested in getting to know them? If you use the super like feature, they'll know you made the extra effort to level up your regular like to a super one.
Do Teaser AI Memberships Renew Automatically?
Yes. Until you cancel your premium membership plan, you will be automatically charged for the plan you purchased and the duration at the end of every billing cycle.
Should You Join the Teaser AI Dating App?
Unfortunately, we can't yet give you our full assurance or blessing that joining the Teaser AI dating app will benefit your dating goals. Since it's still in its early stages, we need some additional data to see how well it does at matching up compatible people.
For the time being, let's just say that it's unlike any other dating app out there, and we feel it's well worth it if you're looking for a genuinely novel and entertaining platform, like the concept of an artificial intelligence version of you getting the initial convos done for you.
Reasons to Join
Nevertheless, the Teaser AI dating app has a lot going for it, and that's particularly relevant considering it's an unusual (in a good way) newcomer to the dating app scene. Keep scrolling for the reasons why we believe you should sign up for Teaser AI!
Easy to Navigate and Use
The Teaser AI dating app is super easy to use, and it has an awesome, eye-catching layout that looks quite appealing, even for people who are really picky about dating app designs.
Innovative Matching Technique
In order to find a compatible partner, your AIs need time to get to know one another, and having access to manufactured exchanges can be extremely helpful when deciding if you want to go on a date with a person you've matched with or pass.
Say Bye-Bye to Small Talk
Tired of having to start conversations with strangers on dating apps? You can say goodbye to small talk when using Teaser AI–you can rely on your very own trusty (hopefully) AI to handle all those initial interactions for you. That's pretty cool, in our opinion!
No More Ghosting?
By design, Teaser AI wants its users to form long-term relationships; it was created to combat ghosting. And if you ghost on this platform, your profile will be hit with a "like to ghost" rating, which should discourage anyone looking for a serious relationship or connection.
Reasons Not to Join
And with the good comes the bad–while we liked what we saw on Teaser AI, there are some pretty compelling reasons that would give daters pause before joining, and we've listed them below.
AI Can be Buggy
Don't get it twisted; we are very impressed by AI's capabilities, but it can be unsettling when one is doing the talking for us on a dating app. What if it goes rogue and mentions to a prospective match that we pick our nose and eat it? It probably won't do that to us, but it might.
Purchases are Non-refundable
For the majority of dating apps, this is not an unusual policy, but if you're just starting out and the premium paid memberships aren't exactly inexpensive, you might want to make an exception occasionally.
User Base: Unknown
The Teaser AI dating app literally just came out, so no one knows how many people have downloaded it and are actively using it. Uncertainty makes us uneasy because when we review a dating app, we like to know everything there is to know about it, and a large, active user base is important when looking for a compatible match.
No Free Trial
While there is a basic free plan, there is no traditional free trial period that allows people to sample the features they'd be getting if they upgraded to a premium membership plan–we think that's risky and a little unfair to potential customers. You are asking them to put their trust and money into a brand-new dating app without letting them see what the features are like or if they are beneficial!
The Sign-up Process
Our Teaser AI dating app profile was up and running in under 10 minutes. Below you'll find detailed instructions for installing Teaser AI, signing up, and setting up your personal dating profile.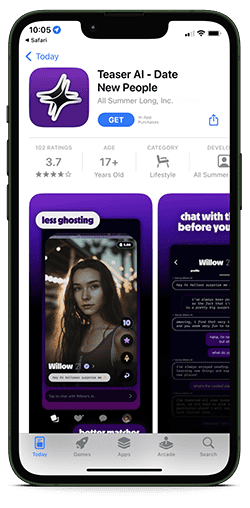 Step #1: Launch the Teaser AI Dating App after Downloading
Go to the app store on your mobile device, type in "Teaser AI dating," and then tap the "GET" button; after the download finishes, launch the app to create your account. You can also select the desired app from Teaser AI's main page and then click on the platform you want to use, and you'll be automatically redirected to either the Apple or Google store.
Step #2: Start Your Registration
On this screen, you will be welcomed to Teaser AI. Click the "get started" button, and don't forget to carefully read the general conduct rules as well as the terms of service and privacy you will agree to when you join.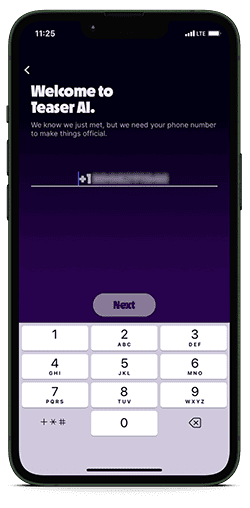 Step #3: Enter Your Mobile Number and Verify It
To sign up for Teaser AI, you must have access to a mobile phone–you'll need to enter it and then paste in the 5-digit confirmation code you'll receive via text message.
Step #4: Plug in Your Basic Details
After that, you'll need to input your initial name, date of birth, gender, and who you're interested in meeting so Teaser AI can find you a compatible match in your area.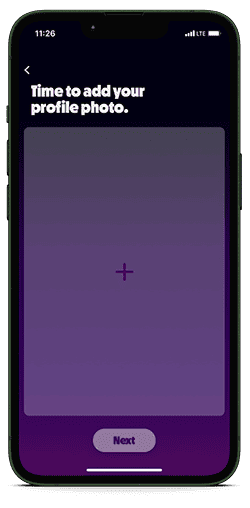 Step #5: Add Your Profile Photos
Adding pictures to your Teaser AI dating app profile is the next step, and yes, we do mean plural; you have to submit a minimum of three and can upload up to six. To continue, select the "next" tab.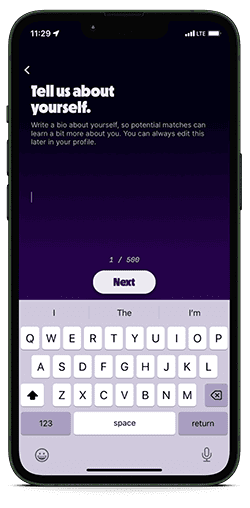 Step #6: Craft Your 'About Me'
Here's your chance to shine; the Teaser AI dating app gives you 500 characters to tell everyone about yourself–seriously, you need to fill out all 500 characters in order to continue, so start bragging about how great you are!
Step #7: Mix It up with Your AI Counterpart
And now you can begin chatting with Teaser's artificial intelligence! You'll get better matches if you follow its suggestions for how you should interact with potential matches and partners on the dating app!
Step #8: Begin Browsing and Upgrade to Teaser Pro (Optional)
You're ready to begin searching for potential partners. If you want to "Create a community of intention," you can only make 16 selections, but you can unmatch or dislike any of them to generate new ones. If you want even more tools to assist you in achieving your dating goals, you can invest in a premium Teaser Pro subscription.
Alternatives to Teaser AI
In the table below, we've outlined some of the most well-liked and widely-used alternatives to an AI-centric platform in the dating app arena.
Dating App
Key Facts
Review
Zoosk

Active Members: 40+ million
Gender Ratio: 47% men to 53% women
Best For: Flirting, finding love, and getting dates with singles
Pricing: Begins at $10.00/month

Zoosk Review
eHarmony

Active Members: 16+ million
Gender Ratio: 48% men to 52% women
Best For: Find singles who desire serious relationships and profound connections
Pricing: Begins at $35.90/month

eharmony Review
Christian Mingle

Active Members: 16+ million
Gender Ratio: 44% men to 56% women
Best For: Finding singles who hold Christian values and want God-centered relationships
Pricing: Begins at $14.99/month

Christian Mingle Review
Bumble

Active Members: 11+ million
Gender Ratio: 57% men to 43% women
Best For: All singles seeking relationships, casual dating, or friendships
Pricing: Begins at $16.99/month

Bumble Review
CoffeeMeetsBagel

Active Members: 10 million
Gender Ratio: 40% men to 60% women
Best For: All singles who want a modern approach to dating
Pricing: Begins at $15.00/month

CoffeeMeetsBagel Review
VR and AI Alternatives to Teaser AI Dating App
If you aren't having any luck or are just plain tired of the same ol conventional dating apps and are looking for something fresh and innovative, there are a lot of dating apps that are harnessing the power of virtual reality along with AI algorithms and icebreakers for you to check out below!
Dating App
Key Facts
Sign Up Today!
Flirtual

Year Founded: 2022
Best For: Finding tech-savvy compatible partners
Gender Ratio: 71% men and 29% women
Active Members: 40,000
Membership Pricing: Begins at $9.99/month

Flirtual Review
  vTime XR

Year Founded: 2015
Best For: Meeting compatible singles and friends in a shared virtual space
Gender Ratio: 62% men and 38% women
Active Members:  1+ million
Membership Pricing: Free (Users need to purchase an Oculus Quest or Oculus Quest 2 VR headset)

Visit vTime XR
  Planet Theta

Year Founded: 2023
Best For: Finding love and serious relationships in a VR setting
Gender Ratio: 80% men and 20% women
Active Members:  No data yet
Membership Pricing: Begins at $25.00/month

Planet Theta Review
Frequently Asked Questions
Read on for answers to some of the most frequently asked questions our readers have had about the Teaser AI dating app!
What Is the Teaser AI Dating App?
The Teaser AI dating app is a cutting-edge dating platform that harnesses the power of AI to address the universal issue of "ghosting" in the digital dating scene.
Who Created Teaser AI?
Teaser AI was developed by the same team that produced Dispo, a popular photo-sharing app co-created by David Dobrik, a viral YouTube streaming personality.
Is The Use of AI on a Dating App Safe?
For the purposes of chatting with potential matches, absolutely. However, before generative AI dating apps like Teaser AI are able to transform the online dating landscape, they have to tackle a number of significant obstacles.
Will My Teaser AI Chatbot Say Something Bizarre?
Since artificial intelligence is a developing field, it's likely that your AI counterpart will occasionally make incoherent or straight-up bizarre statements. Upon signing up, Teaser AI cautions, "Our AI might say some crazy sh*t." 
Can I Use the Teaser AI Dating App for Free?
Sure! But there will be restrictions on the number of matches you can get and the ways with which you can communicate with them if you use the Teaser AI dating app's freemium plan.
What are Teaser AI's Premium Membership Prices?
Premium membership prices start at $19.99/week, go up to $39.99 a month, three months at $89.99 per month, and top out at $229.99/lifetime. One-time purchases are also available within the Teaser AI dating app. 
Which Payment Methods Does Teaser AI Accept?
Teaser AI can only process payments made with Apple Pay or Google Pay because the dating app is only compatible with iOS and Android devices.
Can I Get a Refund from Teaser AI?
Unfortunately, no. All sales are final on the Teaser AI platform, including purchases and membership subscriptions.
Do Teaser AI Premium Memberships Automatically Renew?
Yes. At the conclusion of each payment cycle, you will be charged automatically for the premium membership plan that you chose in addition to its term for the duration until you cancel your premium membership. 
Does Teaser AI Sell My Information to Third Parties?
The privacy notice says that Teaser AI will not share, sell, or distribute any of your private data to unaffiliated third parties for the purpose of sending you offers for other companies products or services without your permission.