Our team of experts diligently research and review all of the products and services we recommend. If you buy through our links, we may receive a commission. Learn more here.
SugarDaddy.com is a dating app designed to connect financially well-off men, known as "sugar daddies," with sugar babies who are looking to live a more luxurious lifestyle or want to supplement their income.
The SugarDaddy dating app boasts an impressive 5 million active members, so we feel that this sugar arrangement platform is super useful and deserves your time and money if you are in the market for a sugar sitch. The gender ratio is pretty close to a 50/50 split, which is almost unheard of on sugar dating apps and bodes well for some excellent, compatible matches.
So is the SugarDaddy dating app legit, or should you pass on this platform? Keep reading our complete review of the SugarDaddy dating app for 2023 for the answer!
| | |
| --- | --- |
| Sign-Up Time: | 5 minutes |
| Cost: | $0.29 – $0.59 per credit |
| Membership Pool: | 5 million (700,000 active monthly) |
---
---
Our SugarDaddy Dating App Rating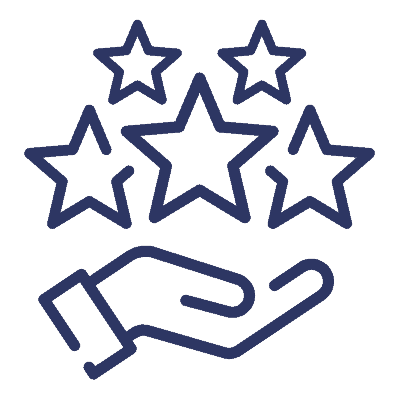 Overall Rating

SugarDaddy is coming in with an overall score of 3.9 out of 5!
Our reviews of dating apps are always comprehensive and impartial; we consider factors like the number of users, the cost of premium memberships, the success rate of the app's pairing process and algorithms, and the range of features and perks available to paying users.
For those seeking a mutually advantageous sugar relationship, we recommend checking out the SugarDaddy dating app, which stuck the landing with an impressive 3.9 out of 5 stars!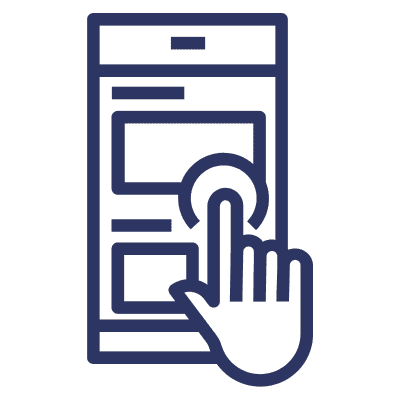 Ease of Use

The SugarDaddy dating app has straightforward, user-friendly navigation and UI. All the tabs and icons are conveniently placed, making it easy for users to find what they want and simple to search for compatible members.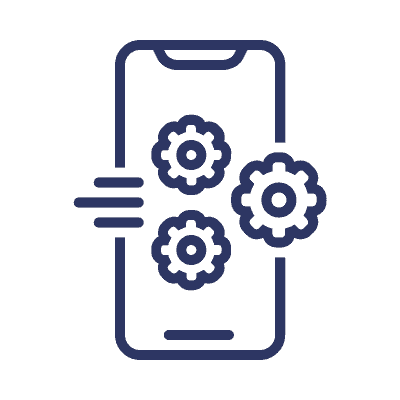 Features

The SugarDaddy dating app doesn't have a ton of extravagant, unnecessary features–there is no designated mobile app, and it's only accessible via its website. There are, however, a few standout features that we like and think users will too!
The option to create a private album.
A quick and easy verification process.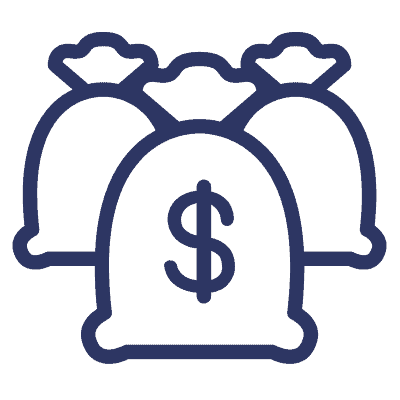 Cost


The SugarDaddy dating app is unlike other dating apps in that you have to pay to become a member–and we like that. Instead, it operates on a credit bundle system, which allows members to pay as they go for premium features. Users have more leeway and say over their budgets thanks to the credit system–they only pay for premium services only when they really use them!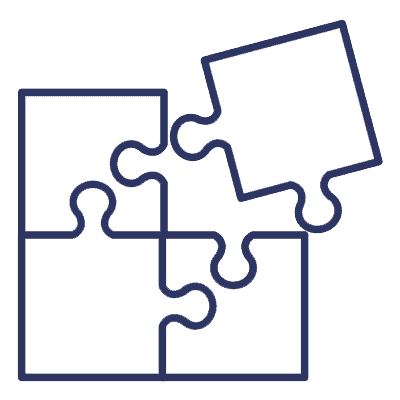 Match Quality


SugarDaddy provides users with various search and matching possibilities that help them identify partners compatible with their specific sugar dating preferences. The search function enables users to apply filters for location, age, physical characteristics, and lifestyle choices to refine their matches. Also, the platform provides a unique feature dubbed the "Matchmaker." The tool uses an algorithm to suggest potential matches by analyzing users' dating profiles and individual tastes.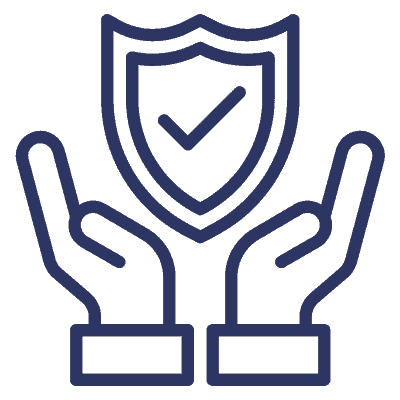 Safety and Security


One aspect distinguishing SugarDaddy is its unique user verification process–it guarantees that sugar daddies and babies are chatting with the actual people in the dating profile. This extremely important safety feature means both parties do not waste their time on fake accounts or put their personal details into the wrong hands.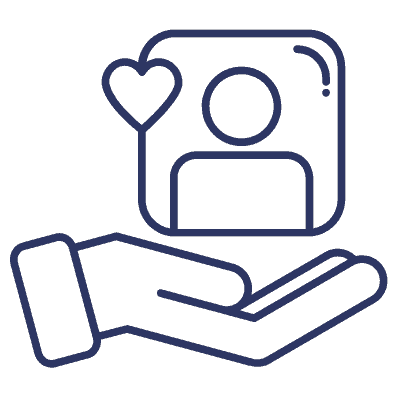 Customer Service


SugarDaddy provides outstanding customer service, which is yet another notable positive aspect of the dating app. Customers can contact customer support through email, phone, or live chat. The support team is accessible round the clock, 24/7, and features an in-depth FAQ section covering frequently asked questions and typical problems.
Overview of the SugarDaddy Dating App
As a whole, SugarDaddy.com provides a safe place for younger women to meet wealthy older men interested in being their "sugar daddies." It's arguably one of the more popular online sugar dating platforms because of its novel payment structure, refined search filters, and commitment to user anonymity and safety. There are a ton of great tools here for the type of dating that this platform facilitates and the people that use it.
SugarDaddy Fast Facts
Year Founded: 2001
Average User Age: 21-50 years
Gender Ratio: 56% men to 44% women
SugarDaddy Cost
There are no premium memberships on the SugarDaddy dating app–instead, they offer three different credit bundles, listed in the following table.
| Package | Number of Credits | Price Per Credit | Total Cost |
| --- | --- | --- | --- |
| Credits Bundle | 100 | $0.59 | $59.00 |
| Credits Bundle | 500 | $0.34 | $169.00 |
| Credits Bundle | 1000 | $0.29 | $289.00 |
Unlike other popular dating apps, SugarDaddy does not offer an ongoing charge from its users. Instead, users can buy credits to gain access to premium content and other benefits without having to commit to a monthly subscription.
You can purchase credit bundles of 100, 500, or 1,000 credits, with individual credit pricing ranging from $0.28 to $0.59. Obviously, you get more for your money if you buy a bigger credit bundle.
When you use credits on SugarDaddy, you can do one of two things: get access to a chat or a gallery of secret pics and videos. To initiate a conversation with a member, you need to pay 10 credits, but once you do, you can continue talking to them for free.
The smallest package (100 credits) would offer you access to 10 message exchanges, while the largest bundle (1,000 credits) gives you access to 100 messages. The pricing on SugarDaddy varies for men and women. Men are required to pay for credits in order to use the dating app, whereas sugar babies can use it for free so long as they meet the stricter requirements for picture uploads and profile completion, and verification.
SugarDaddy Free Trial and Special Features
No, the SugarDaddy dating app doesn't offer a traditional "free trial" like most dating app users are accustomed to. But since women can use the SugarDaddy dating app for free, it is unquestionably a win/win for female users on the platform. And the men can get a few things done without paying for credit bundles–the basic version of this platform is not as restrictive as other platforms.
Standard (Free) Features
Create a dating account and profile.
Post pictures that are both public and private.
Search for prospective matches.
Add dating profiles to a collection of favorites.
Browse the member's blog for helpful insights and advice about sugar dating.
Premium Membership Features
Unlimited Messaging/Conversations
With just 10 credits, users can permanently have access to any conversation–this means premium members won't have to pay a monthly membership fee simply to re-read messages from potential matches. When compared to conventional dating apps, SugarDaddy's conversational approach is a breath of fresh air, not to mention a more practical and economical way to meet possible sugar partners.
Secret Photos and Videos
Sugar daddies can use their credits to unlock a sugar baby's secret photos and videos album. You can request a match's album for free, but after they've granted you access, you'll have to pay credits to view what's inside.
Priority Customer Support
Credit purchases grant you admission to the SugarDaddy app's premium member support, where you'll get answers to your questions in far less time than you would if you were hunting and pecking through the FAQ page. When you have a problem, you are able to get it resolved right away with priority customer support.
Dating Profile Boosted in Search Results
Purchasing a credit bundle not only improves your visibility in the search results of others but also grants you access to an extensive array of premium services and benefits! Buying credit bundles is a good strategy for sugar daddies if you want to attract the attention of attractive sugar babies and set yourself apart from the competition.
Members Blog
The Sugar Daddy dating app's member blog is a goldmine of information for both new and seasoned sugar daters looking to get the most out of their dating experience. The member's blog is a great resource that any member can take advantage of–it includes plenty of informational blog entries on a broad variety of themes, such as advice on how to find a sugar daddy or sugar baby and how to sustain a good sugar relationship.
Do SugarDaddy Memberships Renew Automatically?
Since there is no conventional month-to-month premium membership plan and you buy credit bundles only as you need them, we are happy to report that there is no auto-renewal feature on the SugarDaddy dating app!
Should You Join the SugarDaddy Dating App?
The SugarDaddy dating app boasts an impressive 5 million active members, so we feel that this sugar arrangement platform is super useful and deserves both your time and money if you are in the market for a sugar sitch.
Reasons to Join
During our review of the SugarDaddy dating app, we found a treasure trove of reasons to join if you are interested in pursuing a mutually beneficial sugar relationship–check them out below!
Free for Sugar Babies
All sugar babies can join SugarDaddy for free AND get access to all premium features without paying for any credit bundles! However, sugar babies are required to verify their identities via a video upload before they can fully access the platform. This security precaution is in place to prevent "sugar daddies" from scams and assure them that only genuine sugar babies are interested in connecting.
Video Verification for Sugar Babies
For full access to the SugarDaddy dating app, sugar babies must provide authentication in the way of a short video clip upload–this means there are fewer scenarios where a catfish fool someone.
Credit System
The SugarDaddy dating app's credit system is simply amazing, in our opinion. The system offers a more logical method for gaining access to premium features by charging users only for the services they actually use, and it includes the option to pay a flat rate for unrestricted messaging.
Authentic Users Looking for Sugar Relationships
According to user feedback and reviews, the majority of members on the Sugar Dating app are sincere and truly invested in finding mutually advantageous sugar relationships.
Reasons Not to Join
And while there's a lot to love about the SugarDaddy dating app, there are a few reasons why we could see sugar daddies or sugar babies not wanting to join this niche dating platform.
No Mobile App
Using the website's interface on your smartphone or handheld device is not an issue, but we would really appreciate the development of a dedicated mobile app in the future!
No Income Verification
Because this is a sugar dating app, it would be nice if there was some sort of screening procedure to ensure that both sugar daddies are sufficiently well-off to go forward in a mutually beneficial relationship. It would be lousy for a woman to invest her heart and soul in a potential sugar daddy only later find out that he was exaggerating or straight-up lying about his wealth.
Limited Availability
The SugarDaddy dating app is only available/accessible to those who live in the United States, the United Kingdom, Canada, and Australia, Canada.
No Monthly Membership
For the same reason we love the credit system, others may prefer paying for a monthly membership! It all depends on your personal preferences–if you don't want to make in-app purchases every time you want access to a premium feature, it's something to consider.
The Sign-up Process
We signed up for a SugarDaddy dating app account and it took us about five minutes from start to finish. Since the reviewer is a woman, we registered as a sugar baby, so the steps may vary a little if you are joining as a sugar daddy.
Keep scrolling for a step-by-step guide on how to sign up for the SugarDaddy dating app!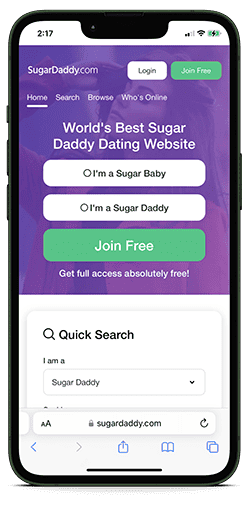 Step 1: Go to SugarDaddy.com
The first step is to log on to the SugarDaddy.com homepage. Once there, specify whether you're a sugar daddy or a sugar baby, and then click the green "Join Free" button.
Step 2: Enter Your Email & Basic Info
Enter a valid email address, create a strong password, location, age, body type, and ethnicity, and then click the green "Next" tab to move on.
Step 3: Upload Profile Photos
At this stage, it's time to upload some attractive profile photos to get sugar daddies or babies interested! There are at least six photos required, but you can add nine if you're feeling yourself!
Step 4: Tell SugarDaddy Why You Joined
Depending on whether you're a sugar daddy or baby, here's where you'll specify what you're looking for on the SugarDaddy dating app.
Do you want a travel companion or weekly company, or are you looking for a sugar daddy to show you the ropes?
Create an enticing greeting that will lure who you are looking for right to your DMs.
Craft a tempting tagline to get sugar daddies or babies interested in getting to know you!
This will be different for the sugar daddies, but since we registered as a sugar baby, here is where you boast about what makes you an amazing partner.
Step 5: Add Secret Photos
Although you don't have to give anyone access to your secret photos, you do have to upload at least four at this step—no nudity or explicit images!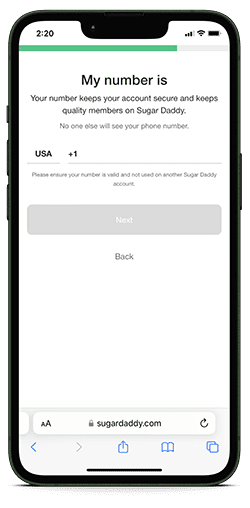 Step 6: Secure Your Account
Now, enter a valid phone number to secure your SugarDaddy dating app account. When you receive the four-digit code via text message, enter it into the required field.
Step 7: Build Up Your Dating Profile & Start Looking for a Sugar Daddy or Sugar Baby!
You're all set up with a new SugarDaddy dating app profile and can start your search for sugar daddies or babies! We suggest that you build out your dating profile by adding details about your physical appearance, lifestyle, education, and interests so that you can be matched with compatible partners.
Step 8: Verify Your Account (Optional)
This step is optional, but we recommend it so people on the platform know you're for real! All you need to do is take a quick video saying, "Let me be your secret," and upload it.
Alternatives to SugarDaddy
If for whatever reason you aren't sure that the SugarDaddy dating app is the right platform for you, there are a lot of other apps that specifically cater to sugar relationship connections as well as some mainstream ones that can be used to search for them–you just have to let other members know what you are interested in!
Look below for some suitable alternatives to try out if you aren't feeling the SugarDaddy dating app:
Dating App
Key Facts
Review
Elite Meets Beauty

Active Members: 200,000
Gender Ratio: 75% men to 25% women
Average Age: 25-34 years
Pricing: Begins at $39.99/month

Visit Elite Meets Beauty
Sugarbook

Active Members: 50,000
Gender Ratio: 35% men to 65% women
Average Age: 25-34 years (33.38% of total users)
Pricing: Begins at $39.95/month

Sugarbook Review
Sugardaddie.com

Active Members: 230,000+
Gender Ratio: 56% men to 44% women
Average Age: 25-34 (28.45% of total users)
Pricing: Begins at $15.99/month

Sugardaddie.com Review
SugarDaddyMeet

Active Members: 600,000
Gender Ratio: 48% men to 52% women
Average Age: 25-34 years (28.53% of total users)
Pricing: Begins at $24.00/month

SugarDaddyMeet Review
The League

Active Members: 7.5 million
Gender Ratio: 48% men to 52% women
Average Age: 25-34 years
Pricing: Begins at $67.00/month

The League Review
Frequently Asked Questions
We really enjoyed reviewing the SugarDady dating app, and we hope we've done a good job in covering all of the important bases!
Just in case you have any concerns we didn't touch on, we've put together a list of the most frequently asked questions we've gotten from readers about the SugarDaddy dating app and about sugar dating in general!
Is the SugarDaddy Dating App Legit?
Yes! It's a legit dating app with millions of users actively searching for sugar partners. And, you aren't going to go encounter a ton of fake profiles that plague other dating apps since the customer service team screens dating profiles–but it's not a 100% guarantee that you will never come across a scammer, so keep your wits about you!
What Is a Sugar Daddy?
In general, a sugar daddy is an older gentleman who spent quite a bit of their life accumulating wealth and gaining social influence. If they are not happy with simply accumulating these possessions and want to spoil someone, they seek out a younger companion to share them with–a sugar baby.
What Is a Sugar Baby?
A sugar baby refers to a young individual, either female or male, who receives financial support and care from a sugar daddy or sugar momma in return for companionship, which may include an intimate relationship.
Is the SugarDaddy Dating App Safe?
It is! SugarDaddy ensures the safety of your personal data and information by utilizing SSL encryption. Additionally, it offers user-friendly reporting features that are helpful in monitoring user behavior. If at any time you feel unsafe while using the platform, don't hesitate to contact the customer support staff for help.
Can I Use the SugarDaddy Dating App for Free?
Signing up and creating a SugarDaddy account and dating profile is free, but if you want to communicate with other users or see their secret photos, you'll need to invest in a credit bundle. Unless you are a sugar baby–for you, everything on the dating platform is at your disposal for free.
How Do I Verify My SugarDaddy Dating App Profile?
By completing these steps, you can verify your SugarDaddy dating app profile:

• Choose the "Get Verified" button next to the site's header picture.
• Record a quick video clip that:
• Meets all applicable photo criteria
• Clearly displays your face
• Includes a recording of your voice saying the unique identification phrase that is given on the page with video verification procedures.
• Click "Upload Video" on the page that displays the directions for video verification when you are ready to submit the video.
• You will receive an email once the profile review staff has viewed the video. If your profile has been accepted, a green "Verified" icon will appear, signifying that the verification process was successful!
Can Sugar Daddies Send Money to Sugar Babies Through the SugarDaddy Dating App?
Absolutely not! According to the platform's policy, financial transactions are strictly prohibited on the dating app, and sending financial gifts to a sugar baby is not recommended–until you get to know them–since there's the risk of being scammed. The platform prioritizes the safety of its users and is exclusively designed for initially connecting sugar babies with sugar daddies–transactions can occur either beyond the dating app or in person.
Does the SugarDaddy Dating App Support Non-Heterosexual Sugar Relationships?
Nope! The SugarDaddy dating app is only for wealthy older men and young ladies can meet–it caters specifically to a particular subset of relationships that lacks representation on traditional matchmaking platforms. But there are sugar dating platforms that do foster non-straight sugar arrangements–this just isn't one of them.
Who Can Use the SugarDaddy Dating App?
Anyone above the age of 18 who agrees to the Terms and Conditions posted on the platform is welcome to join the Sugar Dating app, although if you aren't seeking a sugar relationship, you may not get much use out of creating a dating profile on this particular platform.