Our team of experts diligently research and review all of the products and services we recommend. If you buy through our links, we may receive a commission. Learn more here.
Sugardaddie.com is a well-known dating app for beautiful single women to meet their ideal sugar daddy. Our review of Sugardaddie.com revealed quickly that this kind of transactional relationship, where both parties benefit, has been more popular in recent years.
As we reviewed Sugardaddie.com, we were shocked by the number of stunning ladies looking for a sugar daddy. The number was in the thousands, and it wasn't fake profiles or scammers. We signed up for Sugardaddie.com and spoke with a diverse sampling of actual users to confirm the site's reliability.
Read on for more on the various premium membership tiers available on Sugardaddie.com, including their associated prices and a rundown of each subscription's additional benefits. We'll also explain how you can access the dating app without paying anything, how it works, and how it stacks up against paying for a premium membership.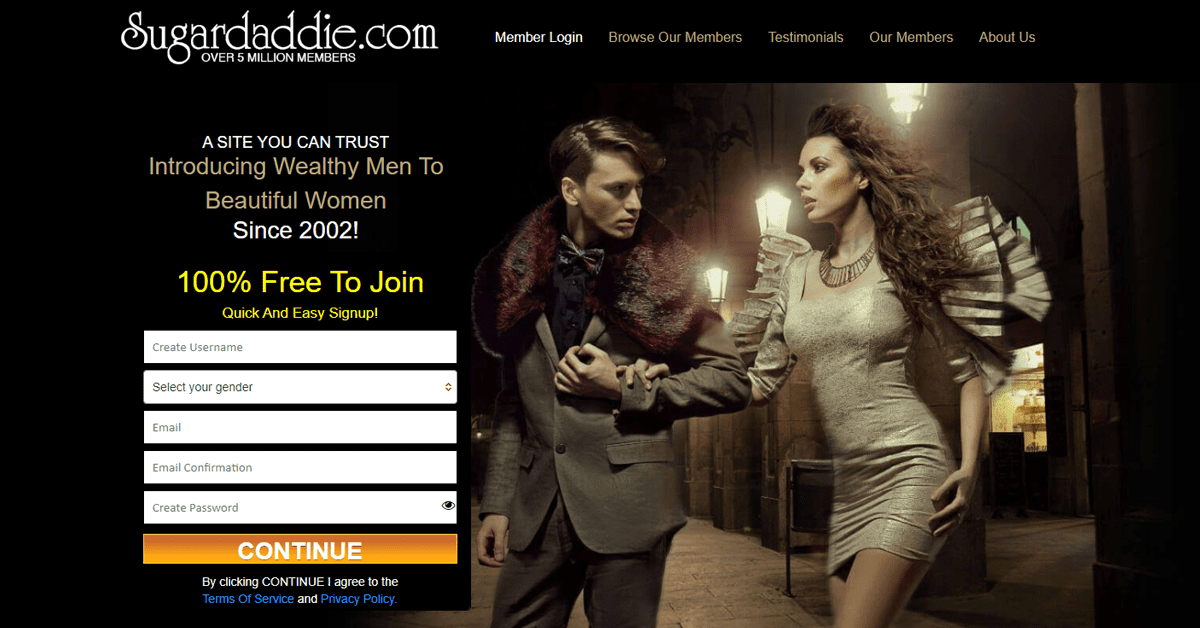 | | |
| --- | --- |
| Sign-Up Time: | 5 Minutes |
| Cost: | $15.99 – $44.99 per month |
| Membership Pool: | 230,000+ |
---
---
Our Sugardaddie.com Review App Rating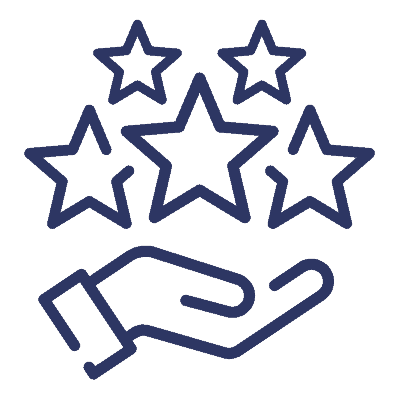 Overall Rating

Sugardaddie.com is coming in with an overall score of 4.0 out of 5!
In order to provide you with an honest and complete review of Sugardaddie.com, we owe it to you to cover both the pros and cons of their online dating app.
After examining the Sugardaddie.com app's features, its usability, the cost of membership, the quality of the daily matches, and the activity level of its members, we've concluded that this dating app comes in at a rating of 4.0/5!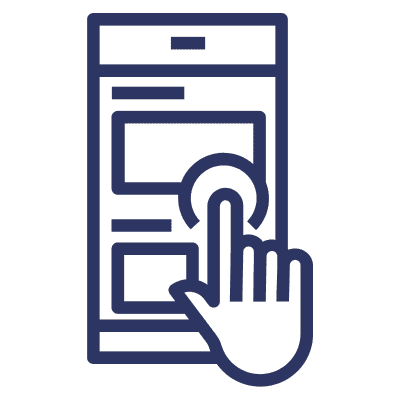 Ease of Use

While Sugardaddie.com's features are only satisfactory, we did like the inclusion of a community forum. The site has all the essentials (messaging, instant messaging, who saw me, etc.); therefore, we have no complaints in that area.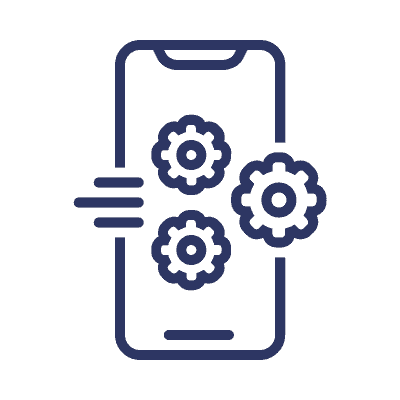 Features

Signing up on Sugardaddie.com was quick and straightforward, and navigating the site was a breeze.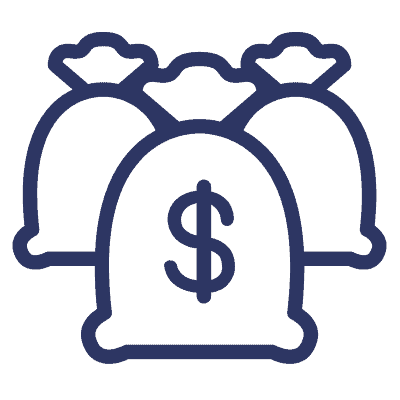 Cost


The experts who conducted our Sugardaddie.com review were particularly taken by the site's inexpensive subscription fee compared to its major rivals. Premium membership costs around $30 less per month than numerous competing services, although providing nearly identical features.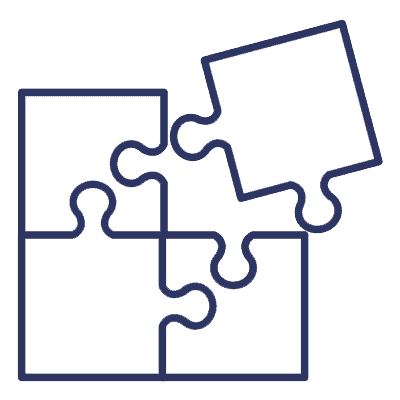 Match Quality


Our Sugardaddie.com review ranked the service's match quality lowest, mainly because it doesn't use human matchmakers. No one is "matched" with you based on your answers to determine your level of compatibility. On the site, you'll see a grid of random profile photographs from members across the nation, making it easy to explore users from your own area or elsewhere.
If you're looking for local singles, your best choice is to utilize the search function. Location, age, ethnicity, and height are just a few of the many criteria that can be used to filter potential matches. All the user's search parameters can be saved and used for future searches. While this is great, it doesn't fully compensate for the surface nature of the site profiles.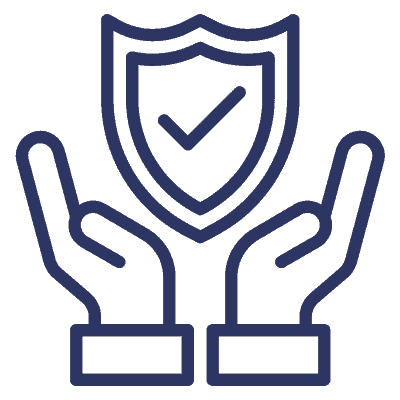 Safety and Security


Premium Sugardaddie.com users have access to various privacy-enhancing methods, such as encrypted messaging and anonymous invoicing, making it possible for them to maintain their clients' discretion.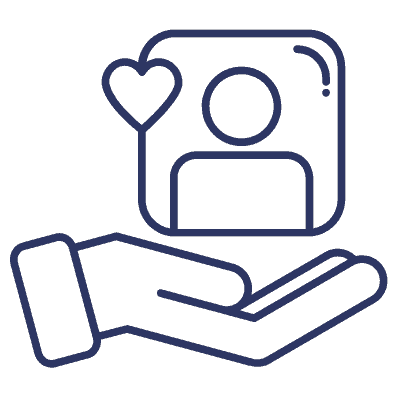 Customer Service


Our review of Sugardaddie.com showed that the platform's weakest point is its customer service. Sugardaddie.com is different from other online dating sites because it doesn't feature a comprehensive help center where you can get answers to all your queries. There is a complete absence of any valuable material.
Despite the lack of informational support for users, Sugardaddie.com does provide working hotlines in four countries. A "Contact Us" option is available in the dropdown menu directly under your username in the upper right corner of the site, in case you'd rather not make a phone call. Clicking this link will take you to a form where you can submit an issue description and get assistance from the service.
Overview of Sugardaddie.com
Straight singles looking for a particular kind of connection might find what they're looking for at Sugardaddie.com. This platform connects older, financially secure men with beautiful young ladies looking for long-term partnerships. Sugar daddy relationships include a male financially supporting a woman, known as a Sugar Baby, in return for emotional and sexual support from the Sugar Daddy.
Sugardaddie.com Fast Facts
Year Founded: 2002
Total Members: 230,000+
Average Age: 25-34 (28.45% of total users)
Gender Ratio: 30% men to 70% women
Women aged 18–25 make up the website's most active user base. The average age range of the males on the site is 34 to 55.
Premium Membership Subscriptions and Prices
If you're considering upgrading to a premium membership, the first 24 hours after joining the dating app is the best time to do it. All membership tiers have an introductory price reduction for the first several months, and you will also get the same premium features for each plan.
| Package | Length | Price Per Month | Total Cost |
| --- | --- | --- | --- |
| Bronze Package | 1 month | $44.99 | $44.99 |
| Silver Package | 3 months | $29.99 | $89.97 |
| Gold Package | 6 months | $24.99 | $149.94 |
| Platinum Package | 12 months | $15.99 | $191.88 |
First 24 Hours Pricing
If you're thinking about upgrading to a premium membership, the first 24 hours after joining the dating app is the best time to do it. All membership tiers have an introductory price reduction for the first several months. The first-day subscription rates are shown below.
| Package | Length | Price Per Month | Total Cost |
| --- | --- | --- | --- |
| Bronze Package | 1 month | $39.99 | $39.99 |
| Silver Package | 3 months | $26.66 | $79.99 |
| Gold Package | 6 months | $22.49 | $134.99 |
| Platinum Package | 12 months | $14.16 | $169.99 |
After the limited-time discount period ends, the prices of the premium membership tiers will return to their previous levels. Even if it's just a few dollars a month, the difference becomes significant when looking at the overall cost of some of the lengthier plans.
Sugardaddie.com is one of the only dating sites that will allow you to pay off the total price of the membership in up to 4 monthly installments. Most require the entire payment upfront.
Free Trial and Premium Features
The free memberships offered by Sugardaddie.com provide access to the site with restricted functionality; the service does not provide free trial promos.
As a marketing strategy, offering a free trial allows new consumers to try out all the premium membership features for a limited time. Typically, you should expect to wait between three and seven days. However, a potential member must provide payment information before the trial period may begin. If they don't cancel before the trial ends, their account will be converted into a paid subscription, and they'll be charged the full price of the service to the payment method on file.
All standard members of Sugardaddie.com get unlimited access to creating profiles, uploading images, and browsing the profiles of other members at no cost. They will only need to know your credit card details once you decide to pay for a premium membership. The main drawback of the no-cost version is that you can't communicate with other users through private messaging or live chat. Even the community forum is off-limits to you.
In other words, as a free user, you can view the profiles of men and women waiting for you on the dating app, but you will only be able to communicate with them once you upgrade to a paid membership. Try out the service for free for a few days to see whether it's worth it to you, and if it is, go ahead and sign up for a membership.
Standard (Free Trial) Features
Create your profile
Upload Photos
Search Membership Pool
See Members' Photos
Meet My Match
See who's viewed your profile.
Favorite profiles you like
Premium Membership Features
Send and Receive Messages
This is a must-have feature, in our opinion–what's the point of being on a dating app if you can't communicate with other members?
Comment in Forum
Sugardaddie.com has an active forum. Members may talk about anything in the main forum, and there are subforums for Art, Comedy, Books, Outdoor Activities, Politics, and more.
Who Viewed Me
This feature allows members to see who has looked at their profile, which is handy if you want to know whether you wish to return the favor!
Favorite Members' Profiles
This feature lets you "favorite" another user's profile in order to let them know you are interested!
Meet My Match
Meet My Match uses a swipe-based matching carousel. Each profile shows its primary picture, username, age, and location. The website asks, "Is (Insert Username Here) a good match for you?"

Do Sugardaddie.com Memberships Renew Automatically?
Your subscription to Sugardaddie.com will be automatically renewed. Click "My Account" and then "Billing History and Credit Card Info" if you wish to cancel your subscription. Navigate to the section where you can turn off automatic renewal. As a result, your subscription will no longer renew automatically.
Should You Join Sugardaddie.com?
When it comes to facilitating long-lasting, mutually beneficial partnerships, Sugardaddies.com is unparalleled. It's always free for sugar babies to utilize the site. Premium sugar daddies have access to a number of privacy-enhancing tools, including encrypted communications and anonymous billing. Sugardaddie.com's sophisticated search tools allow sugar daddies to narrow their options and choose the most compatible sugar babies. The sugar daddy's favorite list serves as his address book on Sugardaddie.com, collecting all the contact information of the women he finds appealing.
Reasons to Join
In this review, we will share what we found by using the Sugardaddie.com app. We'll go through some of the benefits of joining the platform as well as some of the drawbacks. You can use these to help decide whether SugarDaddie.com fits your needs.
Large Active User Base
Since Sugardaddie.com has over five million users, members have a wide range of possible partners from which to choose. Sugardaddie.com is an excellent option if you want to meet a lot of potential dates.
Innovative Features
Meet My Match on Sugardaddie.com is one of the most exciting features of the dating app.
You could think of Meet My Match as a carousel-style matching feature, somewhat like swipe-based dating apps. Individual profiles are shown one at a time, giving you a glimpse of the person's primary picture, username, age range, and geographical area. The website asks, "Is (Insert Username Here) a good match for you?" to the right of each profile.
Easy Sign-up Process
The signup process on Sugardaddie.com is among the quickest and most straightforward you'll encounter in the online dating world. There is no in-depth personality test or extensive profiles to go through; just a few blanks to fill in, a few photos to submit, and a phrase or two about yourself.
Affordable Pricing
Particularly pleasing to the reviewers of Sugardaddie.com was the dating site's relatively cheap membership fee compared to its primary competitors. Despite providing almost identical features, premium membership costs around $30 less per month than several sites of a similar type.
Reasons Not to Join
We found several positives in our review of the Sugardaddie.com dating app, but we also found a few downsides.
Fair Number of Fake Accounts
Eventually, you'll have to deal with phony accounts on Sugardaddie.com, just like any other dating app. Unfortunately, Sugardaddie.com hasn't kept an eye on things as strictly as they should have been. Many users have complained about being harassed by spam bots or coupled with fraudulent accounts.
Lack of Customer Service
According to our Sugardaddie.com review, the dating service's lack of customer service is its biggest drawback. Sugardaddie.com, in contrast to other online dating sites, does not have a comprehensive FAQ section with articles and instructions covering a wide range of topics. As of right now, there are zero useful resources available.
Match Quality
The match quality received the lowest grades in our Sugardaddie.com review, mostly because there is no matchmaking. No " matches " are made based on personality tests or mathematical formulas designed to determine if two people are likely to get along.
Profile Search Function
Using the search option to locate singles in your region is your best chance. Location, age, ethnicity, height, and other personal characteristics that users submit while establishing their profiles may all have restrictions. Additionally, users may store their searches and come back to them later. This is nice; however, it doesn't really make up for the disregard shown for the profiles on the site.
The Sign-up Process
As promised, we'll take you through the entire Sugardaddie.com signup process so you know what to expect. Here's a step-by-step walkthrough of everything from account creation to profile development and communicating with other members.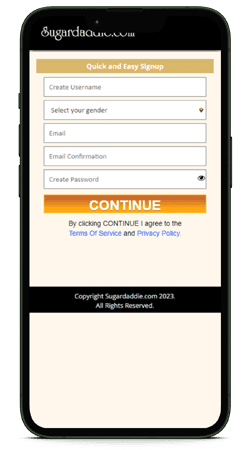 Step #1: Create an Account
The first step in the process is to create an account. Simply provide a Username, Gender, Email Address, and Password of your choosing. The gender section of the dating app labels men as "Sugar Daddies" and women as "Sugar Babes," demonstrating that it does not encourage connections between older, wealthy women and younger men. Cougars and Sugar Mommas are not found here.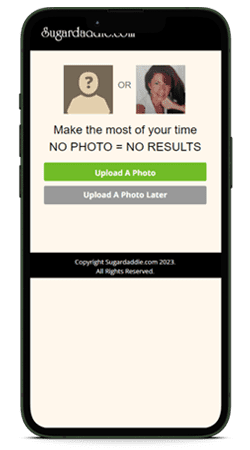 Step #2: Upload a Profile Photo
You are given a choice to add a primary profile picture after creating your account. You can do this immediately or go on to the next step and upload a photo later.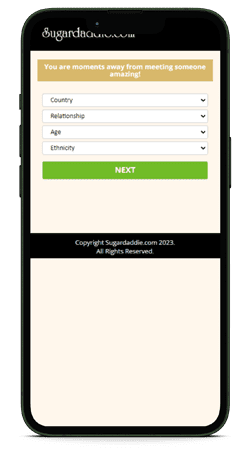 Step #3: Enter Basic Information
Since this is a sugar dating service, it only makes sense that they start with the money questions right away. Your location, relationship, age, ethnicity, annual salary, and projected net worth are also entered on this page.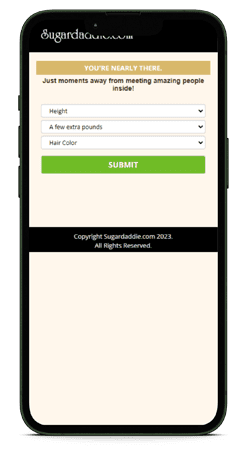 Step #4: Enter Physical Information
Now, enter the following three fundamental physical characteristics: height, body type, and hair color.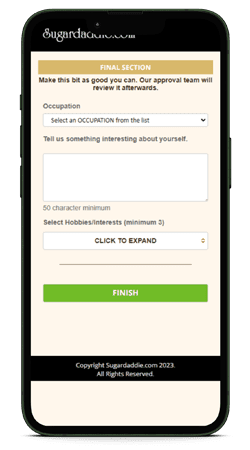 Step #5: Your Personal Summary
You've nearly reached the finish line. Select a profession from the list, and then fill out a short bio about yourself in the profile's last part. Read some of our dating posts to learn how to make an excellent first impression.
After you've finished describing who you are, pick at least three activities that you enjoy. Since other members will use anything you have in common to initiate conversation, you should choose at least five.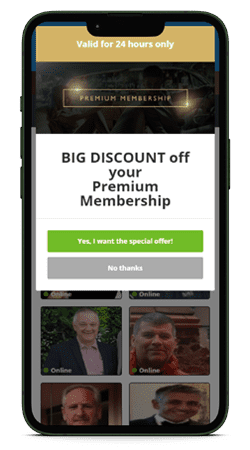 Step #6: Congratulations, You've Finished Creating Your Profile!
So now the clock is ticking on your premium membership discount for the next 24 hours. Before you get to the main website, Sugardaddie.com will display a popup like the one below, giving you a chance to take advantage of the deal right now.
Step #7: Start Looking for Singles
At last, you will be brought to your homepage, where you may browse a grid of thumbnails showing other new members just like you. Unfortunately, there's no real organization to the members you're shown. If you want to see profiles that are actually nearby, you'll need to search for them.
Step #8: Complete Your Search
The last step is to complete your search on Sugardaddie.com. Keep looking through profiles until you find a handful you like before upgrading your membership. Make a list of your favorite ones. When you upgrade to a paid account and can finally send messages, you'll know where to look.
How to set your search filters: Navigate to the site's search bar by selecting it from the navigation bar. Selecting this link loads the site's search bar. You may narrow your search using the options on the left side of the page. The profiles on the right will update as you adjust the settings on the left.
Alternatives to Sugardaddie.com
Is Sugardaddie.com not your cup of tea? You do not need to worry. If you aren't content with one sugar daddy app, numerous others are out there. Maybe you'd have better luck with one of these online dating apps:
Dating App
Key Facts
Free Trial
SugarDaddy.com

• Number of Users: 230,000+
• Gender Ratio: 56% men to 44% women
• Average Age: 25-34 (28.45% of total users)
• Pricing: Begins at $59.00 per 100 credits

Start Your Free Trial!
Elite Singles

• Number of Users: 2+ million
• Gender Ratio: 44% men and 56% women
• Average Age: 25-34 years (21.44% of total users)
• Pricing: Begins at $31.95 per month

Start Your Free Trial!
Seeking.com

• Number of Users: 1.3 million
• Gender Ratio: 60% men to 40% women
• Average Age: 25-34 years (31.82% of total users)
• Pricing: Begins at $96.66 per month

Start Your Free Trial!
Sugarbook

• Number of Users: 50,000
• Gender Ratio: 35% men to 65% women
• Average Age: 25-34 years (33.38% of total users)
• Pricing: Begins at $39.95 per month

Start Your Free Trial!
SugarDaddyMeet

• Number of Users: 600,000
• Gender Ratio: 48% men to 52% women
• Average Age: 25-34 years (28.53% of total users)
• Pricing: Begins at $24.00 per month

Start Your Free Trial!
EliteMeetsBeauty

• Number of Users: 200,000
• Gender Ratio: 75% men to 25% women
• Average Age: 25-34 years
• Pricing: Begins at $14.99 per month

Start Your Free Trial!
Frequently Asked Questions About Sugardaddie.com
We tried to be as comprehensive as possible, but we also know our review of Sugardaddie.com may have left you with additional questions. Please let us know on the contact page if we've missed anything. In the meantime, here are answers to some of the most frequently asked questions we've received about Sugardaddie.com and "Sugar Dating."
How Does Sugar Dating Work?
Depending on the nature of your agreement, your "sugar baby" or "sugar Daddy" may treat you differently. The goal of sugar dating, which is essentially identical to ordinary dating, is to provide both parties with a genuine girlfriend-like experience.

The main difference between ordinary dating and sugar dating is that sugar daters meet potential sugar partners using online dating sites like SugarDaddy or SugarDaddyMeet rather than common apps like Tinder. Once you've found someone you believe might be a good match, you can schedule a date to see whether you are compatible.
How Old Are Sugar Daddies?
It is hard to generalize about sugar daddies since every individual is unique in their qualities and needs. Data, however, is quite revealing in what it says about sugar dating site users. Thus, a "typical" sugar daddy would be extremely wealthy in his early or late 40s.

At the same time, each year, more young men enter the realm of sugar dating. Apparently, men in their 30s make up the largest age group, with roughly two million members, according to data.
Are Sugar Daddies Legal?
Yes! Contrary to prostitution and solicitation, sugar relationships are not regulated nor prohibited in the US. There is a little difference in the definition and requirements of a connection. The majority of state statutes define prostitution and solicitation specifically to include planned sexual activity (intercourse) for compensation. If the loosest interpretation were used, many relationships, including marriages, where one person is more successful than the other, may be considered as a sort of solicitation, according to some.

Conversely, sexual activity isn't always included in sugar relationships; even when it is, there are often other dating activities. Even pay-per-meeting contracts are legal since they often include non-sexual interactions of some type. Additionally, some affluent men become "experience daddies," giving away gifts, fine dining, and travel opportunities instead of money.
What Is a Sugar Baby?
A young woman is referred to as a "sugar baby" if she dates an older man and either takes care of his physical needs or keeps him company. She does this in exchange for gifts, outings, opportunities to network with people in high society, and other advantages.
What's the Best Sugar Daddy Dating App?
One of the best online dating services for sugar relationships is SugarDaddy.com, which we highly recommend joining. There is a large number of members, and the premium features are excellent.
Are Sugar Daddy Dating Apps Free?
While sugar daddies are expected to pay for these dating apps, sugar babies often get access to them at no cost. All of these apps have free trials, but they come with significant limitations. Anyone who wants to use the site may sign up by making a profile and an account.