Our team of experts diligently research and review all of the products and services we recommend. If you buy through our links, we may receive a commission. Learn more here.
Everyone wins when sugar babies and affluent daddies connect via the online dating app Sugarbook. It's meant to be a place where like-minded people can connect and form mutually beneficial relationships.
Because it enables users to establish and sustain healthy, modern relationships, Sugarbook is a successful dating app. You can sign up whether you're a sugar daddy, sugar baby, or sugar momma to discover a relationship that's advantageous to both parties. The app's flexible features allow users to look for potential matches, but it's important to remember that only premium paying members can message one another. How does it function, and perhaps more importantly, does it work? In our complete review of the Sugarbook dating app for 2023, we seek to discover just that!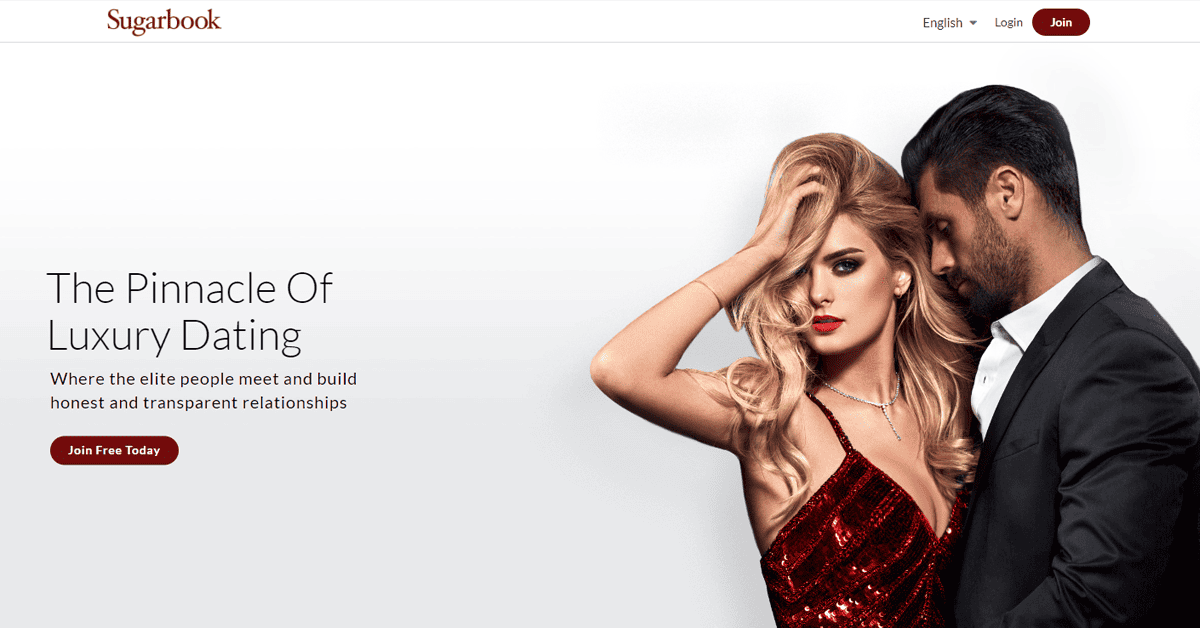 | | |
| --- | --- |
| Sign-Up Time: | 5 minutes |
| Cost: | $39.95 – $71.90 per month |
| Membership Pool: | 700,000 |
---
---
Our Sugarbook App Rating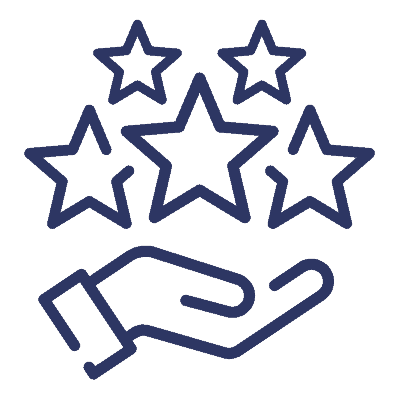 Overall Rating

Sugarbook is coming in with an overall score of 4.0 out of 5!
We examined the major pros and cons of the Sugarbook dating app to bring you the most honest and accurate review possible. There were 6 key categories that we went over to arrive at an overall rating for Sugarbook: features, usability, daily matches, cost of membership, active members, and customer service.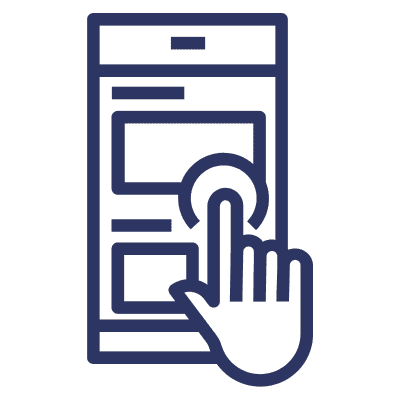 Ease of Use

The easy-to-navigate and intuitive interface has been designed for mobile users so that the content can be seen on any device, and the app can be downloaded from the Google Play store and the Apple App Store.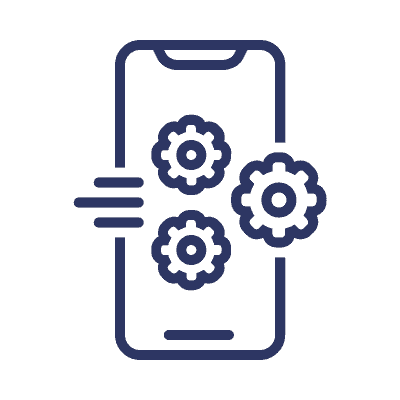 Features

When you upgrade to a paid membership, you get access to exclusive perks and features like unlimited messaging, the ability to search for sugar babies in other countries, and access to the profiles of the people who have shown interest in you. An additional benefit of a paid membership is the ability to hide your profile and choose who can access your information.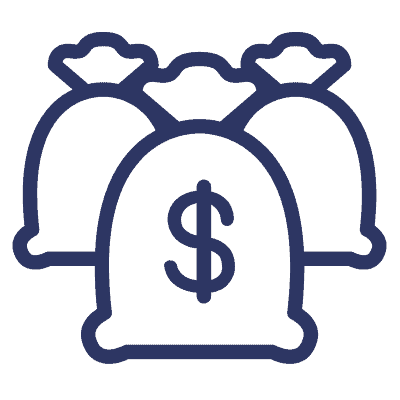 Cost


Compared to the other sugar daddy dating apps we've tried, Sugarbook is neither the cheapest nor the most expensive option. There are three different paid Sugarbook plans available, and the benefits are the same regardless of the length of time you have access–memberships may be purchased for 1, 3, or 6 months.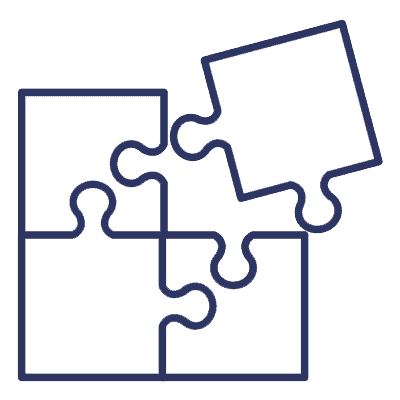 Match Quality


Sugar babies, who are often in their early to mid-30s, outweigh sugar daddies, who are in their mid-20s to early 50s, by a wide margin on Sugarbaby. Most sugar babies on this dating app are college students using the Student Program, and as a whole, the numbers show that there is a lot of competition for sugar babies, making the role challenging. But if you're a sugar daddy, you'll have your pick of the litter.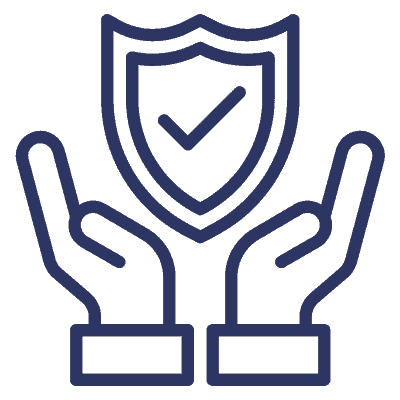 Safety and Security


The administration of SugarBook places a premium on the security of its users. This is why all sugar daddies must go through 24-hour verification when signing up; during this time frame, admins will examine all newly created male accounts to ensure they are authentic and unrelated to any spam or fraudulent activity.
The platform assures the safety of its members by measures such as secure payment methods and great regard for the privacy of its users, making Sugar Book a trustworthy sugar dating app.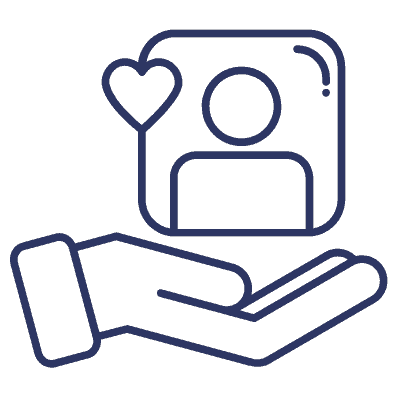 Customer Service


In the event of any issues, you can ask the helpful customer service staff for assistance by sending an email to support@sugarbook.com or checking out its comprehensive Frequently Asked Questions (FAQ) section, where you can get answers to a wide range of queries and solutions to common issues.
Overview of Sugarbook
With bold advertising and one-of-a-kind events, Sugarbook, a Malaysian startup created in 2017 by serial entrepreneur Darren Chan, quickly gained attention. Provocative advertisements on television and billboards helped boost the sugar dating app's popularity. Sugarbook has quickly become a frontrunner in the market because of its broad spectrum of features and advantages.
Sugarbook Fast Facts
Year Founded: 2017
There is a live streaming feature on Sugarbook where you can talk to possible sugar daddies, babies, and mommas
Average User Age: 25-34 years
Gender Ratio: 65% men to 35% women
Sugarbook users tend to be between the ages of 25 and 34, and the male-to-female membership ratio is around 65% to 35%. Over 700,000 sugar babies and sugar daddies use Sugarbook every month.
Premium Membership Subscriptions and Prices
When viewed alongside other sugar daddy dating apps we've tested, Sugarbook isn't the cheapest option, but neither is it ridiculously overpriced. Sugarbook has three different paid subscription tiers. The advantages remain the same, regardless of the duration of your access. One, three, or six-month memberships are available. See the included chart for a detailed cost analysis.
⠀1-Month Membership
1 Month
$71.90
---
Price Per Month: $71.90
Total Membership Cost: $71.90
---
All Standard Features
Every Plan Has the Same Premium Features
3-Month Membership
3 Months
$55.95
---
Price Per Month: $55.95
Total Membership Cost: $167.85
---
All Standard Features
Every Plan Has the Same Premium Features
6-Month Membership
6 Months
$39.95
---
Price Per Month: $39.95
Total Membership Cost: $239.70
---
All Standard Features
Every Plan Has the Same Premium Features
Sugarbook accepts all major credit cards, debit cards, and also Google Pay for payments from Android users and is now accepting payment using bitcoins, and your subscription will be automatically renewed. So that your financial information stays secure, all payments made to Sovrnt Ltd. * PAY@SGRBK.COM or CCBill.com *SGRBOOK will display on your credit card statement as "CCBill.com *SGRBOOK."
When compared to other dating apps, Sugarbook differs in that you can spread out the cost of your subscription over up to four monthly payments.
Sugarbook Free Trial and Premium Features
Although a free account is available, it only gives you the ability to use a subset of what Sugarbook has to offer. Free trials are a kind of advertising that gives prospective buyers a taste of what a paid membership has to offer, often for a week. However, before the trial can begin, the potential member must supply a valid form of payment. Customers will be charged the total amount of the service using the payment method on file if they do not cancel their account before the trial period ends.
Sugarbook DOES provide free premium accounts to women in higher education with enrollment verification. The same does not apply to male college students, however.
Standard (Free) Features
Register as a user
Create a profile
Search for potential matches
Message other members who you have favorited and who have favorited you
Premium Membership Features
Unlimited Messaging
For us, the primary benefit of paying for a membership on a dating app is the ability to message anybody, and premium Sugarbook users have access to this feature.
Despite having better regular messaging tools than other dating apps, the only method to really communicate with another member is if they favorite your profile and you favorite theirs. Its messaging features aren't as restrictive as those of other dating apps, but they still fall short of expectations. With a premium subscription, you won't have to worry about any of that.
Advanced Search Filters
Sugarbook already has some fantastic search parameters built in, but more are always appreciated. As a member, you are entitled to that benefit–this allows you to zero in on the most relevant results in your searches. Adding too many search filters might lead to fewer or even no matches on a specialized site like Sugarbook, especially if you don't live in a large city.
Read Receipts
Worrying that your virtual partner hasn't seen your messages is one of the most frustrating aspects of using a dating app. Sugarbook's premium members have access to time-saving features like read notifications, so if someone fails to respond to your message, you'll know you're not their type and can stop wasting your time trying to connect with them.
Student Program
If a female student signs up for a premium account using her school email address or ID, she will get a free premium membership. We love this feature since it makes it easier for students to find possible sugar daddies because who isn't short on cash while pursuing their higher education?
24-hour Approval Scheme
Good news for sugar daddies; Sugarbook has decided to increase its member verification process. By taking this approach, sugar daddies can feel confident that the investment they make in a sugar baby is legitimate.
Access to Relationship Terms
By making all Terms of Relationships for every sugar baby available to users, the premium membership tier increases the likelihood of members finding compatible sugar babies and sugar daddies.
Livestream Gifts
Unfortunately, the gift amounts range from 75 to 10,000 coins, which is a little steep for us, so we weren't able to fully explore the SugarBook function for sending requests and gifts to live streamers in the time we had. But from what we saw, it appears to be a fun and unique feature!
Coins
By paying for a premium membership, sugar daddies receive access to Sugarbook's exclusive amenities, and viewers can utilize coins to interact with and tip live broadcasters.
200 coins for $1.00
500 coins for $2.49
1,000 coins for $4.99
2,000 coins for 9.99
6,113 coins for $26.99
12,250 coins for $53.99
21,177 coins for $84.99
88,888 coins for $319.99
Do Sugarbook Memberships Renew Automatically?
To answer your question, premium Sugarbook memberships are automatically renewed unless a cancellation request is received at least one week before the renewal date. Keep in mind that you will still be billed even if you delete the Sugarbook app from your mobile device. You must contact the relevant payment processor to terminate your subscription.
Should You Join Sugarbook?
If you are interested in mixing up your life and are tired of the same old relationship, this dating app is an excellent spot to find a sugar arrangement. Along with a high level of security and an excellent pool of women, you will have access to many single sugar babies, some of whom are sure to captivate you.
We can't say that there is a wide variety of communication options, but let's be frank: when you find a woman intriguing enough to warrant an in-person meeting, you cease making use of messaging services.
We have no question that Sugarbook is an excellent dating app with many attractive people and top-notch security mechanisms.
Reasons to Join
So that you are able to determine whether or not to join Sugarbook, read on for the full details of our experiences with the dating app, as well as a summary of its benefits and drawbacks. However, we hope the following information will convince you to try the Sugarbook dating app!
Mobile App for Both Apple and Android Users
The smartphone app can be downloaded from the Google Play store as well as the Apple App Store, and the website has been optimized for mobile use, making it possible to view the content on any device.
Free for Female Undergrads
If a female student uses her school email address or ID to sign up for a premium account, she will be eligible for a free premium membership. We really like this function since it makes it simpler for students to locate potential sugar daddies. After all, who among them isn't looking for extra income while trying to get their degree?
24-hour Approval Scheme
In a move that should please sugar arrangement seekers, Sugarbook decided to tighten up its member verification procedure. By taking this precaution, sugar daddies can make certain that their financial commitment to a sugar baby is sound.
Access to Relationship Terms
The premium membership tier improves the chances of members discovering matching sugar babies and sugar daddies by making all Terms of Relationships for every sugar baby accessible to users.
Reasons Not to Join
We discovered that there are benefits to joining the Sugarbook dating app, but there are also some drawbacks, which we explain below.
No Matching Algorithm
While some dating apps employ science-based matching algorithms and in-depth personality testing to match compatible singles, Sugarbook relies on personal preferences and search filters. This leaves the heavy lifting to the members to browse and whittle down their choices.
Subscriptions are Hard to Cancel
Even after you deactivate your account, your membership will remain active and will be paid until you cancel it with the appropriate payment processor. This means that instead of being able to cancel your membership within the dating app or on the site, you have to contact your payment processor, and that's kind of a pain.
Fake Profiles
Even though there are rigorous vetting techniques in place for the men on Sugarbook, they aren't as strict for women joining the dating app, so some fake profiles are floating around, just as with any other dating app.
Subscriptions Automatically Renew
Sugarbook's membership packages are set up to renew when they near their expiration date automatically; we don't have an issue with this, but we do know that a lot of our readers have an intense aversion to auto-renewal.
The Sugarbook Dating App's Sign-up Process
Sugarbook is totally free for both Sugar Daddies and Sugar Babies to join, and the signup process only takes a few minutes. Below you'll find detailed instructions for signing up for Sugarbook and setting up your account from start to finish!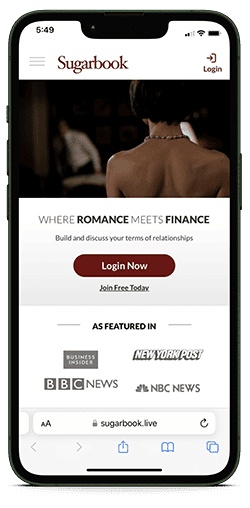 Step 1: Visit Sugarbook's Homepage
Head to Sugarbook.com to get started and click the "Join Free Today" button.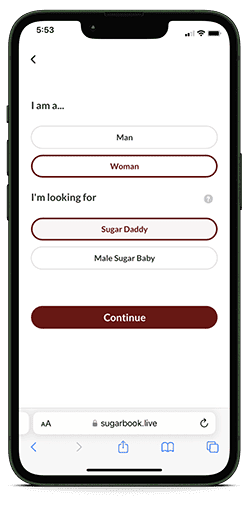 Step 2: Select Your Gender and What Gender You Are Interested In
Tell Sugarbook your gender; the two choices are man and woman, and then select what you are looking for on the dating site. The options are "Sugar Dady" and "Male Sugar Baby." Then click the continue button to move to the next step!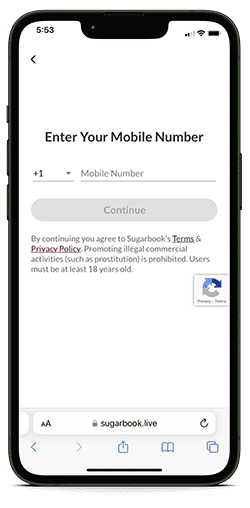 Steps 3 and 4: Type and Verify Your Mobile Phone Number
In order to register for a Sugarbook account, users must provide a valid mobile phone number and agree to the site's terms and privacy policy; by clicking the Continue button, you are agreeing to the terms stated.
Enter the six-digit verification code sent to your mobile phone to move on to the next step.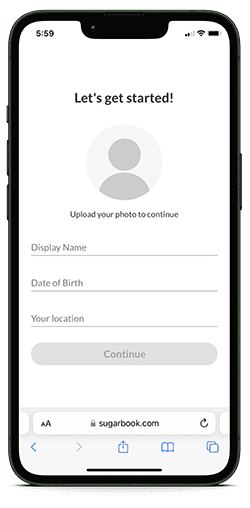 Steps 5 and 6: Create a New Account (Add Basic Info)
Enter your email address and a unique password, and then click the "Sign Up" button.
Now it is time to start building your Sugarbook profile, which requires you to upload a photo, your display name, date of birth, and your location.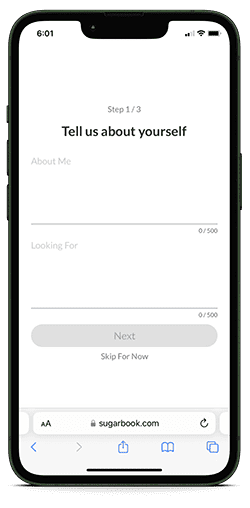 Step 7: Enter What You're Searching For
Tell Sugarbook about yourself and what you are looking for in the fields provided, or you can skip this step if you prefer. We always advise our readers to be as thorough and detailed as possible when creating a profile, as it leads to much more compatible matches!
Step 8: Arrangements and Appearance
At this step, you'll enter the basics about your appearance and what your monthly spending habits are, i.e., how much money you would expect from a sugar daddy per month.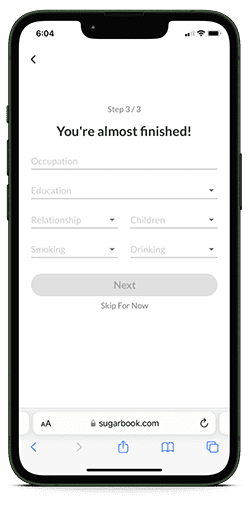 Step 9: Enter Basic Lifestyle Info
Enter your occupation, education level, relationship status, if you have children, and your drinking and smoking habits.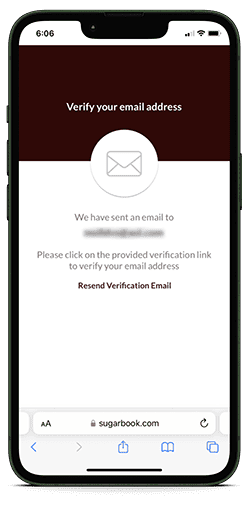 Steps 10 and 11: Verify Your Email and Start Browsing
Verify your email address by clicking on the link that was sent to your inbox.
After you verify your email address and Sugarbook approves your photo (which can take up to 24 hours), you can start searching for a sugar partner!
Alternatives to the Sugarbook Dating App
If you don't believe you'll find what you're looking for on Sugarbook, don't panic! There are plenty of other dating apps and sugar dating apps out there. Perhaps one of the following dating apps would be more your style.
Dating App
Key Facts
More Info
Elite Singles

Active Members: 2+ million
Gender Ratio: 44% men to 56% women
Average Age: 25-34 years (21.44% of total users)

Elite Singles Review
Seeking.com

Active Members: 3 million
Gender Ratio: 60% men to 40% women
Average Age: 25-34 years (31.82% of total users)

Seeking.com Review
Eharmony

Active Members: 16+ million
Gender Ratio: 48% men and 52% women
Average Age: 30-49 years (48.6% of total users)

eharmony Review
Frequently Asked Questions about Sugarbook
By providing in-depth reviews, we attempt to alleviate the fears of our readers about online dating apps. Below, we've included answers to some of the most frequently asked questions we've received from readers in case we overlooked anything in our examination of Sugarbook.
Is Sugarbook a Legitimate Dating App?
Sugarbook. Bhd. is a Malaysian company managed by Endeavor Standard Sdn. The dating app has a trustworthy reputation, users report having pleasant exchanges with members, and there is generally positive user feedback.
What Exactly Is Sugarbook?
Sugarbook is a premium dating platform that connects "Sugar Babies" from all over the globe to wealthy "Sugar Daddies" from all over the world.
Is Sugarbook a Safe and Secure Dating App?
Yes, as Sugarbook uses cutting-edge encryption technology to keep your personal information and payment card details safe as you browse for potential partners.
Is There a Sugarbook Mobile Dating App?
There sure is! The app is accessible in the Google Play store, and the Apple App Store, and the website is mobile-friendly so that you can access it from any device.
Does Sugarbook Provide Refunds for Membership Subscriptions?
You are only eligible for a refund if your conduct on the platform has been entirely lawful and ethical. In all other cases, the dating app will not provide a full or partial refund.
Will Subscription Charges Continue After I Delete My Account?
Your subscription will continue to be charged until you cancel it with the relevant payment processor, even if you delete your account.
How Do I Get a Sugarbook Dating App Premium Membership for Free?
If you want the upgraded College Sugar Baby, you'll need to change your account's email address to your school's official email address. A common ending for these types of addresses is ".edu."
How Long Does It Take For Profile Approval?
Your profile and photo may not be approved for up to 24 hours. However, if the dating app is really busy, the whole process might take up to 48 hours.
If My Photos Were Not Approved, How Can I Verify My Identity?
You can send Sugarbook a copy of your photo ID, and they will gladly verify it. Since they just need to see your photo, you can safeguard your anonymity by obscuring your identifying information. You can upload the photo and email it to support@sugarbook.com.
How Do I Contact Sugarbook?
If you have a question or concern that isn't answered in the Sugarbook FAQ section, you can email customer support staff anytime at support@sugarbook.com.