Our team of experts diligently research and review all of the products and services we recommend. If you buy through our links, we may receive a commission. Learn more here.
Another day, another sugar daddy dating app! The reason there are so many is that there is obviously something to it–why else would so many people be searching for mutually beneficial relationships online? Enter Millionaire Love!
Today we are going to find out everything about the Millionaire Love dating app–if it's legit, safe, what it offers–all the good stuff you'll need to know to see if this is the dating platform for you! We don't want to direct a sugar baby to an app where the pretend sugar daddies hang out.
As far as we can tell, there are no Splenda daddies (someone who purports to be a sugar daddy but lacks the financial means to do so) on this platform, so let's get right into our complete review of the Millionaire Love dating app review for 2023!
| | |
| --- | --- |
| Sign-Up Time: | 10 minutes or less |
| Cost: | $0.29 – $0.59 per credit |
| Membership Pool: | 1+ million |
---
---
Our Millionaire Love Dating App Rating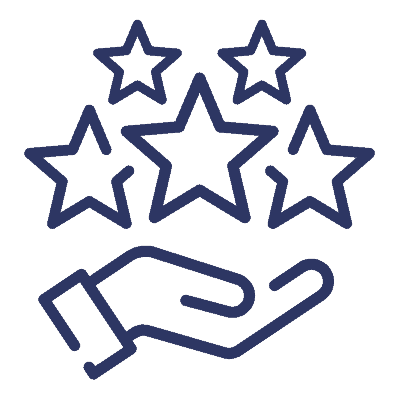 Overall Rating

Millionaire Love is coming in with an overall score of 3.9 out of 5!
When we review a dating app, we put it through the paces–that means rating everything from beneficial features to customer service–and rate each category on a scale of 1 to 5.
The Millionaire Love dating app has a lot of things going for it in terms of ease of use, features, cost, customer support, and match quality! Keep scrolling to see how Millionare Love fared with our rating system and for a breakdown of each category and why they received the ratings we gave them.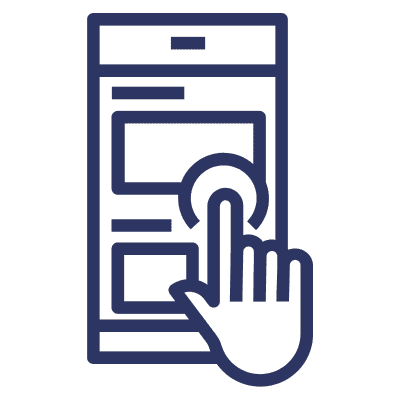 Ease of Use

The interface and design of Millionaire Love strike an optimal mix between sophistication and accessibility, providing a chic and straightforward service for wealthy sugar daddies and sugar babies seeking them. The fonts are simple and sophisticated, and we like how the designers keep blank areas in the UI, helping keep things from looking too busy.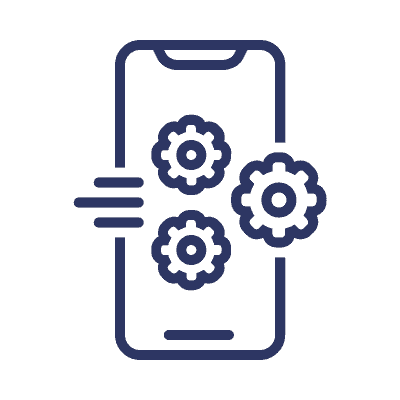 Features

The most frequently used features, like messages and profile settings, are all conveniently located on the home screen, and there is a decent-sized profile image for each profile, as well as fields for personal data, hobbies, and lifestyle choices. And while there aren't a lot of innovative features on the app, we do like the secret photo albums, the instant chat messaging, and the Top Admirer perks!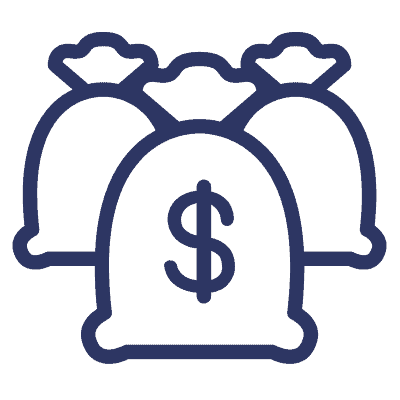 Cost


We really like that there is no recurring monthly cost to use the Millionaire Love dating app, making it unique from other dating apps–the platform instead utilizes a credit-based package structure, allowing users to make purchases for premium features on an as-needed basis. With the credit system in place, users can decide how much money they want to spend on the dating app and only pay for the premium features they use.
And your credits will always be there for you when you come back to the app, even if you take a break from dating!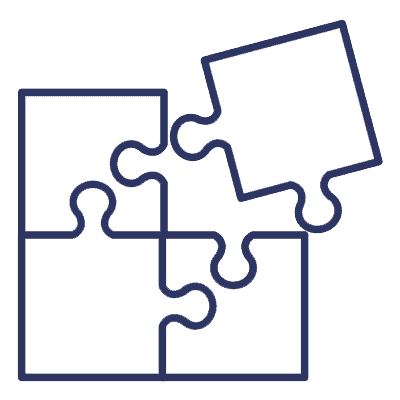 Match Quality


Finding a match is not a challenge on the website, as the dating platform was intended to be an easy way for millionaires and wealthy men to find beautiful dates and vice versa. After registration, you can use the location filter and scroll matches near you, or you can check out more options by changing the filter. Also, the search tool allows you to narrow the base of members to the list of persons you'd really like to date.
After you find someone you like, you can add a profile or several to the list of favorites or use the message feature right away. When you select people to contact, remember that most honest daters have verification videos, share some data about themselves, accept private photo requests, and have a few pics posted.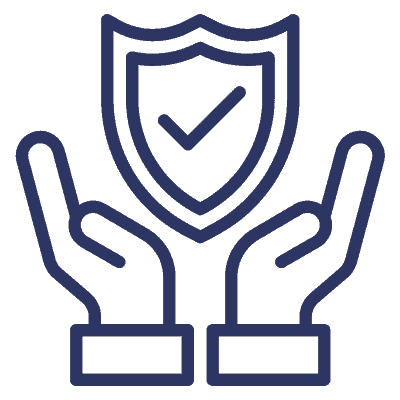 Safety and Security


As long as you take the usual precautions and use common sense, Millionaire Love is as safe as any other dating app community! You can visit the Millionaire Love site for safety tips on online dating.
Millionaire Love does not conduct background checks on its members for a number of reasons, including their right to privacy and the diversity of the services they require and those they can provide.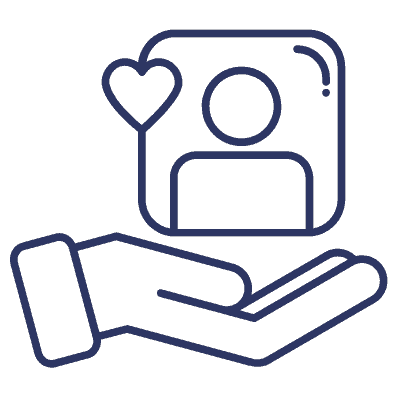 Customer Service


Once you've bought credits, Millionaire Love throws in priority customer support. You can connect with the support team by phone chat (which we like), via email, or live chat at any time of day or night, every day of the year. Additionally, a comprehensive Frequently Asked Questions (FAQ) section addresses the most common issues.
Overview of the Millionaire Love Dating App
Founded in 2003, the Millionaire Love dating app is a specialized dating platform for sugar daddy and sugar baby relationships. The platform's members have access to a variety of advanced search filters, such as Matches, private photo uploading, profile verification, and instant chat capabilities, all of which make finding a compatible sugar partner is made much easier!
If you're a sugar baby hoping to minimize the likelihood of meeting a scammer, salt daddy, or Splenda daddy, or a sugar daddy seeking a real sugar baby in your local area, the Millionaire Love dating app is for you.
Millionaire Love Fast Facts
Year Founded: 2003
Only female users get free access to messaging and premium features–men have to pay
Average User Age: 22-26 years for female users and 39-47 years for male users
Gender Ratio: 20% men to 80% women
In comparison to other sugar arrangement dating apps, Millionaire Love has average age demographics, with women on the platform being between 22 -26 years old and men being between 39-47 years old. The gender ratio is wildly uneven–just 20% of the population is male, while females make up 80%. That's great for the men, but it doesn't look so great for the sugar babies!
Millionaire Love Cost
There are no recurring monthly memberships on the Millionaire Love dating app–we repeat, you do not have to pay a monthly subscription fee to access premium features! Instead, you can purchase credit bundles and use them as you want to access chats and other benefits.
| Package | Number of Credits | Price Per Credit | Total Cost |
| --- | --- | --- | --- |
| Credits Bundle | 100 | $0.59 | $59.00 |
| Credits Bundle | 500 | $0.34 | $169.00 |
| Credits Bundle | 1000 | $0.29 | $289.00 |
There are no standard "premium" subscriptions available on the Millionaire Love dating app. Instead, they provide the three credit bundle bundles detailed in the above table.
Millionaire Love is one of the few dating apps that doesn't require a paid premium membership that renews every month. Instead of having to commit to a monthly payment plan, customers can choose to pay for credits that would provide them access to premium functions and other benefits.
Bundles of 100, 500, or 1,000 credits are available for purchase by members. Credits cost between $0.28 and $0.59 each, so it's clear that buying in bulk is the best way to save money. If you elect to spend credits on Millionaire Love, you can do one of two things:
Message with potential partners or
Request to see a gallery of secret photos and videos.
Ten credits must be spent to start a conversation with another user, but after making this purchase, your further conversations with them will be free!
Millionaire Love Free Trial and Special Features
Traditional free trials typically grant new users full access to premium membership benefits for a limited period. However, before gaining access, customers are required to provide their payment information and if the free trial is not canceled before it expires, the account will automatically transition into a paid premium membership, and the user will be charged accordingly. The Millionaire Love dating app, along with many other dating apps, offers new users the opportunity to create a profile at no cost and access a limited range of features.
But unlike most other dating apps, Millionaire Love does not offer a standard "free trial"–unless you are a woman or a potential sugar baby–it's completely free for them. The men can accomplish a few tasks without having to spend money on credit bundles, but not anything of consequence.
Standard (Free) Features
Registering, creating, and updating your Millionaire Love dating profile
Search tool filters
Browse profiles of other users in the "Recently active" and "New member" areas.
View all public photos
Profile Verification
Send likes
Premium Membership Features
SecretBrowsing
Users have the option to conceal their dating profile for 24 hours and conduct searches on the down-low by paying 10 credits.
Unlimited Messaging
With a single purchase of 10 credits, users have the ability to return to any conversation–this means that they don't have to pay a recurring fee to re-read messages from potential matches. The private messaging process of Millionaire Love is truly unique and stands out from traditional dating apps–not only is it an easier way for finding potential sugar partners, but it is also more affordable.
Priority Customer Support
By purchasing any credit bundle, you will gain access to premium member support on the Millionaire Love dating app. This means that you can receive immediate responses to your questions, saving you the time and effort of searching through the FAQ page.
Top Admirer
If you want to catch the attention of a member, you have the option to use your credits to vote for them. The chance of a user reaching out to you increases as you spend more, particularly if you are looking for a sugar baby who wants a generous sugar daddy.
Profile Boost
The profile boost feature can be highly effective. With an upgrade, you can witness your dating profile skyrocket to the very top of the search results.
Do Millionaire Love Memberships Renew Automatically?
We have the pleasure of telling you that the Millionaire Love dating app does not have an automatic renewal function. Instead of a standard monthly premium membership plan, you have the flexibility to purchase credit bundles as you need them.
Should You Join the Millionaire Love Dating App?
If you are interested in off-the-beaten-path relationships, like sugar or so strings attached arrangements, our opinion is that the Millionaire Love dating app is an ideal choice for you. The platform is designed to be user-friendly, offering an intuitive search feature and an active user base of engaged members who share similar interests and preferences.
Reasons to Join
Millionaire Love is a perfect dating app to find what you're looking for if you're either interested in the sugar dating scene or an experienced sugar seeker looking for a partner. Below, we go over some of the most compelling reasons for signing up.
Priority Customer Support
The Millionaire Love dating app has excellent customer support if you make any credit bundle purchase. Customers can contact customer service through email, phone, or real-time chat. The help desk is available 24/7 throughout the year and offers a comprehensive FAQ section that provides solutions to nearly all common issues.
No Monthly Charges
The credit arrangement of the Millionaire Love dating app is extraordinary–their system offers a more affordable approach to using premium features by merely charging users for the specific premium features they use. Additionally, it provides the option to pay a fixed rate for unlimited messaging.
You Want a Sugar Arrangement
Users of the Millionaire Love dating app say that the vast majority of other users are genuine and looking for serious sugar relationships. That shows you're stepping into an environment where lots of members are compatible matches for you!
Women Date for Free
All of Millionaire Love's premium features are free for women to utilize–they don't need credits. Yet, there are a couple of conditions that need to be met: sugar babies must prove their identities by uploading footage to the app before being able to use it to connect with potential sugar daddies. This preventative strategy aims to protect male members from possible scams by guaranteeing that only real sugar babies can contact them.
Reasons Not to Join
Although we think the Millionaire Love dating app is outstanding, we understand that some people won't be thrilled with it for a few reasons, which we go over below.
Profiles Are Public
This may not be a concern for some, but it may not sit well with those who don't want anyone to know that they are looking for a sugar daddy or baby. You won't stumble across the profiles on a Google search, but if you join and search the Millionaire Love dating app, you can see every profile.
Smaller Dating Pool
Even though the member base is over a million strong, since it is a niche dating app, the dating pool will be smaller compared to more mainstream platforms.
No Dedicated Mobile App
The Millionaire Love dating app functions seamlessly on any mobile device's internet browser, but some prefer a dedicated app!
No Monthly Subscription
Not everyone will be as enthusiastic as we are about the credit system, and some may find it irritating to constantly have to buy additional credits rather than just pay a flat monthly membership fee.
The Sign-up Process
Signing up for a Millionaire Love dating app dating profile is easy and pretty quick! We created an account and built an entire profile in under 10 minutes.
If you need help, look below for a complete step-by-step guide to setting up your own account!
Step 1: Go to Millionaire Love's Homepage
On your computer or mobile device's internet browser, navigate to MillionaireLove.com and then click the green "Signup" button or click on your gender to begin creating your dating profile.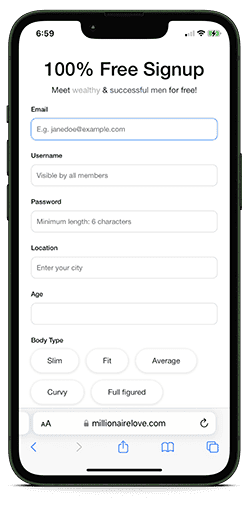 Step 2: Input Basic Details
The second step requires you to enter your email, username, password, location, age, body type, and ethnicity.
Once you've done this, click on the green "Next" button to move on to the next step.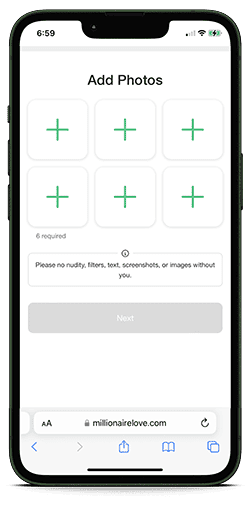 Step 3: Add Profile Images
Find your best pics on your camera roll or on your computer's drive and upload them! Millionaire Love requires you to upload a minimum of six photos, but you can add up to nine!
Step 4: Let Other Member See What You Are Looking for on Millionaire Love
At this stage, you have to create a fun greeting, a sexy slogan, and a description of what you're searching for in a romantic partner on the Millionaire Love dating app.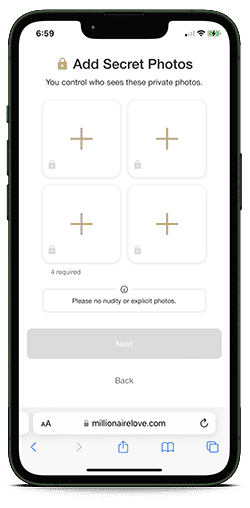 Step 5: Upload Your Secret Photos to a Private Gallery
You must upload a minimum of four photos to your secret gallery, but you get to decide who is allowed access and who can view them.
Step 6: Secure Your Account With a Mobile Number
The next step is to secure your Millionaire Love dating app account by entering a valid mobile phone number. The app will send you a four-digit number via text message; just plug in the code to the designated space.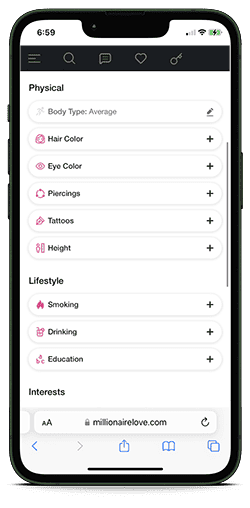 Step 7: Start Your Search for a Romantic Partner & Build Your Dating Profile
You're finished, and your Millionaire Love dating app is now good to go! You can start looking for compatible matches, but if you want to be paired up with those who are a perfect fit for you, it's recommended that you completely fill out your dating profile, including info about your appearance, lifestyle, education, and interests.
Step 8: Verify Your Millionaire Love Dating Account (Optional)
This last step is optional, but we highly suggest verification! This way, you can prove to other members of Millionaire Love that you are who you say you are by verifying your account. To do this, you just need to record a short video clip using the phrase listed on the verification page and then upload it.
Alternatives to Millionaire Love
If you're not 100% sure that the Millionaire Love dating app is up your dating alley, there are a lot of other options for you to explore—whether you are searching for a mutually beneficial relationship or a more traditional one, there is an app for whatever your dating needs may be in the table below!
Dating App
Key Facts
Review
Elite Singles

Active Members: 2+ million
Gender Ratio: 44% men to 56% women
Pricing: Begins at $31.95/month

Elite Singles Review
Seeking

Active Members: 1.3 million
Gender Ratio: 60% men to 40% women
Pricing: Begins at $96.66/month

Seeking Review
Sugarbook

Active Members: 50,000
Gender Ratio: 35% men to 65% women
Pricing: Begins at $39.95/month

Sugarbook Review
Sugardaddie.com

Active Members: 230,000+
Gender Ratio: 56% men to 44% women
Pricing: Begins at $15.99/month

Sugardaddie.com Review
SugarDaddyMeet

Active Members: 600,000
Gender Ratio: 48% men to 52% women
Pricing: Begins at $24.00/month

SugarDaddyMeet Review
Tinder

Active Members: 8+ million
Gender Ratio: 61% men to 39% women
Pricing: Begins at $4.50/month

Tinder Review
Frequently Asked Questions
Still have some concerns after reading our complete review of the Millionaire Love dating app? That's fair! We've put together a list of the most frequently asked questions we've gotten from our readers about the platform, and you can check them out below!
Is the Millionaire Love Dating App Legit?
Yes! Millionaire Love prides itself on fostering an active user base with a large number of engaged users who want to establish connections with other members. It's a great platform for meeting like-minded individuals with shared interests who want to enter into a mutually beneficial relationship.
Is the Service Free?
While basic membership to Millionaire Love is free, interacting with other users via messages and chat requires the purchase of credits–but women and sugar babies get access to every premium feature of the dating app for free.
How Much Are Credits on Millionaire Love?
Credit bundles are offered in three sizes: 100, 500, and 1,000 credits, and the prices per credit range from $0.28 to $0.59.
Is Millionaire Love Safe?
It is safe to use, as Millionaire Love offers profile verification and enforces strict guidelines. Still, like any other online dating platform, it cannot provide a 100% guarantee of safety. It is critical to use caution when using dating apps, particularly when seeking sugar arrangements.
What's the Average Age of Millionaire Love Members?
On Millionaire Love, the average age of female users falls between 22-26, while for male users it ranges from 39-47. These age ranges are considered average when compared to the demographics of other dating apps that cater to sugar arrangements.
Is the Millionaire Love Dating App Available Everywhere?
Millionaire Love is accessible to individuals from all over the world–regardless of where you reside, you can sign up and use the dating app.
Can Anyone Use the Millionaire Love Dating App?
Yup! As long as you are 18, you can sign up and create a dating profile on Millionaire Love. Just be aware that since it mainly focuses on fostering sugar arrangements, if you aren't into that, you should probably look elsewhere for a dating platform that caters to more traditional forms of dating and romance.
Does Millionaire Love Have a Mobile App?
Nope! But don't worry; the platform works seamlessly on any mobile device's browser–it functions exactly as it does on a computer. The only difference is that the screen is smaller!