Our team of experts diligently research and review all of the products and services we recommend. If you buy through our links, we may receive a commission. Learn more here.
Are you looking for discrete arrangements? Our Secret offers to connect to an open-minded community of singles of all ages. But is the site safe and affordable? Find out all the most important information about the site in our review.
When it comes to clandestine trysts, no strings attached hookups, and sugar daddy relationships, Our Secret is where to sign up–and with over 230k unique visitors every month, the dating pool is more of a big lake.
The platform provides a secure atmosphere for online dating, makes it simple to find potential partners with the help of filtering and the "Matches" section, and lets you make an immediate connection through chat. Is Our Secret worth your time and effort, or should you seek a sugar arrangement elsewhere? Let's find out!
| | |
| --- | --- |
| Sign-Up Time: | 5 minutes |
| Cost: | $0.29 – $0.59 per credit |
| Membership Pool: | 300,000 |
---
---
Our Secret Dating App Rating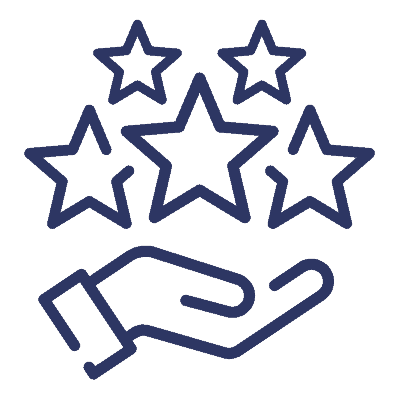 Overall Rating

Our Secret is coming in with an overall score of 3.9 out of 5!
Coming in at a 3.9 out of 5 overall in terms of our rating criteria is not too shabby and bodes well for the Our Secret dating app! We base our numerical ratings on a scale of 1 to 5 (with 1 being the lowest and 5 being the highest) and evaluate the following categories: ease of use, beneficial features for users, premium membership costs, match quality, safety, security, and finally, customer service.
Keep reading to see our breakdown of each rating category for a little more info on why we awarded the scores Our Secret received.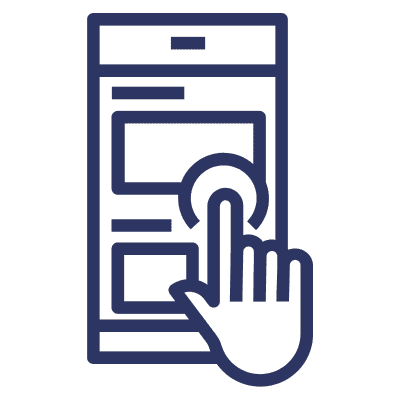 Ease of Use

The layout and appearance of the Our Secret dating app was created to be simple and user-friendly, and the developers succeeded! Each of the tabs and icons is easily accessible, making it simple for users to find what they are looking for. The functions offered to users are prominently presented, making them simple to spot.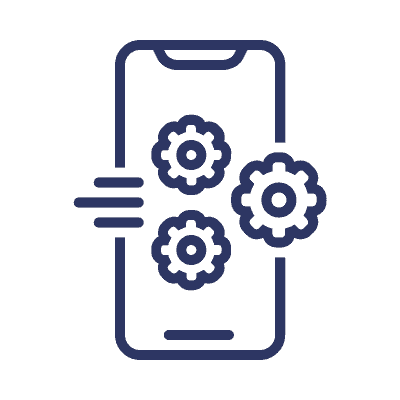 Features

Due to the lack of a dedicated mobile app, the Our Secret dating app keeps its functionality simple and straightforward. However, there are a few notable aspects that we appreciate and believe users will as well.
Unlimited Messaging
Unlock Secret images and videos.
No credits are required to use the user profile boost and priority customer support features; they unlock immediately after you purchase a credit bundle.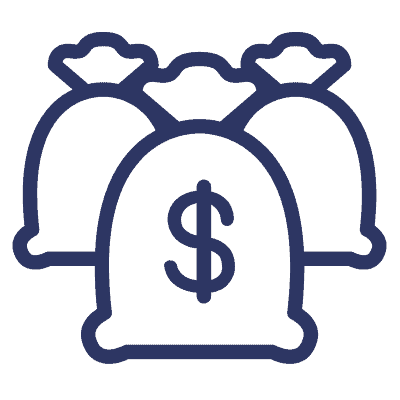 Cost


The Our Secret dating app is not like other dating apps in the cost area–it doesn't require a monthly membership fee, which we really like! Instead, the platform runs on a credit-based bundle system, providing members with the flexibility to pay for premium features as they use them. Thanks to the credit system, users now have more flexibility and control over their dating app budgets–they can choose to spend money on the premium services they need and only when they are using them.
And your credits never expire–so if you take some time away from the platform, if and when you return, they're waiting for you!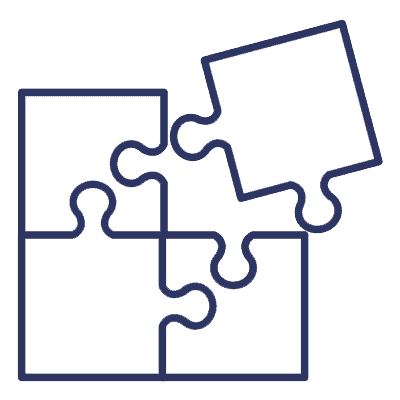 Match Quality


The Our Secret dating app offers users an array of search and matching options for members to locate compatible matches who fit into their specific preferences for sugar dating. The search function allows users to refine their matches by applying filters for age, location, physical characteristics, and choices in lifestyle. Additionally, the platform offers a distinctive feature called "Matches." The tool utilizes an algorithm to analyze users' dating profiles and personal tastes to suggest potential matches.
The "Matches" feature consists of four tabs: admirers, favorites, views, and visitors and from our time on the app checking out the "Matches" hub, it was obvious that the members of Our Secret are busy lil bees!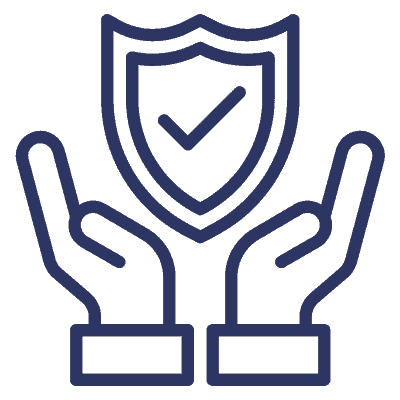 Safety and Security


Our Secret uses SSL-encrypted communication and data transfers to keep your personal information secure. However, no dating app can completely guarantee your safety! On their website, they provide some guidance on staying safe:
Don't provide any information about your bank account.
Don't send money to somebody you haven't met.
Be cautious when taking any conversation off the Our Secret dating app.
To protect yourself and others, report anybody you think is acting shady or in a criminal manner.
Don't give anybody access to your account or any official identification documents.
Be careful how much of your contact information and personal information you share.
If you are meeting IRL, meet in a public place!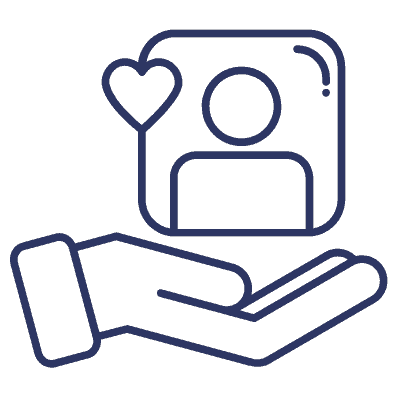 Customer Service


One more thing going for Our Secret is the top-notch client customer service they offer to their users! Support inquiries can be handled by live phone chat (we love), email, or live chat–get this–24/7, 365 days a year. There is also an exhaustive FAQ section that covers almost every typical problem one could encounter.
Overview of the Our Secret Dating App
Founded in 2019, the Our Secret dating app is a platform where members look for sugar dating arrangements, secret affairs, or other casual romantic situations. But make no mistake, the bulk of users are there to find mutually beneficial sugar arrangements!
The majority of singles on the platform are from the US and the UK and are between the ages of 22-34 (female); 38-49 (male), and the gender ratio is 56% male to 44% female.
Our Secret Fast Facts
Year Founded: 2019
Interesting Fact: Most of the Our Secret dating app members are from the United States and the UK.
Average User Age: 22-34 years (female); 38-49 years (male)
Gender Ratio: 56% male to 44% female
If you are curious about sugar dating and want to see what it's all about, the Our Secret dating app seems like a great starting point–and it's a no-brainer for those already immersed in the world of hush-hush relationships.
Our Secret Dating Cost and Premium Memberships
The Our Secret dating app does not offer traditional monthly premium memberships. Instead, they offer a trio of credit bundle packages, which can be found in the table below.
| Package | Number of Credits | Price Per Credit | Total Cost |
| --- | --- | --- | --- |
| Credits Bundle | 100 | $0.59 | $59.00 |
| Credits Bundle | 500 | $0.34 | $169.00 |
| Credits Bundle | 1000 | $0.29 | $289.00 |
In contrast to most other dating apps, Our Secret does not charge its users an ongoing monthly fee for a premium membership. As an alternative, users have the option to purchase credits, which grant them the use of premium features and additional perks, getting rid of the demand for a monthly subscription commitment.
Members have the option to buy bundle packages of 100, 500, or 1,000 credits. The price per credit ranges from $0.28 to $0.59, and it's easy to see that purchasing a larger credit bundle provides better value for your money. When you decide to use credits on Our Secret, you have a choice to either gain access to a chat or look at a gallery of secret pictures and videos–or both if you use more credits! To start chatting with a member, you have to pay 10 credits. However, once you have made this purchase, you can continue chatting with them without any additional charges.
The cheapest package, which includes 100 credits, provides users with 10 message exchanges, and the largest bundle, consisting of 1,000 credits, provides access to 100 messages. Men and women on Our Secret have different price points in that sugar babies don't have to pay for anything. But that's only if they complete the stricter requirements regarding image uploading, profile completion, and verification, while sugar daddies need to buy credits to communicate in any way with members.
Our Secret App Free Trial and Special Features
Traditional free trials allow new users to access full premium membership benefits for a short period of time, but first, the customer must provide payment information. If the free trial isn't canceled before it expires, the account automatically becomes a paid premium membership, and the customer is charged. The Our Secret dating app (and most other dating apps) allow new users to create a profile for free and use a limited number of features.
Our Secret, on the other hand, does not have the standard "free trial" that most other dating apps provide. Women definitely come out on top when it comes to cost factors when using the SugarDaddy dating app–it's totally free. And the guys are able to get a couple of things done without coughing up the money for credit bundles; the free version of the service is not as limiting as some of the other options.
Standard (Free) Features
Sign up and register.
Complete a dating profile.
Account Verification
Browsing Our Secret Profiles
View public photos
UseSearch filters
Liking other dating profiles
Access to the "Matches" function
Can Request access to Secret Albums
Premium Membership Features
Photo Messaging
Using Our Secret's Photo Messaging feature, you're able to add images to your private messages with other users easily.
SecretBrowsing
Members can pay 10 credits to hide their account for 24 hours and search on the sly.
Unlimited Messaging
Users can always revisit any conversation with a one-time purchase of 10 credits, so premium members won't need to pay an ongoing price in order to re-read messages from possible matches. Our Secret's private messaging process is unique (we love it) compared to traditional dating apps, as well as a more practical and affordable approach to meeting potential sugar partners.
Priority Customer Support
With any credit bundle purchase, you can access the Our Secret dating app's premium member support, where you can get answers to your questions much sooner than if you had to wade through the FAQ page.
Do Our Secret Memberships Renew Automatically?
Since there is no standard monthly premium membership plan and you purchase credit bundles as you need them, we are pleased to say that the Our Secret dating app does not have an automatic renewal function!
Should You Join the Our Secret Dating App?
If you are in the market for secretive partnerships or sugar arrangements, then we truly feel the Our Secret dating app is a perfect fit for you. The platform is user-friendly, with a convenient search feature and a large community of engaged users who are looking for the same things you are.
Reasons to Join
Sugar dating is certainly not everyone's glass of sweet tea, but if you are interested in wading into the mutually beneficial arrangement dating space or if you are a vet and are looking for a new sugar daddy or baby, we think these are the top reasons to join the Our Secret dating app.
You Are Seeking a Sugar Arrangement
If you are interested in becoming someone's sugar daddy or sugar baby, this is most definitely the app to seek out your significant other! Everyone on the platform knows what's up, so there won't be any weird or awkward miscommunications or misunderstandings. And if you want your relationship to be discreet? No problem–it's literally right there in the name–it isn't called Our Secret for no reason.
No Month-to-Month Charges
In our opinion, the credit system of the Our Secret dating app is outstanding–the system serves as a much more logical approach to accessing premium features by only charging users for the premium features they use. Plus, it offers the choice of paying a flat rate for unlimited messaging.
Free for Women
Our Secret is totally free for sugar babies–they don't even need to buy credit bundles to use all of the premium features. But the free ride comes with a few conditions–in order to fully utilize the platform, aspiring or present sugar babies have to initially post a video where they verify who they are. This safety measure ensures that only real sugar babies have an interest in connecting with sugar daddies, safeguarding sugar daddies from any potential fraud.
Responsive Customer Support
Another great thing about the Our Secret dating app? The superb customer support it offers. Customers have the option of contacting customer service by email, phone, or real-time chat. The help desk is open 24/7 year-round, and it has an extensive FAQ section with solutions to almost every common issue.
Reasons Not to Join
Even though we think pretty highly of the Our Secret dating app, there are certain things that, while certainly not dealbreakers for us, might be for you!
No Free Trial
Look, we really love the credit bundle system, but we wish that there was a small free trial window–even a 24-hour one–where users could take the premium features for a spin before committing to buying credits.
No Monthly Membership
While we are on the subject of the credit system, while we think it's great, people might disagree with us and feel like it's a pain to continually have to re-up their credits instead of paying a monthly membership fee. To each their own!
Sugar Daddies Don't Have to Prove Their Net Worth
Because this is a sugar dating app, it would be helpful if there was some sort of background check to ensure that the sugar daddies are worth what they say they're worth–financially speaking. We don't need to know the numbers–but a sugar baby could use that info to see if he can put his money where his mouth is if you catch our drift.
No Dedicated Mobile App
Navigating the website on a smartphone or handheld gadget is straightforward, but we would love to see the development of an exclusive mobile application in the near future.
The Sign-up Process
We joined the Our Secret dating app via the website browser–this is the only way to create a dating profile, as there is no mobile app, but it's easily done on any mobile device as well! It took us about 5 minutes total to set up a new account, and the process is straightforward and a snap to accomplish.
If you are having any trouble signing up, we've provided a step-by-step tutorial for your convenience below!
Step 1: Go to OurSecret.com
Open any website browser and log on to the Our Secret dating app's homepage.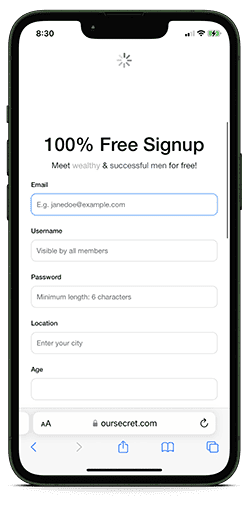 Step 2: Enter Your Email Address & Basic Details
Type in your email address, create a unique password, add your location, age, your body type, and your ethnicity, and then hit the green "Next" button to move forward.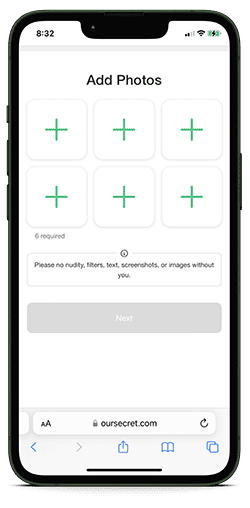 Step 3: Add Profile Images
It's time to add some profile photos! Upload six (required) of your best pics, and if you have an extra three favorites, you can add a total of 9 images.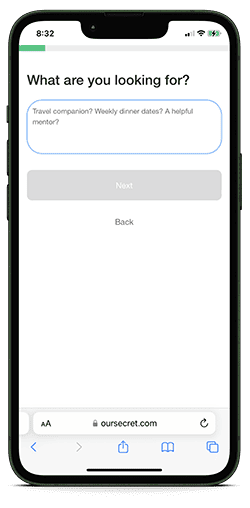 Step 4: Describe What You Are Seeking
For this step, you'll need to describe what you are looking for on the Our Secret dating app, create a greeting, write a witty tagline, and tell other members what makes you an attractive sugar baby or daddy.
Step 5: Upload Secret Photos for Private Gallery
Even though you are required to upload at least 4 images to your secret photo gallery, you don't have to grant access to them unless you want to.
Step 6: Secure Your Account Via Mobile Phone
The next step is to enter a valid mobile phone number to secure your Our Secret dating app account. The app will text you a four-digit code –simply enter it into the provided field.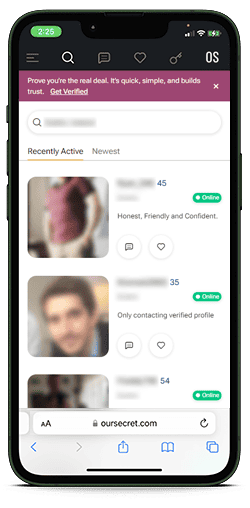 Step 7: Start Looking for a Sugar Daddy or Sugar Baby & Complete Your Dating Profile
Your Our Secret dating app profile is up and running! You can begin looking for sugar daddies or babies! We recommend completing your dating profile by filling in details about your physical appearance, lifestyle, education, and interests so that you can be paired with compatible potential partners.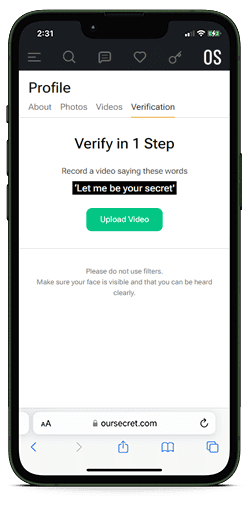 Step 8: Verify Your Account (Optional)
This last step is optional, but we suggest verifying your dating profile on Our Secret to inform others on the platform know you're legit! All that's required of you is to make a short video clip saying, "Let me be your secret," and upload it to the app.
Alternatives to Our Secret
Sugar dating is gaining traction in the world of romance, and with it becoming more mainstream and less "shhhh" or taboo, more and more sugar relationship dating platforms are popping up in the industry.
Even though we are feeling the Our Secret dating app, you may not be–but not to worry! There are so many other top-notch sugar dating apps available as well as mainstream ones where you can specify in your dating profile that you want a sugar daddy or a sugar baby. Take a look at the list below and see if any of them better meet your dating goals.
Dating App
Key Facts
Review
Elite Meets Beauty

Active Members: 200,000
Gender Ratio: 75% men to 25% women
Average Age: 25-34 years
Pricing: Begins at $39.99/month

Visit Elite Meets Beauty
Sugarbook

Active Members: 50,000
Gender Ratio: 35% men to 65% women
Average Age: 25-34 years (33.38% of total users)
Pricing: Begins at $39.95/month

Sugarbook Review
Sugardaddie.com

Active Members: 230,000+
Gender Ratio: 56% men to 44% women
Average Age: 25-34 (28.45% of total users)
Pricing: Begins at $15.99/month

Sugardaddie.com Review
SugarDaddyMeet

Active Members: 600,000
Gender Ratio: 48% men to 52% women
Average Age: 25-34 years (28.53% of total users)
Pricing: Begins at $24.00/month

SugarDaddyMeet Review
The League

Active Members: 7.5 million
Gender Ratio: 48% men to 52% women
Average Age: 25-34 years
Pricing: Begins at $67.00/month

The League Review
Frequently Asked Questions
We spilled all of the tea we could find on the Our Secret dating app, and we hope we answered all of your burning questions! If we didn't, or you just want a quick snapshot of what our readers ask about the most, look below for a compilation of frequently asked questions.
Is the Our Secret Dating App Legit?
Yes! They have an active group of millions of users who are all open and on the lookout for connections, making Our Secret an ideal place to meet compatible singles for sugar arrangements.

Our Secret strictly prohibits the use of fraudulent profiles and does not allow or encourage their use–the platform adopts security measures to guarantee that every dating profile is created by an actual person who is on the dating app for the reason it was created.
Is the Our Secret Dating App Safe to Use?
Absolutely, if you follow standard online safety precautions and use common sense, the Our Secret dating app is just as safe as any other online dating platform. And if you aren't sure about how about best safety and security practices, you can check out www.OurSecret.com/app/dating-safety for some basic tips on being safe while on the app or while out on a date.

Our Secret does not screen its members for several reasons, including respect for members' privacy due to the sugar arrangements they seek. That being said, Our Secret urges treating any new relationship with some caution mixed with a bit of optimism!
Is Our Secret Free to Use?
Registering and creating a dating profile on Our Secret is always free. But in order to send messages to other users or see their secret photos, you have to pay for a credit bundle package.
How Can I Verify My Our Secret Dating App Profile?
You can verify your Our Secret dating app profile by doing the following:

• Next to the site's header image, select the "Get Verified" button.
• Take a short video that:
• meets the requirements for the video clip
• Displays your facial features in full.
• Contains an audio recording of you speaking a particular identifying phrase provided on the page for the video verification process.
• When you are ready to submit the video, click "Upload Video."
• When the profile review team has viewed the video, you will get an email; if approved, a green "Verified" symbol will appear on your profile!
Will Our Secret Profile Images Show Up in a Google Search?
No! Your Our Secret profile pics and content will never be shown in search results on Google. However, we implore you to take extreme caution about who you share them with if you upload pics of a more intimate nature into your secret album.
Can Anyone Join the Our Secret Dating App?
As long as you are 18, you can sign up and create a dating profile on the Our Secret dating app! But a word of advice–if you are looking for a conventional relationship and don't want to be in a sugar arrangement or secret romance, this is probably not the best dating app for you.
How Much Are Credits on the Our Secret Dating App?
You can buy credit bundles in quantities of 100, 500, or 1,000 credits, and the price per credit ranges from $0.28 to $0.59.
Does Our Secret Have a Mobile App?
Unfortunately, the Our Secret dating app does not have a dedicated mobile app, but that doesn't mean there won't be one in the future! If you're worried about using the platform on your phone or tablet, don't be; the UI is seamless and functions just as well on any mobile browser as on a computer.