Our team of experts diligently research and review all of the products and services we recommend. If you buy through our links, we may receive a commission. Learn more here.
Cupid Media operates several niche international dating platforms–one of them being the DominicanCupid dating app. The platform, which went live in 2006, has many aesthetic similarities with its sibling sites and provides its users with the same interface, key features, communication systems, instant chat options, and premium pricing levels.
Is DominicanCupid really the love potion that will unite South American women with their soulmates from any corner of the globe? Let's find out! We decided to put on our detective hats and investigate this specialized dating app, the premium membership pricing, and its members. Keep scrolling to read our complete review of the DominicanCupid dating app for 2023 and for all of the juicy extra details we discovered in our time on the dating app!
It's the best-specialized dating app for Dominicans and has over 400,000 users from all around the world!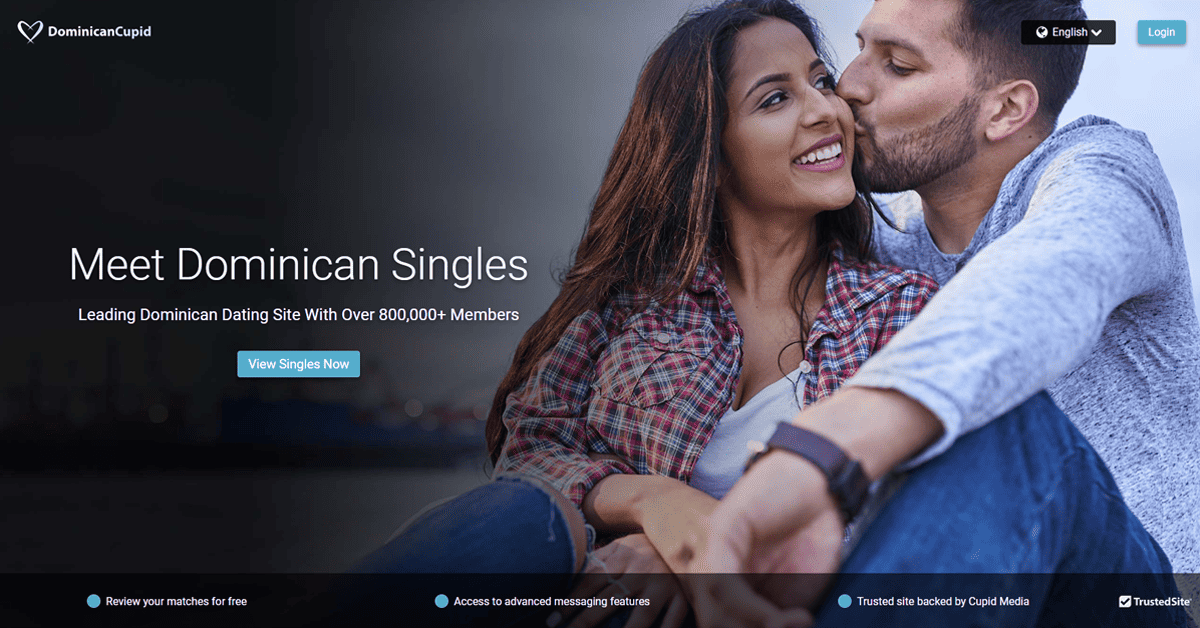 | | |
| --- | --- |
| Sign-Up Time: | 5-10 minutes |
| Cost: | $11.25 – $81.98 per month |
| Membership Pool: | 400,000 |
---
---
Our DominicanCupid App Rating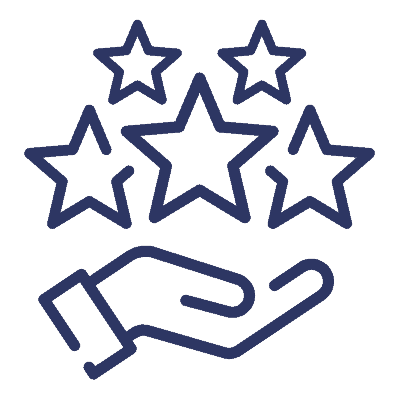 Overall Rating

DominicanCupid is coming in with an overall score of 4.0 out of 5!
After examining DominicanCupid's features, its usability, the quality of the daily matches, the cost of membership, and the activity level of its members, we've concluded that this dating app comes in at a rating of 4.0/5!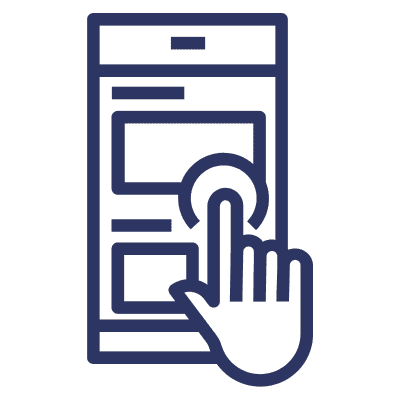 Ease of Use
Joining DominicanCupid is as easy as pie–just punch in your email or sign up with your Facebook account, and voila! You're in! A few steps are required to complete registration, and the entire process should take, at most, five to 10 minutes.
Once you fill out all the necessary fields, you'll be taken to your very own dating profile page. You can skip uploading a photo, but don't be surprised if you end up feeling like an outsider at an online party–or invisible, as most people won't glance twice at a picture-less account! Cupid Media's dating platforms are like a breath of fresh air in a world of complicated and confusing dating apps–and we appreciate this!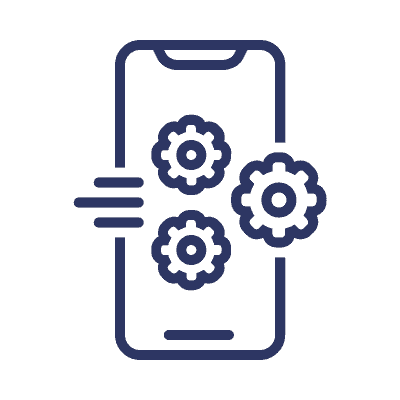 Features

Cupid Media owns DominicanCupid, although it focuses on a totally different demographic than the 30 other Cupid Network dating platforms. DominicanCupid is like a global matchmaker, bringing together people from all corners of the world. To make sure everyone finds their perfect match, the app has some unique features tailored just for it, as well as some borrowed from other Cupid Media dating apps.
DominicanCupid incorporates exclusive features developed for the app and elements shared with similar Cupid Media services because they want to facilitate romantic connections among people from every corner of the world.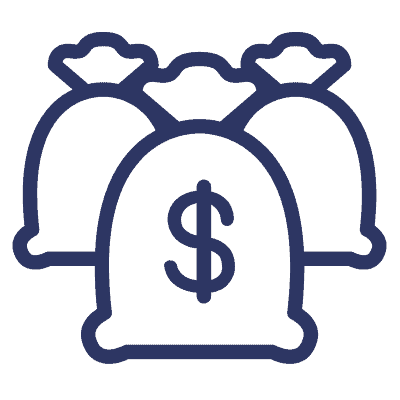 Cost


Using DominicanCupid won't break the bank, which is a relief considering you might need those funds for a fancy first date. We're all about options here, and its weekly and monthly membership plans give consumers the freedom to use the platform on their own terms. With an array of plans available, we're confident even the pickiest of picky will find the right one.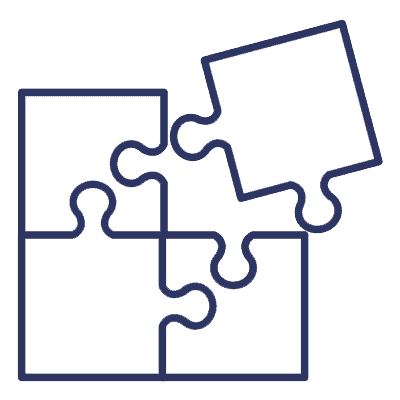 Match Quality


Finding your perfect match is like making a delicious cake – it all comes down to the right ingredients and the perfect recipe. In the dating world, those ingredients are the matchmaking process and how big of a dating pool.
We have no problems with the matching procedure–it's simple in concept and execution and allows for a fast search that takes into consideration several important compatibility aspects! We have an issue with DominicanCupid's rather small user base; due to the smaller dating pool, the matches' quality could improve.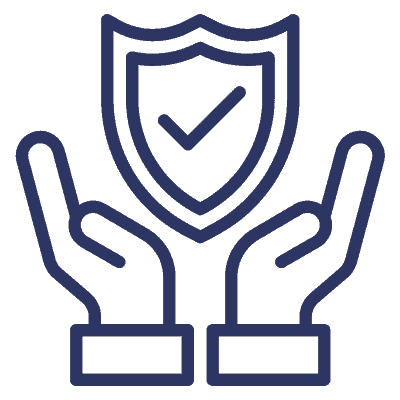 Safety and Security


All of Cupid Media's dating apps are like high-tech bouncers, using the latest in automated and human moderation to keep out the riff-raff and ensure a fake-free profile dating world. Do they succeed? No, but it's an impossible task.
With the help of some high-tech AI models, a watchful eye on app activity, and a team of security experts who are always on the lookout for suspicious behavior, this company is pretty good at detecting and eliminating fake accounts. Don't be surprised if you spot some fishy business on DominicanCupid–just like any other dating app; it's impossible to be 100% fake-free.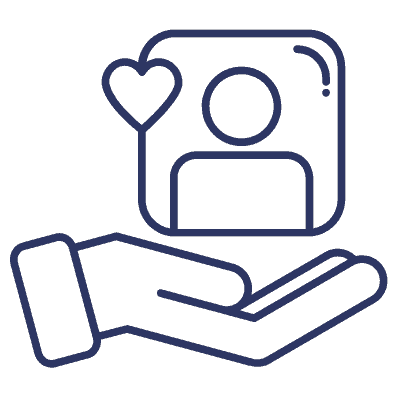 Customer Service


Ever tried reaching out to DominicanCupid's customer support? We did, and at first, it was a bit confusing, but once you get the hang of it, it's actually really helpful! To check out the general FAQ, just head over to the settings page–there, you'll see a chat box that looks like you can talk to a real support representative, which is what tripped us up! It's not a live chat; type in your question or concern, and the AI will guide you to useful resources where you can find answers to many of your questions and concerns.
And if you couldn't find what you were looking for in the FAQ, don't worry! You can always reach out to DominicanCupid's support team by clicking the "contact us" button. They're pretty quick to respond, so you should hear back from them within a few hours.
Overview of DominicanCupid
Looking for an amorous adventure in the Dominican Republic? Look no further than DominicanCupid, the ultimate wingman for meeting lovely ladies in the DR. Founded in 2006 and owned by Cupid Media; this dating app is considered to be the preeminent Dominican dating go-to. So who's the lucky audience? It is catered to Dominican women who are interested in dating men from Western and other countries.
DominicanCupid Fast Facts
Year Founded: 2000
Cupid Media, the company that owns CaribbeanCupid, originally started as one dating site, AsianEuro.com. Now the site has been divided into specific sections for all kinds of people groups to find love online.
Average User Age: 34-41 years
Gender Ratio: 45% men to 55% women
From flings to rings, the level of commitment can range from "let's just have fun" to "till death do us part," with the average age of members falling between 25-35 and women slightly outnumber the men by 10 percent.
Dominican Cupid Cost & Premium Membership Subscriptions
DominicanCupid gives its members a choice between three different subscription plans. While a few things are available to everyone, premium subscribers get a ton more! Outside of cost and duration of membership, the only distinction between the Gold, Platinum, and Diamond plans is that only Platinum memberships offer access to the message translation feature.
| Package | Length | Price Per Month | Total Cost |
| --- | --- | --- | --- |
| Gold | 1 week | $69.48 | $17.37 |
| Gold | 1 month | $34.74 | $34.74 |
| Gold | 3 months | $22.49 | $67.48 |
| Gold | 12 months | $11.25 | $134.99 |
| Platinum | 1 week | $163.96 | $40.99 |
| Platinum | 1 month | $39.99 | $39.99 |
| Platinum | 3 months | $26.66 | $79.98 |
| Platinum | 12 months | $14.17 | $169.99 |
| Diamond | 1 week | $164.00 | $41.00 |
| Diamond | 1 months | $81.98 | $81.98 |
| Diamond | 3 months | $53.32 | $159.97 |
| Diamond | 12 months | $28.33 | $339.98 |
DominicanCupid is one of the few dating apps to offer a payment plan, allowing premium users to split the cost of their membership into up to four monthly installments. The overwhelming majority of dating apps and platforms need full payment before you can begin using them.
Is There a DominicanCupid Free Trial?
DominicanCupid is different from other online dating apps in that it does not provide a "free sample" period where new users get access to all the premium services for a short time. Free members can only see when and how many people have viewed their profile and the most recent time each member logged in. Like other dating apps, new users of DominicanCupid can sign up for the service and try out some of its features without spending a dime.
Standard (Free) Features
Registration
Create a profile
Upload up to five photos
Browse other profiles
View other members' photos
Basic matching
Send and receive "Hearts."
Message with premium paying members
"Like" Members
Add Members as Favorites
Block and report users
Premium Membership Features
Browse Anonymously
For those who prefer to keep their online presence on the down low, premium membership offers the cloak of invisibility for profiles and images.
CupidTag
With this cute feature, you can showcase the most fitting adjectives that describe your fabulous self in your profile. Tag, you're it! Members might just stumble upon your profile if you both share a common tag–our hearts are all aflutter for the darling Cupid Network feature.
VIP Profile Highlighting
With the Diamond symbol on your profile, you'll be like a shiny beacon of hope in the murky waters of online dating. Suitors will know that you're not messing around and that you've upgraded to premium status.
Mutual and Reverse Matching Algorithms
With DominicanCupid's top-notch mutual and reverse matching algorithms, finding your perfect match will be a lot easier!
Automatic Message Translation
Platinum users on the dating app can now break down language barriers and expand their dating pool with the help of the auto-translation feature. Who needs Rosetta Stone when you have this feature? This is a fantastic extra for people who want to expand their dating circle beyond their linguistic borders.
Double the Profile Space
In addition, Platinum members get twice as much room for their profiles, allowing them to create a profile that more effectively conveys who they really are and what they can offer.
Do DominicanCupid Memberships Renew Automatically?
Premium memberships on DominicanCupid are automatically renewed when they expire, but users can disable this feature anytime from their account settings. FYI: Cancelling your membership before using any premium features will result in a full refund of your membership fee, and terminating your subscription before the end of its period does not cancel access to premium paid features; they stay active up until the conclusion of the current membership period!
Should You Join DominicanCupid?
If you're still in the dark about DominicanCupid's pairing-up success, it's time to shed some light on whether this dating app is your perfect match! There are many more advantages to signing up for DominicanCupid than disadvantages, and we're going to break them all down for you!
Reasons to Join
We've done the hard work of sifting through all the data for you in our review of DominicanCupid. Now you can sit back, relax, and decide whether it's the right service for you! We think there are definitely a lot of upsides to testing out the dating app.
Discover Eligible Dominican Singles
If you're looking for a Dominican hottie, the dating pool may not be an Olympic-sized one, but it's definitely a refreshing dip. Why limit yourself to local Dominican singles when you can expand your horizons and explore international dating possibilities?
Easy and Quick Sign-up
With Cupid Media dating apps, you can jump right into the dating scene without having to worry about perfecting your profile first. If you're feeling extra ambitious, you can spend a few more minutes crafting a profile page that would make Shakespeare tear up with envy–but even without the theatrics, it'll only take you a maximum of 10 minutes.
Multiple Membership Options
Looking for love without breaking the bank? Cupid Media dating apps have got your money on their mind! It's like a choose-your-own-adventure book, but you get different membership and subscription plans instead of dragons and treasure. Will you go for the one-week trial or commit to a full year of features? The choice is yours–there are a dozen ways to unlock the VIP status on DominicanCupid.
Easy to Use
The simplicity of DominicanCupid is one of the top reasons to sign up for it. It doesn't take long to sign up; changing the criteria for a search is simple, and it only takes a few minutes to find compatible individuals based on your specific dating criteria. And the user interface? DominicanCupid makes it easy to access all of the tools and features!
Reasons Not to Join
If you're still on the fence about joining the DominicanCupid dating app, we've got you covered with a few reasons not to join or even some potential deal-breakers.
Teeny Dating Pool
DominicanCupid may have some great features, but let's just say the dating pool is more like a kiddie pool. Looks like finding a Dominican hottie on the app is like trying to find a needle in a haystack, but on the bright side, at least you can broaden your search internationally!
Fake Profiles
It looks like the members at DominicanCupid have taken the phrase "fake it till you make it" a little too seriously. Apparently, customers have been complaining that some profiles on the dating app are as genuine as a knock-off Gucci bag.
No iOs Mobile App
The mobile app only works on Android, so iPhone and iPad owners will have to utilize their phones' web browsers or head elsewhere if they're only interested in a mobile dating app.
No Free Private Messaging
Looks like the DominicanCupid dating app is playing hard to get–you gotta pay to play! Ah, the age-old dilemma of wanting to slide into someone's DMs without breaking the bank. Basic users can reply to premium members for free, but starting a new conversation will cost you. We're not picking on Cupid Media–most dating apps make you pay for something that should be a basic tool, but that's capitalism for you.
The Sign-up Process
DominicanCupid's easy registration process had us browsing profiles and messaging potential matches within minutes! To sign up, all you need to do is complete a brief form with your name, chosen username and password, gender, email address, and date of birth.
Because there is no iOS app, we signed up via the website's browser, but interested Android users can download the dating app through the Google Play Store.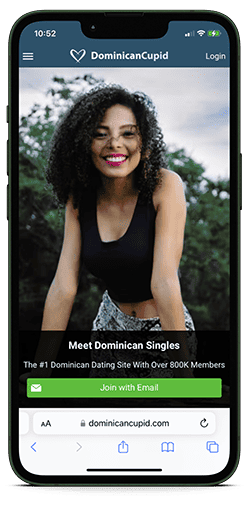 Step 1: Visit DominicanCupid's Homepage
To get started with DominicanCupid, open up your preferred web browser and go to DominicanCupid's homepage; scroll down to the site's footer, where you'll see a big green "Join With Email" option.
Before you click "View Singles Now," specify your age, gender, what gender you want to connect with, where you live, and your email address, and create a password. Then click the green "View Singles Now" icon when you're ready to continue!
Step 2: Upload a Profile Photo
While it's not required to upload a profile photo at this stage, we always recommend doing so in order to show other singles on the app your face! And you don't need to fill out every single field of your dating profile; if you really want to find a romantic connection, you should at least upload a great profile photo at this step!
Step 3: Edit Match Criteria
Now, you'll let DominicanCupid know what you are looking for in a perfect match! Users can specify their basic details, their appearance, lifestyle choices, background, and cultural values. Be honest here; you don't want to be matched with someone who smokes if you hate the smell of cigarettes or cigars!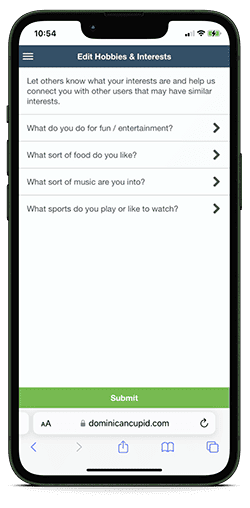 Step 4: Build Your Profile
The first step (and this step) in making a good impression on other users is to fill up your profile and answer a few basic questions about yourself.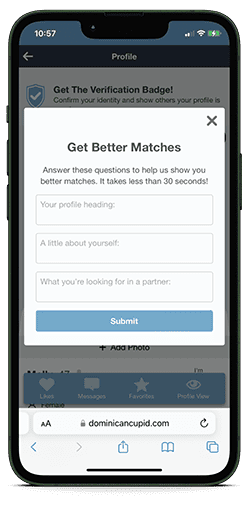 Step 5: Add Profile Heading and What You're Seeking
In order to get better matches, you can fill out a few fields so other daters can get to know you a little better! Add a catchy profile heading, a little "About Me" section, and what you're looking for in a partner.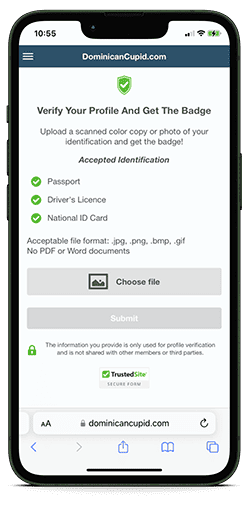 Step 6: Verify Your Profile
By submitting a scanned color copy or image of your identification, you can verify your dating profile and exhibit to other members that you're actually who you claim you are!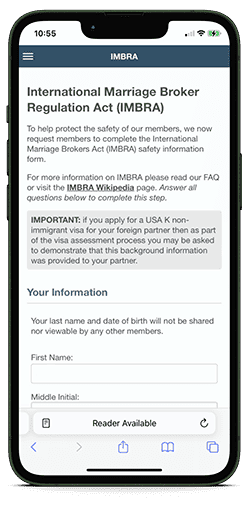 Step 7: Read and Agree to IMBRA Disclaimer
The International Marriage Broker Regulation Act (IMBRA) was developed to safeguard green card applicants, particularly women, and children, from being taken advantage of when their applications were based on their fiancé(e) or marriage.
Customers should carefully read this section and check any applicable boxes before moving on to the next step, where they will accept the disclaimer.
Click the green "Submit" button once you have accepted the Disclaimer that displays on the screen.
Step 8: Begin Browsing for Potential Partners
Your DominicanCupid profile is now active, and you can begin searching for like-minded singles who could be your perfect match!
Alternatives to DominicanCupid
It's totally understandable if you can't see yourself using DominicanCupid–dating apps are certainly not a one-size-fits-all, and it might be too big, too small, or any other reason you're not feeling its vibe!
But don't give up! There are, in fact, quite a few dating apps out there that can help you find people who share your interests–take a peek at the list below and see if any of these other top-notch platforms grabs your interest!
Dating App
Key Facts
Review
eHarmony

Active Members: 16+ million
Gender Ratio: 48% men to 52% women
Best For: All singles who want a serious relationship
Pricing: Begins at $35.90/month

eharmony Review
Zoosk

Active Members: 40+ million
Gender Ratio: 47% men to 53% women
Best For: Casual dating and romance with Asian singles
Pricing: Begins at $10.00/month

Zoosk Review
Bumble

Active Members: 11+ million
Gender Ratio: 57% men to 43% women
Best For: All singles seeking relationships, casual dating, or friendships
Pricing: Begins at $16.99/month

Bumble Review
Hinge

Active Members: 500,000
Gender Ratio: 55% men to 45% women
Best For: All singles seeking relationships and casual dating
Pricing: Begins at $4.99/month

Hinge Review
CoffeeMeetsBagel

Active Members: 10+ million
Gender Ratio: 55% men to 45% women
Best For: All singles who want a modern approach to dating
Pricing: Begins at $15.00/month

CoffeeMeetsBagel Review
Frequently Asked Questions About DominicanCupid
Our goal is to give you the most relevant information when reviewing different dating apps. However, if you still have a few questions after reading our review of DominicanCupid, don't worry! We've compiled a list of frequently asked questions (FAQs) that you can find below.
How Is DominicanCupid Different from Other Dating Apps?
Dedicated to connecting Western men with Dominican ladies, the DominicanCupid dating app is a specialized dating platform owned and Operated by Cupid Media.
Is DominicanCupid a Legit Dating App?
It is–love is in the air on DominicanCupid's Success Stories page, where happy couples share their tales of happy endings. However, remember that upgrading to a paid membership will give you access to premium features that can help your search and make the most of your online dating experience.
Are Premium Memberships Available on DominicanCupid?
DominicanCupid does, in fact, have three premium subscription membership tiers: Gold, Diamond, and Platinum.
Can I Get a Refund from DominicanCupid?
Yes! You can get a refund if you haven't utilized any of DominicanCupid's premium paid services.
What Are CupidTags?
CupidTags are phrases and keywords that users can add to their profile and then use to find one another using the search function.
Can You Join DominicanCupid if You Aren't Dominican?
Absolutely–DominicanCupid, along with all other Cupid Media-operated dating apps, is inclusive of all people regardless of color or background.
Is DominicanCupid a Safe Dating App?
DominicanCupid takes its users' privacy seriously and abides by all local, state, and federal rules. Except for the specific instances of information you choose to make public, no one has access to your private data. DominicanCupid requires its American users to fill out the IMBRA form to ensure its members' safety.
What Is IMBRA, the International Marriage Broker Act?
The International Marriage Broker Regulation Act (IMBRA) was created to protect fiancé(e) and marriage-based green card applicants, particularly women and children, from being exploited. The International Marriage Broker Regulation Act of 2005 (IMBRA) was enacted to protect noncitizens (beneficiaries) who are married to or engaged to US citizens (petitioners) and who have filed immigration petitions for them to enter the country from experiencing domestic abuse or violence.
Is There Message Translation Available?
Yes, but the "Translation" feature of Instant Messenger is only available to Platinum subscribers.
How Do I Delete My DominicanCupid Account Permanently?
Under the settings of your profile, you'll find the option to delete your account.