Our team of experts diligently research and review all of the products and services we recommend. If you buy through our links, we may receive a commission. Learn more here.
Free is indeed a loaded word when it comes to dating apps– while there are several free dating apps that claim to be free to use, the gratis versions are usually bare-bones and have limited capabilities for users, meaning they can't access a lot of the features that would significantly improve their search for a potential partner.
Those on a tight budget shouldn't give up hope just because there aren't many totally free dating apps; there are options, and they'll meet your dating needs.
We have researched the best free dating apps and have compiled a list of the top dating apps so that you may meet potential partners without spending a dime.
4 Best Free Dating Apps in 2023
It may be confusing for someone new to online dating to figure out which of the many available free dating apps is the best fit. Choosing the right dating app is important, especially if you're looking for a real commitment from a potential partner. To help you, we've included a list of essential facts for each dating app.
We recommend one of the five best free dating apps we've highlighted below if you're searching for a long-term commitment or if you're looking for a more casual encounter. These dating apps also allow you to find practically any kind of meeting or dating situation imaginable.
Dating App
Key Facts
Start Your Membership
Eharmony

Active Members: 16+ million
Gender Ratio: 48% men to 52% women
Best For: Finding singles who want a serious relationship
Membership Price: Begins at $35.90/month

Sign up Today!
OkCupid

Active Members: 10 million
Gender Ratio: 67% men to 33% women
Best For: Finding casual or serious relationships
Membership Price: Begins at $19.99/month

Sign up Today!
Tinder

Active Members: 8+ million
Gender Ratio: 61% men to 39% women
Best For: Finding singles for casual encounters and relationships
Membership Price: Begins at $4.50/month

Sign up Today!
Christian Mingle

Number of Users: 16+ million
Gender Ratio: 44% men and 56% women
Best For: Finding over 40 singles who hold Christian beliefs
Membership Price: Begins at $14.99 per month

Sign up Today!
While most of these are well-known dating apps, the basic free versions will do the trick if you don't want to shell out money for a premium membership. Some of the membership plans are pricey, so we understand you want to see how (and if) they work! No matter who you are searching for, whether it's mature dating, faith-based dating, or even dating left-leaning or conservative singles, any of these apps will fit the bill. How can we be so confident? Well, we are dating experts–if you don't believe us, keep reading to discover how and why we know these dating apps are legit!
You Can Trust Our Recommendations
We have done our homework researching and testing several free dating apps to narrow it down to the top choices. We're confident that any of the above sites will help you find love if you're currently single and looking. When deciding which apps to spotlight, we consider many important elements that matter to singles.
The total number of users and their activity level are key factors to consider when considering a dating app. You'll have more date options if more people use the app often. Additionally, we believe a platform's features should be self-explanatory and straightforward to use.
In fact, every single dating app we suggest has been proven effective by our review criteria.
We Employ an Objective Review Process
How can you trust our reviews? That's an easy one to explain! While every dating app claims to have amazing success in pairing up couples, our dating experts research these statistics and either confirm them or show them to be demonstrably untrue.
We know it's tough to put your confidence and trust in a dating app just because it claims to be able to find compatible singles, so we've got professionals who go through all the popular dating apps to discover which ones are worthy of your energy and attention.
You can learn which free dating apps are worth your time by reading our reviews. Our in-house dating writers consider various factors before offering recommendations, such as an app's match quality, usability, security, safety, and pricing.
We Provide Simple Access to Free Trials
You can always find a link to the dating app's free trial version on our site if we recommend it. The free trial period allows you to evaluate the dating app in question without spending any money.
We Update Our Content Daily
Reviews and other content published by our experts will be updated as needed in the event of a major change in the market, such as the deletion or addition of features to frequently used free dating apps. If you read our reviews, you can be certain that they are always reliable since we only utilize the most recent data.
We Stay Away From Obscure Products
We zero in on the most popular dating apps to ensure the best outcomes for our readers. If we happen upon any niche dating apps that we think might be a good match for you, we'll let you know about them, but our primary emphasis is on innovative services and products that are well worth your while!
We Use the Dating Apps
So that they can provide you with unbiased reviews, and we provide our expert dating app writers paid membership access to the dating apps they evaluate. Because of this approach, we can confidently say that our reviews are always accurate.
Breakdown of the Best Free Dating Apps
What makes these best free dating apps so ideal for meeting like-minded individuals who have experienced more in life and love? Keep reading below for a synopsis of our top five picks and why we think they are perfect for every demographic!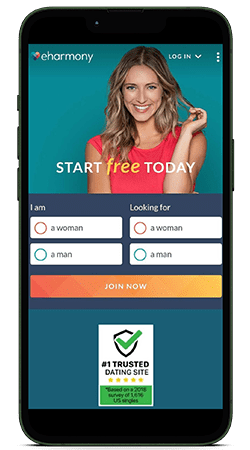 #1: Eharmony – Best For Serious, Compatible Relationships
| | |
| --- | --- |
| Active Members: | 16 million |
| Gender Ratio: | 48% men 52% women |
| Sign-up Time: | 45 Minutes |
| Pricing: | Starting at $35.90 per month |
One of the greatest dating apps, eharmony, is extensively used by those looking for a lifetime partner. It's not just a dating app; it's far more than that, thanks to the sophisticated matching technologies it employs to help bring together compatible users. This system was created after years of research into the factors contributing to happy partnerships.
According to our findings, eharmony is one of the priciest and most popular online dating apps, but its free version isn't anything to sneeze at!
It is among the most popular dating platforms globally and attracts singles from all over the world. In many respects, it also rates among the easiest to use. You won't have to spend time scrolling through countless profiles because of the advanced matching technology; instead, you'll get personalized recommendations for other users with whom you might be a perfect match.
---
#2: OkCupid – Best for Casual and Serious Dating
| | |
| --- | --- |
| Active Members: | 10 million |
| Gender Ratio: | 67% men 33% women |
| Sign-up Time: | 5-10 minutes |
| Pricing: | Starting at $19.99 per month |
OkCupid received the coveted number two spot on our list of the best free dating apps because almost every feature on the platform can be used–you guessed it–for free.
This free dating app has won the hearts of individuals all around the world precisely because users don't have to upgrade to a premium membership to benefit from the service. Since its inception in 2004, OkCupid has undergone significant evolution, shifting from a hookup-focused dating app to a serious matchmaking service with a strong emphasis on user compatibility.
The free version lets users search for members, browse profiles, send and receive messages, send likes, and get daily matches!
---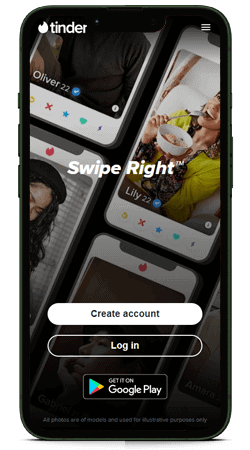 #3: – Tinder – Best for Seeking Relationships and Casual Dating
| | |
| --- | --- |
| Active Members: | 8+ million |
| Gender Ratio: | 47% men to 53% women |
| Sign-up Time: | 5 Minutes |
| Pricing: | Starting at $4.50 per month |
The "swipe right" feature on Tinder, which has made it the most downloaded dating app in the world, has revolutionized how individuals meet and find love. Even if you have never been on Tinder, you know what "swipe right" or "swipe left" refers to, which is a huge success for Tinder's marketing.
Founded in 2012, Tinder facilitates all kinds of relationships, but it is best known for its casual or hookup style dating. But don't let its reputation fool you–a lot of serious relationships and even marriages have come from singles meeting on Tinder!
As far as being a free dating app, Tinder is one of the best ones out there; singles can message each other with the free basic version if they match. That makes it a standout in the best free app category, as most platforms won't allow singles to message one another with a basic membership.
---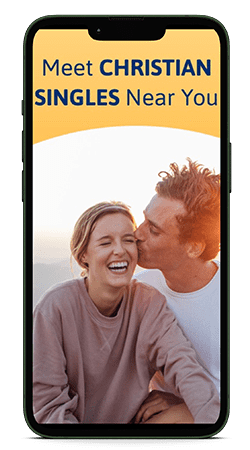 #4: Christian Mingle – Find True Love with Christian Singles
| | |
| --- | --- |
| Active Members: | 16 million |
| Gender Ratio: | 44% men 56% women |
| Sign-up Time: | 10 minutes |
| Pricing: | Starting at $14.99 per month |
Christian Mingle is a dating app where single Christians can connect with one another and perhaps start a lifelong relationship that leads to marriage. Today, about 30% of all Christian married couples have their origins in a Christian dating app.
Christian Mingle is large enough and attracts the right kind of user, but it also contains cutting-edge features that make online dating exciting and interesting. Christian singles can enjoy the swipe-based dating model popularized by services like Tinder with Christian Mingle's LookBook. Users may search for other singles based on various criteria, including religion, appearance, age, and location.
We chose this as one of the best free dating apps due to its generous "free trial" version, which allows users to communicate with one another; even though the premium version is more substantive, the basic version will get you where you need to go!
---
What Makes These the Best Free Dating Apps?
We've done the heavy lifting to help you choose the best free dating app by comparing and contrasting its features, advantages, and user experiences. The most popular free dating apps are ones that employ matching algorithms to link users based on factors like shared interests and compatibility.
The goal of this is to help you learn all you can about using free dating apps before you begin the next exciting phase of your life; finding an ideal match in the virtual dating landscape!
Innovative, Original Features
People who otherwise would not have met can find love via these dating apps. The features necessary to discover local, optimal user matches are readily available. Our top-rated free dating apps include plenty of cool features that make finding compatible singles a cinch.
Dating apps utilize rigorous system checks and verification methods to ensure that their users are who they say they are.
Big Dating Pools
Despite the allure of smaller user bases, the bigger the user base of a dating app is, the better. More individuals using the platform increases the likelihood of discovering someone you click with.
Many factors, such as the number of active users, are considered when determining the best free dating apps. We don't want users to sign up for a dating app only to be disheartened by things like a lack of real users, an abundance of spam or fake accounts, or a shortage of good matches.
Therefore, we are selective in the dating apps we recommend, suggesting only those with big user bases of those who are actively looking for a romantic partner.
Affordable Membership Fees
We know that this is an article about the best free dating apps, and there are a number of free options we've listed that are great! But basic free versions typically lack the more advanced features that would make finding someone easier. Before signing up for any dating app, consider how much money you can afford (and want) to spend.
Exceptional Matchmaking
Most of the free dating apps we tested used in-depth personality assessments and complex matching algorithms.
You can find a variety of dating apps that go above and beyond just introducing you to individuals who could be a suitable fit for you. Getting access to a professional matchmaker who can help you identify appropriate matches, a dating concierge who can assist you in setting up dates, and invitations to members-only events are just a few of the advantages of using a dating app.
A dating app's subscription fee will likely increase if these additional features are included.
Simple-to-Use Design
The majority of individuals nowadays are computer literate, but there are still those who are wary of technology and of disclosing any more of their personal information than they should. Our team tests and reviews dating apps to guarantee their privacy and usability across a wide range of skill levels.
Although the vast majority of dating apps are straightforward, a select few are particularly streamlined and easy to join. Signing up for most of the dating apps we review takes five to ten minutes. Some dating apps require a more involved sign-up process if you're looking for a serious relationship.
Best Niche Free Dating Apps
If you're single and want to start your search for a romantic connection, online dating is the place to be.
With the explosion of free dating apps in recent years, it's easy to look for love beyond your own peer group. While the bigger, more popular dating apps have larger member pools, this could be intimidating to someone who is just coming back into the dating world.
If you're looking for a more intimate dating scene, we picked our fave free niche dating sites for singles and ranked five of them based on factors like the quality of their suggested matches, how simple it is to start a conversation with a potential date, and how much time is required to sign up.
Look below to see our choices for the best free niche dating apps for singles!
#1 Zoosk
#2 Hinge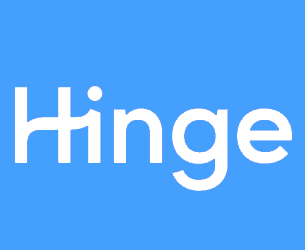 #3 Bumble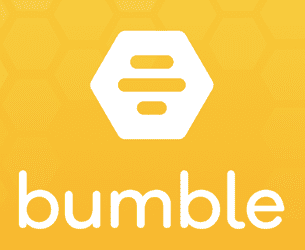 You can sign up for a free trial at one of these free niche dating apps to see if it can help you connect with compatible people. Remember, the dating pool will very likely be smaller, and the premium membership is probably going to cost you more.
Frequently Asked Questions
There is always the possibility that we have overlooked some important detail in our reviews, no matter how extensive they are. Please let us know if there are any concerns we failed to address, and keep reading for answers to some of the most frequently asked questions we get from our readers.
Do All of the Best Free Dating Apps Have Mobile Apps?
Yes! In addition to accessing these dating apps via a browser on your mobile device or desktop computer, you can download all of the best free dating apps we've listed from either the Google Play Store or the Apple Store.
Is Online Dating Free?
Yes, many dating apps provide their whole range of features—from browsing profiles and finding compatible matches to exchanging messages with other users—at no cost to their users, but only for a limited free trial period.

Certain functions, such as discovering who has seen and liked one's profile, are locked behind paid premium tiers. Before joining, you should always research a dating app's free and premium features.
Do Dating Apps Really Work?
Absolutely! The fact that there is a surge in the use of dating apps is a positive indicator of their success. Your social circle may have dwindled as an adult, and although you surely appreciate the time spent with friends and family, you may feel the urge to get back into the dating scene but don't know where to begin. Finding other people with similar interests could be challenging, but dating apps can make all the difference.
How Long Does It Take to Sign Up for Free Dating Apps?
This changes depending on whatever dating app you use. eHarmony takes the longest since it has the most comprehensive compatibility test. It might be done in as little as 30 minutes, depending on how quickly you work. However, most of the dating apps on our list have simple sign-up procedures that can be completed in about five minutes.
Can You Find a Serious Relationship on Free Dating Apps?
Yup! These dating apps do a good job of matching up serious daters looking for long-term engagements. All of these services are committed to helping people find compatible partners and giving them control over the direction of their relationships. True love and long-term relationships are often found on dating apps.
How Do I Block Suspicious Users?
The safety of its users is a top priority for every dating app, which is why they all provide tools for users to report suspicious activity or block users who make them feel unsafe. If you have any questions regarding the blocking or reporting features of a particular dating app, you can find answers in the app's help center, on the app's FAQ page, or by contacting customer support.
Can I Find Quality Singles on These Free Dating Apps?
Yes, plenty of people use these dating apps and share their priorities of discovering a significant relationship, whether it's a soul mate, a fun hookup, a loving partnership built on religion, or a serious commitment!
How Old Is the Typical Free Dating App User?
It's hard to quantify users' ages across all of the dating apps we listed, as it varies from app to app. That being said, people of all ages, from young adults to mature singles, can be found on almost every dating app. Some target specific age demographics, but those are pretty apparent from the names and descriptions of the dating apps.