There's absolutely no denying that virtual reality (VR) has changed the gaming game when it comes to interactive experiences. Strap on that VR headset, and you can be in another universe in seconds.
But did you know it's also reshaping the way we connect with loved ones? VR isn't just about gaming or simulating a walk on the moon. It's about creating new memories, bonding while spending quality time together, and experiencing something totally new and exciting. There are even dedicated VR dating apps like Planet Theta, Meta Horizon Worlds, Nevermet, VRChat, VTime XR, Flirtual, and Rec Room!
All you need to do is get yourself a pair of goofy VR goggles, and you can transport your mind into a world of possibilities. Speaking of possibilities on VR dating apps, we have 10 amazing VR date night ideas that will make your virtual encounters unforgettable!
---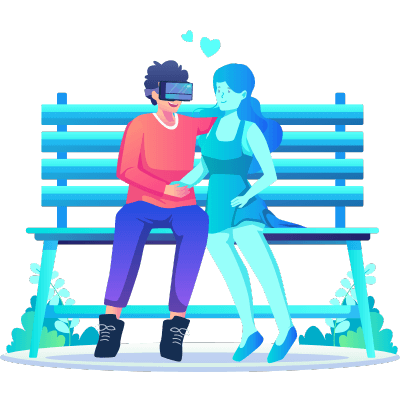 Romantic Getaways Without Leaving Home
Always wanted to walk along the beaches of Tahiti at sunset or share a kiss atop the Eiffel Tower? Now you can. Various VR dating and travel apps allow couples to explore dreamy locations worldwide.
You can bask in the ambiance, hear the sounds, and allow yourselves to be fully immersed in the romantic atmosphere without having to dig up your passport, pack your bags, or get on an overseas flight. Convenient and so much cheaper than actually traveling to a far-flung destination. Bon voyage!
---
VR Date Night Dinner and a Movie
A twist on a classic date night! Order in your favorite takeout or prepare a special meal. Once done, both of you can put on your VR headsets and choose a unique location to enjoy your meal. Want to eat sushi atop a Buddhist temple? Or eat pizza in an Italian grotto? The choice is yours.
And after dinner, you can continue the date with a VR cinema experience, where you watch a movie in an environment of your choice–from classic theatres to futuristic arenas.
---
Virtual Dance Party
Shake a stanky leg and get low with VR dance apps that transport you to a dance floor anywhere in the world. Whether you're on a neon-lit dance floor in space or at an Ibiza beach party, shake your groove thing, get jiggy with it, and sweat it out on date night.
---
Solve Puzzles Together in VR Escape Rooms
If you both love challenges and have a competitive spirit, VR escape rooms are perfect! It requires teamwork, communication, and problem-solving skills. Plus, the themes and scenarios in virtual escape rooms know no bounds–you can pick ancient ruins to abandoned space stations–the setting and choice are all yours!
---
Go on Virtual Rides
All you adrenaline junkies out there, this one's for you. You can experience the terrifying thrill of a roller coaster, walk through a haunted house, or go on a wild safari. And the best part? You probably won't barf from a VR rollercoaster ride (don't quote us on that, we aren't really sure), and no lions can maul you–it's not an actual safari!
But if you scare easily or just generally jumpy, a VR haunted house will scare the sh*t out of you–those things are no joke, even the virtual ones.
---
A Night at the Virtual Museum
For those culturally inclined couples, some VR platforms offer virtual tours of some of the world's most renowned museums. You can stroll hand in hand (virtually, of course!) through the Louvre, MoMa (the Museum of Modern Art in NYC) or the British Museum, discussing art and whatever else is on your mind as you take in the culture and feel fancy!
---
Relax at a VR Meditation Retreat
Listen up, yogis! If you want to calm your mind and bond on a deep, deep, level, you can "Ommmm" on a date night and choose from a variety of peaceful places like zen gardens, majestic forests, or under-the-sea sanctuaries. Meditate, chill, and connect on a spiritual plane.
---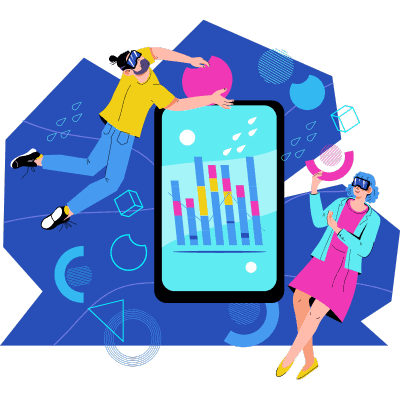 Make Art in a Virtual World
Unleash your creativity with VR apps that allow you to paint, sculpt, or even create music in the metaverse. It's so fun to watch your creations come to life, and you can collaborate on a piece or have a friendly (or not-so-friendly) competition to see whose masterpiece is the most awe-inspiring.
---
Virtual Cooking Class
Join a VR cooking class and learn to whip up exotic dishes. Once you're done, take off the headsets and try whipping up the dish IRL. It's a fun way to experiment in the kitchen and enjoy a (hopefully) delicious meal together.
Make sure your smoke detector has batteries and is in working order, in case you are new to cooking, or better yet, have a fire extinguisher handy. We aren't saying we don't think you can do it, but kitchen disasters happen to even the best chefs!
---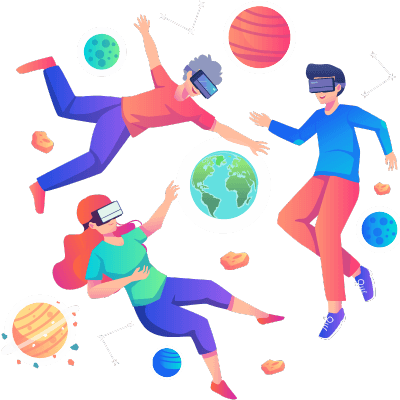 Star Gazing in Outer Space
Are you fascinated by the universe and what's beyond Earth's limits? This date night is just for you! You can set off on a space journey and explore distant galaxies, nebulae, and even black holes.
---
Takeaways
Virtual reality offers couples, both new and long-term, a fun and innovative way to connect, laugh, get closer, and have a great time while doing so! With more VR options available than ever before, and new ones emerging, every VR date night can be a night to remember.
So, the next time you're scratching your head, wondering what the heck to do for a fast-approaching date night, remember that a whole virtual world is at your fingertips.