You finally get back home after a long night out. Are you feeling tipsy? Or is that the butterflies fluttering around in your stomach? Perhaps you're smiling, and as you touch your lips, they're chapped and raw. What a first kiss. You collapse backwards onto your bed, grab your phone, and text your best friend. We did it. WE MET.
Fast forward a week later, and this amazing, incredible, sweep you off your feet first date turned out to be just that–the first and only date. Your house must be haunted because hot damn, have you been ghosted A LOT recently! So now what? You open up Hinge–where you two first met–not because you want to seek someone new, but because you're curious if this date has responded to your message yet. Nope. Nada. But instead of feeling defeated, you sit up and decide: NEXT. 
So what did you do? Instead of telling your best friend and letting your dreams of the one carry you off to a far-off fantasy world, you decide instead to tell Hinge specifically that you met this person. You click on their profile and hit Hinge's 'We Met' feature button. And why do you do this? Because as the dating app itself puts it: So you can get off Hinge, faster. 
Let's find out exactly what that means.
Introducing— Hinge's 'We Met' Feature
Hinge's 'We Met' feature is a feedback mechanism that allows users to provide information about their dates to the app's algorithm.
I'll be the first to admit I wish this had been around a few years ago. Not only did I meet my ex-boyfriend on Hinge, but when he turned out to be a little coo coo for Cocoa Puffs, it would have been nice to give the algorithm a detailed explanation of the experience.
Not so I could dox my ex–although he probably deserved it–but mainly because I'd like to be directed towards men in the future who value honesty and directness. And of course, you'll have to actually meet someone to really gauge that aspect of their personality. Still, people's profiles on Hinge are representative of their personality, and the more you take advantage of using this algorithm, the more likely you'll be redirected to someone who matches your values. 
When you click 'we met' on someone's profile on Hinge, you're prompted to share whether you went on a date with them. For the purpose of this blog, I logged back into my Hinge account and used this feature on two unsuspecting matches, people I've never actually met before, but who I wanted to test on this system. Fortunately, my responses are private, so neither Hugo or Jeffrey will receive a message saying they met me, so I don't need to worry about putting out stalker vibes.
It's quite simple, really. You'll be prompted with the question: Have you met [fill in the blank] in person? You can say yes, not yet, or no. If you put not yet or no, they'll essentially tell you to come back if anything changes. Actually, what they say is: 'Let us know if that changes. Every bit of feedback helps up learn your type.' And then a nice little reminder that this is all private, with an option to report the person–which of course, I didn't press, because I'm not trying to piss off a stranger or get anyone in trouble.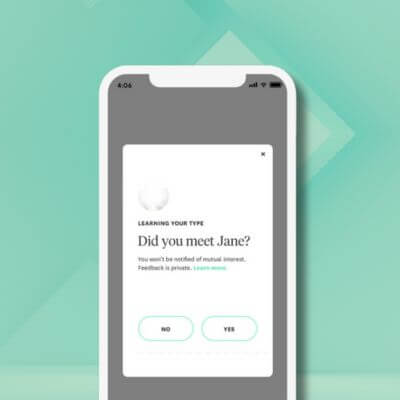 I know that because I pressed 'no' on a rando, but for Hugo and Jeffrey, I pressed 'yes.' After you press 'yes,' the app will prompt you with another question: 'Is so and so the type of person you'd see again?' And then a brief message pops up about how you won't be notified of mutual interest. You can then press yes or no. So I tried both.
If you press yes, they'll say 'great news!' And if you say no, the response will be 'we're sorry to hear that.' But for both answers the automatic message will essentially explain how they (the algorithm) is using this to help learn your type and make smarter recommendations for future profiles.
This feedback is used to improve the app's matchmaking capabilities by refining the algorithm and providing better matches in the future. Can it stop you from matching with pathological liars? Probably not. But can it hone in on what you prefer and look for in profiles to ideally sync you up with people who are showing more green flags than red? That's the idea.
The 'We Met' feature is just one of the ways Hinge is seeking to differentiate itself from other dating apps and provide a more personalized experience for its users and considering how private it is, there's not much to lose here.
Benefits of User Feedback for Matchmaking
Hinge isn't the first dating app to use a behavioral matchmaking system to increase the likelihood of relationships, and it probably won't be the last, but in this day and age it's a necessary addition. By collecting feedback on dates, apps like Hinge can better understand what makes a successful match and adjust their algorithms accordingly. Not only can this lead to more meaningful matches but users feel like they have a say in the process, and over time, this will increase user satisfaction. By adding your own feedback, you can unwittingly help developers identify any issues or flaws in the app's algorithm, which will ultimately provide a better experience for you as the user in the long run.
User feedback is becoming increasingly important in the development of matchmaking capabilities in dating apps. By gathering information about which matches led to successful dates or relationships, apps can adjust their matching criteria to provide better matches in the future. User feedback can also be used to personalize the experience by providing more tailored profiles for a more engaging and effective matchmaking experience.
These kinds of additions to dating apps like Hinge can increase transparency and trust between the app and its users by providing a high-quality service aimed at improving the user experience.
---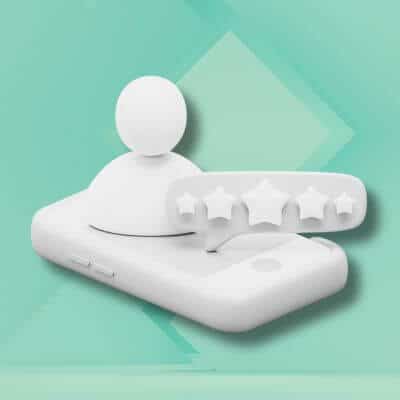 The 'We Met' feature is just one example of how user feedback can shape the development of dating apps. By giving your input, you can help developers identify new features and capabilities that you–the user–would like to see in the app in the future, something that's incredibly helpful as dating apps continue to evolve.
After all, if this is a product we're using, our opinions should be considered when creators aim to improve an app's functionality by providing new features that are tailored to our needs. At this rate, the future of online dating will probably be one where the user is integrated and involved, making it a seamless experience.
No one wants to go on a dating app just to be circulating the same profile for years. Sure, dating profiles make money when people are dating. But fortunately, single people will continue to exist, and the ease and accessibility of dating apps like Hinge will mean users will continue to return. With a motto like 'Meant to be Deleted' Hinge proposes the increased likelihood of positive matches leading to relationships. And so far–it works.
---
When I was getting back into online dating and there was a choice between Tinder and Hinge, my mind went to one specific question: Am I looking for something casual or am I looking for love? Because ultimately that's the reputation those two individual apps respectively hold. And statistically speaking, women tend to want love, men want to just have fun. But where women go, men follow. Meaning regardless of what you're looking for, you're going to find a lot of people on Hinge. And why is that? Because the better the user experience on a specific app, the more likely people will flock to it. Word-of-mouth referrals is a thing.
Your Opinion Matters
And I'm not just talking about your passion for your favorite Shonda Rhimes show or which shows Pedro Pascal is the sexiest in. By expressing your opinion on dating apps, you can have an effect the improvement of algorithms in the future.
By incorporating user feedback into their development process, developers can create a more interesting and effective product that meets the needs of their target audience. The happier the user, the more likely that the app will stay ahead of the competition.
---
And so when you give a dating app feedback, developers can understand how users interact with the app and what they value most. By analyzing your information and preferences, creators of dating apps can identify patterns in user behavior and prioritize the development of features that individuals find important.
This can also allow them to catch issues and make adjustments quickly, rather than waiting until the app is fully developed and risking costly redesigns or rewrites later on.
Not only will your responses streamline the development process and enhance the popularity of a specific app, but the more you comment, the more the algorithm learns–and the more likely you'll be increasing the chances of you being matched with a profile that shares your values. Regardless of whether you want love, or something more casual, the bottom line here is clear.
---
The more you chime in, the more likely you'll find what you're looking for. It literally took me .05 seconds to do and considering it's private, that's not much to lose. I'll definitely be clicking 'we met' with people on Hinge in the future. But this time, I'll wait until after we actually meet. Because again–you'll never know until you try.
And once you know then you know and hitting we met can be a cathartic way to say–I have a new partner, or this person is freaking nuts. Hit or miss in my book because either way, you'll be helping to refine your matches in the future.