Our team of experts diligently research and review all of the products and services we recommend. If you buy through our links, we may receive a commission. Learn more here.
Unless you've been living under a rock, chances are pretty good that you know what Facebook is–and that you have a Facebook account. But did you know that there is a Facebook Dating app? And if you are single and looking to date, you're already about halfway done with creating a Facebook dating profile. That's because all you need to do is take a few baby steps, and BOOM! You have yourself a brand new dating opportunity with a trusted and known social networking giant. And the best part is…it's completely free. No, you did not read that wrong. As long as you have a Facebook account, the dating app is absolutely, positively free.
In 2018, Facebook debuted Facebook Dating, a means for single people on Facebook to find dates outside of their existing networks of friends and acquaintances, and there are already 30 million members on this online dating app in the United States.
You can learn more about this free dating app's features and huge user base in our in-depth Facebook Dating Review for 2023!
| | |
| --- | --- |
| Sign-Up Time: | 5 minutes |
| Cost: | Facebook Dating is free |
| Membership Pool: | 30 million |
---
---
Our Facebook Dating App Rating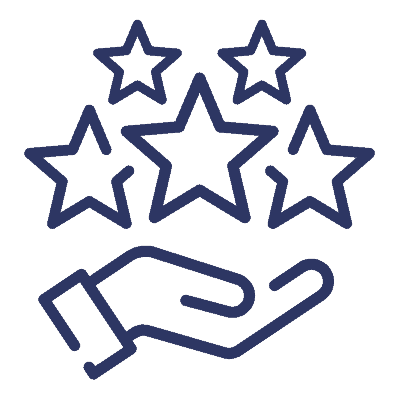 Overall Rating

Facebook Dating is coming in with an overall score of 4.0 out of 5!
After examining Facebook Dating features, its usability, the quality of the daily matches, the cost of membership, and the activity level of its members, we've concluded that this dating app comes in at a rating of 4.6/5!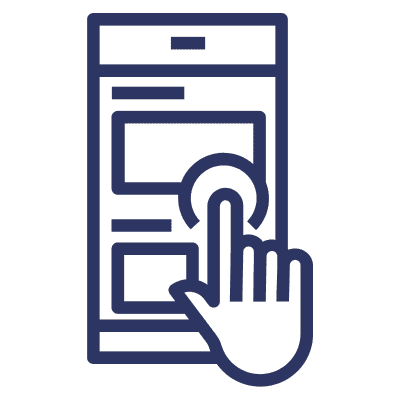 Ease of Use
Because of its user-friendly interface, it's impossible to see anybody having trouble using this dating app. The app's charm lies in its ease of use; logging in with your Facebook account takes care of much of the signup process, member profiles are straightforward to browse and like or dislike, and new features are always accessible through a tab in the app's footer.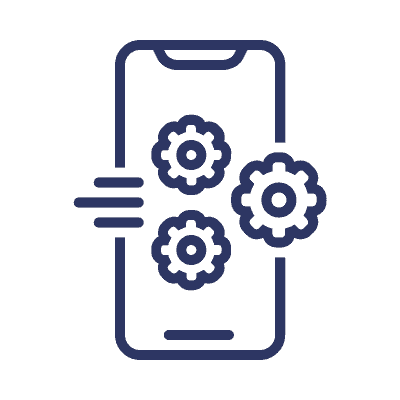 Features

We couldn't help but pay attention to Facebook Dating when we discovered its unique, exciting features. In particular, we thought the Secret Crush addition was excellent, but the concept of both On Pause and Second Look was also enjoyable. Equally importantly, this app can be seamlessly connected with Instagram. Facebook's integration with Instagram makes it easy for users to share their best shots with potential matches.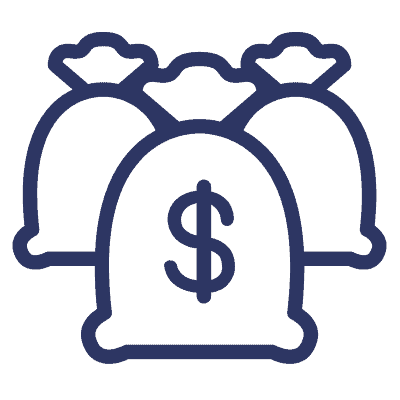 Cost



It's free! No cost at all. This is one of the many times we will shout this from the rooftops of our dating headquarters–IT IS FREE!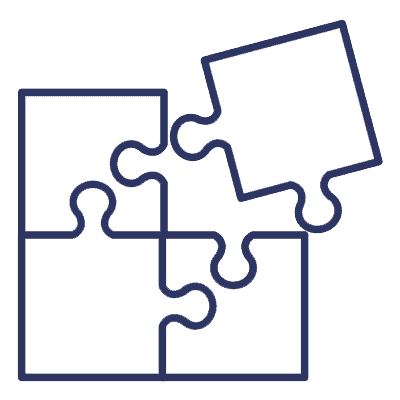 Match Quality

Hats off to Facebook Dating—they have an excellent algorithm for finding compatible partners for its users based on demographic data, dating interests, and popularity rankings of profiles. When you add in the staggering 30 million US-based users, you have a recipe for outstanding everyday matches open to having a good time on dates or finding love.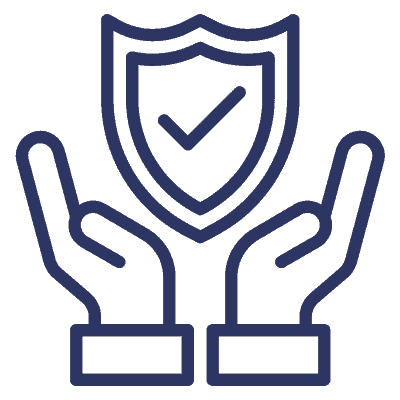 Safety and Security


Members can block and report suspicious or users who send unsolicited messages, so that's a plus. Facebook Dating says it doesn't sell users' data and has never been hacked, but that's debatable because it has had many security issues, according to news and hearings in Congress. While we have no evidence that Facebook dating operates in the same way as its parent company, we remain wary.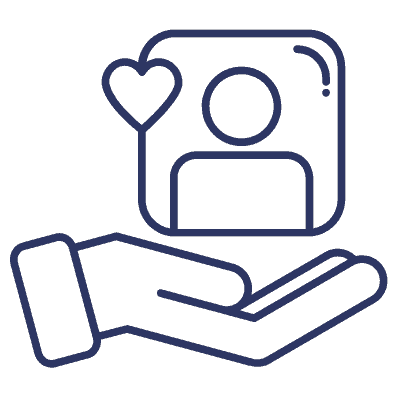 Customer Service


You'll need to search elsewhere if prompt assistance over the phone from knowledgeable representatives is a priority. Because Facebook Dating is free, there isn't much of a financial incentive to provide excellent customer service. The only real "help" you get is a list of frequently asked questions to read through.
Overview of Facebook Dating
Facebook Dating Fast Facts
Year Founded: 2018
It costs nothing to use Facebook Dating. You just need a Facebook account and the Facebook app!
Average User Age: 30-49 years
Gender Ratio: 57% men to 43% women
The Facebook dating app was launched in 2018 as an additional way for the social networking site's users to broaden their horizons in the dating scene. Since the meta site already boasts a massive user base, the dating pool is one of the biggest in the country, with the average age of users utilizing it in a dating capacity between the ages of 30-49. The dating pool's gender ratio breaks down to 57% men and 43% women, and it is free to use if you have an existing Facebook account. And if you don't, you can create one and then hop onto the dating app if you want to check out your options.
Facebook Dating Free Trial and Premium Features
There is no need for a free trial since Facebook dating is always free of charge! Look below for all of the perks and features you get with a free membership–all you have to do is download the Facebook dating app.
Standard (Free) Features
Secret Crush
Choose a total of nine crushes from your Facebook friends list. Facebook will reveal your identities on the dating app if any of your friends who are also using the app have added you as a crush. This is a cute feature that allows you to see who has been harboring the same crush you have.
On Pause
With the On Pause feature, you can put a temporary hold on your online dating profile without terminating your account. You can pause the app for deeper conversations with people you've previously met and resume getting new matches whenever you're ready.
Preemptive Blocking
You can keep those you wish to avoid in the dark about your use of the Facebook Dating app by preemptively blocking them, and your Facebook friends won't even know you're using the app. Let's say that you don't want to see a person you know in real life as a recommendation in your Facebook Dating feed, but you aren't friends with them on Facebook. Protect yourself from them checking out your app activity through the use of the preventative block.
Link Your Instagram Account
To make the most of Facebook Dating, you can also showcase your best Instagram pics on your profile. It's a fun and easy way to make your profile more interesting and engaging.
Second Look
In other dating apps, Second look functions as a rewind. Maybe you initially had strong feelings for a certain profile but then reconsidered it for whatever reason. The benefit of taking a second look is that you can go back and rectify that impulsive blunder.
Do Facebook Dating Memberships Renew Automatically?
Since no membership is required to use the Facebook Dating app, you don't have to fret about forgetting to cancel an auto-renewal feature if you are no longer using the platform. As we have mentioned before, it's always free!
Should You Join Facebook Dating?
Maybe you've thought about downloading the Facebook dating app, but you've been hesitant about doing so. Read on to learn about the benefits of using this popular dating app and some reasons why you may want to hold off on joining the Facebook dating app just yet. Check out these factors to see whether Facebook Dating is the right app for you.
Reasons to Join
We've compiled a list of our favorite features of Facebook Dating that make it well worth your time to become a member. Take a peek if you're curious about finding out more.
Completely Free
It's free! Completely free! That's all that needs to be said here.
Massive Dating Pool
Facebook dating has 30 million active members in the US alone and 10 million active each and every week. That's a lot of eligible singles!
Super Easy Signup
If you already have a Facebook account, creating a profile is a simple process you can complete quickly!
Facebook Won't Tell Your Friends You're Dating
Your pals won't find out that you're using the Facebook Dating app unless you want to tell them yourself. Thank the good lord (or Mark Zuckerberg) because some people want to keep their dating app habits on the down low.
Reasons Not to Join
We shouldn't disregard Facebook Dating's drawbacks after highlighting its advantages, and we've laid them out below.
App-only
Downloading the Facebook Dating app is the only way to access the feature, as it is unavailable or accessible on desktop computers.
Not Great for Serious Relationships
Most Facebook Dating app users tend to be looking for casual flings or hookups. We aren't saying that finding a serious, long-term commitment isn't possible, but it seems the members aren't interested in lasting relationships as they are in casual dating.
Too Many Unsolicited Messages
Since there are no mutual matching requirements on Facebook Dating, members are on the receiving end of many unsolicited messages. This can be overwhelming and, frankly, gross.
Uneven Gender Ratio
The gender ratio is uneven, with men (57%) making up more of the users than women (43%). While this isn't necessarily bad, please refer to the unsolicited messages we referenced above, and you'll understand who gets those yucky, unwanted communique in their inboxes.
The Facebook Dating's Dating App's Sign-up Process
Facebook Dating's signup process is straightforward and won't take you more than 5 minutes if you already have a Facebook account. We won't be providing a complete step-by-step guide on how to create a Facebook account since we assume you're familiar with Facebook! But we will walk you through signing up for the dating app, creating a profile, and searching for matches.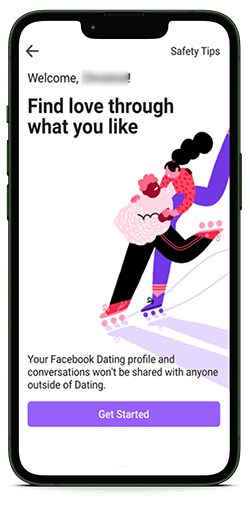 Step 1: Open the Facebook App
To begin, launch the Facebook app by tapping its icon (it looks like a square with three horizontal lines). Find "Facebook Dating" at the bottom of the page and click it to begin. After you click the "get started" button, you'll be directed to the screen seen above.
On the next page, you'll see a disclaimer stating that Facebook won't tell your friends that you've joined a dating app. They also guarantee they won't pair you up with somebody in your existing network.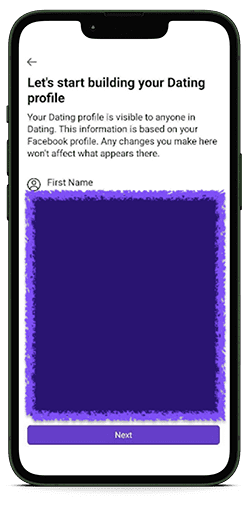 Step 2: Start Creating Your Profile
In this step, you will start the process of creating a profile on Facebook's dating app. Most of the fields you'll need to fill in will have the information you've already provided pre-filled, yet you can always edit or remove this.
On the following screen, you'll need to choose your dating goal. Are you a fan of men or women or both? The Facebook dating app welcomes users of all gender identities and sexual orientations.
Include your location to get better search results. If you're looking for local singles, Facebook can help you locate them by using your location. It serves as a starting point for searches where you eventually wish to broaden your area.
You'll then be asked to enter your height, if you have kids, and your education level. Your answers to Facebook Dating's additional profile questions will be visible to the public. You can decide to ignore any or all of them, but doing so will prevent other singles from getting a good sense of who you are.
Step 3: Pick a Profile Photo
You'll need to upload a picture to your Facebook Dating profile. When you reach this stage, Facebook's default photo for your profile will appear for your review and possible replacement. You're encouraged to upload as many photos as you want to your Facebook Dating profile.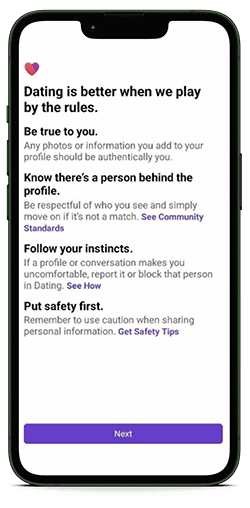 Step 4: Agree to Terms and Conditions
You can see Facebook Dating's data privacy and use policies on its website. After reading these terms and conditions and agreeing to them, click "confirm."
On the next screen, you'll find information on the rules of the Facebook Dating community, online dating safety guidelines, and how to report or block other users.
Step 5: Build Your Profile
To start making changes to your info, choose "profile" from the top menu bar. When it comes to your Facebook Dating profile, there's plenty of room for improvement. While you generally won't alter your name, birthday, or place of birth, you could decide to make modifications to other elements of your profile, such as your interests or educational background.
At the top of the "edit profile" page is a little space where you can provide a short synopsis of who you are. This will appear at the top of your Facebook dating profile and serve as an icebreaker to get people interested in learning more about you.
Step 6: Preview Profile
Click "preview profile" to see how your new Facebook Dating profile looks to other singles using the app.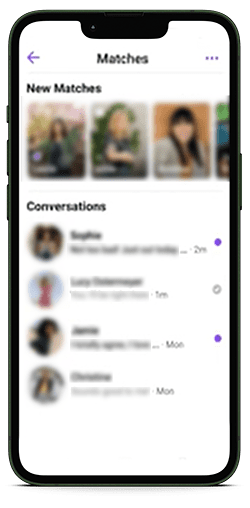 Step #7: Upgrade to Membership
The "liked you" and "matches" tabs, located right next to the "profile" on the main navigation bar, show you which other singles have shown an interest in talking to you.
Just under the main menu bar, you'll see a member's photo and some basic information like their name, age, and location, all taken from their Facebook Dating profile. You'll also see "heart" and "x" icons. Facebook Dating doesn't have swiping features, but clicking the "heart" means you are interested in the person, and tapping the "x" means you are not.
Many customization options are available through the drop-down menu found under each profile:
Second Look: Reconsider any singles you may have previously disliked.
Get matched with individuals from common Facebook events using Events In Common.
Get matched with individuals who are members of the same Facebook groups using Groups in Common.
You can view the full profile of a user whose photo you've seen in the app by tapping on the photo. And that's it–you are officially Facebook dating!
Alternatives to Facebook Dating
If you've read our review of Facebook Dating and believe there is a dating app out there that's a better match for you, there are a lot of alternatives! Check out some other great dating apps that we recommend below:
Dating App
Key Facts
Review
Eharmony

Active Members: 16+ million
Gender Ratio: 48% men and 52% women
Best For: All singles who want a serious relationship
Pricing: Begins at $35.90/month

eharmony Review
Elite Singles

Active Members: 2+ million
Gender Ratio: 44% men to 56% women
Best For: Highly educated and successful singles 
Pricing: Begins at $31.95/month

Elite Singles Review
JDate

Active Members: 240,000+
Gender Ratio: 47% men and 53% women
Best For: Jewish singles looking for dates and serious committed relationships
Pricing: Begins at $29.99/month

JDate Review
Zoosk

Active Members: 40 million
Gender Ratio: 47% men and 53% women
Best For: Finding a casual date and romance or falling in love with black singles
Pricing: Begins at $10.00/month

Zoosk Review
In many cases, these alternative dating apps offer better dating pools and come at a better price than a niche platform like BlackPeopleMeet. Begin a free trial or a premium membership today using any of the sign-up links in the chart above!
Frequently Asked Questions About Facebook Dating
We apologize if there are any unanswered questions after reading our review of the Facebook Dating App, which we have attempted to address in the following section of frequently asked questions. We put together this list since these are a few of the most often inquiries we've received regarding Facebook Dating from our readers!
Do I Need a Facebook Account to Use Facebook Dating?
Yes. Dating on Facebook isn't a separate app but an extra option inside the main one. A Facebook login is a must for using Facebook Dating.
Is Facebook Dating Really Free?
YES! There is no catch, paywall, or premium features for an additional fee. Despite the app's shortcomings, this is unquestionably its best attribute.
What Is Facebook Dating?
Via Facebook's "Dating" feature, singles can meet people who aren't already in their friend network. An app for both iOS and Android is already available, but there is no web-based version now.
Are My Friends Going to Find Out I Joined Facebook Dating?
Good God, no. One of its best features is that Facebook Dating will not broadcast the knowledge that you are a member. Facebook protects your privacy by not recommending people from your friend list. It's possible to use Facebook Dating without worrying that your friends will find out.
How Long Does Facebook Dating Signup Take?
If you already have a Facebook account, the signup procedure will take no more than 10 minutes at the most. Your Facebook account will be used to complete a lot of your profile for you, which saves you a lot of time when registering!
If I Don't Like Facebook Dating, Can I Opt Out?
Facebook Dating can be permanently removed from your device by removing your profile in the app's settings if you're not happy with it. When you remove your dating profile, everything associated with it disappears permanently.
Does Facebook Dating Have a Swipe Feature?
The "swipe right" and "swipe left" actions are not included in Facebook Dating. However, they do have the option of favoriting or disliking other users' accounts. An "x" and a "heart" icon will signify these actions.
What Kind of Relationships Can I Find Using This App?
It's possible to meet the love of your life or develop a serious relationship on Facebook Dating, but the app, by and large, caters more to casual daters and those looking for a romance that is not so serious. It's more along the lines of Tinder or Bumble than eHarmony or Christian Mingle.
Why am I Unable to Screenshot Facebook Dating?
The development team behind Facebook's dating app included a security feature that prevents users from capturing screenshots in an attempt to gain consumers' confidence. One drawback is that screenshots are disabled. The bright side is that your personal information and pictures are somewhat safer. That's a fair compromise, in our opinion.
Can I Block Facebook Dating Users?
If a member of Facebook Dating makes you feel unsafe or uncomfortable in any way, you can block them. You need to access your Facebook settings in order to block users on the dating app. You can also report users to Facebook moderators.
How Does Facebook Dating Work?
When you sign up for Facebook Dating, the platform will gather information about you, including your dating preferences, likes, values, and location. Because this is such a basic method of pairing people, the kind of relationships that blossom from it are usually uncommitted relationships or casual dates rather than long-term, serious commitments.
Is Facebook Dating Safe?
If you follow the usual precautions when meeting people online—like not revealing personal information or sending expensive gifts or money—then using Facebook Dating is absolutely safe.