Our team of experts diligently research and review all of the products and services we recommend. If you buy through our links, we may receive a commission. Learn more here.
The Boo dating app's innovative approach to matchmaking creates a community where users can connect with interesting people from all over the world and find romantic partners. Its software claims to provide a one-of-a-kind experience for its users by virtue of its clever profile-building and matching algorithms, which are based on the Myers-Briggs Type Indicator (MBTI) tests.
Boo is one of the more accessible dating apps because it helps users learn more about their potential partners by analyzing their personalities, preferences, and characteristics, such as their zodiac sign, compatibility, and interests. Not only can users find potential romantic partners on the Boo dating app, but they can also engage in interesting intellectual conversations with people from various walks of life.
But does it measure up to its MBTI matching claims? We delve into what makes Boo unique, highlighting its features, cost, and functionality and analyzing its pros and cons in our complete review of the Boo app for 2023.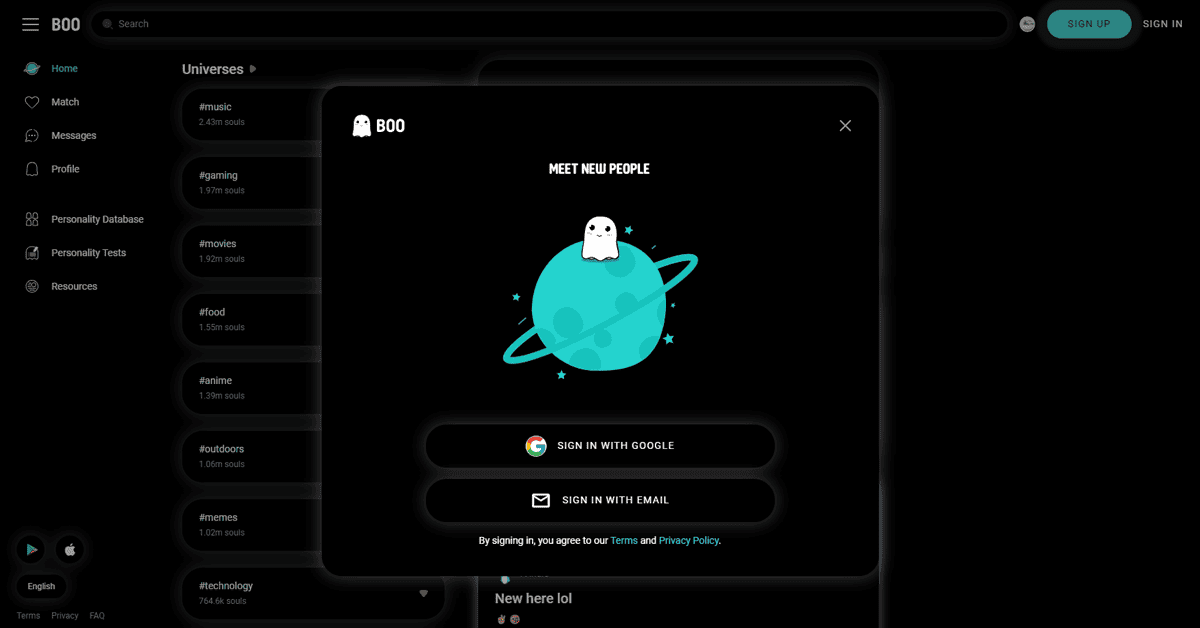 | | |
| --- | --- |
| Sign-Up Time: | 10-15 minutes |
| Cost: | $10.83 – $20.00 per month |
| Membership Pool: | 1+ million |
---
---
Our Boo Dating App Rating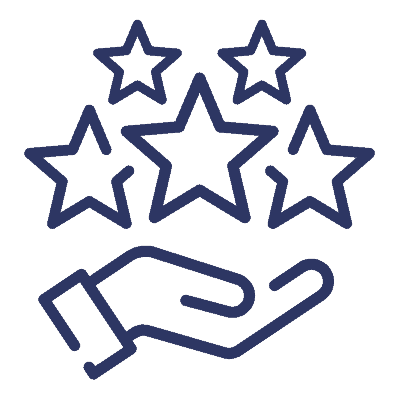 Overall Rating

Boo is coming in with an overall score of 4.2 out of 5!
Since we take into account the number of users, the price of premium memberships, the efficacy of the matching system as a whole, and the benefits and features provided to members, our reviews are always comprehensive and impartial.
If you're looking for a personality-centric dating app that can help you find "the one" based on the renowned MBTI personality tool, we highly recommend the Boo dating app, and it got a solid rating of 4.2 out of 5 stars.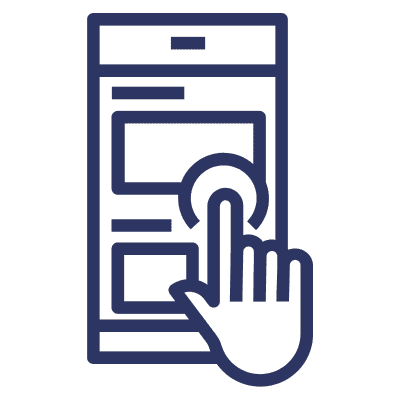 Ease of Use

The Boo dating app has an adorable interface (with little ghosts guiding you every step of the way) that will make you want to swipe right away. Its interface is super intuitive that even the most novice tech users won't have any trouble navigating it.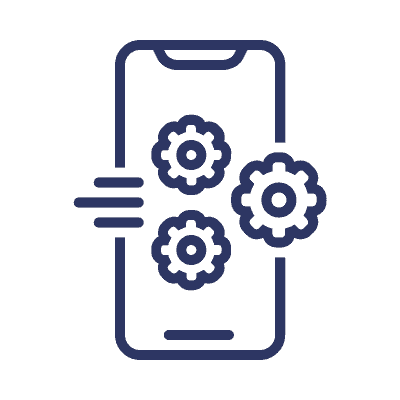 Features

In terms of features, the Boo dating app has everything a user needs to meet their individual dating goals–and then some. And we really like that it has integrated the MBTI and other personality tests into its matching algorithm–that is a major draw for users who are interested in meeting their match.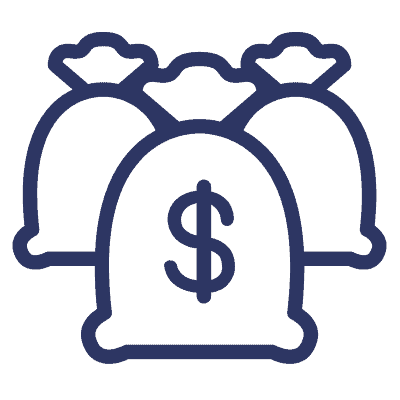 Cost


We are pleasantly surprised with the relatively low-cost premium membership plans offered by the Boo dating app! Not to mention, it has one of the better basic versions than most dating platforms, freemium ones.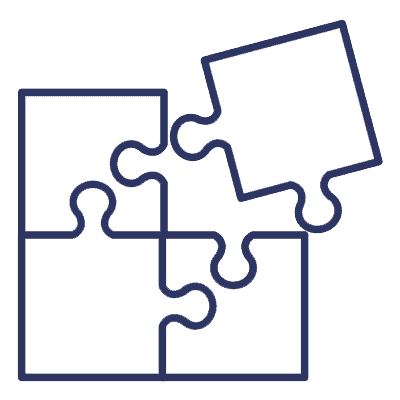 Match Quality


According to Boo, "We tend to be attracted to people that are opposite of us in just the right ways, yet similar to us in the most important ways. Someone who will effortlessly love, appreciate, and understand you for who you naturally are. Someone who is everything you're not yet feeling just the same."
With the use of the 16 personality type framework, the platform is able to dissect a person's personality and pinpoint the aspects in which similar or opposing characteristics generate romantic interest.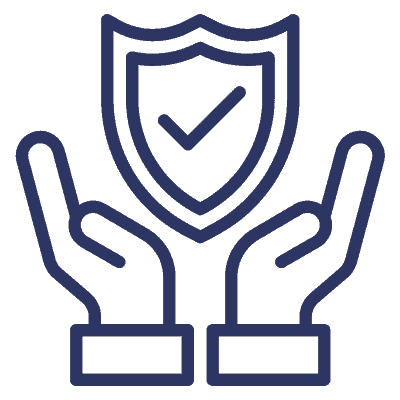 Safety and Security


If you encounter a user who you believe is suspicious or who is acting inappropriately, you are able to report them through the Boo Dating App. The app will take action to block and report them.
When it comes to safety, Boo guarantees its users' data and privacy within the app.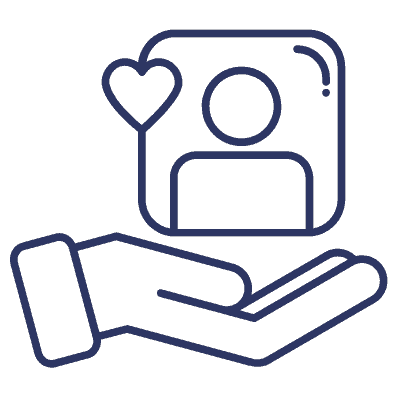 Customer Service


According to user reviews, the customer service team at the Boo dating app is helpful and responsive to all issues and inquiries. They also have an extensive FAQ page with over 150 questions which you can visit by clicking here.
Overview of the Boo Dating App
"Boo is for connecting with compatible and like-minded souls. Date, chat, match, make friends, and meet new people by personality. We're your tour guide through the strange landscape of another's heart and mind. We use personality psychology to help you find dates and friends that'll effortlessly love, appreciate, and understand you for who you naturally are," says the Boo dating app homepage. "Find your soulmate or your best friend."
The Boo dating app is stepping up the dating game–it is the only platform that takes your unique personality into account. With just four questions, users are able to assess the 16 different facets of a potential match's personality to understand them better. They can hopefully go on to build meaningful relationships with them based on that foundation.
Boo Fast Facts
Year Founded: 2020
Interesting Fact: The Boo dating app used the Myers-Briggs Type Indicator in its matching algorithm in order to pair up truly compatible singles.
Average User Age: 17-32 years
Gender Ratio: N/A
Founded in 2020, the Boo dating app is a one-of-a-kind platform due to its use of the MBTI personality assessments in combination with its sophisticated matching algorithm to pair up compatible users. The average age of Boo users is between 17-32, and as of the publication of this review, there is no data on the male-to-female gender ratio, but we will update you when it becomes available!
Boo Cost and Premium Membership Subscriptions
The Boo dating app offers four tiers of premium membership plans starting at $2.49 per month and in durations of 1, 3, 6, and 12 months–check out the chart below to see the Boo Infinity subscription plans.
| Package | Length | Price Per Month | Total Cost |
| --- | --- | --- | --- |
| Boo Infinity | 1 month | $20.00 | $20.00 |
| Boo Infinity | 3 months | $13.33 | $40.00 |
| Boo Infinity | 6 months | $11.66 | $70.00 |
| Boo Infinity | 12 months | $10.83 | $130.00 |
Boo App Free Trial and Special Features
While most traditional free trials allow new users to access full premium membership benefits for a short period of time, first, the customer must provide payment information. If the free trial isn't canceled before it expires, the account automatically becomes a paid premium membership–not so with Boo.
The Boo dating app doesn't offer a free trial but has a more robust basic version that lets users utilize a limited number of features. They get 30 swipes per day and limited messaging capabilities.
Standard (Free) Features
Create an account
Upload photos and videos
Get match recommendations
Like or pass matches (limit of 30 swipes per day)
Limited messaging
Premium Membership Features
Unlimited Recommendations
With the basic version, users are restricted to 30 swipes per day, but with a premium membership, members can swipe to their heart's content!
Unlimited Messaging
Premium members aren't limited to sending a few messages here and there–they can send and receive messages to and from anyone else on the Boo dating app.
Time Travel
Premium members have access to the time travel features to revisit the last "soul" they encountered and take another glimpse into the past to see if they missed a compatible match.
Revival
The Revival feature allows users to retrieve all their previous recommended matches.
Ad-free
No explanation is needed other than there are no annoying ads to interrupt your browsing and chatting.
Read Receipts
With read receipts, you'll be able to tell when someone has read your message–the recipient's double-check mark will turn blue.
Do Boo Memberships Renew Automatically?
Your subscription will be automatically renewed unless you turn off the auto-renewal feature–your payment method will be charged for the renewal within 24 hours prior to the end of the current period at the same price and duration as before.
Should You Join the Boo Dating App?
Suppose you're looking for a dating app that's a bit different from the rest. In that case, we recommend trying out the Boo dating app–it gives you a detailed analysis of your MBTI personality type before you can see potential matches. It functions like a combination of Reddit and horoscopes.
It's not certain whether Boo's emphasis on behavioral psychology is effective, but it highlights potential conflicts or a great date when you browse a profile in order to help you discern a compatible match, but making an online connection is just as difficult. It's a bold move, but the app makes the dating process enjoyable and relaxed instead of the usual stressful experience. Just for that reason, it's def worth giving it a whirl.
Reasons to Join
The Boo AI dating app is a fresh-faced contender in the world of digital dating, and it has a lot going for it. Read on to learn why we think you should join Boo!
Uses Myers-Briggs Type Indicator for Matching
The implementation of the MBTI framework for matching singles highlights the significance of personality types in fostering meaningful connections.
Inclusive and Diverse Community
The Boo dating app is a platform that embraces inclusivity and provides a welcoming space for users who are looking for both romantic relationships and friendships–it fosters a supportive and diverse community.
Profile Verification
Boo offers a verified account feature that enables people to only search for verified accounts. This feature guarantees their users will encounter a limited number of fake or automated profiles on the platform, providing a more trustworthy and genuine experience for users.
Learn and Use New Languages
The software has a language learning function and a built-in translation tool, allowing users to translate a number of languages easily. This feature eliminates the language barrier so that users can interact with people from various walks of life and potentially form profound connections.
Reasons Not to Join
While we really enjoyed using the Boo dating app, there are a few drawbacks that we've outlined below that any potential users should be aware of.
App Can Be Glitchy
Several users have reported encountering bugs and issues while using the Boo dating app. These problems primarily revolve around the app's functionality, mostly in connection to its matching system.
Time Restriction for Responses
If users fail to check the app frequently, they may miss out on potential connections due to the three-day time frame limit for accepting a message or a "like."
Not for Casual Daters
If you are looking for a casual dating experience, the Boo dating app is not going to fulfill your needs. Since it relies heavily on connecting people on a deeper level based on personality types, all you casual relationship seekers should head to Tinder.
Limited Local Matches
Some users of the Boo dating app reported that matches in their immediate area are few and far between, which is fine if you are searching for a long-distance romantic relationship or friendship but won't do you much good if you want to date someone in your local area.
The Sign-up Process
We signed up and created a dating profile on the Boo dating app, which was a little more time-consuming than other platforms–but that's due to the personality quiz. It's based on the Myers-Briggs personality types, and if you've already taken the test and know which of the 16 types you are, you can skip that part, and it'll take you less than the 10-15 minutes it took us!
We signed up using an iOS device, but the steps are identical if you use an Android! Keep scrolling for a step-by-step guide to signing up for your Boo dating app profile!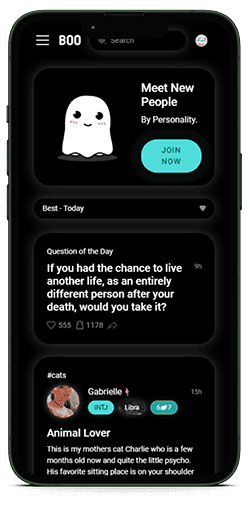 Step 1: Download the Boo Dating App
Head to the App Store and search for the Boo dating app and click "GET" to download and install. You can also go to Boo's homepage, which will automatically redirect you to the app you want.
Steps 2 and 3: Choose a Sign In Method and Enter Basic Details
Once it's downloaded, select the way you want to sign up–you can use your Apple ID, Google account, or email.
Enter your name, gender, and birthday. You'll also need to confirm your bday is correct to move on–make sure it's right, as you can't change it later!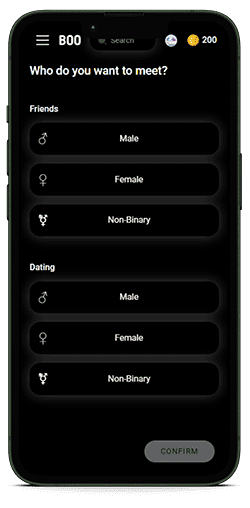 Step 4: Specify Who You Want to Meet
Now you'll tell the Boo dating app who you are looking to meet on the platform in both the friends and the dating categories.
Step 5: Read About the Boo App
The next screens are an introduction and explanation about the Boo dating app and how it works–you can either read them or quickly scroll through to get to the next step.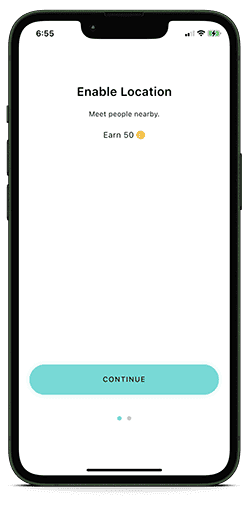 Step 6: Enable Location
So Boo can find you compatible matches, you have to enable your location to find potential partners and friends in your area.
Step 7: Take Boo Dating App's Personality Quiz
You have three choices at this stage; you can skip the personality test if you already know your personality type, take a short quiz or take a more in-depth and accurate test. When you complete the quiz, the app will tell you your personality type and who you are most compatible with!
Step 8: Add Interests, Lifestyle, Profession, and Education
This step asks you to add at least five interests, your lifestyle choices, what you do for a living, and where you went to school.
Step 9: Enable Your Boo Dating App Preferences
Look through your "Privacy Sanctuary" settings and select the ones you want.
Step 10: Select Prompts & Language
Almost done! Now you can add up to three prompts–Boo says adding these increases your odds of meeting a compatible match by 128%. Then select your native language to move on to the next step.
Step 11: Upload Profile Photos & Videos
It's time to add some images! You can add up to nine photos and videos to your Boo dating app profile to show other singles the many facets of your personality and style.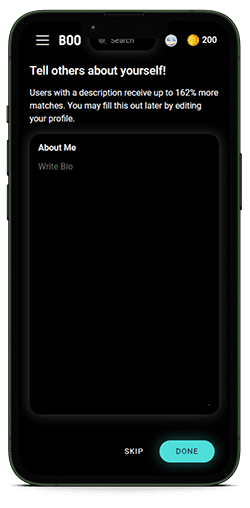 Step 12: Write Your Dating Profile Bio
One last thing–write your "About me" section for your dating profile bio and make it sing!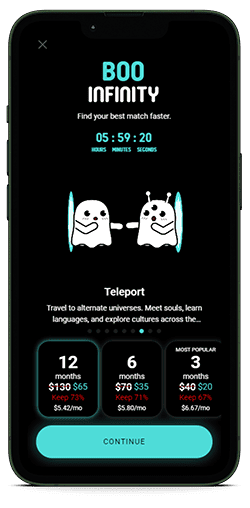 Step 13: Upgrade to Boo Infinity (Optional)
You're all set! All that's left to do is upgrade to a premium membership on the Boo app (optional) and start searching for your soulmate!
Alternatives to Boo
If you don't think the Boo dating app is up to snuff for your dating needs, check out all of the other top-notch dating platforms listed below to see if there is one more to your style.
Dating App
Key Facts
Review
eHarmony

Active Members: 16+ million
Gender Ratio: 48% men to 52% women
Best For: Find singles who desire serious relationships and profound connections
Pricing: Begins at $35.90/month

eharmony Review
Christian Mingle

Active Members: 16+ million
Gender Ratio: 44% men to 56% women
Best For: Finding singles who hold Christian values and want God-centered relationships
Pricing: Begins at $14.99/month

Christian Mingle Review
Zoosk

Active Members: 40+ million
Gender Ratio: 47% men to 53% women
Best For: Flirting, finding love, and getting dates with singles
Pricing: Begins at $10.00/month

Zoosk Review
Bumble

Active Members: 11+ million
Gender Ratio: 57% men to 43% women
Best For: All singles seeking relationships, casual dating, or friendships
Pricing: Begins at $16.99/month

Bumble Review
CoffeeMeetsBagel

Active Members: 10 million
Gender Ratio: 40% men to 60% women
Best For: All singles who want a modern approach to dating
Pricing: Begins at $15.00/month

CoffeeMeetsBagel Review
Frequently Asked Questions
Although we strive to make our reviews as comprehensive as possible, there is always a chance we failed to hit one of the things you wanted to know! We've compiled a list of the most frequently asked questions we have gotten from our readers regarding the Boo dating app.
What Is the Boo Dating App, and How Does It Work?
Boo is a dating app for finding and connecting with like-minded people and where you can meet compatible people for dating, conversation, and socializing based on your individual personality traits. Here is how it works:

• Discover your personality – Take the free five-question test to discover which of the 16 Myers-Briggs personality types you fall under.
• Recommend compatible personalities – The dating app will suggest the personality types users are most likely to connect and be compatible with.
• Connect with like-minded "souls" – When you get recommended matches, you can choose to like them or pass on the "souls" the Boo dating app has shown you!
Is Boo a Good Dating App?
We think it's a great dating app due to its use of the Myers-Briggs approach to matching up compatible singles. Here are a few other reasons why we think it really stands out amongst other top dating apps:

• Compared to other dating apps, you have far more options as far as matches.
• The dating platform focuses on people's specific personality traits.
• You can learn more about potential matches and character traits and tailor your approach accordingly.
• You can have casual conversations with other users by posting on a feed that's a bit like a forum.
• The software effectively matches people most likely to get along well.
• In comparison to other dating apps, this one has higher-quality matches.
Is the Boo Dating App Free?
Boo is available for free on the App Store and Google Play, and its most fundamental capabilities (like, passing, messaging, and chatting with compatible singles) are also free to use.

There are in-app purchases and premium membership plans, but you only have to pay if you want access to the app's premium features and services. If you don't want to pay, you can keep using the app for free.
What Are Personality Types, and How Does the Boo Dating App Use Them?
The personality frameworks used to power the matching algorithms at Boo draw heavily from Jungian psychology and the Big Five (OCEAN) model. Users will gain insight into themselves and others by exploring the traits associated with different personality types.
What Is the MBTI (Myers Briggs)?
The Myers-Briggs Type Indicator (MBTI) is a personality system that divides the population into 16 distinct types–it offers a framework for how individual differences in perceptual processes give rise to distinctive personalities. The Swiss psychiatrist Carl Jung considered the discipline's "father," served as inspiration for the work.
How Do I Find Out My Personality Type?
You can take the free 16 personalities test here, and you can also take the quiz in the Boo dating app when you sign up!
How Much Are Boo Premium Memberships?
The premium edition of the dating platform is known as Boo Infinity, and a section of your dating profile contains information about local Boo Infinity prices if you are located outside of the United States.

In the US, Boo Infinity costs $1 per month and $1.75 for three months, and users get access to features like unlimited match suggestions, dating telepathy, time travel, interplanetary mode, and unlimited messaging.
How Do I Cancel My Premium Membership?
To cancel your premium subscription, you can navigate to the settings of either the App Store or Google Play.