Our team of experts diligently research and review all of the products and services we recommend. If you buy through our links, we may receive a commission. Learn more here.
Do you have a celebrity crush that makes you want to do crazy things just to get a chance with them? Let's be real; we all have that one celebrity crush that makes us want to do some questionable things just to have a chance at a romantic connection instead of just obsessively scrolling through their Instagram and other socials.
Unless you're Amish and don't have access to the Internet (or electricity) and either don't know or care about movie stars and are too busy building and bettering your community! But we aren't Amish and can get very caught up in parasocial relationships that have remained out of our grasp.
That is, until now. Dating a celeb can be more than a fantasy; thanks to dating apps where celebrities have actual dating profiles and are looking for love (or hookups, we don't care, we'll take what we can get if it's our only chance), it is a possibility. Mind you, we aren't promising you'll get to meet one by creating an account on one the best celebrity dating apps, but you have nothing to lose, and who knows? Stars like Ben Affleck have been known to pop up on Raya (just one example, and maybe we know this because this writer joined Raya specifically for this reason), so you have nothing to lose by giving it a shot!
Celebrities are more accessible nowadays due to social media accounts and being able to slide into their DMs. Still, if you want a surefire way to really connect with them, there is no better way than signing up for one of our five best celebrity dating apps!
About Our Rating and Review Process
Want to peek behind the curtain and see how we come up with our ratings and reviews? We have a team of experts in the area of online dating apps that carefully evaluate every single provider on the market. They assess them on a wide range of criteria, including the quality of your potential matches, the simplicity of signing up, the value you get for your money in terms of features and subscription costs, and the safety of your personal information.
5 Best Celebrity Dating Apps in 2023
Below are our picks for the best celebrity dating apps on the market today. Except for Raya, which is the number one choice hands down and is always guaranteed to have some famous people who have dating profiles, they are in no particular order!
| Rank | Dating App | Free Trial |
| --- | --- | --- |
| #1 | Raya | |
| #2 | The League | |
| #3 | Inner Circle | |
| #4 | DateCelebrity | |
| #5 | Elite Singles | |
Breakdown of the Best Celebrity Dating App
Can you picture yourself signing up for a dating app and finding out that your match is a Hollywood A-lister? Congratulations, you have now been granted that very power! Here are the best apps where you might cross paths with one or more of your favorite celebrities.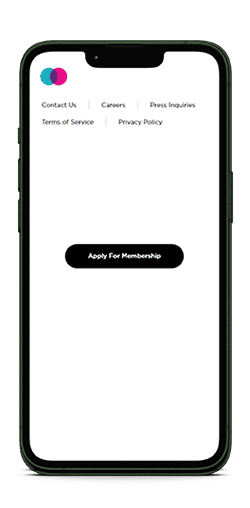 #1: Raya
Raya is a popular dating app among Hollywood A-listers. Ben Affleck, AKA Batman in the movies, is one of many famous people who has been seen roaming around Raya. Obviously, this is before he became Bennifer–again.
Raya has already attracted a large number of famous people due to its coverage in posh publications all over the world. Due to its large user base, the app can charge a very modest monthly price. However, you can't sign up for Raya unless someone you know who is currently a member invites you. But don't rely on Raya if you want to talk to a celebrity STAT since the app's rumored admissions process is a secret, and there is a high chance you will be waitlisted unless you have contacts who are already on the dating app and will vouch for you.
Features:
Work Mode: Want to broaden your professional network? You can use Raya's Work mode to connect with those who share your professional interests and/or work at the same firm.
Social Mode: If you want to socialize with other users and establish friends and romantic relationships, choose this mode!
---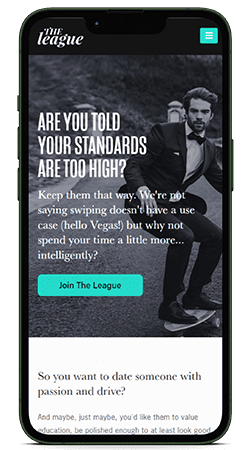 #2: The League
Looking for love in all the high-profile places? Check out The League, the dating app for the uber-rich, famous, and ambitious, and it is no surprise that a ton of celebs fall into this group. Do you want an app that allows you to rub elbows (or other body parts) with the stars in your backyard? The League is right up your dating alley, with events in 57 cities that give you a chance to meet local celebrities face-to-face.
However, the issue is that if a user refuses to pay for a premium membership, they'll have to languish on the waitlist for an extended period–we are talking about years. The League is a business, not a charity, and why should they provide their services for free if you want them to help you connect with a famous potential partner? Pay the people!
Features:
League Tickets: Potential partners may be hard to come by because of the small membership. You can get more out of the app's matching services by purchasing League Tickets, which give you access to the best of the best members of the dating app's user base. This feature comes at a high price, but the tickets will be well worth it if you're looking for a partner for life. Despite The League's stringent membership requirements (only the most accomplished individuals need to apply), you'll still have to say goodbye to your cash–membership is still subject to a fee. When you upgrade to League Membership, you'll have access to exclusive benefits like complimentary League Tickets, VIP passes, and read receipts.
League Owner: After all that, if you still have sufficient funds to invest in this elite dating app, you could possibly obtain League Ownership status. What exactly do you get because of that? Expedited entrance, daily statistics, entry into organizations, and VIP passes are just some of the additional benefits that can be yours for a higher membership fee. The League operates on a premium model, providing cool features that users pay more for. The caveat is that you'll have to pay extra for all of these extras, which lends even more "elitism" to the app. You can't join The League unless you pay, and only if you have the necessary credentials.
League Groups: The League's goal in establishing these subsets was to promote a sense of belonging among its members by providing a forum for them to organize into "clubs" and have discussions about their favorite pastimes, fad investments, and other niche topics.
---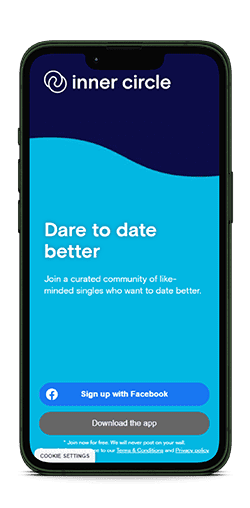 #3: Inner Circle
The Inner Circle is like a VIP club for dating, where quality is the dress code, and quantity is so last season. Sorry, no normies or riff-raff allowed! The Inner Circle screens all potential members before granting access to this exclusive celebrity dating community.
The beauty of this dating app is that you can immediately start chatting with anyone rather than sitting around waiting for a match. If you want, you can simply slide into someone's DMs with a message. In addition, they provide exclusive events for wealthy singles in major cities, including New York, London, Paris, Barcelona, and Madrid. So, if you're looking to mingle with the affluent and the famous, this is the perfect dating app for you!
Features:
Events: The limited membership is just one perk of joining The Inner Circle–members can organize or join exclusive gatherings.
Trips: An intriguing feature of The Inner Circle is the ability to see the destinations of your matches–this improves the dating experience overall and increases interaction with potential matches.
Ghost Mode: You can enable the app's "ghost mode" if you do not want your mobile device to remember where you were. You can utilize this feature to explore profiles from various areas and to browse other users' profiles without revealing your identity.
My Tickets: You can take your dating life to the next level by investing in tickets to attend exclusive gatherings. This increases your odds of finding the person you might spend the rest of your life with!
Spots: You can increase the likelihood that a compatible partner will find you by adding a location (such as a bar or restaurant) where you frequently hang out.
The Date Conscious Suite: To prevent users from "ghosting" or otherwise ignoring the communications of other users, the Date Conscious Suite includes reminders, closing messages, and other prompts.
Inner Circle Widget: The dating service has released an iPhone and smartphone widget that includes the most up-to-date data–it automatically refreshes at regular intervals to provide a new possible match, and it uses matching algorithms and the user's preferences to find potential matches.
---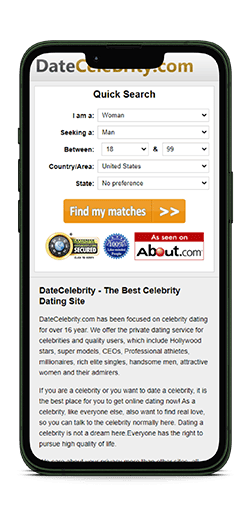 #4: DateCelebrity
DateCelebrity is an elite matchmaking service catering to the entertainment industry's A-listers and their admirers. Celebrities, models, pro athletes, CEOs, entrepreneurs, exceptionally attractive men, extraordinarily attractive women, and the people who love them are all part of an exclusive membership.
Date Celebrity has been providing its elite dating platform for over 15 years, making it the most trustworthy celebrity dating app around. Even better, creating a profile and browsing won't cost you a dime–and there are no invites needed or a long waitlist!
Features:
Blog: The Blog section of the app is where registered users can submit articles–the page lists all recent blog entries, along with their authors and the number of people who have viewed each entry.
Forum: Users can consult the Forum section for assistance; everyone can see and respond to questions or topic starters posted in the group.
First-Date Ideas: Members can share their suggestions for first dates with this feature, and only paid users can comment on other users' "first date idea" posts.
Members Luxuries: This feature is a feed of members posting photos of their luxury belongings.
Help Center: New and experienced users from across the world can join this online community and express their thoughts on any topic they choose, and users can find other single professionals to chat with, make connections with, and get honest advice from.
Moment: Use the "Moment" video tool to showcase your unique character and interests with live or prerecorded clips of no less than thirty seconds in length.
Recall Message: Users can use the recall function to remove sent messages, photographs, or even a whole chat with another user–this ensures the confidentiality of all participants.
---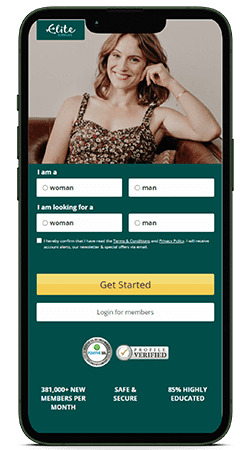 #5: Elite Singles
Since its inception in 2008, Elite Singles has grown into an established and reliable dating app for the rich and the famous. And you'll have to bring your A-game to impress these psychologically-savvy singles–most of the members have advanced degrees and hold highly esteemed positions in powerful professions.
Each profile on the dating app is based on a thorough psychological evaluation, so members only interact with like-minded individuals. What this means is that users no longer have to waste time sifting through potentially hundreds of irrelevant profiles! Because of this, Elite Singles is an outstanding dating app that makes it enjoyable and easier to find and date a celebrity.
Features:
Search Tool: We were unable to find a search bar on Elite Singles, but don't stress! Most of the time, the matching algorithm will direct you toward compatible partners. They tailor your potential partners to you specifically rather than making you go through millions of profiles. Then, you can browse through all the people who fit your criteria.
Have You Met?: We found the EliteSingles "Have you met?" feature to be particularly useful in our evaluation. Here, you can show your interest in a potential partner by swiping left or right–but the action is not quite a swipe because you select either an X or a happy face, but you get the concept.
Messaging: Before initiating interaction, there is no requirement for a compatibility match. You can quickly get in touch with someone you find attractive by sending them a brief note expressing your interest. But you will be alerted when there is a match, comparable to other swipe-based dating apps.
---
You Can Trust Our Recommendations
Just in case you need more evidence of our skill with dating apps, we've included some examples of how we pick our recommendations in the next section. We've been at this for a while, and we feel confident saying that we know everything there is to know about the art of the dating app.
Expert Reviews
Our team of love experts investigates all types of dating apps to offer you the most thorough reviews possible because we know that simply praising the best dating apps won't instantly motivate users to sign up for them! That's why we pore over every aspect of every dating app we rate and review.
Real User Testimonials
We know that our readers are only satisfied when they hear it from verified sources (actual users), whether what they hear is good or bad.
Our researchers consider not just the platforms themselves but also user reviews, comments, and testimonials when making decisions. After all, our goal is to provide you with a fair assessment of the situation.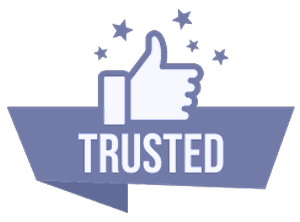 In-depth Research and Analysis
When it involves finding the best dating apps for our audience, we spare no effort. In order to determine which dating apps are the most beneficial for our readers, we examine each one in great detail in our analyses. If you're presently single and looking for someone to share your life with, we're confident that one of the recommended dating apps can help you discover a loving relationship!
Our recommendations for the best dating apps take into account a wide variety of factors, such as the total number of users, match quality, usability, security, safety, distinctive features, and cost.
Benefits of Choosing a Celebrity Dating App
If courtship and dating were simple, everyone would have found their Prince or Princess Charming by now–let's not kid ourselves–we'd all be blissfully booed up if it was that easy. Why complicate things when you can make them easier? Work smarter rather than harder! Searching for love among the stars? Ask, and you shall receive–we've got the inside gossip on the best celebrity dating apps.
Why waste time looking through a ton of dating apps that just provide questionable celebrity options? For the greatest chance of finding you a celeb to date, we've whittled the field down to the best five platforms!
Greater Compatibility
Connecting with new people outside of your social circle and going on dates can be super hard and frustrating, especially if you're not certain that a dating app can help you meet the kind of person you're looking for. You could take a wild guess at what one you think will serve you best, but it's a crap shoot!
For this reason, we undertook a lot of research to identify the kind of people that use each service, the size of their user bases, and the specific matching algorithms they employ. Even while the average user of the most popular dating apps is substantially larger, your chances of meeting your celebrity crush are much higher on a niche service like Raya, where the dating pool includes them.
Shared Values and Beliefs
We're not sure you're going to have much in common with a celebrity when it comes to shared values and beliefs beyond you adoring their every move from afar, but we could be wrong! You might find a down-to-earth celeb who isn't into all of that Hollywood BS–or you may be quite familiar with the Los Angeles state of mind and have the same ambitions and goals!
Either way, if you are on a dating app trying to connect with a celebrity, we're pretty sure you have an idea and a handle on what you'd be getting into.
Targeted User Base
Even the rich and famous need a little help in the love department. Thank goodness for exclusive dating apps like Raya because, let's be real, swiping left or right on Tinder just doesn't have the same appeal when you're a celebrity–news of a celeb on a mainstream dating app spreads like wildfire on the gossip blogs.
The more exclusive dating apps like Raya have found a way to keep their secrets safe from the prying eyes of the public, giving celebs a little more privacy and peace of mind.
Celebrities, Duh!
The obvious benefit of utilizing a celebrity dating app is that you are trying to meet them, and they are looking for love as well! And even if you don't meet a famous man or woman, these exclusive platforms have what is considered the cream of the crop of eligible singles. Maybe you won't match with DeNiro, but you could match with a wealthy normie who will sweep you off your feet!
Finding the Best Dating App for Your Needs
We're not playing matchmaker, but we're definitely here to guide you to the best celebrity dating app–read on to find out how to pick the ideal dating app for you.
Assessing Your Preferences
It's like they say, you can lead a horse to Tinder, but you can't make it swipe right. We can be your love GPS, but at the end of the day, you're the one behind the wheel. So choose wisely about which dating app will take you to your destination of finding the perfect match.
Comparing Features and Pricing
If you're willing to splurge on a premium membership, some dating apps offer fancy features that might just help you find a love connection deeper than the Mariana Trench. Before you click on that "upgrade subscription" button, make sure you know what you're getting into. Check out each dating app's membership details, including the price, duration, and auto-renewal policy. Don't let love blindside your wallet!
Evaluating Success Stories and Reviews
If you're planning to dive into the dating app world, make sure to check out reviews from actual users. Don't just trust the app's marketing team – they're probably just a bunch of AIs pretending to be happy couples. Seriously, that's a thing that's happening right now.
Are there Free Best Celebrity Dating Apps?
All of the best celebrity dating apps are free to join, however; just because you have registered does not mean you are instantly joining the dating pool party.
With Raya and The Inner Circle, you can apply to join, but unless you are a celebrity yourself, you'll have to wait for an invite or an acceptance link. You can join and create a profile for free at Elite Singles and DateCelebrity.
Freemium Models
There are freemium memberships on DateCelebrity and Elite Singles, but as we mentioned above, we're not quite sure what the "free" basic plans offer because we don't have access to them!
Feature Limitations
As with all standard free memberships, you will be limited as to what features you can access–the free version only grants you the privilege of window shopping and exchanging virtual winks and likes. It's like getting a free sample at Costco; you get a little taste of the good stuff but don't expect to leave with a full belly.
Paid Upgrades
Again, and at this point, it's embarrassing, we can only speak to the benefits of paid upgrades on Elite Singles and DateCelebrity because we can not get past the velvet ropes or security to even find out what Raya, The Inner Circle, and The League have to offer in the way of paid upgrades!
That being said, we know that Elite Singles and DateCelebrity have some unique and fun features when you pay for a premium membership! Here is what you get:
Elite Singles:
Personality Analysis
Match Recommendation
Advanced Search
Have You Met?
Wildcard Matches
Favorites List
Elite Singles Magazine
DateCelebrity:
Blog and Forum
First-Date Ideas
Members Luxuries
Help Center
MomentMatches
Recall Message
Live Chat Support
Mandatory Verification
Block and Report system
Chat Room
Downloading and Signing Up for a Dating App
Signing up for a celebrity dating app is simple; the only thing you need is a computer with an internet connection or a mobile device, and signing up often takes less than five minutes, requiring only a few pieces of basic information in order to create a dating profile.
But here's the thing: You can download and install Raya and The Inner Circle, but you won't be able to create a profile until you are accepted onto the platform. And with The League, you can register, but unless you are willing to pay for a membership, you'll be waitlisted as well and unable to sign up.
Available Platforms
Except for Raya, which is exclusive to Apple devices, the best celebrity dating apps are all mobile-friendly, with dedicated applications available in the Apple and Google Play stores. The internet browsers of desktop computers, cellphones, and tablets provide access to all of the platforms as well!
| Dating App | Internet Browser? | Google Play? | Apple Store? |
| --- | --- | --- | --- |
| Raya | Y | N | Y |
| The League | Y | Y | Y |
| Inner Circle | Y | Y | Y |
| DateCelebrity | Y | Y | Y |
| Elite Singles | Y | Y | Y |
Tips for Success on Best Celebrity Dating Apps
How lovely would it be if all you had to do is sign up for a celebrity dating app and get hooked up with Tom Hardy or Charlize Theron (he's married, she's not, and we are pretty sure she's not on a dating app, but we can dream)?
It's in no way that easy, and, in fact, it takes a great deal of effort to be successful on ANY dating platform, not just on celebrity dating apps! We've spent a great deal of time researching what makes some people fare better and coming up with the guidelines we think work the best for singles.
Creating a Compelling Profile
Crafting a dating app profile is like writing a haiku – it's all about choosing the perfect words to capture your essence in just a few lines. Don't bore people with generic small talk about loving nature and being excited to travel the world. Instead, impress them with your unique interests, like your favorite movies, books, and hobbies. Let your personality shine!
Some online daters have turned their "about me" section into a complaint box–it's like they're auditioning for the role of the Grinch. Why make a list of deal-breakers when you can list your dream-makers? No one likes a completely negative outlook, so try to tone down the "I hate" phrases.
Instead of saying something like, "I am not looking for anybody like my crappy ex," try something like, "I'm in search of a person who is truthful and loves others, etc." If you are interested in meeting someone compatible, you should avoid trite tropes in your dating profile, like the old saying, "it requires a lot more muscles to frown than to smile." And don't squander precious characters on a muddled introduction if one is required; get some help writing one if you need it!
Choosing the Right Profile Picture
Your main profile image is the first thing people who visit your dating app profile will see, and if that picture is unappealing, they won't even bother looking at the others. Yes, we know that sucks. Yes, we wish it was different. No, that doesn't change the fact that it's the reality.
Remember, a picture is worth a thousand swipes. So, make sure your dating profile photo is a head-turner that'll make potential partners swipe right faster than you can say "love at first sight." Also, your face is not a UFO, so don't let your sunglasses abduct it. And just like in life, keep the background characters out of the spotlight in your primary shot–you are the protagonist here, so don't let your hotter friend steal your attention!
Crafting Engaging Conversations
Stop sending generic "What's up" greetings on dating apps, and start making a real connection with your potential matches. How can you achieve this awkward feat? Easily!
You could be saving yourself a lot of effort dating apps by asking these insightful questions right off the bat and eliminating the dull prospects so you can focus on those who could be worth seeing in person. Follow these guidelines to transform your boring talks into better ones.
Ask an interesting question related to their profile to find out more about your potential match!
Pose a hypothetical question in the form of a "would you rather" statement–those are always fun!
Don't just ask a yes/no question; push the limits a bit.
Give an in-depth description of your ideal romantic match.
Find out about their ideal romantic partner–ask them!
Setting Realistic Expectations
If you've been having a rough go of it on dating apps, remind yourself that optimism is the key to success. Before plunging into the realm of dating apps, it's vital to find out whether you're looking to find your soulmate or merely a temporary cuddling buddy. You can prevent the dreaded swipe fatigue by being clear about what you want and going for it.
Staying Safe While Online Dating
Be bold and charming on dating apps as well as on first dates, but don't forget to take precautions. On dates, you are responsible for your own safety, so keep all of your faculties about you, listen to your instincts, and follow these safety tips:
Keep your private information private
Move at your own pace; never be pressured into doing something you aren't ready to do
Always meet in a public area
Avoid communication outside of the dating app at first
Navigating Common Challenges on Best Celebrity Dating Apps
Trying to find love online is like navigating a minefield! It's a rite of passage for every single person to experience the pleasures of online dating successes as well as failures. This involves getting catfished by an AI, getting conned, and balancing your virtual and real-life personas like a tightrope walker.
Dealing with Rejection
Let's face it; we've all been rejected at some point in our lives. But fear not, our dear heartbroken friends! If you've been rejected in the dating world, there are a few things you can do to help yourself heal. First, give yourself some time to recover (and maybe indulge in some ice cream). And if that's not enough, don't be afraid to seek the help of a mental health professional (because sometimes you just need an expert to tell you that you're not crazy).
Here are a few important things to remember:
It's not personal! Well, unless you're a robot programmed to love, then it's definitely personal. But for us humans, it is not always personal; it's just a part of life.
Just a friendly reminder that when you swipe left on someone, you're basically saying "thanks, but no thanks," so you are rejecting others as well.
Don't Be Rude If They Reject You
Recognize and accept the Rejection
Be Direct
Do Not Try to Change Their Mind
Avoid Obsessing
Avoiding Scams and Fraud
Even if you're a tech genius, it's still easier to find Waldo in a crowd than to spot a well-crafted fake dating app profile. Believe it or not, there are actual human beings behind those fake profiles who love to play pranks and scam people looking for love. Some of these scammers can empty your bank account and leave you heartbroken. So, beware of the virtual wolves in sheep's clothing and watch out for these red flags:
No profile picture or just one too-good-to-be-true picture
They try to scam you out of money or personal details
Nonsensical babbling of misspelled words in a message
Plainly aggressive or forward
Balancing Online and Offline Interactions
As much as we adore dating apps, let's not forget that there's a whole world out there waiting to be explored. It's all about finding the perfect balance between virtual and reality to keep our feet on the ground and our hearts afloat. Why spend hours on a dating app when you can spend quality time with your loved ones? Take a break from the digital dating world and reengage with the real one on a regular basis!
Frequently Asked Questions
We've done our best to cover all the bases in our review, but hey, we're only human. If we missed something, just chalk it up to our charming imperfection. If you're still scratching your head about which celebrity dating apps are the best, answers are just a scroll away in our FAQ section.
What Is a Celebrity Dating App?
Unlike the rest of us regular folk who have to choose between Tinder, Hinge, and Bumble, celebrities have access to more niche dating apps that were created with them in mind. One of these is the Raya dating app–"a private community where people come to connect for dating, networking, and friendship," as described in the App Store.
Are Celebrity Dating Apps Legit?
Yup! We've used several of the recommended dating apps ourselves so that we can vouch for their authenticity. However, keep in mind the fact that are many scammers out there if you intend to use dating apps that we have not analyzed, so before you sign up for any service, see whether or not our experts have examined the one you're considering.
How Can I Get On Raya?
You may not be considered "Raya material" if your online social media presence is weak. Raya simply requires four pieces of information from you in order to apply: your name, your employment, a recommendation from an existing member, and your IG username.

Or, you could give the dating app references. Although providing a reference is not required, having a contact who is already a member of Raya is a tremendous help, especially since the launch of the "friend fast pass," which allows every member to expedite the application process for one friend.
Are These Dating Apps Safe?
Yes! All of the best celebrity dating apps are safe to use. But as with all social media and dating apps, some dishonest people use dating apps to try to trick naive people out of money or personal details. Don't let that put you off, though; there are safeguards in place to stop scammers from using fake profiles to steal your information. Keep your guard up and exercise caution while corresponding with individuals you meet through dating apps, as you are essentially talking to complete strangers.
Can I Join These Dating Apps to Meet Non-Celebrities?
Of course, you can! Just because some celebs are populating the apps we recommended, they're by no means popping up with every swipe. While they are more exclusive in terms of clientele, anyone can join–you just may have to wait a bit to actually get onto the app and start searching for potential matches.
Are These Dating Apps Free?
Although signing up for any of the top celebrity dating apps is completely free of charge, it doesn't automatically make you a part of the club.

Both Raya and The Inner Circle require you to wait for an invitation or acceptance link unless you happen to be a celebrity yourself. Both Elite Singles and DateCelebrity allow you to sign up and establish a profile without spending a dime.
Who Was the League's Founder?
The League dating app's founder was Amanda Bradford–her dissatisfaction with the state of online dating inspired the creation of The League in 2015!