Our team of experts diligently research and review all of the products and services we recommend. If you buy through our links, we may receive a commission. Learn more here.
The BLK dating app seems to be a legit and reliable dating app for those looking to find other black singles–scores of members have reported successful experiences, finding genuine love, and forming meaningful connections through the platform.
What about BLK's efficacy, though? Is it perfect for bringing you the loving connections you've always wanted, or is it just so-so? That is where we come in!
Our complete review of the BLK dating app will answer all the questions above and more to provide you with a comprehensive understanding of what the BLK dating app is all about. We'll go through the features, the pros and cons, the premium membership costs, the steps to join BLK, and why it's worth joining if you're looking for other black singles interested in serious relationships.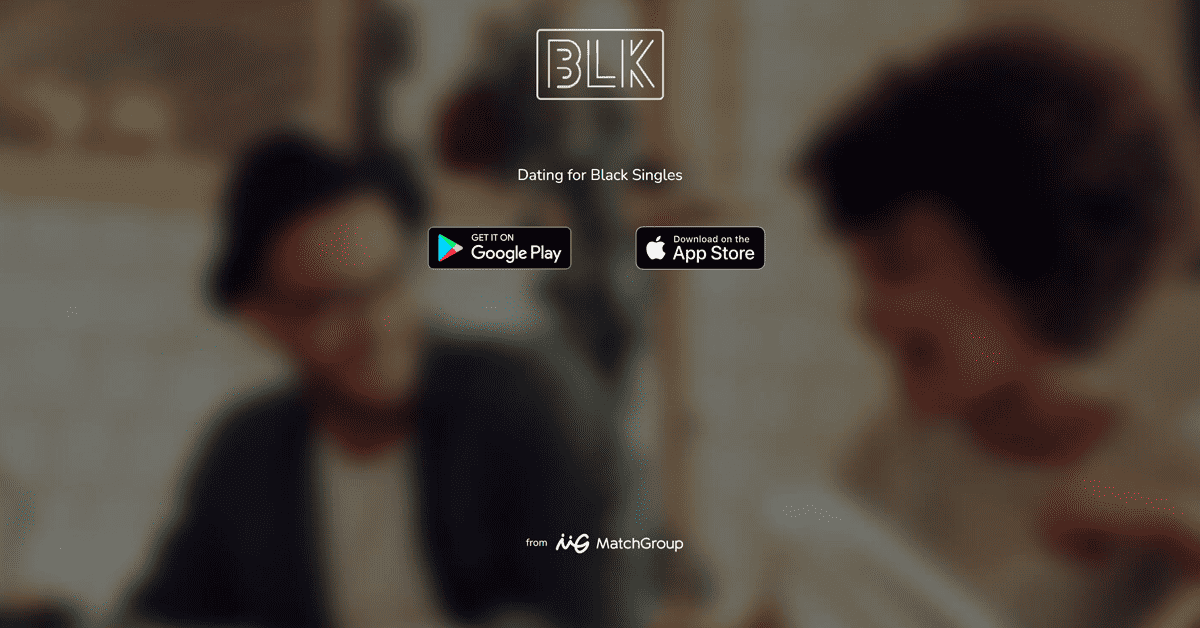 | | |
| --- | --- |
| Sign-Up Time: | About 5 minutes |
| Cost: | $5.99 – $29.99 per month |
| Membership Pool: | 40,000 from the US (5,000 active weekly) |
---
---
Our BLK Dating App Rating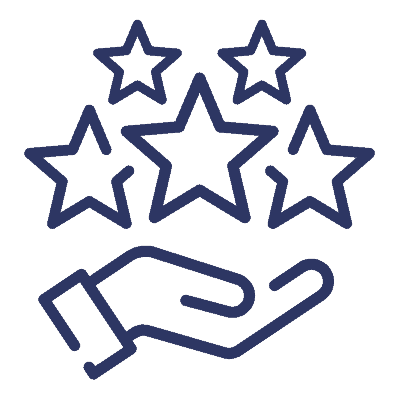 Overall Rating

BLK is coming in with an overall score of 3.8 out of 5!
To help set the stage for our in-depth review of the BLK dating app, we've gathered some key data about the platform, including ratings for ease of use, features, cost, match quality, safety, security, and customer service. We score each category on a scale of 1 to 5, and you can see how the BLK dating app scored below!
So the BLK dating app did pretty well, coming in at a not-too-shabby 3.8 out of 5 overall score! If you want to know how we came to our decisions when rating each section, see the next sections for a breakdown of each category and why it received the individual score.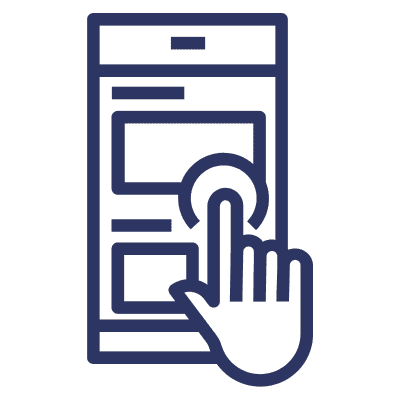 Ease of Use

The UI design of the BLK dating app is simple and intuitive, making it easy for users to understand and navigate the app without any trouble. Sadly, using the platform by logging into the site using your web browser isn't possible–it is mobile app-only (this will only be a problem for those who don't own a smartphone or mobile device)! However, the app is both straightforward, and we didn't experience any glitches or other issues.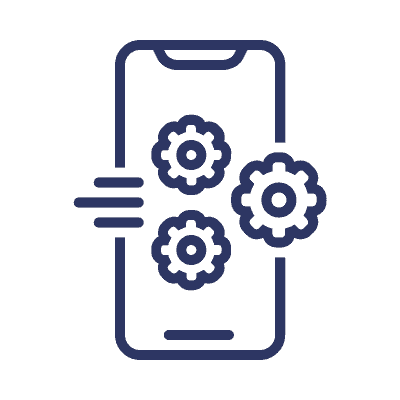 Features

Although the BLK dating app is full of beneficial and entertaining features, some of them have limitations and cost extra money (such as more visibility and super likes). BLK may just have a few key features, but these features are effective. We really value unlimited likes and rewinds, and the Elite Tier premium members can see who has liked their dating profile, which makes it a lot easier to discover a compatible match!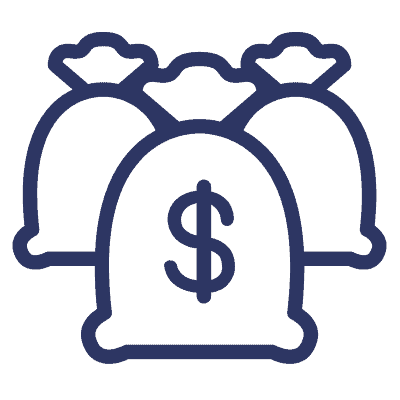 Cost


One of the most appealing aspects of the BLK dating app is how affordably priced it is compared to other mainstream dating apps' upgraded membership options. Pricing for subscription plans starts at only $5.99/month–we're looking at a dating tool that costs almost as little as Tinder, the market leader in its category.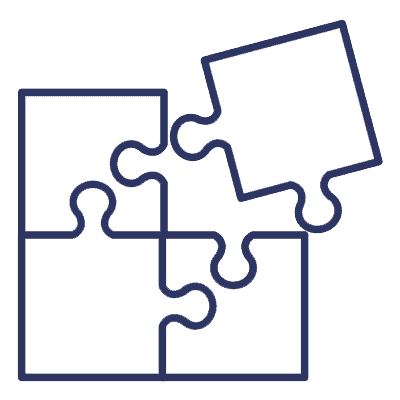 Match Quality


The BLK dating app has an impressive matching system–the swipe-style catalogs provide recommendations based on the members' and users' search choices and profile information. The interface for adjusting settings and applying filters is intuitive, and it's easy to go to your account and tweak them if needed. We also appreciate the feature that allows messages to be sent only between members who have mutually expressed interest by "liking" each other, ensuring that there are no unwanted or unsolicited messages.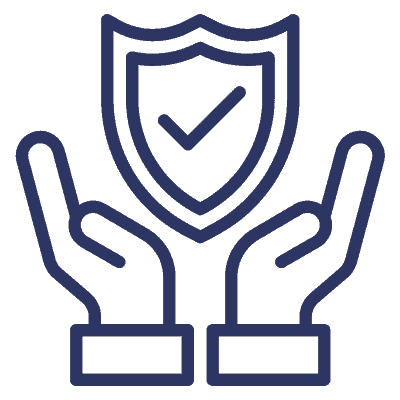 Safety and Security


According to the BLK dating app, protecting its members' privacy is paramount–they design and construct the best services and products with privacy in mind so users can "trust them and focus on meaningful interactions." Listed on the BLK dating app is their commitments:
Our commitment to privacy
Our commitment to transparency
Our commitment to security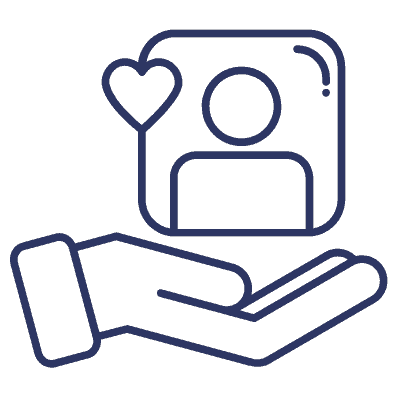 Customer Service


The BLK Dating App provides standard email support. Reviewing the app is another option, and it's not uncommon to get a reply from a moderator with clarification–that's what we got from reading through user reviews. BLK's email support team is responsive and works quickly according to members, but it would be nice if they added a live chat and phone help to answer customers' problems right away.
Overview of the BLK App
The BLK app is an exclusive North American dating app for black singles–but don't worry about that, as downloads are steady despite the app's lack of availability to other countries. The majority of users are male in terms of gender, and the users on the platform are predominantly young in terms of age–the majority of members fall within the 26-34 age range, but there is also a significant portion of members who are between 18-24 years old. And if you prefer to connect with more mature members, you will find quite a few who are in their 30s and up!
BLK Fast Facts
Year Founded: 1997
As soon as you sign up, you'll be a part of an intimate community of single black men and women.
Average User Age: 26-34 years
Gender Ratio: 70% men to 30% women
Founded in 1997, the BLK dating app caters to single black men and women in the US and Canada and tends to attract users who are looking for serious connections and long-term relationships.
Premium Membership Subscriptions and Prices
The BLK dating app provides six subscription plans for potential members; three plans are grouped under the Premium Tier, while the other three are categorized under the Elite Tier.
Premium Tier
| Plans | Price Per Month | Total Cost |
| --- | --- | --- |
| 1 month | $14.99 | $14.99 |
| 3 months | $9.99 | $29.99 |
| 6 months | $5.99 | $35.99 |
There is just one significant difference between the Premium Tier plans and the Elite Tier plans–with the Elite Tier, in addition to all other benefits, members can see who has "liked" the.
Elite Tier
| Plans | Price Per Month | Total Cost |
| --- | --- | --- |
| 1 month | $29.99 | $29.99 |
| 3 months | $19.99 | $59.99 |
| 6 months | $11.99 | $71.99 |
BLK App Special Features
In the past, free trials of dating apps offered users the opportunity to access all features without charge but required them to provide payment information. If you don't cancel your free trial within the designated period, your account will be automatically upgraded to a membership plan and you will be charged the corresponding subscription fee.
Similar to the BLK app, no-obligation trials today offer newcomers the opportunity to register and create a dating profile without any cost. During this trial period, users can also enjoy certain limited membership features. However, access to several important features is restricted, and an account upgrade is required to gain access to them.
Standard (Free) Features
Sign up and create a new account.
Build a dating profile
Specify search filters and dating preferences
Swipe through profiles
"Like" or "pass"
Send messages
Access/read the first few messages you get from other members
Premium Membership Features
Send Super Likes
To differentiate yourself out from others and demonstrate your serious interest, premium members can send 5 Super Likes each week.
Rewinds
Give individuals a do-over by pressing the rewind button.
Boost
For 30 minutes every month, you can send your profile to the top of search results in your area with the Boost feature.
Unlimited Likes
The ability to send a never-ending supply of "likes" to other users.
Ad-Free
Experience zero interruptions from annoying ads!
See Who Has "Like" You (Elite Tier only)
If you upgrade to the Elite Tier, you'll be able to see every single "like" you receive on your BLK dating app profile.
Boost Packages
The BLK dating app gives users visibility boosts, which help them achieve higher rankings in the app's search results. This also increases their chances of appearing more often in recommendations to other members within their local or regional area!
These packs are available for purchase separately as an add-on to the premium membership cost. The items are available in bundles of one, five, and 10. The boost packages are priced as follows:
| Boost Packs | Price Per Boost | Total Cost |
| --- | --- | --- |
| 1 Pack (Really Like) | $2.99 | $2.99 |
| 5 Pack | $2.40 | $12.00 |
| 10 Pack | $5.99 | $18.00 |
Super Like Packages
On the BLK dating app, "super likes" multiply your chances of getting matched with another user by a factor of five! Just like the boost bundles, the super-like bundles come in five-, 25, and 60-unit options.
| Super Like Packs | Price Per SL | Total Cost |
| --- | --- | --- |
| 5 Pack | $1.00 | $5.00 |
| 25 Pack | $0.60 | $15.00 |
| 60 Pack | $0.40 | $24.00 |
Do BLK Memberships Renew Automatically?
All premium membership subscriptions automatically renew unless canceled prior to the renewal date to provide uninterrupted access to the dating app–this will also insulate you from any future price hikes or service costs associated with new purchases.
If you choose to disable the automatic renewal feature, your premium membership will continue to be active, and you will have full access until the expiration date. And when the paid membership ends, your account will automatically switch back to a free account.
Should You Join the BLK Dating App?
Drumroll please…and now for the most important part of our review; should you join the BLK dating app? We think so! But, as always, that choice is yours to make, and we are just here to give you the info you need to help you decide!
Reasons to Join
There are a lot of benefits to signing up and creating a dating profile on the BLK app, and the following are the top reasons:
Free Messaging
Listen up, because this is rare–you don't have to upgrade to a premium membership in order to message other members. You heard us; you can send and receive private messages with the free, basic plan on the BLK dating app, and we LOVE that for you.
Affordable Premium Memberships
Even though messaging is free without upgrading to a paid membership, the premium plans are super affordable and considered inexpensive when viewed against other comparable dating app prices.
Safe Community of Daters
Because the BLK dating app is for Black singles, there is a sense of safety of community among its members. Although you don't have to be Black to join, almost all of the members are, and it's considered to be solely for Black daters.
Easy Sign-Up and Navigation
It takes less than five minutes to get a BLK dating app profile up and running, and the mobile app's user interface is intuitive and easy to use!
Reasons Not to Join
We found so many good reasons in favor of joining the BLK dating app, but we did come across a few potential roadblocks that might make you reconsider or at least look at another dating app option.
Smaller Dating Pool
Since the BLK dating app is only available in the United States and Canada, there will be fewer members to match with than on a more mainstream dating app. This isn't a negative, it's just that niche platforms that target certain demographics generally have a smaller user pool!
No Access Via Website Browser
We don't know anyone who doesn't own a smartphone, but if you happen to be holding on to your flip phone for nostalgic reasons or just don't want to get sucked into the smartphone era, you won't be able to join or access the BLK dating app–it's mobile app only!
Lack of Detailed Dating Profiles
Pictures can say 1000 words, which is great, but you might want a little more detail when considering a potential match! We found that a good number of dating profiles are lacking when it comes to info about the person.
You Want a Casual Date
We aren't saying that casual dates are out of the question on the BLK app, but the majority of users are there to find something long-term and meaningful in terms of romantic connections and relationships.
The Sign-up Process
It'll take you five minutes (or less) to sign up for a new dating profile on the BLK dating app–at least that's how long it took us from start to finish!
For clarity, we signed up on an iOS device, but the steps on an Android device are identical–if you need any guidance, check out the how-to we've provided below!
FYI: There is no way to sign up using a website browser–you need to download the mobile app from the Apple or Google Play Store. You can go to the homepage and click on the app you want to install and you'll be redirected!
Step 1: Download and Install the BLK Dating App
Go to the App Store, search for the BLK dating app, and download it onto your smartphone or device. When it's installed, click on the app to open it and get started!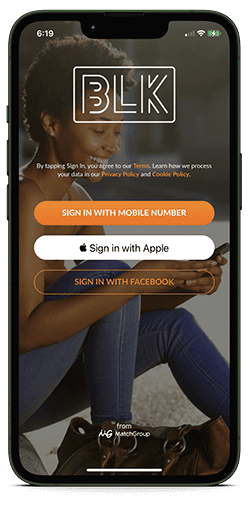 Step 2: Choose Sign In Method
The second step is to select how you want to sign up for the BLK dating app—with a mobile number, Apple ID, or a Facebook account.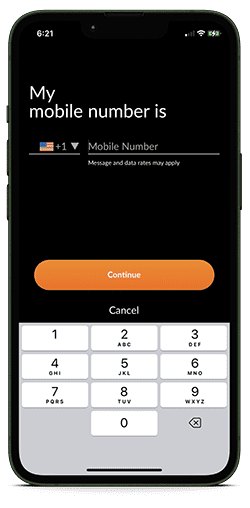 Step 3: Enter and Verify Mobile Phone Number
Type in a valid mobile phone number and then enter the verification code texted to you.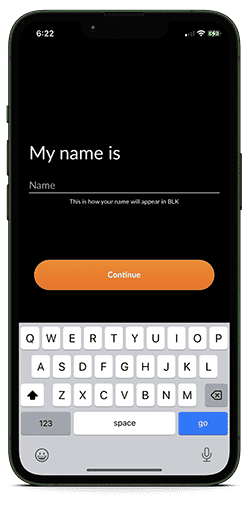 Step 4: Enter Email & Name
Type in your email address, and your display name, and enable notifications (optional).
Step 5: Select Gender & Enter Birthdate
Select your gender and the gender or who you want to meet on the platform and your date of birth.
Step 6: Write Your 'About Me'
To catch the attention of other daters, write a witty "about me" bio to let others get a sneak peek at your personality.
Step 7: Upload Profile Photo(s)
Time to upload a winning profile photo! Only one is required, but you can upload a total of six to show off your different sides!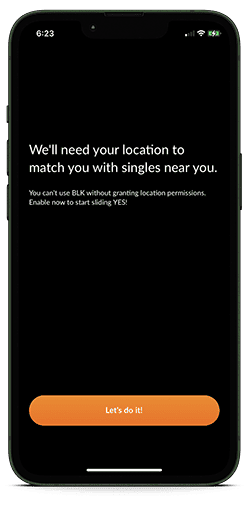 Step 8: Enable Location
You'll need to enable your location so the BLK dating app can match you with compatible singles in your area.
Step 9: Add Preferences/Build Dating Profile
In order to get the most compatible matches, specify what you are looking for with the preferences listed in the screenshot below. And it's always a good idea to fully complete your dating profile, which you can do at any time.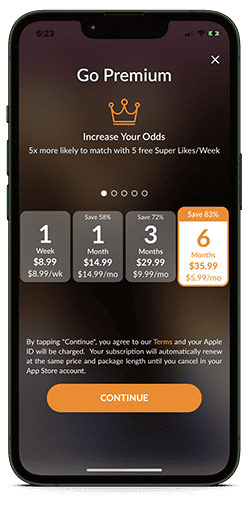 Step 10: Upgrade to a Premium Membership (Optional)
You can stay with the basic membership or upgrade to a premium subscription; we recommend buying a premium membership to get the most out of the BLK dating app, but it's optional and up to you!
Alternatives to the BLK Dating App
Don't think the BLK dating app is for you? No worries–just look below for a bevy of other top-rated dating apps and see if one of them meets your needs or what you're looking for!
Dating App
Key Facts
Review
Christian Mingle

Active Members: 16+ million
Gender Ratio: 44% men to 56% women
Best For: Christian singles looking for committed relationships
Pricing: Begins at $14.99/month

Christian Mingle Review
eharmony

Active Members: 16+ million
Gender Ratio: 48% men to 52% women
Best For: All singles who want a serious relationship
Pricing: Begins at $35.90/month

eharmony Review
Elite Singles

Active Members: 2+ million
Gender Ratio: 44% men to 56% women
Best For: Highly educated and successful singles
Pricing: Begins at $19.95/month

Elite Singles Review
SilverSingles

Active Members: 800,000
Gender Ratio: 53% men to 47% women
Best For: People over 50 looking for relationships
Pricing: Begins at $24.95/month

SilverSingles Review
Zoosk

Active Members: 40+ million
Gender Ratio: 47% men to 53% women
Best For: All singles – Flirting, finding love, and getting dates
Pricing: Begins at $10.00/month

Zoosk Review
Frequently Asked Questions
We really hope we've given you a thorough rundown of everything you'd want to know about the BLK dating app in our complete review! Just in case you have any lingering doubts or want a quick refresh of everything we covered above, we've listed the most frequently asked questions we have gotten from our readers pertaining to the platform!
Is the BLK Dating App Legit?
It is totally legit! The BLK dating app is owned and operated by Match Group and Affinity Apps Ltd. This company is responsible for managing Tinder, Match.com, Hinge, Plenty of Fish, and OurTime.
Is the BLK Dating App Safe?
Yes–the BLK dating app prioritizes the safety and security of its members, but in the end, members are responsible for their own safety when interacting with others on the app. BLK provides them with tools to report or block other users and the platform employs a secure encrypted connection.
Can I Use the BLK Dating App for Free?
Yes! But technically, while the BLK dating app is free and has a more robust basic plan than most other dating apps, you may want to upgrade if you want access to additional features that will enhance your time on the dating platform. Some highlights include the ability to "rewind" on matches and to "like" as many profiles as you please!
Can I Verify My BLK Dating App Profile?
You can! The BLK dating app platform utilizes a verification process called "Selfie Verification."
What Is Selfie Verification?
Selfie Verification involves a simple process: recording a video selfie. If the person in your video selfie successfully completes both the Liveness Check and 3D Face Authentication steps, you will be granted the "Selfie Verified" status.

The purpose of the Liveness Check is to identify the presence of a real person's face in your video–this helps BLK verify that the video was not digitally modified or manipulated. The 3D Face Authentication technology is capable of detecting your face in both your video selfies and profile photos, as it utilizes face geometry to create distinct numeric "templates" that are unique to each individual. These templates are utilized to verify if the individual in your video selfie matches the person in your dating profile photo.
What Sorts of Connections Can I Make on the BLK Dating App?
The BLK dating app is excellent for meeting compatible singles and developing meaningful relationships–most users are there to find serious romantic partners, but it isn't out of the question to find a more casual relationship or even friendship on the platform.
How Do I Block a BLK Dating App Member?
If you want to block a person, go to their profile, click the three dots, and then click the block member button. When you block a user, they will no longer appear in your matches, and any previous conversations between the two of you will be removed. Furthermore, the individual who you blocked will not be able to see your dating profile.
Can I Unblock a BLK Dating App User?
Nope! Once you've hit that block button, it's a wrap–blocking is permanent and cannot be undone. In fact, you won't be able to find them on the platform, even if you search.
How Do I Cancel My Premium Membership?
The following link can help you manage your iTunes subscriptions: https://support.apple.com/en-us/HT202039

To disable the auto-renewal feature on your iPhone, follow these steps:

• On your iPhone, click the "Settings" button
• On the top of the screen, tap on your Apple ID
• Select "Subscriptions"
• Select the name of the subscription you wish to change
• At the bottom of the page, select "Cancel Subscription"
• Press "Confirm" to confirm your changes

Another option is to do it directly from the BLK dating app:

• After logging in, choose the Profile icon on your dating profile
• Click on the gear icon
• Scroll down the page, and click "Manage Subscription"
• To stop the auto-renewal, tap the BLK app and follow the on-screen instructions

If you've already canceled and need more details or assistance, please get in touch with Apple directly at https://support.apple.com/contact.