Our team of experts diligently research and review all of the products and services we recommend. If you buy through our links, we may receive a commission. Learn more here.
Looking for a cutting-edge dating app that emphasizes helping you find suitable partners for one-off events and casual relationships? Allow us to introduce you to the Badoo dating app if you aren't already acquainted.
They have 12 million active users in the United States (wow) and 500,000 daily logins, and they allow their consumers to swipe through datasets of eligible singles–and readers, you know how much we love a swiping feature.
In our complete review of the Badoo dating app, we'll walk you through all this cutting-edge dating app has in store for swiping singles, from its several membership options and smart features that enhance the online dating game to its easy sign-up procedure and effective matching algorithm.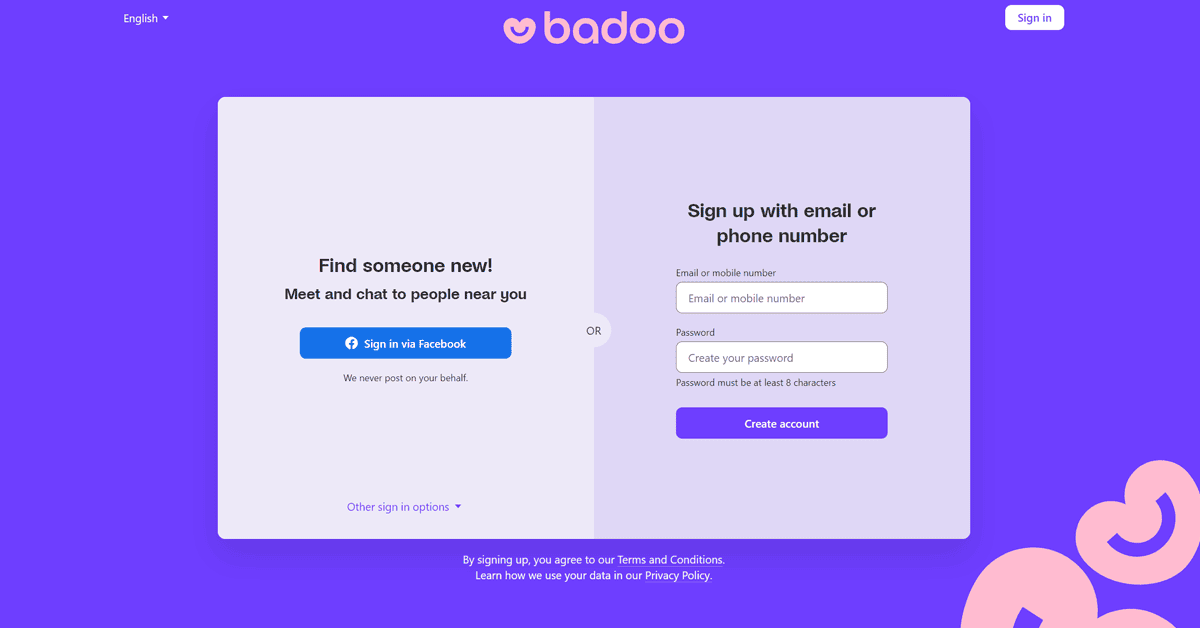 | | |
| --- | --- |
| Sign-Up Time: | 5 minutes |
| Cost: | $7.99 – $25.99 per month |
| Membership Pool: | 12 million |
---
---
Our Badoo Dating App Rating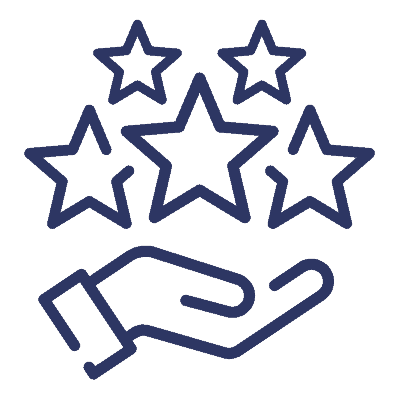 Overall Rating

Badoo is coming in with an overall score of 3.8 out of 5!
We've gathered some key data about the Badoo dating app, including ratings for match quality, ease of use, customer service, cost, safety, security, and features. We score each category from 1 to 5, and you can see how Badoo scored below!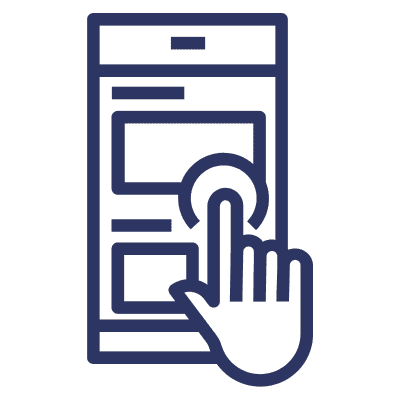 Ease of Use

The Badoo dating app boasts a user-friendly interface and a great swipe-style dating function that enables users to browse a large database of available singles. The app's interface is user-friendly and intuitive, as are the features, making it simple and entertaining to locate compatible matches!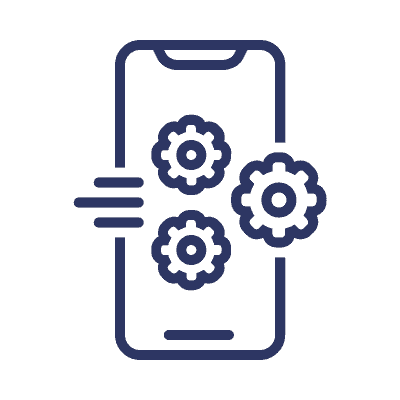 Features

Our review of Badoo revealed a wide variety of useful features, such as the ability to communicate with others in complete anonymity, send unlimited messages, and highlight certain portions of messages. Certain features, such as Rise Up and the online/offline status, are only available to members after spending extra money (credits).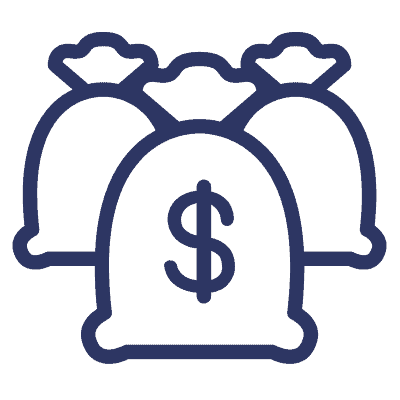 Cost


As compared to other dating apps, Badoo's fee is very standard. We appreciate that Badoo offers six different membership levels, with options to pay monthly, weekly, or daily. This option to buy a lifetime membership for a single sum is very unique for a dating app, and we appreciate that! The amount of plans available here allows for a great amount of adaptability to its users, which we like–there is a plan for everyone.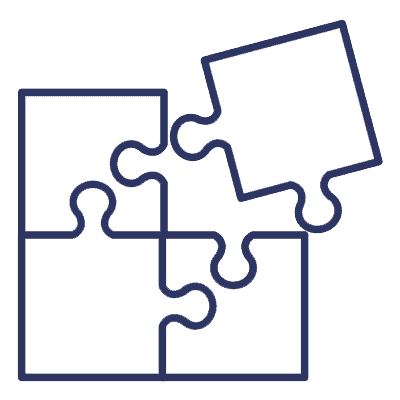 Match Quality


More than 12 million people in the United States use the Badoo app each month, and half a million more sign on every day. This is an amazing activity since it increases the size of the available dating pool, which improves the quality of available dates.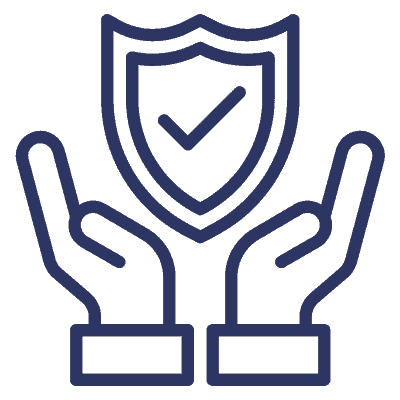 Safety and Security


In order to confirm a user's identity, Badoo requires them to submit a picture for verification, which we love. If your verification picture doesn't match up with the profile photo you uploaded, you will not get access to your Badoo account. We also appreciate that members cannot take screenshots while on the app, so your personal messages won't end up on some "Sad Online Dating" Reddit thread.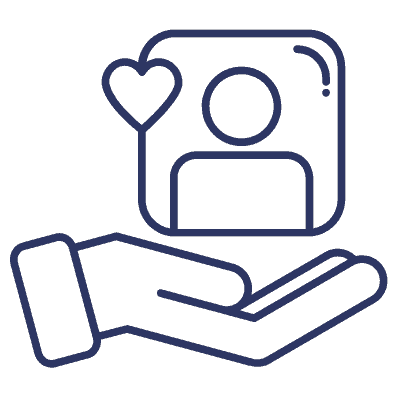 Customer Service


We like that Badoo's messaging hub makes it easy for users to report suspicious profiles and block undesirable individuals, but we're not crazy about how difficult it is to get in touch with a human customer support representative. The only customer service alternatives available are an online form for sending an email and social media channels–we'd love to see a live chat option in the future.
Overview of Badoo
We'll be reviewing the Badoo app, but before we do, there are a few things we think newbies to online dating apps should know before signing up for a free trial or downloading the app. Founded in 2006, Badoo was originally a Facebook game, which is odd, but whatever! The average age of singles populating the dating app is 25-35 (41% of users), and the gender ratio is 65% men to 35% women. That's either good for the women or overwhelming–we can't be sure!
Badoo Fast Facts
Year Founded: 2006
Originally, Badoo was a Facebook game
Average User Age: 25-35 years
Gender Ratio: 65% men to 35% women
Badoo Prices and Premium Membership Subscriptions
Badoo offers six distinct membership options, all of which are identical in terms of price and functionality. This isn't a dating app where you pay to access more advanced features, and Badoo's membership options range in cost depending on the amount of time the user commits to the plan they choose.
Badoo is one of the only dating apps that will allow you to pay off the total price of the membership in up to four monthly installments. Most require the entire payment upfront.
| Length | Price Per Month | Total Cost |
| --- | --- | --- |
| 1 day | $55.72 (28 days) | $1.99 |
| 1 week | $31.96 | $7.99 |
| 1 month | $25.99 | $25.99 |
| 3 months | $10.66 | $31.99 |
| 6 months | $7.99 | $47.99 |
| Lifetime | – | $159.99 |
Badoo's Special Features
Yes, but the purpose of Badoo's free trial is to provide new users with a sample of what the dating app offers before they commit to paying for the full version. Unlike what the name may imply, the "free trial" doesn't offer new customers access to all services at no cost for a set period of time. Badoo's "free trial" provides consumers access to a subset of features indefinitely. The free trial version is really stripped down, but it serves as a great way to get a feel for the app and discover what kinds of people are using it.
Standard (Free) Features
Register an account
Create a dating profile
Edit your profile
Upload photos from Facebook or Instagram
Adjust search settings and dating parameters
View other members' profiles
"Like" or "pass" on profiles
See members that are nearest to your location
Premium Membership Features
Encounters
In Badoo, "Encounters" is the first step in the dating process. In "Encounters," you'll be screening potential dates to see who piques your interest and who doesn't. In order to find a compatible partner, you need to like a picture of someone who liked yours. You may also send a "smile," which is like a "super like" on Tinder. Using this option will result in a brief summary of your profile sent to the potential match.
Invisible Mode
An invisible mode is very common among swipe-based dating apps. If you're looking for a discreet way to search for and connect with other singles on the app, this option is for you–but only premium subscribers have access to this feature.
Stickers
Stickers function very similarly to emojis in that they can be purchased with credits and then used in chats. The stickers you've purchased will be included in the emoji menu. Badoo credits may be used to buy most stickers, although others are exclusive to paid members.
Highlight
With the highlight feature, you can ensure that all see your messages of your connections. This increases the likelihood that your replies will be viewed before those of other people.
Rise Up
Using Badoo credits, the "Rise up" feature can be purchased. This increases your likelihood of getting viewed in comparison to other singles by moving your picture up in search results for other users in your vicinity.
Gifts
Sending gifts to the singles you're chatting with is an option. Selecting "deliver a gift" brings up a gallery of stickers you can give to the recipient. It's not that useful, but it's a sweet and entertaining way to show your match you're thinking about them.
Earn Your Credits
In order to access more features on Badoo, such as rise ups, stickers, and more, you are occasionally given a chance to earn credits. Typical methods include surveys, general questionnaire completion, or writing a Badoo app review.
Badoo Credits
Credits are a kind of in-app cash that users can spend on various dating game-changing extras. They are available in three separate bundles.
| Credits | Cost per Credit | Total Cost |
| --- | --- | --- |
| 550 (Handful) | $0.036 | $19.99 |
| 1,250 (Pile) | $0.027 | $34.99 |
| 2,750 (Mountain) | $0.021 | $59.99 |
Do Badoo Memberships Renew Automatically?
When a membership plan's term ends, it will be automatically renewed. The goal here is to ensure that members' coverage under the plan remains continuous at all times. Users can disable the auto-renewal function in their account's payment options.
Should You Join the Badoo Dating App?
The purpose of our complete and objective review of Badoo is to highlight both the positive and negative aspects of the platform so that you are fully aware of everything that awaits you if you decide to join up for either the free trial or the premium subscription. No dating app is completely flawless, so it is impossible for us to provide you with a review of Badoo and avoid mentioning anything negative about the service.
Reasons to Join
Our review of Badoo includes all of the data we gathered throughout our time with the platform, and we'll go over the pros and cons of the dating app so you can decide whether or not to join on your own. But we definitely think you should consider signing up for Badoo for the following reasons!
Quick Sign-Up Process
You can develop your profiles as you go with Badoo, thanks to its speedy sign-up process.
Huge User Base
With over 12 million active members and 500,000 new logins daily, Badoo is a significant player in the online dating sector. And more members means more chances of meeting someone special.
Lifetime Membership
We have not come across a dating app that provides a lifetime membership that can be bought for a one-time payment, but we believe that this would be a tremendously appealing offer that users would take advantage of if it were available.
Profile Tips
You can apply the tips provided by Badoo to enhance and improve your profile on the dating app! And what do we always say? The better your profile, the more matches you'll get!
Reasons Not to Join
We discovered several benefits to using the Badoo dating app, but we also discovered some downsides and listed them below.
Not Great for Serious Relationship Seekers
As Badoo has a reputation akin to Tinder, it's not known for facilitating serious or long-term relationships. However, there are exceptions to every rule, and just like Tinder has lots of committed relationship success stories, Badoo might too!
Lackluster Customer Service
While Badoo's reporting suspicious accounts and blocking unwanted users is a breeze thanks to the chat hub, we're not fans of how hard it is to get in contact with a real person at customer service. We'd love to see a live chat option added in the future since the only customer support options now accessible are an email form and contacting them via social media platforms.
Memberships Auto Renew
While we don't particularly mind this, many customers absolutely loathe auto-renewal, and on Badoo, all membership plans are set to renew once they end automatically.
Lots of Fake Accounts
We're not exactly sure how this happens since we had to have our picture taken and compared against our profile when signing up for Badoo, but users say there are a lot of fake accounts and scammers using the app.
The Sign-up Process
The simplicity with which a new user can create a profile and start using the Badoo dating app is one of its strongest points. Although creating a robust profile could take up to 10 minutes, the actual sign-up procedure takes less than 5 minutes. The following is a detailed outline of the signup process.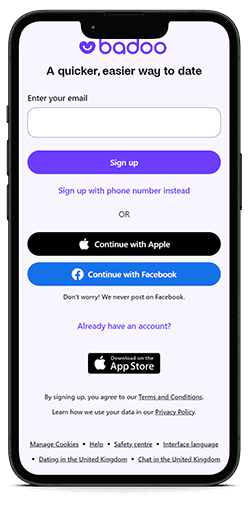 Step 1: Sign Up Using Phone or Email
To get started, just provide some basic information, such as an email address or phone number. It's also possible to join by linking your Facebook account. In any case, Badoo will give you a verification code you'll have to enter before you can use the dating app.
Step 2: Enter Your Basic Info
In order to get started, please provide your first name, birthdate, location, and gender. Additional options for genders are available when you click the "More Options" button.
Step 3: Upload Profile Photo
Be sure that you upload a high-quality picture of yourself. You can do this by using the pictures stored on your computer, smartphone, or another device, or you can use your social media accounts like Facebook or Instagram.
If you don't want to post a profile picture, that's your prerogative, but don't expect as much attention from other singles. According to Badoo, the optimal number of photos is six.
Step 4: Agree to Terms and Conditions
Here you can read Badoo's "Honesty Pledge' and familiarize yourself with the dating app's guidelines and if you agree, click the "I Agree and want to continue" button to move on to the next step.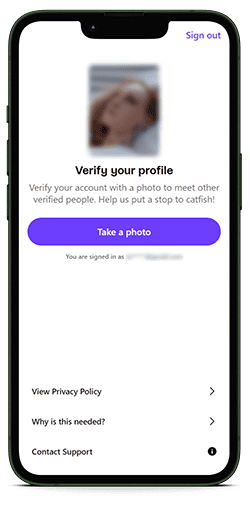 Step 5: Verify Your Profile
At this step, you'll be asked to verify your profile with a photo–but don't worry about how you appear. It's only for verification purposes, and it won't be added to your dating profile!
Step 7: Special Offers
Here, you can opt in or out of Badoo's special offers which can include free credits for the dating app.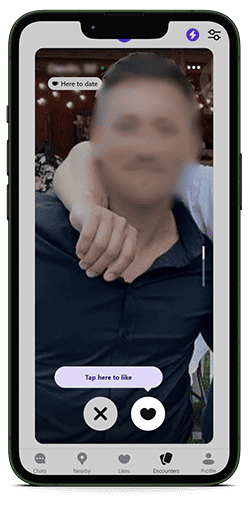 Step 8: Short Guide to Swipe-Style Dating and Start Browsing Profiles or 'Encounters'
To help you get started quickly and confidently while you browse profiles, Badoo offers new users a brief overview of how the swipe-style matchmaking function works.
As you continue to work on your profile, you can explore the app's extensive singles community by clicking the Encounters link in the navigation bar to the left.
Step 9: Set Your Preferences
Now you'll set your search parameters by gender, age, and distance.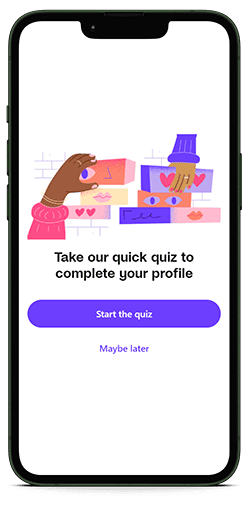 Step 10: Build Your Profile
When you fill out more of your profile, you'll be given questions about different aspects of your identity, such as your occupation, looks, and sexual orientation.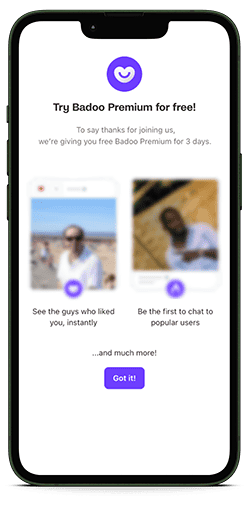 Step 11: Upgrade to Badoo Premium
And you're all ready to start dating! Now you'll be given the option of staying with the basic free version or upgrading to a premium membership, which we always recommend so you can get the most out of any dating app experience!
Alternatives to Badoo
There's no reason to worry if you don't think the Badoo dating app is a good fit for you—there are so many other dating apps that may work better for you, and they're listed below!
Dating App
Key Facts
Review
Christian Mingle

Active Members: 16+ million
Gender Ratio: 44% men to 56% women
Best For: Christian singles looking for committed relationships
Pricing: Begins at $14.99/month

Christian Mingle Review
eharmony

Active Members: 16+ million
Gender Ratio: 48% men to 52% women
Best For: All singles who want a serious relationship
Pricing: Begins at $35.90/month

eharmony Review
Elite Singles

Active Members: 2+ million
Gender Ratio: 44% men to 56% women
Best For: Highly educated and successful singles
Pricing: Begins at $19.95/month

Elite Singles Review
SilverSingles

Active Members: 800,000
Gender Ratio: 53% men to 47% women
Best For: People over 50 looking for relationships
Pricing: Begins at $24.95/month

SilverSingles Review
Zoosk

Active Members: 40+ million
Gender Ratio: 47% men to 53% women
Best For: All singles – Flirting, finding love, and getting dates
Pricing: Begins at $10.00/month

Zoosk Review
Frequently Asked Questions
These dating app reviews are written to give the reader as much useful information as possible. With this FAQ, we want to answer any and all questions you may have about our evaluation of the Badoo dating app.
Notify us via the "contact us" page if there's anything further you'd want to know that wasn't included in the review or listed in the frequently asked questions!
Is the Badoo Dating App Legit?
Badoo is a legit dating app serving over 12 million active members in the United States alone. There are around 500,000 daily logins, and they've been serving the online dating market since 2006. This platform has helped people find casual dating and romance over the years, and we've even seen reports of the app helping some people find their soulmate or a marriage partner.
Is Badoo a Safe Dating App?
There's a small blue checkmark you can click on to see whether the person you're talking to on the dating app Badoo is genuine. This means the person has confirmed their identity, and the picture they have submitted is a legitimate representation of them.
How Is the Badoo Free Version?
The scope of the trial is somewhat narrow. Even if a user doesn't pay for a premium membership, they can still upload photographs and a bio to their profile. By using Encounters, users can engage in "swiping" to find a romantic partner, so new users may browse profiles without spending any money.
How Much Does a Badoo Premium Membership Cost?
There are six tiers of membership available on Badoo. The daily membership fee is $1.99, while the weekly fee is $7.99. You can subscribe for a month at a time for $25.99, for three months for $31.99, or six months for $47.99. The lifetime subscription option is also available but requires a one-time fee of $159.99.
How Do Badoo Credits Work?
You can increase your profile's exposure inside the app by purchasing credits, which can be used to buy emojis, profile boots, and highlights. Packages of 550, 1,250, and 2,750 credits are available for purchase.
How Long Does It Take to Join Badoo?
We completed the registration procedure and started searching for potential matches on the Badoo dating app in under 5 minutes. After initially signing up for Badoo, there remains more to be done to provide the greatest possible experience—this is due to the app's emphasis on personalized profiles. You should build up your profile to get the most out of the dating app!
How Do I Set Up My Search Filters and Dating Preferences?
This is partly determined by the details you provide about yourself in your profile. Badoo will use this information to influence some of its Encounters recommendations. Even so, before you can really use the app, you'll need to tweak some of your dating settings during the final steps of the sign-up process. You can choose the age range, gender, and distance criteria of your ideal match–Badoo uses your location to help you locate other people within a 100-mile radius.
What Is Badoo's Matchmaking System?
The primary components of the matching algorithm are your ideal mate's gender, age range, and proximity to you. The parameters of the search enable you to narrow it down to within a hundred miles of your current location. Put these three elements together with profile photographs and physical appeal, and you've got the foundation for Badoo's matching algorithm.
Can I Use Badoo on a Desktop PC or My Mobile Web Browser? Is There an App?
You sure can! While some dating apps only use mobile app versions, Badoo can be accessed on a desktop computer and a smartphone web browser.
Is a Facebook or Instagram Account Needed to Sign Up for Badoo?
Although you can access Facebook or Instagram via Badoo to find optimal profile images, you are not required to use these social media networks in order to use Badoo. New users can upload images directly from the folders on their desktop computer or mobile device.
What Is the Badoo Dating App, and Who Founded it?
Badoo is a social network and dating app where users can meet new people and potentially develop romantic connections. Andrey Andreev, a Russian entrepreneur, launched the company in 2006. Since then, it has expanded into a global dating app with headquarters in the United Kingdom, the United States, Russia, and Cyprus.