Our team of experts diligently research and review all of the products and services we recommend. If you buy through our links, we may receive a commission. Learn more here.
Nurses are the backbones of the healthcare industry. When you're in the hospital, RNs are the ones who take care of you when it really counts, providing you with excellent medical care as well as some much-needed TLC. With long, grueling hours and many overnight shifts, how do they find time for dating? It has got to be hard to maintain a healthy work-life balance.
That's where we come in! To help nurses narrow their search for a potential partner, we have scoured the online dating industry to find the best nurse dating apps of 2023, so our healthcare heroes have a better shot at finding the love they want and deserve!
---
---
4 Best Dating Apps for Nurses in 2023
What follows is a list of 2023's top nurse dating apps, all hand-picked by our team of dating app experts. During our research, we factored in which dating apps make the most sense for healthcare professionals to join due to their time-consuming jobs and limited free time to date, let alone spend hours searching through an app that will have a limited number of solid choices in a potential match!
We've narrowed it down to what we genuinely believe are the four best nurse dating apps and why we think so! Keep reading to see our picks and get the lowdown on everything about each dating app specifically chosen for nurses.
Dating App
Key Facts
Free Trial
eharmony

Active Members: 16+ million
Gender Ratio: 48% men to 52% women
Best For: Finding nurse singles who want a serious relationship
Membership Price: Begins at $35.90/month

Start Your Free Trial!
Elite Singles

Number of Users: 2+ million
Gender Ratio: 51% men and 49% women
Best For: Fnding highly educated and successful nurse singles
Pricing: Begins at $31.95 per month

Start Your Free Trial!
Silver Singles

Active Members: 800,000
Gender Ratio: 47% men to 53% women
Best For: Finding singles over the age of 50
Membership Price: Begins at $24.95/month

Start Your Free Trial!
Christian Mingle

Active Members: 16+ million
Gender Ratio: 44% men to 56% women
Best For: Finding nurse singles who hold Christian beliefs
Membership Price: Begins at $24.99/month

Start Your Free Trial!
The League

Active Members: 7.5 million
Gender Ratio: 48% men to 52% women
Best For: Finding eilte nurse singles
Membership Price: Begins at $$67.00/month

Start Your Free Trial!
The truth is that Nurses can find love using the same popular dating apps that work well for elite dating, senior dating, religious dating, and even left-leaning or conservative singles. And we are going to show you why that is the case!
You Can Trust Our Recommendations
When it comes to finding a date, why should you put your trust in the nurse dating apps that we've suggested? Are these really the best options for a single registered nurse? Here are the top five reasons why you need to follow our recommendations and use the top dating apps we suggest.
Our Reviews Are Always Objective
When reviewing a dating app, we always provide honest and unbiased assessments. When researching a site, we consider its positive and problematic aspects. When it is warranted, we give credit, and we are not afraid to provide criticism when necessary.
We Use and Test the Dating Apps
We provide our expert writers free trial accounts on these dating apps so that they can test everything for themselves and offer you evaluations that are both comprehensive and impartial. As a result, our dating app reviews are much more honest and thorough.
We Give You a Way to Test Out the Product
Whenever we recommend a dating app, we always include a link to its free trial version. We're never surprised if you're not instantly on board with our recommendations. You can test out the dating app without spending any money to determine whether it works for you. If it doesn't, then there's nothing to lose. Users can enjoy the free trial without spending a single cent!
Our Content Is Updated Daily
When there is a real change in the industry, like when a dating app removes or adds features to its platform, our expert team goes back and revises the relevant reviews and other material to show the new changes. Because we constantly provide the latest information, including pricing and other changes, our recommendations can always be trusted.
We Never Waste Your Time with Obscure or Vague Products
In the world of online dating, we only promote the best apps and services. We'll let you know about niche dating apps if they seem to be of use to you, but we'll primarily focus on the most contemporary and successful options available right now.
The Best Nurse Dating Apps Reviewed
We've already told you about our top nurse dating apps, so now it's time to go deeper into the reasons why they're ideal for nurses searching for love or discovering partners who share their values and beliefs.
---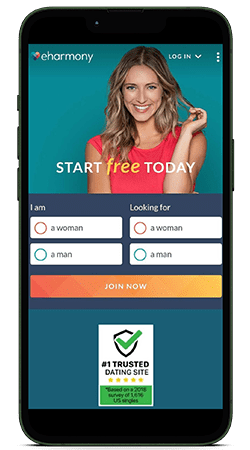 1: Eharmony – Best for Serious, Compatible Relationships
| | |
| --- | --- |
| Active Members: | 16+ million |
| Gender Ratio: | 48% men 52% women |
| Sign-up Time: | 30-45 minutes |
| Pricing: | Starting at $35.90 per month |
Finding a partner who is supportive of your work schedule, sympathetic when the stresses of your job begin to weigh heavily, and a good communicator and listener is crucial as a healthcare professional. This means finding someone who will be a good match for you and understands the nature of your career–maybe even a fellow registered nurse!
Because of this, eharmony is the top recommendation for dating apps for nurses looking for potential relationships. They have dominated the online dating industry for over 20 years thanks to their unique method for determining compatibility between two people. eharmony's matchmaking algorithm works and has the successful testimonials of many happy couples to back up its claims.
In addition to a wide range of other factors, eharmony also considers members' careers and future goals when determining their compatibility. This means that users can narrow down their search for a suitable match to meet their specific requirements. As a nurse, you likely have a demanding schedule and can only pick the most promising potential partners. With the help of eHarmony, you can make this happen!
---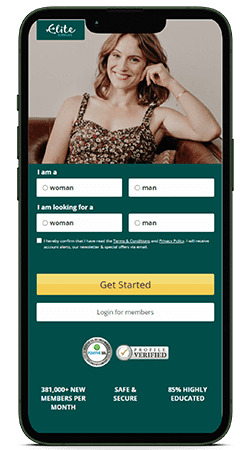 2: Elite Singles – Best for Successful and Educated Nurses
| | |
| --- | --- |
| Active Members: | 2+ million |
| Gender Ratio: | 51% men to 49% women |
| Sign-up Time: | 15-25 minutes |
| Pricing: | Starting at $31.95 per month |
Users of Elite Singles tend to be attractive, well-educated, and employed in lucrative areas (which means plenty of registered nurses). In order to pursue their chosen professions, those interested in becoming nurses must attend school for many years. Over 80% of users on Elite Singles have advanced degrees, making it the dating app with the most highly educated user base.
Elite Single is a dating app where professionals in the health industry can find compatible partners from a wide variety of backgrounds. There are around 13 million subscribers, but only 2 million log in at least once every week. This app is hard to beat when it comes to finding other singles who share your commitment to professional achievement.
---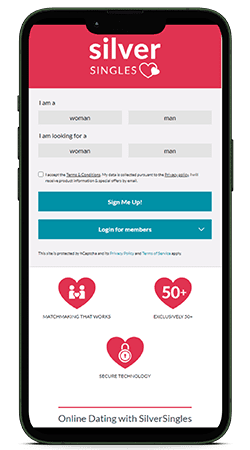 3: SilverSingles – Find Nurse Singles Who Are Over 50
| | |
| --- | --- |
| Active Members: | 800,000 |
| Gender Ratio: | 53% men 47% women |
| Sign-up Time: | 15-20 minutes |
| Pricing: | Starting at $19.95 per month |
Not all nurses are in the younger demographic–in fact, most RNs have been in the healthcare industry for decades! So if you're an older medical professional looking for love, SilverSingles is a dating app made just for you.
The users of the SilverSingles dating app tend to be middle-aged or older singles searching for serious, long-term partnerships or marriages. The average user is 48 to 52 years old, and there are now over 800,000 people using the dating app. Among other benefits, SilverSingles' affordable membership price and easy-to-use interface are among its greatest selling points.
---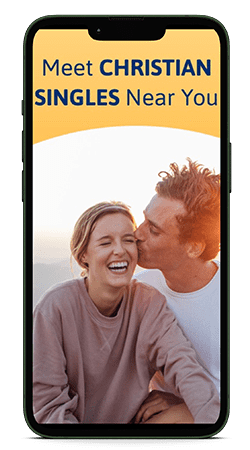 4: Christian Mingle – Find True Love with Nurses, Christian Singles
| | |
| --- | --- |
| Active Members: | 16+ million |
| Gender Ratio: | 44% men 56% women |
| Sign-up Time: | 5 minutes |
| Pricing: | Starting at $24.99 per month |
Christian Mingle is always at the top of our picks for Christian dating apps, so if you are a nurse who wants to find a compatible partner who shares your faith and values, look no further than Christian Mingle.
The sheer number of users and the site's exclusive focus on the Christian market are two of the platform's most vital selling points. This makes it the largest Christian dating app out there, if not the largest. Nurses will have a sizable pool from which to choose when looking for a romantic partner who shares their beliefs. Members can search for other individuals based on various criteria, including appearance, age, location, and religious affiliation.
---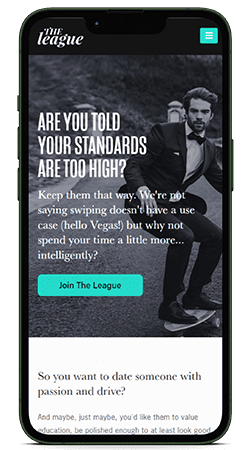 5: The League – Best for Successful, Educated Nurses
| | |
| --- | --- |
| Active Members: | 7.5 million |
| Gender Ratio: | 48% men 52% women |
| Sign-up Time: | 10 minutes |
| Pricing: | Starting at $67.00 per month |
The League is a professional dating app for elite, educated singles who are willing to fork over a significant sum of money to join if they want to start looking for potential partners immediately. The downside of The League dating app is that if you don't pay for membership upon signing up, you are put on a waitlist, similar to the over-exclusive Raya dating app. And according to users, the time on the waitlist is pretty long–so if you are serious about finding suitable matches, you'll have to invest in The League.
The League is packed with professional singles from all walks of life, including those in the health sector.
---
What Makes These the Best Nurse Dating Apps?
If you work in the medical field as a nurse or any other kind of healthcare professional, you know how important it is to find a dating app that can help you meet eligible matches. But as a single in the healthcare industry, how can you choose which of these platforms will best serve your wants and needs?
Read on to discover why these are the best nurse dating apps!
Large Dating Pools
These are widely used dating apps. Each of the top-rated nurse dating apps we recommend is just a popular, well-known platform, which means it has a sizable population of active users. People from all different careers and walks of life, not just the medical field, can be found here.
Easy-to-Use Design
By signing up for a free trial, nurses can see how easy some of the most popular dating apps are to use. The sign-up process for these apps takes less than 10 minutes, and you can easily change the search parameters. Even though you can't use some of the more advanced features during the free trial, it's a great way to check out the sites and see if you like them.
Innovative Features
Introducing individuals from similar backgrounds who would not otherwise meet is made easy by using one of the numerous readily available dating apps. They have the means to seek out romantic partners who are both ideal on paper and practical in reality. Because the system has verified them, you can be confident that the singles on these apps are who they claim to be. The dating apps have fun, swipe-style matching, scientific algorithms, and advanced search filters to help you meet your match!
Great Matchmaking
All the nurse dating apps we reviewed used complex matching algorithms and in-depth personality tests to help their users find love. There are dating apps that do more than just put you in touch with possible dates. When you join some dating apps, you get access to a professional matchmaker who can help you find compatible partners, a dating concierge who can help you set up dates, and invitations to events only for members. But these extras will likely make the total cost increase.
Affordable Membership Fees
While most of these dating apps are free to join, many of the advanced features that enable users to find compatible matches will not be available to enjoy. While we always recommend trying out the free version before you commit to a paid membership, we also know that to get the most out of a dating app, you'll need to upgrade to a premium account. So before you sign up for any dating app, consider how much you can afford to spend each month.
Best Niche Dating Apps for Nurses
These specialized nurse dating apps are specifically designed for other healthcare workers to connect with like-minded individuals. As a result, people who have similar backgrounds and interests may find one other, which is something that could be difficult to do in today's fast-paced world. Look below to see our picks for the best niche nurse dating apps!
ForeverX
NursesDating.org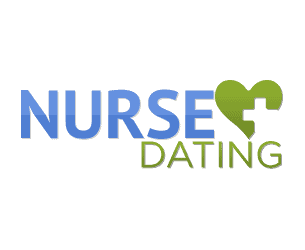 UniformMateNurse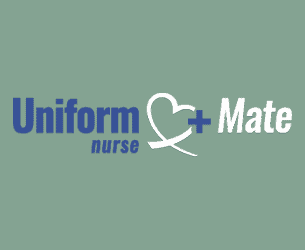 Sign up for a free trial at one of these niche sites to see whether it's a good choice for finding compatible singles. Bear in mind that the membership pool will likely be smaller, and the price of membership per month will probably be costlier than the more mainstream dating apps.
Frequently Asked Questions
Check out the frequently asked questions that follow to see whether using an online dating app as a nurse is the right move for you and if you have any additional questions about the best nurse dating apps!
How Do I Know if Nurse Dating Apps Are Worth It?
The best nurse dating apps are worth your time and money for so many reasons! You can meet singles from various professions that you would never encounter IRL on these apps, and a lot of singles on these platforms are looking for long-term partnerships.
Are Nurse Dating Apps Free?
All the top-rated nurse dating apps in our reviews provide users with free trials to get a feel for the service and the kind of singles that frequent the site before committing to a paid subscription. However, users will only have access to a fraction of the premium membership's features and capabilities during the trial period.
What is Niche Nurse Dating Apps?
A niche nurse dating app is a social platform where nurses and other healthcare industry professionals can join to meet people who also work in the field. This facilitates singles with similar knowledge and interests to connect in a way they might not get to due to their busy schedules.
Why Do You Recommend Mainstream Apps for Finding Nurse Singles?
We recommend more mainstream dating apps for everyone simply because the member pool is much bigger; therefore, your chances of finding a potential partner go way up! Many healthcare professionals use popular dating apps, nurses included, so we believe your best bets are to go with the more mainstream dating platforms.

That's not to say that the niche nurse dating apps aren't successful in helping RNs find love; they just have a much smaller dating pool.
What's the Best Dating App Overall for Finding Nurses?
If you're a nurse looking for love, your best bets are Elite Singles and eharmony. These dating apps are excellent for nurses because of their professional focus and high-quality user bases.
How Much Does It Cost to Become a Member of These Apps?
A premium subscription to a dating app can cost anywhere from $15 per month to around $50 per month, with the average cost falling somewhere in the middle.
Are Nurse Dating Apps Safe?
Yes, nurse dating apps are a safe way to meet people and start meaningful relationships. People who date online, as should people who date offline, should be careful about sharing personal information and setting up dates. Also, they should beware of fake profiles and romance scams.

Most of the warning signs of a fake match are apparent, like no picture, a phony name, or requests for favors or money. But it's always a good idea to check someone's background to ensure you don't fall for a catfisher or scammer. If a dating profile or online chat gives you a bad feeling, you can always block the user or report them.
Should I Date a Nurse?
It depends on your ideal mate and the kind of connection you're seeking. It's common knowledge that medical professionals put in long shifts and have super demanding schedules. Expect to spend a lot of time apart and try to be emotionally supportive of your partner even when they're exhausted after a busy overnight shift if you want your relationship to succeed.