Our team of experts diligently research and review all of the products and services we recommend. If you buy through our links, we may receive a commission. Learn more here.
Dating can be challenging for doctors at any stage of their careers, whether they are still studying, in residency, or already in practice. The notion of going out and trying to find love in a bar or being set up on a blind date by well-meaning friends and relatives after a hard day of work in a stressful environment could appear to be the worst possible remedy.
We have a remedy that we believe you'll find easier to swallow—you can find other eligible single professionals who have a medical degree and truly understand the grind of an MDs responsibilities or someone who wants to date a doc due to their obsession with Grey's Anatomy by downloading one of the best doctors dating apps!
5 Best Doctors Dating Apps
Our team of dating experts has compiled a list of the top 2023 dating apps for doctors. We considered the busy schedules of medical professionals when deciding which dating apps would be the best fit for them. After all, they don't have time to waste scrolling through profiles for hours only to find there are no compatible matches.
We've done the research and picked out the five best dating apps for doctors, and we'll explain why we like them so much. Read on to see our recommendations and learn more about each curated dating app for medical professionals.
Dating App
Key Facts
Free Trial
Eharmony

Active Members: 16+ million
Gender Ratio: 48% men to 52% women
Best For: Finding singles who want a serious relationship
Membership Price: Begins at $35.90 per month

Start Your Free Trial!
Elite Singles

Active Members: 2+ million
Gender Ratio: 51% men and 49% women
Best For: Finding highly educated and successful singles
Membership Price: Begins at $31.95 per month

Start Your Free Trial!
SilverSingles

Active Members: 800,000
Gender Ratio: 53% men to 47% women
Best For: Finding over 50 singles who want a serious relationship
Membership Price: Begins at $24.95 per month

Start Your Free Trial!
Christian Mingle

Active Members: 16 million
Gender Ratio: 44% men and 56% women
Best For: Finding singles who hold Christian beliefs
Membership Price: Begins at $14.99 per month

Start Your Free Trial!
The League

Active Members: 7.5 million
Gender Ratio: 48% men and 52% women
Best For: Finding successful, educated singles
Membership Price: Begins at $67.00 per month

Start Your Free Trial!
There is no difference in the success rate between using one of these popular dating apps for meeting other doctors and using it for meeting other elite professionals, seniors, Christians, or politically liberal or conservative individuals. Below, we'll explain why this is just what the doctor ordered!
You Can Trust Our Recommendations
You may be wondering why we've recommended a few different doctor dating apps—for a single practitioner, are they truly the best choices? Listed below are some of the reasons we think so and the many benefits you will get from using our recommended online doctor dating apps.
We Won't Waste Your Time with Obscure Dating Platforms
We only recommend the most reliable dating apps and sites. We'll tell you about any niche or specialized dating apps if we think they'll be helpful to your dating life, but our primary emphasis will be on the most cutting-edge and successful choices at the moment.
Our Reviews Are Always Unbiased
Our reviews of dating apps will always be thorough and objective. We consider the app's advantages and disadvantages equally while conducting our reviews. We are quick to give praise where it is due and equally unafraid to provide constructive criticism.
Our Content Is Up-To-Date
Our seasoned staff goes back and updates the pertinent reviews and other content whenever there is a substantial shift in the business, such as when a dating app eliminates or adds additional features to its platform. Our ratings are always reliable since we always include the most up-to-date information, such as price as well as any other developments.
We Offer Free Trial Links to Dating Apps We Recommend
When we suggest a dating app, we always give you a link to the app's free trial version. If you don't immediately agree with our recommendations, that's OK; we appreciate it's a big step to take! A dating app's free trial lets you see whether it's a good fit before you shell out any cash, so there's no financial risk involved if it doesn't work out for you. Users have nothing to lose by trying out the free version.
We Always Use the Dating Apps
To provide you with detailed and unbiased reviews, we give our professional writers free access to every dating app they review so they can try them out for themselves. Our evaluations are now far more fair and comprehensive as a consequence of this method!
Breakdown of the Best Doctors Dating Apps
We've previously introduced you to our favorite doctor dating apps; now we'll get into the specific reasons why these platforms are perfect for doctors looking to find love or to meet people who appreciate their values and views.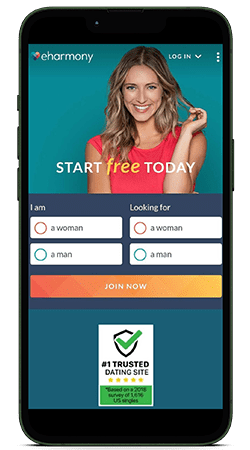 #1: Eharmony – Best for Serious, Compatible Relationships
| | |
| --- | --- |
| Active Members: | 16 million |
| Gender Ratio: | 48% men 52% women |
| Sign-up Time: | 45 Minutes |
| Pricing: | Starting at $35.90 per month |
| More Info: | eharmony Review |
The AMA (American Medical Association) reports that most physicians put in anything from 40 to 60 hours each week, with 20% putting in more than 60. This implies that your availability for dates will be severely restricted. Because of this, it's important to choose a doctor dating app that doesn't waste your time with casual daters or those who aren't committed to finding a partner.
eHarmony is the best choice because of how well it accommodates your busy schedule and genuine desire for success in the romance department. The longer it takes to sign up and create a profile on eHarmony than on competing dating apps may be off-putting, but physicians know that putting in the time and effort at the beginning may pay off in big ways down the road. By investing in this additional effort up front, you enable eHarmony's matching technology to "do the job for you."
When it comes to finding long-term love in the medical field, eHarmony is, without a doubt, the best dating app.
---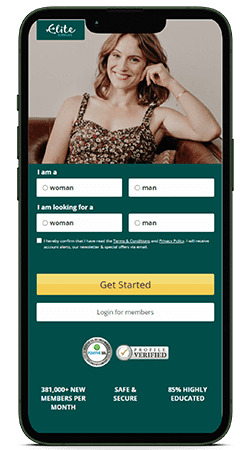 #2: Elite Singles – Best for Successful and Educated Singles
| | |
| --- | --- |
| Active Members: | 2+ million |
| Gender Ratio: | 51% men to 49% women |
| Sign-up Time: | 15-25 minutes |
| Pricing: | Starting at $14.99 per month |
| More Info: | Elite Singles Review |
When you consider that becoming a doctor can take as long as ten to fifteen years, including internship and residency, you can see why doctors would value education and the drive to excel. As a result, it makes sense to seek out and connect with other singles (perhaps from professions other than medicine) who share your understanding and values on these issues.
The mission of Elite Singles is only to connect young and established professionals with one another who value education and achievement above all else. The app's user base consists of a wide variety of professions, including doctors, attorneys, entrepreneurs, philanthropists, and company owners of various sizes. If you're a doctor with a busy schedule and high standards, you'll appreciate the variety of individuals you'll meet and the high quality of the dating experience they provide.
Elite Singles is the right dating app to use if you value intelligence, ambition, and achievement.
---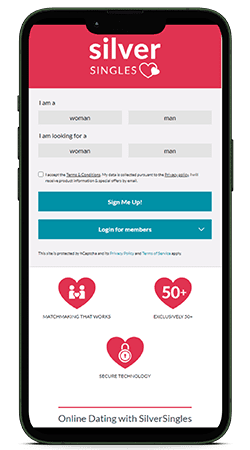 #3: SilverSingles – Find Singles Who Are Over 50
| | |
| --- | --- |
| Active Members: | 800,000 |
| Gender Ratio: | 53% men to 47% women |
| Sign-up Time: | 15-20 minutes |
| Pricing: | Starting at $24.95 per month |
| More Info: | SilverSingles Review |
In truth, most MDs have been practicing medicine for decades, proving that not all physicians are young. Thus, SilverSingles is the dating app for you if you are a healthcare worker over the age of 50.
Members of the SilverSingles dating app are mostly middle-aged or older individuals looking for committed relationships of some kind. There are currently over 800,000 individuals using the dating app, with the average user age falling between 48 and 52. The low cost of membership and the intuitive design of SilverSingles are two of the app's biggest draws.
---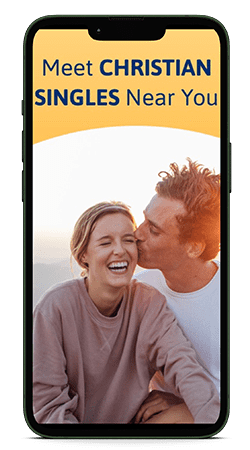 #4: Christian Mingle – Find True Love with Christian Singles
| | |
| --- | --- |
| Active Members: | 16 million |
| Gender Ratio: | 44% men and 56% women |
| Sign-up Time: | 5-10 minutes |
| Pricing: | Starting at $14.99 per month |
| More Info: | Christian Mingle Review |
If you're a doctor looking for a partner who shares your Christian religion and values, you need to go no further than Christian Mingle, which consistently ranks as one of the best Christian dating apps available.
Two of the app's biggest draws are its massive user base and exclusive dedication to the Christian market. In terms of the Christian dating app market, this makes it by far the biggest. When it comes to finding a life partner with similar values, doctors will have their pick of a large pool. In addition to physical characteristics like age and geography, members may also look for people based on their beliefs.
---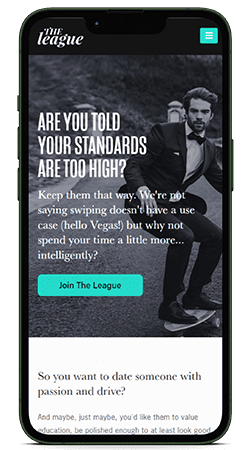 #5: The League – Best for Successful, Educated Singles
| | |
| --- | --- |
| Active Members: | 7.5 million |
| Gender Ratio: | 48% men and 52% women |
| Sign-up Time: | 10 minutes |
| Pricing: | Starting at $67.00 per month |
| More Info: | The League Review |
The League is a premium dating service for successful, college-educated people who are ready to start their relationship search right away and are prepared to shell out a hefty chunk of money to do so. If you don't purchase a premium membership right away after signing up for The League, you'll be placed on a waitlist, much like the ultra-exclusive Raya app. Users report a lengthy wait time, so if you're serious about dating, you'll have to shell out some dough for The League.
The League is full of single professionals from many different fields, including the healthcare field.
---
What Makes These the Best Doctors Dating Apps?
The importance of finding the best dating app that can assist you with finding suitable matches will not be lost on a doctor. But as a busy single person working in the healthcare field, how are you able to decide which of these dating apps would best satisfy your needs? Continue reading to find out why our dating experts think the dating apps listed below are the best options for doctors looking for love!
Big Dating Pools
These are some of the most popular dating apps. Not just those working in the medical industry but also people from a wide variety of other professions and areas of life can be discovered here. Every one of the best doctor dating apps that we suggest is a mainstream platform that is well-known and popular, which indicates that it caters to a sizeable community of active members.
Great Matchmaking
When it came to finding love, all of the licensed physician dating apps we looked at employed sophisticated matching algorithms and in-depth personality testing. You can find dating applications that do much more than simply connect you with prospective partners. Some dating apps provide users exclusive access to events for members only, a personal matchmaker to help them locate suitable matches, and a dating concierge to assist them in arranging dates. However, these additions most certainly will drive up the membership price.
Easy-to-Use Design
By joining a trial period for free, physicians may see for themselves how user-friendly several of the most common dating apps really are. The free trials are a great opportunity to test out the platforms and see whether you like them, even if you won't have access to all of the features. It only takes a few minutes to join one of these apps, and the search parameters are adjustable.
The Latest Features
Using one of the many available dating apps is a simple way to bring together people with the same interests but who would not otherwise cross paths. They have the resources to look for relationship partners who are both perfect on paper and useful in practice. You can be sure that the individuals on these applications are who they say they are since the platform has validated them. Dating apps can help you find your match using entertaining, swipe-style matching, cutting-edge search filters, and scientific algorithms.
Affordable Prices
There are plenty of free dating apps out there, but you won't have access to many of the extra features that help you meet people who are a good fit for you. The free version is always worth a go before dishing out cash for a dating app's premium features, but we know from experience that paying customers are more likely to enjoy their experience. As a result, you should consider your monthly budget before downloading a dating app.
Best Niche Doctors Dating Apps
These niche dating apps allow doctors and other medical professionals to find and connect with others who share their professional interests. This makes it possible for individuals with shared interests and experiences to connect with one another, which may be challenging in the modern world. Check out our top recommendations for our fave specialized doctors' dating apps!
#1 Coffee Meets Bagel
#2 DownToDate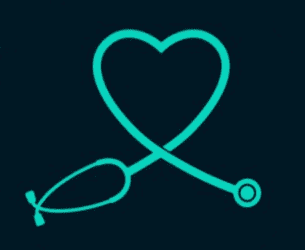 #3 Jdate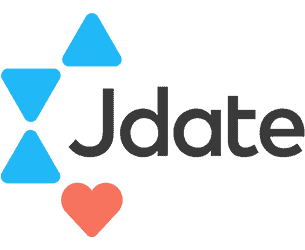 #4 ForeverX
Create a free trial at one of these niche platforms today and find out if it's viable for meeting the right kind of singles. Just keep in mind that the dating pools will probably be more limited, and the membership cost might be a bit steeper.
FAQ
If you're a doctor wondering whether it's a good idea to use an online dating app or if you have any other questions regarding the best doctors' dating apps, check out the frequently asked questions below!
What Is a Doctor Dating App?
Medical professionals can connect with one another on a doctor dating app. Many medical professionals use common dating apps to connect with one another or other individuals, but others opt for these specialized dating apps to narrow their search.
Are Doctor Dating Apps Legit?
We can guarantee that these doctor dating apps are 100% legitimate so long as you use just the well-known and dependable ones that we recommend.
Are Doctors Dating Apps Safe to Use?
Medical professionals can feel confident using dating apps to find compatible partners. Both online and offline daters need to exercise caution when exchanging contact details and planning meet-ups, and they should also watch out for phony profiles and other forms of romantic fraud.

It's usually easy to see the telltale indicators of a fake match, such as no photo, a made-up name, or demands for gifts or money. You should always look into someone's history to avoid falling for a catfisher or con artist. You can always block or report a person if anything about their profile or conversation makes you uncomfortable.
Is It a Good Option for Doctors to Use Dating Apps?
Without a doubt. As physicians, your time is limited, your calendar is packed, and your search criteria are probably well-defined. Due to the convenience of online dating, it's easier than ever to discover the kindred spirit you've been searching for.
Do You Have to Be a Doctor to Join These Dating Apps?
Absolutely not! Anyone is free to sign up for an account and create a profile on any of the above-mentioned dating apps. We just wanted to give the MDs some attention and point them toward some platforms so they can get in on the fun of online dating!
Why Do You Suggest Doctors Use Mainstream Dating Apps?
As a general rule, we advise using a larger, more well-known dating app to increase your chances of meeting someone special. We think you'll have better luck on one of the more mainstream dating sites or apps since so many people in the medical field use them.

It's not that MD-specific dating apps don't work; it's simply that their user base is far more limited.
What Is the Best Overall Doctors Dating App?
In our opinion, the best dating apps for doctors are eharmony and Elite Singles. Due to their specific market and quality user base, these dating apps are perfect for physicians.
How Much Does It Cost to Become a Member of a Doctor Dating App?
The average monthly price for a premium membership on a doctor dating app we recommended above is anywhere between $20 and $67.
Are Doctors Dating Apps Free?
All of the best doctor dating apps in our evaluations provide free trials so that potential members can test out the platform and the demographics of its user base before deciding whether or not to sign up for a premium membership. During the trial period, customers will have access to a subset of the premium membership's features and capabilities.