Our team of experts diligently research and review all of the products and services we recommend. If you buy through our links, we may receive a commission. Learn more here.
Want to know which dating apps for single parents you should use in 2023? If you're looking for a place to meet other single parents, BestDatingApps.com offers precisely the places for you to go! Being a single parent is challenging, and it may be difficult to find the time to socialize, much alone start a relationship.
Also, you may not know anybody who is appealing to you in your area. This is where some of our favorite dating apps for single parents to meet one other come in! With their help, you can fit your search into your busy schedule without sacrificing anything. And they'll increase the variety of potential dates you can access, boosting your chances of discovering a compatible partner.
Dating App
Key Facts
Free Trial
Eharmony

Active Members: 16+ million
Gender Ratio: 48% men to 52% women
Membership Price: Begins at $35.90/month

Start Your Free Trial!
SingleParentMeet

Active Members: 410,000
Gender Ratio: 43% men to 57% women
Membership Price: Begins at $14.99/month

Start Your Free Trial!
Elite Singles

Active Members: 2+ million
Gender Ratio: 44% men to 56% women
Membership Price: Begins at $31.95/month

Start Your Free Trial!
Zoosk

Active Members: 40+ million
Gender Ratio: 47% men to 53% women
Membership Price: Begins at $10.00/month

Start Your Free Trial!
SilverSingles

Active Members: 800,000
Gender Ratio: 47% men to 53% women
Membership Price: Begins at $24.95/month

Start Your Free Trial!
Creating a new profile on one of our single-parent dating apps is the first step. If you are hesitant but still want to check out the site, you can take advantage of a trial period at no cost to you. Free trials are a fantastic way to wait and reduce expenses before committing! Whichever route you take, you're sure to quickly discover matches with other single moms and dads who are also looking for love.
---
---
What Is the Best Dating App for Single Parents?
There's no clear winner among the dating apps we suggest for single parents. You'll find five unique dating platforms here, each with its own advantages. The key to finding the best resources for your journey is to think about what you want and then do some research to find out which dating apps provide those things. Finding a suitable dating app is our top priority, and we're here to help.
---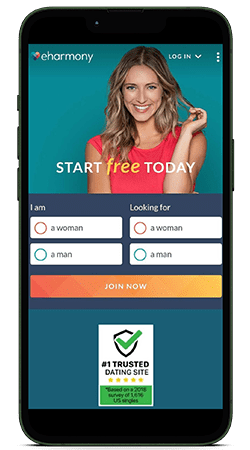 1: Eharmony
| | |
| --- | --- |
| Active Members: | 16+ million |
| Monthly Users: | 10 million |
| Gender Ratio: | 48% men 52% women |
| Pricing: | Starting at $35.90 per month |
Eharmony recognizes the difficulties of being a single parent. This topic is covered in-depth on one of their pages! As a single parent, you have a lot on your plate between caring for your children, pursuing your professional goals, and networking with other single parents.
Eharmony is proud of its compatibility questions, which they say get to the root of exactly what it takes to be a single parent by asking things like "what defines you?" or "what motivates you?" "how do you organize your life?" "how do you communicate your thoughts and ideas to others?" We can't help but recommend eHarmony as one of the best apps for single parents in 2023 since they are so meticulous and thorough in their testing.
---
2: SingleParentMeet
| | |
| --- | --- |
| Active Members: | 410,000 |
| Monthly Users: | 77,000 |
| Gender Ratio: | 60% men to 40% women |
| Pricing: | Starting at $14.99 per month |
Another fantastic option for single parents looking for love is the Single Parent Meet dating app. Matches are established based on the individual's profile data, dating preferences, and geography to bring compatible single parents together.
---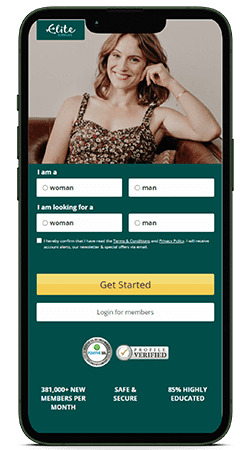 3: Elite Singles
| | |
| --- | --- |
| Active Members: | 2+ million |
| Monthly Users: | 250,000 |
| Gender Ratio: | 44% men 56% women |
| Pricing: | Starting at $31.95 per month |
When it comes to long-term partnerships, Elite Singles has a stellar reputation because of the use of scientifically validated compatibility testing to pair members successfully. Most single parents aren't interested in hookups, casual dating, or flings because they want a long-term relationship.
With features like detailed personality assessments, Elite Singles is a fantastic dating app for single parents. Elite Singles makes it easy for single parents to establish meaningful connections with other singles who share their interests, ambitions, and relationship needs by doing all the research for them.
---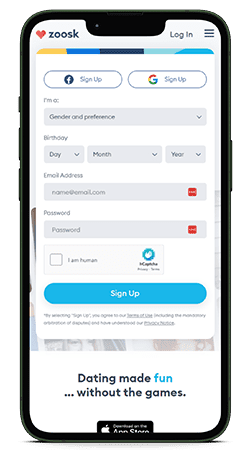 4: Zoosk
| | |
| --- | --- |
| Active Members: | 40+ million |
| Monthly Users: | 12 million |
| Gender Ratio: | 47% men 53% women |
| Pricing: | Starting at $10.00 per month |
Zoosk touts that over 1.6 million messages are received daily across its platform. That's great news for you, as a single parent, since it expands your options for finding a partner. You can easily connect and communicate with other single parents on Zoosk because of its user-friendly design and sophisticated criteria for finding great matches.
As a single parent, you have the freedom and flexibility to look for love anywhere, whenever you choose, right from the privacy of your home, on your computer, tablet, or smartphone. Zoosk's massive user base and user-friendly interface make it an excellent choice for single parents.
---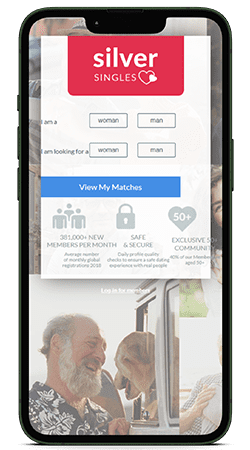 5: SilverSingles
| | |
| --- | --- |
| Active Members: | 500,000 |
| Monthly Users: | 100,000 |
| Gender Ratio: | 64% men 36% women |
| Pricing: | Starting at $26.99 per month |
SilverSingles is the best option for single parents over 50 interested in online dating. Users of the site come from all walks of life and are looking for anything from platonic acquaintances to lifelong partners to soul mates.
SilverSingles has been active for more than 17 years, making it the longest-running and most successful online dating service for those aged 50 and over in the United States, Canada, the United Kingdom, Australia, France, and Germany.
For those who are now single, have been single for some time, are divorced, separated, or widowed, SilverSingles may be one of the greatest mature online dating services full of quality singles.
---
Dating Apps Exclusively for Single Parents
If you're a single parent, you may find a dating app that caters specifically to your situation. If everyone on the site is looking for the same thing, it might be easier to navigate for the user. For those of you who are single parents in 2023, here are the recommended dating apps designed just for you!
#1: Stir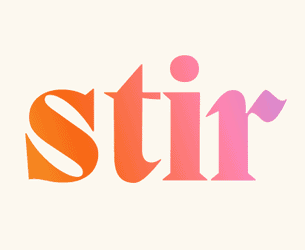 Meeting single parents online just became a lot more fun! This dating app is like Tinder but geared primarily toward single parents and people who might be interested in having kids at some point. Stir comes with attractive swipe-style profiles (found on the Discovery page), and members can perform customized searches based on their preferences when it comes to gender, age, location, and distance. Single parents can communicate with each other using video chat or a private phoneline, courtesy of Stir!
Pros
Cons

Good dating app for parents or singles who want to have children of their own.
Stir has a user-friendly interface and is intuitively designed for a pleasurable online dating experience.
There are seven membership plans which offer a bit of flexibility for multiple budgets.
Stir comes with swipe-style profiles where members can "skip" or "like" other members based on profile bio information and photos.
"Match Phone" allows members to text or call their matches using a private phone line.

The Stir memberships are not the most affordable option out there. You might consider another dating app for single parents if money is tight for you.
Members need to purchase "power-ups" to enjoy some of the better features the app offers.
2: Next Love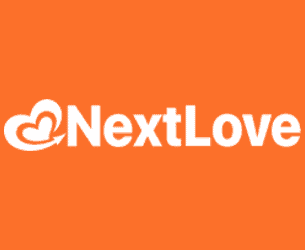 It's the only dating app we know of that caters explicitly to connecting single parents with one another. Take a look at the table below to learn about some of their best features and potential improvement areas.
Pros
Cons

The free trial mode allows you to use the site anonymously
24/7 service and support keep users safe and secure
Intuitive filtering and searching capabilities lead to good, quality matches
Most users are between the ages of 25 and 45
They are based in Europe but do accept US customers

Next Love pricing is more compared to a lot of other dating apps
Free trial members cannot capitalize on all features
Not a great dating app to use for casual relationships or hookups
The small userbase of 28,000 in the US
You pay more for shorter subscription plans
Are There Free Dating Apps for Single Parents?
A free dating app's limited features and a full premium subscription provide vastly different experiences. To put it bluntly, you should expect less functionality and access during the free trial period than with a premium membership. Many of the dating services we recommend will provide a discount if you sign up for a more extended subscription plan and pay for it all in one go.
Paid vs. Free Dating Apps
Paid Apps
Free Apps

Users that pay for the app tend to be more serious in their pursuits
You are paying money, but you get great features like full messaging capabilities and video chatting
You will be able to view matches anonymously using incognito mode
A short-term subscription will cost more than a long-term membership plan
You can cancel your subscription when you no longer need the service, but your profile will remain intact

You do not have to pay any money for the service
You will have a limited messaging function
Video chatting will not be available
You will not have the ability to browse matches anonymously
The free trial allows you to test the site before putting money down
How to Sign Up for the Dating App of Your Choice
We can only imagine how hectic your schedule must be as a single parent. The good news is that it takes just a few minutes to create a new account at a well-respected, highly-rated dating app. There are just five easy steps we've listed below. Seriously, it's that simple!
Visit our reviews page and search for the app your interested in. Follow the link on the review and download it to your mobile device.
Once the download is complete, fill out the basic information the site requires. This will include your name and age as well as your email address.
To create your free trial account, you must create a unique username and password.
The next part of the process is where you can tell the app a little bit about yourself. Fill out the customer questionnaire entirely and correctly.
You will then be given the option to buy a paid membership. Click the Subscribe button and select a payment plan that works best for you. If you are not interested, proceed to find who you were matched with!
Tips for Using Single Parent Dating Apps
Some best practices and quick advice for using the most popular dating apps among single parents are as follows:
Pick a Reliable and Trustworthy Online Dating App
Because you're using some of our favorite dating apps, we don't see why this would be an issue. Feel free to read our in-depth reviews or look at customer comments and feedback online to confirm the quality of the apps we suggest. Be sure that the dating app you choose is reliable so that you can connect with other single parents.
Tell Matches about Your Previous Relationships and Children
If you meet someone online, it's crucial to be completely open and honest about your personal life, including the number of children you have and any past relationships that may affect your future with them. If you are forthcoming from the get-go, it will help you prevent issues later.
Keep an Eye Out for Scam Artists and Fake Profiles
It doesn't matter how well a dating app verifies new users; scammers and fake profiles will always find a way in. Learn to spot the warning signs and contact support immediately if you encounter anything suspicious. Keep an eye out for profiles that use a generic picture or no photo at all. Be wary of singles who respond immediately or with formulaic responses.
FAQ About Single Parent Dating Apps
Does Online Dating Work for Single Parents?
To put it simply, absolutely! There's never been a better moment for single parents to find love online than right now, as a growing number of people all over the globe are now becoming comfortable with the concept of online dating.
How Do Single Parents Start Dating?
First, you must ensure you're emotionally prepared to start dating again as a single parent. You'll find that once you get there, the process is the same for people without children. The one restriction is that not everyone is interested in dating someone with kids. With online dating, you can avoid this awkwardness by stating straight away whether or not you have children and whether or not you would be willing to date someone who does.
What Are the Advantages of Using Dating Apps That Are Solely for Single Parents?
Those who use dating apps specifically designed for single parents may be confident that their potential partners share similar values. There is little chance of being paired with someone who isn't a single parent by accident. Everyone on such a site has a specific goal in mind when they sign up. Therefore, there are no misreading anyone's intentions.
How Do I Choose the Right Dating App for Me?
First, make sure that the dating app you are using caters to single parents either exclusively or in some capacity. Find one that fits your budget. You can scan the paid membership plans and use free trials while waiting to decide. The free trial should give you a good idea of what the site offers to single parents regarding benefits, features, and perks.
How Secure Are These Dating Apps for Single Parents?
Each dating app in this review uses an SSL-encrypted connection, ensuring that all customers' personal and financial information is kept completely safe and confidential. We ask that customers exercise caution with the people they meet on these sites, as many have fake accounts and scammers that have slipped through the vetting process. Customers are responsible for their own safety in this regard.
What Is the Best Dating App for Single Parents?
As we mentioned earlier, there is not one clear-cut dating app that is the absolute best, in our opinion, for single parents. They all offer something a little different and respectably play to their strengths. If there were one thing we could point to that would give one single-parent dating app an edge over the others, it would be that Next Love caters exclusively to single parents.
Should I Go with a Free Trial or a Paid Membership?
It really all depends on what you want. If you do not want to spend any money but still experience limited features, go with a free trial. Paid memberships are pretty affordable (they actually get cheaper if you pay for a longer membership) and offer the full line of features and benefits, including messaging, video chatting, invitations to in-person social events, and more!
Can I Use These Dating Apps on My Desktop PC or Just Mobile?
You can visit the dating app's website page on both mobile and desktop PC. All you need is a web browser and a reliable internet connection. Dating apps for single parents can be accessed on both Android and iOS devices, including smartphones, tablets, and personal computers.