Our team of experts diligently research and review all of the products and services we recommend. If you buy through our links, we may receive a commission. Learn more here.
First introduced as a Russian dating app, VeronikaDate.com has now expanded to let people from all over the globe meet Eastern European women and men looking for love and marriage. This international dating platform goes by VeronikaDate.com, but once you're past the landing page, it becomes AnastasiaDate, which can be a bit disorienting. But don't worry; you're in the right place–they are the same site and owned by the same company founded by David and Elena Besuden.
For clarity and consistency in this review, we will be referring to it as VeronikaDate.com.
If you are interested in meeting Russian, Ukrainian, and Czech women and men, keep reading to read our complete review of the VeronikaDate.com app for 2023 to see if it is worth your time by learning about its features, quality of singles, and pricing plans!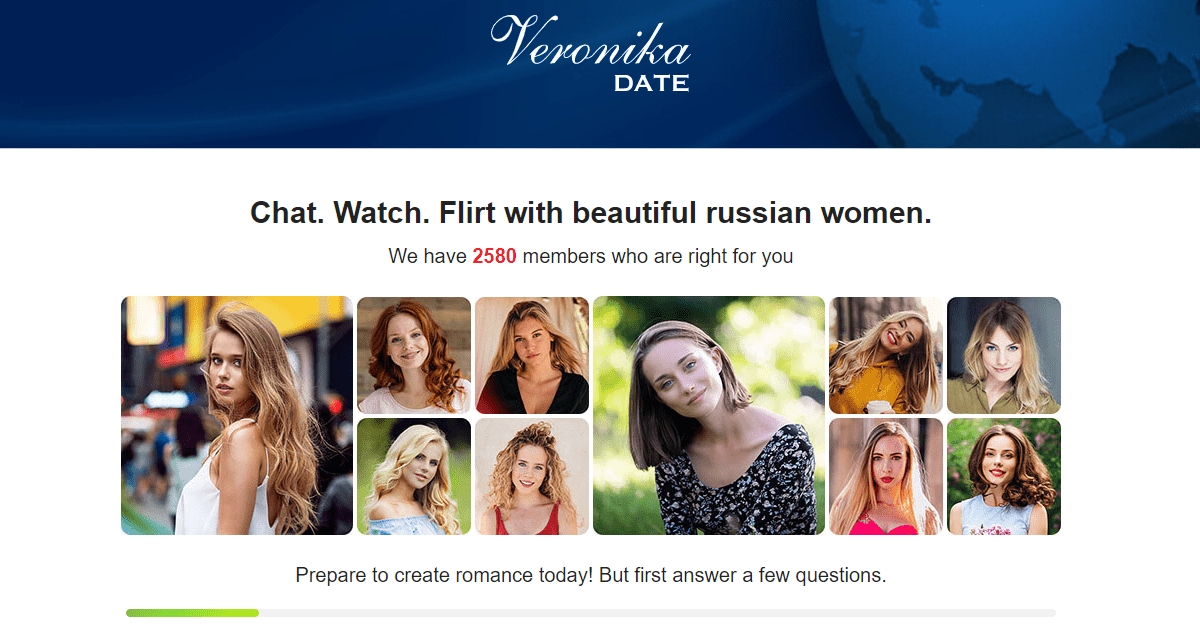 | | |
| --- | --- |
| Sign-Up Time: | Less than 5 minutes |
| Cost: | $19.99 – $299.99 per package |
| Membership Pool: | 20 million worldwide, 200,000 from the U.S. |
---
---
Our VeronikaDate.com App Rating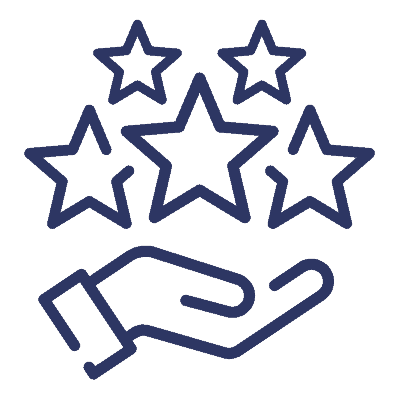 Overall Rating

VeronikaDate.com is coming in with an overall score of 3.4 out of 5!
We've taken to our six-factor rating system to arrive at an honest overall rating for VeronikaDate.com: features, usability, daily matches, cost of membership, and active members. Each of these categories got its own rating, and we've concluded that VeronikaDate.com comes in with a rating of 3.4/5!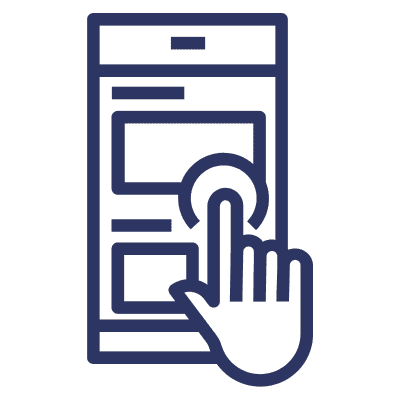 Ease of Use

Signing up for VeronikaDate.com is super quick and easy (we registered using the website version). Android is the only supported platform for a mobile app. While using an iOS device, you can always access the site through the web browser, and the app's capabilities are identical to those found in the web interface so that it can function alongside other programs. In addition to allowing users to sign in using their Facebook accounts, the website now supports mobile and tablet devices.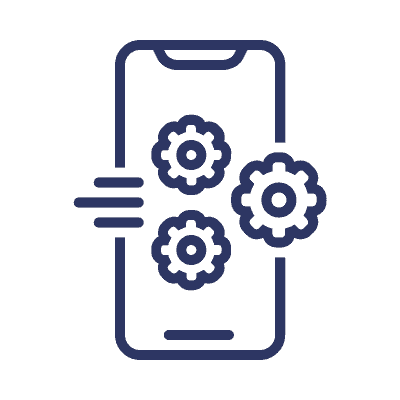 Features

VeronikaDate.com's features are designed to facilitate communication between its thousands of users with the purpose of developing meaningful relationships of various lengths and types.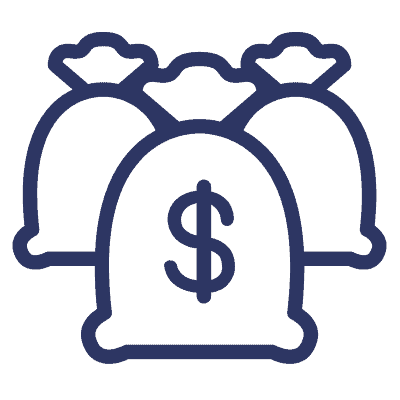 Cost


Membership pricing for the VeronikaDate.com dating app is pretty average compared to others, meaning upgrading to a premium subscription is not excessively expensive. Credits are the currency of VeronikaDate.com, which users can spend on premium services.
Here are what some of the features cost in credits:
Sending a letter: 10 credits
Sending a message with a photo: 15 credits
Virtual Gifts: 15 credits
Flowers and Presents: 29 credits to 800 credits
Call Me: 100 credits
CamShare: 5 credits per minute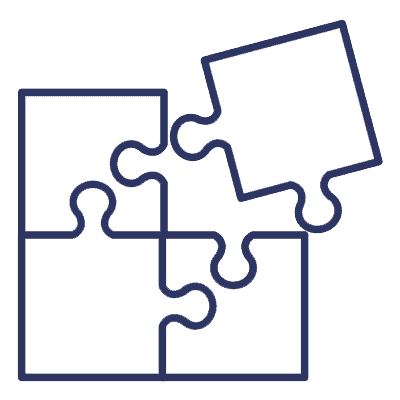 Match Quality


There are over 20 million active users on VeronikaDate.com, and over 3,000 Americans log in daily. Women from Russia, Ukraine, and the Czech Republic make up a relatively large portion of the app's user base and are pretty and quick to reply to your messages. The group's female members are on the lookout for romantic partners among their male North American counterparts.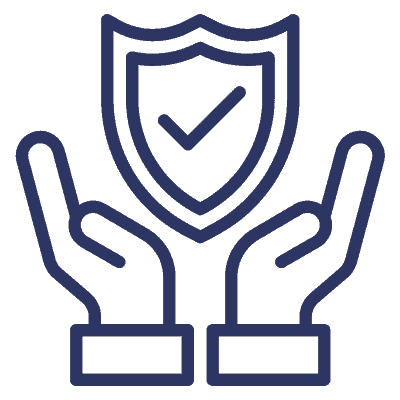 Safety and Security


In addition to not selling members' data, moderators are always on the lookout for questionable activity in order to eliminate scammers, and fake profiles and email addresses are used to confirm user identities on VeronikaDate.com.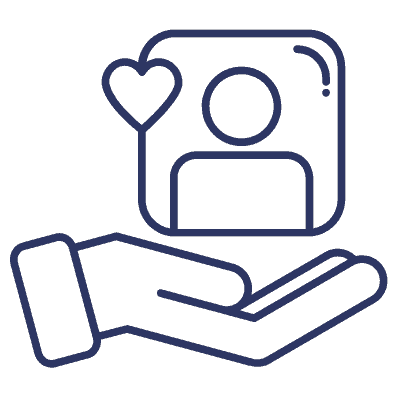 Customer Service


In addition to the usual Frequently Asked Questions (FAQs) in the Help Center and the website for customer inquiries, we were happy to discover a customer support helpline offered on the site, which demonstrates a dedication to responding quickly and effectively to the concerns of the site's users and potential users.
Overview of VeronikaDate.com
VeronikaDate.com profiles go into great depth and include plenty of useful information, such as a person's name, birth date, general location, looks, and way of life are all included. Individuals' responses to profile-displayed interview questions are made available to other users. Users can provide brief summaries of their personalities, hobbies, and relationship goals, and members have the option of printing and saving profiles on VeronikaDate.com.
VeronikaDate.com Fast Facts
Year Founded: 1997
Russian, Ukrainian, and Czech women make up the bulk of the dating app's membership
Average User Age: 25-35 years
Gender Ratio: 40% men to 60% women
Russian, Ukrainian, and Czech women comprise most of the dating app's membership pool (40% men to 60% women), and the average age of users is 25-35.
Premium Membership Subscriptions and Prices
Users of VeronikaDate.com can purchase premium services with credits, which serve as the dating app's currency. All plans are only one month in duration; the only difference is how many credits you decide to purchase!
| Credits | Total Cost |
| --- | --- |
| 150 Credits | $19.99 |
| 600 Credits | $149.99 |
| 1,500 Credits | $299.99 |
VeronikaDate.com is one of the only dating sites that will allow you to pay off the total price of the membership in up to four monthly installments. Most require the entire payment upfront.
VeronikaDate.com Free Trial and Premium Features
Traditional free trials allow a new user to access full premium membership benefits for a short period of time, but first, the customer must provide payment information. If the free trial isn't canceled before it expires, the account automatically becomes a paid premium membership, and the customer is charged. VeronikaDate.com (and most dating apps) allows new users to create a profile for free and use a limited number of features.
Standard (Free) Features
Create an Account
Browse Profiles
Send Messages
Read the first messages you have in your mailbox
Premium Membership Features
360° Videos
Has unique 360-degree footage of beautiful members, allowing you to feel like you're right there with them.
Phone Reservation
With a "Call Me" feature, you can talk to your online date even if you don't speak the same language. This innovative feature removes linguistic obstacles to efficient and enjoyable communication by using a professional interpreter to provide accurate translations.
Direct Call
Another alternative to "Call Me" that enables you to speak with a member instantly, provided that they are online and have an advanced or proficient level of English. Only Android users may use this exclusive function, and it's only in the app.
Flowers and Presents
Giving a gift to a member who has captured your attention is a heartfelt gesture that can be sent from any part of the world. You can personalize the experience by sending a member who is special to you flowers, electronics, fragrances, gift certificates and cards, sweets, and more.
CamShare
An HD video chat that supports two-way webcam interaction so that you can see your online interests face-to-face.
Do VeronikaDate.com Memberships Renew Automatically?
Your VeronikaDate.com membership will be automatically renewed. In order to opt-out or cancel automatic renewal, you must do so within 24 hours of your membership ending date.
Should You Join VeronikaDate.com?
Although creating a profile and browsing the site is free on Veronikadating.com, practically all of the site's other features require payment, making it difficult to determine the platform's true value. But still, if you take a peek at the high-quality profiles on Veronikadating.com, you may be tempted to try it.
Reasons to Join
Our review of VeronikaDate.com will include all data we gathered throughout our research. We'll go over the platform's pros and cons so you can decide whether or not to join! The following benefits and disadvantages of the VeronikaDate.com dating app are given in the hopes that they will help you in making a well-informed choice
Fast Sign-up and Easy to Use
Signing up for VeronikaDate.com is fast and simple, and users can now sign onto the website using their Facebook accounts. Both the website and app are easy to navigate!
Great Features
You can communicate with other members in real-time with VeronikaDate.com's English translation capabilities, live cams, live streaming, and phone calls.
Good Communication Options
Email, chat rooms, phone conversations, and video chat apps like CamShares all contribute to the great variety of potential modes of communication.
High-Quality Profiles
We've discovered that the profiles on VeronikaDate.com, especially those of Eastern European women, are consistent and of excellent quality.
Reasons Not to Join
Our review of the Veronikadating.com dating app led us to discover a number of solid arguments in favor of joining the app, as well as a number of equally compelling arguments against it.
Fake Profiles
Although the site claims to be constantly checking questionable accounts, some users have reported coming across bogus profiles despite these efforts, and the consistently high-quality profiles provided may make it difficult to tell the fake profiles from the genuine.
Extra Charges to Communicate
Those who want to communicate with the ladies on the site have to pay for every second of communication they have with them–apart from the free basics of creating an account and browsing, all further features require paid upgrades.
No Mobile App for iOS Users
VeronikaDate.com's mobile app is unavailable for iOS users, only for Android devices. While this isn't a deal-breaker, as iOS users can use the dating app on their mobile web browsers, we do want to make Apple users aware!
Reports of Scams
Users of Veronikadating.com have reported being duped by other members; whether this refers to catfishing or financial exploitation is unclear, but you should be cautious.
VeronikaDate.com Sign-up Process
Joining VeronikaDate.com is fast, straightforward, and free! You can join with your email address or by using your Google account.
AnastasiaDate features just heterogeneous gender possibilities, unlike other dating apps. In order to verify an account, all that's needed is an email address; no tedious personality quizzes on this app!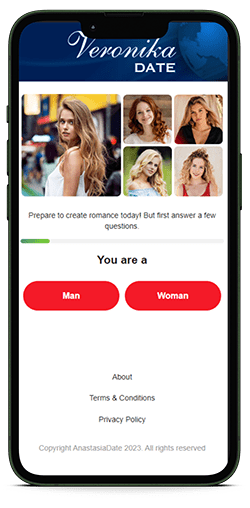 Step 1: Go to VeronikaDate.com
To sign up, you'll need to head to VeronikaDate.com's homepage–don't be confused if you only see the name Veronikadate there; it turns into AnastasiaDate, but it is the same dating app! Then you'll pick your gender to move on to the next step.
Step 2: Enter Your Birth Date
Here is where you'll enter your date of birth, then click "Next."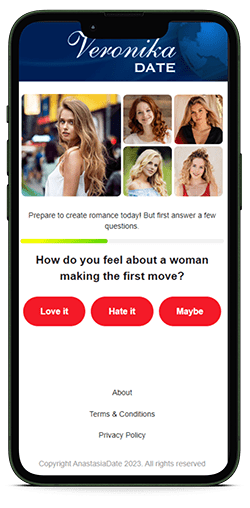 Step 3: Answer Questions
The next step is answering a few simple questions.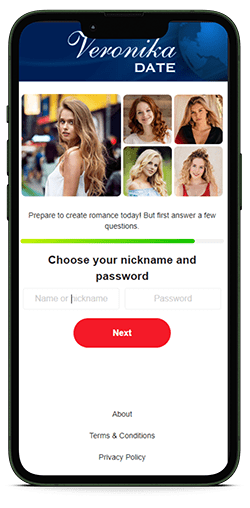 Step 4: Choose Username and Password
Now, pick a unique username and password.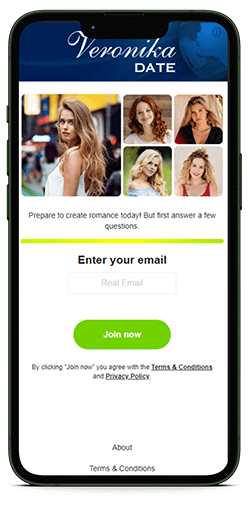 Step 5: Enter Your Email
Enter your email address and click "Join Now."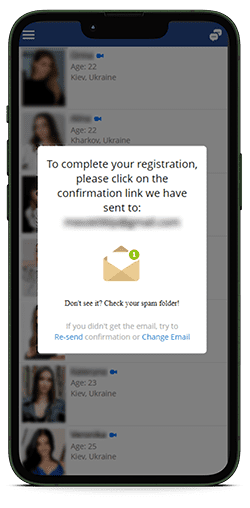 Step 6: Confirm Your Email
Click on the confirmation link that was sent to the email address you entered to head to the next step!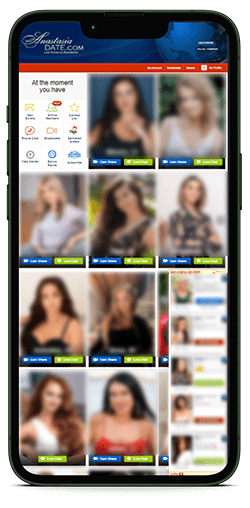 Step 7: Start Searching
You're all set up and can start browsing!
Alternatives to the VeronikaDate.com
Find some of the best dating apps to consider if you find that VeronikaDate.com doesn't fit the bill!
Dating App
Key Facts
Review
Eharmony

Active Members: 16+ million
Gender Ratio: 48% men and 52% women
Best For: All singles who want a serious relationship
Pricing: Begins at $35.90/month

eharmony Review
Elite Singles

Active Members: 2+ million
Gender Ratio: 44% men and 56% women
Best For: Highly educated and successful singles
Pricing: Begins at $31.95/month

Elite Singles Review
Zoosk

Active Members: 40 million
Gender Ratio: 47% men to 53% women
Best For: All singles – Flirting, finding love, and getting dates
Membership Price: Begins at $10.00/month

Zoosk Review
CoffeeMeetsBagel

Active Members: 10+ million
Gender Ratio: 40% men and 60% women
Best For: All singles who want a modern approach to dating
Membership Price: Begins at $15.00/month

CoffeeMeetsBagel Review
Frequently Asked Questions About Perfect-Dating.com
After reading our review of the VeronikaDate.com Dating App, you may still have some questions. We've gathered the answers to some of the most frequently asked questions we've received about the VeronikaDate.com Dating App for your convenience!
Is VeronikaDate.com a Legit Dating App?
For those interested in meeting ladies from Eastern Europe, VeronikaDate.com is a legitimate dating service that has been around for more than 30 years and has a number of success stories. One must exercise caution while using this platform since there are still likely scam accounts there that will try to get you to give them presents and pay extra to communicate with them.
How Can I Cancel My Membership and Delete My VeronikaDate.com Account?
Members can cancel their accounts by visiting customer support and by going to the Google Play store if they are Android users. FYI: Uninstalling the app on your phone or tablet will not cancel your subscription!
Is VeronikaDate.com Exclusively for Eastern European Women?
There is no such restriction, even for women, since, as we've seen, signing up is rather simple. It is completely optional to add your country of origin in your profile, but most users on VeronikaDate.com are males seeking Eastern European women, so if you don't fit that description, you may not get many messages.
Does VeronikaDate.com Offer Refunds?
There is a guarantee that your money will be refunded, but users will only get a portion of what they paid for the membership.
How Long Do You Have to Change Your Mind about a Purchase on VeronikaDate.com?
If you decide you don't want to keep using VeronikaDate.com, you can receive a full refund within 24 hours of your purchase. If you make an order by mistake, you can only claim a refund if the items haven't been delivered yet, and you're able to cancel the purchase within 24 hours of doing so.
Do Credits on VeronikaDate.com Expire?
Your credits will be invalid after one year.
What if I Am Interested in Someone on VeronikaDate.com, and I Don't Speak Their Language?
VeronikaDate.com's premium users get access to services such as real-time English translation, which are accessible on the website and the mobile app.
How Many Pictures Can I Add to My Profile Page?
You are allowed to post a total of four photos, one of which will serve as your primary profile picture and the other three of which will be shown alongside the main photo on your profile.
How Do I Report Abuse on VeronikaDate.com?
For help reporting a member for policy violations, please contact the site's customer support team.

According to their help page, VeronikaDate.com will not take action if:

● Complaints against members whose profiles have been deactivated for more than 30 days at the time of complaint submission
● Complaints related to a Live Chat session that took place more than 30 days prior to the date of complaint submission
● Complaints related to a Video Chat session that took place more than 24 hours prior to the time and date of complaint submission
● Complaints related to Live Chat invitations received more than 7 days prior to the date of complaint submission
● Complaints against members with whom there has been no correspondence for 30 days, and the matter of the complaint concerns an issue that occurred before the date of the last communication
● Complaints related to communication outside of the site.
Who Can Join VeronikaDate.com?
VeronikaDate.com welcomes everyone above the age of 18. You can join the site at no cost if you are interested in dating beautiful Slavic ladies. But be aware that a free membership will be extremely limiting in terms of communication, so we recommend upgrading to a premium membership if you want to make the most out of the dating app!