Our team of experts diligently research and review all of the products and services we recommend. If you buy through our links, we may receive a commission. Learn more here.
Finding compatible romantic partners who share your appreciation for Mexican culture might be challenging if you're a single Mexican in the United States. You can either have your abuela set you up on blind dates or simply keep eyeing the cute guy at the bar and hope he knows enough Spanish to strike up an interesting convo!
Fortunately, MexicanCupid offers an excellent platform for you to communicate with other single Mexican people and, ideally, develop meaningful relationships with them.
However, is MexicanCupid worth it? We encourage you to go through our review before investing your hard-earned money or time into the platform–in our complete MexicanCupid review for 2023, we detail all you need to know to determine whether or not the service is right for you. We'll demonstrate the dating app's strengths and weaknesses, as well as everything in between. To help you find the love of your life, we want you to have the best possible online dating experience!
| | |
| --- | --- |
| Sign-Up Time: | 5 minutes |
| Cost: | $11.25 – $79.98 per month |
| Membership Pool: | 700,000 |
---
---
Our MexicanCupid App Rating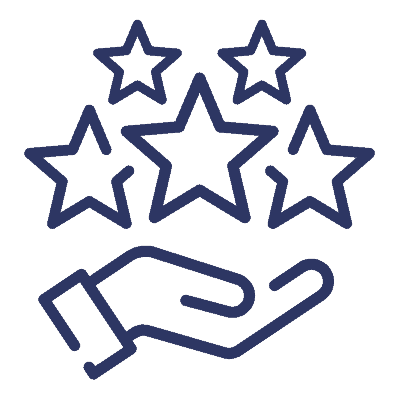 Overall Rating

MexicanCupid is coming in with an overall score of 4.0 out of 5!
Here is how we rated MexicanCupid as a dating app overall. There are 6 key components that we examined. We assigned an individual score to each primary category and took the average to reach our overall MexicanCupid review rating.
On the left, you'll see how we rated every category giving each a score from 1 being the lowest to 5 being the highest.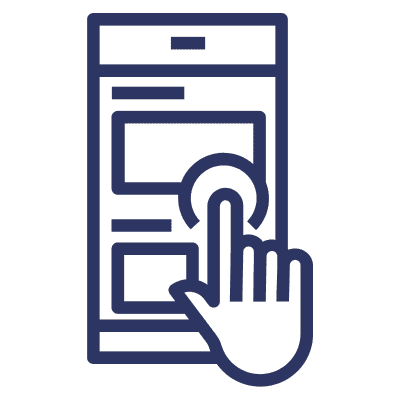 Ease of Use

Users just need a working email address, a few minutes, and an appealing profile photo to get started with the simple and free signup process for MexicanCupid. There is a brief set of questions that will assist you in figuring out your character traits, but it isn't anywhere near as long or comprehensive as some of the others we've seen. MexicanCupid is one of the most user-friendly dating platforms we've used!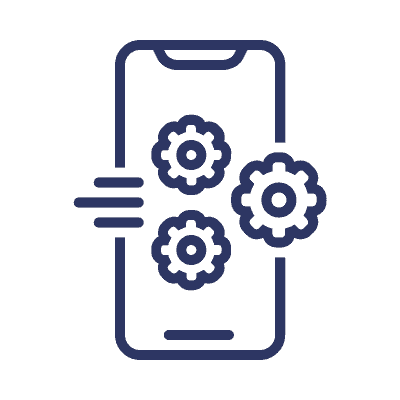 Features

Members of MexicanCupid, like those of other Cupid Media sites, have access to various features designed to improve their success in online dating. All of these elements, from signup to sophisticated features, are important to provide the ideal dating experience for consumers.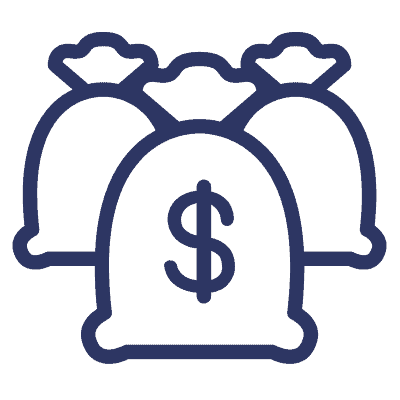 Cost


MexicanCupid's cost is comparable to that of similar dating services. The platform's plans are incredibly adaptable, with premium membership options ranging from weekly to monthly, which is great since it means that anyone can find a plan that works for them both financially and duration-wise.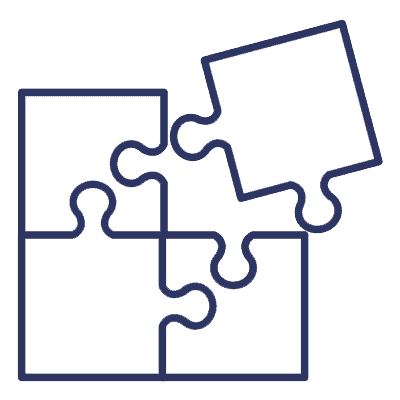 Match Quality


Due to the sheer volume of members, the quality of profiles on MexicanCupid varies considerably. While we saw members that obviously put a lot of effort into crafting their dating profiles and images, others didn't appear to care much about how their profiles came across to other users.
Overall, we found that most MexicanCupid users had engaging and comprehensive profiles that included gorgeous images of Hispanic women. Furthermore, the platform makes an effort to highlight the most striking of these profiles, creating the appearance of even higher-quality matches.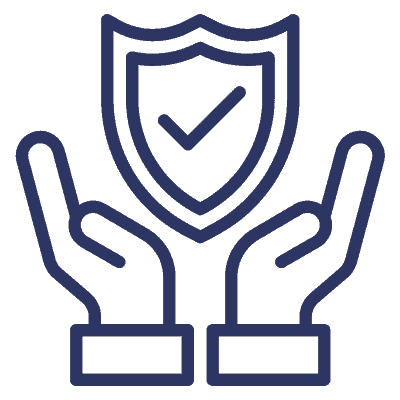 Safety and Security


Regarding user safety, MexicanCupid is no different from any other dating app. Users need to be careful of scammers and fake accounts, but MexicanCupid provides a toll-free hotline and an easy "report user" option for flagging questionable activity.
By adhering to all local rules and regulations, MexicanCupid protects its users' personal information. Except for the limited exception of information you choose to make public, your privacy is protected at all times. To better protect its members, MexicanCupid requests that its American users complete the IMBRA form required by the International Marriage Broker Regulation Act.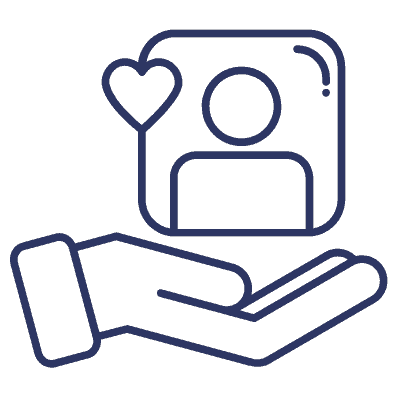 Customer Service


MexicanCupid has an entire area of its website devoted to answering questions and assisting users. Overall, their customer care choices are pretty solid since they provide email support and a frequently asked questions (FAQ) section that addresses many common concerns.
Monday through Friday, from 9 a.m. to 4 p.m. (Australian Eastern Standard Time), customer service specialists at Mexican Cupid are available to take your call.
Outside of those times, you can always reach out to support through the app's main menu or the link in the page's footer. A chat-like window appears when you click the "Customer Support" button. But this is only a search bar, not a means of instant messaging with a customer service representative.
Overview of MexicanCupid
The well-known Cupid Media network operates over 30 specialized dating services, including MexicanCupid. Their goal is to bring together singles from all around the world, and by doing so, they bring the world to your front door.
MexicanCupid Fast Facts
Year Founded: 2005
You can find out more about the experiences of real couples who met on MexicanCupid by visiting the site's dedicated success stories page!
Average User Age: 25-39 years
Gender Ratio: 40% men to 60% women
MexicanCupid arrived on the dating scene in 2005 and has an entire section dedicated to real couples who met on the dating app! The average age of users is between 25-39, and women outnumber men by a ratio of 60% to 40%.
Premium Membership Subscriptions and Prices
MexicanCupid offers its users three distinct subscription tiers to pick from. While free users can perform certain functions, paying customers have access to an array of additional, valuable features.
| Package | Length | Price Per Month | Total Cost |
| --- | --- | --- | --- |
| Gold | 1 week | $67.48 | $16.87 |
| Gold | 1 month | $33.74 | $33.74 |
| Gold | 3 months | $22.49 | $67.48 |
| Gold | 12 months | $11.25 | $134.99 |
| Platinum | 1 week | $80.00 | $20.00 |
| Platinum | 1 month | $39.99 | $39.99 |
| Platinum | 3 months | $26.66 | $79.98 |
| Platinum | 12 months | $14.17 | $169.99 |
| Diamond | 1 week | $160.00 | $40.00 |
| Diamond | 1 months | $79.98 | $79.98 |
| Diamond | 3 months | $53.32 | $159.97 |
| Diamond | 12 months | $28.33 | $339.98 |
The sole difference between the Gold, Platinum, and Diamond plans (other than price and length) is that the former does not provide access to the message translation function, which is reserved for the latter two tiers.
Premium subscribers of MexicanCupid can spread the cost of their subscription over up to four monthly payments, making it one of the few dating apps that offer such a payment plan. The vast majority of dating apps and services require full payment upfront.
Standard and Premium Features
Unlike other dating platforms, MexicanCupid does not provide new members with a "free trial" that gives them access to all premium features for a limited time. The sole benefit available to free users is keeping track of who has visited their profile and when. Free memberships users can additionally view the last time each member was online. Like all other dating apps, new MexicanCupid users can sign up for free and use some of the app's features.
Standard (Free) Features
Create Profile
Upload Photos
Search for Other Members
View Members' Profiles
View Members' Photos
"Like" Members
Add Members as Favorites
Block and report users
Premium Membership Features
Cupid Tags
We are happy to see that this is a standard Cupid Media offering! CupidTags can be added to your profile and are used as a quick way to describe you. Your profile will be indexed in the profiles of other MexicanCupid users' search engines applying these terms. You may be among the hundreds of people who come up when someone searches for "profiles." However, if they use a search term matching your Cupid Tag, you will appear at the top of their results.
Incognito Mode
Premium users can quickly render their profiles and photos invisible to all other MexicanCupid members.
Unlimited Messaging
Premium members can send and receive private messages to any other MexicanCupid user, while basic users can only reply to messages sent by premium paying subscribers–they cannot initiate a conversation with someone they are interested in, which is kind of important on a dating app!
Special Search Filters
MexicanCupid's premium users get access to the site's comprehensive search features. The "advanced search" option is there for those who want to narrow their search even further. You can also discover potential matches using CupidTag's tag-based search function. Along with "recent searches," users can additionally access the feature's "keyword," "first name," "saved searches," "popular searches," and "member number."
Read Receipts
Want to know if someone read your message? This premium feature is perfect for those who want to know if their message was received and if they were left on "read."
Message Translator
With this Platinum member perk, your messages are instantly translated from English to other languages, allowing you to stay in contact with potential partners.
Do MexicanCupid Memberships Renew Automatically?
Yes, your MexicanCupid premium membership will be automatically renewed when it expires; however, you can turn off automatic renewal at any time in your account settings. Your membership fee will be reimbursed in full if you cancel before you use any of the paid premium features, and canceling your membership before the end of your subscription term will not affect your access to premium features; they will remain active until the end of the current membership period.
Should You Join MexicanCupid?
Always weigh the positive and negative aspects before joining a dating app and paying for a premium subscription! We've highlighted the benefits of joining MexicanCupid as well as some of the downsides in the following sections so you can make an informed decision about signing up.
Reasons to Join
All of the information we obtained throughout the course of our research has been included in our comprehensive review of MexicanCupid to help you decide whether or not to join. There are a lot of good reasons to give the dating app a go, in our opinion!
Profile Verification Badges
On MexicanCupid, a user can verify their identity and get a badge if they want to show to other users that they are speaking with a real person–this is an option for both free and premium members.
Responsive Customer Support
We like that MexicanCupid has a toll-free hotline and a customer care section that is quick to answer any questions and concerns. Our seal of approval goes out to any dating app that allows its users to talk to actual people regarding customer service!
Simple Signup Process
Anyone can easily and quickly set up a profile, and there's no cost involved. Although this may be a selling point for you to sign up for MexicanCupid, keep in mind that you won't be able to go very far in terms of conversation as you can't send and receive messages if you aren't paying for a premium membership.
Message Translation
Any messages sent to you in a language you don't understand will be instantly translated into your mother tongue. This will help you interact with people of different races and ethnicities.
Reasons Not to Join
The MexicanCupid dating app has numerous advantages, but we'll go through a few of the concerns we have in case you still have reservations about signing up.
Fake Profiles
Reviews from MexicanCupid users allege that both male and female profiles use stolen photographs of women to trick their potential targets into giving them money.
No Free Private Messaging
One of the significant drawbacks of the MexicanCupid dating app is that it requires a paid premium membership in order to initiate communication with another user. Replying to premium members' messages is free for basic users, but sending new ones is not. You'll need to purchase either the Gold or Platinum Membership tier to access this "feature," which we think should be a standard tool on any dating app.
No iOS Mobile App
The mobile software is only compatible with Android; users of Apple's iOS will have to use their phone's internet browser or go elsewhere if they only want a mobile app version of dating software.
Small-ish Dating Pools
MexicanCupid is essentially a niche app, so if you're looking for a local date, you may want to search elsewhere; but, since this is an international dating service, we can't hold this against them–just keep this factor in mind!
The Sign-up Process
We were up and running on MexicanCupid in less than five minutes, thanks to the site's streamlined signup procedure. To join, all you have to do is fill out a brief form with your first name, a username and password of your preference, your gender, your email address, and your date of birth.
We joined using the website's browser since there is no iOS app, but Android users can download the dating app by visiting the Google Play Store.
Step 1: Visit MexicanCupid's Homepage
To begin, go to the MexicanCupid website from your preferred web browser and click the green "Join With Email" button located in the page's footer.
Step 2: Enter Basic Info
Now, you need to provide MexicanCupid with your age, gender, location, email address, and password you choose. When you're ready, hit the "View Singles Now" button in green.
Step 3: Upload a Profile Photo
While it's not necessary to fill out every field of your profile if you're serious about finding a partner, you should definitely upload a profile photo at this juncture!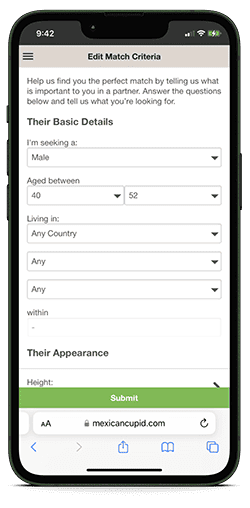 Step 4: Give Match Preferences
The next step is to describe your ideal MexicanCupid match in terms of location, looks, personality, and upbringing/cultural beliefs.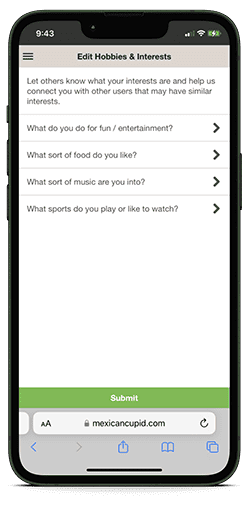 Step 5: Build Your Profile
Start filling out your profile by answering some simple questions so other users can get a sense of who you are and what you're into.
Step 6: Verify Your Profile
To show other users that you are who you say you are, you can verify your profile by uploading a scanned color copy or picture of your ID to get a verification badge.
Step 7: Read and Accept the IMBRA and Disclose Background Info
The International Marriage Broker Regulation Act (IMBRA) was created to protect green card applicants whose applications were based on their fiancé(e) or marriage from being exploited, particularly women and children.
Users should carefully read through this section and check any boxes that apply before agreeing to the disclaimer in the next step.
Step 8: Agree to Disclaimer Terms
Agree to the Disclaimer that appears on the screen and click the green "Submit" button.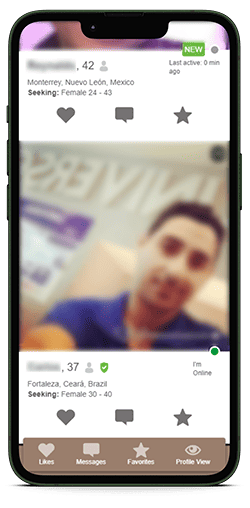 Alternatives to MexicanCupid
It's to be expected that some of our readers won't find MexicanCupid right for their particular dating wants and needs.
There's no need to panic; several dating apps make finding individuals who share your passions easy. Check out the list below to see if any of them grab your interest!
Dating App
Key Facts
Review
Christian Mingle

Active Members: 16+ million
Gender Ratio: 44% men to 56% women
Best For: Christian singles looking for committed relationships
Pricing: Begins at $14.99/month

Christian Mingle Review
eHarmony

Active Members: 16+ million
Gender Ratio: 48% men to 52% women
Best For: All singles who want a serious relationship
Pricing: Begins at $35.90/month

eharmony Review
Elite Singles

Active Members: 2+ million
Gender Ratio: 44% men to 56% women
Best For: Finding highly educated and successful singles
Pricing: Begins at $31.95/month

Elite Singles Review
SilverSingles

Active Members: 800,000
Gender Ratio: 53% men to 47% women
Best For: People over 50 looking for relationships
Pricing: Begins at $24.95/month

SilverSingles Review
Zoosk

Active Members: 40+ million
Gender Ratio: 47% men to 53% women
Best For: All singles – Flirting, finding love, and getting dates
Pricing: Begins at $10.00/month

Zoosk Review
Frequently Asked Questions about MexicanCupid
We want to provide the most pertinent data possible when conducting evaluations of various dating apps, but if you find that you still have questions after reading our MexicanCupid review, we put together this collection of frequently asked questions (FAQs) you can check out below!
Is MexicanCupid a Legit Dating App?
Several happy couples can attest to the platform's success, as shown on their Success Stories page. But remember, if you want to get the most out of your dating experience, you should seriously consider upgrading to a paid account so you can unlock premium features that will make your search more successful.
Can I Use MexicanCupid
if I'm Not Hispanic?
Of course, you can! In regards to race and ethnicity, MexicanCupid does not discriminate.
Is MexicanCupid Free?
The platform's search function and profile browsing are both free to use. If you're serious about finding your soulmate, though, you'll need to upgrade to a gold, diamond, or platinum membership to get access to exclusive messaging features, chat rooms, ad-free browsing, and priority placement in search results, among other perks!
Do Americans Need to Pay More to Use MexicanCupid?
MexicanCupid automatically converts prices to the user's local currency. As a result, prices may appear differently depending on your region due to factors such as currency conversion, local taxes, and other fees. This MexicanCupid pricing structure is accurate for American customers and is displayed in American dollars.
Is MexicanCupid a Safe and Secure Dating App?
MexicanCupid respects the privacy of its users and complies with all applicable laws and regulations. All your personal information is kept private, except for that you willingly make public. To further safeguard the safety of its members, MexicanCupid needs its US consumers to fill out the International Marriage Broker Regulation Act (IMBRA) form.
What Is IMBRA, the International Marriage Broker Act?
The International Marriage Broker Regulation Act (IMBRA) was created to protect fiancé(e) and marriage-based green card applicants, particularly women and children, from being exploited. The International Marriage Broker Regulation Act of 2005 (IMBRA) was enacted to protect noncitizens (beneficiaries) who are married to or engaged to U.S. citizens (petitioners) and who have filed immigration petitions for them to enter the country from experiencing domestic abuse or violence.
How Do I Cancel My MexicanCupid Membership?
MexicanCupid users can make these changes under the account's billing section. All premium features will be available to them until the next billing cycle starts.
Is It Possible to Translate Messages?
Yes, however, only Platinum members have access to the Instant Messenger's "Translation" function. Messages from Platinum members can also be translated for Gold and Standard members.
What Is the Process for Profile Approval?
The staff at MexicanCupid reviews all newly established and recently updated profiles to ensure they adhere to the dating app's Terms of Service.
How Long Does It Take for MexicanCupid to Approve a Profile?
On average, it usually takes 24 to 48 hours for a profile to be approved on MexicanCupid, but this could vary due to a large volume of new profiles being created–this could lead to a backload for the staff, and it may take a little longer than usual!