Our team of experts diligently research and review all of the products and services we recommend. If you buy through our links, we may receive a commission. Learn more here.
To establish quick connections with attractive Latino or Latina singles, we recommend giving the Chispa dating app a whirl! You can find love or dates with Latino men or women without having to adjust your search terms to capture ethnicity or appearance. Of their 100,000 members in the US, nearly all Chispa members are Latinos or Latinas. But anyone is free to sign up regardless of cultural or ethnic background!
Our Chispa dating app review covers about anything you can think of: membership features, the cost of a premium subscription, the matching process, and how we did our unbiased appraisal of the service. Discover what makes Chispa a top-notch platform for finding a date, true love, or romance with Latino singles in 2023.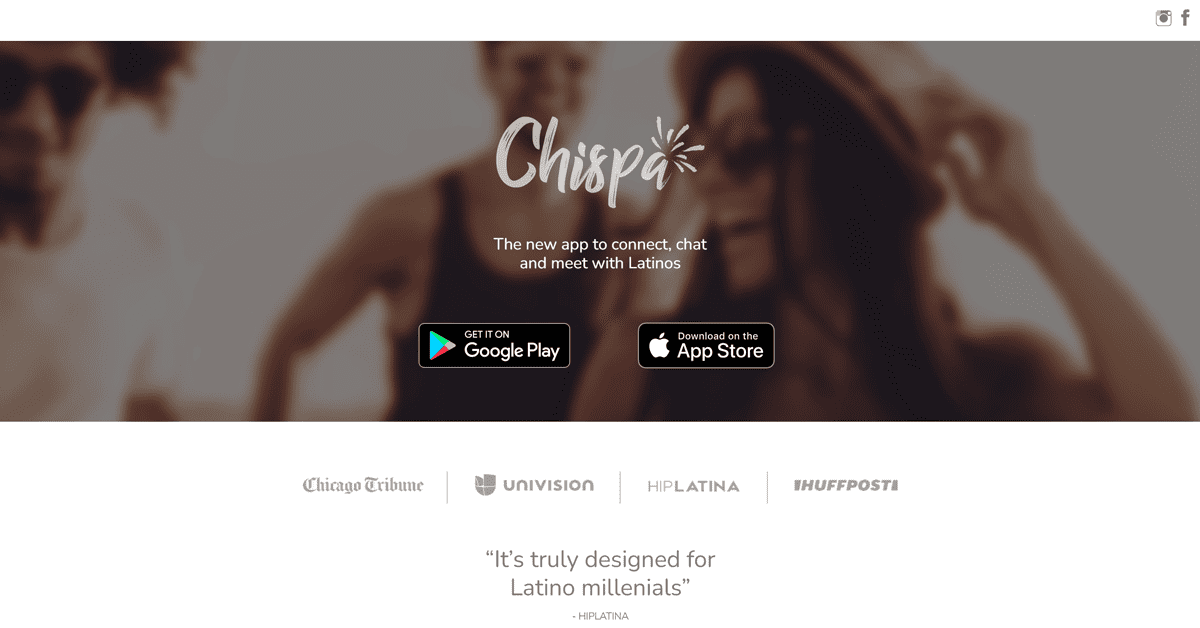 | | |
| --- | --- |
| Sign-Up Time: | 5-10 minutes |
| Cost: | $4.99 – $12.49 per month |
| Membership Pool: | 30,000 |
---
---
Our Chispa Dating App Rating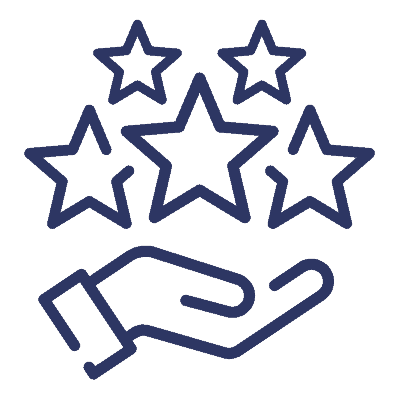 Overall Rating

Chispa is coming in with an overall score of 3.6 out of 5!
Our Chispa dating app review saw us running the service through our honest rating system to see how we ranked altogether based on seven unique criteria. Ultimately, Chispa got a rating of 3.6 out of 5 stars. It's not a perfect dating app, but one we feel comfortable recommending to readers who want to date Latinos and Latinas.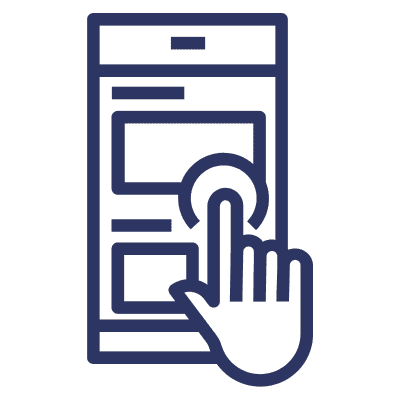 Ease of Use

Chispa was super easy to use and figure out. The sign-up process took a cool five-to-ten minutes to complete. And once we were using the app, it was easy to make quick connections with the matches we encountered. We loved the simplicity of using the search filters and unlocking messages by establishing a mutual liking with someone.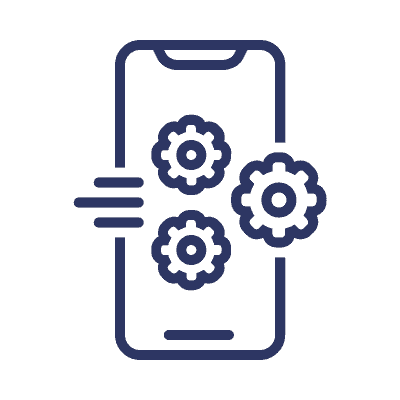 Features

Chispa has valuable features, many of which cater to the swiping profile setup. Paying members can get free profile boosts and Super Chispas each month, along with unlimited swiping each day and unlimited rewinds to correct any swiping mistakes. There's even an entire section for live streaming called Chispa Live!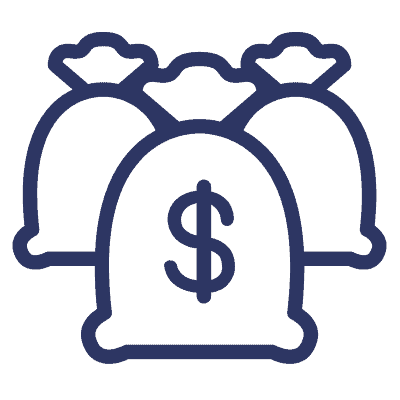 Cost


It's nice that Chispa offers so many membership plans because it gives customers several options for how much time they want to spend on the app and how much they're willing to pay. We like and appreciate that flexibility. So many other dating apps are rigid with their membership offerings. As a result, Chispa is a reasonably priced dating platform.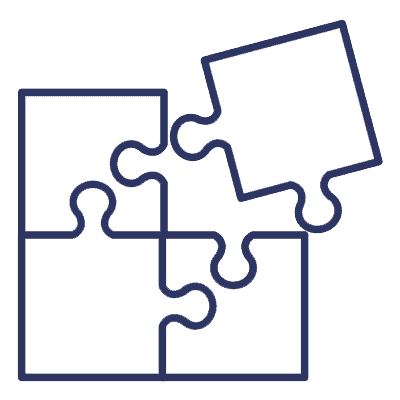 Match Quality


While 30,000 regular members is hardly a robust dating pool, we still felt satisfied with the number of matches we found on Chispa. It could be much better if the app had more members, but there's little we can do to change that. Based on the singles we found, we were okay with the selection and felt the search terms captured most of the criteria we set worth. Chispa is no stranger to quality members.
Note: We are dealing with a niche platform, after all. The dating pools tend to be limited at these places.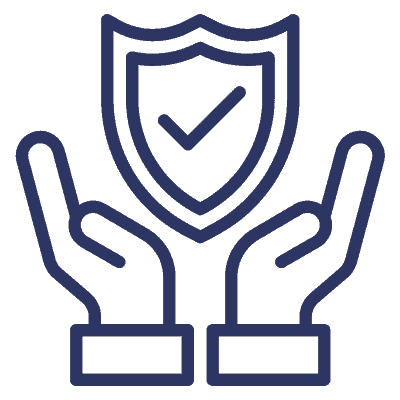 Safety and Security

According to several current and former customers, Chispa is prone to glitches, lagging, and crashes. We didn't have any problems, but based on that information, we had to bring the safety score down a bit. On the plus side, Chispa has options for blocking and reporting members that are inappropriate or harmful toward you or others. Safety on Chispa is a mixed bag, all this considered.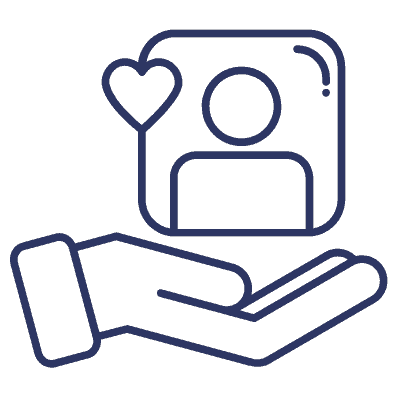 Customer Service


We ranked customer service and support center a bit higher in this Chispa dating app review than other services. That's because Chispa offers members the opportunity to connect with the support center by email. So many dating apps only have an FAQ troubleshooting page, so it was nice to see another option. Way to go, Chispa.
Overview of the Dating App
Let's go a bit deeper into the Chispa dating app. If you want to learn more about how much their membership plans are and what features they're loaded with, you've come to the correct section. Or you're interested in testing the app before entering any payment information. We've got plenty of data on the free membership too.
Chispa Fast Facts
Year Founded: 2017
Matchmaking Process: Advanced search filters and swiping profiles
Average User Age: 18-34 years
Gender Ratio: 45% men to 55% women
Key Takeaways
The dating pool is not incredibly large, but Chispa guarantees you'll discover Latino or Latina singles near you. It's more convenient than using a mainstream dating app and filtering extensively based on ethnicity or appearance.
Most members are in their 20s, but a good chunk is in their 30s too. It's generally a dating app for younger Latino or Latina singles.
The ratio of men to women is split somewhat evenly, which is always a plus as Chispa isn't heavily concentrated one way or another.
Chispa Prices and Premium Memberships
There are two kinds of memberships available at Chispa: the regular premium memberships and the elite memberships. The elite package will have extra features and functions for an enhanced experience. Check out the prices below and the amenities that come with these paid upgrades.
Chispa Premium
| Plans | Price Per Month | Total Cost |
| --- | --- | --- |
| 1 week | $29.96 | $7.49 (paid weekly) |
| 1 month | $12.49 | $12.49 (paid monthly) |
| 3 months | $5.99 | $17.99 |
| 6 months | $4.99 | $29.99 |
Chispa Elite
| Plans | Price Per Month | Total Cost |
| --- | --- | --- |
| 1 week | $59.96 | $14.99 |
| 1 month | $24.99 | $24.99 |
| 3 months | $12.99 | $38.99 |
| 6 months | $9.99 | $59.99 |
Note: The only difference between joining Chispa as a premium or elite member is that elite members can see which members liked their profile. But this is a beneficial insight to have using Chispa because you can unlock messaging with those you have mutual matches with.
Chispa Free Trial and Special Features
New members can enjoy these free perks and benefits before upgrading their free trial account to a paid membership plan:
Standard (Free) Features
Register a Chispa account.
Create a complementary profile
Set up your search terms
View profiles and photos.
Send "likes" to or "pass" on profiles
Get one free Super Chispa per day
Premium Membership Features
Let's discuss the premium features that make Chispa ideal for finding love or romance with Latino men and women. Keep in mind that the first one listed comes only with an elite membership plan and doesn't come with a premium.
See Who Likes Your Profile
The only feature that comes to elite members exclusively is the ability to see who likes your profile.; it's a feature that's worth its weight in gold. Messaging can only be unlocked between two members if there's a mutual match established. So, if you know who likes your profile already, you have your pick of singles that you could chat up!
Five Free Super Chispas Every Week
While Super Chispas are attained primarily through an a la carte purchase, premium, and elite members get five free a month (or twenty free per month). These are meant to be sent to members you appreciate or are attracted to beyond a simple "like."
A Free Profile Boost Each Month
Again, these features can be purchased a la carte, but Chispa lets its paying members enjoy one free profile boost a month for some increased love and attention from other members. These are like "Spotlights" on other dating apps.
Unlimited Rewinds
If you accidentally "like" or "pass" on a profile, Chispa rectifies these mistakes for its members by letting them have unlimited rewinds on any profiles they interact with. You can go back as far as you need to fix any errors you might have made browsing through the extensive catalog of Chispa members.
Unlimited Likes
Chispa members can like any profile on the platform without limitation. This means that members can cycle through as many profiles as they want in a single day, whereas many other dating apps might cap this off.
No Ads
Free members have to deal with intrusive ads when using Chispa for free. But these annoying distractions are eradicated when you join Chispa as a premium or elite member.
Other Chispa Purchases
In addition to premium membership packages, Chispa includes a la carte items for boosting your profile beyond one free boost per month and for sending Super Chispas beyond five free per week. Boosts and Super Chispas come in three bundles each, with the cost per unit being lower on the larger bundles.
Visibility Boosts
| Boost Packs | Price Per Boost | Total Cost |
| --- | --- | --- |
| 1-Boost Pack | $4.99 | $4.99 |
| 10-Boost Pack | $2.49 | $24.90 |
| 5-Boost Pack | $3.49 | $17.45 |
Super Chispas
| Super Chispa Packs | Price Per SC | Total Cost |
| --- | --- | --- |
| 5 Pack | $1.00 | $5.00 |
| 25 Pack | $0.60 | $15.00 |
| 60 Pack | $0.40 | $24.00 |
Do Memberships Renew Automatically?
Your Chispa subscription plan, regardless of being premium or elite, will auto-renew when it comes to its end. This means the plan will re-up automatically, and Chispa will automatically charge your account using the billing information you have on file. If you don't want this to happen, you can shut off the auto-renewal feature, but once your plan is up, you'll return to being a free member of the app.
Should You Join the Chispa Dating App?
Are you looking for a good reason to join Chispa's ranks or an excellent excuse to look into other dating apps? We'll answer these questions as we go over the best reasons to join and not join the Chispa dating app. There are times when it can be hard to decide what's best. Hopefully, we can simplify matters.
Reasons to Join
Check out our top reasons to become a premium or elite member of Chispa. Consider these the ultimate pros for joining this niche Latino dating app.
You Want to Date Latino or Latina Singles
The best reason to join Chispa is if you're attracted to people with a Latin American ethnic or cultural background. While many of the bigger dating apps allow you to find Latinos or Latinas using search terms centered around ethnicity, your searches at Chispa will be much simpler because they cater to relationships with Latin American singles.
Active and Engaged User Base
While the dating pool has a humble 30,000 members, Chispa had some decent user engagement. We could swipe through many profiles daily, and resetting our search terms gave us a diverse set of unique results each time. And there were plenty of opportunities for getting "likes" and messages from other members. We were impressed with the activity on Chispa despite its niche nature.
You Want to Interact on Livestreams
Chispa Live is an exciting dimension of this Latino dating app that allows members to connect with their matches in a much more exciting venue. If you like interacting with singles on live streams or feel right at home in chatrooms like these, this is another excellent reason for becoming a Chispa member.
Good Variety of Membership Plans
There are four membership plans to choose from, including options for using Chispa for a week. Not only do members have their choice of how long they want to use their membership plan, but there are options to upgrade their experience to an elite subscription too. Chispa is suitable for singles who want to be careful with their money and those who aren't afraid to spend a little on quality.
Reasons Not to Join
We understand if you feel you'd do better on other Latino dating apps. You have to make the best decision for yourself. Here are a few reasons to look elsewhere if you're certain Chispa isn't a good fit (or even if you're on the fence).
You Want to Date Over 35
Chispa members typically aren't over the age of 35. Sure, some are in their late 30s or 40s, but most members are in their 20s or early 30s. If you want to find older Latino or Latina singles, it's better to look into other dating apps like eHarmony or SilverSingles and set your ethnicity search terms accordingly.
Incomplete Profiles
While Chispa has a lot of attractive profiles, many members don't take the time to fill them out completely. It is challenging to learn about your matches, but it can make setting some of the more obscure search terms utterly useless because they might not suggest certain members due to that part of their profile being left empty.
The App Can Be Glitchy
We didn't have any problems with Chispa when testing the app, but many people reported glitches and lagging in the past. Some have had the system crash on them. It's good to know when deciding whether to join Chispa. If that's something you feel you need help dealing with, we recommend looking into a dating app with fewer issues with these kinds of problems.
The Sign-up Process
Signing up for a new Chispa account can only be done using the mobile app. Once you've downloaded Chispa to your device, you can begin the registration process, which only takes five to ten minutes to finish. Follow the instructions below to get started.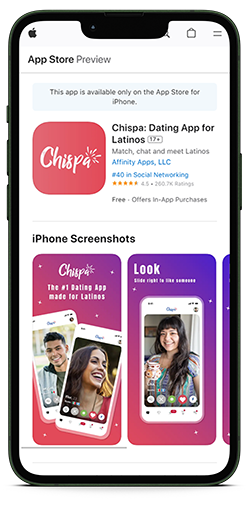 Step 1: Download the Chispa Dating App
Once you download the Chispa app, you must sign in using your mobile number or Facebook account.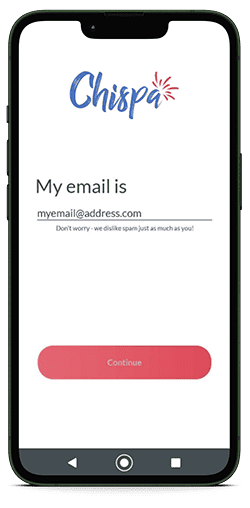 Step 2: Enter Your Basic Information
After logging in using your phone number or Facebook account, answer several rudimentary questions to get the ball rolling.
Email
Username
Gender
Seeking
Date of Birth
How Did You Hear About Chispa?
My Roots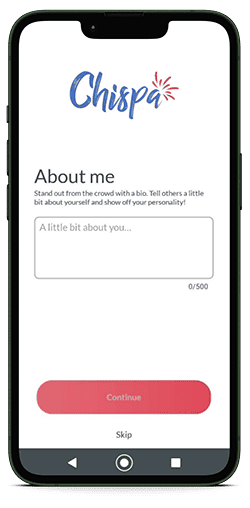 Step 3: Complete the "About Me" Section
Now that you've entered the basics, it's time to include a self-authored "About Me" where you can expand upon your basic profile information. You can write anything you want here, especially if it'll help other members learn more about who you are.
You don't have to add an "About Me" section to get to the next step. Just tap "skip" to move on. You can always add it later during your profile edits.
Step 4: Add One Profile Photo
This step must be completed. You must upload at least one image, which will serve as your main profile photo. You can add pictures straight from your mobile device or desktop computer files.
Step 5: Add Your Location
To suggest matches close to where you live, you must enable your location so Chispa knows who to connect you with. Click "let's do it" to get better match suggestions.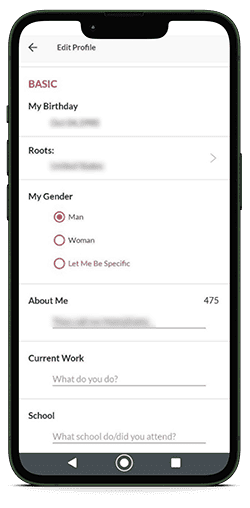 Step 6: Develop Your Profile
Before you adjust your search settings and start looking at Chispa members' profiles, we recommend editing and developing your profile so that you can begin appearing in other members' searches.
You can add five more photos to your profile and include fun voice prompts so other members can hear what you sound like.
You can add written prompts by choosing from a list of questions formed by Chispa. Include your unique answer to these questions, showcasing your opinions or, possibly, your humorous or charismatic side.
And then, you can add basic profile information on various aspects of your life, ranging from political or religious views to the languages you speak or your educational background.
The information you choose to share on your profile is the same as the search terms that other members will use to search for your profile. Any of these categories serve as the search filter settings, so be as detailed as you can be so you get picked up by other members using as many metrics as possible.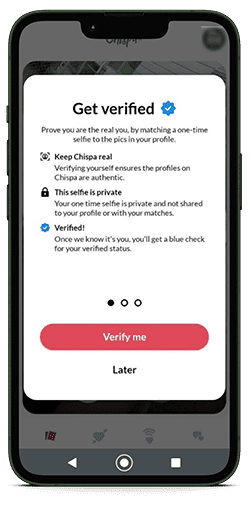 Step 7: Get Your Profile Verified
After completing your profile edits, you'll get the opportunity to have your profile officially verified by Chispa. Send a selfie to the site for them to confirm your identity to ensure you're on the up and up.
Other Chispa members will see your profile has been verified, and they'll be more likely to interact with you because you're who you say you are. Profile verification is an excellent way to build trust and credibility with other members, but it's an optional step to signing up.
Step 8: Set Your Search Filters
Now set up your search filters to find singles who match your personal preferences and dating parameters. Use the sliding bars to adjust your age range and distance settings. Then scroll down the list and change the remaining filters to capture the specifics of what you're looking for in a partner.
Step 9: Browse Chispa Singles
Now for the exciting part. Once you've honed your profile and entered your special search terms, you can start swiping through Chispa profiles.
As a free member, you can "like" profiles that capture your attention or "pass" on those that don't do it for you. Scroll down to view the profile bio and additional photos. The middle green button is to send "Super Chispas," which are the equivalent of "super likes" at other dating apps.
On the app's bottom menu, you can view matches, access photos, or transfer over into Chispa Live! In this mode, members can view Latino or Latina singles' live stream content and send comments or enter chats with streamers they meet.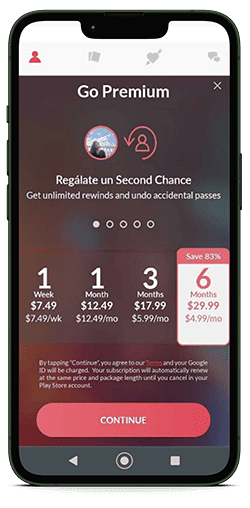 Step 10: Upgrade to a Premium Membership
If you want to enjoy premium features and benefits at Chispa, you must become a premium subscriber. Join as a premium member or join Chispa Elite for an enhanced experience.
You can also make separate purchases for profile boosts and "Super Chispas. These come a la carte and will be bought in a transaction separate from your membership plan.
By upgrading your free membership to a paid subscription plan, you enjoy all the features that make Chispa a worthwhile dating app for finding Latino or Latina singles. After testing out Chispa for a little bit, we recommend upgrading!
Alternatives to Chispa
If you feel Chispa isn't the right dating app for your needs, there are several mainstream and niche dating apps where you can discover love or find dates with Latino singles (and do so by drawing from a more significant dating pool).
Dating App
Key Facts
Review
eHarmony

Active Members: 16+ million
Gender Ratio: 48% men to 52% women
Best For: Find singles who desire serious relationships and profound connections
Pricing: Begins at $35.90/month

eharmony Review
Elite Singles

Active Members: 2+ million
Gender Ratio: 44% men to 56% women
Best For: Finding highly educated and successful singles
Pricing: Begins at $31.95/month

Elite Singles Review
Zoosk

Active Members: 40+ million
Gender Ratio: 47% men to 53% women
Best For: Flirting, finding love, and getting dates with singles
Pricing: Begins at $10.00/month

Zoosk Review
Christian Mingle

Active Members: 16+ million
Gender Ratio: 44% men to 56% women
Best For: Finding singles who hold Christian values and want God-centered relationships
Pricing: Begins at $14.99/month

Christian Mingle Review
SilverSingles

Active Members: 800,000
Gender Ratio: 53% men to 47% women
Best For: Finding singles who are over 50 and looking for meaningful relationships
Pricing: Begins at $24.95/month

SilverSingles Review
Frequently Asked Questions
Here are some real questions from real people about the Chispa dating app, along with our answers based on our review of the platform.
Can I Use Chispa for Free?
You can use Chispa for free, but you can only use a few of its many features. To enjoy advanced perks and benefits like free Super Chispas, unlimited rewinds, and profile boosting, you have to pay for a premium or elite membership plan.
How Much Does Chispa Cost?
It depends on which plan you end up purchasing. Premium plans can range from $4.99-12.49 per month, and elite plans can range from $9.99-24.99 per month. There are also a la carte purchases available at Chispa for profile boosting and sending Super Chispas to your favorite members.
What Can Other Members See on My Chispa Profile?
Any bio information you feel is worth sharing will show up on your Chispa profile, along with the images you decide to share of yourself. Members can also include written or voice prompts. And, of course, what dating profile would be complete without a good "About Me" section?
Is Chispa Worth It?
If you want to find love, romance, or dates with Latino or Latina singles, Chispa is a dating app you should consider using. It has a modest dating pool of 30,000, so it's limited in terms of dating possibilities if you're concerned about having a lot of options. But you don't have to worry so much about connecting with Latino singles because most people using the app are Latino or Latina.
Is Chispa for Latinos or Latinas Only?
Chispa never restricts new members based on race or ethnicity. You have to be 18 or older to use the app. Because they focus on a variety of relationships and dating experiences with Latino and Latina singles, most people using Chispa come from that ethnic background. It's a good dating app for finding love with Latino singles, regardless of your race.
Does Chispa Come with an App?
Chispa has a website, but you can only use the service if you download their mobile app from Google Play or the App Store. It's free to download the app, but the premium memberships come at a cost.
Is Chispa Good for Meaningful Relationships?
Absolutely. In reviewing Chispa, we found that its members find all kinds of relationships, ranging from committed relationships or marriage to casual romance or short-term fun.
What Kind of Features Come with a Chispa Membership?
Paying members get one free profile boost and twenty free Super Chispas each month. They can also avoid ads that free members must endure, which ultimately cut in on their swiping time. A couple of other perks include unlimited swipes each day and unlimited rewinds on any mistakes you made with "liking" or "passing" on profiles. Elite members can see when other members like their profile, a feature exclusive to top Chispa members.
What's the Chispa Matching System Like?
Chispa members find matches by entering search terms in the app's filters to find singles who align with their dating preferences and parameters. Members who like each other's profiles develop a mutual match which unlocks the ability to send messages, and they can proceed with the relationship from there. Elite members get a peek at who likes their profile, giving them the advantage of knowing who they could potentially message.
Is Chispa a Good Dating App?
We were impressed with how the site looked and functioned on the mobile app. The handling was nimble, and there were a lot of attractive and informative profiles that drew us into using Chispa for several extended sessions. It was a pleasant experience, and we found many suitable matches that aligned with the search terms we set. This is a solid niche app for finding Latino men and women.
How Long Is the Chispa Dating App Sign-Up Process?
It only takes five-to-ten minutes to complete your Chispa registration. Once you've developed your profile, upgraded to a premium membership, and entered payment information, you'll probably feel like it was a reasonable onboarding process. There aren't any extensive personality or compatibility tests to complete that take up hours of your day.