Our team of experts diligently research and review all of the products and services we recommend. If you buy through our links, we may receive a commission. Learn more here.
AsianDating is Cupid Media's dedicated dating site for Asian singles seeking love and romance. They serve around 2.5 million members worldwide and come with a variety of membership plans that cater well to any budget.
Meet Asian singles and fall in love using AsianDating! Our AsianDating review will reveal what kind of communication features come with a premium membership plan and how much the service will run cost-wise.
We've even included our rating process for appraising the site and some customer feedback from real people who have used AsianDating for themselves.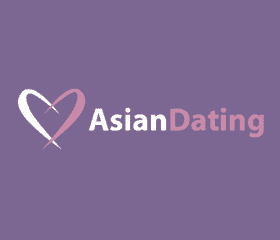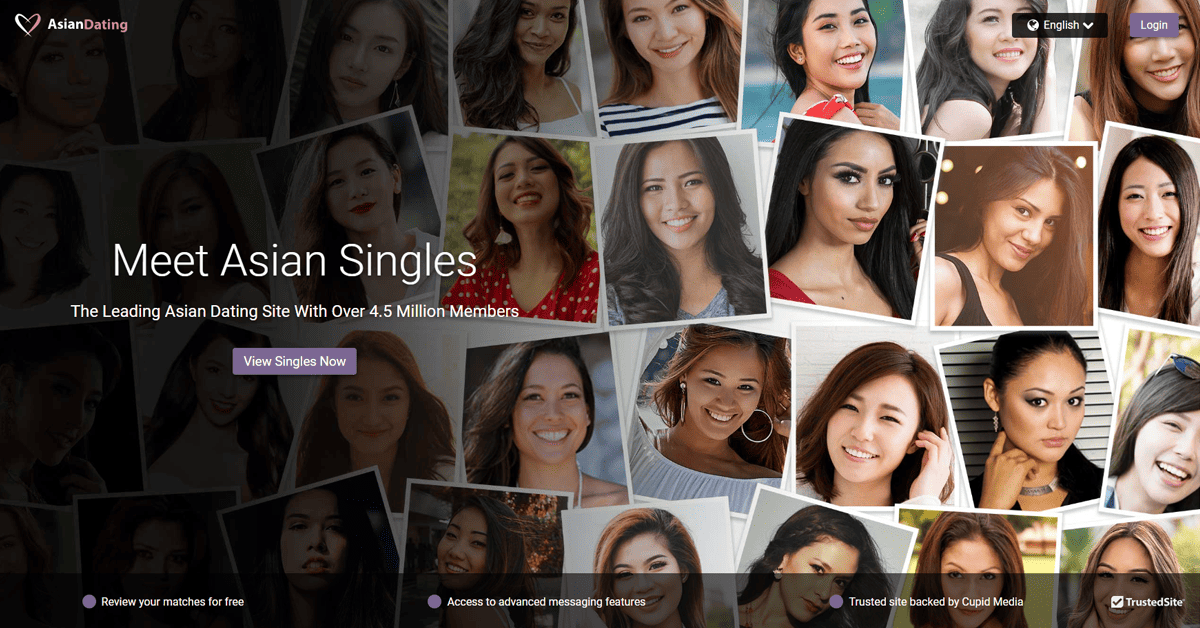 | | |
| --- | --- |
| Sign-Up Time: | 10 – 15 minutes |
| Cost: | $12.50 – $28.33 per month |
| Membership Pool: | 2.5 million |
---
---
Our AsianDating App Rating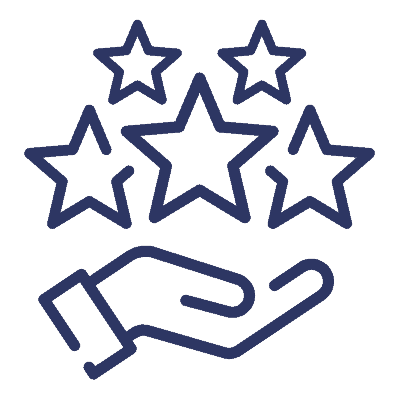 Overall Rating

AsianDating is coming in with an overall score of 3.8 out of 5!
One of the most critical parts of our AsianDating review was running the site through our honest and unbiased review process. We cover six key aspects of the site. Our overall rating of 3.8/5 stars is from pulling an average from the six individual rating categories. This is one that we highly recommend for meeting quality Asian matches.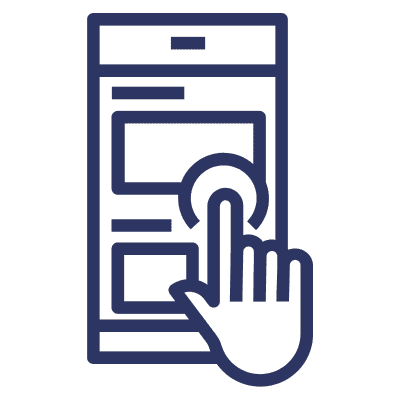 Ease of Use

AsianDating is super easy to use and navigate. The sign-up process (for a paid plan) only takes around ten minutes to complete, and the matching system uses a straightforward approach where search filters focus on factors like gender, age, distance, appearance, lifestyle choices, cultural background, and the like.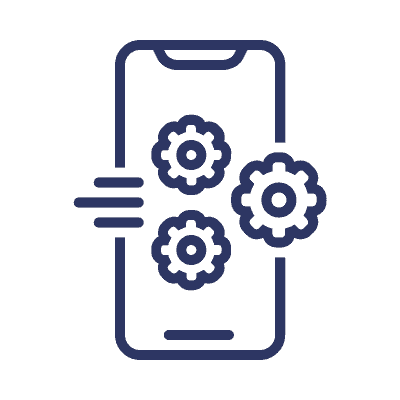 Features

While we cannot deny that AsianDating comes with robust communication features, our big knock against the site is that features are spread out over membership tiers, which means you must pay extra money to enjoy the better AsianDating features. Priority messaging (appearing at the top of someone's inbox) and message translation for international dating experiences are features that come at the highest price.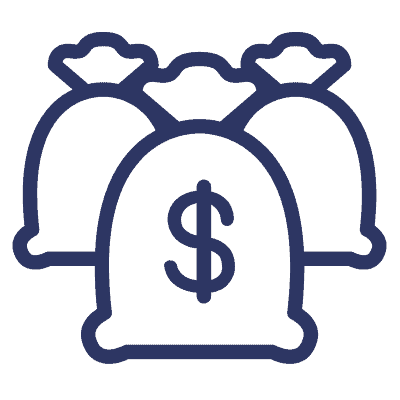 Cost


We appreciate the fact that there are so many membership plans. We liked seeing the choice of becoming a member for one, three, or twelve weeks as well as the one-week option! It offers flexibility in how much you need to pay to be a member. We did notice, however, that Asian dating tends to be a bit more expensive than many of its sister sites at Cupid Media.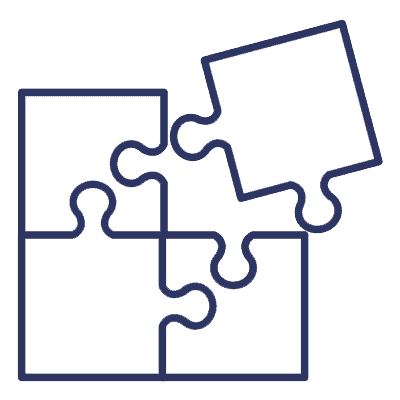 Match Quality


Of the 2.5 million registered members at AsianDating, only 150,000 are active every week, drastically affecting the matching opportunities. However, good search filters allow members to find matches by location, age, appearance, cultural background, and a host of other criteria. It's not the great dating pool of Asian singles by a long shot, but it's decent enough to generate some viable results.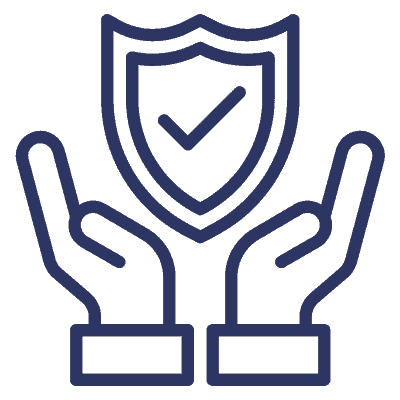 Safety and Security


Asian dating isn't without fake accounts. All dating sites have them, but there is more than usual on this site. AsianDating will take down fraudulent accounts when they find them, but they equip their members with the ability to block accounts or report them directly to the site. Customers are ultimately responsible for their safety as they use the platform.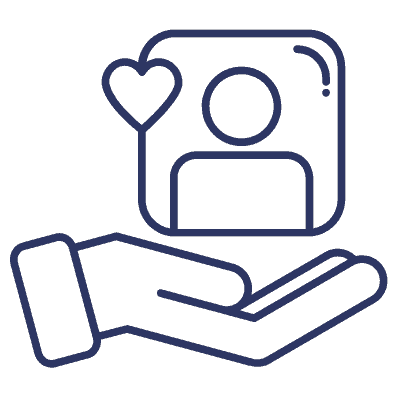 Customer Service


All Cupid Media sites contain two primary methods of contacting the support team when problems or issues arise: an FAQ page and a help ticket with a contact form. There are no super direct ways to raise support, like a toll-free phone or a live chat option. You either must troubleshoot your problem as best you can or send a message to support and wait 24 to 48 hours for a response.
Overview of AsianDating
AsianDating is one of the original dating sites that Cupid Media developed when it first launched. It's a platform that Asian singles (and those interested in relationships with Asian singles) have gone to time and again over the last 20 years to find meaningful and profound connections with Asian singles locally and in other countries.
AsianDating Fast Facts
Year Founded: 2000
There are 2.5 million registered accounts, but 150,000 are active each week.
Average User Age: 34-42 years
Gender Ratio: 60% men to 40% women
Many of the Cupid Media dating sites have gender ratios skewed heavily in one direction, resulting in services that are dominated either by male or female members. But Asian dating is relatively well-balanced, where the balance is 60% men to 40% women. Members are typically looking for serious relationships and are anywhere between the ages of 34 and 42 years on average.
Although there are 2.5 million members registered at the site, there are only 150,000 active members. Most women are in countries like China, Indonesia, Thailand, Japan, and the Philippines, while most men are from Western nations like the US, the UK, Canada, and Australia.
Premium Membership Subscriptions and Prices
There are twelve membership plans available for prospective members of AsianDating. They're spread out over three membership tiers (Gold, Platinum, and Diamond). The four plans within each tier have the same premium features and functions, but upgrading to the next tier gets you more perks and benefits.
Here's a complete breakdown of all membership plans and prices available at AsianDating:
| Package | Length | Price Per Month | Total Cost |
| --- | --- | --- | --- |
| Gold | 1 week | $76.00 | $19.00 |
| Gold | 1 month | $38.75 | $38.75 |
| Gold | 3 months | $25.17 | $75.50 |
| Gold | 12 months | $12.50 | $150.00 |
| Platinum | 1 week | $92.00 | $23.00 |
| Platinum | 1 month | $46.00 | $46.00 |
| Platinum | 3 months | $30.00 | $90.00 |
| Platinum | 12 months | $15.83 | $190.00 |
| Diamond | 1 week | $184.00 | $46.00 |
| Diamond | 1 months | $81.98 | $81.98 |
| Diamond | 3 months | $53.32 | $159.97 |
| Diamond | 12 months | $28.33 | $339.98 |
The longer membership plans cost more overall, but they have reduced monthly cost rates than the shorter subscriptions. It's cheaper, for instance, to purchase a plan for twelve months outright than to renew a month-long plan twelve times to cover the same time. These are some hidden savings that are worth taking advantage of.
Does the AsianDating Dating App Offer Free Trials?
All new members of AsianDating begin with the free membership plan once they've registered a new account with the site. Free membership is the perfect strategy for getting to know the site and seeing what singles are like who is currently enjoying its services. It's like taking a new car out for a test drive before buying.
Free members can enjoy a short list of the premium membership features without having to pay:
Standard (Free) Features
Create and develop a complementary profile
Set up search parameters and view matches
View matches' profile photos and bio info
Send "likes" to your matches
Receive, read, and respond to messages sent by paying member
Suppose you want to experience the more advanced features that AsianDating offers, including message translation, priority messaging, or the best placement in the site's matching algorithm. In that case, you need to upgrade your free membership to a paid one.
Best Premium Membership Features
All Cupid Media dating sites come with dynamic communication features that allow relationships to be successful and thrive despite international borders or distance. AsianDating is chockful of value when it comes to features for its premium customers. Yes, some are only available if you're willing to become a member of a higher tier, but there's no denying that there are some helpful tools here for finding love.
Unlimited Messaging
As a free member, you're barred from sending messages to members you meet at AsianDating. You can respond to messages sent by paying members, but it'll only get you so far if you want to establish authentic connections. The minute you upgrade to a paid membership plan, you can send messages to anyone you meet at AsianDating without limitations!
Ranking Over Lower Tier Members
The higher you climb into the AsianDating membership tiers, the better you'll be featured in the search rankings. For instance, a Diamond-Tier member will rank better over Platinum- and Gold-Tier members. And Platinum-Tier members feature better than Gold-Tier members but not as well as Diamond-Tier members.
Priority Messages
This feature is only for Gold-Tier members. Your messages will appear at the top of your match's inbox over messages from Platinum- and Gold-Tier members, even if their messages were sent before yours. It helps your messages to be seen ahead of many other Asian dating members.
Messages Translators
Another Gold-Tier features only; this one allows you to run messages written in another language through an instant translator, so you can bypass a language barrier with any international matches you meet on the site.
No Ads
Free members get bombarded with intrusive ads, but these evaporate entirely the minute you become a premium member of AsianDating. This applies to all paid membership tiers.
Do AsianDating Memberships Renew Automatically?
All membership plans come with an automatic renewal feature which means that the subscription will reap at the end of the billing period. It's designed so members can keep enjoying their membership without having to make time to perform the repurchase. It also ensures uninterrupted service and access to all AsianDating perks, benefits, and features.
The auto-renewal feature is only ideal for some, though, because it means that you'll be automatically charged for the same membership plan when the first one ends. To avoid being charged again, go into your account settings and switch the auto-renewal feature to "off."
Should You Join AsianDating?
Part of conducting an honest AsianDating review involved weighing the pros and cons that we found along the way. Once you know the strong and weak points of Asian dating, it becomes easier to decide if it's a dating site worth joining!
Reasons to Join
These are our top reasons to join as a free or paid member of AsianDating. If you agree with many of these points, start registering your new account today!
You're Looking for Love with Asian Singles
The best reason to join is if you're interested in meeting Asian singles and experiencing true love or romance. There are over 2.5 million users worldwide, and many hail from countries like China, Thailand, Japan, Indonesia, and the Philippines.
Find International Relationships
Asian dating is popular with men from Western nations looking for relationships with Asian women. However, many other kinds of relationships are facilitated at the site. AsianDating has advanced search filters that allow members to find matches based on location and distance. They also include instant message translators to help members overcome language barriers with singles located overseas.
Membership Plans That Work with Your Budget
Cupid Media dating sites (including AsianDating) typically offer twelve membership options of varying lengths, prices, and membership features. There are no payment plans available, but there's a reduced monthly cost rate on the longer subscriptions, which provides savings over time. There are enough options for becoming a premium member that gives customers great flexibility in choosing a plan that's right for their checkbook.
Detailed Member Profiles
AsianDating has some of the most well-rounded dating profiles we've seen on any Asian dating app or website. Each profile contains a ton of great information on each member's lifestyle choices, background, appearance, and cultural values. AsianDating is notable, too, for highlighting the areas of each profile that align with your search filter settings. Each profile gets a compatibility score based on how closely they get to the parameters you set.
Reasons Not to Join
Here are the top reasons that AsianDating might not be the best fit for you. If you're looking for an excellent alternative to finding Asian singles online, check out a list of great options for Asian dating!
The Dating Pool Is Smaller Than You Think
The membership numbers might seem impressive at first, but the fact is that the viable dating pool is much smaller. Of the 2.5 million worldwide members that have a registered account with AsianDating, there are only 150,000 members that are active on their accounts any given week. This means fewer opportunities.
You're Not Interested in Asian Singles
If you're not interested in meeting Asian singles or dating someone who lives overseas in another country, this might not be the best dating site for you. This is a specialized dating site, so it might be better to find a more generalized or mainstream service.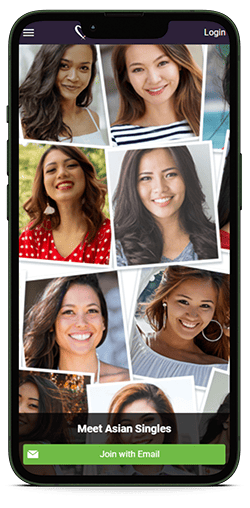 The Sign-up Process
If you're interested in becoming a free or paying member of AsianDating, you can create an account, get your profile set up, and insert your payment information in as little as ten minutes. Follow the steps below to get started.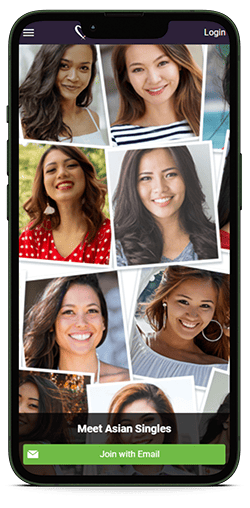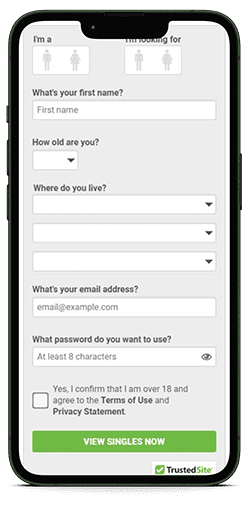 Step #2: Fill Out Login Info
Include your first name, age, gender, and the gender of the singles you're interested in meeting. Input your email address, too, and create a unique password for accessing your new AsianDating account.
Agree to the site's Terms of Use and Privacy Statement. Once that's completed, click on "View Singles Now" to proceed.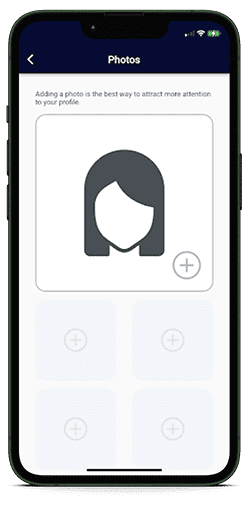 Step #3: Upload Profile Photos
Before you can access your new free membership, you'll be asked to upload at least one profile photo. You don't have to, but we recommend it because it makes your profile look legitimate and gives other members a chance to see what you look like.
There's another incentive to adding at least one profile photo: you can see members' profile photos up close when you look at their main profile. If you don't upload an image, their photos will be obscured from view.
Photos – If you happen to skip uploading a profile photo, you can add as many as free for free later by clicking on the "Photo" menu. AsianDating provides a list of photo guidelines to ensure whatever you post is appropriate and gives you the best results in finding the right singles. Make sure you post a good, clear photo!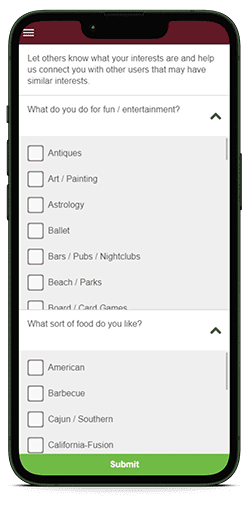 Step #4: Develop Your Profile
After entering your login information and uploading a profile photo (or skipping it for the time being), you can begin navigating the site to see where things are located and using the search filters to see what kind of matches you can find.
However, we recommend jumping straight into developing your profile so that you can appear in other members' searches. Click on "Edit Profile" in the dropdown menu under your profile photo icon.
Edit Profile – You'll be asked many questions concerning things like your appearance, background, cultural values, and lifestyle. Because they're all multiple-choice questions, it was super easy to fill everything out in just a few minutes; the time we were able to save was something we appreciated!
At the bottom of "Edit Profile," you can also include a profile headline and complete two self-authored sections: "About Me" and "What Am I Looking for in a Partner?"
View Profile – To view the changes you made to your profile, click "View Profile." It's what everything will look like to those viewing your profile after you appear in their matches.
Hobbies and Interests – Under the "Hobbies and Interests" tab, you can find a long list of hobbies and interests provided by Cupid Media. Choose as many that apply to you, and they will appear on your profile, giving curious singles a good idea of how you spend your free time.
Personality Questions – There's also a list of twelve personality questions under "Personality Questions." As with hobbies and interests, you can provide your answer to any of these, and they'll appear on your profile page.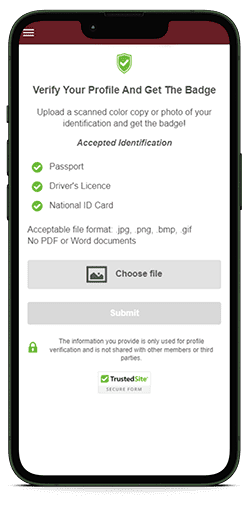 Step #5: Verify Your Profile
A great way to make your profile appear completely legit, and to build trust with the singles you meet on AsianDating, is to get your profile officially verified by the site.
When you provide the AsianDating with a legit form of ID (national ID card, driver's license, or passport), they compare this to your profile photo and bio information to ensure your profile is entirely on the up and up.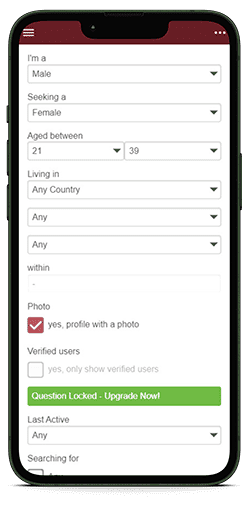 Step #6: Enter Your Search Parameters
Now that your profile is complete, you can begin looking for Asian singles who match your dating preferences and criteria. Plug in your search parameters and click submit to see which profiles appear.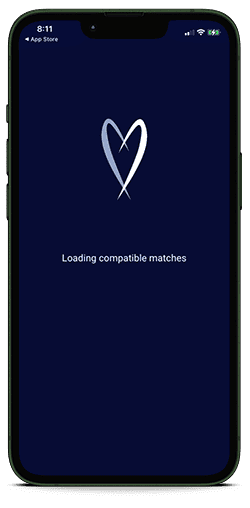 Step #7: View Your Matches
Under the "Matches" tab, you can view the profiles that align with your search parameters and dating criteria.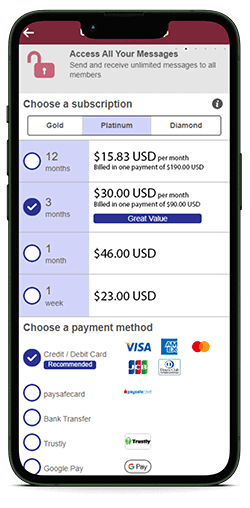 Step #8: Upgrade to a Premium Membership
There's only so much you can do as a free member at AsianDating. You can search for profiles, but you can only send messages to people once you've upgraded to a premium membership.
Click on the green "Upgrade Membership" button to access the subscription options. Across the top of the page are the membership tiers (Gold, Platinum, or Diamond). Once you've chosen one, you'll see each plan and how long a timespan they cover. Below are payment options (credit cards, Google Pay, etc.).
Alternatives to AsianDating
We completely understand if you've read our AsianDating review, but you still feel like there's another Asian dating app that's a better fit for your needs. That's why we've included a list of good alternative sites for finding Asian singles!
Dating App
Key Facts
Review
eHarmony

Active Members: 16+ million
Gender Ratio: 48% men to 52% women
Best For: Find Asian singles who desire serious relationships and profound connections
Pricing: Begins at $35.90/month

eharmony Review
Elite Singles

Active Members: 2+ million
Gender Ratio: 44% men to 56% women
Best For: Finding highly educated and successful Asian singles
Pricing: Begins at $31.95/month

Elite Singles Review
Christian Mingle

Active Members: 16+ million
Gender Ratio: 44% men to 56% women
Best For: Finding Asian singles who hold Christian values and want God-centered relationships
Pricing: Begins at $14.99/month

Christian Mingle Review
Zoosk

Active Members: 40+ million
Gender Ratio: 47% men to 53% women
Best For: Flirting, finding love, and getting dates with Asian singles
Pricing: Begins at $10.00/month

Zoosk Review
SilverSingles

Active Members: 800,000
Gender Ratio: 53% men to 47% women
Best For: Finding Asian singles who are over 50 and looking for meaningful relationships
Pricing: Begins at $24.95/month

SilverSingles Review
Frequently Asked Questions About AsianDating
For any other questions you might have about AsianDating, we hope that the FAQ section below can fill in a lot of those gaps. We've found that these are some of the most common questions we've gotten over time from our readers and customers about this Cupid Media dating site.
Do I Have to Be Asian to Use AsianDating?
No, you can join as long as you're 18 or older. Your ethnicity doesn't matter. AsianDating knows that there are people who aren't Asian who are interested in falling in love with or romancing Asian singles. You can be of any ethnicity, and you're more than welcome to become a free or premium member of AsianDating.
Is AsianDating Free?
There's a free membership plan available that allows newcomers to create a profile, view other members' profiles using the site's search filters, and respond to messages sent by paying members. Free members can only use a portion of AsianDating's features and functions without having to pay.
How Old Are Members of AsianDating?
On average, people enjoying the services of AsianDating are between 34 and 42 years of age. It's a relatively young clientele, but there are exceptions, as with any dating site.
Does AsianDating Have a Dedicated Mobile App?
Google Play offers an AsianDating mobile app so Android users can enjoy using the site on the go. Of course, you can always use the site on a smartphone or tablet by accessing the site using your web browser. The mobile app allows you to use the location on your device without an internet connection.
Will I Run into Fake Profiles?
Yes, there are fake profiles at AsianDating, like any other dating site. You need to be careful as you meet new people on the platform; AsianDating gives you tools to deal with shady profiles, like options to block or report. As far as we can see, AsianDating is good about disabling fraudulent profiles once they find them.
Will My AsianDating Membership Automatically Renew?
All memberships at AsianDating will re-up automatically at the end of each billing cycle. It's your responsibility to disable the auto-renewal features in your account settings to ensure that you won't get charged for a new member when the old one ends.
Where Do Most AsianDating Members Live?
Most people using Asian dating come from countries like China, Indonesia, Japan, Thailand, and the Philippines. Many people use the site who hail from Western nations like the United States, the United Kingdom, Canada, and New Zealand. Something we've found with Asian dating is that most of the women are from Asian countries, and many of the men are from Western nations.
What Kind of Relationships Can I Find at AsianDating?
Asian dating is generally not for casual relationships or dating. The site is mainly geared toward meaningful, profound relationships. People willing to commit to long-distance, overseas connections want something serious and long-term. There are also a lot of members who are interested in international dating and romance.