Our team of experts diligently research and review all of the products and services we recommend. If you buy through our links, we may receive a commission. Learn more here.
Occasionally, you can look at a website and immediately feel like it's shady, and that's the first feeling that came over us when we opened up AsianDateNet. Based on everything we have seen and discovered while researching AsianDateNet for this review, we are pretty confident in our decision not to endorse it to our customers or patrons–or anyone else for that matter.
While we always remain objective when performing our dating app reviews, it's hard to recommend a platform to our loyal readers when we see so many red flags. And while we don't recommend it, that doesn't mean you should take it as gospel! You are free to explore the dating app yourself and see if you think it's the right fit for your wants and dating desires. But we advise you to be highly cautious when interacting with other members if you do decide to join–there aren't many online reviews, and those we did uncover portray the site as a sanctuary for online scammers.
Keep reading for our complete review of the AsianDateNet dating app for 2023!
| | |
| --- | --- |
| Sign-Up Time: | 5 minutes or less |
| Cost: | $3.31- $4.16 per month |
| Membership Pool: | 1.7 million |
---
---
Our AsianDateNet App Rating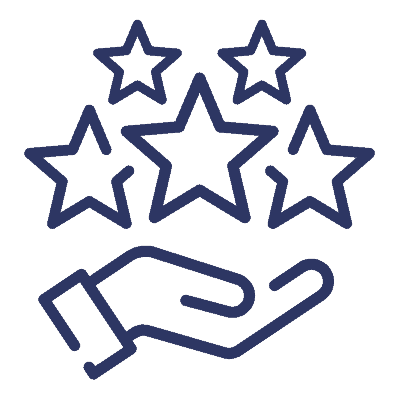 Overall Rating

AsianDateNet is coming in with an overall score of 2.0 out of 5!
We've taken to our six-factor rating system to arrive at an unbiased and fair overall rating for AsianDateNet: features, usability, daily matches, cost of membership, and active members. Each of these categories got its own rating, and we've concluded that AsianDateNet comes in at a rating of 2.0/5!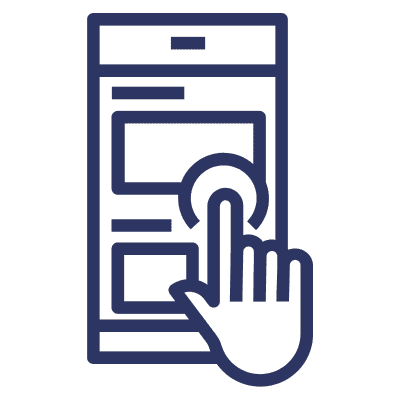 Ease of Use

AsianDateNet's website and app are both pretty easy to navigate since there are not a lot of bells and whistles to speak of–in fact, the website looks like it hasn't been updated in quite a while.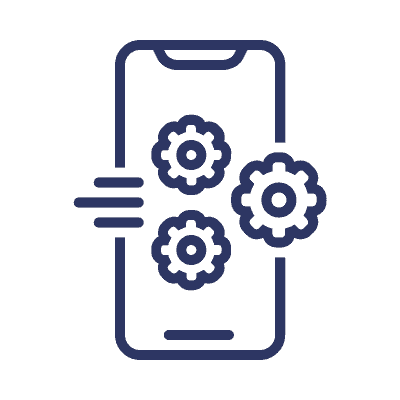 Features
The only premium feature we discovered during our review of AsianDateNet is a live chat. That's it, so if you are looking for a lot of cool or innovative dating app features, you're looking in the wrong place.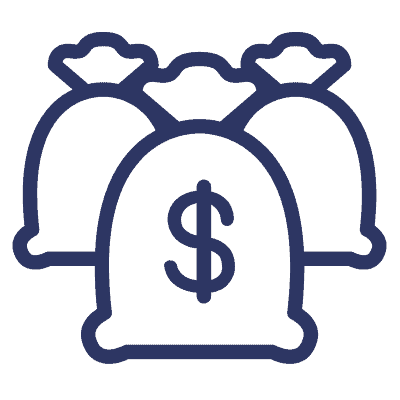 Cost


AsianDate.net provides memberships at affordable rates—it's one of the lowest premium prices we've encountered in our reviews, with the cost of a premium membership ranging from $9.99-50 each month.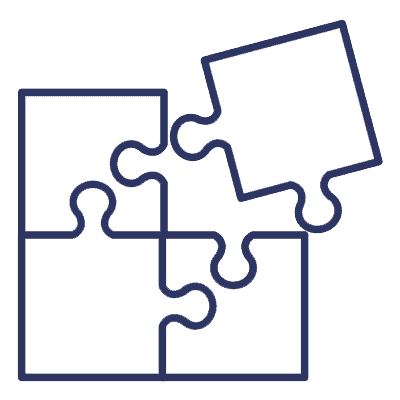 Match Quality


The profiles of the women on AsianDate are quite thorough and provide a lot of details about the women. Most picture galleries are completely filled with images, some of which include videos (you have to pay to watch). However, there are no candid pictures of the women, and the pictures seem to be a little too perfect, which leads us to question the authenticity of certain profiles.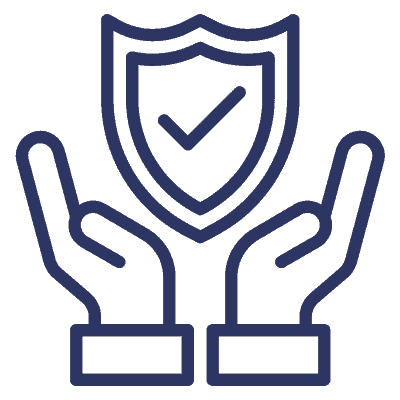 Safety and Security

While considering joining a dating service, we always urge you to decide what's best for yourself and to check out the app's security protocols by doing some research on its help page–and since AsianDateNet doesn't appear to have a help page, only a "contact us" form, we can't really speak to its safety and security, but it doesn't look great based on that fact alone.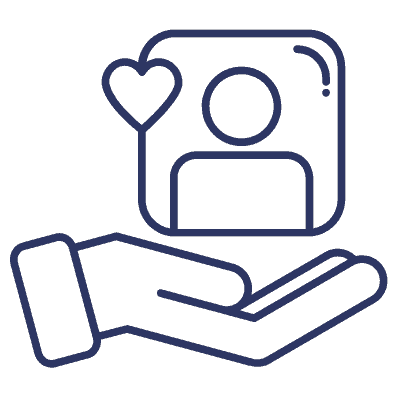 Customer Service

The only customer service we could find on AsianDateNet is a "Contact us" form on the help page. We don't know how long it takes the platform to answer a submitted request or question.
Overview of AsianDateNet
AsianDateNet was founded in 2013 and is promoted as a dating app for men and women to meet eligible Asian singles, saying, "Love has no borders." While this may be true, we have come across many negative reviews saying that the dating app is a scam and that most of the women populating the platform are fake profiles.
AsianDateNet Fast Facts
Year Founded: 2013
AsianDateNet's tagline is "Love has no borders"
Average User Age: 20-45 years
Gender Ratio: 30% men to 70% women
Premium Membership Subscriptions and Prices
AsianDateNet has four different premium membership tiers that each provide the same premium features—the only clear difference between them lies in the amount of time a user gets access to AsianDateNet's features. According to our findings, we feel that membership to AsianDateNet is affordable for everybody.
Silver Membership
3 Months
$3.31
---
Membership: 3 Months
Price Per Month: $3.31
Total Membership Cost: $9.95
---
All Standard Features
Every Plan Has the Same Premium Features
Gold Membership
6 Months
$3.32
---
Membership: 6 Months
Price Per Month: $3.32
Total Membership Cost: $19.95
---
All Standard Features
Every Plan Has the Same Premium Features
Diamond Membership
9 Months
$3.99
---
Membership: 9 Months
Price Per Month: $3.99
Total Membership Cost: $35.95
---
All Standard Features
Every Plan Has the Same Premium Features
⠀VIP Membership
12 Months
$4.16
---
Membership: 12 Months
Price Per Month: $4.16
Total Membership Cost: $50.00
---
All Standard Features
Every Plan Has the Same Premium Features
AsianDateNet Dating App is one of the only dating sites that will allow you to pay off the total price of the membership in up to four monthly installments. Most require the entire payment upfront.
AsianDateNet Free Trial and Premium Features
All first-time users of AsianDateNet are automatically enrolled as free members; new users start off as trial members rather than paying for a premium membership. A limited subset of the site's functionality is available to free users, and if they want access to additional features, they'll have to upgrade to a paid membership.
Standard (Free) Features
Register an account.
Create a Profile
Adjust search filters
View other profiles
See who looked at your profile
Send a limited number of messages
The free trial is a great opportunity to learn more about the dating app and try it out before committing to a purchase.
Premium Membership Features
Live Chat
Premium members of AsianDateNet can engage in live chat with other users they find interesting and compatible.
Do AsianDateNet Memberships Renew Automatically?
After each billing cycle, memberships will be renewed automatically. Access to AsianDateNet's services and features and paying for a new subscription will automatically activate at the conclusion of the current one.
Under the billing options section of their account settings, customers can deactivate the automatic renewal function. They can keep using the current method until its expiration date. By turning off this function, customers can prevent being automatically charged for another membership.
Should You Join AsianDateNet?
Even if we don't advise AsianDateNet to our readers, we still want to examine the dating app thoroughly! While there are some good elements, the downsides far outweigh the benefits.
Reasons to Join
We've found a few reasons people may be drawn to AsianDat.net, and we have listed them below!
Affordable
After reviewing our findings and other user reviews, we can safely say that we are not huge fans of AsianDateNet. Still, it's great that AsianDateNet offers subscriptions at reasonable prices for most internet users. Prices for a premium membership range from $9.95 to $50.00 per month, among the lowest premium rates we've seen in our reviews.
Live Chat Feature
Using this function, users can have a live conversation with the people they've been chatting with on the dating app.
Comprehensive Member Profiles
AsianDateNet, despite its bad rep, has extensive profiles filled with useful information about its members.
Easy-to-Use Interface
The app's menus and interface make it simple to find and use its various features and functionalities.
Reasons Not to Join
Now, on to the reasons not to sign up for AsianDateNet, and unfortunately, they far outweigh the reasons to join.
Tons of Fake Profiles
According to some unsatisfied customers, not all profiles, or even many of them on AsianDateNet, are who they claim to be. There have been several requests for financial assistance from members, with the majority of them citing some kind of "urgent" family matter, which has our alarm bells ringing.
Bad Customer Reviews
Several consumers have posted complaints about scammers using bogus profiles to steal their money on AsianDateNet, which is a big red flag!
Outdated Features
AsianDateNet doesn't stand out from its dating app peer crowd since it lacks any unique or dynamic features besides its live chat.
No Profile Verification
No verification is required to join the platform. This explains the prevalence of fake and dormant profiles on AsianDateNet.
The AsianDateNet Dating App's Sign-up Process
It is standard practice to give instructions for signing up for and using the dating apps in our reviews, even if we do not encourage our readers or customers to join a specific one, such as AsianDateNet. The signup procedure takes up about five minutes in total.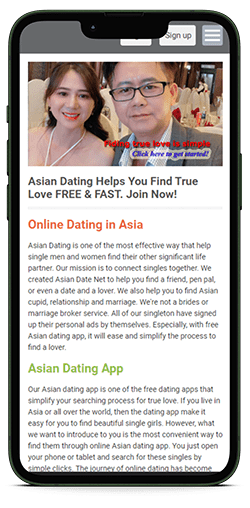 Step 1: Head to AsianDateNet Homepage
First, visit AsianDateNet.com and enter your email address, and setting up a password. To go to the next stage after accepting the Terms of Service, click the "Continue" button.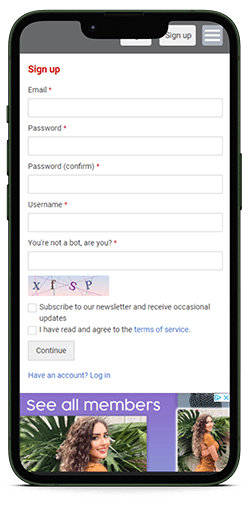 Step 2: Enter a Username and Password
At the following step, you'll be prompted to provide a username for your profile. You must also prove that you are human and not a bot. Then click "Continue" to move on to the next step.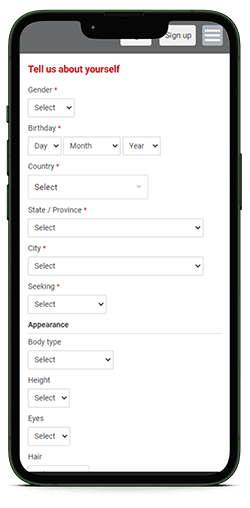 Step 3: Answer Questions about Yourself and Dating Preferences
The next phase involves answering a number of questions. Your profile on AsianDateNet is built on the information you provide here.
Step 4: Upload a Profile Photo
Although it's not required, it's highly suggested that you upload a profile picture to increase your profile's visibility and establish your online identity. No one is going to want to talk to you if you don't have a profile picture. You can choose photos from either your computer or your smartphone or click "Skip" to bypass this and go to the next step.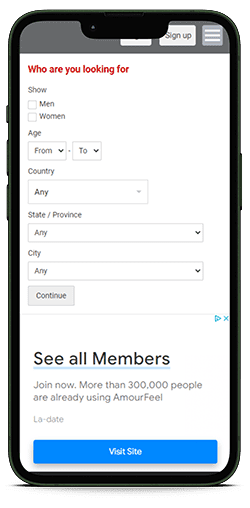 Step 5: Set Up Search Parameters
Tell AsianDateNet about the kind of person you're looking for. When you go to the site, choose the "Search" button to perform searches with more specific parameters. This is independent of demographic parameters such as age, gender, and geography.
Users can narrow their search results based on various criteria, including preferred ways of living, physical characteristics, hobbies, and ethnicity. In "My Matches," you may see all of the individuals that meet your search's criteria and characteristics.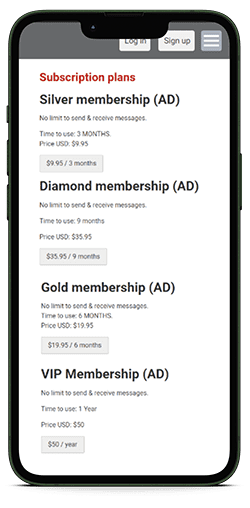 Step 6: Upgrade to a Premium Membership
You can sign up for a subscription using the "Upgrade" link in the site's bottom menu. Four different membership options are available to you, each with its own duration of usage and price. And that's it; you're all signed up and can begin your search on AsianDateNet!
Alternatives to AsianDateNet.com
Unfortunately, we can't recommend the AsianDateNet dating app to our readers and consumers, BUT we can point you toward some top-notch and reliable alternatives that specialize in helping Asian Americans find love and romance anywhere in the world.
Dating App
Key Facts
Review
Eharmony

Active Members: 16+ million
Gender Ratio: 48% men and 52% women
Best For: All singles who want a serious relationship
Pricing: Begins at $35.90/month

eharmony Review
Elite Singles

Active Members: 2+ million
Gender Ratio: 44% men and 56% women
Best For: Highly educated and successful singles
Pricing: Begins at $31.95/month

Elite Singles Review
SilverSingles

Active Members: 800,000
Gender Ratio: 47% men to 53% women
Best For: People over 50 looking for relationships
Membership Price: Begins at $24.95/month

SilverSingles Review
Bumble

Active Members: 11+ million
Gender Ratio: 57% men and 43% women
Best For: All singles seeking relationships, casual dating, or friendships
Membership Price: Begins at $16.99/month

Bumble Review
Frequently Asked Questions About AsianDateNet
Check out our Frequently Asked Questions section for answers to some of the most often asked concerns our readers have had about the sorta shady AsianDateNet dating app!
What Is AsianDateNet?
AsianDateNet is a global dating service where you can meet singles from all around the globe, including in Asia, for friendship, romance, and dating. Anybody over the age of 18 is welcome to sign up for a free trial or become a paid member of the dating app.
Is AsianDateNet a Free Dating App?
Users on the free trial version of the app get access to a subset of the app's features—they can sign up for an account, build a profile, and use the search criteria to view the types of available singles the platform has to offer before deciding whether or not to upgrade to a paid membership. Free users will only get access to a handful of the app's features before being prompted to upgrade to a paying membership.
Do You Suggest Readers Use AsianDateNet?
We can't give AsianDateNet our endorsement until we have more data about the dating app. What we do know, based on testimonials from actual users, is that the platform is packed with shady people who take part in scams and try to trick other users into giving them money by feigning a desperate situation.
Why Isn't AsianDateNet Worth Checking Out?
Until the site administrators clean the service of scammers and fake accounts, you shouldn't waste your time or resources on it. And we definitely don't want our readers to become a cautionary tale about being scammed out of their hard-earned money!
Which Alternative Dating Apps Do You Suggest?
If you're looking for love or a date with an Asian single, you have so many different options! Sites like eHarmony, and Elite Singles are ideal for meeting like-minded Asian singles and creating meaningful relationships.
Is AsianDateNet a Safe Dating App?
AsianDateNet has numerous inactive and fake profiles, as we discovered in our review. As a result of AsianDateNet's lax security measures, the platform has become a haven for scam artists and catfishers. For safety reasons, we can't recommend this to our readers.
Does AsianDateNet Have a Mobile App?
For those who own Android devices, you can download a convenient app. iOS users with a working web browser and an active internet connection can use AsianDateNet, and the desktop version of AsianDateNet is available through any current web browser.
Is This AsianDateNet Review Objective?
We warned you early on to avoid AsianDateNet because of the presence of scammers and other threats to your security on the platform. Even so, we noted that anybody interested in using this app is free to create an account! We did our best to examine AsianDateNet and provide an in-depth review of the service that tackles all of the pros and cons so readers can make their own informed choice about whether they want to sign up or look elsewhere.
How Much Is an AsianDateNet Premium Membership?
There are four different membership levels available: a 3-month membership costs $9.95, a 6-month membership costs $19.95, a 9-month membership costs $35.95, and an annual membership costs $50.00. Although AsianDateNet's dating app isn't ideal, it does provide users with a fair value for their money.
How Long Does It Take to Sign Up for an AsianDateNet Account?
It takes barely five minutes to sign up since it's so easy to do so. There isn't any time-consuming, in-depth analysis of personality or compatibility—all you need to do is sign up for a new account, create a profile, and customize your search settings and preferences.