The way we use our digital gadgets is evolving as a direct result of the rise of artificial intelligence. Siri, Alexa, self-driving vehicles, Chat GPT, and dating apps are just the tip of the iceberg when it comes to the ways in which AI is revolutionizing our society.
Many fields, including online dating, are reaping the rewards of advances in artificial intelligence, such as learning algorithms, natural language processing, and computer vision. Introducing AI to the dating app scene might completely alter how people meet and form relationships. Artificial intelligence (AI) has the potential to significantly impact the fate of online dating, especially given the meteoric rise of dating apps and websites.
And one dating app's already ahead of the game with this: The Zoosk SmartPick System.
What Is the Zoosk Smartpick System?
The Zoosk Smartpick is a unique algorithm developed to maximize the success and efficiency of its users in finding a long-term partner. With its foundation in behavioral matching, Zoosk's Smartpick feature carefully extracts your profile data to locate a compatible companion.
There are several ways to contact other Zooskers via your profile, one of them being SmartPick, which determines whether or not two users are compatible. In order to improve its matchmaking abilities, SmartPick considers your "❤" and "X" votes. The SmartPick Survey can help you find a better match if you take the time to complete it.
---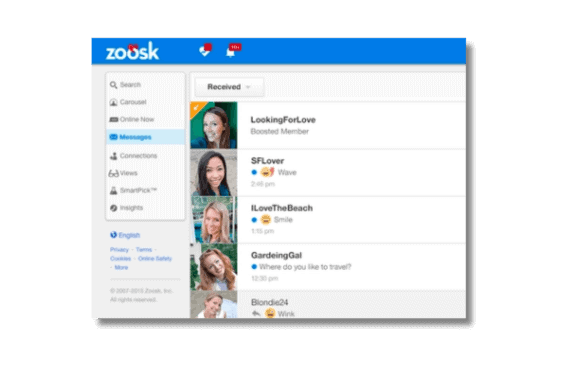 Here's how it functions:
As soon as you can (SmartPicks expire after a certain period), check out the account that was handpicked for you based on the information you provided in your profile.
Click "X" or "❤" to indicate your level of interest.
Unless you both choose "❤," in which scenario you will get an email with the good news and a note in your Zoosk inbox, your vote remains confidential.
SmartPick will adapt to your preferences.
To help SmartPick understand your preferences and discover the best possible match, you should check out your matches every day.
---
How Does Smartpick Work?
The Smartpick algorithm at Zoosk is focused on behavioral matching, so the more you share on your profile, the more compatible matches you will see. When you join Zoosk, you aren't doing a Smartpick survey, but you are providing information about yourself that the matching algorithm will utilize to assist with finding the most compatible users.
But, you must complete both a picture verification and mobile number verification since you won't be able to get any alerts or show on the algorithm until the platform identifies that you are a real person.
This is done to ensure everyone using the Zoosk app is genuine and to encourage them to fill up a detailed profile that will increase their chances of finding a compatible companion sooner rather than later!
---
While signing up for Zoosk, you'll be asked to fill out a lengthy profile that includes details about yourself that you think a possible partner should know, such as your education level, ethnicity, religion, occupation, interests, hobbies, and free-time activities. These pieces of information may seem irrelevant at first, but to make sure that you are connected with the right people, you should simply disclose them to the platform.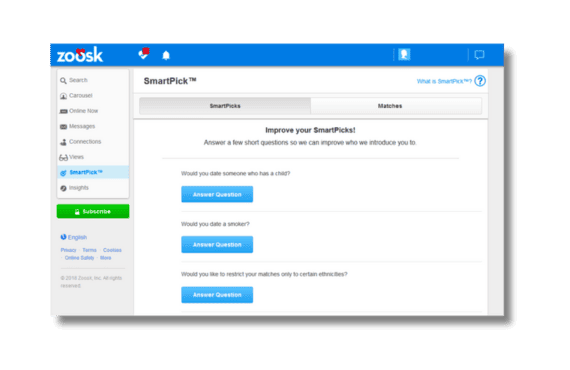 ---
By making full use of the features of the app and entering as much relevant information as possible, you can increase the likelihood that the Smartpick algorithm will recognize your profile and increase your chances of finding a compatible match.
In other words, you need to provide more than just the basics, like your age, location, and level of education; a possible partner is also likely to be interested in learning about your hobbies, interests, background, and plans for the future.
With Zoosk's Smartpick algorithm, we believe you'll finally experience what it's like to have a dating app work in your favor!
How Does AI Help Online Daters?
Artificial intelligence systems can sift through mountains of information to learn about individual users' tastes, habits, and routines. Better matching could very well be possible as a result of this. As an example, AI has the potential to replace manual swiping. It's a pain to scroll through hundreds of profiles, but AI might learn what users like and do it for them to save time and energy.
---
Catfishing may be prevented to some extent with the use of AI, which can recognize patterns of behavior indicative of phony or fake accounts. Many users have become wary of online dating due to the frequency of scammers and catfishing. By using AI for authentication, dating apps can ensure that their users are real, reducing the likelihood of scamming and improving the quality of the service for everyone.
---
To help users feel more comfortable striking up a conversation, several dating apps utilize algorithms that use machine learning to suggest topics of discussion. Meanwhile, some applications employ AI to screen and filter undesirable communications, creating a more secure and enjoyable setting for its users.
Moreover, AI may facilitate conversations between prospective partners. Conversational AI (paywall) and chatbots are enabling more natural and effective communication between users of online dating apps. This might make meeting new people online more fun and less intimidating.
Problems with AI Dating Apps
Of course, there are pitfalls to consider when integrating AI into online dating. Users have unrealistically high standards for artificial intelligence because of what they've seen in the movies. Yet, dating and attraction are far trickier topics.
---
Artificial intelligence can significantly increase the likelihood that a user would like someone, but it won't be foolproof. When deciding how to use artificial intelligence in a dating app, this should be something to think about. You must make it crystal clear to consumers what AI can and cannot do. Users might be let down if what they get doesn't measure up to their expectations.
---
The ethical questions AI raises are complex and should be carefully considered. Among the most important facets of AI to comprehend is the problem of implicit bias in the underlying algorithms. These algorithms' performance is proportional to the quality of the information used to train them, and the algorithm will reflect the biases of the data it was trained on. It's possible, for instance, that a dating app's matching algorithm won't perform as well at bringing together people of the same sex if it was trained using a dataset consisting mostly of heterosexual users.
Final Thoughts
There has been a surge in the utilization of AI in the dating sector since ChatGPT was published. Cruising on this momentum, AI-powered dating apps utilize complex algorithms to sift through and make sense of user data, leading to more precise and fruitful connections between users.
We should anticipate even more interesting breakthroughs in the world as technology advances and professionals in the field would do well to keep up with emerging trends in order to utilize this technology effectively.