If you're a Christian looking for love, you've more than likely been tempted to try a dating app. Whether that's because everyone around you is on Bumble or you've seen some successful relationships come out of Match.com, you're probably very curious about the success rate of these dating apps.
And we don't blame you. In fact, these dating apps, as well as many others, are some of the most successful apps for a reason. Every day, millions of people log onto all these apps, hoping to find the love of their life.
But if you're a Christian trying out online dating, does that mean you should stick with specifically Christian dating apps? If an app doesn't say it's Christian, does that mean you'll still be able to find a Christian on that app? And what are the features that make Christian dating apps so special?
These are just a few of the most frequently asked questions that Christians have when debating which app they ought to use and why.
Thankfully, we're here to clear up any confusion and get to the bottom of the question — if I'm a Christian, do I need to use a Christian dating app?
If you've ever had that question pop up, or you're just curious about how Christian dating apps differ from non-religious dating apps, this article is for you!
Which Dating Apps Are the Most Popular for Christians?
It might surprise you to know just how many Christians are on dating apps almost every single day. Even though many Christians do like to take the traditional route and try out dating in their churches, schools, or communities, we also understand that we don't live in the Victorian era, and it's okay to download a dating app or two to test our chances of finding love.
That being said, over 44% of all Christians are on a dating app looking for love.
In a recent study, someone took a group of 500 Christian singles from all over the country and polled them about their dating app usage. Of the 500 singles, 80% said they had tried online dating.
When they were asked about their favorite apps to use, they said:
eHarmony
Match.com
Christian Mingle
Coffee Meets Bagel
Bumble
Hinge, CrossPaths, and Tinder were also in the mix, but they scored much lower than the others.
The fascinating result of this study is that even though Christian Mingle was in the top three, it was also the only Christian dating app in the top five of the surveyed Christians' preferred dating apps.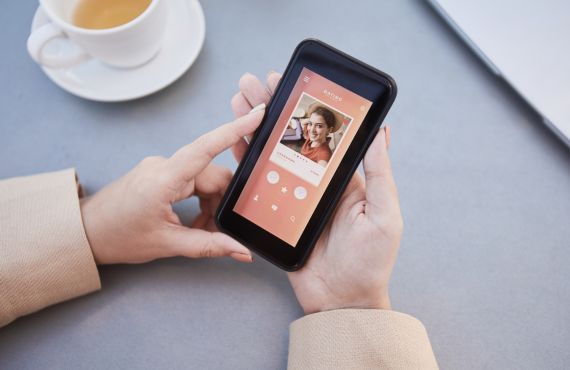 Even though there are plenty of amazing Christian dating apps, when people debate what app to download, whether they're Christians or not, they often go with the most popular apps because those are often where the most active users are. And when you're trying out online dating, most people know to choose the apps that have the most users, not just the apps that cater to their specific needs.
That being said, if you're a Christian looking for a Christian-only dating app, three are still a number of those apps that fit the bill, have great membership numbers, and are constantly climbing the ranks in popularity among the Christian singles community.
There are many reasons why we love these Christian dating apps. For starters, there are a number of features that only these apps provide. There's a reason why Christian dating apps are so popular and so often praised in the Christian community for creating genuine and faith-based foundations for marriage every day.
Here are some of the fantastic features Christian dating apps have and why they're so crucial to promoting solid relationships in the Christian community.
1. Christian Dating Apps Save Their Users Time
One of the bonuses that we always talk about when it comes to dating apps is how much time they save people looking for love.
While it used to take weeks, if not months, to find someone that you remotely had a connection with when you use dating apps, you're able to swipe through hundreds of potential matches in minutes, talk to as many people as they'd like to, and then decide whether or not they want to pursue a relationship with them.
The dating process now is not only streamlined, but it's faster and easier than ever.
If you're a Christian who is looking to date another Christian, choosing a faith-based app will not only save you the time and energy that dating apps are known for doing, but it will save you even more effort because you'll already know that the person with whom you're matching with is on the same page with you about your faith. This means that one of the biggest questions is already out of the way before the two of you have even started messaging each other.
When you're on a dating app, you want to avoid being on there for long, endlessly swiping on hundreds of profiles and not having much success finding anyone who remotely resembles what you're looking for in a match.
Instead, when you decide to go with a Christian dating app, you can rest easy knowing that you have at least the basics of your faith in common with everyone you're swiping on.
This assurance is also lovely when you're messaging someone and getting to know them. You no longer have to waste your time on trivial facts or basic information; you already know that the two of you agree on the most important topics there are to agree on!
2. Christian Dating Apps Are the Biggest Hub for Christians to Meet
Say goodbye to dating in your small church and constantly running into your exes, and say hello to a much bigger dating pool that only Christian dating apps can provide. Even though few Christian dating apps are as popular as some high-rolling dating apps, that doesn't mean that these apps don't offer one of the most accessible places to meet other like-minded Christian singles in the entire world.
It's incredibly unique to have an opportunity like this, especially for Christians who often grew up dating in their small social circles and might never have really stepped out of them before.
Because online dating already opens up a whole new world to its users, using a Christian-only dating app is even more thrilling because now, Christian singles are given complete and total access to exploring relationships with every eligible believer in their area.
For those of us who grew up in small towns or didn't come from a large Christian community, this is groundbreaking and revolutionizing how Christians can connect with and date others.
Because of the accessibility that Christian dating apps provide to singles, people are now not separated by distance, different churches, or different denominations. Instead, everyone can connect with and get to know each other in a way that was never possible before.
Not to get too spiritual here, but there is something to be said about how Christian dating apps bridge the gap that the modern-day church has created through divides in the faith.
Even though Christian dating apps are primarily used for dating and finding love, there is something to be said about the unity and community that can often result from these apps.
3. Christian Dating Apps Are Some of the Most Successful Dating Apps on the Market
When you're doing your research and checking out the most successful dating apps, Christian dating apps are usually at the top of the list.
One of the reasons for their success is that all the apps already have like-minded people on them, so that factor is already taken care of, and most of their users don't have to worry if some of their most basic needs will be met.
Another one of the reasons why Christian dating apps have such high success rates and so many relationships are formed on them is because, in general, Christians are often looking for 'real' relationships and hopefully even marriage as a result of their time on the apps.
While other dating apps might result in a more casual relationship or situationship, most people on Christian dating apps want to come away from their time online in a budding faith-based relationship.
If we're going to talk specifics, Christian Mingle, often referred to as the most popular Christian dating app, is responsible for 29% of all Christian marriages.
Other famous Christian dating apps like CatholicMatch and Christian Cafe advertise themselves as wonderful stepping stones on which to form serious and like-minded relationships. 
Not to mention, a number of these dating apps require their users to sign up for some sort of membership. And it's proven that users who were financially invested in their dating apps were more likely to take the apps seriously and find success on their journey to love.
Even though there are some outliers and we cannot assume that everyone on every Christian dating app is looking for the same thing, statistics, success stories, and general knowledge all point to Christian dating apps being some of the most reliable places to find a long-lasting love online.
4. Christian Dating Apps Have All the Modern Features of Other Dating Apps
If you're on the fence about how updated or easy to use some of these popular Christian dating apps might be, let us ease your worries.
As a Christian, I understand the fear of having a slightly off-kilter Christian version of everything. That has been a troupe for most Christians for a while now. Thankfully, that theme has not extended to dating apps.
Not only are Christian dating apps updated regularly to keep up with the ever-changing modern dating world, but they're also all using the same algorithm as the most popular dating apps to ensure their users are matched with the best pairings online.
When you're using a Christian dating app, you can rest easy knowing that any app you're using is not only equipped with the best and most up-to-date algorithms but that the apps are constantly upgrading themselves as well to keep up with the times and keep any of their users happy and their success numbers high.
Just because they're geared toward Christians doesn't mean they're behind the times and technology provided to their users.
5. Christian Dating Apps Work Hard to Have High Success Numbers
It's always good to remember that when you find success with online dating, the dating app you've found success on also gleans those benefits. Dating apps work for you, and they also rely on their customer's success stories to propel them to victory.
It's a symbiotic relationship where, when you win, everyone wins. If you're on a Christian dating app or any dating app for that matter, the people working for the app and the algorithm are all working tirelessly to provide you with the most direct and successful results they can create.
There are so many options to choose from when deciding what dating app you want to invest your time and energy into, and every dating app knows that. Because of this, they're in constant competition with each other, and every dating app is always trying to be the best of its kind and provide the best experience for its users.
When you choose a dating app, no matter which one you choose, it's always good to remember that the app's success is based on your success. Because of this, the app and the team that works on it will do everything in the company's power to ensure you have a wonderful experience on their platform, so you come away with a success story that will reflect well on both parties.
If you're looking into Christian dating apps specifically, you can also rest assured that they will try to provide the best experience because they're part of a very niche selection of dating apps.
Because of this, Christian dating apps often are in direct competition with more popular dating apps as well as other apps in their category. Each dating app on the market wants to do everything in its power to stand out from the crowd and offer its users an experience and benefits that they won't get anywhere else.
Do I Need to Download a Christian Dating App?
We understand if you've read to this point and are still unsure whether you want to download a Christian-only dating app. One of the good things about dating apps is that there is an app and a niche for everyone, no matter what they're looking for in a partner.
Even though Christian dating apps are the place to go if you want to find only Christians online and not even have to worry about weeding through anyone else, there are Christians on every single dating app out there.
If you would prefer to stick to the familiarity and ease of apps like Tinder, Bumble, and Hinge, we understand entirely. Christians are constantly meeting each other on these apps, and it's easy to find Christians because of the information that these apps ask their users to put in their profiles.
It's also good to mention that you can add search and match filters to fit your requirements. Hinge has a deal breakers feature where you can tell the app the things that you will absolutely not swipe right on when you're searching for a match, and if they find a profile with those factors on it, they will hide it from your swipe deck.
Alternatively, it's already been proven that many Christians looking for love use classic dating apps like eHarmony and Zoosk. If you're more old-school in your preferences, these dating apps also have a proven record to go along with their extensive membership database.
All this being said, you're most likely going to find success and love no matter which type of dating app you choose, and you will also find like-minded people anywhere you go, especially with the help of the search filters and the algorithm.
I know that these facts can both be comforting and overwhelming at the same time, seeing as how any dating app that you decide to invest your time and energy into is likely going to be successful for you on your journey to finding love, so take that as good news!
Whether you decide to go with a Christian-only dating app or you're going to take your chances and explore one of the more popular apps, we are confident that you'll find love and success wherever you go!