Online dating has truly changed the game and allowed so many people to be able to connect with others from all around the world at the click of a button.
In the past few years, dating apps have exploded in popularity and usage, so much so that it's almost a requirement to have one of these apps in order to make connections with people in real life.
In our opinion, dating apps and the accessibility and connection that they're able to provide for their users make them a much better way to date and make dating, in general, much more fun and easy.
If you want to connect with or at least see every single in your area, then you can. If you want to have ten conversations going at once so that you have a better chance of finding and connecting with someone who shares your values, then you can. And if you want something fun, easy, and casual, then you can get that on a dating app just as easily as you can find something stable, long-term, and reliable.
Dating apps have opened up a whole new way for people of the modern age to connect and meet one another, and we can't sing their praises enough.
But, as with every new great, and groundbreaking invention, there are some downsides that come with these dating apps. When users get on their dating app, they are only able to talk and connect with people who are within a 100-mile radius of their location, and you can't manipulate or change that aspect of your dating app or your settings.
Most successful dating apps are driven by an algorithm that connects like-minded and similar individuals with each other online. The algorithm comes in handy more often than not, as it allows people to meet with one another in their area whom they might have otherwise never known without the aid of their dating app.
But one of the major downfalls of the algorithm is that it locks a person in place for where they live, and it only allows them to connect with other people in or close to their area.
While there is a good reason why these dating apps like to lock their users in place and hone in on the people who are local to them, there is something to be said about having the flexibility to 'travel' using the dating app's extensive resource of singles from all over the world.
Tinder realized that this was an area in which they needed to improve, and the app decided to make a drastic change in the way that it was run just when that change was needed the most.
What Is Tinder Passport?
Tinder Passport was created in March 2020. During the time of the pandemic, everyone felt loneliness and isolation on a whole new level. People were locked in their houses, they weren't sure when all of the craziness and uncertainty would be over, and they needed to connect with someone out there.
As a result of that isolation, more people than ever started to turn to their dating apps, hoping to find the connection that they had just lost.
Tinder saw that their app had become less of a way to waste time or hopefully find someone online and more of a necessity when the pandemic came along, and the team at Tinder decided to gift all of their users with the ability to talk to and connect with anyone all over the world for free.
Tinder Passport, which was usually a premium feature of the app, became free to use for the first two months of the pandemic. This way, people were able to connect with each other from all around the world, 'visit' different locations and cities virtually and connect with the people in those areas with ease, and do all of this from the comfort of their own homes.
After Tinder announced that Tinder Passport would be free to all of its users, Tinder saw the most swipes that had ever been recorded on their platform before on March 29th, 2020.
The CEO of Tinder, Elie Seidman, talked about Tinder Passport when it had just been launched. They said, "I'm happy we've been able to make our Passport feature, which allows you to connect with anyone, anywhere in the world, available for free to all members." Seidman continues by saying, "We hope our members, many of whom are anxious and looking for more human connection, can use Passport to transport themselves out of self-quarantine to anywhere in the world. We're inspired by how people are using Tinder to be there for each other, and we want to fan these flames of social solidarity."
While the premium feature is no longer free, its origin story demonstrates one of the most powerful ways that dating apps like Tinder are able to open up new ways for people to connect with each other all around the world and the importance that that connection can create.
Although we as a society are no longer in lockdown, there are a number of benefits that we can still glean from having the ability to connect with people from all across the world, no matter where we are.
Dating apps have such a vast platform, and they're able to reach so many people globally. So in a time when we're all dealing with some form of isolation and loneliness, even though it might not be to the extent that it was in 2020, why wouldn't we all try to expand our boundaries and explore all of the opportunities that we could with the help and resources of online dating?
How Does It Work?
Tinder Passport is one of the many premium features that Tinder provides for their paying customers. You cannot subscribe to just Tinder Passport alone; instead, you can choose a premium subscription, and the ability to use Tinder Passport will be open to you.
The idea of the Tinder Passport is simple: paying users are able to search for any city where Tinder is available and drop a pin on the map, signaling that they want to focus their search on that city.
Once they've chosen which city they want to explore their matches in, Tinder users can start swiping, matching, liking, messaging, and all of the other normal behaviors that happen when they're exploring their Tinder selection in their hometown.
After they've explored the options that are open to them when they're using Tinder Passport and they're ready to 'go home' and explore matches that are a little more local to them, they can just go back to the way things were.
Tinder Passport users are able to switch back and forth to their chosen locations with ease and connect with as many people as they would prefer in all of their locations.
You cannot stack cities when you're using Tinder Passport, so users can't view all of their matches in Paris as well as in New York City. 
That being said, you can 'go to' Paris for a few hours, swipe on all of your potential matches, see what there is to see, and when you feel as though you're done with your search, you can then 'go to' New York City right after your trip to Paris. 
Users who choose to 'Like' users in different locations will be able to see their liked profiles for up to 24 hours after they've left the location that the profile originated in. 
Of course, if you decide to talk to or match with someone in a different city, their profile won't go away automatically in 24 hours, and you can continue to message them for as long as you'd like. You could even form a long-distance relationship as a result of your time using Tinder Passport; the possibilities are truly endless!
How to Use Tinder Passport
As we stated above, users cannot just buy Tinder Passport alone; they need to create a premium Tinder subscription in order to use it.
If you want to try out Tinder Passport:
Simply open the Tinder app, tap your profile icon, go to your settings, and decide whether you want Tinder Plus, Tinder Gold, or Tinder Platinum. Tinder Passport is available in all of these subscriptions.
Once you have access to Tinder Passport, it's time to start exploring a world full of opportunities and love.

When you want to change your location, tap the profile icon on your Tinder app.
Open your Settings tab, scroll down and tap 'Location,' and add a new location.
After you've added a new location, you can go back to any of your old locations and explore the matches in those areas whenever you want to!
Why Tinder Passport Is Revolutionizing Online Dating
As we stated in the beginning section of this article, dating apps don't do things like Tinder Passport. Most apps work best by creating a brilliant algorithm that is location-based. By focusing on their user's locations, a number of dating apps are able to boast that success, and many matches and messages end up resulting in a long-term relationship, or whatever the two matches would define as success.
But Tinder Passport, which was initially created as a way for Tinder's users to be able to connect with more people and explore more relationships on the app, has become a revolutionary way for dating apps to extend across physical boundaries and use their power and their database as a way to connect people from all across the world with one another.
There are many benefits that come from using Tinder Passport. If you're curious about what they are and why we love this concept so much, keep reading.
Explore More Options and Boosts Your Profile
When you decide to use Tinder Passport to go to a new location, your profile will automatically get boosted because you're a new user in that area.
Tinder knows that it's tough to be the new kid on the block, and they want to make your time on their app, no matter where you're located, as easy as possible. Because of this, Tinder's algorithm is programmed to give all new users a boost the second they log onto the app from a different location than where they started.
So not only are you able to view more profiles and see more people in multiple locations, but you're also going to get an automatic boost when you do choose to search the matches in another location.
Although it might seem obvious, considering using Tinder Passport opens up a whole new world of possibilities and matches for you, this feature makes it easier than ever to match with, view, and explore more romantic options than you might have ever been able to if you had just stuck with the original and typical way to approach Tinder.
If you feel as though you've dried up your options for your local pool of matches on Tinder and you're looking for something new that will simultaneously give you a little boost online, you should try out Tinder Passport.
Allows Its Users to Have Fun and Explore
Online dating should be fun. So many people fall into the trap of putting too much pressure on themselves and the way that they act or appear online because they so desperately want to succeed in online dating.
But online dating is not a competition, and you are allowed to have fun and enjoy yourself when you're on a dating app.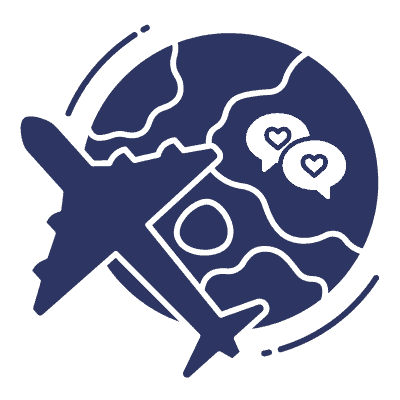 One of the best ways that you can have fun and embrace all of the opportunities that dating apps can provide for you is to take advantage of perks like Tinder Passport. Dating apps have a huge range of users who are based all throughout the world. If you want to get out of your shell and explore the world of online dating around you, there's no better way to do that than to expand your sights.
Take the pressure off of yourself and enjoy being in a time and a place where you don't have to take everything so seriously, and you can just have fun.
A lot of people don't love the idea of a Tinder Passport because it can be difficult to forge long-term relationships that begin from such a long distance, but they can also be fun. Also, there is truly nowhere else that you can go to find so many different opportunities and potential matches. Take advantage of it while you can!
Tinder Passport Knows the Importance of Connection World Wide
One of the reasons why we told the impactful story of how the team at Tinder used Tinder Passport during the lockdown was because it showed the core reason why Tinder Passport is so essential.
Sure, it's nice to be able to connect with a whole new population of matches that you would have never been able to match with or meet if you had stayed in your bubble and kept to your original location. But the reach and the ability that Tinder Passport gives to its users is much more impactful than just allowing them to get more diverse and possibly international matches.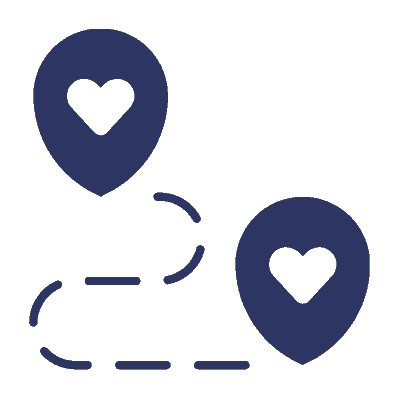 At their core, dating apps are designed to help people connect with one another. These apps are created to allow people to have relationships with each other and to make crossing boundaries easier than ever before.
Most dating apps have a huge following and a large pool of single users who are ready to find love. And while romance is wonderful, knowing that you have the ability to connect with all kinds of people from all across the world at a tap of a button is priceless.
Dating app users no longer need to feel the limitations and boundaries that they're confined by every single day. Now, with the help of programs like Tinder Passport, the world has opened up for them, and they're able to cross all kinds of boundaries that they might have never thought were possible to cross.
This idea and its execution paint a beautiful picture of what the world and what people's lives would look like if they weren't defined and limited by boundaries.
The idea of connecting to and with each other, no matter what your background or location is, ought to be one of the most important ideas that are at the heart of every dating app. And Tinder Passport demonstrates this idea beautifully.
Should You Try Out Tinder Passport?
In our humble opinion, this feature encompasses the best traits of the Tinder dating app, and everyone should at least try it out.
Online dating is known for being one of the best places for people to able to connect with one another, no matter what previous boundaries might have stood in their way before. Tinder Passport is a beautiful manifestation and symbolization of this connection, and it truly encompasses all that a dating app can and should be.
Whether you feel like you want to explore the world from the comfort of your own home, you're uninspired by the matches in your hometown, or you're just itching for a new adventure, Tinder Passport is the answer to these problems, and it's the future of online dating.