Very few people want to get into anything serious when they start dating in the summer, and we don't blame them! That's where summer shading enters.
There's a reason specific dating trends happen during certain times of the year, and summer dating trends revolve around having fun, letting loose, and enjoying everything that summer can bring you.
But it's not enough to have a summer fling. With the emergence of the summer season comes many new dating trends that promise to change the dating game this season. One of the latest dating trends that have emerged this season is called summer shading, and it's all about embracing everything and everyone that the summer can bring you.
If you're getting excited about finding love with all sorts of people this season and you're ready to embrace the season, it can be such a fun time to experience all that dating apps have in store for you for a season.
Dating apps are such amazing places where you can log on and find your love within minutes. But even we must admit that online dating can not only be draining, but it can also not be as fun if you feel like you're stuck in an endless revolving door of matches online. 
What is Summer Shading?
As the name would imply, summer shading isn't necessarily about being above board with your intentions while you're dating people. However, you can choose to approach your relationships with honesty if you would prefer.
But summer shading is all about holding off on making any commitments to anyone you're dating during the summer months.
Summer is when people travel and embrace new or forgotten aspects of themselves. It's also a time when they want to explore different aspects of their romantic lives without feeling pressured to commit.
There's a reason why cuffing season happens at the opposite time of the year to summer. No one seems to want to put all of their eggs into one basket when they're dating around in the hot months, and we don't blame them!
It's also good to note that many people don't necessarily approach the summer months with the intention of summer shading; it's just something that ends up happening.
Because people aren't staying put and most of them choose to travel during the hotter months of the year, it's natural that they would want to explore the people as well as the places that they're traveling to, but not necessarily commit while they're on vacation.
But even though this is something that people tend to do during these hotter months without even realizing it, is summer shading still a toxic dating trend?
How to Approach Summer Shading in the Healthy Way
While the idea of summer shading doesn't seem like a healthy dating trend, and there are some aspects of the trend that border on toxic dating trend, there are some ways that users can practice summer shading and try to get the most out of their time online dating without slipping into a toxic practice.
---
The first and most important step that anyone should take when entering into any relationship, but especially one that already has an expiration date or a limit on how much commitment they're willing to give, is to be open and honest about your intentions.
It's not wrong to want to take advantage of your summer love or try to find someone to be with for a season, but never define the relationship. But it is wrong to string someone along because you're avoiding having a conversation that could have clarified any confusion right out of the gate.
If you're thinking about summer shading this season, that's amazing, and we hope that you find all of the success you want! But we caution you to be open about your intentions and let the people who match with you on your dating app know that you're just looking for someone to spend the season with.
---
It's also a good idea to find someone who feels the same way about summer relationships and might have the same goal.
There are thousands of singles out there who are joining dating apps for the summer to find a casual fling. If you're looking for a fun and easy relationship, then you might want to put some feelers out into your dating app and see if there's anyone online with the same goal.
Odds are, you'll find more than enough people who are as eager and excited to take advantage of the summer and the heat as you.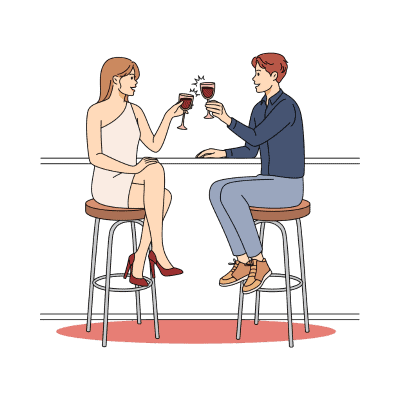 ---
Embracing It!
We hope that this summer is one of the hottest in your history. Whether you're traveling and hoping to find someone new in every location that you're visiting, or you're just ready to have some fun with the locals in your area, summer shading is a great way to sample everyone around you and explore your romantic freedom while you're at it.
While it's important to stay respectful of others' boundaries and goals while you're practicing summer shading, we hope you can find the successful love story or stories you're looking for this season!