So, you've gotten past the swiping stage with your online dating apps, and you're ready to start an online conversation. The sad truth is that the hard part about online dating isn't quite over yet.
Now, what do you say? How can you continue to weed out any of the weirdos that might be on the app? How can you continue to appear witty and desirable? How do you message someone online while also appearing amazingly charming?
We understand that you might feel stuck in this stage and uncertain about how to carry on the conversation, so we made you a guide for the dos and don'ts of online conversations. This way, you'll be able to ace your communications on the app and not feel anxious about them!
Why Does the Messaging Stage Matter So Much?
There are a few key stages you'll encounter when you start online dating, but none of them are quite as nerve-wracking as the messaging stage. There's something about having to make online conversation with a stranger while borderline interviewing them that can either go horribly wrong or right. It puts a ton of pressure on you to perform. 
It's the First Online Conversation the Two of You Will Have
One of the reasons why the messaging stage is so tricky is that it's your first impression with this new person. You might have a good idea of who they are or how they seem based on their profile, but keep in mind that all you're seeing is the most crafted and curated part of them; messaging is more off-the-cuff than that.
That's why the introductory messaging stage feels so high-stakes. It's the first time you and your match will have an opportunity to talk and be who you really are around someone.
It is crucial to make a solid first impression and ensure the messages you're sending are intentional, witty, and a reflection of who you are and what you want out of a relationship.
Many people will sit and stare at their screens and get so into their heads about sending the first message that they sometimes avoid sending it altogether. And yes,
But if the pressure is getting to you so much that you're not even sure that you want to send a message anymore, or you're delaying typing it because you're so nervous, take a break, step away, and get some perspective. When you're ready to formulate your opener, be true to yourself and honest about what you want.
It's the Testing Phase
Another reason why the messaging stage is so critical is that it's your chance to assess whether or not the person you're introducing yourself to is worth the time, much less potentially exploring a relationship with them.
This is the stage where neither of you is too invested in the relationship, and you're really taking the time to see whether you would mesh well in a relationship. This is the testing and assessing time.
Also, more than likely, both of you are talking to at least one other person and have multiple others in your cue, just waiting to be messaged.
Because of this, both of you are figuring out how to conduct a somewhat normal online conversation while also asking the hard questions that will determine if you keep going. It can make your dialogue seem more like an interview than a casual getting-to-know-each-other chat.
This adds extra pressure for you to ask your questions and get your answers, but also to keep the conversation light and interactive.
The Dos and Don't of Mastering Your Online Conversations on Dating Apps
Now that we've established how important, if not terrifying, the messaging stage of dating apps can be, we want to share some tips and pointers for having the best online conversations. We never want to present you with a problem and not help you solve it!
If you play your cards right, you're talking to your future partner, and that's exhilarating, and it ought to be an enjoyable process.
Here are some of our favorite pieces of advice for nailing the messaging stage of the relationship.
Don't Put Too Much Pressure on Yourself
One of the main reasons people fail at messaging on dating apps is that they've put too much pressure on themselves and can't handle it.
Yes, it's good to message people on the apps, it's a necessary step if you want to learn anything about them, but your entire life's trajectory isn't going to result from a good or bad message.
Now, don't get us wrong. We've been on the apps for a while now, and we understand that even if you're trying your best and the person you've matched with might have chemistry with you in person, your messages might fall completely flat and leave you wondering whether or not you should give up on online dating forever. We get it; we've been there.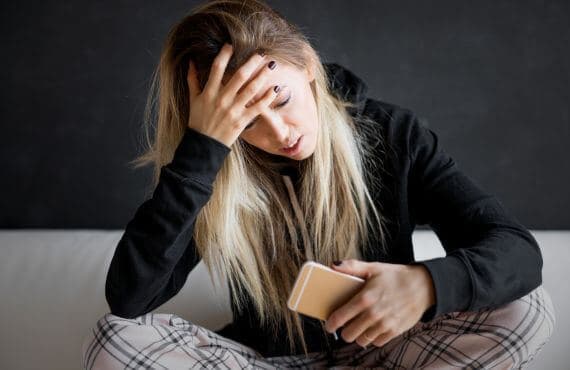 The first message I sent to my fiancé was about how I remembered having a conversation with him before and even recalled what we talked about. He responded that we had never spoken and didn't remember anything about the conversation. While I might have turned and run right there, I decided to stick to it and continue to message him, just in case there was something there. And there was!
See? Even if your first correspondence doesn't go how you had hoped, that doesn't mean you should give up on them. Take the pressure off of yourself to deliver the best message, and relieve them of having to respond to everything perfectly.
Do Read Their Profiles
This is a step that many people skip. You must know who you're messaging. That sounds rather obvious, but embarrassingly enough, that can be more difficult than it seems. If you're talking to multiple people at one time, you should learn some key facts about them to help you tell these strangers apart.
One of the best and first things to do when you match with someone is to re-read their dating app profiles. I know you more than likely read their bio when you initially swiped right on them, but a little refresh didn't hurt anyone.
Also, more than likely, when you originally swiped on them, they were one profile in a group of hundreds. Once the two of you match, it's time to further assess whether or not you want to continue to talk to them. Remember, this is the stage where it's okay to immediately unmatch with someone you might not see a future with because this is as low-stakes as it will get.
But another reason why it's so crucial for you to check on their profile is so you know what to say to them. There had to be a reason that you swiped right on them initially, and hopefully, it wasn't just for their looks.
If you can do a callback to their profile and show them that you not only read it but you're also slightly invested and interested in something that they said, you're already doing great with the first impressions, and they will feel flattered and cared about.
Knowing your matches' interests will also help you to guide the conversation through any lulls that might happen. If you know their interests or have questions that might pop up after you've read their profile, you can add those to the conversation to keep it going.
There is research that backs this theory up as well. If you do a callback in your first few messages about something your match said in their profile, they are more likely to respond positively than if you just messaged 'hi.' This is because people want to feel noticed and seen, and when you're messaging so many matches, it's easy to feel lost in the crowd. But once you single someone out and show them you're paying attention, it significantly improves your chances of success.
Don't Send One-Word Messages
We're going to go ahead and tell you to apply this rule for all of your future dating messages, even if they're texts. Sending one-word messages not only shows that you're not willing to put a lot of effort into your introduction and demonstrates a lack of interest in carrying on the online conversation.
Remember that while you are trying to assess whether or not the person is s good match for you, they're also assessing you and your behaviors during the messaging stage.
By sending half-hearted responses or letting the conversation come to an abrupt stop, you're sending your match the message (get it?) that it's beneath you to put in too much effort.
There is something to be said about trying to come off cool and mysterious on dating apps, and you might not want to tell your match every single detail about yourself. However, you can still maintain an air of mystery and play the dating game just fine without ruining your conversation before it starts.
Do Ask Questions and Encourage an Active Online Conversation
It can be tough to try to have an ongoing online conversation on a dating app. But if you're wondering how to keep an exchange moving, especially if the two of you aren't chatting away nonstop, one of the best things you can do is to ask questions that are meant to be conversation-starters.
This goes back to looking at your matches' profile. If you see something on there that jumps out to you and as something that you could talk about or something that you might have an interest in learning more about, ask them about it.
Utilize your time talking on the app to see if some of your core values align. You don't need to have a checklist by your phone as you ask them if they have everything you want in a partner, but you can establish and express what you're looking for and see if they have similar wants and needs.
Another thing you can do is play a little game in your messages. Many people like to add two truths and a lie into their bio or ask their matches to play truth or dare. If you don't want to do that in your profile, you can save it for the messages, that way; you can cater your questions to them even more. You can also play other getting-to-know-you games like Would You Rather or Never Have I Ever if you want to spice your conversation up a bit.
The key point we're trying to make is that you want to spur on the conversation and not bring it to a halt. By asking questions and getting to know the person that you're messaging, you're not only showing an interest in them and investing your time and energy into getting to know them, but you're also showing them that you care about the conversation you're having and you want to continue it.
Don't Be Afraid to Be Forward
Of course, do this with the utmost respect for the person you're messaging, and if they seem uncomfortable with how you're acting or what you're saying to them, take a step back (or ten).
But if you like the person you're talking to, there's no need to keep playing the 'game' and trying to come off as cool and removed when you're really excited about the opportunity to get to know them.
We've said it throughout this entire article, and we're not done saying it — being intentional and showing that you're interested and invested in someone is a great way to start a relationship on the app, especially in the messaging stage.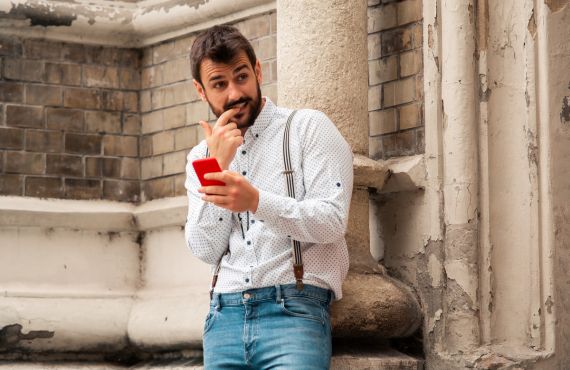 Yes, you're allowed to play it cool, and we're not telling you to confess your undying love for the person you're talking to within the first five messages you send them, but you're allowed to tell them that you're interested and that you find them attractive. In fact, by being open and honest about your feelings, you're more likely to cause them to be open and honest about theirs.
It's flattering to get hit on when you're on a dating app. For many people, that's one of the core reasons they go on these platforms. But it's also wonderful to know that you have made an actual connection with someone and see a potential future with them. Because, after all, the point of many dating apps is to find someone who makes you want to delete the app. So why not take a step in that direction and express your feelings for someone when you realize you have them?
Do Try to Take the Conversation off the App
Please proceed to this step using caution and respect. If the person you're messaging does not seem as interested in you as you are in them, don't try to take them out on a date. But if you're having a great online conversation and the two of you are getting along with each other, it's good to remember that that's really the point of the app, and it's good to maybe explore what a relationship and a conversation could look like in person.
Remember, this is the stage where you're allowed to assess whether or not the two of you would work in 'the real world,' and one of the best and easiest ways to do that is to go into the real world and see if you like each other off of the apps as much as you seem to like each other on the apps.
It's also wise to meet your match in person because, even though profile pictures give you a general idea of their appearance, you don't know how they look until you see them in person.
This first in-person meeting will also let you assess the chemistry you have away from the app. Unfortunately, dating app chemistry doesn't always carry over into the real world.
The End Goal
With all of this being said and all of our best tips and tricks to help you ace the messaging stage out there for you to use, it's good to remember that, at the end of the day, all of this should be fun.
While there may be moments that are a little more nerve-wracking than usual, the general takeaway from your time on dating apps should be that it was enjoyable getting to know your potential future partner.
If at any point it's not fun for you anymore, you can reassess and throw them out of your matches. But if, for the most part. You're matching with people who make you feel special, and you're having a good conversation with them; know that you're allowed to have fun with this process and that the people who talk to you are courting you! It's okay to be flirted with and flattered during this stage! Have fun with it!