A new study has revealed that a lot of people using dating apps are not actually looking for romantic connections. The study surveyed nearly 1,400 Tinder users and found that half of them had zero interest in finding dates. And almost two-thirds of the participants were already in relationships, and some were actually married while using the app–yikes.  
The study involved participants aged 18 to 74 and asked them questions about why they use the Tinder dating app and their experiences on the platform–the researchers also looked at psychological factors such as loneliness and self-esteem. Overall, the study aimed to understand the level of satisfaction that users have with the app, and the data was collected through an online questionnaire.
Tinder had no part in the study, although a representative said: "Tinder has been downloaded more than 530 million times and created more than 75 billion matches. Tinder's in-app 'Relationship Goals' feature lets members signal their intent. Globally, 40% of Tinder members say that they are looking for a long term relationship, versus 13% looking for a short-term connection."
Dating apps have evolved, or morphed, into places to go for entertainment and social connection, with an added bonus of a lil' ego or serotonin boost from getting likes and matches.
---
According to Germano Vera Cruz, a data scientist and psychology professor at the University of Picardie Jules Verne in France, the study reveals that dynamic outcomes can be seen as a "game of deception." According to him, people who want to make genuine connections IRL face a decreased chance of finding them, as fewer people want the same thing.
"Some people feel deceived with the use of dating apps because each time you have a new platform, people think they might really find someone," Vera Cruz told NBC News. "And then people go from platform to platform, but each time they are there, they are not satisfied."
Those swiping just to keep their hands busy or to pass the time are similarly disappointed–people who use Tinder to cope with feeling sad or lonely are the least satisfied with the app, according to the study's authors.
One of the study's co-authors, Dr. Elias Aboujaoude, a clinical psychiatry professor at Stanford Medicine, noted that his patients' reports that they gave up using dating apps after using them for a while line up with what the study found.
"There was the sense that they were spending too much time using them as entertainment or to distract themselves from other things," Aboujaoude said. "It can be overwhelming, and in some cases, it can lead people to this notion that the grass is always greener on the other side, like there's always better options out there."
---
More Americans felt discouraged than optimistic after trying online dating, according to a Pew Research survey in 2020. And social media is overrun with people complaining about their dating app experiences–there are sites designated for this purpose.
"It's just, like, a cesspool of people not knowing what they want and just drama and weird intentions," a woman proclaimed in a TikTok video about why she ditched dating apps. "It's become almost like social media, that it's so toxic, but you're kind of addicted to it because you do it for attention or whatever."
There is a bright side, though, according to the study! Those who use dating apps for what they want–romantic connections–are still more likely to find happiness, even if they have to sift through a lot of duds and matches with goals that aren't compatible with their own.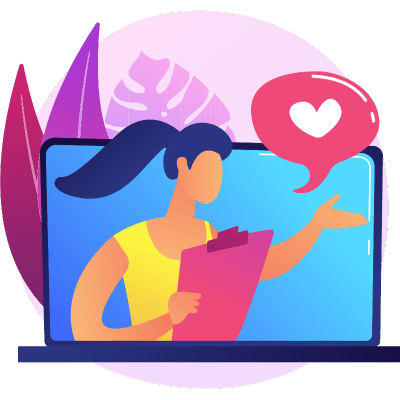 "We can't deny the fact, though, that a big percentage of successful relationships now start online, as well," Aboujaoude said. "But you do need to approach dating sites with more circumspection and more selectivity and to approach them for what they say they were designed for, which is to find romantic partners."