When was the last time you talked about your mental health while on a dating app? More than likely, your answer to that question is never, and we don't blame you.
It's not that you don't want to talk about your mental health, nor that you have anything to hide when it comes to your mental health journey, but dating apps aren't necessarily the place to share all of your deepest, darkest secrets.
You also don't want to be labeled as needy or a trauma dumper during your first impression of the app, so you stay quiet and don't talk about the things that matter while you're online.
While we don't think there will ever be a time or a dating app where you should log on just to talk about all of your trauma and dark thoughts, there does need to be a fundamental shift in the way that people approach mental health and the discussions surrounding their journey with their mental health while people are on a dating app.
Thankfully, Bumble, one of our favorite dating apps on the market and one of the dating apps that's always spearheading forward-thinking online is one step ahead of every other dating app.
In the past month, Bumble has added new self-care badges for its users to put in their profiles and let other users know where they are in their mental health journey and what they're currently working towards or struggling with.
Mental Health Badges
While some might think that adding a little badge to their profile is just one small step, at least it's a step.
Recently, Tinder conducted a study based on the dating trends that they projected were going to happen in 2023. One of the study's key findings was that Gen Z was tired of inauthentic dating apps that didn't allow them to talk about the real struggles they were dealing with every day.
Bumble must have seen this report and taken action immediately because the mental health badges were announced swiftly after those findings came out.
Now when you're creating your profile on Bumble and letting people see who you are, you're also allowed and encouraged to talk about your mental health.
The team at Bumble has added two new prompts that users can choose to answer on their profile. The prompts are, "My mental health game changer was…" and "I'm prioritizing my mental health by…"
But the good news doesn't stop there. Users can also add any of the six new Interest Badges to their profile: Therapy, Mindfulness, Deep Chat, Nutrition, Sleeping Well, and Time Offline.
Now when people see each other's profiles, they'll know what the other is prioritizing, and it can start a conversation about something that has long since been a taboo subject, especially when one is trying to make a first impression on a dating app.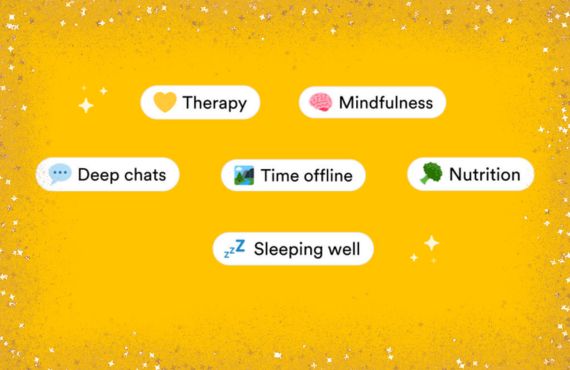 Bumble hopes that by adding these new interest Badges and prompts, they can encourage people to talk openly about their mental health journeys and decrease the stigma around it.
A Small Step Towards a Larger Goal
While there aren't necessarily mixed reactions about these new mental health additions on Bumble, it is clear that this is just one small step towards a larger goal.
For so long, people have not felt like they could be open about their struggles with mental illness, and their mental health journey was one of the many things that people felt as though they had to hide from the world around them.
Whether it was Gen Z's passion for being authentic while they were on a dating app that struck a chord or Bumble had planned to incorporate these badges for a while now, this is just the beginning of a dating app renaissance. 
While it is very vulnerable to talk openly about your struggles while trying to find a match online, it's also a crucial conversation that nearly everyone needs to have before they should feel comfortable about taking the next step in their relationship and moving forward.
Very few things impact an individual as much as their mental health journey. If you don't feel comfortable disclosing that information to someone, you might want to consider whether you are comfortable potentially sharing a life with them.
Conclusion
As we said before, we don't want people to go on dating apps and trauma dump about their lives for hours on end, but there needs to be a healthy and safe way to talk about their mental health while online dating.
Adding the mental health badges and targeted prompts to your dating app profile is an excellent step toward something that is much bigger, and we hope that other dating apps take after Bumble's lead and begin using their platform and their reach to normalize conversations about mental health online.