If you've been thinking about trying online dating for some time but are wondering if there is an app to join that could offer what you want to find and who you want to date, we understand. 
Thankfully, as the popularity surrounding dating apps has increased substantially in the past few years, so have the conservative dating app selections. Now, if you're looking for someone with whom you share something in common, you can find that quickly based on advanced search features and an increase in niche dating apps. 
If you're curious about the success of these conservative dating apps and dating app features, keep reading to hear some of our favorite personal stories and successes!
Why Like-Mindedness Matters When You're Approaching Online Dating
It's no secret that we're all just trying to find people on dating apps with whom we have a few things in common and with who we can connect on nearly every level. This connection and understanding creates a safe environment for both of the people in the relationship and allows both parties to not feel as though they have to defend their choice or decisions. Because, for the most part, the two of you will agree on the most significant issues.
While there are many things and aspects that you and your partner should be on the same page about, one of the biggest things that people say is non-negotiable is their political beliefs. 
Deciding how to vote and who to vote for is one of the most fundamental rights we're given as Americans, and that shouldn't be taken for granted or glossed over when you're trying to find someone you want to share a life with.
Because of that, many people choose who they will date based on the other person's political beliefs. While someone's political beliefs might not be the determining factor, it is usually one of many variables to consider when choosing who to date.
If you're a conservative, whether in your political or religious beliefs, you'll know how integral it is to find someone with the same political views as you when looking for love.
But, if you're concerned about your journey to finding that love and you're uncertain if dating apps are the best place to find it, we understand.
While dating apps and online dating have gained a kind of stigma in the past few years for being meant and geared toward more casual dating, they're actually most often used for finding reliable and long-lasting relationships.
Finding the right kind of dating app can be challenging, especially if you're looking for a niche kind of person or someone with whom you have many things in common. Thankfully, there are a number of conservative dating apps that have been proven to be successful and that millions of users love and use daily. 
If you're a conservative looking for love, you might want to try out these fantastic conservative dating apps to help you find love with someone who is like-minded and shares the same values as you do.
The Successes
We often hear about the various dating app horror stories and the mishaps that happen when people start exploring the online dating world. Still, we don't get to hear about all of the wonderful connections and successes that also come from online dating.
Thankfully, there are many conservative dating app success stories out there, but we'll share a few of our favorites today. 
Match.com
Match.com is one of the most well-known dating apps on the market right now, and there is a good reason for its success. With over 8 million members worldwide and millions of marriages forged on the app, it's no wonder that the app is the majority of America's favorite matchmaking system. 
The app has been on the market for over 25 years and is constantly growing and continuing to improve its algorithm, layout, and overall look and feel. Match.com has a success rate of 75%, which is higher than any other dating app, other than eHarmony. 
While match may not be considered a "conservative" dating app, if you're looking for a dating app where you can filter your matches based on their political beliefs, you might want to choose Match.com. As of 2020, the app launched a way for its users to select their political views and post them on their profiles.
Match.com holds a special place in my heart because it's the first app my mother started with when she began her journey with online dating.
My mother is extremely conservative, and when she was building her Match.com profile, she wanted to make sure that everyone who saw her profile would also know her political beliefs and stances. Thankfully, because Match.com's profile setup is so intuitive and detailed, she could talk about the things and factors that mattered to her on a personal level, and she could preeminently specify that she was only interested in people who shared that political belief. 
As the person who was setting up her profile and making sure that her matches would not only be an accurate reflection of who she wanted to find but also making sure that she would be comfortable on the app, I was pleased by how detailed Match.com was when it came to creating someone's profile and setting up their users for success when it comes to utilizing the algorithm and matching people up with others.
Because of the ease of use that came with Match.com's interface and the setup process, my mother was able to navigate Match.com with ease, and she was also able to find multiple matches that agreed with her political beliefs.
While sharing your political beliefs with someone you're matching with online is not always going to be a top priority for everyone, it is a high priority for most people, and Match.com understands that.
If you would like to read more positive reviews from conservatives who tried Match.com, here are our favorites.
eHarmony
eHarmony has been labeled as one of the best dating apps for conservative singles who want to find a serious relationship with other like-minded singles. With over 16 million users on the platform and the highest success rate of any other dating app, eHarmony is not only one of our most reliable dating apps to suggest but also arguably the best app on the market for someone who is looking for a long-term and serious relationship with another like-minded person. 
eHarmony's popularity is another factor that makes it such a great dating app, especially when you're looking for a niche kind of person while you're using the app. It's also good to note that the dating app's co-founder, Dr. Neil Clark Warren, is a well-known Christian theologian who has dedicated his time and energy to making eHarmony an excellent place for conservatives to meet other conservatives online.
One of the biggest reasons we suggest eHarmony for single conservatives to meet other like-minded people is the personality and compatibility test that all the users have to take before they can start swiping on and meeting other potential matches.
Even though users on eHarmony cannot filter their searches by political beliefs specifically, the matchmaking algorithm is highly advanced and will often try to match people up with those who believe the same thing and are politically aligned with each other. 
My father met his wife on eHarmony. His wife had tried several other dating apps, and eHarmony worked the best for her because of the aforementioned compatibility test they both took.
My father is extremely political and even had a job in politics, so finding a partner who shared his political beliefs and passions was significant to him when he was looking for love.
While the two of them didn't necessarily lead with their political beliefs while on eHarmony, it was a huge deciding factor and one of the reasons that they decided to take a chance on each other and get off the app and onto a date.
If you want to read more success stories from eHarmony, here they are!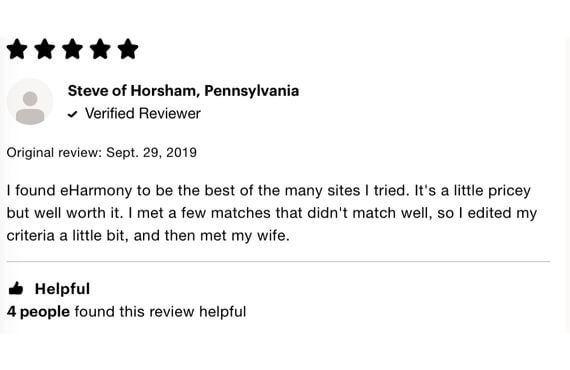 Christian Mingle
If you're hoping to find a conservative Christian match, you will want to try out Christian mingle and see all that it has to offer in the realm of eligible Christian singles.
Christian Mingle is one of the most successful Christian dating apps out there, and thousands of people have found their forever person by using this app and connecting to the profiles on it. 
Many people choose to go on Christian Mingle because it's almost a promise that the app's users will find many people who share their same beliefs and see eye-to-eye with each other on some of the more fundamental ideas of their lives and belief systems.
And, although it's a generalization, if you're specifically looking to match with someone who shares your conservative beliefs, you're most likely going to find them on a dating app geared explicitly toward Christian dating.
Christian Mingle is a great app to try if you care about someone's political and religious beliefs equally. The app extends the possibilities of its users' dating pools, which are often limited by church members. Christian Mingle has over 7 million active users, most of whom want a long-term relationship, if not marriage, due to their time on the app. 
Nearly everyone who has tried Christian Mingle has loved it and has a beautiful success story about how comfortable they were with their matches because they knew the two of them already agreed on some of the most important aspects of a relationship.
Going on a specific dating app like Christian Mingle also saves the users' time because they don't need to worry about whether or not the other people on the app will agree with them on certain topics. If you're looking for a reliable app to meet like-minded Christian conservatives, try Christian Mingle!
Here are some of our favorite success stories from Christian Mingle:
What to Look For in a Conservative Dating App
If you want to find success when you're online dating, it might be good to know what you should be looking for when exploring all of the dating app options. It's both thrilling and overwhelming that there are so many dating apps on the market right now, and it can get very confusing very quickly when you're trying to decide on the best dating app for you.
Thankfully, we've already done the work and broken down the numbers so that you can find and decide the best conservative dating app that fits your lifestyle. However, there are some things to think about when you're looking for a dating app that you would like to invest your time and energy into without wasting either. Because let's be honest, no one wants to be on a dating app for longer than they need to be. 
Make Sure the App Has a Huge Dating Pool
One thing we always suggest you do before you download a dating app is to make sure that the app you're downloading has some active users. We say it all the time when we're giving out advice, but dating apps are a numbers game, and the more you can swipe on people, the more likely you are to make an actual match on the apps. 
The majority of popular dating apps we're suggesting today have an extensive active user base of dedicated people who get on the app every day in hopes of finding love.
If you're looking for a niche kind of person or you're hoping to find people who fit into a conservative political mindset, you might still want to think about using these popular apps because it's more likely that you'll find a larger number of people who think and feel similarly to you than if you just decided to stick with a smaller and more niche conservative dating app.
Read the Reviews
There's a reason we're focusing on the reviews for these apps. They matter. While people don't often review things they didn't feel a strong disdain or appreciation for, it's always nice to see people's honest reviews about the apps they tried and what they felt about their experience online. 
Dating apps are lovely, but they're also usually geared toward a specific audience or demographic, so you might want to spend some of your time and energy looking into the reviews of whichever app you're thinking about and deciding whether or not that app looks like it will fit your needs. 
Use the Filters
This is especially true if you're on a dating app that is not specifically geared toward the kind of person you necessarily want to date. For example, dating apps like eHarmony and Match.com are some of our favorites to recommend because there is a vast user base, and you're sure to find hundreds of like-minded people in their thoughts and beliefs, but you have to use the filters that dating apps give you.
Most dating apps will let their users specify what they're looking for when they're thinking about their dream match, and then the filters will work their magic and weed out anyone who might not fit into that specific lifestyle.
If you're looking for a conservative partner, you will want to specify that in your profile and in your searches and more than likely put a filter on your searches to only match you with conservatives.
Don't Hide Who You Are
When starting your journey with online dating, it always makes the process go by much quicker when users specify who they are and what they're looking for in a match on their profile. That way, anyone casually swiping on their profile can see what's important to them and if those values fit into their lifestyle. 
You must remember that matching with someone on a dating app is often a two-way street, and both parties have to be interested and invested in the other for a connection to be formed. Because of this, we suggest that you make any political and personal beliefs well-known on your dating app profile, especially if it would be a deal-breaker for you if someone didn't share those values. 
If you don't necessarily want to take up space in your bio talking about your political beliefs, we understand that too. Still, we suggest you at least bring it up during the messaging stage of the relationship, so no one will get blindsided, and you can adequately assess whether or not the person you've matched is the right person for you.