Since its inception, the dating app Bumble has worked to foster relationships between its users inside and outside the app. And In 2022, dating app giant Bumble introduced "Bumble IRL," a list of exclusive, in-person events for members of their dating app.
In addition to the IRL option, they included a feature called "Upcoming Events," which allows users to highlight upcoming events — directly on their profile — to find common ground with possible matches quickly. They streamlined the process of setting up that all-important first date.
This set the dating app world abuzz because it gets old to constantly swipe, voice note, and get ghosted on our little mobile devices; several of the best dating apps are starting to include in-person meetings into the process. And Bumble led the charge in this area to aid in connecting users through unique experiences and opportunities!
Examples of these efforts include the Bumble Hive temporary pop-up locations in New York, London, and Austin and the 3,760-square-foot Bumble Brew restaurant in New York City's Nolita neighborhood.
How Do Upcoming Bumble Events Work?
You can find the profiles for the Bumble Upcoming Events by swiping right and connecting with an event you're interested in attending. Your personal profile will be updated to include the Upcoming Event, and you'll get a confirmation message that it was added to your dating profile.
Adding an event to your profile is just one way to use an Advanced Filter to find other singles who match your interests.
You can either hit the notification that appears after adding the event.
Or access the Advanced Filters page directly from the Settings menu.
You have nothing to worry about safety-wise when adding an Upcoming Event to your profile–only the people who have chosen the same Upcoming Event as you can see it, and you can always delete it! Each member's profile can add three Upcoming Events at any time; events that have already occurred will be deleted automatically.
Bumble IRL
Last year, the female-centric dating app started a series of in-person gatherings where singles could get together for cocktails and dinner; this year, the app unveiled an initial roster of London dating events that began on February 14 and lasted until the end of March.
The Bumble app served as the only means of obtaining free admission to all events. To take part, participants needed to install the Bumble app, keep an eye out for the in-app card, and swipe when they were presented with an IRL they were interested in!
After a successful right swipe, users were sent to a website listing all upcoming events, where they could register for free admission. Users who had RSVPed and attended the event just needed to present a confirmation email and the Bumble app at the door.
It's like Ticketmaster; only users were guaranteed tickets without the insane fees!
"Since day one, we've always focused on IRL experiences for our community to take their connections off the app. We launched 'Bumble IRL' out of the longing we saw from people who wanted to connect in person again," said Annie Thompson, Bumble's experiential director. "It's a way for us to create spaces for our members to connect with others over their shared values and interests—whether at a cycling class at SoulCycle or dancing to a live concert at a Live Nation venue. Given that these are shared experiences within a group environment, we hope these events are fun and offer less pressure as folks are easing back into meeting IRL again."
Thompson noted that Bumble collaborates with a wide variety of partners to provide services like singles-only indoor cycling classes, tickets to concerts, and food-focused happy hours at women-led restaurants and bars. Other partners include the James Beard Foundation, Visit.org, and SoulCycle, among others.
Since shared experiences are making a comeback in a big way, it's no surprise that the "Going Out" Interest Badge on Bumble Date accounts in the United States has risen to prominence as one of the most popular shown badges in 2022.
Bumble publicized this campaign via its app, so users in any of the 10 locations where it was implemented would see the Bumble IRL profile when they swipe. Users are then sent to Bumble's website, where they can confirm their attendance at local events. There was a Topgolf event held in Austin, and app users were allowed to get tickets to events at Live Nation sites and hang out in a special VIP section only for them.
Upcoming IRL Bumble Events
This month, Bumble IRL is offering its users a ton of fresh, local events where they can meet cool locals who share their interests in things like spin class, drinking cocktails, and volunteering in your community.
The cities of Chicago, Atlanta, Dallas, Miami, Los Angeles, Boston, New York, Austin, Denver, and San Francisco all host Bumble IRL events. The events include happy hours, Foundation Mixers, Arts After Dark, Bumble X GymShark Love at First Set, Bumble X Lost Cat, Bumble X Passing Fancies, Socials, and Windr After Dark.
In-App Speed Dating
Users can participate in Bumble's In-App Speed Dating every Thursday night at 7 p.m. EST. As the name indicates, the service sets up "dates" of three minutes between two users. Throughout each round, you and your partner can communicate via messaging.
However, similar to Tinder's Hot Takes feature, you won't view a picture until the clock runs out. If you both like each other, you'll be matched and given access to each other's profiles.
Keep an eye on the stack as you swipe; a Speed Dating sign-up card may appear at any time. You can sign up for that week's speed dating event by clicking the brightly colored Sign Up button; you'll get a reminder when it begins.
The goal of Bumble's speed dating game is to start an exchange that could develop into something more meaningful. Throughout the event, you will be placed in groups with other attendees with similar interests.
There is no limit to the number of messages that can be sent and received throughout each 3-minute cycle. If you find yourself at a loss for words, the "Question Game" function is there to help!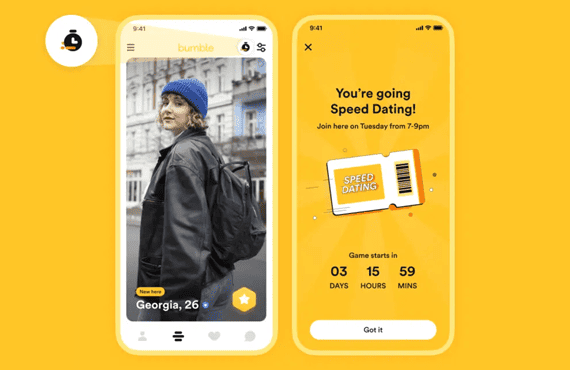 A match is either liked or declined when time runs out. If a connection is made during Speed Dating, the conversation will be saved in your Conversations inbox so you can pick up where you left off whenever you choose.
Final Thoughts
Bumble wants you to connect over shared experiences and meet others searching for healthy, inclusive, and inspiring relationships. (And these gatherings are fantastic opportunities for dates if you've already struck a connection on Bumble that you're excited about.)
In order to create genuine relationships both on and off the app, Bumble has always placed high importance on bringing people together. Bring yourself, your closest friend, or your favorite hype person to one of the dating app's in-app events and connect IRL!