If you're searching for love, or at least a date, for Valentine's Day this year, you might be beginning to feel the pressure coming from the ever-ticking clock. We get it; all of us have been there — trying to survive the mad dash and hopefully getting something out of our time spent on dating apps this Valentine's day.
It's the Most Wonderful Time of the Year (To Be On Dating Apps)
There is never a wrong time to sign up for a dating app and start looking for the love of your life. I'm a big believer in trusting the process and knowing that the universe, fate, God, and dating apps will always bring you the right person at the right time.
That being said, this is truly the best time of the year to go on dating apps. Especially if you're hoping to find someone quickly and easily.
Most dating apps see a massive increase in popularity this time of year, mainly due to cuffing season, when people want to find a snuggle buddy to settle down with from November to February. But that increase in popularity has nothing on the weeks leading up to Valentine's Day.
Even if you're not hoping to find your one true love in these next few weeks, it's fair to say that hoards of people are running to the apps hoping to find a date for the night and maybe even a buddy to close out cuffing season with.
Now that we've discussed the power of dating apps for Valentine's day, let's review our favorite apps to help you find love and get a date on Valentine's Day.
Eharmony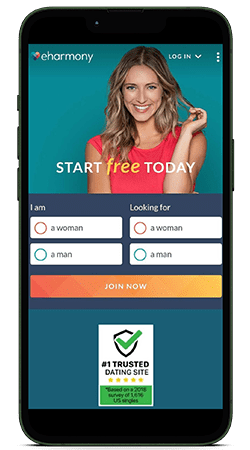 If you're in the market for something serious and more long-lasting than just a Valentine's Day date night, then you've found the right dating app. Eharmony is one of the most well-known and successful online dating apps for a reason. It hosts over 16 million users who are all looking for a long-term relationship and hoping to settle down with someone and has some of the best success stories in online dating history!
The app makes finding love easy with its expert help, detailed compatibility testing, potent matchmaking algorithm, and track record of success. Eharmony is the best choice if you're looking for something long-term.
If you want to read a full review, check it out right here, but if you're going to find success on your online dating journey, we will always suggest spending your time and money on this app, as it is one of the most successful dating apps available.
Eharmony has been around for over 20 years and is responsible for over 600,000 married couples meeting. The average age of eharmony's users is between 25-34 years old. However, the service is currently undergoing a branding change and trying to market itself to younger generations.
Eharmony requires a premium membership to appreciate all the benefits the app offers its users. We suggest subscribing to unlock all of the features that allow you to communicate with other members and show them you're serious about finding love.
---
Tinder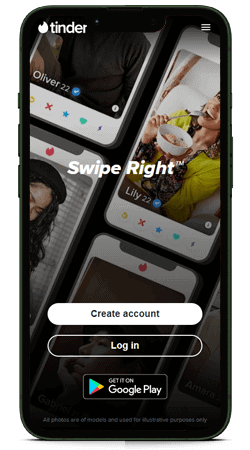 Full disclosure, if your goal this Valentine's Day is to find a date and find it fast, Tinder will be your best bet to get you on the track to success. Tinder is arguably the most well-known dating app out there, and there's a good reason for that.
Tinder basically invented the idea of swiping left or right on someone you like, and it's one of the most popular dating apps for Valentine's day (and everyday) because of how easy it is to use and how many people log on every day.
With over 8 million active users on the app every week, Tinder sees one of the most significant upticks in activity during this time of the year.
If you're a woman, you're in luck because the average gender ratio is 61% male to 39% female. But if you're a guy, don't let that get you down. Because there are so many users online looking for companionship, you won't have any trouble finding love — or at least a date.
Tinder is known for the quick manner in which people meet or hook up on the app. If you're feeling the pressure to get a date for Valentine's Day as swiftly as possible, consider investing your time and energy into Tinder.
The app does have a free trial option, so you don't necessarily need to pay for a premium membership to appreciate much of what the app has to offer. Still, we suggest taking a look at the premium membership and all of its perks.
Some of these features that come with a membership are rewinds, so you can go back and fix a swipe you have mistakenly made, unlimited likes, priority likes, and control over who can see your profile.
That said, millions of users choose to use the free version of Tinder, and they find success every single day.
---
Bumble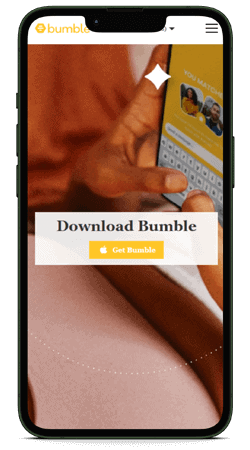 Bumble is another strong option if you're looking for a dating app for Valentine's Day with as little effort as possible. The platform has a similar design to Tinder, with one key difference: women must send the first message.
Bumble has over 11 million active members, with more than 700,000 active users weekly. Around this time of the year, membership numbers and activity rates are boosted by Valentine's Day pressure.
Bumble also has a more equal gender ratio than Tinder, with 57% of men and 43% of women frequenting the app.
While you can find love on any app if you devote enough time and effort, Bumble is better known for making long-lasting matches than Tinder.
Bumble is designed to get you to talk to the people with whom you match. Once you match with someone, the woman has 24 hours to send the first message, and if she doesn't, the match will disappear. If you're looking for a fast date or trying to see if you connect with someone as quickly as possible, this feature will help you to do just that.
Memberships to Bumble are reasonably priced and, like Tinder's membership plans, come in several different tiers and durations. You can go as small as to have a one-day membership for $3.49 on February 7th, or you can bite the bullet and invest in a lifetime membership for $149.99, which is a great deal if you think about it.
---
Hinge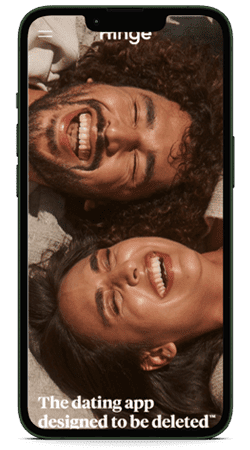 I sing Hinge's praises every chance I get because the app is not only brilliant and a great way to find love, but its marketing strategy is the closest thing to perfection I've ever seen.
Let's all be honest, even if you buy that lifetime membership to Bumble, no one wants to have a dating app on their phone for the rest of their life. Hinge understands that the point of having a dating app is to delete it as quickly as possible — after you've found success. Hence, Hinge markets itself as "the dating app designed to be deleted."
Aside from a fantastic marketing strategy, Hinge is a reliable, success-driven dating app. The platform has over 500,000 active users in the United States alone and has over 90,000 logins daily. The gender ratio on the app is 55% men to 45% women, which is pretty even.
Hinge is one of the top dating apps out there geared toward helping people find love — or at least get into long-term relationships.
Much like Tinder and Bumble, many people go on Hinge for free. With a free trial, you can create a profile, view other members, and send 10 comments and likes to your matches daily.
Hinge's premium membership lets you use the app in all its glory. Paying members are granted unlimited interactions with other users, boosting your odds of making connections. Premium profiles are also highlighted, helping them stand out from the crowd, which is especially helpful at such a busy time of the year.
Due to its sizable membership pool, excellent matchmaking algorithm, and high activity levels during the early weeks of February, we've added Hinge to our list of recommended dating apps for Valentine's Day.
---
OkCupid
The final dating app for Valentine's day that we recommend is OkCupid. Whether or not you've heard of it, OkCupid is one of the most successful dating apps on the market.
OkCupid has been around since 2004, but that doesn't mean its interface or algorithm is outdated in any way. The opposite is true. Because of how long the app has been in the game, its creators know how to keep their platform relevant and updated in the ever-changing world of online dating.
OkCupid originally earned a reputation as an app meant specifically for casual flings and the occasional hookup. Similar to Tinder, this gave the app a bad rap. Also, like Tinder, the app rebranded itself as an excellent platform for users to find a long-term, real love story if they wanted to.
OkCupid has over 10 million active users and 1 million frequenting the app daily. The average gender ratio is 67% men to 33% women. But don't let those numbers discourage you because 33% of 1 million is still a vast number of women. You won't be short on options in your search for love or a date.
OkCupid has an excellent free trial option that allows users to make profiles, search for and browse profiles that are online, send and receive messages and likes, and receive daily matches. In fact, the free trial at OkCupid provides so much I'm almost hesitant to suggest you invest in a premium membership!
That said, a membership eliminates ads on the app, gives you priority messaging, lets you see who has viewed your profile, provides you unlimited likes daily, and several more perks.
While our personal preferences are more geared toward Tinder, Bumble, and Hinge for helping you find fast romance online, OkCupid is a great app to try for this Valentine's Day.
In Conclusion
No matter which dating app you choose to invest your time and energy into this Valentine's Day, we hope that you find success, love, and maybe even a great story as a result. This is truly the best time of the year to start your journey for love and we hope that you enjoy every second of it.
I know that sometimes navigating dating and finding the best dating apps can be very difficult and overwhelming, but we hope that you've found an app that makes you excited about finding love and starting your journey this year. After all, this should all be fun. Good luck!